Scrapbooking has become a popular hobby over the years, where you can create and store wonderful keepsakes and memories. A scrapbook can also be something that is passed on from one generation to the next. With the different types of papers, embellishments, digital scrapbook book ideas, and craft machines you can use, there are endless scrapbooking ideas for you to choose from. So, to give you a small glimpse into the world of scrapbooking, we have provided a collection of scrapbook ideas to get you started!
What Is Scrapbooking?
Before we delve into the various scrapbooking ideas, here is a brief description if you are not all that familiar with the idea. Scrapbooking is a way that you can preserve and present your personal story or family history. Typically, this is done in an album or book form and can include artwork, photographs, and other decorative ideas. There are also usually short descriptions, words, or phrases that are used to describe the memories you would like to preserve.
The most common scrapbooks include your three-ring binder, a post-bound scrapbook, with refillable pages, or a bound book where the pages cannot be removed and has no sheet protectors.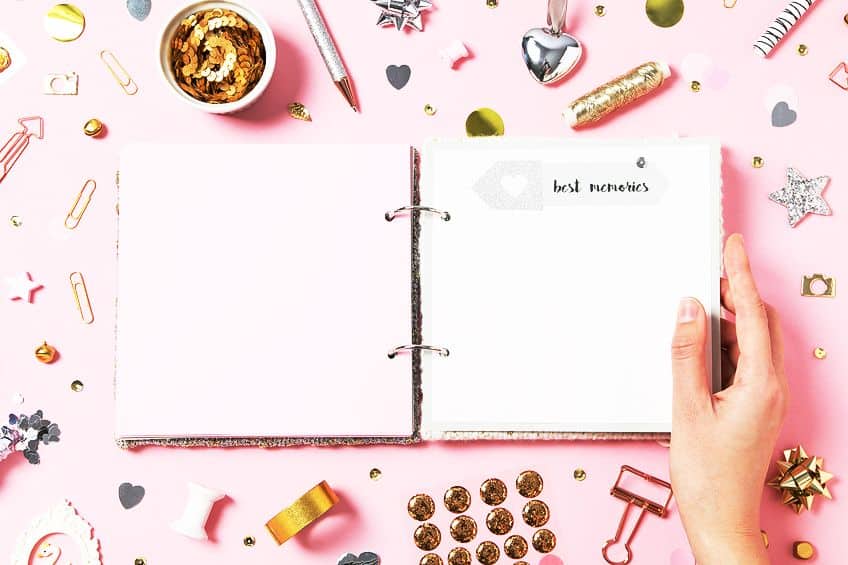 You might be wondering if scrapbooking and journaling are the same thing. The difference between the two is that scrapbooking provides more of a creative outlet with design ideas, colors, and layout. There is no limit to ideas with scrapbook ideas, although it can have an element of journaling, it focuses more on the creative visual effect. As long as the theme and everything have a cohesive look. When journaling, you can also be visually creative, but the focus is more on the written content.
How Do You Begin Scrapbooking?
To begin scrapbooking is very easy, as all you need is a few basic supplies, and some easy scrapbook ideas, and you are ready to start. First, you should think a bit about your theme, colors, and what you wish to write. You can write down a few topics and ideas before you go out and get your supplies. If you write down your goals, you are closer to achieving them. Besides reading some great articles on the subject, you can also browse platforms like Pinterest to find scrapbook inspiration.
You can create special scrapbooking memories for a variety of events, such as weddings, birthdays, a new baby, graduation, or even if you are starting a new job.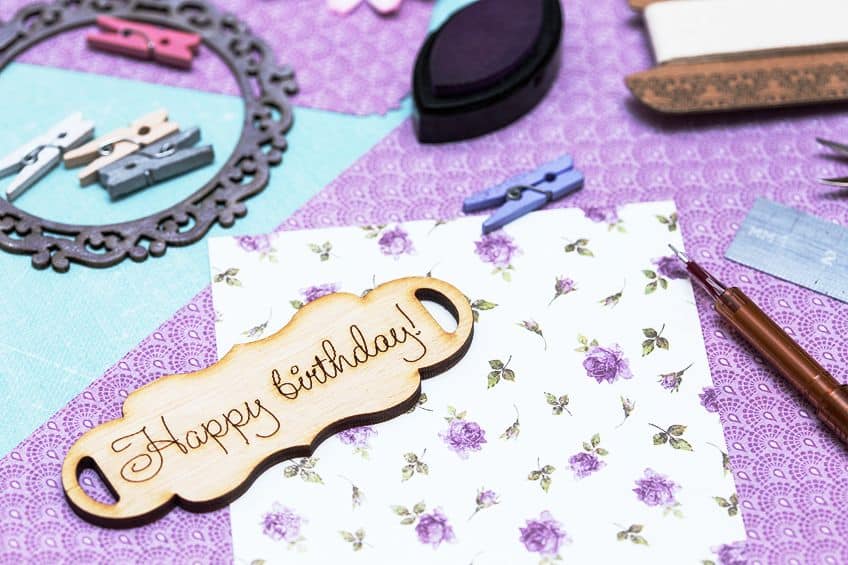 Make sure to collect the photos you want to use and do not be afraid to try out different ideas. You can add a description to the photo, remember to include where, when, who, and what the photo is about. You can also get more detailed and add interesting notes or explanations. To help you with this, we have a collection of scrapbook ideas for you to consider.
Unique Scrapbook Ideas
Most scrapbooks include things like stickers, embellishments, and various crafting techniques are used, such as embossing, die-cutting, stamping, and using watercolors. To make a scrapbook more unique, you could add quotes, which can be from a book or even a movie. Depending on your theme, it can also be a few motivational sayings or quotes. You can also consider poems, which can create quite a distinctive look. Read further to find a few more unique scrapbook examples.
Envelope Scrapbook
Envelopes make a great storage space for photos and other items, making it ideal for memory keeping. You can create a unique scrapbook just by using envelopes on each page. There are various sizes and shapes of envelopes you can use, and you can decorate each one differently. You can even add your personal wax seal to the envelopes for a personal touch. You can also simply use envelopes within a scrapbook design, here and there, to provide a cute place to slip in items or memorabilia.
Instead of placing the envelopes into an album, you can also try making the entire scrapbook from the envelopes.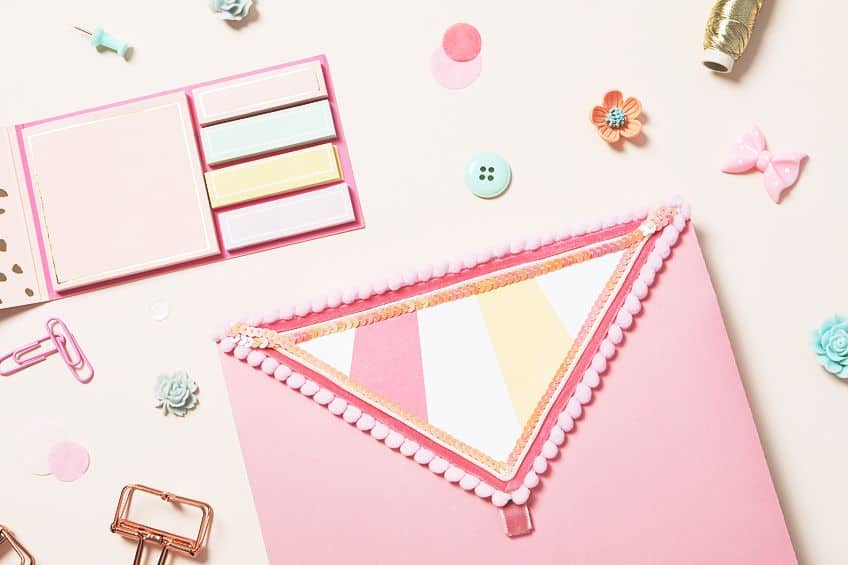 You will need a few average size letter envelopes, which can be different colors. Open the flap of the envelope and glue this to the back of another envelope. Repeat this process until you have enough envelopes for your project. You can then decorate the "pages" and add photographs that can slip into the envelope section. Instead of envelopes, there are also other items you can use to create the same kind of effect. How about using brown paper bags?
Rolodex Scrapbook
If you do not know what a Rolodex is, it is what a business might use to keep contact names and numbers. The design involves a rotating card device, which is easy to flip through. You can purchase Rolodex scrapbook templates, which helps give you a good start in design. This makes it one of the easy scrapbook ideas you can use. Personalize it by adding photos, stickers, and other emblements.
You can also purchase a normal Rolodex and start from scratch with the design.
Mini Scrapbook
This is one of those easy scrapbook ideas you can try that is perfect for showcasing a specific theme or event. These unique scrapbooks only have a few pages where you can produce your ideas. You need to also decide if you want it to be something that stands alone or used to help improve a page within another scrapbook. The common size of this type of scrapbook is 4 inches by 6 inches. When designing a mini-scrapbook, binding is important.
There are a few ideas for this, including punching holes and then using yarn, twine, ribbon, or even metal rings to bind the pages.
You can also use these binding ideas to create larger scrapbooks as well. You can also fold and glue pages to form the scrapbook. It is also best to stick to short phrases or words, as there is not much space. The focus is supposed to be on the image or photo you are using. You can also add embellishments, stickers, and design elements. Another idea is to create small tags that you can bind together to form a mini scrapbook.
Recipe Scrapbook
Some of you might be surprised by this idea, as scrapbooking might be associated more with birthdays, graduations, life stories, special events, and holidays. However, many memories can also happen in the kitchen and at mealtime. What better way to capture memories, photos, and stories than with a recipe scrapbook?
You can include family recipes old and new, photos of your food creations, and photos of family meals.
Vintage Scrapbooking
The new digital era has provided us with many ways to create amazing scrapbooks. However, maybe you want a scrapbook that has more of a vintage style. This theme can help to produce feelings of nostalgia and is fun to make. You can use old newspapers and yellowed paper to provide that vintage feel. Other ideas include using lace designs, wax seals, and calligraphy or cursive writing.
You can also consider using black and white or adding vintage filters before printing.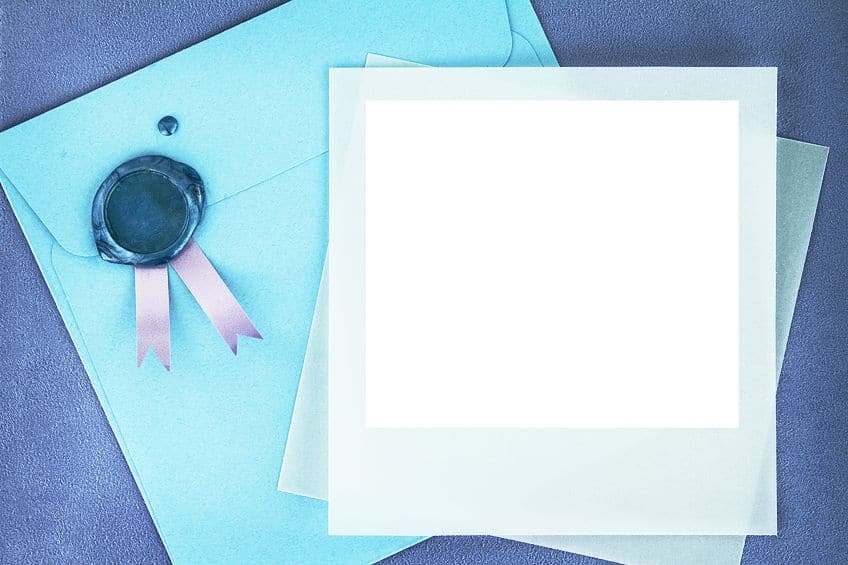 Scrapbook Cover Ideas
The cover of your scrapbook is the first thing anybody sees, and there are quite a few ideas that will make it stand out. You can also use these ideas on more pages within the scrapbook. Maybe you think the cover is not all that important, but years from now, you or somebody else is going to see it and wonder what is inside. Looking at the cover should tell you about what you can find inside. There are some ideas you can use that will make it easier to identify what to expect when looking at scrapbook covers. Let us have a look at a few ideas.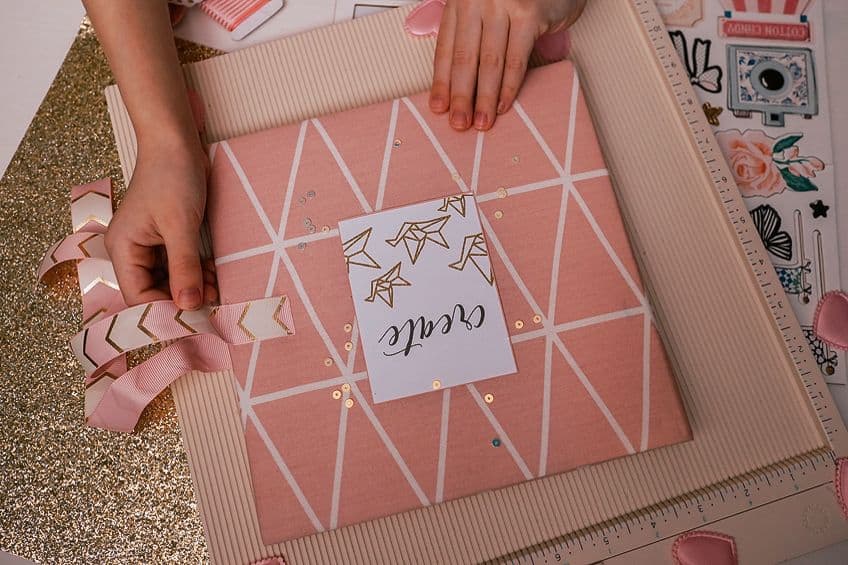 You can include a time stamp to indicate when these memories were captured.
You can have some copies made of the photos found inside the book, which you can use on the cover. This easily shows you what you will find inside the scrapbook.
Create embellishments that reflect the theme of the scrapbook and place them on the cover.
You should also take into consideration what you place on the cover, as it is going to be handled a lot and maybe even placed on a shelf where you will slide them in and out. So, any embellishments you do make should be able to withstand this. You do not want something that is delicate or sticks out too much and will get ripped off. Also, the scrapbook cover will get dusty, so you might have to wipe the cover every so often. So, let us get to it and take a look at some scrapbook cover ideas.
Paper Flowers
Making paper flowers is easy, or there are many ready-made flower embellishments you can purchase. However, three-dimensional paper flowers can add that unique touch and can provide more depth to a cover look. Just remember to appropriately store the scrapbook to prevent the flowers from coming off. You can also consider real pressed flowers, which can be part of a memory. For example, if you went on holiday and picked some flowers.
Painting the Cover
Maybe you are an artist and enjoy painting and drawing. Why not consider making your own scrapbook cover? You can even create a scrapbook gift, showing off your skills on the cover. This is a wonderful way to personalize the cover.
Screen Pockets
Create something that adds a bit more depth to the whole look. This can be done by taking a plastic sheet and creating a clear pocket that stands out from the page. This pocket can be round or any shape and inside, you can place small flat items. For example, colorful sequins. You can also make it more personal like adding sea sand, which comes from the holiday you just had.
The design is sealed, so none of the materials placed inside should be able to get out.
Embroidery Covers
If you love sewing, there are many ways you can create unique scrapbook covers. This can be adding smaller embroidered designs to the cover, or you could even create an entire fabric cover for the scrapbook. Some scrapbook examples of this can include anything from embroidered monograms and names to intricate flower designs.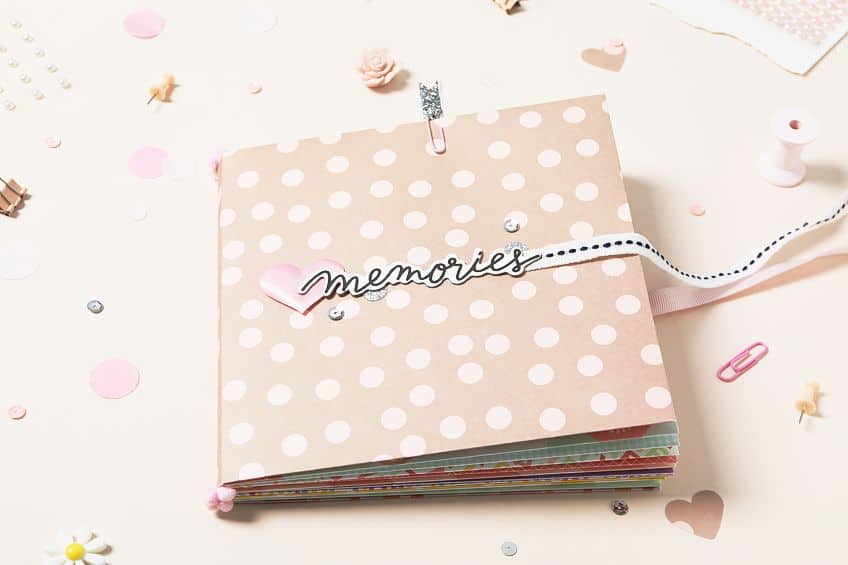 Scrapbook Layout Ideas
There are so many great scrapbooking ideas, and many of them are quite interactive. Some of these scrapbook examples like this include things like envelopes, pockets, hidden messages, or pop-up items. Every scrapbook contains various elements, such as photos, embellishments, background paper, titles, and writing. The layout is up to you, but you can consider a few things.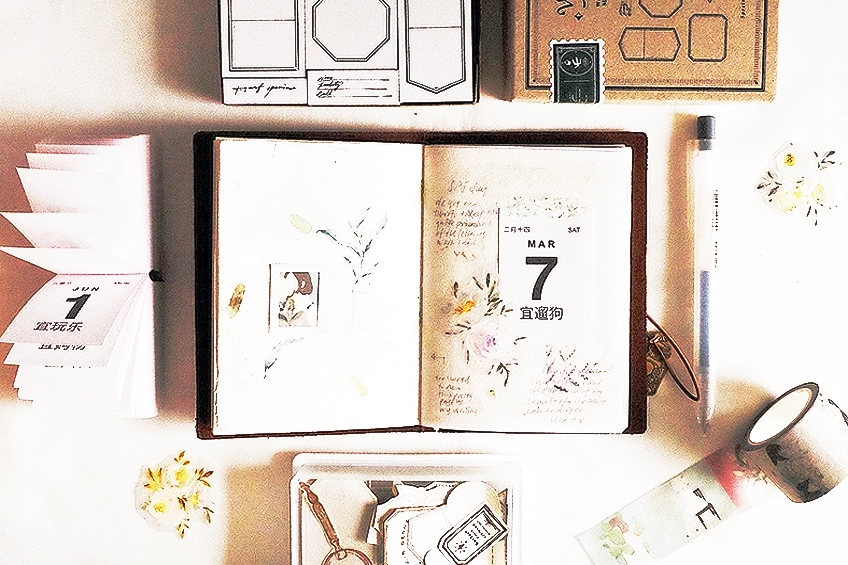 It is believed that people are more visually attracted to items in groups of three. So, when designing your scrapbook, consider this.
The placement of your elements should provide balance and alignment, which helps with the structure and stability of a design.
All the elements should be driven by a focal point or center of interest, which is something that will initially capture interest.
You can add repeated elements throughout the scrapbook, which can help to create consistency and rhythm.
Use contrast to highlight specific elements and create more visual interest.
Take into account both positive and negative space when designing.
Creating a scrapbook is a creative process, it is not simply gluing things to a page. There is a lot of planning and thought that must go into the entire design. However, there are so many scrapbook ideas, you will not be left in the dark. Below are just a few of these ideas to get you started.
Simple Photo Grids
A simple way to display multiple photos is within a photo grid. You can easily draw a grid with the number of photos you want to include, or you can divide the grid with washi tape or twine. Make sure the photos follow a similar theme, for example, birthday photos from a specific year.
Scrapbook Pockets
This is a fun and interactive element you can add to a scrapbook. Similar to envelopes, the pockets can be placed throughout the scrapbook. You can then slip photos or pieces of paper into them that contain messages, quotes, or poems.
Unique Photo Displays
If you have a lot of photos, you might be looking for different ideas to display them instead of just sticking them down. There are some unique ideas for this including pop-up photos, which are flat and pop out at you when opened. Another idea is a waterfall photo display. When made, the photos remain hidden and only appear if you pull a tab at the bottom.
The photos will then flip over like a waterfall. Instead of photos, you can also add hidden messages like this.
Overlays
You can make unique overlays for your scrapbooking ideas. There is a sliding overlay that consists of a clear sheet that is made to fit around a page, which you can also decorate on one side. When you are done looking at your photo, you can then slide the overlay to reveal other elements like writing. There is also the simpler static overlay, which can also have a design on it but is mostly clear.
You then place your scrapbook page inside, which can be removed when you want to have a look at it.
Using Watercolors for Scrapbooking
If you love painting with watercolor, you can use it to create some unique scrapbook ideas. The easiest idea is to use watercolor paints to create a scrapbook background. Simply use a brush to splatter the paint onto the paper or apply a color-wash background. Remember to do this away from your other scrapbook elements. You can also use watercolors to create your own embellishments.
To make things easier, you might also want to consider watercolor brush pens.
Mixed Media Scrapbooking Ideas
Creating a mixed-media scrapbook is another fun idea. This idea can provide more creative freedom to make something that is quite distinctive. You can easily build layers and include colors, textures, and different kinds of mediums. You can also emboss images, add stencil details.
Scrapbook Ideas for Couples
There are many scrapbooking ideas you can use, and one is to create a couple's scrapbook. This is perfect for keeping memories of your first date and other mementos of the relationship. Add love notes and little messages about the things you love best about your partner. Choose some quotes about love and add them to a page. Here are a few more scrapbook ideas for couples.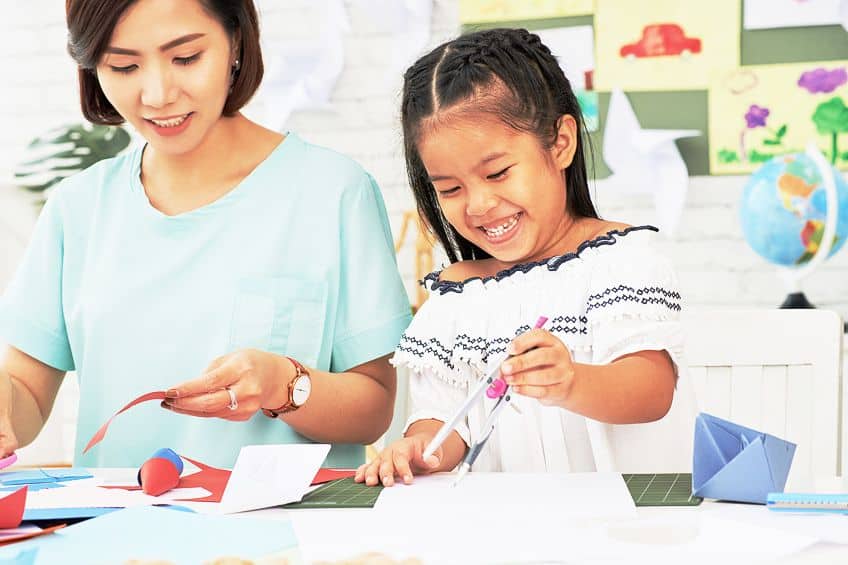 Preserve the memories of special date nights. Take the mementos, for example, a movie ticket, and place them in pockets or envelopes.
Create a scrapbook and document your anniversaries. Include personal messages and love quotes.
If you are getting married, consider documenting the whole wedding in a scrapbook.
Create a daily note scrapbook, where you can do a full page for each day and what happened during this time. This is an ideal way to document your life and share it with others.
Take a screenshot of text messages and use them to display in your scrapbook.
If you share a song, write down the lyrics and design a page around this idea.
Travel Scrapbooking Ideas
A scrapbook is the best idea for documenting your travel adventures. Every time you want to relive the moments, you can flip through your travel scrapbook. This is also perfect to add to the couple's scrapbooking ideas, for those couples who have traveled together. If you travel quite a bit, consider making mini scrapbooks for each adventure. Below are a few more easy scrapbook ideas for traveling.
Keep those restaurant napkins that are branded. These can make a great addition and memory for the scrapbook.
The same goes for all other sorts of memorabilia, such as travel tickets of all kinds, shells, candy wrappers, and even leftover money from specific countries. Keep them and use them in the scrapbook.
Paper maps are ideal to use in a scrapbook, and they can add that special touch.
Do not forget to get postcards from each destination, as these are easy to incorporate into a travel scrapbook.
Make sure to keep a travel journal that has notes and dates that you can also include at a later date.
Scrapbooking Tips
As you can see, there are many scrapbook ideas you can use, we have only touched on a few of them. But we do still have a few tips below that you can use when making your amazing scrapbooking project.
Instead of using normal photos as they are, why not consider cutting the photos into different shapes? You can also then add some creative borders to the photos.
There are many options besides glue that you can use, for example, glue dots and double-sided tape.
There are numerous washi tape designs, and these are easy ways to add patterns and colors.
Consider using colorful paint chips in your scrapbook design.
You can use ribbons in a variety of ways to create something beautiful.
Make sure to use materials that are acid-free and archival.
To make letters, use cut-out patterned paper, or for a look that has more depth, try foam or chipboard letters.
Sometimes, it can be challenging to know how to lay out a scrapbook page. Where should you put photos and text? This is where scrapbook sketches can help you decide easily on placement.
To add a different look, try attaching embellishment with a mini staple, or you also get mini pegs.
For those small embellishments, use tweezers to place them properly.
Scrapbooking can be a fun hobby that usually has a lot of love going into it, and it can also be enjoyed by all for years to come. Instead of having a boring old photo album, you can create something eye-catching, interesting, and enjoyable. If you have not joined the scrapbooking trend yet, we hope we have given you some scrapbook inspiration to begin your journey!
Frequently Asked Questions
Why Should You Begin Scrapbooking?
Scrapbooking is a great skill you can learn, as it includes knowing how to organize, plan, tell a story, and create great designs using different elements. It can take some practice and time to get this just right.
What Should You Not Do When Scrapbooking?
There might be more than one thing to avoid when it comes to scrapbooking, but an easy bit of advice is to not overwhelm a space with decorations, photographs, words, and embellishments. This creates a very busy space that a person will not know where to look. Remember, a page needs a focal point and balance in a design.
Does a Scrapbook Always Need to Contain Photos?
Most scrapbooks contain photos, even if they are not on all of the pages. However, you can create a scrapbook completely without photos. This could be challenging, but it is a great way to tell your story in other ways.
In 2005, Charlene completed her Wellness Diplomas in Therapeutic Aromatherapy and Reflexology from the International School of Reflexology and Meridian Therapy. She worked for a company offering corporate wellness programs for a couple of years, before opening up her own therapy practice. It was in 2015 that a friend, who was a digital marketer, asked her to join her company as a content creator, and this is where she found her excitement for writing.
Since joining the content writing world, she has gained a lot of experience over the years writing on a diverse selection of topics, from beauty, health, wellness, travel, and more. Due to various circumstances, she had to close her therapy practice and is now a full-time freelance writer. Being a creative person, she could not pass up the opportunity to contribute to the Art in Context team, where is was in her element, writing about a variety of art and craft topics. Contributing articles for over three years now, her knowledge in this area has grown, and she has gotten to explore her creativity and improve her research and writing skills.
Learn more about the Art in Context Team.