Famous German artist Gerhard Richter is considered to be among the most significant modern artists in Germany. Gerhard Richter's paintings reflected his schooling in a realist manner at first, but he eventually gained respect for the more advanced work of his European and American peers. Gerhard Richter's artworks were utilized to investigate how pictures that appear to reflect "reality" frequently turn out to be considerably less objective, or ambiguous in meaning than was initially imagined.
The Life and Art of Gerhard Richter
Gerhard Richter's photography was another aspect of his repertoire, along with the production of glass pieces, as well as his abstract and naturalistic paintings. Producing beside but never completely adopting a flurry of late-20th-century art trends such as British Pop art, Minimalism, Abstract Expressionism, and conceptualism, the famous German artist assimilated many of their ideas while being dubious of any big creative and ideological dogmas. Gerhard Richter's artworks use a lot of painted images from tabloids or even his own personal photographs of his family.
| | |
| --- | --- |
| Date Born | 9 February 1932 |
| Date Died | Still Alive |
| Place Born | Dresden, Germany |
| Associated Movements | Abstract, Photo-Realistic Painting |
| Mediums | Painting, Photography |
The Artist's Early Years
Gerhard Richter was born in Dresden, Germany, in 1932, amid the development of the Nazi Third Reich. Interestingly, Richter's father, a teacher, as well as an uncle were all integrally engaged in the Nazi cause. Richter's mother, a concert pianist's daughter, supported her son's early ability for drawing. Richter dropped out of school in 1948, when he was 16 years of age, and began working as a stage decorator for the theater. Richter had experienced massive stress as a result of the war's aftermath: a couple of his uncles had been murdered in combat, and his father had lost his job.
This familial strife, along with the artist's early professional schooling under wartime communist-driven dogma, finally led Richter to pursue artistic ideas in nature rather than in economic, spiritual, or philosophical problems or ideas.
Gerhard Richter, National Gallery, Prague, 2017; Jindřich Nosek (NoJin), CC BY-SA 4.0, via Wikimedia Commons
The Career of the Famous German Artist
As part of his B.A., he completed a wall mural called Communion with Picasso (1955) for the dining hall of his Academy of Arts. For his graduation, he created another fresco called Joy of Life (1956) for the German Hygiene Museum. It was meant to create a look "akin to tapestry or wallpaper." Richter wedded Marianne Eufinger in 1957, and in 1966 the pair had a daughter named Betty.
Early Training
Richter saw the works of modern painters Lucio Fontana and Jackson Pollock two years after that, on a trip to West Germany in 1959. Richter was profoundly influenced by Pollock's unrestrained blasts of color over the canvas, prompting him to ponder on his own creative theory. Likewise, Richter began to wonder why a realist approach did not appear to convey the vitality, feeling of truthfulness, and atmosphere of artistic emancipation that he saw in his European and American peers' abstract works.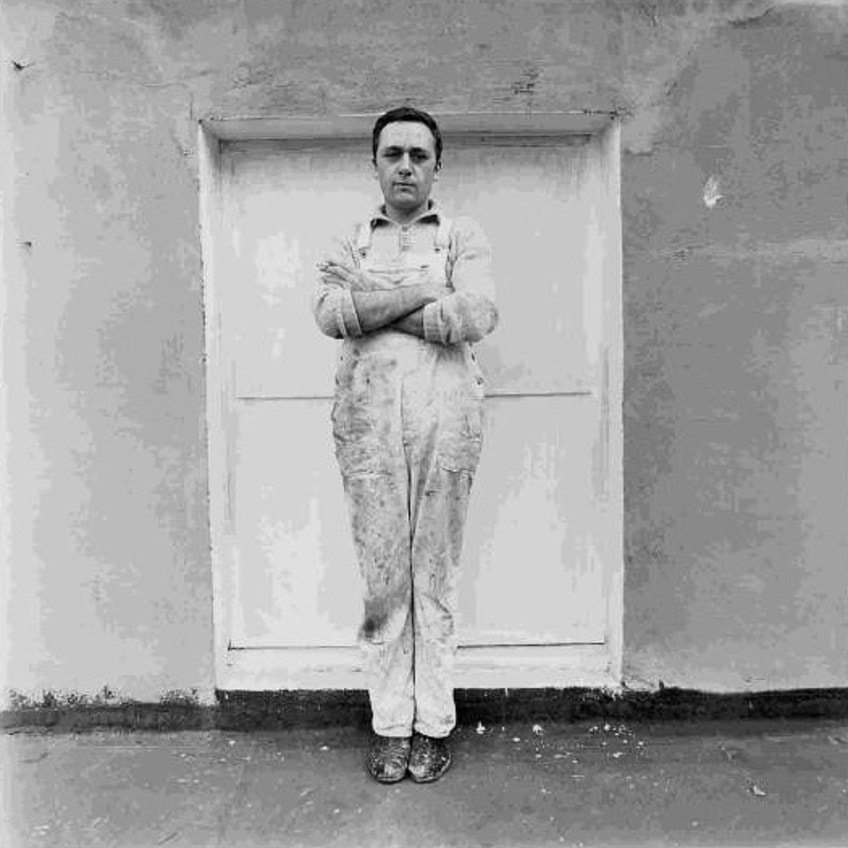 Gerhard Richter photographed by Lothar Wolleh, c. 1970; Lothar Wolleh, CC BY-SA 3.0, via Wikimedia Commons
His ostensibly "realistic" paintings seemed to miss the fundamental, chaotic essence of reality itself. Richter relocated to Düsseldorf in 1961, just before the government's formal construction of the Berlin Wall. Richter enrolled in the nearby Kunstakademie again with the intention of working in a more unfettered, avant-garde style; in the course of reconsidering his approach to art production, he purposefully destroyed several of his early works from the 1950s and 1960s.
Mature Period
While still producing in a realistic style, Richter began incorporating photographs about 1961, projecting and transferring pictures onto the canvases. Richter thought that as an artist, he was "creating an image that has little in connection with the subject," rather than "representing a specific person." While painting people from photos, Richter's mirror images were frequently smudged and bore hardly anything recognizably distinguishable about the subject, forcing the audience to evaluate the essential features of the artwork itself, including structure, color palette, and so forth, instead of having left the audience to recognize with, or be sidetracked by, an image's inferred subject matter or sentimental element of "society."
After becoming dissatisfied with his decision to embrace abstractions or representational art, Richter opted to focus on the random elements that occurred throughout the painting process.
Richter began smearing, scratching, and hiding numerous painted layering in his new paintings, using the same approach he used in his representational works. In 1966, he produced a collection of gray paintings such as Two Greys Juxtaposed (1966) that focused on arrangement and paint applications rather than accurate subject portrayal. Richter added the paint using heavy brushstrokes, rollers, and a vigorous sweep with a squeegee (A tool typically employed for window cleaning and clearing one's field of view). Richter downplayed the visual effect of realism images in this collection of work in favor of a fluid, expressive illusion of dimension.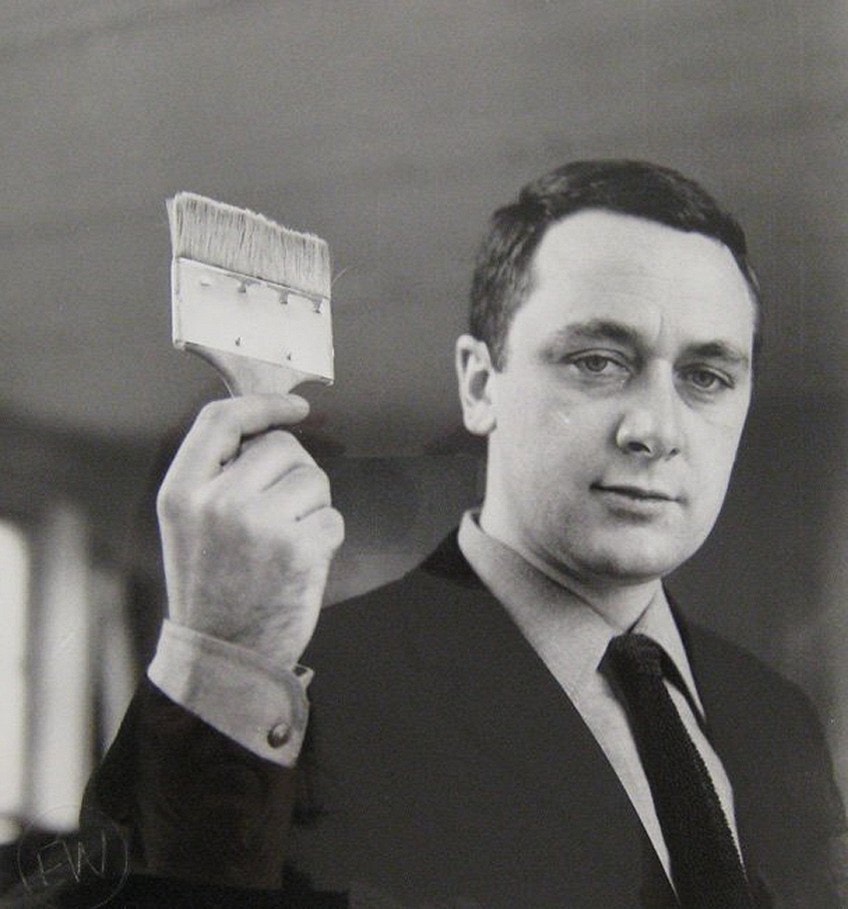 The artist Gerhard Richter at Domberger, Stuttgart, 1967; Kunststiftung Poll, CC BY-SA 3.0 DE, via Wikimedia Commons
Richter was placed as a professor at the Düsseldorf Kunstakademie in 1971. This signals the start of his "color chart" works, such as 1024 Colors (1973), in which he placed square colors of solid color on big canvases in a scientific manner. During this period, Richter was widely criticized for his clear refusal to be connected with a certain aesthetic movement, as well as for Gerhard Richter's painting's seeming failure to confront numerous political and social concerns related to the Nazi rule during the Second World War.
Late Period
Richter used the moniker Abstract Paintings as a generalized one for all of his following paintings in 1976, essentially forcing observers to judge a certain piece without clarification from the artist. Richter reverted to representational work a year later with his Baader-Meinhof (1977) series, which documented the infamous killing of a group of adolescent German extremists in a Stammheim jail. Photographs were used as sources while Richter portrayed the corpses and depicted the terrorists' heinous vanity.
Gerhard Richter's paintings' fuzzy vision may be argued to represent the unanswered mystery behind the detainees' abrupt death.
Richter accomplished global celebrity status during the 1980s and 1990s for his sequence of artworks that, at first glimpse, appear to carry on a legacy of Abstract art, such as Abstraktes Bild (1994) however, closer inspection of their tightly packed surfaces suggests that these color-resplendent creations have been measured to allude only to themselves or their methods of fabrication, for instance, rather than trying to express any intimate motivation of the creator himself.
Richter appears to take delight in his own capacity to pack hues in thick layers across the painting and then interrupt the complete field by scraping it sidewards, as if the artist was robotically plowing "crossings" where his own regulation of his substances gives way, in this location and also that, to primarily chanced styles and spontaneous coagulation of coloring, in these artworks.
The Art Style of Gerhard Richter
Often, Richter begins by manually projecting an impression onto the canvas, a method for contemplating how pictures, like enigmatic ghosts haunting our brain, appear to have a life of their own. This process of visual compressing, in which photographs, projections, and painting are combined to create a finished art piece, implies that all vision is a form of conversion of the "actual" into the "imaginary."
Richter frequently blurred his images and embraced random effects in his own painting technique to demonstrate the difficulty of any artist communicating the whole truth of a topic in its original state.
Such methods of implying that something important to the model has been "lost in translation" frequently draw the viewer's focus to the oil pigment's thick, material character, highlighting both its expressive capabilities and flaws.
Gerhard Richter's Photography Paintings
Throughout the 1960s and early 1970s, Gerhard Richter created a wide range of painted images from black-and-white pictures, centering them on a wide range of references: media publications and books, sometimes integrating their captions as can be seen in Helga Matura (1966); personal photos; overhead shots of cities and mountain ranges such as Cityscape Madrid (1968).
He picked the images of musicians such as Jean Sibelius and Gustav Mahler, as well as authors such as Franz Kafka and H. G. Wells, for 48 portraits created between 1971 and 1972.
Richter began painting portraits of traders, buyers, painters, and others in his close professional group around 1964. Richter created two portraits of his daughter Betty (1977 and 1988). Many of his realism works focus on the history of Nazism, depicting family members who were both members and casualties of the Nazi party.
Richter began utilizing images he had taken as the foundation for portraits in 1966, in addition to those sent to him by others. Gilbert and George commissioned Richter to create a picture of them for a presentation in Düsseldorf in 1975. While landscape painting components originally emerged in Richter's work in 1963, the artist launched his solo series of landscapes in 1968 following his first trip, a journey that left him besotted with the scenery of Corsica such as Corsica Sun (1968).
Landscapes have since evolved as a distinct body of work in his artistic output.
Richter's landscapes are interpreted within the framework of classic German Romantic paintings. They are likened to Caspar David Friedrich's art. Friedrich is regarded as the father of German landscape art. Große Teyde-Landschaft (1971) is inspired by comparable holiday images of Tenerife's volcanic areas.
Gerhard Richter's Paintings of Abstraction
Following on from his early Table (1962), in which he annulled his photorealist picture with haptic swirls of gray paint, Richter created the first in a series of gray monochromes in 1969 that consist only of the textures generated by different types of paint application. Richter awarded one of his paintings the label Abstract Painting (1976) for the first time in 1976.
He thought he was "letting a thing come, rather than producing it" by exhibiting a picture without even a few sentences to label and define it.
Richter's abstract paintings are composed of successive layers of non-representational art, starting with large swathes of primary color applied to canvas. The paintings proceed in phases as a result of his reactions to the picture's evolution: the accidental features and rhythms that emerge. Richter employs the same methods he does in his realistic paintings throughout his technique, distorting and scraping to cover and uncover earlier layers.
The famous German artist's abstract work, as well as its perception of space, arose through an unintentional process: a buildup of impulsive, reactive actions of applying, shifting, and erasing paint. Despite their artificial palettes, formless sheets of color, and evident tool tracks, abstract paintings frequently operate as apertures through which we may glimpse the nature outside. There is an equilibrium of imagination and pigment, as in his representational works. In those artworks, he transforms everyday images into simple artifacts.
Likewise, Richter elevates impromptu, instinctive mark-making to a degree of visual logic and plausibility in his abstract paintings.
Gerhard Richter's Color Chart Artworks
Richter began making paintings based on color charts in 1966, employing the rectangles of color as discovered items in a seemingly unlimited range of hue; they culminated in 1973 in a sequence of large-format images such as 256 Colors (1974). From 1966 through 1974, Richter created three sets of Color Chart works, each one becoming increasingly ambitious in its effort to create via the completely random arrangement of colors.
In 1966, the painter began his explorations into the numerous variations of color charts with a little work named 10 Colors (1966). Richter was able to detach color from any conventional, analytical, metaphorical, or expressive goal by using the charts as nameless and impartial source material. Richter began making these paintings by having his colleague Blinky Palermo yell out colors at random, which Richter subsequently used in his work.
As a result, chance plays a part in the production of his debut series.
When Richter returned to color charts in the 1970s, he shifted his emphasis from the premade to the conceptual model, establishing mathematical processes for combining colors and chance processes for their arrangement. A mathematical technique for blending the fundamental colors in graded amounts established the color spectrum he used.
Each hue was then randomly arranged to produce the painting's arrangement and shape.
His second Color Charts series, which began in 1971, comprised only five works. Further aspects to this permutational technique of color synthesis were combined such as mixtures of a lighter gray, a darker gray, and eventually, green in the final series of Color Charts that obsessed Richter throughout 1973 and 1974.
Gerhard Richter's Sculptures
Richter first used glass in his work with Four Panes of Glass (1967). These basic panes of glass could lean away from the rods on which they were attached at varying angles depending on the placement. He and Blinky Palermo collaborated in 1970 to submit ideas for the sporting complexes for the 1972 Olympic Games which were held in Munich.
They offered an array of glass panes in 28 distinct hues for the arena's facade; each color would occur fifty times, with the placement decided by chance.
Richter created the first of the massive translucent mirrors that recur irregularly in his work in 1981, for a double exhibition with Georg Baselitz in Düsseldorf; the mirrors are substantially larger than Gerhard Richter's paintings and have adjustable steel supports. Mirror Painting (1991), for example, used a pigment glued on the back of the glass to color the mirrors gray. In a customized pavilion developed in partnership with architect Paul Robbrecht in 1992, Richter showed an installation of artworks and colorful mirrors in two separate rooms at Documenta 9 in Kassel.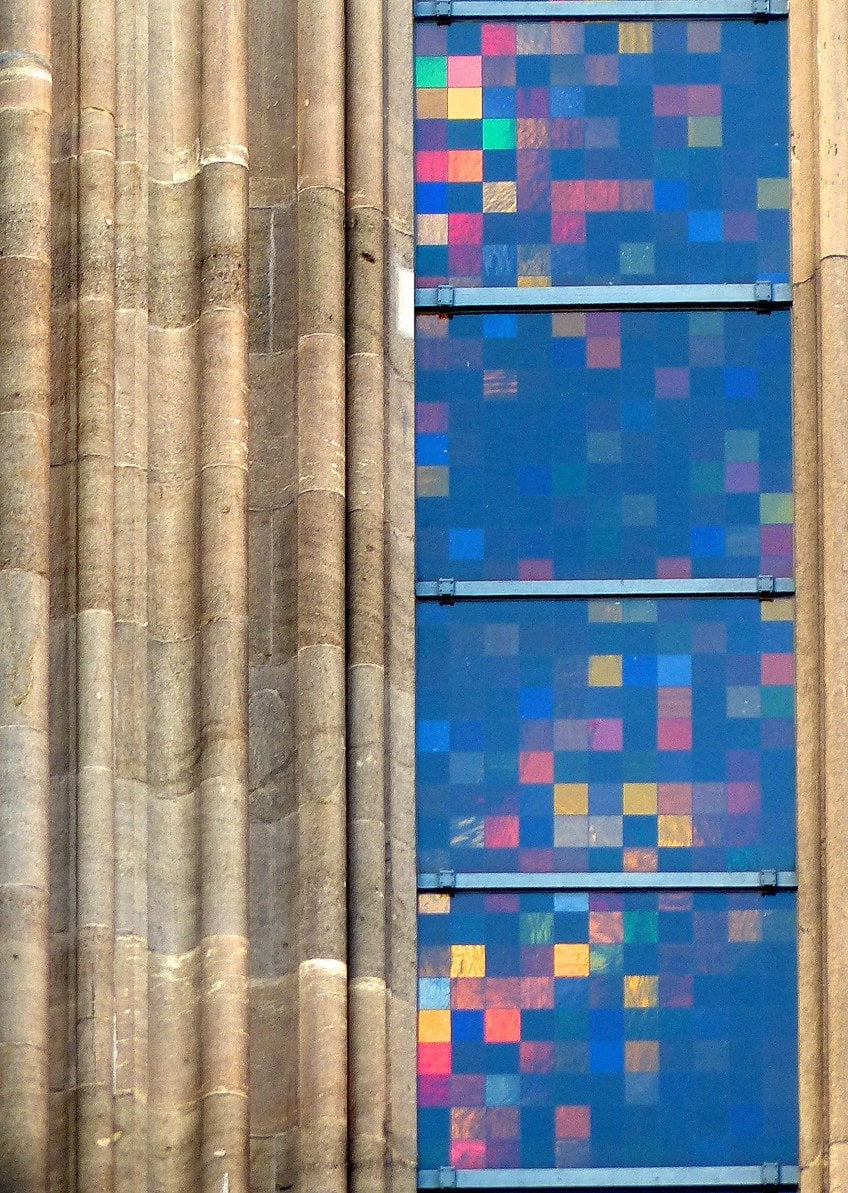 Richter Window in the Cologne Cathedral; Geolina163, CC BY-SA 3.0 DE, via Wikimedia Commons
Gerhard Richter Exhibitions
Richter's debut exhibition was in Düsseldorf in 1963. Richter held his first solo exhibition in a gallery in 1964, at Galerie Schmela in Düsseldorf. Soon after, he had shows in Berlin and Munich, and by the 1970s, he was regularly exhibiting around the United States and Europe. Richter's sculptures were first shown outside of Germany by Bruno Bischofberger in 1966.
Richter's first retrospective, which included the years 1962 through 1974, was held at the Kunsthalle Bremen in 1976.
In 1986, he had a traveling retrospective at Düsseldorf's Kunsthalle, which was followed in 1991 by a comprehensive retrospective exhibit at London's Tate Gallery. In 1993, he was the subject of a large traveling retrospective titled "Gerhard Richter: Malerei 1962–1993," organized by Kasper König and accompanied by a three-volume catalog prepared by Benjamin Buchloh. This show, which included 130 pieces completed over the span of thirty years, was intended to completely recreate Richter's oeuvre. A selection of his solo exhibitions include:
2008: Serpentine Gallery, London
2009: National Portrait Gallery, London, United Kingdom
2011: Tate Modern, London
2012: Centre Pompidou, Paris, France
2012: Neue Nationalgalerie, Berlin, Germany
Gerard Richter's installation, "The Sublime Void", Royal Museum of Fine Arts, Antwerp (1993); Kristien Daem, CC BY-SA 4.0, via Wikimedia Commons
Famous Artworks
Personal feelings and any traces of the painter's autobiography appear to be absent from Richter's fully abstract works. The painting's numerous layers, slashes, and scraping of color may thus look as "beautiful" as anything seen in nature that arose partially as a result of a predefined structure, as well as via unexpected events of happenstance and the activity of outside influences. Here is a list of some of his most well-known works.
Brigitte Bardot's Lips (1963)
Color Streaks (1968)
1024 Colors (1973)
Abstract Painting (1976)
Clouds (1982)
Man Shot Down 1 (1988)
Abstract Picture (1994)
Moritz (2000)
Duisburg subway art by Gerhard Richter; Katpatuka, CC0, via Wikimedia Commons
Recommended Reading
Gerhard Richter's paintings are highly regarded. The famous German artist is known for both his realistic art as well as his abstract works. Perhaps you would like to learn more about his life and works. Here is a list of recommended material for you to enjoy!
Gerhard Richter: Drawings 1999–2021 (2021) by Gerhard Richter
Following in the footsteps of Gerhard Richter's 20-year-old catalog raisonné of works, this new book on Richter's contemporary drawings depicts 80 pieces created between the years 1999 and 2021. Drawings 1999–2021 focuses on a recent time of exceptional originality and invention, including a large number of graphite drawings on paper, vibrant watercolors, and overpainted images of woods. This publication, like the companion show at London's Hayward Gallery, provides a unique opportunity to investigate the most personal part of Gerhard Richter's work.
The most comprehensive publication on Richter's drawings

A monograph on Richter's recent drawings between 1999 and 2021

Get a first look at new drawings and watercolors
View on Amazon
Gerhard Richter: Catalogue Raisonné, Volume 6 (2022) by Dietmar Elger
Gerhard Richter's oeuvre includes almost 3,000 unique pieces. Over the course of five decades, he has produced a stylistically diverse and sophisticated body of work that attests to his position as the most significant living painter of our day. Dietmar Elger has spent several years investigating and compiling the six-volume collection, which will be released in 2020. This second book contains the pieces assigned numbers 199 to 388 by Richter, spanning the years 1968 to 1976. There are around 500 artworks and sculptures in all.
A look into Richter's most recent works from 2007 to 2019
Projects presented alongside extensive technical information
Includes details of the artist's handwritten notes
View on Amazon
Gerhard Richter, a well-known German artist, is regarded as one of the country's most important contemporary painters. Gerhard Richter's paintings first represented his education in a realistic style, but he soon garnered admiration for the more sophisticated work of his European and American contemporaries. Gerhard Richter's artworks were used to study how artworks that appear to mirror "reality" usually turn out to be far less objective, or ambiguous in meaning than was previously assumed.
Frequently Asked Questions
What Kind of Art Was Gerhard Richter Known for Making?
Gerhard Richter's photography, along with his glassworks and abstract and realistic paintings, was another facet of his oeuvre. Producing alongside but never fully adopting a flurry of late-twentieth-century art styles such as British Pop art, Minimalism, Abstract Expressionism, and conceptualism, the famous German artist incorporated many of their ideas while being skeptical of any major creative and ideological dogmas. Gerhard Richter's artworks incorporate a variety of painted images from tabloids, as well as his own personal pictures of his family.
What Were Gerhard Richter's Paintings With the Various Colors About?
By employing the charts as unnamed and unbiased source material, Richter was able to remove colors from any traditional, analytical, metaphorical, or expressive objective. Richter began producing these paintings by having his collaborator Blinky Palermo shout out random colors, which he then employed in his work. As a result, chance plays a role in the creation of his series. When Richter returned to color charts in the 1970s, he moved his focus from the prefabricated to the conceptual model, developing mathematical techniques for mixing colors and changing processes for their arrangement.