There are many different shades of white. Each of these shades is slightly different from off-white, also known as "pure-white". These shades of white all form part of the neutral color scheme. Usually, shades are created by combining a pure color and black pigment. Shades of white differ from regular color shades. Essentially, they are all the "white color", but in varying hues and saturations. These hues include shades of white such as cream, ivory, or eggshell. Let's explore the different shades of white, the available shades of white paint, and the various shades of white names that are used.
The History of the Color White
The history of the color white goes as far back as 400 BC when it was derived from lead. Many people became gravely ill due to the toxins found in the lead, which was only discontinued in the late 1700s, despite hundreds dying. White lead was also found in women's makeup and beauty products, and not only in pigments used by artists.
Even though artists and other individuals were experiencing serious side effects, lead was only replaced with zinc white and titanium dioxide much later. In 1921, a more sustainable paint pigment was developed and it is used in 70 percent of the world's white paint.
White paint contains white titanium oil and produces a prominent opacity and thermal stability, making it a far better, longer-lasting white paint option.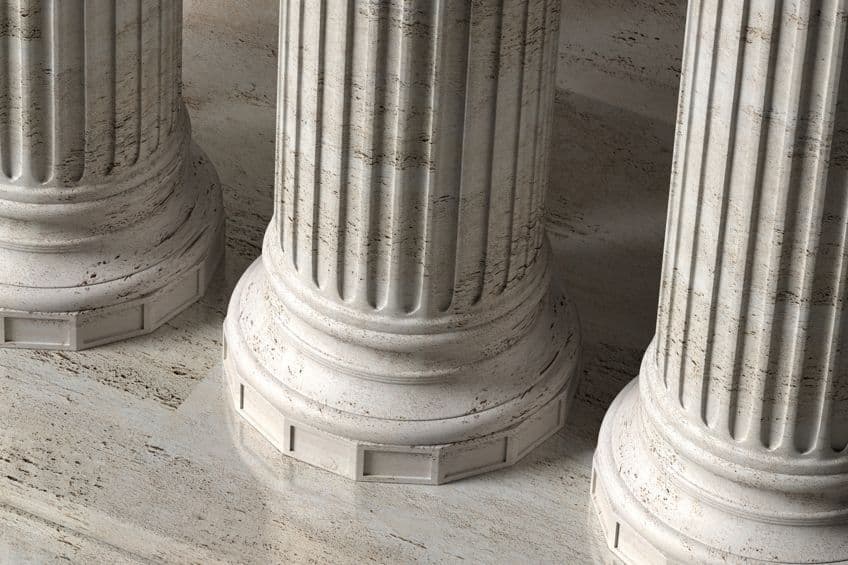 The titanium dioxide in white paint is also used to add whiteness and opacity to household products such as plastic containers, women's makeup, food, sunblock, and toothpaste. Other places you can find traces are on the exterior of the Saturn V rocket, and it is used to make the white lines on a tennis court. Over the decades, the various off-white colors became trendy, and today we have thousands of different shades of white to choose from. As early as the 1930s, the use of beige alongside white was very popular, and again in the mid-1950s to 1975.
Shades of white can be found everywhere in nature and almost everywhere you look.
Some examples include snow, clouds, and flowers. Many cultures celebrate the color white and use the color white for spiritual and emotional meanings. China considers the shades of white to represent death and illness, while many western cultures will use white to signify purity and innocence – this is why brides wear white wedding dresses, and the robes are white in the Catholic faith. White and black colors are often characterized as opposites, good and evil, or day and night, similar to the Yin and Yang in Eastern cultures.
The Meaning and Psychology of Shades of White
There are many positive and negative meanings behind shades of white. Acting as a contrast to the black, white symbolizes purity and cleanliness. Pure white is untainted by any other hue and can make people feel fresh and inspired. However, it can have the opposite effect. Shades of white can bring on feelings of loneliness and cold. Too much white can be overbearing and sterile – however, white can also assist with creating focus and clarity of the mind.
The many shades of white are closely associated with learning and knowledge, illumination, and insight, and it is often considered to be a holy color.
Doctors and brides traditionally wear white because of its sense of cleanliness and purity. To promote a happy home, one would surround it with a white picket fence. Chefs note that using white plates enhances the perception of the flavor of the food. There is a connection between color and taste and smell in food. The sweet aroma of vanilla, for example, can soothe and calm, and our taste buds can create a connection between a color combination and flavor.
Sauvignon blanc white wine, which is bursting with crisp flavors of passion fruit or banana, is the epitome of what white would taste like. It is smooth and velvety and may look golden in color but standing alongside a glass of red wine, you then see the contrast and difference.
How Shades of White Feature in Color Theory
A color wheel is used as a visual description of how colors interact with one another. Color theory is the science of colors and how colors work together. The question remains, is the color white to be featured as an actual color? Many artists and designers, or so-called experts, have differentiating opinions about how the color white must be considered.
This debate is because the color white is not featured on the color wheel.
After all, it is devoid of hue or chroma and cannot be blended from the three primary colors, yellow, blue, or red. However, white is an important pigment and is used to mix colors on all paint palettes. White pigment is used to change the tint of color and tone it down, thus giving it an integral role in creating the existence of color tones. There are, of course, many other terms to learn about, such as complementary colors, monochromatic colors, and analogous colors.
The term color bias is used to describe the quality of color, and it specifies if a color has warm or cold undertones. Pure white can be considered a color with cold undertones, yet shades of white can hold temperature depending on the color bias. Depending on what color you use combined with the shades of white, it will influence the shades' undertone, be it warm or cold. The below diagrams are created to show the different shades of white names, their hex codes, and other useful information. A hex code is used to identify certain colors and their names.
You will see other codes in the table, and these are color models used for either print or on-screen design. These are more commonly known as RBG, or red, green, and blue, and CMYK, or cyan, magenta, yellow and black.
Various Shades of White Names
Shades of white paint cannot be mixed from colors, thus making it colorless because it consists of all colors and does not have a specific or special wavelength of its own. It can be useful in design and marketing because it works perfectly to create contrast. The color white also creates room to connect other elements in your design space.
As an example, imagine a clear white document waiting to be filled with writing or designed elements, no matter how you use the different shades of white, you can't go wrong! Many shades of white vary in range from the pure white color, depending on where it is used. This shade of white will appear differently on a wall as opposed to a screen. Below are different tables created with unique hex codes and shades of white names. Let's take a look!
White
First on the list is the standard white color, all shades of white are derived from this hue. This shade of white is known as pure white and reminds us of snowflakes or heaps of sugar. Other examples include reams of white paper, crisp-clean sheets, and doctor's white coats.
Purity, simplicity, and cleanliness are all representatives of the color white.
| | | | | |
| --- | --- | --- | --- | --- |
| Shade of White | Hex Code | CMYK Code | RGB Code | Color |
| White | #ffffff | 0, 0, 0, 0 | 255, 255, 255 | |
Ghost White
This shade of white name is possibly the closest to a transparent white color. Ghost white is best described as the shade of white used for bed sheets and leans towards a gray shade because of its gentle blue undertone. This shade of white is a popular choice for a background.
| | | | | |
| --- | --- | --- | --- | --- |
| Shade of White | Hex Code | CMYK Code | RGB Code | Color |
| Ghost White | #f8f8ff | 3, 3, 0, 0 | 248, 248, 255 | |
| Ghost Green | #d9d7b8 | 0, 1, 15, 15 | 217, 215, 184 | |
| Ghost Gray | #dddcda | 0, 0, 1, 13 | 221, 220, 218 | |
Alabaster White
This unique shade of white name comes from the soft rock which is used in plaster and is also the material used by artists for sculptures.
This color promotes a soft and warm tone of white and contains a beige undertone that complements most colors.
| | | | | |
| --- | --- | --- | --- | --- |
| Shade of White | Hex Code | CMYK Code | RGB Code | Color |
| Alabaster | #edeae0 | 0, 1, 5, 7 | 237, 234, 224 | |
Ivory
Ivory is off-white and has an almost creamy appearance with a yellow undertone. The name was popularized in the English language in 1385. Ivory white is aptly named after elephant tusks or animal teeth, and even though its history is connected to colonial hunting, this color exudes elements of elegance and quietness, it is a popular tone for wedding dress fabric.
| | | | | |
| --- | --- | --- | --- | --- |
| Shade of White | Hex Code | CMYK Code | RGB Code | Color |
| Ivory | #fffff0 | 0, 0, 6, 0 | 255, 255, 240 | |
Snow White
Snow White is not only the name of a fictional character but also the name of a color. As you can imagine, this color is the closest to pure white and exudes feelings of cold, memories of making snow angels, and sitting by a warm fire sipping hot cocoa. This lovely soft shade of white complements any neutral color.
It is a cold color, so it is best to pair alongside other cooler tones such as purples, light blues, and pinks.
| | | | | |
| --- | --- | --- | --- | --- |
| Shade of White | Hex Code | CMYK Code | RGB Code | Color |
| Snow | #f5fefd | 4, 0, 0, 0 | 245, 254, 253 | |
Cream
This color represents elegance and purity and is often thought of as a soft pastel shade of white. The cream color is a mixture of yellow and white, much like the tone of fresh cream or melting butter on a delicious scone. Artists use the color cream as a base tone for mixing skin tones and colors, and interior designers remark that any variety of cream colors combined with grays go perfectly together to create a soothing environment. A more vibrant color combination could be cream combined with shades of yellow, red, or even green.
| | | | | |
| --- | --- | --- | --- | --- |
| Shade of White | Hex Code | CMYK Code | RGB Code | Color |
| Cream | #fffdd0 | 0, 1, 18, 0 | 255, 253, 208 | |
Beige
This color is generally considered to be part of the brown family, yet it is grouped as a shade of white. Beige encompasses the warm elements of brown and also contains the coolness of white, this means it can be paired with a wide range of colors. Beige white is refreshing and dependable while also being seen as relaxing and soft.
To mix beige paint, all you need to do is add a touch of yellow pigment and mix it with pure white.
| | | | | |
| --- | --- | --- | --- | --- |
| Shade of White | Hex Code | CMYK Code | RGB Code | Color |
| Beige | #f5f5dc | 0, 0, 10, 4 | 245, 245, 220 | |
Eggshell
The eggshell pigment is most commonly used to construct a matte finish to painted ceilings and walls. This unique shade of white is the same color as an actual eggshell, although eggshells come in a wide variety of different shades, this eggshell tone is a popular shade of white with a soft and warm undertone.
| | | | | |
| --- | --- | --- | --- | --- |
| Shade of White | Hex Code | CMYK Code | RGB Code | Color |
| Eggshell | #f0ead6 | 0, 3, 11, 6 | 240, 234, 214 | |
Cornsilk
This light and pale shade of white is best described as a light yellow because it comprises a green undertone. Cornsilk is found within a corn cob's husk and the pigment color is closely related to this.
Cornsilk white is best used on kitchen cupboards or as a white trim.
| | | | | |
| --- | --- | --- | --- | --- |
| Shade of White | Hex Code | CMYK Code | RGB Code | Color |
| Cornsilk | #fff8dc | 0, 3, 14, 0 | 255, 248, 220 | |
Bone White
Believe it or not but bone-white is considered a warm tone because of the yellow and gray undertones it contains. This shade of white is paired well alongside other warm neutral colors. Named after its close resemblance to bones or a skeleton, this shade of white is ideal for wall paint or even used as a trim.
| | | | | |
| --- | --- | --- | --- | --- |
| Shade of White | Hex Code | CMYK Code | RGB Code | Color |
| Bone | #e3dac9 | 0, 4, 11, 11 | 227, 218, 201 | |
Shades of White Paint
White paint is generally the first color an artist purchases, but are you aware that white paint could potentially ruin your painting? Using the correct shades of white paint is imperative to perfecting your art project. You can face a few issues if the level of opaque is not adequate in your white pigment. This can occur if using a cheaper acrylic shade of white paint.
To have better and cleaner color mixes, you should opt for better-quality options, even though they may be more expensive.
Which pigment is best for acrylic paint blends? Opaque titanium white and zinc white are both considered to be transparent shades of white paint. Zinc white is the better choice when a slight tone shift is needed, and it is popular for painting portraits. But, when a more solid white shade is needed, then titanium white is the wiser choice out of the two.
| | | | | |
| --- | --- | --- | --- | --- |
| Shade of White | Hex Code | CMYK Code | RGB Code | Color |
| Zinc White | #ffffff | C:0 M:0 Y:0 K:0 | 255, 255, 255 | |
| Titanium White | #f3f4f7 | C:2 M:1 Y:0 K:3 | 243, 244, 247 | |
Many artists have expressed that to create the same level of white as the titanium white a mixture would require six times more zinc white. In conclusion, an artist should use titanium white to alter tones using a strong opacity rather than zinc white. If mixing the different shades of white paint is not something you want to do yourself, fret not! Most art shops stock various shades of white paint tubes to choose from. Luckily, acrylic paint sets quickly, no matter the shade or color, and this can be helpful when using opaque white paint in your painting.
Using watercolor paints is fun, but it takes skill to use because it is what is called a transparent medium.
You have to develop your painting in layers. To create highlights and luminescence, you must choose thick white paper and most watercolor artists don't even use white paint. Instead, a watercolor artist will reserve parts of the white paper and build around it rather than use white pigment. For serious watercolor painters, purchasing high-quality paints is imperative, so for tints, zinc oxide pigments found in Chinese white are often used. Gouache is the best choice for opaque watercolor paint.
Interior Design With Shades of White
Interior designers will be the first to tell you there are no shortcuts or simple methods when it comes to choosing between the different shades of white. It may be a versatile color that works well with other hues, but that still means you need to use the correct shades.
When deciding on the correct shades of white when it comes to designing an interior room, the room's lighting must be considered.
Bright shades of white are ideal for darker rooms, and darker-toned white shades are ideal for rooms that have loads of natural light. Before going through the various shades of white names, try including the color bias in your choice, as this will affect the outcome. Bathrooms suit a clean and cool tone of white, whereas comfortable living rooms and bedrooms work well with a warmer tone of white.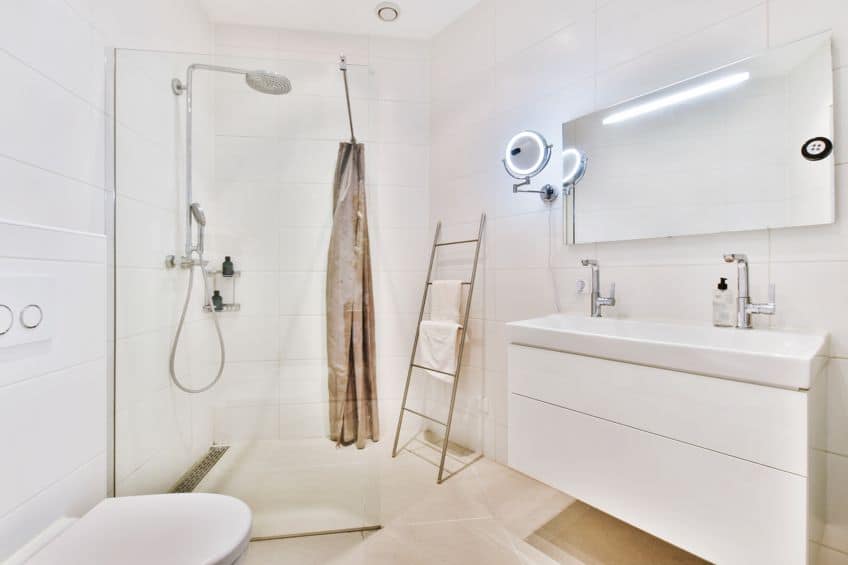 As you are learning, lighting plays an integral role in color presentation, and natural lighting is one factor. Many interior designers create spaces that are lit by LED lighting, and this does have an impact on your color choice. It is best to check the white undertone and how it will change under the influence of artificial indoor lighting.
Also, be aware of how the white color can reflect other colors.
For example, if you have magenta pink curtains, this will create a reflection on the white walls. A good way to see any color undertones, especially ones you may have missed, would be to hold a white printing paper alongside any shades of white paint you wish to use. Let us explore some ideas for different shades of white in your interior space:
Create a tonal effect by layering various shades of white. Try using wallpaper or a stencil in a different shade of white.
Dark shades of gray or black can help add contrast to your white room.
Plants or accessories can help bring some color to an all-white, clinical or minimalist space.
You can pair neutral colors with different shades of white for a warmer minimalist space.
For a fresh and clean feel, an all-white kitchen can be a beautiful space. Use some red hanging light shades or a fruit bowl for a little bit of color.
Shades of dark blue paired with different shades of white can help bring a fun sea-side or nautical theme to any room.
All the different shades of white are a perfect addition to any home, enabling you to create an atmosphere and influence mood. Even though white is not always considered to be a color, it plays a massive role in daily life. Hopefully, you can incorporate shades of white in your design palette.
Frequently Asked Questions
Does White Have a Warm or Cool Bias?
When looking at the different shades of white, one would assume that it would sit in the cool tone category. But, like most colors, you will learn that the different shades of white can be either. Some shades of white contain blue undertones, making them a cool color, and other shades of white have yellow undertones, making them a warm color.
How Can I Incorporate Shades of White for Interior Design?
To incorporate different shades of white in your home, you should consider the lighting in the space and a few other elements. This versatile color combines very well with all colors. The different shades of white are thought to help evoke a sense of calm and openness as well as brightness and freshness. White provides a blank canvas for your space and it is a wonderful backdrop paired with accents of color accessories, furniture, and wall hangings.
What Colors Complement Shades of White?
Almost every single color in the world complements different shades of white. If you want contrasting tones, use colors such as red, blue, and black. Neutral colors are also beautiful when paired with shades of white. For example, the white shade beige is complementary to browns, blues, reds, neutral shades, and snow white. Remember, always think about the undertone of the shades of white you want to use before you add accent colors.
Is Cream Considered a White Shade?
Most definitely! Cream is one of the many shades of white names. It is described as off-white and is an excellent partner to warm and neutral colors. The cream color contains a yellow undertone. Many people refer to all off-white tones as cream color.