Gunmetal Gray Color – Learn About the Darker Shades of Gray
The name "gunmetal gray" pretty much describes this particular gray tone. It brings to mind the type of metal gray that is used to make weapons or firearms. Besides this, gunmetal gray can also be successfully used to make amazing web designs, as well as to create sophisticated and modern interior designs. Read further to find out what colors go with gunmetal gray, and to get a few ideas on how to use the gunmetal gray color for interior designs!
What Is the Gunmetal Color?
The gunmetal color can be described as a darker shade of gray that has undertones of blue and maybe green. The color also has a metallic and silver-gray effect. The gunmetal color is quite versatile and can work well with most colors, forming beautiful color palettes. The color can be utilized to bring together various design elements to create stunning effects. You can see below the gunmetal gray hex code, which is what helps identify the color online.
You also have other gunmetal gray color codes that are used for graphic designs and if you need to print something.
| | | | | |
| --- | --- | --- | --- | --- |
| Shade | Hex Code | CMYK Color Code (%) | RGB Color Code | Color |
| Gunmetal Gray | #818589 | 6, 3, 0, 46 | 129, 133, 137 | |
Brief History: Gunmetal Gray Color
The name "gunmetal gray" coincides with the first use of metal material in the construction of firearms, which got underway in the 19th century. The metal had various benefits that included resistance to corrosion and rust and was quite durable. This meant it could be exposed to quite harsh conditions without problems.
As firearms became more widespread, the name "gunmetal gray" also became well-known.
Meaning of the Gunmetal Color
The name "Gunmetal" provides a certain aggressive association with the color. Also, this shade of gray can be seen as serious, which is what all darker gray colors seem to portray. This also makes the color associated with authority. When used in designs, gunmetal gray can bring a sense of sophistication. However, you can use the color in various ways, depending on the colors that you pair with it. A monochromatic look will enhance the serious and calm appearance.
Including colors can help to reduce the serious or heavy look and give it more excitement.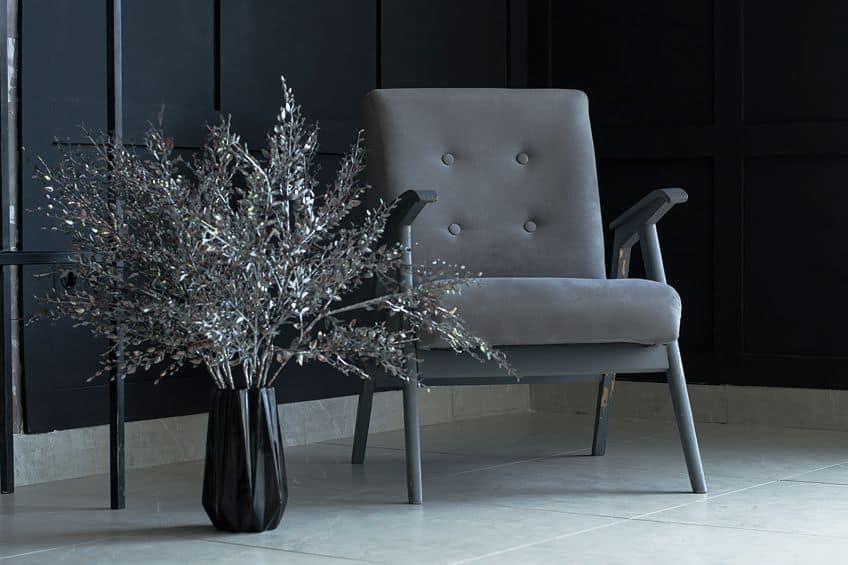 Shades of Gunmetal Color
There are a few similar colors to gunmetal gray, which can be used if you are looking for something a little different. Colors can be classed as either warm or cool, warmer colors being your reds, yellows, and oranges, while cooler colors are blues, greens, and purple or violet colors. Gunmetal gray is considered a cool color since it has slight blue undertones.
The colors below are similar to gunmetal gray and also have cool undertones, but each has slightly different compositions of color.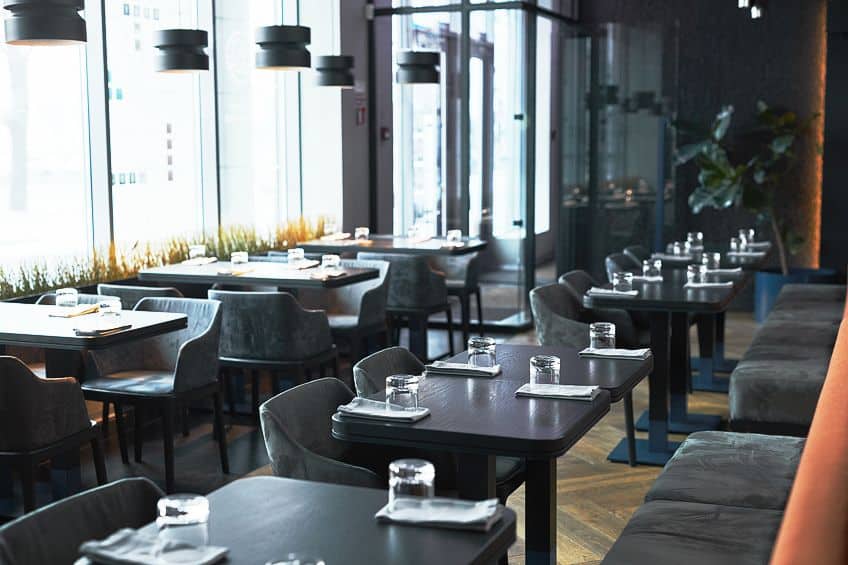 | | | | | |
| --- | --- | --- | --- | --- |
| Shade | Hex Code | CMYK Color Code (%) | RGB Color Code | Color |
| Gray | #808080 | 0, 0, 0, 50 | 128, 128, 128 | |
| Blue Gray | #6699cc | 50, 25, 0, 20 | 102, 153, 204 | |
| Cool Gray | #8c92ac | 19, 15, 0, 33 | 140, 146, 172 | |
What Colors Go With Gunmetal Gray?
Gray itself is not considered a color and goes well with all other colors. However, it is the undertone that helps determine the best color combinations. Gunmetal gray is also a darker shade and can be lightened by pairing it with brighter colors, such as shades of orange and yellow. This creates a more interesting and vibrant color combination that can help to create contrast.
Again, with gunmetal gray, it is the blue or green undertones you will use as your main color.
The gunmetal gray hex code we have chosen has a slightly bluish undertone. This means gunmetal gray will also work well with other shades of blue. The gunmetal gray color goes wonderfully with neutral colors like black, white, taupe, and other gray shades. To determine the best color combinations, you should take a look at color theory. Here you will discover a few traditional color combinations, which are also determined by the position of each color on the color wheel. Three of the more popular color combinations are as follows: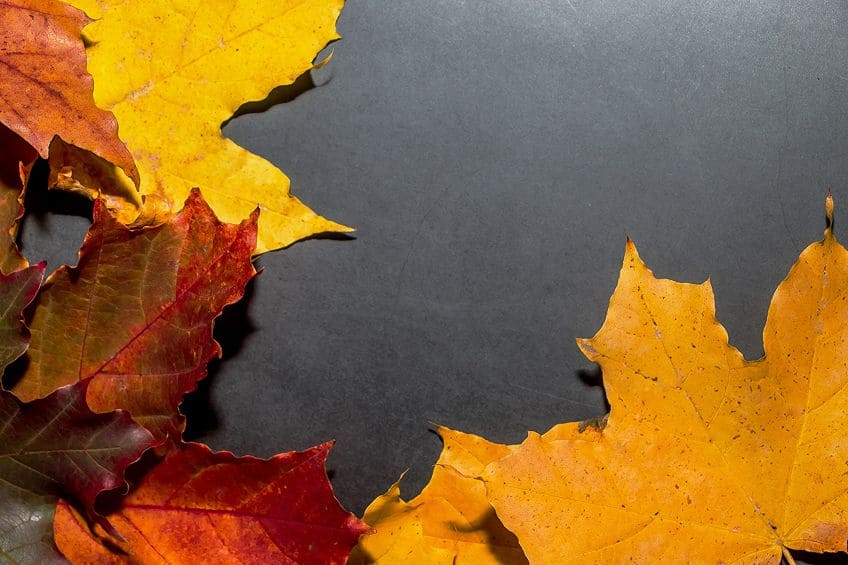 Complementary colors: The colors that are found opposite blue on the color wheel, are known as complementary colors. These include orange, yellow, and red.
Analogous colors: A range of colors that are positioned closely to one another. These can include shades of green, blue, and even purple.
Monochromatic colors: These are simply lighter tones and darker shades of gunmetal gray.
Below, in the table, you will notice we have provided a complementary color combination. As you can see, it forms a striking combination. Coral is an example of a lighter shade of orange, you can also use other shades of orange for a more vibrant combination. You can see that this is a pairing of cool and warm colors, which can work well in designs.
However, the colors should be paired to create a balanced look, or the contrast can become a little too much if used improperly.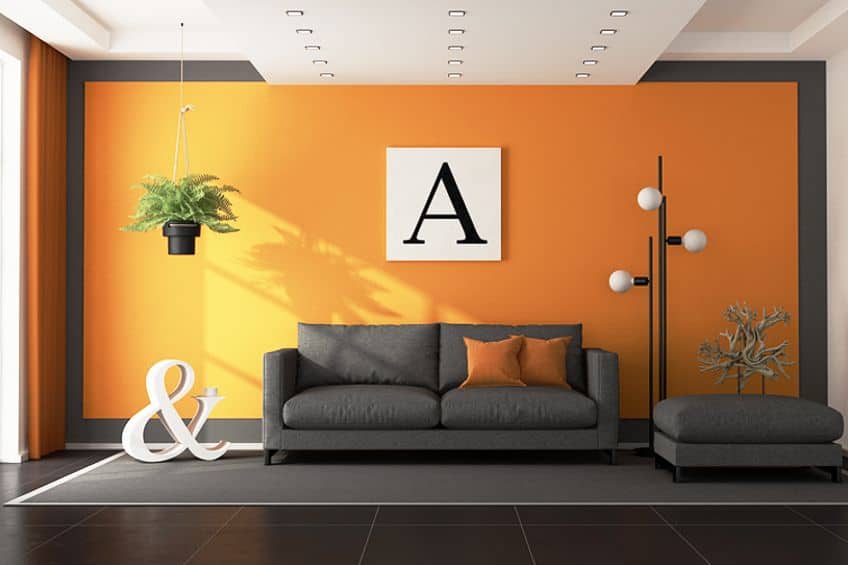 | | | | | |
| --- | --- | --- | --- | --- |
| Shade | Hex Code | CMYK Color Code (%) | RGB Color Code | Color |
| Gunmetal Gray | #818589 | 6, 3, 0, 46 | 129, 133, 137 | |
| Coral | #ff7f50 | 0, 50, 69, 0 | 255, 127, 80 | |
What Colors Make Gunmetal Gray Acrylic Paint?
Mixing paint colors can take some time and practice, and some colors are a bit more challenging to create than others. However, gunmetal gray is quite simple, as you only need black and light blue paint. You can experiment with different proportions, but first, try combining equal amounts of both colors. You can add in more of the light blue or use some white to lighten the color more. If you have gone too light, simply mix in a little more black.
For a more lustrous gunmetal color, you can try mixing silver and black first at about a ratio of 3:1.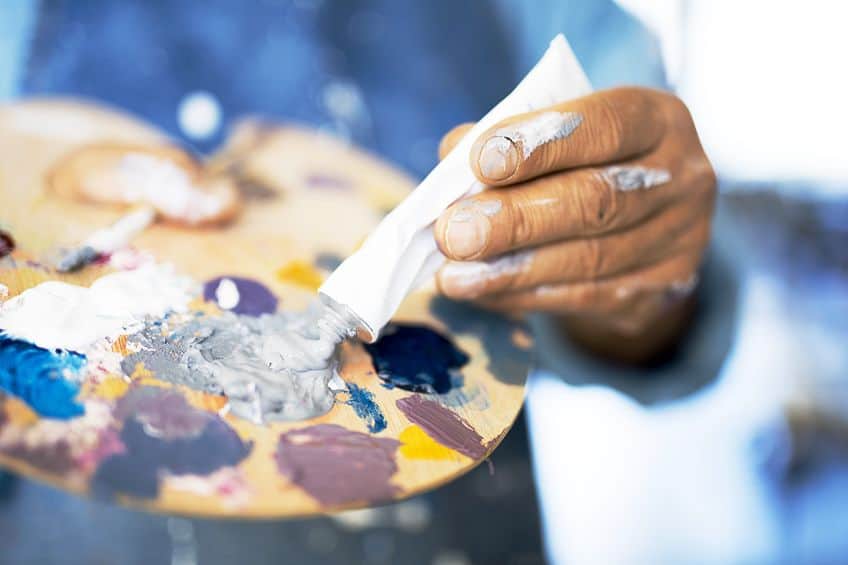 Gunmetal Gray Color and Interior Designs
Gunmetal gray can bring a certain sophisticated and darker ambiance to a room. The color has become quite popular, particularly in a kitchen setting. You can use the gunmetal color as your base color choice or bring it in as a contrasting accent color to create more depth. For example, consider lighter gray or white walls with contrasting gunmetal gray cabinets, or a gunmetal gray accent wall.
The color will also look great on furniture finishes, rugs, cushions, throws, and a variety of other accessories.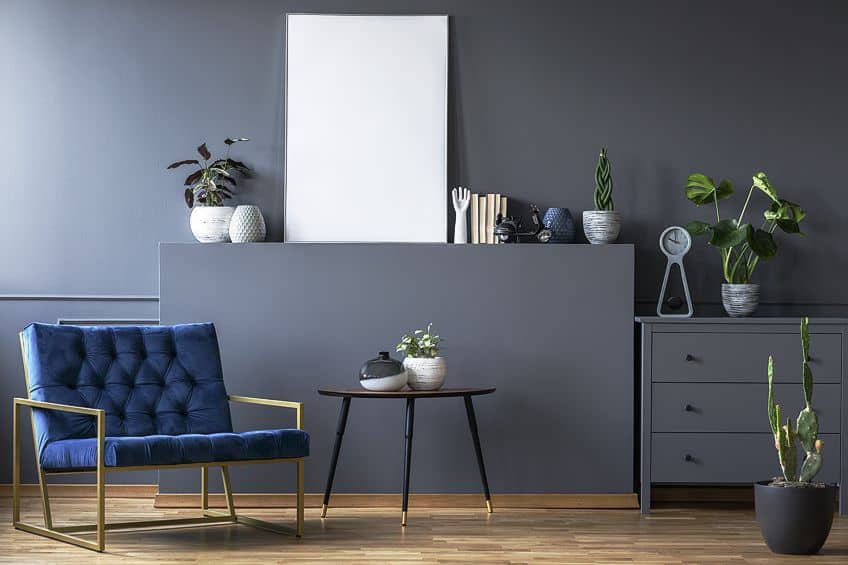 Gunmetal gray is also quite versatile, as it can work with more traditional styles, but it can also create a sophisticated and modern look when combined with blue or navy color schemes. You can also include pops of orange, red, or yellow with gunmetal gray to create points of interest around the home. The color also works well in any room of the home, from the bedroom and bathroom to the living areas and the kitchen. Gunmetal gray is even quite a popular color for home exteriors.
Many shades of gray are available, and it can be hard to pick a particular one. Gunmetal gray might just be one of those shades that stands out when compared to others, as it offers a richer, darker, and more sophisticated look than your traditional gray colors. It helps to convey a sense of style and is sure to make an impact wherever you choose to use it!
Frequently Asked Questions
What Is the Gunmetal Color?
You can say that the gunmetal color is a darker shade of gray that has a slight bluish undertone. It is a hue that is mainly associated with the metal that forms part of various firearms. It is known as a sleek and sophisticated color that also generates a certain seriousness and authority.
What Colors Make Gunmetal Gray?
You might notice some variations when it comes to the gunmetal color. You have the gunmetal color that has your blue undertones, but then there are also those that have more of a greenish undertone. So, when mixing paint colors, it can include black, blue or green, and a little white.
What Is the Gunmetal Gray Color Code?
As mentioned, there are slightly different descriptions for the gunmetal gray color. Therefore, the gunmetal gray hex code can involve more than one option. The first is #818589, which has your blue undertone, while the second code, #8d918d, has a greenish undertone.
In 2005, Charlene completed her Wellness Diplomas in Therapeutic Aromatherapy and Reflexology from the International School of Reflexology and Meridian Therapy. She worked for a company offering corporate wellness programs for a couple of years, before opening up her own therapy practice. It was in 2015 that a friend, who was a digital marketer, asked her to join her company as a content creator, and this is where she found her excitement for writing.
Since joining the content writing world, she has gained a lot of experience over the years writing on a diverse selection of topics, from beauty, health, wellness, travel, and more. Due to various circumstances, she had to close her therapy practice and is now a full-time freelance writer. Being a creative person, she could not pass up the opportunity to contribute to the Art in Context team, where is was in her element, writing about a variety of art and craft topics. Contributing articles for over three years now, her knowledge in this area has grown, and she has gotten to explore her creativity and improve her research and writing skills.
Charlene Lewis has been working for artincontext.org since the relaunch in 2020. She is an experienced writer and mainly focuses on the topics of color theory, painting and drawing.
Learn more about Charlene Lewis and the Art in Context Team.
Cite this Article