Famous Abstract Photographers – Breaking the Mold
Photography captures aspects of the real world that we can usually identify and observe, however, in art history, artists who seek to explore the more abstract elements of life choose to leverage the techniques of photography to draw attention to the magic of abstraction. In this article, we will introduce you to the top 10 most famous abstract photographers of all time, whose images inspire many to question the notion of reality and what constitutes it in photography. Keep reading to learn more about these iconic modern abstract photographers!
An Introduction to Abstract Photography
You have certainly come across the art genre known as abstract art, but what about abstract photography? The term abstract implies something that is without definite characteristics and in visual art, is understood as visual forms that have no set identifiable qualities. Many people often confuse the concept of "abstract" with the visual characteristics of art styles from movements such as Surrealism.
However, abstraction is understood as the deconstruction of a concept, which can include an artist's perspective of how they wish to represent a concept, subject, or form in a visual format.
Surrealism on the other hand intended to depict themes of irrationality and the subconscious mind, which was envisioned through the works of Surrealist photographers like Man Ray and László Moholy-Nagy. Photography was most widely understood to be representational of what it captured since its widespread popularity in the 20th century. Since the development of digital photography, modern artists working in abstract styles have adopted photography as a tool to express their unique styles and experiment with new photographic techniques and post-processing methods to create new visual languages in abstract art.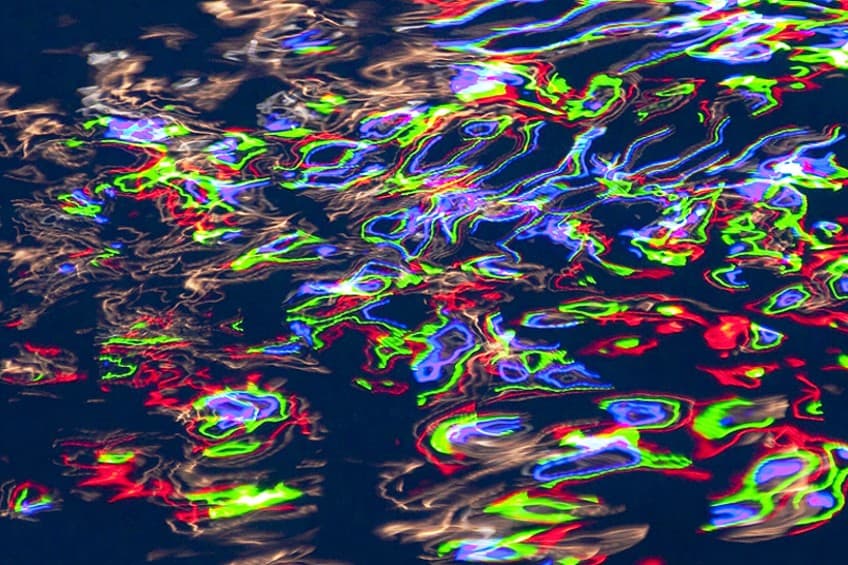 Reflection and motion combine as a stage for lighting to become an abstract photograph; Tony Hisgett from Birmingham, UK, CC BY 2.0, via Wikimedia Commons
The Top 10 Most Famous Abstract Photographers
Abstract photography has produced many interesting and unique visuals that inspire many contemporary photographers to explore the visual potential of the art form beyond its representational value. From icons of abstract photography like Wolfgang Tillmans and Penelope Umbrico to masters of shadow and light like Barbara Kasten, you can be sure to spot a few of your favorite modern abstract photographers below.
Alvin Langdon Coburn (1882 – 1966)
Name
Alvin Langdon Coburn
Date of Birth
11 June 1882
Date of Death
23 November 1966
Nationality
American-British
Associated Movements, Themes, and Styles
Abstract photography, early-20th-century photography, Modern art, portraiture, and American pictorialism
Mediums
Photography
Famous Artworks

Spider Webs (1906)
The Octopus, New York (1912)
Marius De Zayas (1912)
Vortograph (bike wheel) (1917)
The Eagle (1917)
Alvin Langdon Coburn was an iconic early 20th century abstract photographer, who is credited with creating some of the earliest abstract compositions, as early as the 1900s. Coburn was recognized as a pioneer of American pictorialism and the first abstract photographer to focus on the unique potential of photographing from a high vantage point.
Coburn was strongly influenced by the Symbolist movement and moved to Britain around 1912, where he remained for around 20 years to become a natural citizen.
He was also a famous portrait photographer who shot portraits of figures such as William Yates, Auguste Rodin, and Theodore Roosevelt. His refusal of representation in photography was seen in his innovative use of a lens attachment with three mirrors joined in a triangle. Through his unique contraption, Coburn was able to shoot abstract images from various surfaces he encountered in the city. These photos were recognized as "vortographs", which were characterized by their repetitive kaleidoscopic patterns and forms. Among the most fascinating abstract photographs by Coburn include The Octopus, New York (1912), and Marius De Zayas (1912).
Spider-webs, by Alvin Langdon Coburn; Alvin Langdon Coburn, Public domain, via Wikimedia Commons
Jaroslav Rössler (1902 – 1990)
Name
Jaroslav Rössler
Date of Birth
25 May 1902
Date of Death
5 January 1990
Nationality
Czech
Associated Movements, Themes, and Styles
Avant-garde art, abstract photography, film photography, and Modern art
Mediums
Photography
Famous Artworks

Zátiší (1923)
Photogenic abstraction (1948)
Abstrakce [abstraction]. Série Prisma (1960)
APPLE – PRISM (1960 – 1969)
Jaroslav Rössler was considered to be among the most famous modern abstract photographers of the 20th century whose painterly and abstract compositions shot in film, remain some of the best examples of Czech Avant-Garde photography.
Rössler's approach to creative photography began in the 1920s when he developed a series of works exploring the tonal values of black and gray alongside geometric shapes that he cut out from cardboard and paper.
His style was further honed when he moved to Paris to experiment with different techniques in multiple studios and published his work in a few periodicals. Rössler's style in the 1920s and 1930s was shaped by the modern influences of Cubism and around 1935, he was also arrested for shooting a scene during a public demonstration. Through geometry, photomontage, and strong contrast compositions, Rössler's work gained recognition after the 1950s as an early pioneer of abstract photography.
Jaroslav Rössler, an exhibition in the Louvre Gallery, Prague, 2009; svajcr, Public domain, via Wikimedia Commons
Aaron Siskind (1903 – 1991)
Name
Aaron Siskind
Date of Birth
4 December 1903
Date of Death
8 February 1991
Nationality
American
Associated Movements, Themes, and Styles
Abstract photography, Modern art, flat surfaces, detailed photography, monochrome photography, and aerial photography
Mediums
Photography
Famous Artworks

Seaweed #3 (Card) (1947)
Chicago (1949)
Providence 100 (1972)
Westport 10 (1988)
Aaron Siskind was one of the most famous abstract photographers, who was celebrated for his detailed monochrome photos of abstract structures and textures that could often not be pinpointed to an exact structure or object.
His work was ambiguous, which made it stand out as early as the 1940s, during a time when representation was rife in photography.
Siskind's venture into photography began when he received a camera as a wedding gift and he soon embraced the medium to become a member of the New York Photo League. Inspired by Modern photographers such as Harry Callahan and László Moholy-Nagy, Siskind explored every corner and unique visual quality of urban and natural spaces, from close-ups of volcanic lava to street art.
Barbara Kasten (1936 – Present)
Name
Barbara Kasten
Date of Birth
1936
Nationality
American
Associated Movements, Themes, and Styles
Abstract photography, Contemporary art, projections, the Bauhaus movement, Diazotype, Surrealism, and Conceptual art
Mediums
Photography, painting, textile art, video, and light art
Famous Artworks

Construct NYC 17 (1984)
Construct 33 (1986)
Architectural Site 17, High Museum of Art, Atlanta, GA, August 29 (1988)
Construct XV A (1992)
Composition 9 D (2018)
Largely inspired by photographers such as László Moholy-Nagy, Barbara Kasten is a renowned abstract photographer who is strongly driven by visual influences from the Bauhaus movement as well as the notion of documenting three-dimensional spaces in a two-dimensional plane. Through pure abstraction and her experiments with light effects, Kasten was able to produce large-scale installations that allowed her to capture the unique geometric compositions of space that highlight the relationships between light, reflections, and shadows.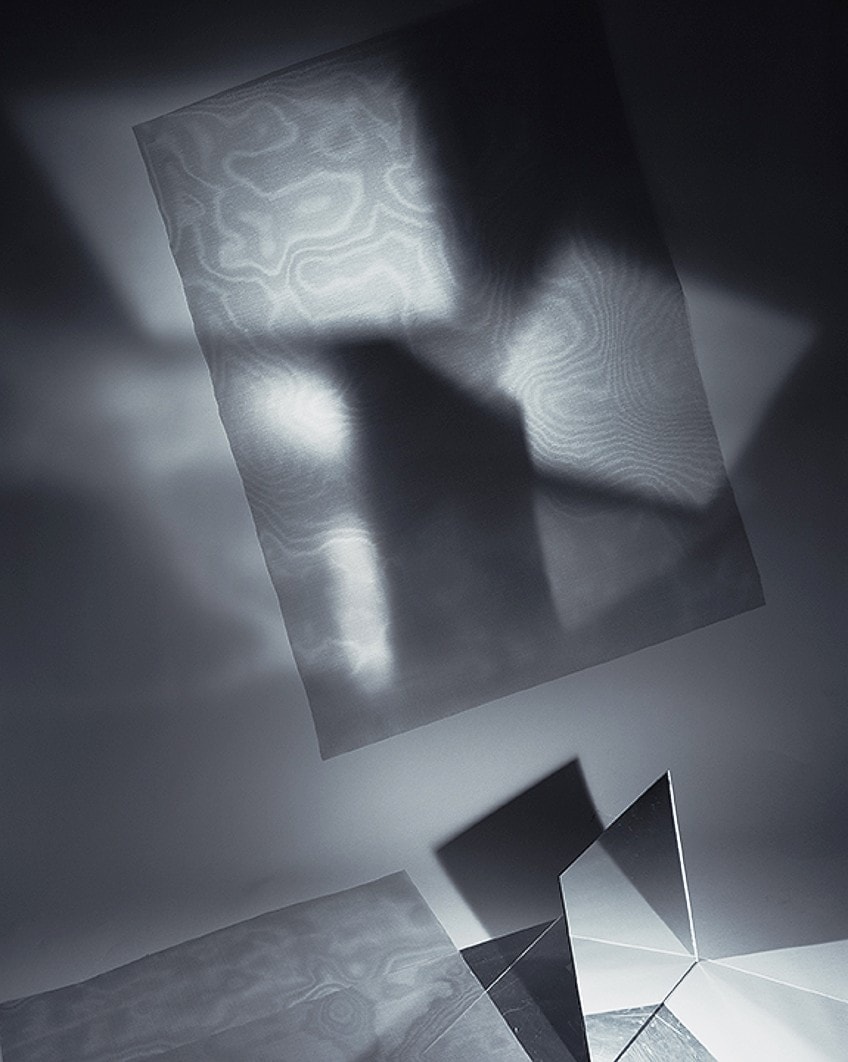 Barbara Kasten – Scene III, 2012; Barbara Kasten, CC BY-SA 4.0, via Wikimedia Commons
Her work in painting, sculpture, and textile art has also shaped her understanding of composition building and is strongly mirrored in her colorful, sculptural, and textural photographs that appear to showcase unique angles and forms from another dimension. Some of her best works have been compared to the visual complexities of Constructivism, which through brilliant and striking features, offers a rich multiverse of color and distorted architecture.
Ellen Carey (1952 – Present)
Name
Ellen Carey
Date of Birth
1952
Nationality
American
Associated Movements, Themes, and Styles
Abstract photography, Conceptual art, and Contemporary art
Mediums
Photography
Famous Artworks

Vintage 1980's Large Format Abstract Unique Color Photo Polaroid Photograph (1980 – 1989)
Negative Pull with Mixed and Offset Pods (2011)
Dings and Shadows in Yellow (2011)
Caesura (2016)
Experimental abstract photographer Ellen Carey is one of the most famous Contemporary abstract photographers to date, whose unique crumple-like paintings show off some of the most stunning chemical traces from her photography process.
Carey's works have been compared to paintings, which are cast in a large format to showcase the different magical qualities of cracks and blobs of bright and alluring colors.
Carey's process involves her physically crumpling her negatives in a darkroom and sometimes including the negatives as part of her final works. Carey has also been associated with renowned photographers like Cindy Sherman, however, she did not receive as much recognition as her contemporaries. Carey's abstractions also introduce elements of chance and randomness, which result in exquisite visual patterns and chemically induced colors.
Penelope Umbrico (1957 – Present)
Name
Penelope Umbrico
Date of Birth
31 January 1957
Nationality
American
Associated Movements, Themes, and Styles
Abstract photography, Contemporary art, appropriation, and image distribution
Mediums
Photography
Famous Artworks

Suns from Flickr (2006)
Suns From Flickr (Partial) 3/31/08 (2008)
Broken Sets (eBay) (2009 – 2010)
16_IMG_9584 (2014)
18_IMG_6697-a (2014)
Penelope Umbrico is an innovative abstract photographer who uses image-sharing websites and search engines to produce artworks composed of appropriated images. Her complex and vibrant compositions offer viewers unique abstract compositions with her most famous work on Suns from Flickr.
In the project, Umbrico used approximately 541,795 images of sunsets that highlighted the fact that sunsets were the most photographed types of images.
Her work also explores themes that revolve around the effect of social media on image distribution and consumerism. Umbrico's Suns from Flickr project was exhibited in the form of installations between 2006 and 2009. The American artist's work has also been published by the New York Times with Umbrico herself serving as a member of the School of Visual Arts MFA Photography Video and Related Media.
Ola Kolehmainen (1964 – Present)
Name
Ola Kolehmainen
Date of Birth
1964
Nationality
Finnish
Associated Movements, Themes, and Styles
Abstract photography, Contemporary art, architecture, light, and color-fields
Mediums
Photography
Famous Artworks

Music is About to Begin (2000)
Composition with Collected Reflections (2007)
MVSEVM XIV (Sir John Soane) (2020)
Suprematism Nr. 118 (2021)
Ola Kolehmainen is another famous abstract photographer, whose works are recognized for their large scale and striking colors. Kolehmainen's abstract photos explore the nuances of light and its effect on architectural spaces, objects, and patterns. In a fusion of minimalist and abstract arrangements, Kolehmainen's prints also exquisitely explore large fields of color and geometries that evoke the aesthetics of 20th-century color field paintings. The famous Finnish photographer studied at the University of Industrial Arts and is affiliated with the Helsinki School of Artists.
Wolfgang Tillmans (1968 – Present)
Name
Wolfgang Tillmans
Date of Birth
16 August 1968
Nationality
German
Associated Movements, Themes, and Styles
Abstract photography, Contemporary photography, portraiture, nightlife, LGBTQ+ community, Photocopy-Realism, and identity
Medium
Photography
Famous Artworks

Paper Drop (window) (2006)
Sendeschluss/End of Broadcast (2014)
La Palma (2014)
Greifbar 29 (2014)
Renowned abstract photographer Wolfgang Tillmans is perhaps one of the most famous artists, who has successfully established his unique abstract language in the field of photography. Through gestural bands and swishes of color, Tillmans subverts the traditional notions of photographic hierarchies in visual art and critiques what it means to produce images in a digital era, where image production is so heavily saturated.
Since the late 20th century, Tillmans' images have played an important role in shaping the landscape of abstract photography by exploring the notions of non-representational imagery.
From close-ups of paper folds that remind one of microscopic architecture to colorful gestural swishes of light that evoke the brushstrokes of a physical painting, Tillmans' work is profound. Abstract Pictures (2015) is among his best-known publications, which holds a collection of over 300 reproductions of his abstract photos for you to marvel at.
Wolfgang Tillmans – Freischwimmer 26, 2003; Wolfgang Tillmans, CC BY-SA 3.0, via Wikimedia Commons
Niko Luoma (1970 – Present)
Name
Niko Luoma
Date of Birth
1970
Nationality
Finnish
Associated Movements, Themes, and Styles
Abstract photography and Contemporary photography
Mediums
Photography
Famous Artworks

Trieste (2016)
Self-Titled Adaptation of Van Gogh's Chair (1998) (2018)
Self-Titled Adaptation of Study of Henrietta Moraes (1969) (2019)
Niko Luoma is among the most famous Contemporary abstract photographers from the Helsinki School, whose exploration of geometry, chaos, and symmetry have been best captured in his enigmatic analog prints. Luoma's practice further interrogates the concepts of Kairos and Chronos, which were Greek terms that referred to the concept of sequential time in contrast to the opportune moment. Time plays a crucial role in shaping Luoma's visual language to reveal the unexpected and vibrant moments of chance. His best-known series Kairos was released in 2006 and explores the technique of multiple exposures on a single print to establish his own style as a photographer who focuses on non-representation.
Liz Nielsen (1975 – Present)
Name
Liz Nielsen
Date of Birth
1975
Nationality
American
Associated Movements, Themes, and Styles
Abstract photography, Contemporary art, light painting, and camera-less photography
Mediums
Photography
Famous Artworks

Mountain Friends (2018)
Whispering Stones (2018)
Warm Ocean Lotus (2019)
Flirting Stone Stack (2023)
A Contemporary abstract photographer of note is Liz Nielsen, who is a famous Brooklyn-based photographer who created unique photographic prints without a camera. Nielsen's works are produced in a color darkroom as she exposes her light-sensitive paper and processes it using traditional color chemistry techniques. What makes her work special is that the light compositions or "light paintings" are incredibly unique and present a variety of bursting and sharp colors that immediately grip viewers' attention. She is currently represented by Miles McEnery Gallery, SOCO Gallery, Horizont Galerie, and Black Box Projects with her current show in September 2023 titled Clairvoyance at Shrine Gallery.
These incredible and innovative abstract photographers have much to teach us about the innovative methods and processes that photography allows artists to experiment with. Disrupting the notion that photographs need to represent things from the real world was a revolutionary step in establishing the foundation of abstract visual languages and styles in 20th-century photography. In addition to movements such as Surrealism and Cubism, abstract photographers were also able to dive into alternative ways of representing texture, form, and space, which continue to inspire many contemporary artists today.
Frequently Asked Questions
What Is Abstract Photography?
The genre of photography known as abstract photography refers to non-representational photography that does not portray direct structures or elements from the real world. This means that photographs and compositions are not entirely recognizable in their visual origin and may be ambiguous. This type of photography can also be conceptual and experimental, and involves the use of photographic equipment and digital tools to create photos that explore the elements of texture, form, and color.
Who Is the Most Famous Abstract Photographer?
Aaron Siskind is widely regarded as one of the most famous abstract photographers of all time. His approach to abstract photography involved the use of modernist elements and abstract forms, which he explored as a form of social documentary, capturing the various elements of his immediate environments.
Which Artists Pioneered Abstract Photography in the 20th Century?
The early pioneers of abstract photography in the 20th century are considered to be Alvin Langdon Coburn, Paul Strand, Christian Schad, László Moholy-Nagy, and Aaron Siskind.
Is Abstract Photography a Contemporary Art Form?
Abstract photography is not considered a product of the contemporary era; however, it is still practiced by many photographers today. The art form emerged at the turn of the 19th century and was rapidly developing as early as the 1920s via abstract photograms, conceptual images, and experiments with photo-sensitive paper. It is considered to be a largely Modern art form.
Jordan Anthony is a film photographer, curator, and arts writer based in Cape Town, South Africa. Anthony schooled in Durban and graduated from the University of the Witwatersrand, Johannesburg, with a Bachelor of Art in Fine Arts. During her studies, she explored additional electives in archaeology and psychology, while focusing on themes such as healing, identity, dreams, and intuitive creation in her Contemporary art practice. She has since worked and collaborated with various professionals in the local art industry, including the KZNSA Gallery in Durban (with Strauss & Co.), Turbine Art Fair (via overheard in the gallery), and the Wits Art Museum.
Anthony's interests include subjects and themes related to philosophy, memory, and esotericism. Her personal photography archive traces her exploration of film through abstract manipulations of color, portraiture, candid photography, and urban landscapes. Her favorite art movements include Surrealism and Fluxus, as well as art produced by ancient civilizations. Anthony's earliest encounters with art began in childhood with a book on Salvador Dalí and imagery from old recipe books, medical books, and religious literature. She also enjoys the allure of found objects, brown noise, and constellations.
Learn more about Jordan Anthony and the Art in Context Team.
Cite this Article