Best Art Museums and Art Galleries in Spain – Spanish Museums
Spain is home to some of the all-time Masters of art, so it is no surprise that there are so many top-tier Spanish museums as well as a Spanish art gallery wherever you turn. Most famous Spanish museums function as galleries as well. Which is the most famous Museum in Madrid and which Madrid art Museums should you visit if you find yourself in the region? Let's find out by exploring the best art museums and art galleries in Spain.
Best Art Museums and Art Galleries in Spain
Art lovers adore visiting Spain, where there are said to be over 1,500 Spanish museums and galleries. The most famous Spanish museums feature masters from both Spain and abroad. Every Madrid art museum functions as a Spanish art gallery, allowing visitors to experience these beautiful and timeless creations first-hand.
Museo del Prado (1819) – Madrid
| | |
| --- | --- |
| Architect | Juan de Villanueva (1739 – 1811) |
| Date Completed | 1819 |
| Function | Museum, gallery |
| Location | Madrid, Spain |
The Prado Museum, is a Madrid art museum that houses the world's largest and most extensive catalog of Spanish paintings, as well as masterpieces from other European art schools, particularly Flemish and Italian art. The construction of the famous Museum in Madrid began in 1785 when Charles III hired Juan de Villanueva to construct a natural science museum.
The Neoclassical-style structure's development was halted during the Napoleonic Wars, but it was finished in 1819 under Ferdinand VII and subsequently opened to the general public as the Royal Museum of Painting.
Exterior of the Museo del Prado in Madrid, Spain, 1931; Albertomos, Public domain, via Wikimedia Commons
After the exile of Isabella II, who had increased the collection with artworks from the royal residences and the Escorial, it was renamed the National Museum of the Prado in 1868. The art gathered by Spain's Bourbon and Habsburg rulers was part of the Madrid art museum's original collection. Charles V's collection was expanded by Philip II; both of these monarchs were significant supporters of the Venetian painter Titian. Philip IV expanded the royal possessions by commissioning his court artist, Diego Velázquez, to acquire artworks in Italy for him.
Many French Baroque pieces were added to the museum by Philip V, and Ferdinand VII gathered all of the artworks from the numerous royal libraries in the new Prado structure.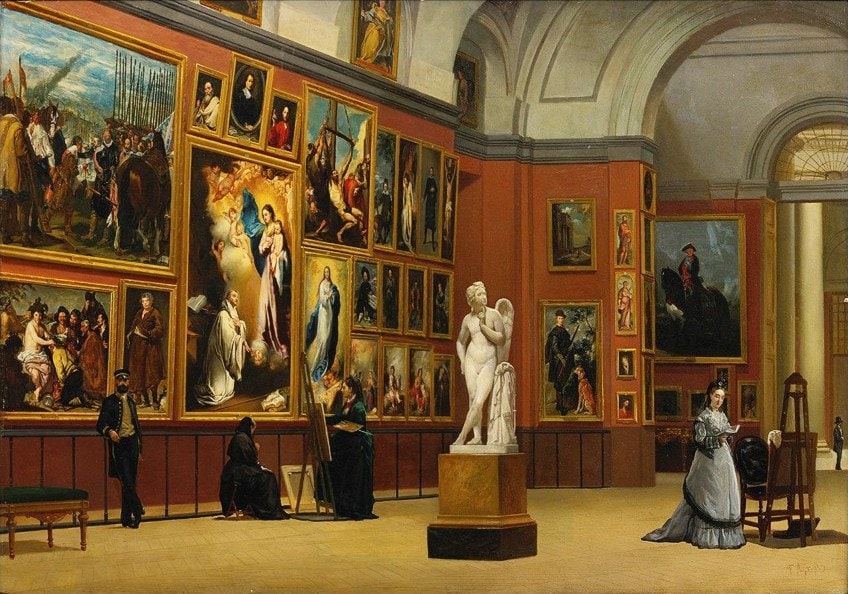 The Grand Salon, the Prado (c. 19th/20th century) by Francisco Aznar y García; Francisco Aznar, Public domain, via Wikimedia Commons

In 1872, the famous museum in Madrid acquired a number of renowned artworks that had previously been owned by Spanish nunneries and monks. In the 20th century, both the collections and the facility were expanded. The neighboring Casón del Buen Retiro, erected in 1637 as a ballroom for the Buen Retiro Palace, was acquired by the Prado in 1971.
The construction of a new wing started in 2002 and was finished in 2007.
Museo de Bellas Artes (1908) – Bilbao
| | |
| --- | --- |
| Architect | Fernando Urrutia (c. the 1900s) |
| Date Completed | 1908 |
| Function | Museum, art gallery |
| Location | Bilbao, Spain |
This museum was founded in 1908 and inaugurated in 1914, inspired by the need to inform and educate the masses and react to the city's cultural shifts. Its major goals were to create a venue that was seen as vital to contemporary society at the time, as well as offer historic role models for the local artists' community to assist them in their training.
Undoubtedly, the most essential character behind the project's completion was the businessman and humanitarian Laureano Jado, known for his large and valuable art collection. Jado was quickly followed by additional significant contributors from the consulate of Bilbao, as well as other patrons.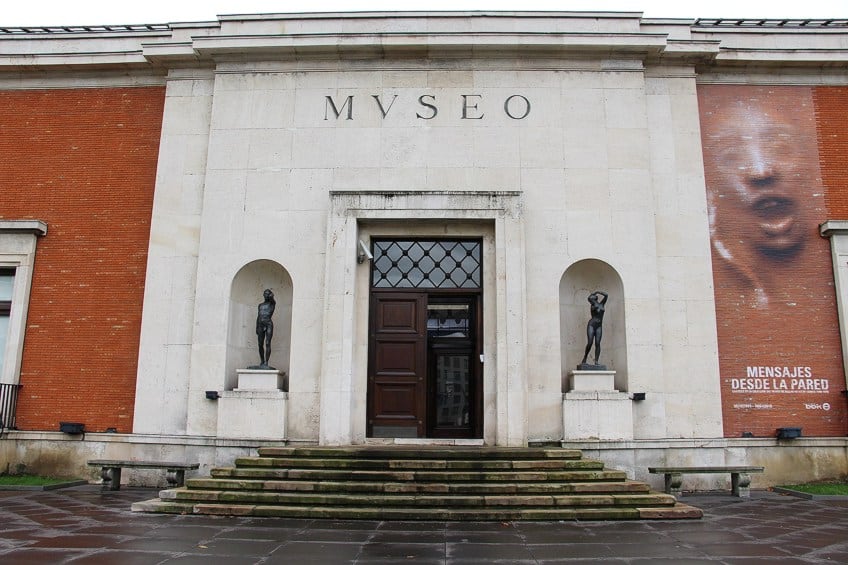 Exterior of the Museo de Bellas Artes in Bilbao, Spain; Fred Romero from Paris, France, CC BY 2.0, via Wikimedia Commons
A rising issue regarding so-called "modern art" took place within the cultural and social community of the city due to contacts initiated by young artists with other cultural centers and, primarily because of the increasingly frequent schedule of expositions of contemporary art, organized regularly by the newly formed Association of Basque Artists.
This allowed for the development of another center that was fully devoted to artwork. Thus, the Museum of Modern Art section opened its doors on the 25th of October, 1924.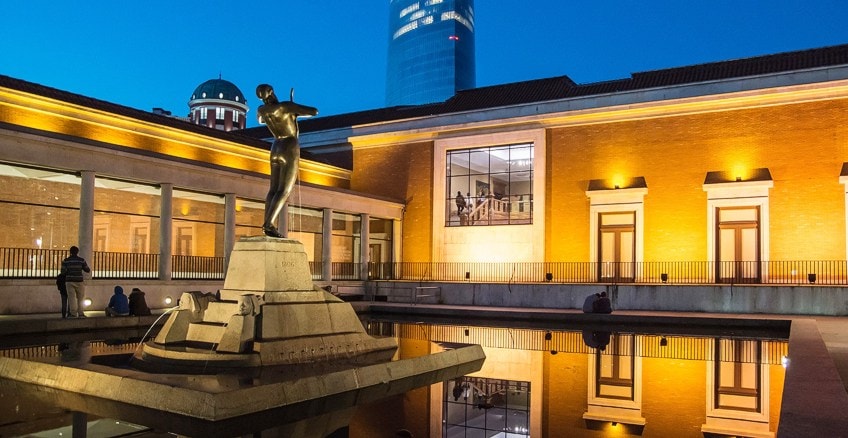 Exterior of the Museo de Bellas Artes in Bilbao, Spain; Pedro J Pacheco, CC BY-SA 3.0 ES, via Wikimedia Commons
The museum's collection is split into five main categories: modern and contemporary art, ancient art, works on paper, Basque art, and applied arts. The pieces are dispersed throughout 33 rooms that correlate to the permanent display.
The collection mixes works of classical art with works of modern art, works by Basque artists, and a minor exhibition of applied arts.
The Spanish school, whose representations of ancient and current Basque art also belong to the modern era, is the foundation of the collection. A global context for Spanish and Basque art is provided by the extensive inclusion of other schools from the 15th to the 17th century, including the Dutch and Flemish, the distinctive masterpieces of the Italian school, and several instances of post-impressionism and avant-garde artworks.
Interior of the Bilbao Fine Arts Museum; MuseoBBAABilbao, CC BY-SA 3.0, via Wikimedia Commons
Center Pompidou (1925) – Málaga
| | |
| --- | --- |
| Architect | Frank Gehry (1929 – Present) |
| Date Completed | 1997 |
| Function | Museum, art gallery |
| Location | Málaga, Spain |
This popular center invites the general public to share the experience of the Center Pompidou through its rich collection, outstanding programming, the interaction with various creative fields, and unique initiatives. Málaga, Picasso's birthplace and a worldwide tourist attraction, places culture and galleries at the heart of a new era of growth.
The exhibition displayed by the Center Pompidou's permanent collection is split into five themes: the body in fragments, metamorphosis, self-portraits, the political body, and the man without a face. It is an iconic structure and a one-of-a-kind cultural model.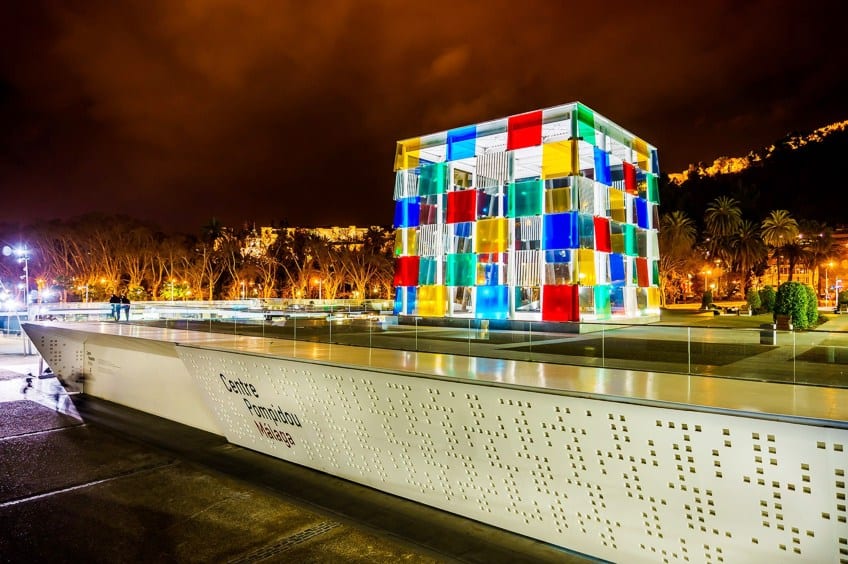 The Center Pompidou in Málaga at night; Johannes Schwanbeck from Dresden, CC BY-SA 2.0, via Wikimedia Commons
The Center Pompidou in Málaga will host a permanent exhibition of hundreds of pieces from its impressionist collection, encouraging the public to discover the masters' art. Georg Baselitz, Francis Bacon, Alexander Calder, Giorgio de Chirico, Marc Chagall, Max Ernst, Jean Hélion, Alberto Giacometti, Fernand Léger, Frida Kahlo, René Magritte, Francis Picabia, Joan Miró, Pablo Picasso, Jean Tinguely, Antoni Tàpies, and Kees Van Dongen are among the names in the first exhibition of the collection, which comprises over 90 pieces.
Along with this constant display, a couple of temporary exhibits will be given every year, either thematically or monographically.
These shows will go into various aspects of the collection (design, photography, architecture, and video). This event will be experienced through diverse programs devoted to dance, performance, the written word, and cinema, aided by technologies aimed mostly at a younger audience.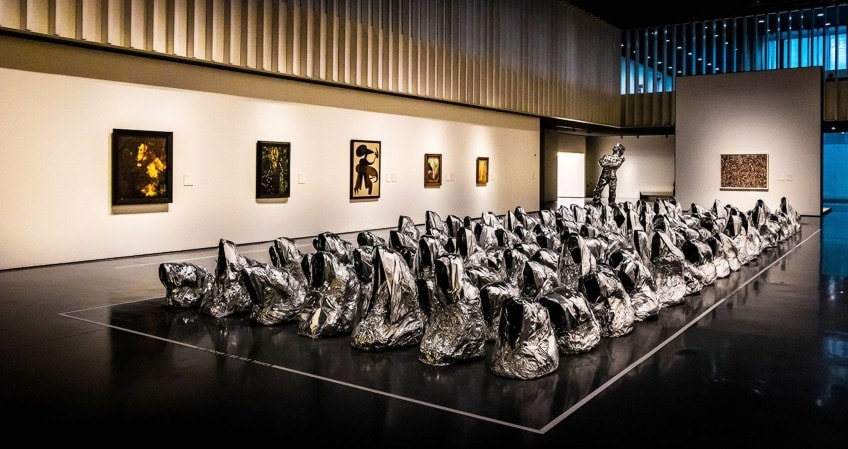 Interior exhibit at the Center Pompidou in Málaga, Spain; Maximo88, CC BY-SA 4.0, via Wikimedia Commons
National Art Museum of Catalonia (1934) – Barcelona
| | |
| --- | --- |
| Architect | Pere Domènech I Roura (1881 – 1962) |
| Date Completed | 1934 |
| Function | Museum, gallery |
| Location | Barcelona, Spain |
The Palau Palace was initially created for the Spanish Pavilion during the 1929 World's Fair. It reopened in 1997 after major renovations. The museum showcases around 260,000 pieces of art in total, making it the biggest and most significant museum in Barcelona. Most of the chambers are filled with the world's biggest collection of Roman frescoes.
The Romanesque frescoes are from the vestibules of 29 important Pyrenean Romanesque churches.
Therefore, they could be salvaged before the Spanish Civil War demolished them. The frescoes are in so-called "ambits", which are tiny demarcated areas where you can get details about the church where the frescoes are, as well as numerous sacred objects.
Mural paintings (1604-1606) from the Herrera Chapel of the Museu Nacional d'Art de Catalunya; Annibale Carracci, Public domain, via Wikimedia Commons
Since its inception in 1934, the gallery has steadily gathered works spanning over a thousand years of art, from medieval acquisitions to modern photography and art. Features include the oldest and largest exhibit of 11th to 13th-century Romanesque mural frescoes in Europe, as well as its gallery of Catalan modernism, including works by Barcelona's most successful painter and architect, Antoni Gaudí.
The museum has the most notable exhibit of Catalan artwork from the 19th and early 20th centuries. Several periods of art history evolved during this period, including Neoclassicism, Modernism, and Realism.
In addition to the Roman paintings, there is a section of Gothic frescoes and statues, as well as a minor collection of Baroque and Renaissance pieces. It has the world's largest public coin collection, with around 130,000 objects from the 6th century BC to the present, of which around 7,800 are on display.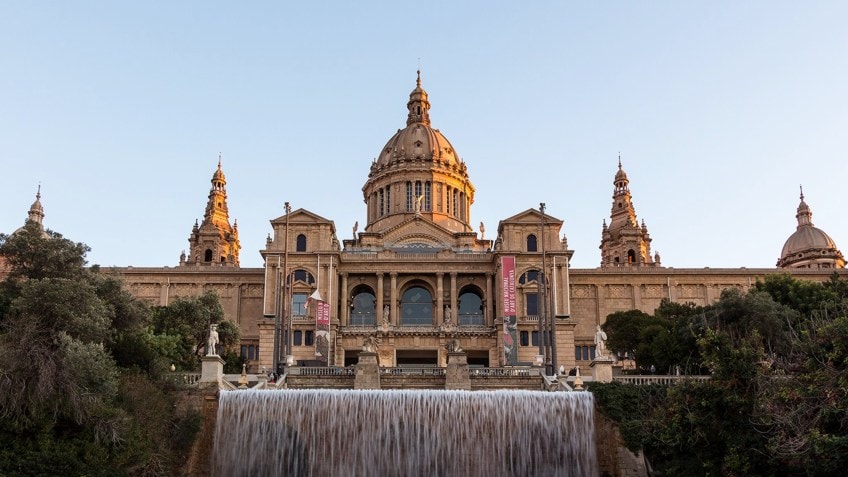 Exterior view of the National Art Museum of Catalonia in Barcelona, Spain; Rafa Esteve, CC BY-SA 4.0, via Wikimedia Commons
Picasso Museum (1963) – Barcelona
| | |
| --- | --- |
| Architect | Roland Simounet (1927 – 1996) |
| Date Completed | 1963 |
| Function | Museum, gallery |
| Location | Barcelona, Spain |
Picasso's longstanding acquaintance and assistant, Jaime Sabartés, to whom Picasso had donated numerous artworks, sketches, and prints since the two of them first met in 1899, had the initial concept for the museum. The museum was initially going to be established in Málaga, the birthplace of Pablo Picasso. Given his long-standing ties to the city, Picasso himself believed that Barcelona would be more fitting. In order to establish the museum, Sabartés and the city of Barcelona signed a contract in 1960.
When the museum first opened in 1963, Sabartés donated 574 pieces from his personal set, thus establishing the collection.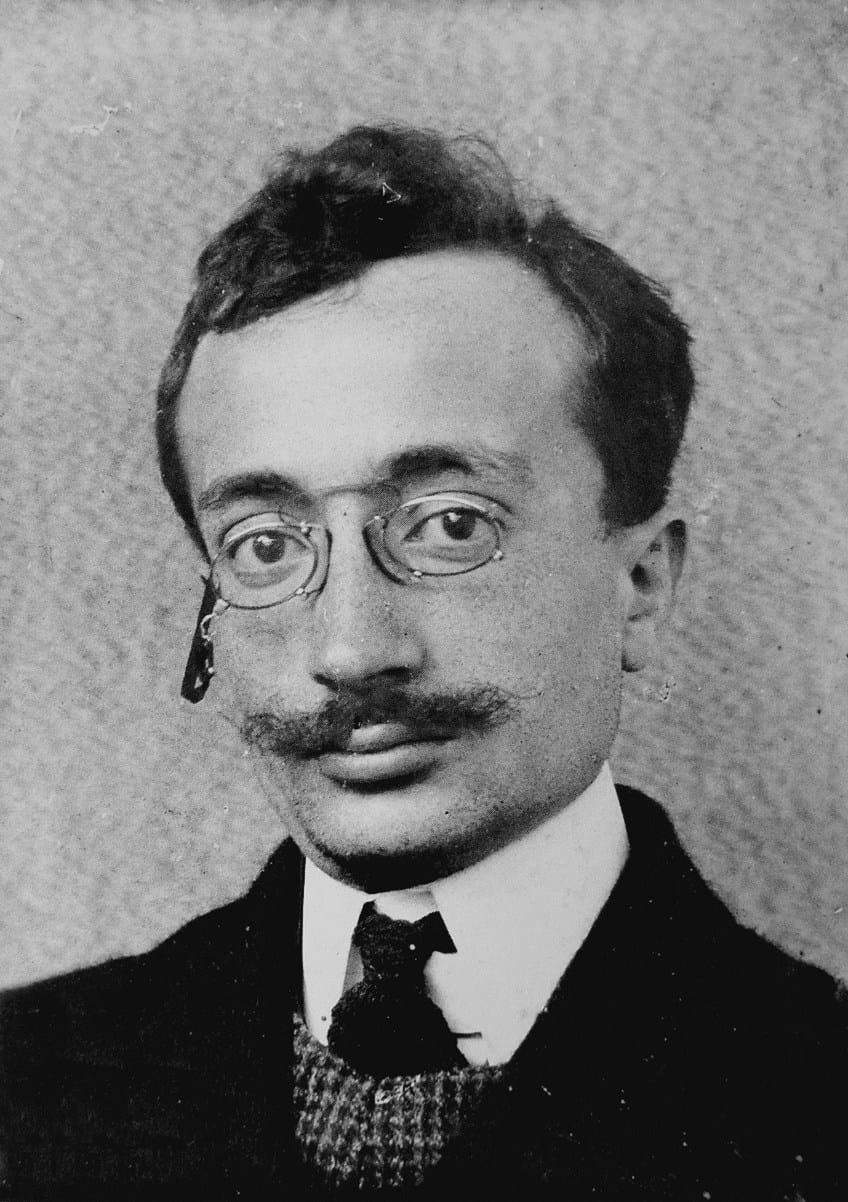 Jaime Sabartés in Barcelona, 1904; Unidentified photographer, Public domain, via Wikimedia Commons
Other objects included works presented to the city of Barcelona by Picasso, works formerly owned by the city's museum of contemporary art, and donations from Picasso's relatives and collectors. Because of Picasso's vehement resistance to Franco's administration, the museum was renamed the Sabartés collection. To establish the museum, Barcelona's mayor Josep Porcioles went against the intentions of the federal government. When it first launched, the gallery was located on Montcada Street in Palau Aguilar.
During this period, the collection was primarily comprised of Sabartés' personal collection, as well as a few lithographs and posters.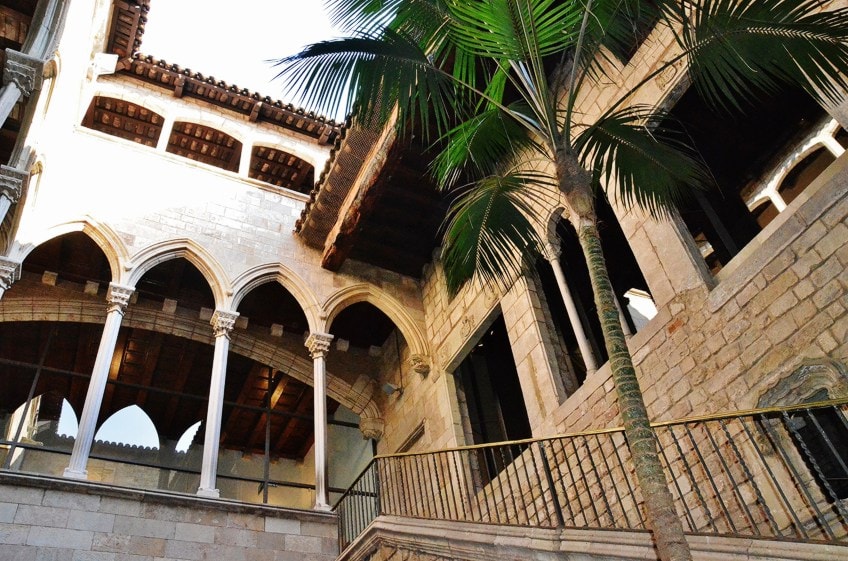 Interior of the Picasso Museum in Barcelona, Spain; MARIA ROSA FERRE ✿ from Vilafranca del penedes, Catalunya, CC BY-SA 2.0, via Wikimedia Commons
Following Sabartés' death in 1968, Picasso gave his final personal contribution to the museum in 1970. The bequest included 920 different pieces, including artifacts from his initial works that his relatives had kept for him when he first arrived in France.
Schoolbooks, intellectual items, and artworks from Picasso's Blue Period were among them.
Sabartés left behind a lot of artworks, including a sequence of 58 canvases of Las Meninas. The museum experienced its first extension in December 1970, with the addition of the Palau del Baró de Castellet, which is adjacent to the original museum structure, Palau Aguilar.
Dalí Theater-Museum (1974) – Figueres
| | |
| --- | --- |
| Architect | Emilio Pérez Piñero (1935 – 1972) |
| Date Completed | 1974 |
| Function | Museum, gallery |
| Location | Figueres, Spain |
The town's theater, which Salvador Dalí attended as a youngster, is at the core of the museum. It hosted one of the earliest public displays of young Salvador Dalí's work. During the Spanish Civil War, the historic theater was destroyed and left in ruins. Dalí and the mayor of Figueres agreed to reconstruct it as a museum honoring the town's most renowned son in 1960. The proposal was accepted by the municipal council in 1968, and work on the building began the following year. The museum was opened on the 28th of September, 1974, and it continued to grow until the mid-1980s.
Structures and courtyards close to the antiquated theater are now part of the museum.
Exterior of the Dalí Theater-Museum in Figueres, Spain; FrDr, CC BY-SA 4.0, via Wikimedia Commons
The museum has the world's biggest and most eclectic collection of Salvador Dalí's artworks, the majority of which came from the artist's private catalog. His three-dimensional collages, sculptures, mechanical gadgets, and other marvels from his creative mind are on display with canvases from all periods of his career. A feature is a three-dimensional anamorphic living room exhibit with bespoke furniture that, when viewed from a specific angle, appears like Mae West's face.
The theater's stage is crowned by a geodesic glass dome cupola, and the artist is buried in a crypt beneath the stage floor.
The audience area has been converted into a plaza open to the sky, with Dionysian nude statues standing in the original balcony windows. Near the center of the area is a Dalí work inside a full-sized automobile, influenced by Rainy Taxi (1938). There is also a collection of holographic art on exhibit, as well as a selection of jewelry he developed. Dalí had built a bathtub, a side table with an open drawer, and a light upside-down on the roof in another room.
Mae West Room at the Dalí Theater-Museum in Figueres, Spain; LANOEL, CC BY-SA 3.0, via Wikimedia Commons

Valencian Institute of Modern Art (1989) – Valencia
| | |
| --- | --- |
| Architect | Emilio Giménez (1932 – 2014) |
| Date Completed | 1989 |
| Function | Museum, gallery |
| Location | Valencia, Spain |
This institute was Spain's first modern art center, opened in 1989 in Valencia. It is a significant contemporary and modern art center in Spain. Since September 2020, Nuria Enguita Mayo has served as the museum's Director. The museum first opened its doors in February 1989. Prior to that date, the Generalitat Valenciana's Ministry of Culture had been focusing on the collections even before the structure was erected.
The Valencian Government established the Institute in 1986, with Tomàs Llorens as its first administrator.
Exterior of the Institut Valencia d'Art Modern (IVAM) in Valencia, Spain; Juan García Rosell, CC BY-SA 4.0, via Wikimedia Commons
The museum exhibits the continuing evolution of 20th-century art and photography. It has a 10,000-piece permanent collection as well as temporary exhibits, talks, seminars and conferences, lectures, and performances relating to planned exhibitions and other aspects of modern art. The collection is divided into eight topics that focus on various aspects of contemporary art development. One subject is around Catalan sculptor Julio González, a key figure in the early days of contemporary art in Spain and Valencia, well known for his iron sculptures.
Other artists included include Marcel Duchamp, Man Ray, and the Dadaists, as well as photographers Cindy Sherman and Robert Frank.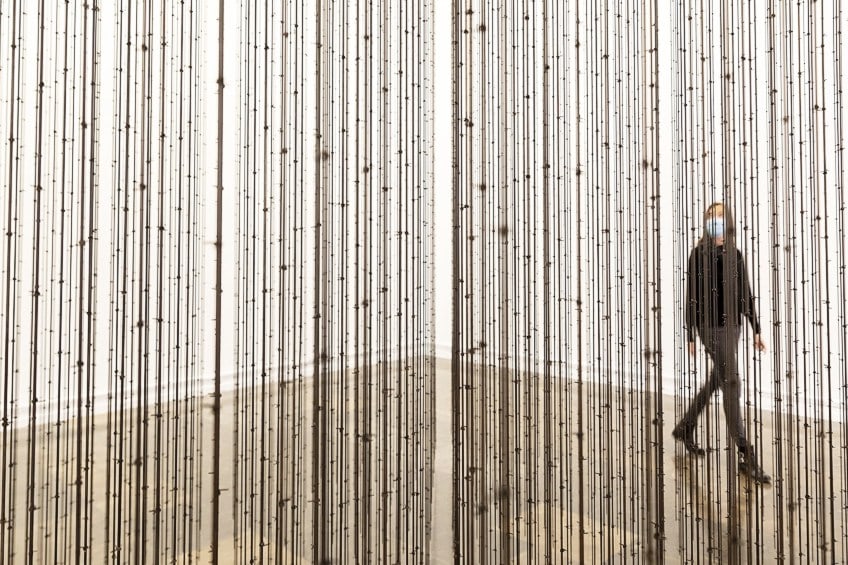 A visitor contemplates Impenetrable (1999) by Mona Hatoum at the IVAM; Miguel Lorenzo, CC BY-SA 4.0, via Wikimedia Commons

Museo Nacional Thyssen-Bornemisza (1992) – Madrid
| | |
| --- | --- |
| Architect | Rafael Meneo (1937 – Present) |
| Date Completed | 1992 |
| Function | Museum, art gallery |
| Location | Madrid, Spain |
This beautiful museum, located on the Art Walk, houses a huge collection that spans the development of European art from the Middle Ages all the way through to the late 20th century. The most extensively featured movements and schools in the museum's outstanding collection of approximately 1000 pieces of art include the German Renaissance, Italian primitives, Impressionism, 19th-century American art, German Expressionism, and Russian Constructivism.
A trip to this Madrid art museum provides an excellent chance to study genre and landscape artworks, two styles of painting that were especially prominent in the 17th-century Dutch school as well as among 19th-century American painters.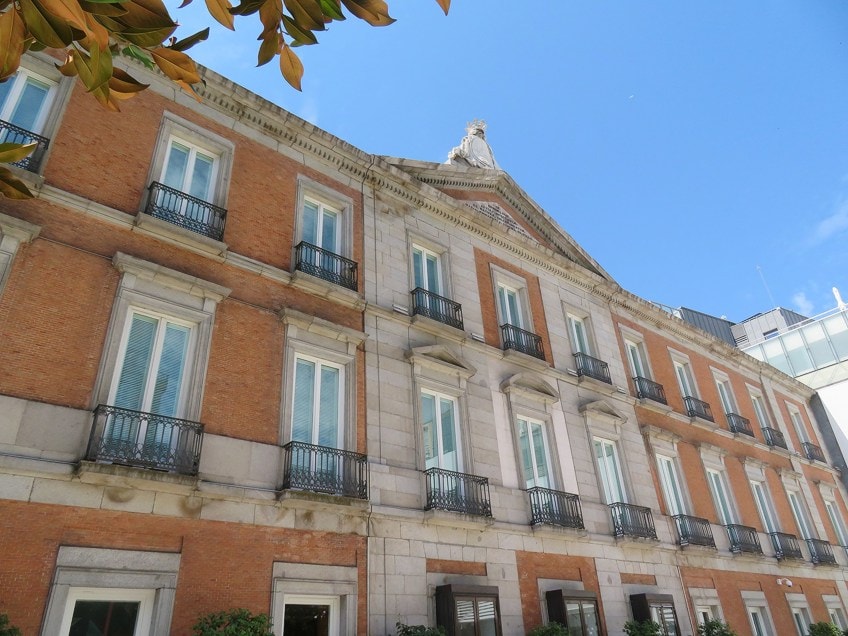 Villahermosa Palace, site of the Thyssen-Bornemisza Museum in Madrid, Spain; Kyle Magnuson from Los Angeles, United States, CC BY 2.0, via Wikimedia Commons
These works also influenced Romantic artists such as Friedrich, Impressionists such as Degas and Monet, and Post-Impressionists such as Vincent van Gogh and Paul Gauguin, who are all included in the famous Spanish museum's vast collection. It also houses major avant-garde artworks from the 20th century, including Expressionism, Fauvism, Abstraction, Surrealism, and Pop art.
The Thyssen-Bornemisza collection is divided into two floors: the second houses the Old Masters until the early 19th century and the first houses the Contemporary masters from Impressionism to the more modern movements of the 20th century.
A Modern art display at the Thyssen-Bornemisza Museum in Madrid, Spain; Francisco Anzola, CC BY 3.0, via Wikimedia Commons
The new display of 180 pieces from the Carmen Thyssen collection is housed on the museum's ground level, which has its own entrance at the beginning of the main hall. The collection exemplifies the beautiful melting pot of genres, characters, eras, and concepts that characterized Western art from the 13th through to the 20th century.
As a result, the museum is one of the cultural landmarks of the Madrid Community, as well as a reflection of the area in which it is situated.
Madrid is a wonderful source of natural, gastronomic, and artistic wealth, all of which share the same spirit as many works in the Thyssen collection. Madrid through Art is a project that showcases all of this treasure by putting the museum's paintings into direct contact with various sites and aspects of the area in three thematic tours: food, fashion, and nature.
Reina Sofía (1992) – Madrid
| | |
| --- | --- |
| Architect | Jean Nouvel (1945 – Present) |
| Date Completed | 1992 |
| Function | Museum, art gallery |
| Location | Madrid, Spain |
In 1992, Madrid's old 18th-century hospital was magnificently renovated and transformed into an art museum, with two glass elevators protruding from the façade. It had an addition created by French architect Jean Nouvel in 2005. Many of its works of art were moved from the adjacent Prado, and it is today a treasure trove of modern and contemporary art. Two floors are dedicated to temporary displays, while the other two are dedicated to collections, which include trends such as Pop, Abstract, and Minimal Art.
Temporary exhibitions featuring artworks from a variety of genres, including installations, photography, and other paintings, supplement the permanent collections.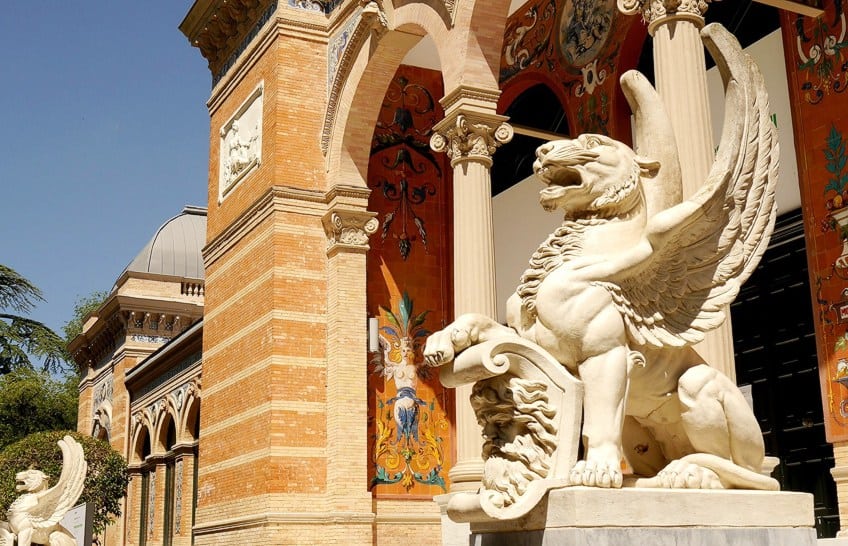 Overlooking the Velázquez Palace in Retiro Park, located at the Reina Sofía in Madrid, Spain; Ronny Siegel, CC BY 4.0, via Wikimedia Commons
There are also film screenings, performances, and discussions. The centerpiece is Picasso's Guernica (1937), the most iconic Spanish artwork of the 20th century. The Spanish government acquired it for a Civil War demonstration show in Paris, and it was displayed in a New York gallery until 1981, satisfying Picasso's demand that it not be seen in Spain until democracy was restored.
It was later shown in the Prado until being relocated to its current location in 1992. The museum also has a library and archival documents focusing on 20th-century art, with over 10,000 books and roughly 1,000 journals.
The museum store sells design products, ceramics, and writing supplies and is open throughout museum hours, while the accompanying restaurant serves dinners until late at night.
Museum of Contemporary Art (1995) – Barcelona
| | |
| --- | --- |
| Architect | Richard Meier (1934 – Present) |
| Date Completed | 1995 |
| Function | Museum, art gallery |
| Location | Barcelona, Spain |
This aesthetically remarkable modern structure in Barcelona's historic area El Raval has an enormous collection of several thousand works focused on the Modern art eras from the 1950s through the avant-garde works of the 1960s and 1970s, as well as contemporary artwork from today.
Exhibitions are intriguing and diverse, examining the work of artists such as Francesco Torres, a forerunner of multimedia works, as well as the connections between specific periods of society and art and this region.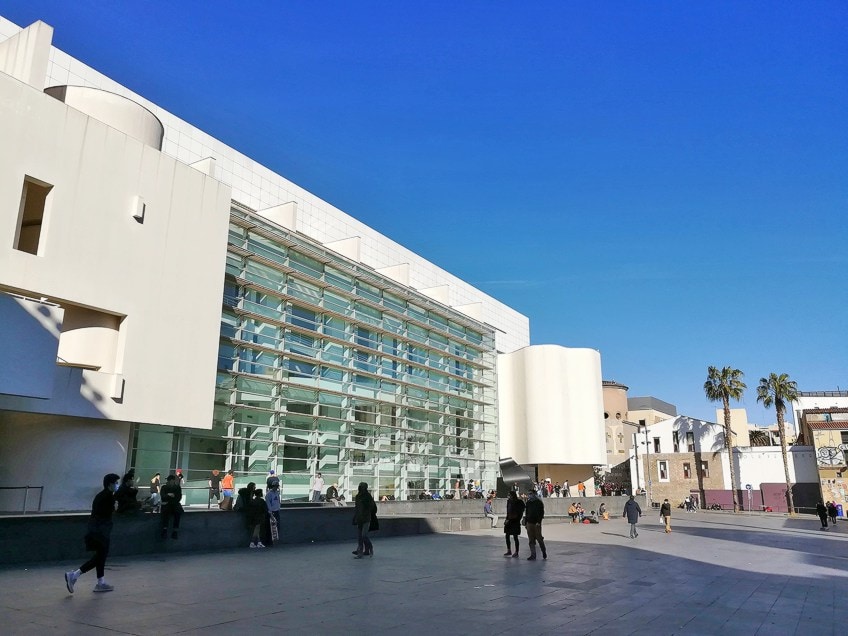 Exterior of the Museum of Contemporary Art in Barcelona, Spain; Enric, CC BY-SA 4.0, via Wikimedia Commons
In rotating exhibitions, Barcelona's Museum of Contemporary Art houses major works by worldwide renowned artists. Fontana, Klee, and Saura are likely to be the most well-known. The emphasis is on the second part of the 20th century.
Because the shows vary every three to six months, it is important to be informed about the current displays before visiting.
The museum will primarily host special exhibitions including artists such as painters, sculptors, and filmmakers. The blatantly political exhibition Art and Peace was held in 1963, showing the two art enthusiasts the boundaries of political provocation during Franco's tyranny.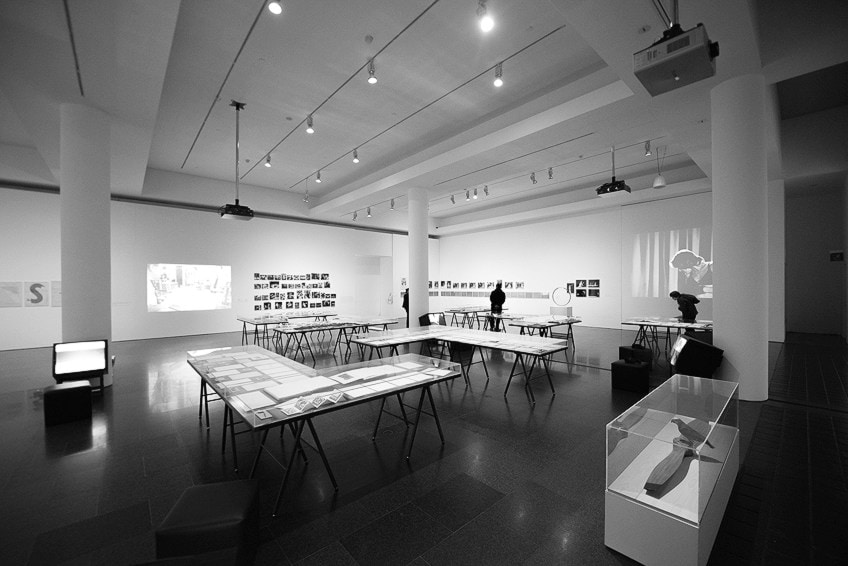 Interior of the Museum of Contemporary Art in Barcelona, Spain; Robertgombos, CC BY-SA 4.0, via Wikimedia Commons
Guggenheim Museum (1997) – Bilbao
| | |
| --- | --- |
| Architect | Frank Gehry (1929 – present) |
| Date Completed | 1997 |
| Function | Museum, art gallery |
| Location | Bilbao, Spain |
As it currently commemorates its 25th anniversary this year, the famous museum's success may be measured by the number of tourists it attracts annually: approximately a million people each year. Over the last 25 years, the museum has become a prominent center for contemporary art, exhibiting works by painters from its own Basque area as well as international luminaries like Jackson Pollock, Andy Warhol, and Alberto Giacometti.
The museum's most lasting legacy, though, is perhaps the larger effect it has had on the city that surrounds it, a phenomenon known as "The Guggenheim Effect".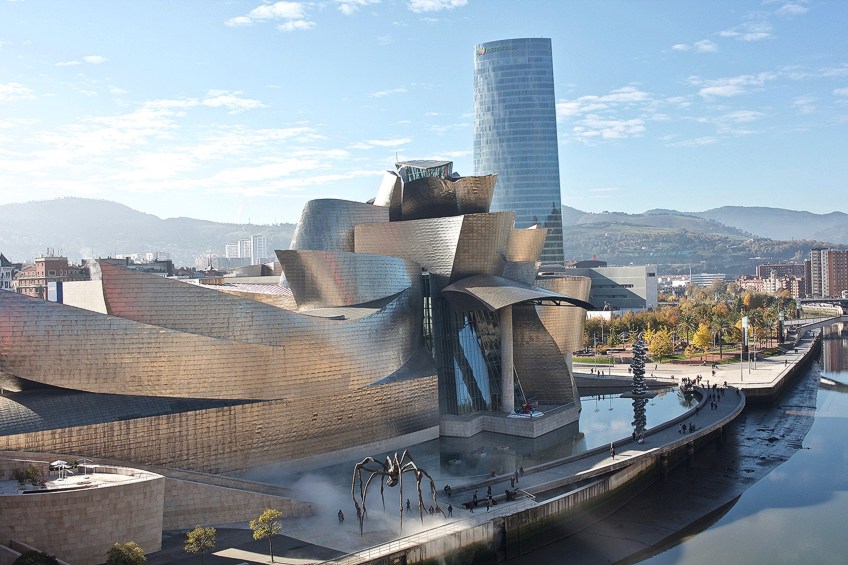 Exterior view of the Guggenheim Museum in Bilbao, Spain; Naotake Murayama from San Francisco, CA, USA, CC BY 2.0, via Wikimedia Commons
When the Guggenheim Museum opened in 1997, it became an emblem of modern architecture, its titanium and glass curving, boat-shaped tower harkening homage to the city's large manufacturing and naval history.
The Guggenheim's facade may be more renowned than the exhibits within, yet it is a center for modern art, featuring both permanent and temporary exhibits.
With around 25 million visitors since the museum launched in 1997, Bilbao's municipal government and residents do not appear to be too concerned at all, even if it is the museum's architecture instead of the artworks that often draw them in.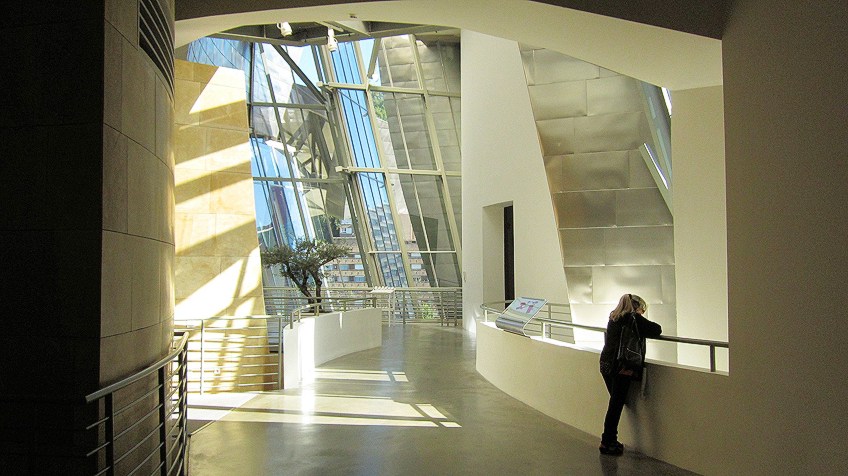 Interior of the Guggenheim Museum in Bilbao, Spain; Coralma*, CC BY-SA 4.0, via Wikimedia Commons

The architecture remains awe-inspiring on the inside. A 50-meter atrium with a decorative skylight fills the space with sunlight. The Guggenheim's modern collection of art is on the same level as the most prestigious museums in Europe. Yves Klein, Robert Motherwell, Andy Warhol, Anselm Kiefer, and Chillada are among the artists represented. The collection rotates around the institutions since the museum is part of the Guggenheim "family".
And that concludes our investigation of the absolute best art museums and art galleries in Spain. Spain has long had a real link with art in its numerous forms, having made such a big contribution to the art world throughout the years, delivering us great painters like Goya, Dali, and Picasso. Some of the world's best art institutions may now be found here, demonstrating each institution's attention to a range of art periods and disciplines. We have featured museums from all across Spain, but the Madrid art museums are those that are usually most renowned by art enthusiasts and tourists from around the world.
Frequently Asked Questions
Which Spanish Gallery Features Salvador Dalí's Artworks?
There are several Spanish museums that house Dalí's artworks throughout the country. Indeed, his work can be found in top art institutions all across the world. Yet, there is one museum that is specifically devoted to his works in Spain and that is the Dalí Theater-Museum. It is located in an old theater building that the artist would frequent as a young child. In 1960, the artist reached an agreement with the town's mayor to turn the old building into a museum.
Why Are There So Many Famous Spanish Museums?
Throughout the centuries, Spain has been known as an artistic hotspot, being the homeland of numerous artists that would achieve worldwide renown in their lifetimes and beyond. For any tourist visiting Spain, it is only natural that they would want to explore these artworks that they had previously read about in books and online. Luckily for them, there are literally more than a thousand of the best art museums and art galleries in Spain itself, many of the Madrid art museums. Within these institutions, visitors can discover famous Spanish artworks alongside the works of Master from across the globe.
Nicolene Burger is a South African multi-media artist, working primarily in oil paint and performance art. She received her BA (Visual Arts) from Stellenbosch University in 2017. In 2018, Burger showed in Masan, South Korea as part of the Rhizome Artist Residency. She was selected to take part in the 2019 ICA Live Art Workshop, receiving training from art experts all around the world. In 2019 Burger opened her first solo exhibition of paintings titled, Painted Mantras, at GUS Gallery and facilitated a group collaboration project titled, Take Flight, selected to be part of Infecting the City Live Art Festival. At the moment, Nicolene is completing a practice-based master's degree in Theatre and Performance at the University of Cape Town.
In 2020, Nicolene created a series of ZOOM performances with Lumkile Mzayiya called, Evoked?. These performances led her to create exclusive performances from her home in 2021 to accommodate the mid-pandemic audience. She also started focusing more on the sustainability of creative practices in the last 3 years and now offers creative coaching sessions to artists of all kinds. By sharing what she has learned from a 10-year practice, Burger hopes to relay more directly the sense of vulnerability with which she makes art and the core belief to her practice: Art is an immensely important and powerful bridge of communication that can offer understanding, healing and connection.
Nicolene writes our blog posts on art history with an emphasis on renowned artists and contemporary art. She also writes in the field of art industry. Her extensive artistic background and her studies in Fine and Studio Arts contribute to her expertise in the field.
Learn more about Nicolene Burger and the Art in Context Team.
Cite this Article