Georg Baselitz – Taking a Look at the Art of Georg Baselitz
For more than 50 years, German artist Georg Baselitz has been stirring up controversy in the art world and through his equally contentious ideas and ways of thinking. Throughout his celebrated career, Baselitz has maintained the title of being one of Germany's most distinguished living artists and has gone on to produce truly unique artworks. Below, we will be taking a look at this creative's early life, the development of his artistic career, and where he finds himself today.
Who Is Georg Baselitz?
| | |
| --- | --- |
| Date of Birth | 1938 – present |
| Nationality | German |
| Where Artist is Currently Living | Austria |
| Art Movements | Neo-Expressionism |
| Preferred Medium | Painter, sculptor, and graphic artist |
Born in 1938 in the small town of Deutschbaselitz (which was later known as East Germany), Georg Baselitz became a well-known and widely renowned Neo-Expressionist painter, sculptor, and graphic artist to emerge from 20th century Germany. Baselitz lived in a flat above the schoolhouse where his father taught primary school students, which was originally a garrison for soldiers during the Second World War. It was there in the school's library that Baselitz uncovered pencil drawings from the 19th century, igniting his interest in the arts.
Named Hans-Georg Kern, Baselitz held onto his birth name until his career took off in the early 1960s. He eventually went on to adopt the moniker of "Georg Baselitz", a tribute to his hometown, in 1961 although the true reason for this still remains unclear.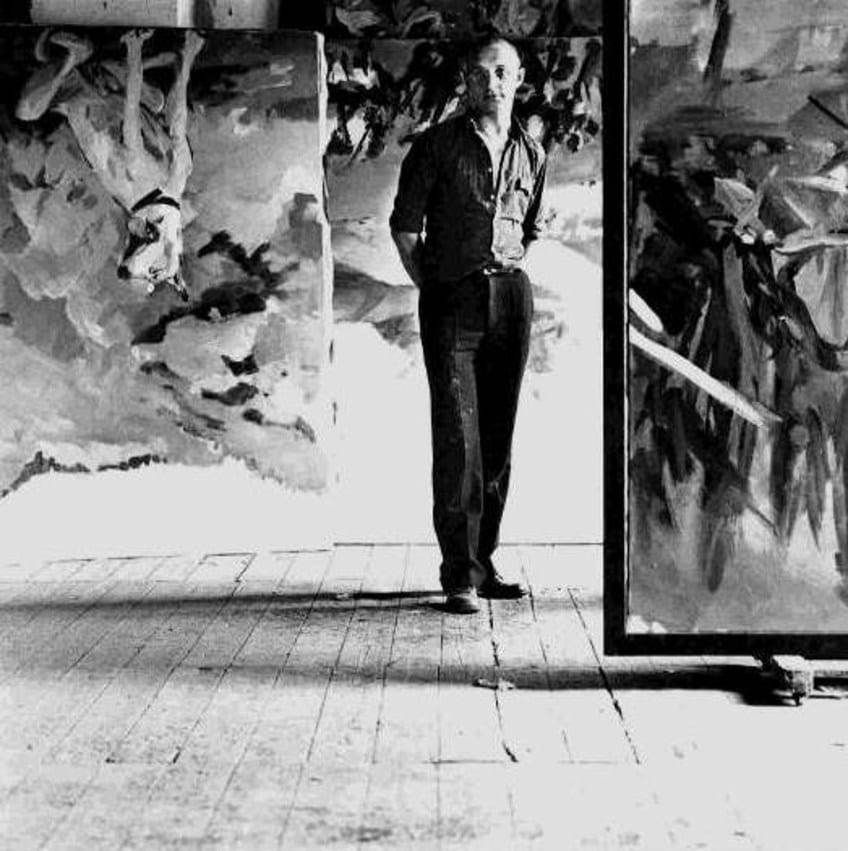 Georg Baselitz photographed by Lothar Wolleh, Mülheim, 1971; Lothar Wolleh, CC BY-SA 3.0, via Wikimedia Commons
Growing up amidst the hardships and devastation caused by World War Two, these themes went on to play prominent roles in Baselitz's incredibly expressive and figurative paintings, as well as his life. When examining his complete body of work, these biographical markers are recurring.
At the age of 15, Baselitz demonstrated his keen interest in art and had already painted several portraits, still life's, landscapes, and depictions of religious subjects. Some of his works were even completed in a futuristic style, indicating that he was quite ahead of his time as a painter. In 1956, Baselitz enrolled at the Academy of Fine and Applied Art in East Berlin, where he studied under some great professors. However, after two semesters, he was expelled for not adhering to the socialist ideals of the Deutsche Demokratische Republik.
Despite a broken-up education, Baselitz continued his studies in 1957 at the Academy of Fine Arts in West Berlin, where he established himself and met Johanna Elke Kretzschmar, his future wife. During his final years of study, Baselitz occupied himself in the theories and styles of notable artists like Wassily Kandinsky and Kazimir Malevich, whose influences can be seen in his paintings.
In 1962, after finally completing his studies, Baselitz created unique artworks where Jackson Pollock and Philip Guston were named as additional influences.
Baselitz was hugely significant in demonstrating to future generations of German artists how they could begin to accept and understand concerns of art and nationality in the aftermath of World War Two. While other artists turned to styles such as Conceptual art, Pop art, and Arte Povera, Baselitz worked to revive German Expressionism after it was condemned by the Nazis. In doing so, he was able to return the human figure to a central position within painting, which was considered to be quite controversial when he first began.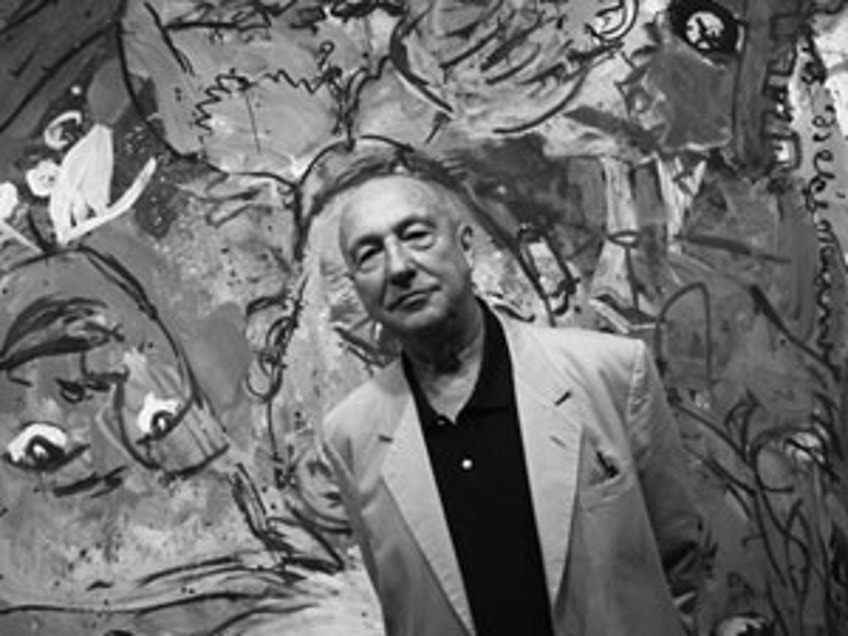 A photograph of Georg Baselitz; Erling Mandelmann / photo©ErlingMandelmann.ch
Controversial when he first came onto the scene in 1963, and still controversial more than 50 years later, Baselitz has gone on to make many questionable moves during his chaotic career. Perhaps the thing that Baselitz is most well-known for, despite his celebrated artworks, is his derogatory and insulting remarks about female artists.
These comments have earned him a reputation of being known as a sexist, as individuals have accused him of supporting gender bias in the art world and repeatedly questioning the abilities of most women artists.
Inspiring a resurgence of Neo-Expressionism painting in the 1970s, Baselitz encouraged others to adopt similar styles in both Europe and America in the 1980s. When considering his work today, he is mostly known as a Neo-Expressionist artist. Since 2013, Baselitz and his wife have lived in Austria, where he continues to create various artworks.
The Artistic Style of Georg Bazelitz
From a young age, Georg Baselitz demonstrated a great interest in the practice of German Expressionism painting. What drew Baselitz to this style of painting was its dependence on non-Western art like folk art, children's art, and the art of those with mental disorders. Much like his predecessors Emil Nolde and Ernst Ludwig Kirchner, Baselitz made use of an intentionally rough and vulgar style of rendering in his painting and utilized a magnified color palette to express raw emotions.
During the 1960s, Baselitz frequently used shocking and disturbing images to provoke certain responses in viewers. This led to him turning towards the subject of heroes, rebels, and shepherds in his works, whose figures he fragmented through painting with a thick impasto to convey his work's emotional content.
The rawness present in his paintings led to them being confiscated by the police at his first-ever solo exhibition in Berlin in 1963 on the grounds of indecency.
Various areas of Baselitz's paintings depict a venture at trying to restore elements of German national identity that were tainted after World War Two. Despite using figures as the central element within his paintings to demonstrate this revival, Baselitz's technique suggested a great concern about the potential of celebrating humanity after the atrocities that occurred during the Holocaust.
His later method of portraying his figures upside-down in his canvases, which became his trademark feature, implied the difficulty he was having with this idea.
Presenting himself as a type of romantic outsider, Baselitz's paintings often presented figures who were also generally seen as outcasts from society. At the time when Germany was reestablishing itself in the image of American consumerism, Baselitz's paintings symbolized denial and objection. While his paintings were crucial in the medium's revival during the 1970s and 1980s, critics have stated that his artistic style revealed a raw anxiety about its remaining practicality and survival in the new world of mass communication.
Inverted Paintings
In 1969, Baselitz started to make the type of artworks that will forever be classified as "Georg Baselitz art". He began to paint and display his subjects upside down in an effort to slow down his own method of painting as well as for the viewer's understanding and appreciation of the work. These iconic paintings, which depicted a variety of subject matters ranging from figures to landscapes and still lifes, brought Baselitz much fame in the 1970s.
Baselitz had another reason for depicting his subjects upside down. His inversions were done to gain more control over the representational and content-driven nature of his earlier works. Additionally, Baselitz employed this technique to highlight the deception that paintings can have. Despite painting very recognizable content, the act of inverting them helped Baselitz to achieve a level of abstraction that he did not have in his previous works, while still retaining some form of figuration.
When asked about the reasoning behind his upside-down painting, Baselitz stated that he had experienced enough of "so-called order" through the destroyed landscape and society that emerged after the Second World War.
By reversing the traditional features of painting and presenting works that challenged viewers, Baselitz sought to reestablish a new kind of order through his inverted artworks. Baselitz daringly broke the customary rules of perceptions through his paintings, which gave his works an additional element to consider.
When considering his artworks, Baselitz is regarded as a revolutionary painter due to his ability to guide the viewer's attention towards his compositions by encouraging them to think and triggering their interest through his unique layout. Based on this technique, the subjects used in Baselitz's paintings are not always as important as the visual insight provided by the artwork.
Instead, Baselitz emphasizes the structure of colors and form in a way that directly confronts audiences with the picture's surface as opposed to the actual content of the work.
In a sense, typical "Georg Baselitz paintings" that are inverted are quite empty and not open to interpretation. Instead, one can simply look at Baselitz's paintings without coming up with another possible explanation. Throughout his career, Baselitz has gone on to develop his own distinct artistic language through his peculiar artworks, which have varied greatly in style.
His works from the last 10 years have seen him revisit, correct, and change earlier artworks, with his self-reflection and alterations seamlessly blending into his paintings. Today, Baselitz still inverts all of his paintings and remains well-known for his distinct upside-down style. This feature has also gone on to become the most unique and defining characteristic of all of the artworks he has ever made.
Famous Georg Baselitz Paintings
At 83 years of age, Georg Baselitz is still producing equally notable artworks. However, when considering the most famous paintings ever made, these works were all created during the height of his career (between the 1960s and 1980s). Below, we will be taking a look at some Georg Baselitz art pieces that caused quite a stir when they were first exhibited and are still spoken about today.
Die große Nacht im Eimer (Big Night Down the Drain) (1963)
| | |
| --- | --- |
| Date | 1963 |
| Medium | Oil on canvas |
| Dimensions | 250 cm x 180 cm |
| Where It Is Currently Housed | Museum Ludwig, Cologne |
Painted at the start of Baselitz's career, Die große Nacht im Eimer is also known by the English title of Big Night Down the Drain. When Baselitz first exhibited this artwork, his painting was (and still is) considered to be one of his most controversial pieces ever, as it shows a young boy holding what appears to be an enlarged and erect phallus.
Some have considered this work to depict the moment after masturbation, while others have viewed it as a possible self-portrait of Baselitz when he was younger.
While many have interpreted this painting to also portray a hideous dwarf-type of person with a Hitler-inspired hairdo, many agree that no matter the true identity of the figure, the main focus of the painting is sex. When asked about his painting, Baselitz stated that his main goal was to shock audiences. His crude depiction of a penis was aggressive enough to really shock audiences, as the portrayal of genitals in paintings at the time was seen as very offensive.
Overall, the creation of Die große Nacht im Eimer was designed to motivate a rude awakening that Baselitz thought was much needed in post-war Germany. As he felt that Germany was experiencing amnesia about its recent past, the outrage created by his painting would act as a harsh reminder of the cruelty of World War Two.
At Baselitz's first solo show, his painting was confiscated for "infringement of public morality", with criminal proceedings finally ending in 1965 when the work was returned to him.
Rebel (1965)
| | |
| --- | --- |
| Date | 1965 |
| Medium | Oil on canvas |
| Dimensions | 162.7 cm x 130.2 cm |
| Where It Is Currently Housed | Tate Modern, London |
During the mid-1960s, Baselitz began a series of paintings that portrayed male figures who dominated the majority of the space on the canvas. Rebel perfectly illustrates the techniques that Baselitz used in his early portrait paintings, as he was known to make use of deformed and contorted proportions in an effort to exaggerate his bodily structures. Belonging to a series of paintings that he produced at the same time, Rebel demonstrates his concentration on archetypal figures as he frequently depicted so-called heroes, rebels, and shepherds.
While some figures in his early paintings bore some relation to the heroic figures used in Social Realist art, Baselitz went one step further and portrayed his figures as injured and disheveled.
Within Rebel, the figure appears badly wounded, with blood splattering his body as he limps forward. Through his body, which is almost completely transparent, viewers are able to get a look at what appears to be entangled guts that trail behind him. While the title of the work implies that he is perhaps a rebel, no other evidence is given to suggest otherwise.
According to Baselitz, the exhausted figure is holding a flag in one hand, which juts just outside of the visual space, while his other hand is bandaged. Details like this, as well as the very small but obvious burning house seen in the background, reappear in some other Georg Baselitz paintings and they act as quite a descriptive method of representation.
This lone figure, which was viewed as a saint by some, also alluded to battle-scarred soldiers who were stunned and numb on their return to post-war Germany.
Der Wald auf dem Kopf (The Wood on Its Head) (1969)
| | |
| --- | --- |
| Date | 1969 |
| Medium | Oil on canvas |
| Dimensions | 250 cm x 190 cm |
| Where It Is Currently Housed | Unknown |
One of the most celebrated Georg Baselitz art pieces was Der Wald auf dem Kopf (The Wood on Its Head), as it was the very first inverted painting that he ever produced. Encouraged by the tree in Louis-Ferdinand von Rayski's painting, Wermsdorf Woods (Wermsdotfer Wald) (c. 1859), Baselitz went on to create his own version of the artwork.
By painting his composition upside down, the tree trunks seemed to grow out of the top of the canvas while the bare branches took up the bottom of the space, giving the artwork an eerie feeling.
The reason that Baselitz had for upending his subject matter was to frustrate viewers in their ability to easily and instantly recognize the objects he depicted. While some of the features in Der Wald auf dem Kopf (The Wood on Its Head) are similar to those found in his earlier work, Baselitz succeeded in making them of secondary importance in this painting. When compared to the physical properties of the medium, the rough and impasto way that he painted the trees demands more attention.
When looking at this oil on canvas, the radical approach of inversion that Baselitz used disrupted the viewer's ability to comfortably interpret the picture. Der Wald auf dem Kopf (The Wood on Its Head left viewers wondering if they were looking at a specific type of abstraction, or merely at a conventional landscape painting that had been turned upside-down.
Baselitz's technique was interpreted by some as his continued efforts to find a different approach from other notable artists that were dominant at the time that he emerged.
Most Important Georg Baselitz Artist Exhibitions
After starting his career in the early 1960s, Georg Baselitz eventually found commercial success in the art market in the 1980s. Despite hosting his first solo exhibition in 1963 in Berlin, this show caused a big public scandal which resulted in several of his paintings being seized by the German authorities and branded as "publicly indecent". However, his artworks were soon returned to him and he continued to grow his career. In 1995, his first-ever American retrospective was held at the Guggenheim Museum in New York City.
Throughout the last few decades, Baselitz has exhibited widely and held some celebrated solo shows at extremely prestigious venues such as:
Solomon R. Guggenheim Museum, New York City (1995)
Musee d'Art Moderne de la Ville de Paris (1997 and 2011)
Royal Academy of Arts, London (2007)
National Museum of Contemporary Art, Seoul (2007)
Haus der Kunst, Munich (2014)
Fondation Beyeler, Basel, Switzerland (2018)
Hirshhorn Museum and Sculpture Garden, Washington, D.C. (2018)
Gallerie dell'Accademia, Venice, Italy (2019)
Palazzo Grimani, Venice (2021)
Fondazione Vedova, Venice (2021)
Some of the most recent art exhibitions that Georg Baselitz has curated include:
Visit from Hokusai (2015, New York City)
Visit from Hokusai (2016, Geneva)
Jumping Over My Shadow (2016, New York City)
Recent Works on Paper (2017, Athens)
Devotion (2019, New York City)
What If… (2020, San Francisco)
Years Later (2020, Hong Kong)
Springtime (2021, New York City)
Georg Baselitz Art Today
Since the 1990s, Baselitz has continued to produce his trademark paintings and drawings, in addition to creating new and exciting woodcuts and sculptures. He even dabbled in set design for some time and was a designer for operas like Punch and Judy, which showed at the Dutch Opera in Amsterdam.
The artworks that Baselitz created between 1990 and 2010 signaled another crucial change in his artistic practice, as he began to use a more linear and abstracted technique with the figures in his works.
Baselitz also frequently revisited many of his earlier works in an effort to distinctly reinterpret his previous subjects in a manner that made their elusive meanings and technical innovations more obvious to viewers. This can be seen in his Remix series, which he worked on between 2005 and 2008.
A great achievement in his career was receiving the Japan Art Association's Praemium Imperiale prize for painting in 2004. Other honors include being awarded the Chevalier de la Légion d'Honneur in 2012, which is the highest French order of merit that can be awarded to anyone both military and civil.
On his 80th birthday in 2018, several important retrospectives were held in his honor to celebrate his career. These exhibitions took place in the United States at the Hirshhorn Museum in Washington D.C., as well as internationally at Pinakothek der Moderne in Munich and Fondation Beyeler and Kunstmuseum in Basel, Switzerland.
His retrospective in America was a major exhibition, as over 100 works highlighting more than six decades of Baselitz's career were shown, making the show his biggest exhibition in more than 20 years.
Experimenting with almost every artist medium there is, Georg Baselitz has firmly established himself as a visual artist of global importance and distinction. With his inverted works confronting the intrinsic reality of history and the misfortune of being German in the post-World War Two era, the quality of his artworks had a powerful influence on other Neo-Expressionist artists.
While he no longer attracts as much controversy through his artworks, his rather contentious comments about female artists in 2013 and 2015 have led to him being branded as a sexist. To this day, he remains extremely critical of German politics, which can be felt in some of his paintings and sculptures. Currently living in Austria, Georg Baselitz continues to make his highly debatable artworks to shock his audiences.
After reading through the biography of Georg Baselitz's life and his contribution to the art world, it is clear to see that he remains both a celebrated yet questionable artist. After reviving certain features of German Expressionism before turning to focus on Neo-Expressionism, Baselitz dabbled in many mediums and styles before arriving at his iconic and signature style of inverted paintings. Despite being 83 years old already, Baselitz is still producing artworks and putting together exhibitions that are spoken about and debated.
Suggested Reading
Georg Baselitz is truly an interesting artist, who is well-known for attracting controversy in most of what he does. If you would like to learn more about his life, career, and the meaning and reasons behind the artworks he makes, we recommend the following book for you.
Georg Baselitz by Richard Calvocoressi
Labeled a very compelling and insightful read, this book traces the development of Georg Baselitz's unusual and extraordinary style from his early career right up until his most recent artworks created in his eighties. Complete with over 400 color illustrations of Baselitz's various works, this book helps to unpack his artworks in an easy-to-understand and chronological way. Published in 2021, this book makes a great read to further your knowledge about Georg Baselitz.
An extensive monograph on one of the best artists of our time
Follow the development of Baselitz's unique style over the years
Masterful writing by Richard Calvocoressi with 400 color illustrations
View on Amazon
Frequently Asked Questions
What Is the Signature "Georg Baselitz Artist" Style?
When considering all of the artworks that he has produced, Georg Baselitz is most famous for his inverted and upside-down paintings. Seen as a revolutionary painter after he came out with this technique, Baselitz's unique works are known to instantly draw viewers' attention and spark their interest. Additionally, the different styles and techniques he uses make them think long and hard about the meaning and significance of his paintings.
What Other Mediums Does Georg Baselitz Work With?
In 1979, Baselitz switched his primary medium from painting to sculpture and began experimenting with this new technique to create monumental wooden sculptures. Much like his paintings, his sculptures displayed a vulgar, forceful, and unrefined approach. Baselitz would never polish his works, as he preferred to leave the surface cracked and scratched to add to its appearance. The first sculpture he made, Model for a Sculpture (1980), sparked much controversy and debate as the figure was thought to be raising its arm in a Nazi salute.
Isabella studied at the University of Cape Town in South Africa and graduated with a Bachelor of Arts majoring in English Literature & Language and Psychology. Throughout her undergraduate years, she took Art History as an additional subject and absolutely loved it. Building on from her art history knowledge that began in high school, art has always been a particular area of fascination for her. From learning about artworks previously unknown to her, or sharpening her existing understanding of specific works, the ability to continue learning within this interesting sphere excites her greatly.
Her focal points of interest in art history encompass profiling specific artists and art movements, as it is these areas where she is able to really dig deep into the rich narrative of the art world. Additionally, she particularly enjoys exploring the different artistic styles of the 20th century, as well as the important impact that female artists have had on the development of art history.
Learn more about Isabella Meyer and the Art in Context Team.
Cite this Article