Pablo Picasso Blue Period – Discover Picasso's Blue Period Works
Why did Picasso have a Blue Period and what prompted Pablo Picasso's famous Blue Period? The artist and individual underwent a profound change during Pablo Picasso's Blue Period. The Blue Picasso paintings were a collection of artworks in which the color blue predominates in each piece, and a profoundly sad tone permeates the entire collection, as can be observed in works such as the La Vie painting (1903), The Soup (1902), The Tragedy (1981), and The Old Guitarist (1903).
Exploring Pablo Picasso's Blue Period
The Blue Picasso paintings are profoundly lyrical depictions of poverty, vulnerability, extreme despair, and helplessness, although at times appearing melancholy and romantic. The destitute and damaged misfits of society make up a large portion of the themes.
Although the works in this collection are somber, they are nevertheless filled with innumerable levels of elegance and compassion.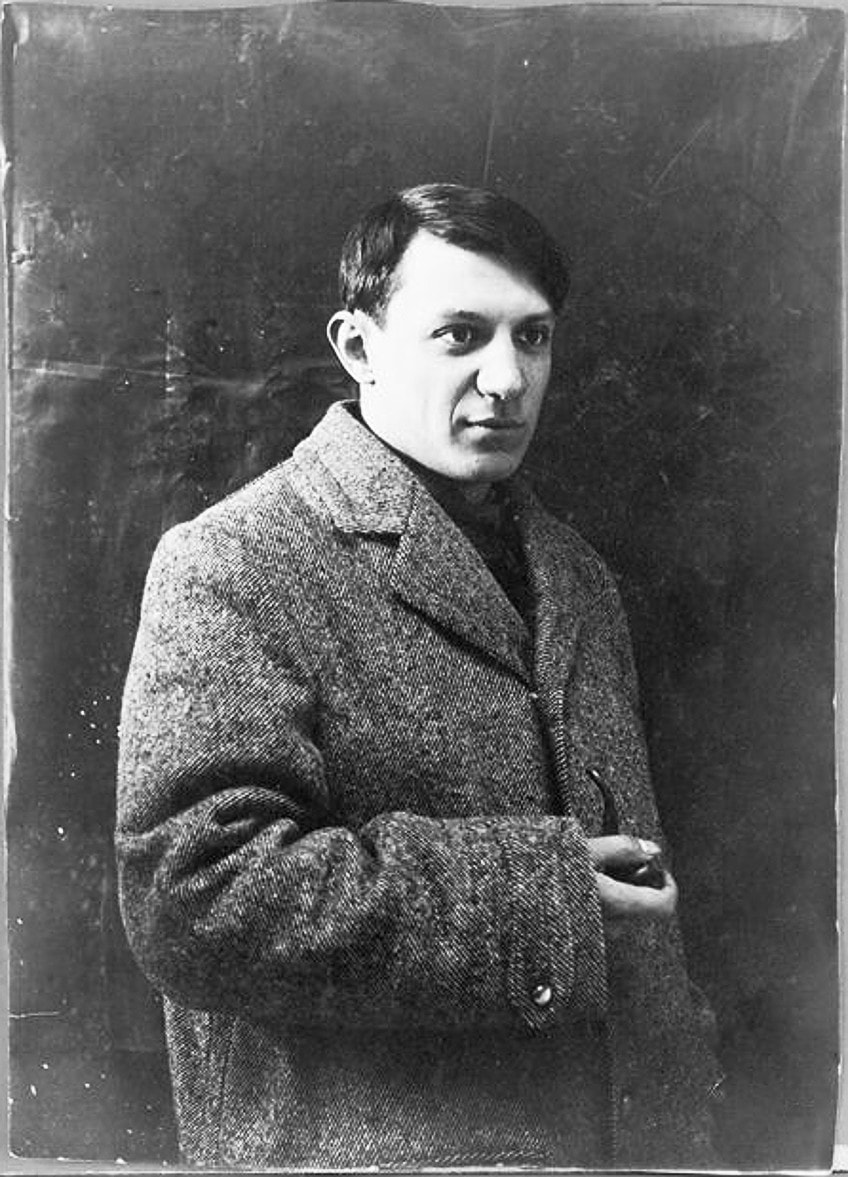 Portrait photograph of artist Pablo Picasso in 1908; AnonymousUnknown author, Public domain, via Wikimedia Commons
No other period in Pablo Picasso's lengthy and intriguing career contains as much intense emotional depth in nearly the same manner as Pablo Picasso's Blue Period, according to the many stages of the artist's development. Finding someone who has never read of the Spanish painter Pablo Picasso would be exceedingly odd.
Pablo Picasso's legacy is so great and his paintings are so well-known around the globe that when most individuals mention his name, specific imagery immediately springs to mind.
Why Did Picasso Have a Blue Period?
What prompted Pablo Picasso's famous Blue Period? Uncertainty exists over the exact moment and location when the Blue Period started. What is certain, though, is that it started about the same moment that Picasso went through a personal catastrophe that led to severe and protracted despair. In either Paris late that year or in Spain in the springtime of 1901, the Blue Period began.
Picasso was traveling across Spain in February 1901 when his personal acquaintance, Carlos Casagemas, a writer and art graduate from Spain, showed up at the L'Hippodrome Café in Paris.
The pair of young men had been journeying together, but Casagemas departed to Paris by himself after being saddened by his infatuation for Germaine Gargallo Florentin, a wedded woman. While dining at L'Hippodrome one evening in Paris with Germaine and a few friends, Casagemas became intoxicated. That night, about nine o'clock, he grabbed a handgun from his pocket and shot Germaine, then turned the weapon on himself and fired at himself in the head. Germaine was lucky to only have minor damage to her temple and lived. Carlos Casagemas did not.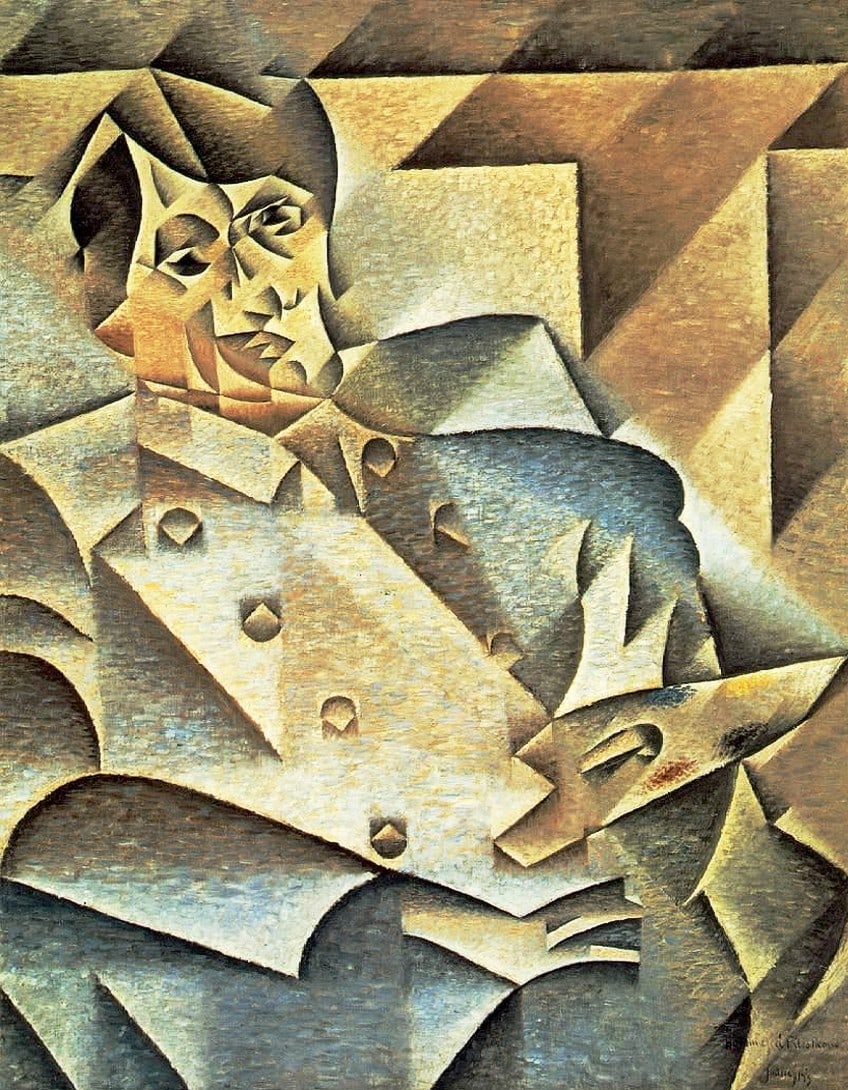 Portrait of Picasso (1912) by Juan Gris, located in the Art Institute of Chicago in Illinois, United States; Juan Gris, Public domain, via Wikimedia Commons
Picasso was not there for the horrifying events that night at L'Hippodrome Café, but he was horrified by it, and the demise of his companion had a profound effect on his artwork in the weeks and months that proceeded. When Picasso arrived back in Paris, he fell into severe despair. He hung around with the same group of people, slept in the same bedroom as Casagemas, and even started dating Germaine. There was no way to avoid the persistent remembrances of his deceased companion. He underwent a significant transformation in his job.
"When I discovered Casagemas was gone, I decided to paint in blue," he was later reported as saying.
Picasso produced some blue paintings that are monochromatic but are occasionally warmed by other colors. In addition to being a powerful and distinct depiction of inner suffering, these blue-toned artworks also provided a window into something else.
Photograph of an older Pablo Picasso in January 1962; Argentina. Revista Vea y Lea, Public domain, via Wikimedia Commons
These Blue Picasso paintings frequently feature stark representations of humanity's neglected or rejected individuals, many of whom he found in Paris's jails, alleys, and ditches, including prostitutes, street children, and beggars. One encounter that had a significant impact on Pablo Picasso's Blue Period paintings was a trip to a prison for women.
Many of the images are lone individuals, including elderly, decrepit, blind, and malnourished people as well as single moms. Others, however, are posthumous portraits of Carlos Casagemas, a beloved friend who has passed away.
Artworks of Pablo Picasso's Blue Period
Picasso's Blue Period was from 1900 to 1904, when he made primarily monochromatic works in tones of blue and blue-green, sometimes brightened by other colors. These dismal pieces, influenced by Spain but produced in Paris, are today among his most important pieces, even though he struggled to sell these during the period. Picasso arrived in Paris in 1904 after a few trying years with no stable studio and little creative achievement.
In 1903, he created his Blue Period pieces, which appeared to represent his experiences of deprivation and insecurity, showing the homeless, petty criminals, the elderly and fragile, and the blind.
The Death of Casagemas (1901)
| | |
| --- | --- |
| Date of Completion | 1901 |
| Medium | Oil on wood |
| Dimensions (cm) | 27 x 35 |
| Current Location | Musée Picasso, Paris, France |
This is one of several tributes Picasso erected in honor of the young artist who committed himself by shooting himself in Paris. Casagemas's unsuccessful infatuation with Germaine Gargallo, someone he had met during his first trip to Paris in October 1900, was the direct cause of the suicide. She seemed to be gleefully promiscuous in contrast to his impotence.
Pablo Picasso was in Madrid at the time of the accident, but he didn't start addressing it in his art until after the pressure to create for his show had subsided.
He must have selected Van Gogh as the mediator for the votive panel because he observed so many similarities between the two men's terrible lives and brutal deaths, which was reinforced by the fact that he moved into the exact building on avenue de Clichy Casagemas was occupying at the moment of his death.
He may have known about or perhaps seen Dr. Gachet's tender portrait of Van Gogh on his deathbed because it too focuses on the head and portrays it from a nearly identical viewpoint.
A jittery, violent, "expressionist" approach based on Van Gogh's manner must have felt to Picasso most fitting for a monument to an artist pushed to despair by his afflictions by 1901 since this idea of Van Gogh had solidified by that point. He was also able to laud Casagemas by comparing him to Van Gogh.
Evocation: The Burial of Casagemas (1901)
| | |
| --- | --- |
| Date of Completion | 1901 |
| Medium | Oil on canvas |
| Dimensions (cm) | 150 x 90 |
| Current Location | Paris Museum of Art |
Another painting from the same year features a canvas covered in the color blue. Within this picture, two situations are happening. The commonplace ceremony of burial is included in the bottom half. Casagemas is encircled by the mourning as he is laid to rest on the earth.
Their bodies are slumped and bent and some are holding their heads in their hands while others are cuddling up to one another in the traditional sorrowful body language.
The skies open above to receive Casagemas. The viewer's attention is drawn to the shining white horse by a crucified man on horseback, a representation of the soul ascending, which soars across the landscape of the work.
It is a heartfelt depiction of the artist's final wishes for his deceased companion.
The Soup (1902)
| | |
| --- | --- |
| Date of Completion | 1902 |
| Medium | Oil on canvas |
| Dimensions (cm) | 37 x 45 |
| Current Location | Art Gallery of Toronto |
Picasso's finances quickly ran out despite his early triumph at the Vollard show in 1901. The artist often went without food during this time in Paris, but his situation just made him more conscious of the people's extreme poverty that was constantly around him. Picasso created the picture named The Soup in Barcelona in 1902. He once more drew from his observations when visiting the Saint-Lazare women's jail.
He also remembered going to the Pantheon to witness the French paintings that had been finished five years previously, such as those by artist Pierre Puvis de Chavannes, a member of the symbolism movement.
One of Puvis' depictions of a scenario from St. Genevieve's life stands out for showing a famished lady receiving aid on the street. Picasso drew this image, which is likely what led him to choose to paint a similar subject. On the other hand, The Soup is fascinatingly equivocal. Is the elderly woman, who is physically exhausted from her poverty, giving the young kid the soup or getting it from her?
Picasso places the basic need for nutrition at the core of the charitable deed.
La Vie (1903)
| | |
| --- | --- |
| Date of Completion | 1903 |
| Medium | Oil on canvas |
| Dimensions (cm) | 196 x 129 |
| Current Location | Cleveland Museum of Art |
Only a chosen number of innumerable pieces of art produced over hundreds of years can completely fascinate, puzzle, and mentally test the viewer. Even fewer are capable of transcending individual prejudices and briefly separating everyone from their strongly held aesthetic tastes. They are independent artistic structures that speak on their own merits.
One such rare is Picasso's masterwork from the Blue Period, the "La Vie" painting, from 1903. Pablo Picasso never meant for the artwork to be understood by everyone in the world.
https://www.youtube.com/watch?v=IVamqJI9yTw
The novelist, Antonina Vallentin once overheard the artist saying, "In my opinion, a picture speaks for itself; what use is it to provide explanations? Like the others, a painter speaks just one language." Picasso apparently shrugged off the conclusion. At least, we are aware of the sad events that led to Picasso's renowned Blue Period.
The artwork is challenging and confusing. Its mysterious characteristics have tremendously enhanced its renown.
Observe how Picasso depicted Casagemas' left leg taking a stride forward and his left finger pointing at the masculine figure. Picasso also provided him with sexual affection in the form of a dedicated feminine nude figure leaning near to him. Picasso also associated Casagemas with a family, namely the maternal bond between a mother and child.
The Old Guitarist (1903)
| | |
| --- | --- |
| Date of Completion | 1903 |
| Medium | Oil on panel |
| Dimensions (cm) | 123 x 83 |
| Current Location | Art Institute of Chicago |
The artist frequently produced canvases representing the suffering of the destitute, the sick, and those who had been driven out of society during this period because he felt sympathetic to the situation of the oppressed. Being almost indigent for the entirety of 1902, he too had experienced poverty.
The distorted manner of this Madrid-based piece is evocative of El Greco's paintings. Notice that the guitarist's upper body looks to be reclined, while the lower part appears to be seated cross-legged.
A huge, spherical guitar is being held near to him by the bent, blind man. The sole color change in the artwork is visible in its brown body. The instrument fills the area surrounding the lone man, who appears unaware of his blindness and destitution while he plays, both physically and figuratively. The Symbolist movement's writings around the time the artwork was created featured blind individuals with inner vision-enhancing abilities. Another influence on Picasso's slim, skeleton-like body is Spanish art, which is his native land.
The elderly man's stretched-out limbs and hunched, angular stance are reminiscent of the works of famous 16th-century painter El Greco. Picasso's Blue Period, during which he experienced hardship and inner upheaval, is arguably best known for The Old Guitarist, one of his most recognizable works. Another intriguing aspect of the picture is the shadowy appearance of a hidden image painted below. Under the picture of The Old Guitarist, technical inspections and art-historical study turned up two previous works.
We now have a better knowledge of Picasso's creative process because of this information. The under-painted pictures were attempted to be understood by research from the Art Institute of Chicago and an exhibition in 2001 at the Cleveland Art Museum.
The most prominent characteristics are a woman's left-facing head, her right-extending arm holding out her hand, and her lower legs, which in the x-ray image—appear to be in a sitting posture. Picasso most likely began painting a picture of a woman in an upsetting or anxious state who looks to be sitting down. Except for her face and legs, hardly much of this photograph is visible.
The Tragedy (1903)
| | |
| --- | --- |
| Date of Completion | 1903 |
| Medium | Oil on panel |
| Dimensions (cm) | 127 x 90 |
| Current Location | Chester Dale Collection |
Pablo Picasso's 1903 work The Tragedy, from his Post-Impressionist Blue Period, depicts a man, woman, and kid huddled together on a seashore. Their dejected expressions tell of the terrible, but it's unclear whether they are experiencing it or lamenting it. The sole luminosity, if you can somehow call it that, comes from the cool flesh tones on the cheeks, hands, and feet of the three characters.
The entire painting is composed of blues and dark greens. It's probable that this family is grieving the loss of a relative, perhaps the child's sibling.
As seen in The Tragedy of 1903, Pablo Picasso frequently painted surface hints to reveal a deeper image beneath. Artists regularly alter paintings or reuse canvases or panels that have already been painted. Because an artist can't afford to buy fresh materials, the supports are frequently modified. Additionally, a painter could start again after scraping off an old painting, or they might occasionally apply a uniform layer of the ground over a picture they've given up on.
Picasso seldom ever did this. He frequently painted straight over prior images while reworking a painting, without erasing the failed attempt or utilizing a "clean" side.
Financial restrictions played a role in Picasso's decision to reuse support early in his career, although the artist continued to work on his works after his death. Not because he was cheap, but because when he worked on or went back to a painting, the original subject—the shape or form on the canvas—oftentimes took on a new appearance and provided new inspiration.
At the time, what Pablo Picasso accomplished during his Blue Period was virtually unheard of. From 1901 to 1903, all of his works gave the impression that he had started to perceive the world through azure-tinted spectacles. Creating sceneries in low light was the goal of the exercise, but the works' coloring and shading also give off a morbid mystique that evokes a feeling of death and sorrow. Picasso managed to create entirely original works of art even if he was frequently able to imitate the work of those painters he liked, such as El Greco or Van Gogh. Picasso was the only painter who was able to emulate the techniques and aesthetics of previous artists while yet producing his own ground-breaking art. You can also read our famous picasso paintings article.

Frequently Asked Questions
Why Did Picasso Have a Blue Period?
Picasso's personal emotional agony and financial ruin served as the inspiration for The Blue Period, which has been hailed as a turning point in his creative career. Picasso's artistic direction dramatically changed in 1901 after a trip to Spain and the demise of his confidant, Carlos Casagemas. A poet named Casagemas experienced unrequited love and attempted to kill his sweetheart before eventually committing suicide. Picasso struggled as an unappreciated and impoverished artist living in Paris at the time, and his suicide had a strong and lasting impact on him.
What Prompted Pablo Picasso's Famous Blue Period?
Picasso came to Paris in 1900, at the age of just 19. Living in unstable circumstances, he was quickly overcome by sadness and grief. Picasso's Blue Period, in which he produced monochromatic works, emerged from this intense sorrow. From 1901 until 1904, this color of melancholy would be present in all of his products, signaling a shift in his creative strategy.
Isabella studied at the University of Cape Town in South Africa and graduated with a Bachelor of Arts majoring in English Literature & Language and Psychology. Throughout her undergraduate years, she took Art History as an additional subject and absolutely loved it. Building on from her art history knowledge that began in high school, art has always been a particular area of fascination for her. From learning about artworks previously unknown to her, or sharpening her existing understanding of specific works, the ability to continue learning within this interesting sphere excites her greatly.
Her focal points of interest in art history encompass profiling specific artists and art movements, as it is these areas where she is able to really dig deep into the rich narrative of the art world. Additionally, she particularly enjoys exploring the different artistic styles of the 20th century, as well as the important impact that female artists have had on the development of art history.
Learn more about Isabella Meyer and the Art in Context Team.
Cite this Article