Claes Oldenburg – A Look at the Life and Art of Claes Oldenburg
American artist Claes Oldenburg is most renowned for his monumental sculptures which typically depict everyday objects. Claes Oldenburg's sculptures were initially influenced by abstract expressionism, but he then started sculpting common items like hamburgers, typewriters, and toilets. Claes Oldenburg's artworks are typically identified with the 1960s Pop art movement, which both embraced and criticized consumerism and mass manufacturing of consumer items. Let's explore Claes Oldenburg's sculptures and life in more detail.
Exploring the Life and Art of Claes Oldenburg
| | |
| --- | --- |
| Name | Claes Oldenburg |
| Nationality | American |
| Date of Birth | 28 January 1929 |
| Date of Death | 18 July 2022 |
| Place of Birth | Stockholm, Sweden |
Claes Oldenburg has served as the reigning monarch of Pop art with his outlandish sculptures since the early 1960s when New York City was still genuinely edgy and rough. In 1961, he started renting a storefront and outfitted it with filled, crudely decorated shapes representing cheap clothing, diner food, and other mass-produced items, which astounded viewers who were used to the unadorned, non-representational forms of Abstract Expressionist sculpture.
These "soft sculptures" are today considered the first sculptural manifestations of Pop art.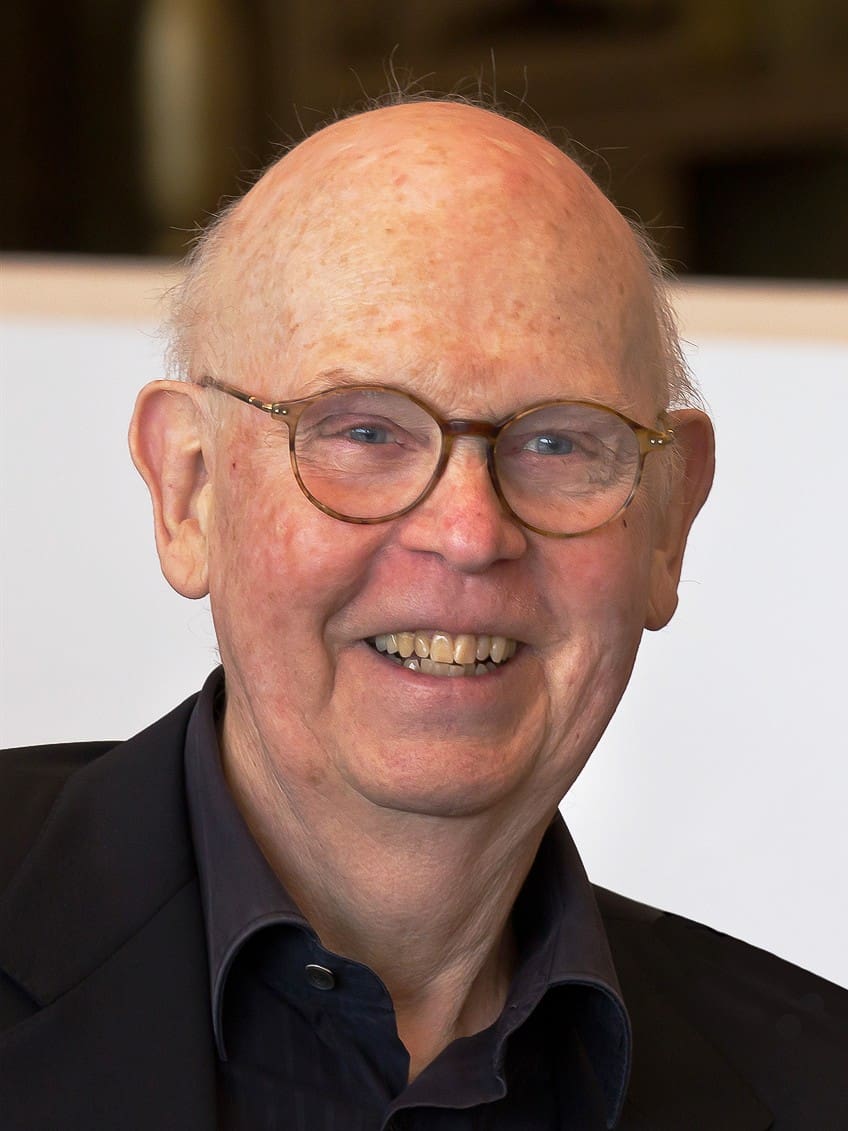 Claes Oldenburg in 2012; Photo:Raimond Spekking, CC BY 4.0, via Wikimedia Commons
What materials does Claes Oldenburg use in his sculptures, though? His works were typically created from soft materials like cloth or vinyl, emphasizing their flexibility and approachability. As Claes Oldenburg's sculptures grew in scope and ambition, his focus remained consistent: commonplace objects were displayed at a magnified scale, reversing the typical viewer-object interaction.
Childhood and Education
Claes Oldenburg was born on the 28th of January, 1929, in Stockholm, Sweden, to a diplomat father. He spent a large portion of his boyhood in the United States, where his father was the Swedish consul in New York City. In the early 1950s, Oldenburg attended Yale University, where he pursued art history and literature. Around this time, Oldenburg began experimenting with sketching and painting, dabbling with various styles and methods.
He was especially influenced by the artwork of abstract expressionists like Franz Kline and Willem de Kooning, and he started establishing his own abstract style.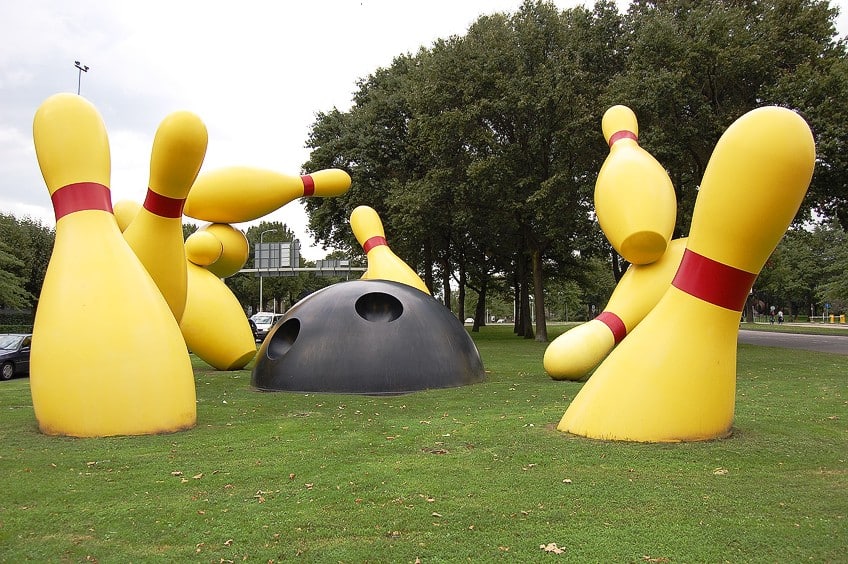 Flying Pins by Claes Oldenburg and Coosje van Bruggen; Maurizio Pesce from Milan, Italia, CC BY 2.0, via Wikimedia Commons
In 1950, Oldenburg visited Mexico City and became acquainted with the muralists David Alfaro Siqueiros and Diego Rivera. This encounter encouraged him to produce large-scale public art with social and political implications. Oldenburg traveled to Chicago in 1952 after finishing his studies at Yale, where he served as a reporter and enrolled at the Art Institute of Chicago.
At this time, he refined his artistic approach by working with a number of mediums such as sculpture, and performance art.
Early Training
Oldenburg then became a naturalized American citizen in 1953 and relocated to New York City with the intention of establishing a career in painting. According to Oldenburg the milieu of the Lower East Side, where the Fluxus, Beats, and Pop art groups met in gallery and performance spaces off Washington Square, was the most innovative and invigorating source of inspiration.
He met local regulars like Yoko Ono, Allan Kaprow, Jasper Johns, Robert Rauschenberg, Andy Warhol, and Jim Dine here.
Artists Claes Oldenburg and Fay Peck with museum director Jan van der Marck in 1968; See page for author, Public domain, via Wikimedia Commons
Most in this community believed that Abstract Expressionism was dying, but no one knew what followed next, and daring experimentation in multi-media and performance art ensued, with generations, sensibilities, and techniques merging. Another rich reservoir for Oldenburg's imagination was the Cooper Union library, where he spent a number of years working and exhibited his first one-person show of figurative drawings in 1959.
There he encountered the fantastical architecture envisaged by the 18th-century Romantics, as well as the creation and erection of the Statue of Liberty, both of which inspired his own humorous ideas for monuments and subsequent public art.
Mature Period
1960 was a defining moment for Oldenburg. His performance Snapshots from the City, was performed alongside Patty Mucha and was influenced by the area and staged in Judson Memorial Church, featuring the Yale graduate covered in trash. Oldenburg collaborated with Mucha on subsequent performances and created his first soft sculptures, influenced by the plethora of sounds and sights in the daily life and art around Lower Manhattan. These were an honest, down-and-dirty perspective on the neighborhood based on his personal views, and they were exhibited in The Street, his Lower East Side storefront studio.
This exhibit sold many pieces, and his subsequent studio showing, inspired by the delis and immigrant shops in the largely run-down and neglected nearby region, was much more economically successful.
In 1960, Oldenburg created enormous "ray guns", which were recreations of generic sci-fi weaponry shown at his leased storefront. He also accumulated toys and kitsch items, which he placed on displays alongside the sculptures. In 1962, The Shop attracted the interest of the high-profile Green Gallery, where Oldenburg presented three huge artworks made of filled, painted, and sewed canvas.
From then on, his work earned widespread appreciation, and over the following several years, he produced a wide range of "soft" convenience foods and household things, including fries, sandwiches, a hot water bottle, toilets, telephones, and other kitchen tools and mass-produced home products. His works on paper, characterized by a flowing hand, were an essential and continuous component of his career. Throughout the second part of the 1960s, he created a large series of sketches of fantasy buildings, which resulted in prints and, eventually, public sculptures.
Throughout the late 1960s, he also had a solid partnership with renowned art dealer Leo Castelli, who encouraged him to create work on a grand scale. In order to achieve some of his larger ideas, Oldenburg took part in an "art and technology" program offered by the Los Angeles County Museum of Art in 1967, which led to a residence at a Walt Disney Companies division. This contributed to the creation of a cartoon mouse, a symbol previously explored in his early sketches and into which he merged the design of a movie camera.
Oldenburg adopted it as his own emblem, and it prompted the steel mouse sculptures of all sizes and colors that appeared in his "Mouse Museum" display at Documenta in 1972.
He developed a similar museum-style exhibit of his stylized "ray guns" a few years later. Lipstick (Ascending) on Caterpillar Tracks, his first massive outdoor sculpture, was completed in 1976, another watershed year for him. Since then, he concentrated almost entirely on large-scale public sculpture.
Late Period
In 1977, Oldenburg married Coosje van Bruggen, the Dutch art Historian, with whom he worked on his huge, polychrome sculptures from late 1976 until her passing in 2009. Van Bruggen handled site logistics and concerns relating to Oldenburg's sketches, allowing him to concentrate on the concepts for these public sculptures, however, these roles were never defined, and Van Bruggen also offered creative ideas for the pieces.
Their professional working partnership has been likened to that of Christo and Jean-Claude's collaborative partnership.
Screw Arch by Claes Oldenburg; Wikifrits, CC0, via Wikimedia Commons
Among their most well-known creations are Dropped Cone (2001), a gigantic ice cream cone that comes into contact with the corner of a shopping mall's roof, Shuttlecocks (1994), which appear to have fallen from a giant's game of badminton, and Spoonbridge and Cherry (1988), a usable walking bridge over a river in the shape of a teaspoon holding a cherry.
Oldenburg, who was 93 years old, passed away in his Manhattan home on the 18th of July 18, 2022, from injuries sustained in a fall.
The Legacy of Claes Oldenburg
Due to the complexity and multifaceted meaning of his work, Oldenburg's influences branch out in many different directions, affecting a wide range of artists and movements that appear unconnected. Oldenburg is equally cynical and joyous. His lifelong fixation with comfort food may be the ultimate representation of heartbreaking loneliness. First-generation feminists noted this, and among the first artists drawn to his flexible, expressive shapes that they somewhat imitated in their early work were Lynda Benglis and Niki de Saint-Phalle.
Moreover, Oldenburg predicted the tenet of minimalism, "it is what it is," by emulating the process of food preparation, as Donald Judd noted in his landmark work Specific Objects (1965), which is crammed with ice cream cartons, spackled with icing-like paints, and created in layers.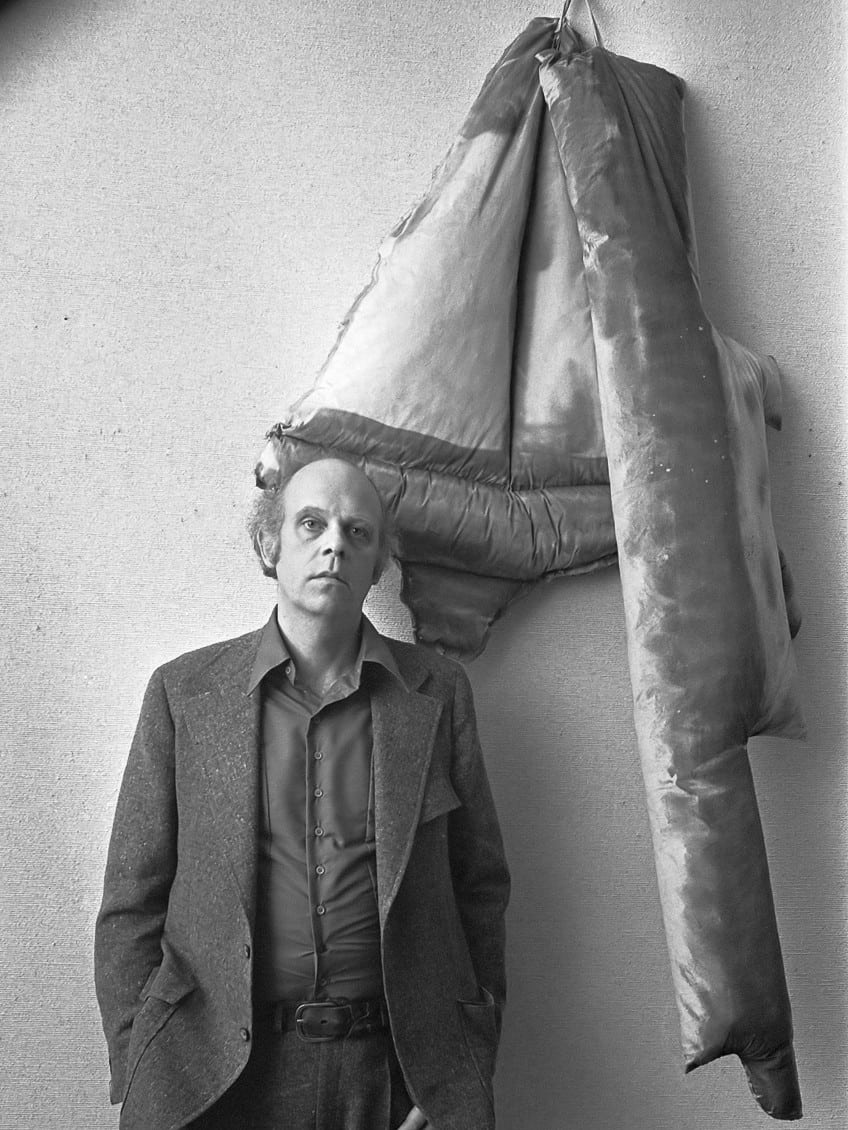 Oldenburg in the Stedelijk Museum in Amsterdam, 1970; Bert Verhoeff, CC BY-SA 3.0, via Wikimedia Commons
It is not necessary to comprehend the many allusions to art and art history in order to appreciate Oldenburg's work. Its vivid color, exaggerated size, and overt appeal to the audience influenced a generation of other modern sculptors, like Damien Hirst and Jeff Koons, who worked with the scale, location, and texture of commonplace objects. The missing connection between Jeff Koons and Andy Warhol, Oldenburg pioneered in his acceptance of consumer desires by actually "letting them eat cake" and giving audiences what they desired.
Personal Life
After arriving in New York City in 1957 to pursue her career as an artist, Patty Mucha first met Claes Oldenburg, with whom she was married from 1960 to 1970. Before becoming Mucha's first wife, Mucha served as one of Oldenburg's naked models when he was producing portraits.
The Whitney Museum of American Art has an Oldenburg sketch of Mucha titled Pat Reading in Bed, Lenox, 1959 in its collection. She was a partner in Oldenburg's installations, coming up with concepts, producing costumes, and performing in the work.
In addition to contributing to his happenings, she also stitched his renowned ice cream, floor hamburger, and cake. Mucha was the lead vocalist in the band The Druds, which included LaMonte Young, Andy Warhol, Lucas Samaras, and Walter DeMaria. From 1969 until 1977, Oldenburg was in a romance with Hannah Wilke, a feminist sculptor, and artist who passed in 1993. Wilke frequently photographed him and they shared numerous studio spaces and often traveled together.

The Garden Hose by Claes Oldenburg; joergens.mi, CC BY-SA 3.0, via Wikimedia Commons
Coosje van Bruggen, Oldenburg's second wife, met Oldenburg in 1970 when he held his first major retrospective at the Stedelijk Museum in Amsterdam, where van Bruggen had been a curator. In 1977, the pair married. Château de la Borde, a tiny Loire Valley estate, was purchased by Oldenburg and van Bruggen in 1992. They refurbished the house and furnished it with modernist furnishings. Van Bruggen died from the effects of breast cancer on the 10th of January, 2009.
Claes Oldenburg's Art Style
Claes Oldenburg's art style is distinguished by his use of common things as the foundation for his work. He is most renowned for his life-size sculptures of everyday items such as typewriters, hamburgers, and safety pins, which he made out of materials such as foam, vinyl, and steel. Pop art, a style that originated in the 1950s and 1960s and glorified mass-produced consumer items and popular culture, is commonly used to characterize Oldenburg's approach to art.
Yet, Oldenburg's work differs from that of other pop artists in that it focuses on three-dimensional objects rather than the two-dimensional pictures generally associated with pop art.
Oldenburg's sculptures are frequently playful and whimsical, testing viewers' preconceptions and inviting them to perceive common items in new ways. Many of Claes Oldenburg's artworks have a social or political message to them, addressing topics such as war, consumerism, and environmental damage. In addition to Claes Oldenburg's sculptures, he also made paintings, prints, and performance art pieces. He frequently collaborated with his wife, artist Coosje van Bruggen, and together they built a number of large-scale public sculptures that have become monuments in towns all over the world.
Claes Oldenburg's Exhibitions
Claes Oldenburg's exhibits were distinguished by his distinct and forward-thinking approach to sculptures and installation art. In his early displays, he built an immersive setting that resembled a normal 1960s department shop, complete with hand-crafted copies of commercial objects. The sculptures were meant to be touched and interacted with by visitors, blurring the boundaries between art and ordinary life. Oldenburg's shows frequently featured large-scale sculptures erected in public places. These sculptures were created to interact with their surroundings, eliciting humorous and amusing responses from the people. Here is a list of a few of his most notable exhibitions:
The Store, New York City, 1961
Ray Gun Show, Judson Gallery, New York City, 1962
The Street, The Store, and The Silver Spoon, Green Gallery, New York City, 1962
Fagends, Green Gallery, New York City, 1962
The Store, Galerie Lawrence, Paris, 1963
Drawings and Collages, Richard Feigen Gallery, New York City, 1963
Mouse Museum/Ray Gun Wing, Walker Art Center, Minneapolis, 1977
Claes Oldenburg, Museum of Modern Art, New York City, 1969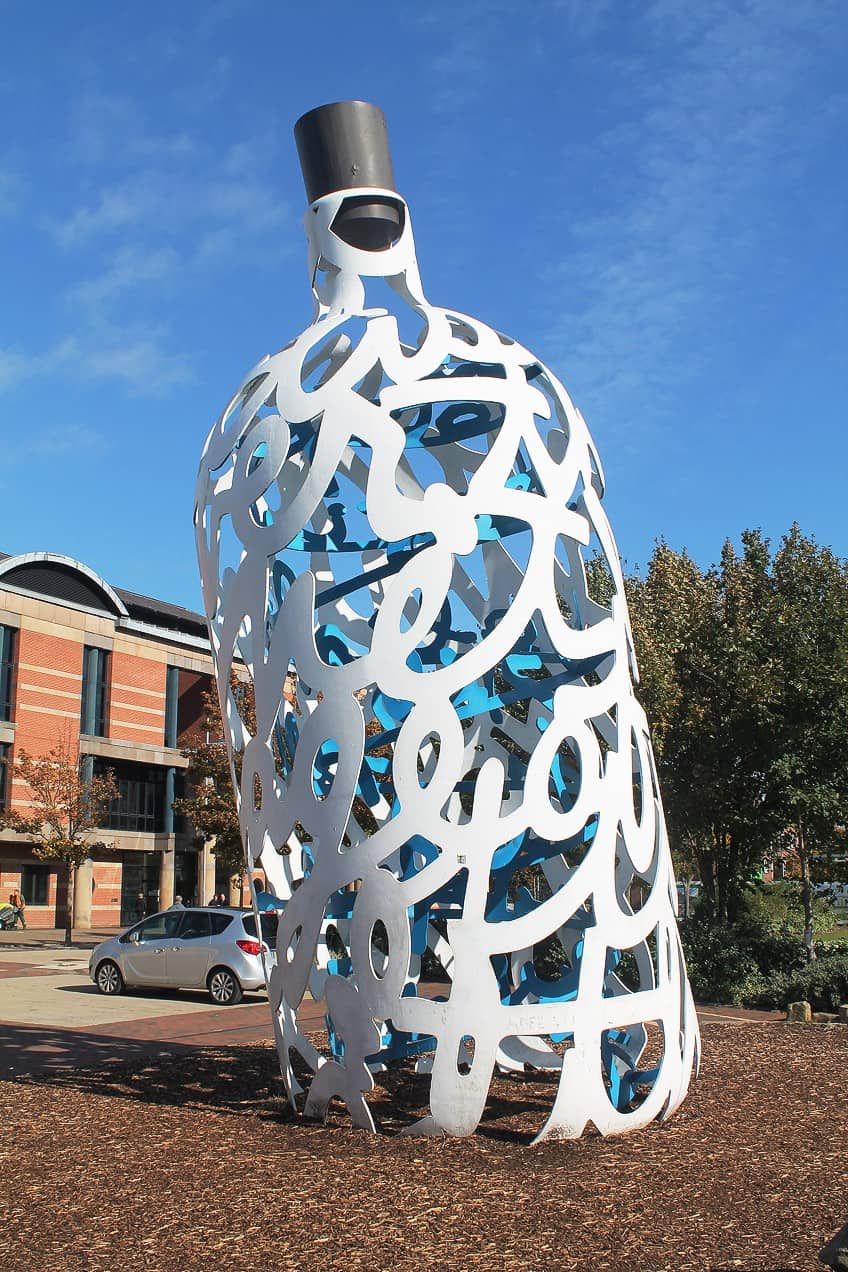 Bottle O' Notes by Claes Oldenburg; Lee Bunce, CC BY 4.0, via Wikimedia Commons
Claes Oldenburg, Stedelijk Museum, Amsterdam, 1970
Claes Oldenburg: An Anthology, Museum of Contemporary Art, Chicago, 1995
Claes Oldenburg: The Sixties, Walker Art Center, Minneapolis, 1995
Claes Oldenburg: Multiples in Retrospect 1964-1990, Walker Art Center, Minneapolis, 1991
Claes Oldenburg: Early Work, Pace Gallery, New York City, 2010
The Street and The Store, Museum of Modern Art, New York City, 2013
Claes Oldenburg: The Sixties, Ludwig Forum für Internationale Kunst, Aachen, Germany, 2016
Notable Claes Oldenburg Artworks
Whereas previous Pop artists had emulated the flat language of magazines, billboards, and television by trying to work in two-dimensional mediums, Claes Oldenburg's three-dimensional plaster models, papier mache works, and soft fabric forms elevated Pop art into the domain of sculpture, which was a significant innovation at the time.
Oldenburg's items, no matter how tiny they appear, transform into expressive individuals, almost like performers in a stage play.
This is owing in part to their significantly oversized scale and in part to the soft forms he uses, such as cloth or latex. This differentiates Oldenburg from Warhol's or Lichtenstein's icy detachment, and Claes Oldenburg's sculptures, somewhat like portraits, illustrate the absurdity of American life with a milder cynical viewpoint than his Pop art contemporaries. Here are a few notable artworks:
| | | | |
| --- | --- | --- | --- |
| Artwork | Date | Medium | Location |
| Pastry Case I | 1961 – 1962 | Painted plaster, ceramic, and metal | The Museum of Modern Art, New York City, United States |
| Floor Cake | 1962 | Fabric | The Museum of Modern Art, New York City, United States |
| Soft Toilet | 1966 | Latex | Whitney Museum of American Art, New York City, United States |
| Lipstick Ascending on Caterpillar Tracks | 1969 | Corten steel, aluminum, cast resin, and polyurethane enamel | Yale University, New Haven, United States |
| Clothespin | 1976 | Weathering steel | Center Square, Philadelphia, United States |
That completes this article on Claes Oldenburg's artworks and lifetime. Oldenburg's first soft sculpture, a free-hanging woman's stocking packed with newspaper, was produced in 1957. Following that, his work grew in size, starting with The Store (1961), an interactive installation produced within a leased Lower East Side shop where he sold food and store products recreated as plaster sculptures. During the 1970s, Oldenburg shifted his focus to large-scale outdoor public sculptures of common things.
Frequently Asked Questions
Who Was Claes Oldenburg?
Swedish-born Claes Oldenburg was a sculptor who lived in America and was best recognized for his inventive and hilarious reconstructions of common things in large-scale public installations, as well as soft materials. Oldenburg is linked with the Pop Art movement, with Jasper Johns, Tom Wesselmann, and Allan Kaprow. His early exhibitions comprised things made from paper mâché, images, and plaster.
What Materials Does Claes Oldenburg Use in His Sculptures?
Some of Oldenburg's sculptures have been fashioned from vinyl, notably his Soft Sculptures series, which features giant reproductions of common things made from soft and malleable materials. Together with vinyl, Oldenburg has employed fabric to construct his sculptures. Several of Oldenburg's bigger sculptures have also been created using steel. Several of Oldenburg's sculptures, especially those that are more complicated or detailed, have also been made from wood.
Isabella studied at the University of Cape Town in South Africa and graduated with a Bachelor of Arts majoring in English Literature & Language and Psychology. Throughout her undergraduate years, she took Art History as an additional subject and absolutely loved it. Building on from her art history knowledge that began in high school, art has always been a particular area of fascination for her. From learning about artworks previously unknown to her, or sharpening her existing understanding of specific works, the ability to continue learning within this interesting sphere excites her greatly.
Her focal points of interest in art history encompass profiling specific artists and art movements, as it is these areas where she is able to really dig deep into the rich narrative of the art world. Additionally, she particularly enjoys exploring the different artistic styles of the 20th century, as well as the important impact that female artists have had on the development of art history.
Learn more about Isabella Meyer and the Art in Context Team.
Cite this Article