Miami artist, Romero Britto, is a famous sculptor and painter originally from Brazil. Romero Britto's art embraces a wide range of various influences, such as graffiti art, Cubism, and neo-Pop art. Romero Britto's artworks are often described as optimistic and brimming with love. The paintings of Romero Britto are often used in various ad campaigns.
Romero Britto's Artworks and Biography
| | |
| --- | --- |
| Nationality | Brazilian |
| Date of Birth | 6 October 1963 |
| Place of Birth | Jaboatão dos Guararapes, Brazil |
| Associated Style | Pop Art |
Romero Britto's art is known for its striking patterns and bold colors and is meant to serve as a visual representation of joy and hope. From humble beginnings to recognition as a celebrated modern icon, the Miami artist has come a long way. Let us now take a look at the artist's biography and try and discover where exactly the influences for Romero Britto's artworks originated.
Early Life
Romero Britto was only 14 years of age when he already decided that he wanted to turn his love for art into a career. Raised in Jaboatão dos Guararapes, he came from a large family and was one of nine siblings.
Even from a very young age, Romero Britto imagined a world that was better than the one he experienced daily and turned those internal images into works of art.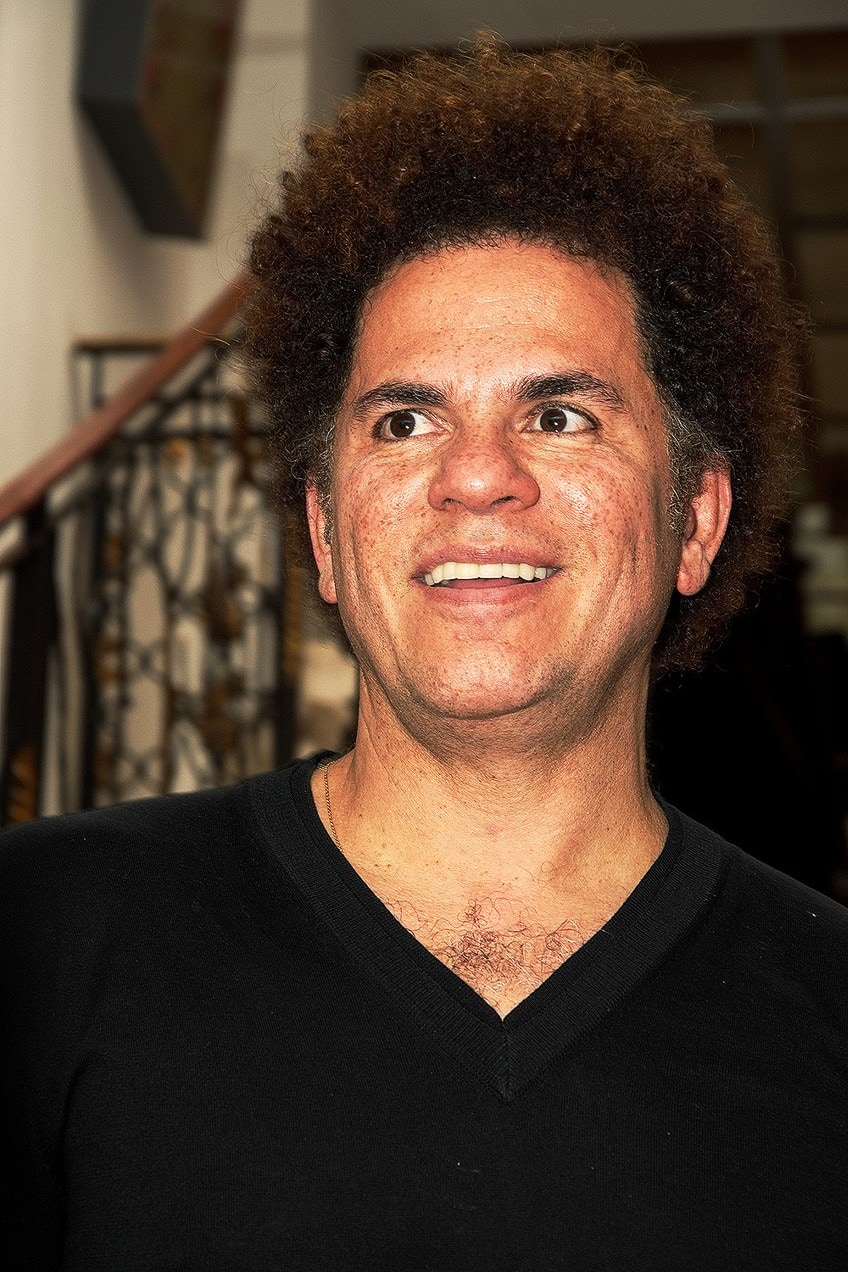 Photograph of artist Romero Britto in 2012; Dirk Vorderstraße, CC BY 3.0, via Wikimedia Commons
He used any scrap material that could possibly be used as a drawing surface. Romero Britto was not only artistically inclined but also excelled at his academic studies. Yet, despite his initial choice to pursue law as a career, his desire to create art lead him down another, more colorful path.
Career
That path started in 1983 when Romero Britto traveled to Paris where he encountered the works of Picasso and Matisse, after which he traveled to the United States, a place where he had heard Pop art was emerging as a respected movement. As every artist soon discovers, it would require money to buy new art supplies, so Romero Britto's art was often sold cheaply to friends and neighbors to create new pieces.
His early works were created on unconventional canvases due to his financial restraints and he used his fingers and hands to apply the paint – an aesthetic that many would come to love.
His debut exhibition was held at the University of Brazil when he was 20 years of age, and success followed shortly after his move to the States. Michel Roux was the first person to commission one of Romero's artworks, asking him to update the Absolut Vodka bottle branding for a global ad campaign. After that early success, other companies such as Pepsi, BMW, and Disney lined up to use Romero Britto's art for their advertising too.
Welcome by Romero Britto, located in the sculpture garden at Sheba Hospital in Israel; צילום:ד"ר אבישי טייכר, CC BY 2.5, via Wikimedia Commons
Romero Britto's artwork can be found displayed at his studio in Miami, as well as in many galleries around the world. Following the disastrous earthquake that decimated Haiti, people around the country pulled together to try and raise resources to help aid those that were suffering. Romero Britto designed the Save Haiti Saturday logo for the group in 2010. FIFA asked Britto to design the poster for the world cup that same year.
Romero Britto's art installations can be found in many public spaces such as Berlin's O2 Dome, JFK Airport, and Hyde Park in London.
The Miami artist believes that his art and purpose are to promote a shift in attitude and thinking toward a more hopeful future. In America, Romero Britto realized all of the hopes and dreams he had aspired toward as a child growing up in Brazil. Today, Romero Britto's artwork is highly sought after by politicians, celebrities, and galleries, and was even responsible for some of the stamps for the United Nations.
Political Views
Romero Britto's activities extend beyond the realm of art and into the political sphere too. He has regularly been involved in various charities, as well as worked at the World Economic Forum, serving as a panelist.
Despite having met royalty and being friends with famous celebrities, he has never forgotten his roots and is involved in several initiatives designed to help children have access to educational and art supplies.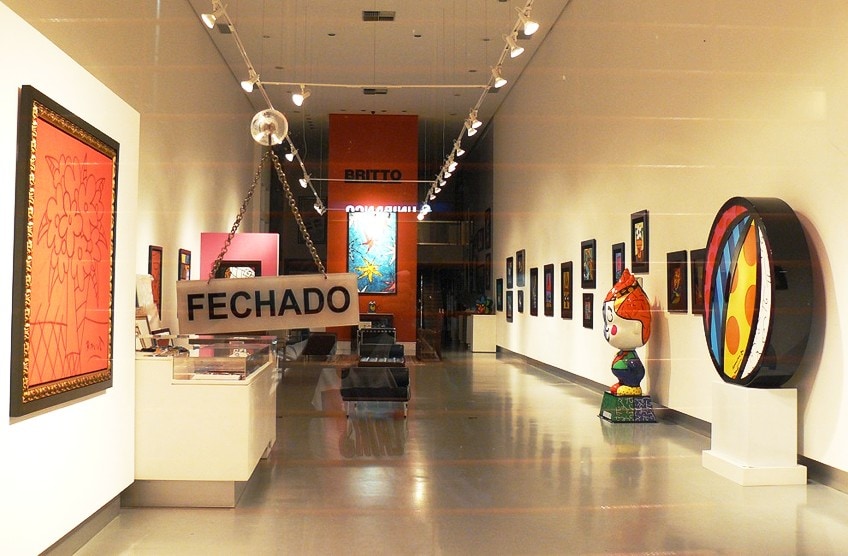 Exhibition of Romero Britto's work in São Paulo, Rua Oscar Freire; Pēteris, CC BY 2.0, via Wikimedia Commons
The Miami artist considers himself to be a conservative politically and even hosted a fundraising event in 2015 for Jeb Bush at his studio in Miami. Romero Britto believes that art has the power to uplift, and he hopes that he can use his art to change the lives of others positively, as it has done for him.
Artistic Style
Although Romero Britto's artworks could seem simplistic and even childlike to some viewers, there is an underlying appreciation for Masters such as Matisse and Picasso that can be noticed in his application of color and works that do not conform to traditional notions of foreground, background, and form.
Despite being influenced by certain stylistic choices of the above-mentioned artists, the paintings of Romero Britto are comparatively cheerful and bright, quite far removed from the rather somber tone of some of their works.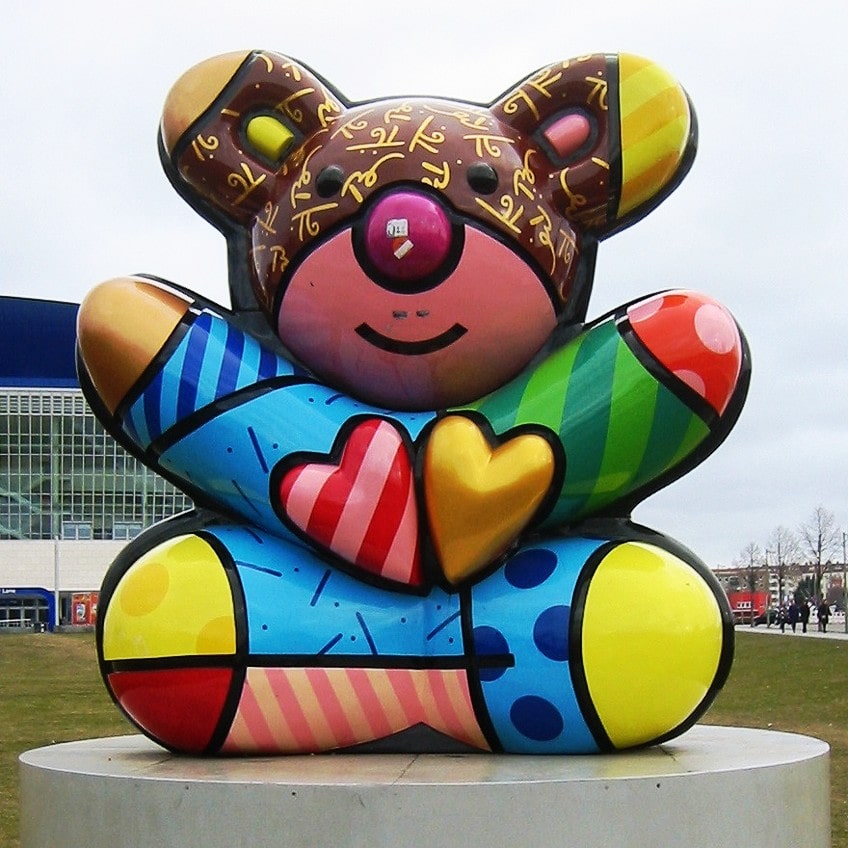 Best Buddies Friendship bear sculpture by Romero Britto, located in Berlin, Germany; Assenmacher, CC BY-SA 4.0, via Wikimedia Commons
Notable Artworks
The paintings of Romero Britto are shining examples of pure positivity put to color and have brought much joy into the world. Not only for their aesthetic value but also for the amount of good that the artist was able to do with them. Here are some notable examples of Romero Britto's art:
| | | | |
| --- | --- | --- | --- |
| Artwork | Medium | Dimensions | Location |
| Britto Garden (2000) | Serigraph | 73 x 91 | Multiple prints |
| Night Out (2004) | Screen print | 73 x 91 | Multiple prints |
| Martini Sunrise (2005) | Screen print | 80 x 90 | Multiple prints |
| 2010 World Cup (2009) | Screen print | 102 x 76 | Multiple prints |
Recommended Reading
Romero Britto's artworks are beloved worldwide. It might not be possible to see them in person, but you can own a book full of his wonderful art! Here are some book suggestions for you to explore more paintings of Romero Britto in your own time.
Happy! (2010) by Romero Britto
Who doesn't want to feel happy, and one way to feel happiness is by appreciating good art. Both good art and happiness combine in this wonderful book which features Romero Britto's artworks. This would make a lovely tabletop companion in any art lover's house.
Perfect for both adults and children
Beautiful examples of Britto's artwork
A balance between written content and images
View on Amazon
Where Is Friendship Bear? (2010) by Romero Britto
This is a perfect book for introducing young children to art. Romero Britto has created a book full of color and textures, making it more of an interactive experience than most books of the sort. There are patterns that the children can see as well as touch, and they can experience art with all their senses while learning at the same time.
An incredibly bold and interactive book
Britto brings his famous bears to life in this book
Features lift-the-flaps and touch-and-feel elements
View on Amazon
Romero Britto, the Miami artist, was originally from Brazil, where he grew up in the poorer regions of the country. Despite these beginnings though, he was able to create a world of his own through his art that eventually manifested into reality due to the sheer positivity of its message. Today he lives in America but continues to use his art to inspire and help many people all over the world. The paintings of Romero Britto have proven what a change a positive attitude and color can have on the world.
Frequently Asked Questions
Who Is Romero Britto?
Britto was originally born to a poor and large family in Brazil. Although he excelled at school, he had a greater desire to create art and explore the world. He was able to do both and found much success after moving to the US. There, his art was soon featured in major ad campaigns, and his star rose increasingly since that. He has worked with several large brands such as Disney, Pepsi, BMW, and many others, and is recognized for his work in charities and fundraising initiatives.
What Style Is Romero Britto's Artwork?
Romero Britto's art has often been described as neo-Pop art. His influences come from many distinct sources, ranging from the works of Masters like Matisse and Picasso, all the way through to Pop art and even street art. The most prominent feature in all his works is the use of vibrant colors and an all-around positive atmosphere.
What Inspired Romero Britto's Art?
Britto was hugely influenced by the art he experienced when he traveled to Paris in the early 80s. Not only was Paris a huge cultural shock to the Brazilian boy, but the art also inspired him to such a degree that he decided to dedicate all his efforts to becoming a successful artist. It would take years of selling makeshift artwork to friends and neighbors to buy materials to keep creating more art, but with time, his distinct style started to emerge and he was encouraged by those around him to pursue his dream of becoming an artist. The main thing, though, that inspires his art is its ability to transform people's mindsets for the better. He has seen it as a way not only to express his own happiness but to also improve the lives of those around him. He has used his art and abilities in the service of many charities and relief efforts, as well as personally being involved in initiatives to better the lives of children by providing them with art and school supplies.