When you think of shades of yellow, you think of emotions such as encouragement and happiness because it is usually a warm and inviting color. However, yellow is more than just the color of the sun or a bright beach ball! Both light and dark shades of yellow color are found almost everywhere, the shades of yellow are endless! Some of these shades of yellow include lemon yellow, bananas, pineapples, and roses. The popular yellow names and the yellow hex codes will be discussed in today's article, as well as how they are used in marketing, design, and art. If you have been hoping to use this color in your digital design project, your home, or even for clothing design, keep reading!
The History of Shades of Yellow
Primary colors have a rich history, and it is no different when it comes to the yellow color. Dating back 17,000 years or more, the color yellow's history began in France. It was here where the discovery of a painting was made within the Lascaux Cave. The painting was of a horse, completed using yellow ochre. This naturally occurring pigment was easily obtainable. The unique pigment has even been found in the tombs of ancient Egypt, where it was used for decorative purposes. This special yellow-colored pigment was also used to paint Roman murals.
In the 1920s, an artificial substitute for yellow ochre was created, and many people today opt to use this instead. The Oxford English Dictionary states that the 700 AD Epinal Glossary was the first to mention the word "yellow". The yellow color was used to illustrate the golden hair of the sun gods, including Apollo and Helios of Ancient Rome and Greece. This became a trend as the men and women would bleach their hair to imitate the gods. Certain religions use the yellow color as a symbol of light and purity, yet, during the Spanish inquisition, those labeled as heretics were made to wear yellow tunics before being burnt at the stake because of their beliefs.
Countless religious artworks used yellow shades for the clothing worn by Judas Iscariot, which depicts deceit.
This is likely why the word cowardice and 'yellow-belly' is linked to the yellow color. In the early years of the church, the yellow color was worn by the pope. Sadly, during the 20th-century World War II, Nazi Germany used a yellow star sewn onto their clothing to segregate the Jewish people.
Only the emperor of Imperial China and those residing with him were permitted to wear yellow shades. The emperor's guests were greeted by a yellow color carpet when entering his home. China also considers yellow shades to bring good luck. The color yellow is also thought to be a representation of the earth.
There are elements of yellow color found in Buddhist temples and is the color of the robes worn by monks, it is said to be the color of freedom. Chinese Buddhists see the color used for mourning and are considered a symbol of heroism; this is opposite to the religious western representation of cowardice. Hinduism, however, has a different view, this color is seen as a representative of purity and chastity, while the rest of India prefers to use it to represent merchants or knowledge and learning.
Some interesting trivia on this bright shade: The yellow color was a symbol of royalty and respect in China, and in the 1800s, China was the main distributor of high-quality graphite used in pencils. An American pencil manufacturer using the top brand of graphite from China made the outer layer of his pencils in the color yellow and announced that it was the best quality pencil. Back then, not everyone had a yellow-coated pencil. Today, these pencils are a dime a dozen!
Shades of yellow have been used for artistic expression since early man, yellow ochre is derived from natural earth pigments and even cow urine and arsenic!
These traditional pigments were later swapped for synthetic pigments. Many famous artists from the 1800s used yellow shades for their masterpieces. For Example, Vincent van Gogh's renowned paintings Sunflowers (1853-1890) and The Yellow House (1888), and then there is Pierre-Auguste Renoir's The Skiff (1875). Yellow was used to create contrast and highlights.
In our modern culture, the color yellow has many different uses, and because it is a highly visible hue, it is often seen on emergency vehicles, taxis, and warning signs. Yellow color is used as the penalty card in football, and while it is not necessarily a popular color in western society, it is a popular primary color for marketing and design.
The Meaning and Psychology of Yellow Shades of Color
You can find a multitude of shades of yellow, from flowers to canaries, fruit, and autumn leaves. Sunrises and sunsets burst with yellow color, dancing on the horizon and peeping through the clouds. Several cultures believe that the yellow color is linked to divinity and align yellow shades with positive emotions.
Creativity
Delight
Positivity
Comedy
Spontaneity
Entertainment
Wisdom
Understanding
Springtime
As we all know, with every positive, there is a negative, and there are traits such as cowardliness, betrayal, sickness, duplicity, jealousy, and egoism when it comes to yellow shades. Too much yellow color can create irritation, nervousness, and a loss of concentration. However, on the flip side, yellow has been linked to having a positive and stimulating effect on improving memory and communication.
The color yellow has also been linked to encouraging social engagement when it is used as a background in a room.
Because yellow combined with black is a striking color combination that can grab your eye from a mile away, it is used for traffic signs, school buses, and taxis. This infamous color is also used to bring awareness and represents a few different causes, such as support for the troops, MIA which is the abbreviation for Missing In Action, or prisoners of war. One can also pin yellow ribbons on jackets in support of bladder cancer or suicide prevention awareness.
The Various Shades of Yellow
There is a multitude of yellow shades names to choose from. Next, we will explore a short list of commonly used yellow hex codes and shades of yellow names you may use for digital design or painting. If your project is lacking something, perhaps one of these shades of yellow could be the answer!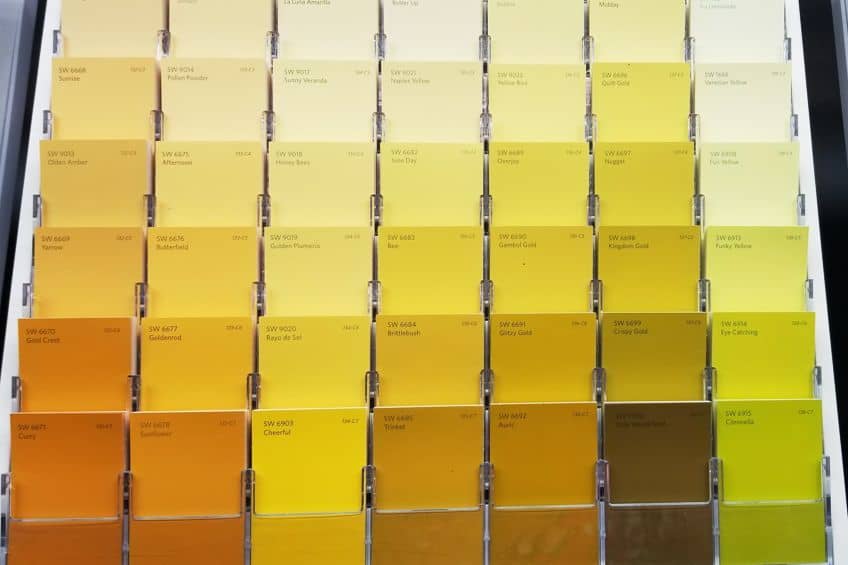 Lemon Yellow
As the name would suggest, the outer skin of a lemon fruit is what this yellow shade looks like. In the late 1500s, this shade of yellow name was first used by the English. Today, it is often used for products, packaging, and also in digital marketing. There are a few variations of this yellow shade, ranging from light to medium hues. People often shy away from this shade of yellow, however, it can look beautiful if worn correctly.
Lemon yellow looks lovely when combined with brown, silver, black and white.
| | | | | |
| --- | --- | --- | --- | --- |
| Yellow Shade | Yellow Hex Code | CMYK Yellow Color Code | RGB Yellow Color Code | Yellow Color |
| Lemon Yellow | #fff44f | 0, 4, 69, 0 | 255, 244, 79 | |
Canary Yellow
This color was named after the feathers of a canary bird. Just like its name, this color is bright and considered a confident and cheerful color. First named in 1789, the canary yellow color was aligned with furnishings and fashion items. This bold and vibrant color is used as a printing color model and is also known as a process yellow.
| | | | | |
| --- | --- | --- | --- | --- |
| Yellow Shade | Yellow Hex Code | CMYK Yellow Color Code | RGB Yellow Color Code | Yellow Color |
| Canary Yellow | #ffef00 | 0, 6, 100, 0 | 255, 239, 0 | |
Golden Yellow
Gold symbolizes wealth and prosperity. As yellow shades' names go, golden yellow was first coined in the English language as early as 1597 but only became fashionable in the 1960s with women wearing golden yellow color dresses or as added accessories. Modern interior designers use golden yellow to create clean and brightly colored bedrooms or accent walls.
This color can be seen as excessive if used incorrectly.
| | | | | |
| --- | --- | --- | --- | --- |
| Yellow Shade | Yellow Hex Code | CMYK Yellow Color Code | RGB Yellow Color Code | Yellow Color |
| Golden Yellow | #ffdf00 | 0, 13, 100, 0 | 255, 223, 0 | |
Saffron Yellow
This bright yellow shade's name is derived from the flower that shares the same name, saffron yellow. The flower boasts bright yellow-golden and orange flower petals. This sacred color is represented as purity in the Hinduism faith and has spiritual significance to inner peace and divinity. Ancient Persian emperors share the similarity with Buddhist monks because both wear saffron yellow color robes. Saffron yellow is complementary to navy blue and neutral hues.
| | | | | |
| --- | --- | --- | --- | --- |
| Yellow Shade | Yellow Hex Code | CMYK Yellow Color Code | RGB Yellow Color Code | Yellow Color |
| Saffron Yellow | #f4c430 | 0, 20, 80, 4 | 244, 196, 48 | |
Mustard Yellow
As far as yellow shade names go, mustard yellow has a taste to it, too! Most people associate the color with the condiment, but this popular yellow name has more to it than meets the eye. This yellow color is defined as a darker yellow shade, and its distinctive color stands out next to the rest. When utilized for interior design, it can be used to create a warm, relaxing, and inviting room.
Those who wear the color tend to stand out in a crowd.
| | | | | |
| --- | --- | --- | --- | --- |
| Yellow Shade | Yellow Hex Code | CMYK Yellow Color Code | RGB Yellow Color Code | Yellow Color |
| Mustard Yellow | #ffdb58 | 0, 14, 65, 0 | 255, 219, 88 | |
Citrine Yellow
Citrine yellow is one of the closest yellow shades to gold. Citrine yellow encompasses a hint of green undertone and is named after the Citrine gemstone. This yellow color crystalline quartz became a popular gemstone to wear as jewelry and is linked to positivity and optimism.
| | | | | |
| --- | --- | --- | --- | --- |
| Yellow Shade | Yellow Hex Code | CMYK Yellow Color Code | RGB Yellow Color Code | Yellow Color |
| Citrine Yellow | #e4d00a | 0, 9, 96, 11 | 228, 208, 10 | |
Safety Yellow
This yellow name fits the color perfectly – it is called safety yellow because it's a naturally attention-grabbing color! As you may recognize, many emergency vehicles, school buses, and warning signs use this color to capture attention.
Generally, people pause when they see safety yellow, which means this shade stands up to its name!
| | | | | |
| --- | --- | --- | --- | --- |
| Yellow Shade | Yellow Hex Code | CMYK Yellow Color Code | RGB Yellow Color Code | Yellow Color |
| Safety Yellow | #eed202 | 0, 12, 99, 7 | 238, 210, 2 | |
Sunflower Yellow
Looking at sunflowers bursting with yellow color, it is understandable why these yellow shades' names would be associated with happiness and joy. Sunflower yellow holds its name because of the color that bursts from these gorgeous flowers. This dark shade of yellow is connected to feelings of intelligence and vitality.
| | | | | |
| --- | --- | --- | --- | --- |
| Yellow Shade | Yellow Hex Code | CMYK Yellow Color Code | RGB Yellow Color Code | Yellow Color |
| Sunflower Yellow | #ffda03 | 0, 15, 99, 0 | 255, 218, 3 | |
Yellow Chartreuse
This is an unusually and rather intriguing yellow shades name! Chartreuse was first named after a French liqueur that resembled this color in 1764. This yellow shade comprises a green undertone and can be associated with jealousy, insecurity, and envy, even though it is considered a bright, almost luminous yellow color.
And, just like many yellow shades, should only be used in small doses.
| | | | | |
| --- | --- | --- | --- | --- |
| Yellow Shade | Yellow Hex Code | CMYK Yellow Color Code | RGB Yellow Color Code | Yellow Color |
| Yellow Chartreuse | #dfff00 | 13, 0, 100, 0 | 223, 255, 0 | |
Goldenrod Yellow
The yellow color known as goldenrod lends its name from the flower, where this shade of yellow originated. Peace, support, hope, warmth, and positive feelings are all associated with the goldenrod tint. That's not all! This color, developed in 1958 for Crayola, is also associated with royalty, pride, and grace. You can create this shade of yellow by using equal amounts of yellow and brown pigment. Tiny amounts of white, red, blue, or more yellow can then be added until the desired shade has been reached.
| | | | | |
| --- | --- | --- | --- | --- |
| Yellow Shade | Yellow Hex Code | CMYK Yellow Color Code | RGB Yellow Color Code | Yellow Color |
| Goldenrod | #daa520 | 0, 24, 85, 15 | 218, 165, 32 | |
Various Shades of Yellow Used for Design
We have looked at the many shades of yellow names. Each yellow shade renders from dark yellow to light yellow shades and is aligned with their yellow hex codes, making it simple to find the specific colors for design projects. This includes interior work and planning, fashion and clothing design, digital marketing, and print.
Let us have a look at how to use yellow for various design applications.
The Importance of Understanding Color Theory for Design and Art
As we know, yellow is one of the three primary colors. The yellow color is also considered to be a primary color for printing; however, these primary colors are referred to as the CMYK model. This is an abbreviation for cyan, magenta, yellow, and black. The yellow color is known as a secondary color when it comes to screens. This color model is known as RGB: red, green, and blue.
Most digital designers and painters will tell you that you will need to understand color theory and the way yellow shades relate to all colors before you use them in your project. To create a variety of shades and tints, it is important to know how to darken or lighten a color.
Using the color wheel's circular representation of the primary, secondary, tertiary, and intermediary colors, you can calculate which colors complement each other.
You probably know that the yellow color is a primary color, which means you cannot use other colors to create it. The three primary colors are red, blue, and yellow. Looking at the placement of yellow on the color wheel, it rests between green and orange. These are also known as analogous colors. Analogous colors are neighbors on the color wheel, which means that they go well when paired with each other. Another two colors which are neighbors on the color wheel are yellow and green, another example of analogous colors which complement one another.
To make colors stand out and appear pleasing to the eye, you should always choose the correct complementary color combinations. According to the color theory, purple is a complementary color to yellow because they sit opposite one another on the color wheel. Color bias is a term used to describe how cold or warm a color's tone is. If you have a cool yellow shade, this will mean the color has a green bias. The various shades of yellow names are all monochromatic colors. Therefore, another great example of contrasting colors would be using various yellow shades together.
Having a good understanding of the different aspects of color theory will assist in bringing balance to any home design, art project, or digital design campaign.
Shades of Yellow and Interior Design
Interior designers use colors to set moods, and the yellow shades are set for making warm, bright, and sunny atmospheres. Generally used to stimulate communication and energize people. However, there is a chance of yellow overstimulating the mind if used incorrectly or excessively.
Usually, light-yellow shades are better suited for interior wall colors. You will then be able to add a hint of brighter yellow shades as accent accessories such as rugs, pillows, and lampshades. Some say that using yellow in a baby's room can overstimulate a child, which may result in lots of tears and too many sleepless nights, however, there is not anything to back this claim up.
Choosing the best yellow shades to use for interior design is very important because this color can create a positive or negative effect on a room. In other words, your entire space relies on the hues you select! Light yellow shades could be used as an accent wall alongside neutral tones such as beige, white, and gray. As we discussed previously in this article, excessive use of yellow can produce irritation and nervous feelings. The best way to combat this would be to only use hints of bright yellow shades in moderation. Have a look at our list to see how you could incorporate yellow into your home:
You can use light yellow shades to coat the walls of rooms that have little natural light.
Use yellow-colored décor to bring warmth to an otherwise boring, neutral-colored room.
Design a yellow color scheme by choosing one dark neutral color and balancing it with two shades of yellow and use as accents
A trendy color combination with shades of yellow is a mix of gray, white, or cream and vibrant colors with red, blue, and black to be used as accents.
The ideal contrasting colors to yellow are navy blue and purple
Try to combine mustard yellow and teal color
Consider using pastel shade combinations such as pink and yellow
Various yellow shades work well together with shades of green
Shades of Yellow and Digital Marketing
Using yellow shades for digital marketing is often seen as a warm and welcoming color. When it comes to branding, this is a less aggressive choice, compared to the attention-grabbing color red! Using light yellow shades is not used for web design as it doesn't overwhelm the onlooker. The yellow color is often used to market products for children and food and some designers feel that yellow is seen as a childish color. Accordingly, we see it used more often for children's products.
Branded products such as DHL courier, McDonald's restaurants, Cheerios cereal, and National Geographic have chosen to use the yellow color as part of their logo design.
All of these brands have something in common, they wanted to create something memorable and also promote a sense of happiness and sunny disposition for their brilliant service. Using yellow in their marketing design has allowed them to cement their brand in our lives forever.
When designing your brand's color palette, you must decide what your brand's association with that specific color will be. When choosing yellow, you will need to experiment with yellow shades and possibly use light yellow shades. You may otherwise look too similar to the bigger, more well-known brands that use the yellow color.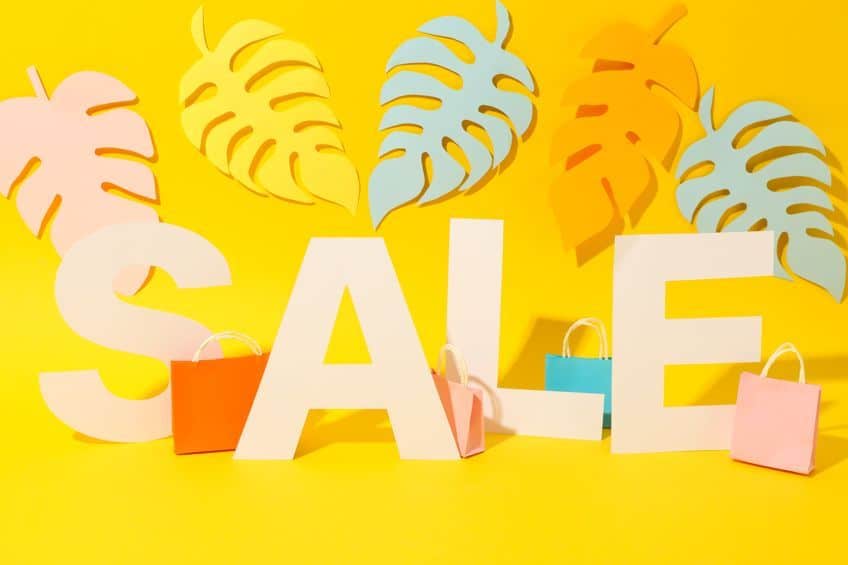 In web design, it is best to use shades of yellow as the accent color and hints to create a balanced feeling, consider trying a monochromatic approach and explore the color combination hues of yellow, oranges, and pinks. Choosing the best color to represent your brand needs a lot of thought and planning.
Shades of Yellow for Fashion Design
Pantone paints declared that in 2021, the colors of the year would be Ultimate Gray and Illuminating Yellow. This paired color combination would provide a state of harmony, hope, and stability. Gray is one of the most versatile colors to work with, combined with hints of yellow, such as a scarf or a yellow hat or handbag, you would look incredibly eye-catching and unique!
Wearing yellow is fun, and it can work extremely well – if planned and paired correctly!
The numerous ways to complement light yellow shades with other colors. Below are some suggestions when including yellow shades in your attire.
Try a basic yellow top or pullover, perfect for a pair of jeans, black tights, or white slacks.
If plain yellow is too overwhelming, a yellow striped top could be an option Pair this with neutral colors.
Consider wearing light yellow shades instead of bright yellow garments.
Try on a pretty yellow color dress combined with neutral color sandals or petite black shoes paired with a short yellow skirt. Wearing light yellow shades can make an individual look healthy and youthful.
A blazer or smart-casual jacket in yellow, combined with classic pants, or a pair of jeans, can make any outfit pop. This sort of outfit can be dressed up or dressed down.
A warm shade of yellow sweater with dark pants on a night out. Yellow is generally seen as a warm color making it a fantastic contrast to the cool night air.
Try on a pair of yellow shorts or pants. This combination may not suit everyone, but when paired with a white or dark top or other neutral colors, it can make for a lovely smart casual look.
A pair of yellow gumboots or shoes brings fun to any outfit.
As you can see, yellow shades are everywhere around us. There is no need to shy away from the color yellow, even though it can seem like an intimidating color. Using shades of yellow can bring warmth, happiness, and fun to your home and design work, but it can be an overbearing color in some circumstances. Luckily, there are many shades of yellow to choose from to suit your specific project, be it in fashion, digital media, or even within your home!
Frequently Asked Questions
What Does the Yellow Color Represent?
Yellow evokes good and bad feelings, depending on how it is used. Warmth, joy, fun, and happiness are some of the positive meanings associated with the yellow color. The attributes of negative emotions such as cowardice, deception, and caution are also linked to the meaning of the yellow color. Using too many shades of yellow can result in physical feelings of nervousness and irritation.
Which Colors Look Best With Shades of Yellow?
If you have been wondering how to use yellow in your home, you just need to look at the color wheel for some guidance! According to the rules of color theory, purple is the complementary color of yellow, which results in a perfect contrast color. The yellow color combines remarkably well with navy blue, green, orange, pink, gray, brown, and neutral colors.
How Many Shades of Yellow Are There?
Believe it or not, there are many different shades of yellow. You may be aware of the yellow tones with popular yellow names such as lemon yellow, mustard yellow, and canary yellow. There are more than 130 yellow shades names out there in the world, each containing a variation of the yellow tone, hue, intensity, shade, and tint.
Would Cream Be Considered a Shade of Yellow?
Most certainly! The color cream is one of the lighter shades of yellow. For example, during the mixing process, you would create the shade of pink by adding white paint to red paint. The same will apply to mixing white and yellow paint to create a cream color. The cream color is a muted shade of yellow.