Helmut Newton – The Art of Fashion Photography
Remembered as a successful commercial photographer and visual artist, Helmut Newton was one of the world's best modern photographers, whose contributions to editorial photography and fashion have left an irreplaceable legacy in photography. Who was Helmut Newton, and what made his photographs so unique? These are just a few questions we will discuss in this in-depth Helmut Newton biography, while examining some of his career-defining photographs. Read on to learn more about this outstanding photographer!
A Marriage of Art and Fashion: Who Was Helmut Newton?
| | |
| --- | --- |
| Artist Name | Helmut Neustädter (professionally known as Helmut Newton) |
| Date of Birth | 31 October 1920 |
| Date of Death | 23 January 2004 |
| Nationality | German-Australian |
| Associated Movements, Themes, and Styles | Modern art, early Contemporary photography, black and white photography, fashion photography, portraiture, editorial photography, film photography, and nude art |
| Medium | Photography |
If you are a follower of all things Vogue, fashion, and making a provocative statement, then Helmut Newton is one photographer that you must have come across. So, who is Helmut Newton? Helmut Newton was a benchmark name in fashion photography who was born in Berlin to a Jewish family.
Helmut Newton (2006); Ralf Liebau, stimmte der Veröffentlichung unter GNU zu, cropped Beyond My Ken, CC BY-SA 3.0, via Wikimedia Commons
Newton's early experiences in Germany led to his family fleeing the country to Argentina with the young Newton ending up in Singapore to escape the Nazi regime. It was here where Newton's photography career kickstarted and set him up on the path to success later in life. Below, we will explore the inner world of this world-famous fashion photographer and visual artist, whose many thought-provoking and often risqué contributions to commercial photography led him to become one of the greatest icons of the modern early contemporary eras. We will also dive into a review of some of his best-known works to date that encompass the artist's successful career and legacy, as well as a few interesting book recommendations for the avid reader!
Early Life and Introduction to Photography
So, who is Helmut Newton? Helmut Newton was born in Berlin as Helmut Neustädter in 1920 to Jewish parents; Max Neustädter, his father, who owned a button factory, and Klara Marquis. Newton schooled in Berlin at the prestigious Heinrich-von-Treitschke-Realgymnasium and the American School, and by the age of 12, his interest in photography had already manifested with his first camera. He also landed a job alongside the photographer Elsie Neuländer Simon, who was also known as Yva around 1936.
Newton's introduction to photography was born in a period of historical turmoil with the impact of the Nuremberg laws harshly impacting his family's financial income.
Newton was briefly interned at a concentration camp in 1938, which led to the family ultimately choosing to flee Germany. His parents left for Argentina and when Newton turned 18, he received his passport and left the very next month after his experience in the camp. Newton's escape involved him boarding the transatlantic liner SS Conte Rosso alongside 200 other people set to sail to China. When they stopped in Singapore, Newton found that he was allowed to remain there and landed a job at the Straits Times as a photographer. He later moved on to become a portrait photographer for the same newspaper.
Significant Life Influences
Newton's time in Singapore was short-lived after he was interned by British authorities and then sent to live in Australia, where he arrived on the Queen Mary in September 1940. His internment lasted until 1942 when he was released and took up a job in Northern Victoria as a fruit picker. By August, he joined the Australian Army, where he was recruited as a truck driver and after the war, he formally became known as Newton in 1946, after becoming a British subject. In 1946, Newton established his own studio in Flinders Lane, Melbourne, where he engaged in industrial, fashion, and theater photography.
In 1947, Newton met his future wife June Brunell, who was a famous Australian model and actress and the two married a year later. Brunell also went on to become a prolific photographer under the pseudonym Alice Springs, which she chose after a town called Alice Springs in the Red Centre. Newton's first major exhibition, New Visions in Photography, was in 1953 alongside a fellow refugee Wolfgang Sievers at the Federal Hotel. This show was considered the first display of Australian New Objectivity photography. Another prominent figure to enter Newton's life was Henry Talbot, who partnered with Newton after previously meeting the artist at a Tatura internment. Their partnership lasted long after Newton left Australia and moved to London. The studio was called Helmut Newton and Henry Talbot.
Projects With Vogue
In 1956, Newton was occupied with his travels across Europe and landed in London, where he secured a one-year contract with Vogue, which was to become one of his most successful collaborations in fashion. However, in his initial contract with British Vogue, the artist called it quits after only 11 months. As the years progressed past the late 1950s and 1960s, Newton's career and reputation in fashion photography grew, especially after he was commissioned to work on a special project for Vogue, which was published around 1956.
He later took up a contract with Australian Vogue and moved to Paris in 1961 after securing another contract with French Vogue.
During this period, he was also working occasionally for Queen and British Vogue. Throughout his career, Newton worked with many top fashion models, including Charlotte Rampling, Sylvia Gobbel, Michelle Pfeiffer, Sigourney Weaver, Cindy Crawford, and Catherine Deneuve, whom he photographed in campaigns that aimed to rectify gender stereotypes and capture the essence of female sexuality. Apart from Vogue magazine, Newton also worked with Elle, Harper's Bazaar, and Playboy.
Photography Style and Notable Series
One might be surprised to learn that Helmut Newton was, in fact, color-blind. He also resented working in the studio and admired the visual languages in photography set by Surrealism and New Wave cinema. In the early 60s, Newton's images also appeared in magazines such as Harper's Bazaar, which saw his photos gaining momentum for his approach to fashion photography which was described as erotic, sadomasochistic, stylized, and fetishist.
Around 1970, Newton suffered a heart attack, however, his wife encouraged him to continue his creative passions, which led to his ultimate success in the 1980s with his series Big Nudes and the Naked and Dressed series, which were huge successes in his career. In 1992, he also released Domestic Nudes, which was the climax of his experimentation with erotic urban scenes and highlighted the pinnacle of his technical expertise. Between 1964 and 1966, he also worked on editorial shoots for Elle (France) and renewed his contract with French Vogue.
The Helmut Newton Photography Museum (2008); Tim from Ithaca, CC BY 2.0, via Wikimedia Commons
Newton was already climbing the ladder as a successful commercial photographer and had his first solo show in Paris at the Nikon Gallery in 1975. The following year, he published the first volume of White Women (1976) and shot numerous projects for Playboy magazine, including pictorials with Kristine DeBell and Nastassia Kinski, the images of which were sold in 2002 and 2003 for over $20,000 each.
Newton's style was further developed through his adoption of Polaroid film to create instant compositions in fashion projects, including his shoot on the Naked and Dressed series, which he shot on Polaroid and captured crate-loads of images. His Polaroid images were accompanied by scribbles and notes from Newton about the images' locations, dates, and model names, which became a record and personal sketchbook for his photography.
At the heart of his approach and style to fashion photography was the fact that Newton sought to portray women in a new light when he shot works for haute couture brands.
His photography began to emphasize the nature of more dominant personas in women, refined through odd angles, dramatic lighting, and erotic poses. Helmut Newton's photographs were so expertly curated and composed that he was given the nickname "the King of Kink" in the fashion industry due to his keen eye for conveying strong and provocative content. His voyeuristic style was captured using cameras such as the Hasselblad and the Rollei with 80mm prime lenses for an expressive film noir aesthetic.
Global Recognition and Death
While Newton's images depicted darker themes that embodied topics such as the liberation of female sexuality, eroticism, androgyny, and edgy S&M, Newton's personality was often described as warm and generous. Around 1990, Helmut Newton received the Grand Prix National de la Photographie award and in 1992, he published a full book of his Polaroids titled Pola Woman, which contained more than 300 images that were later exhibited in his 2011 show at the Berlin Museum für Fotografie. In the same year as his book Pola Woman was released, Newton was also awarded the Officier des Arts, Lettres et Sciences, which he received in Monaco, as well as the Grand Cross of Merit from the Federal Republic of Germany. In 1996, he was commended by the French Ministry of Culture and received the status of Commandeur de L'Ordre des Arts et Lettres. Throughout his lifetime, Newton published around 10 books that showcase his contributions to fashion photography, as well as his autobiographies.
In 2000, Newton held a major retrospective show for his 80th birthday celebration at the New National Gallery, which traveled across the world. Alongside his wife, the Newtons also published Helmut Newton's Work in the same year, which was edited by Manfred Heiting. In 2003, Newton established the Helmut Newton Foundation in Berlin, which was founded on a formal agreement between Newton and the Prussian Cultural Heritage Foundation. In the same year, he also released an autobiography with Nan A. Talese. Before the foundation could open, Newton passed away in Los Angeles in 2004 after suffering from another heart attack while driving his car. Newton's ashes were laid to rest at the Städtischer Friedhof III cemetery in Berlin.
Posthumous Legacy and Influence
Helmut Newton left a profound mark on the history of fashion photography through his many provocative and daring series. His wife organized a tribute show for the artist in 2009, which included the works of three of his friends who befriended the artist in 1980 in Los Angeles. These artists included George Holz, Mark Arbeit, and Just Loomis, who all assisted Newton in his process and exhibited their work with Newton's collection at the Helmut Newton Foundation.
Between 2005 and 2006, four additional publications were released about the artist and his life's work in collaboration with June Newton, Klaus Neumann, and Guy Featherstone, which showcase Newton's work spanning post-war photography and his work in Australia.
In 1976, he stated to Vogue that his "passion for swimming pools just will not stop", which was a comment made about his passion for shooting poolside scenes in the evening. Toward the final chapter of his life, Newton told the magazine that his success in London was perhaps not as great as his other successes due to his lack of understanding of the English, which was why, he claimed, he was "never able to take a really good picture over there".
Gems in Helmut Newton's Photography
Helmut Newton was on the fast track to success once his passions for Polaroid film shoots and unconventional fashion photography compositions merged in the 1970s. From his best works, we have compiled a selection of famous Helmut Newton photographs that showcase the artist's eye for striking compositions and stunning visual play!
Yves Saint Laurent French Vogue; Rue Aubriot Paris (c. 1975)
| | |
| --- | --- |
| Date | c. 1975 |
| Medium | Photography |
| Dimensions (cm) | Unavailable |
| Where It Is Housed | Helmut Newton Foundation, Museum für Fotografie, Berlin, Germany |
This iconic image captures the mysterious French noir atmosphere of the revolutionary work of Yves Saint Laurent, who created this stunning Le Smoking tuxedo. The model in the image was Vibeke Knudsen, who was captured in an androgynous style.
This subsequently shattered the boundaries between gendered fashion styles of the 70s and introduced the embodiment of masculinity through a femme design.
Coupled with elegance, drama, and clean contrasting shadows between the color of the tuxedo and the artificial street lights, Newton expertly shot the image to relay the power of women in a male-dominated world. The model was posed in a demeanor of defiance, contemplation, and self-assurance, which was a tool for fashion giants like Yves Saint Laurent to market to the world a new stance on setting the benchmark for women's empowerment.
World Without Men (1984)
| | |
| --- | --- |
| Date | 1984 |
| Medium | Publication |
| Dimensions (cm) | Unavailable |
| Where It Is Housed | Helmut Newton Foundation, Museum für Fotografie, Berlin, Germany |
In 1984, Newton published one of his best-selling photography publications titled World Without Men, which was his fourth book that included commentary and statements from the artist about his practice in Los Angeles, St. Tropez, and Paris among many other sites, where he worked between the 1960s and the 1980s.
Newton's series encompasses a variety of striking still-lifes, portraits, and landscapes that offer us insight into another visual world of Newton's experience aside from his fashion photography career.
The images from the photo book were also exhibited in 1992 alongside Archives de Nuit in Paris to showcase Newton's exploration of modern black-and-white photography. Recognized as his most successful collection, this series was originally produced in an edition of 200 copies and features raw and private scenes from Newton's career that keep his legacy alive.
Elizabeth Taylor; Vanity Fair Los Angeles (1989)
| | |
| --- | --- |
| Date | 1989 |
| Medium | Photography |
| Dimensions (cm) | Unavailable |
| Where It Is Housed | Helmut Newton Foundation, Museum für Fotografie, Berlin, Germany |
This striking image depicting one of Hollywood's most treasured icons, Elizabeth Taylor, was shot by Helmut Newton in 1989 for Vanity Fair. The image was shot in Los Angeles to immortalize the British-American actress's legacy as not only an icon in film and entertainment but also a philanthropist and advocate for HIV/AIDS research.
Newton masterfully captured her profound sense of magnetism through her iconic makeup and expressive features that are considered timeless in the history of Hollywood beauty.
Her distinct characteristics are also complemented by Newton's signature use of a pool scene shot in the brilliance of flash lighting during the evening for an added sense of drama. Taylor was also pictured in a gorgeous and opulent set of jewels, which pays tribute to her personality, sense of glamor, and resilient legacy.
Book Recommendations
Helmut Newton certainly knew how to capture the personalities of his models while fusing their best qualities with the fashions of the time. Below, you will find a selection of must-have publications for the avid collector that highlight Newton's practice.
Some cover his career in the fashion industry, while others offer more personal accounts of the artist's life.
Helmut Newton: A Gun for Hire (2005) by June Newton and Helmut Newton
This highly sought book by June and Helmut Newton was published a year after the renowned photographer's death and was titled after Newton's nickname "A Gun for Hire". The name and title allude to Newton's career as a photographer who balanced the worlds between commercial works and magazine assignments, which is loaded with many fine examples of his best commercial works. This revised version is a multilingual edition that features a collection of the artist's campaigns, from the 1980s until the 2000s.
Explore the way Newton balanced commercial and creative work
Discover many of Newton's most famous commercial projects
Covers his career between the 1980s to the 2000s
View on Amazon
Sex and Landscapes (2013) by Helmut Newton
This highly rated collection of 79 photos spread across 112 pages was the exhibition catalog for Helmut Newton's 2001 inaugural show in Zurich. The book unpacks Newton's exploration of erotic images and landscapes that work together to present a fluid concept.
This was expanded with the addition of 30 images.
Began as an exhibition catalog for the 2001 inaugural show
Unpacks the way Newton explores eroticism in his works
Discover 79 photographs that portray landscapes and the erotic
View on Amazon
Helmut Newton: Celebrating 20 Years of Sumo (2019) by Helmut Newton and June Newton
This unique collection of Helmut Newton photographs was part of an edition of 10,000 signed copies that have been featured in the collections of many prestigious art museums around the world. 20 Years of SUMO is a celebration of Newton's project that contains around 464 photos covering the process of Newton's project as revised by his wife.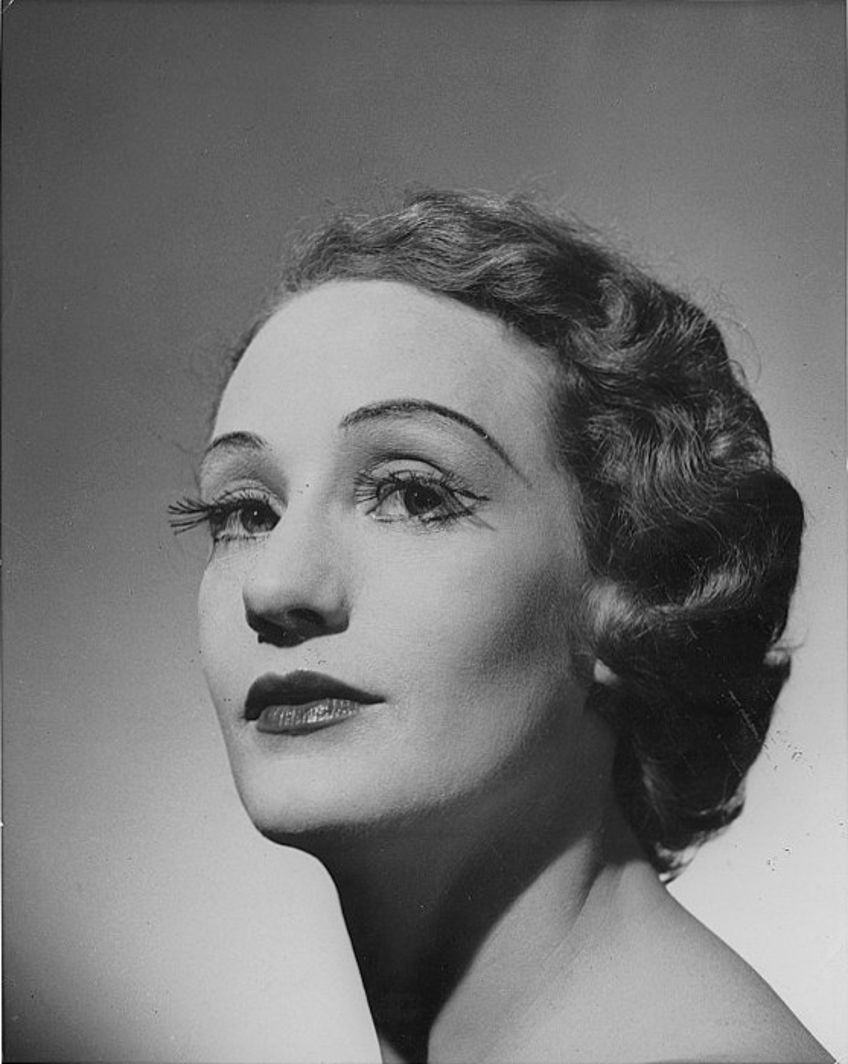 Laurel Martyn (1952) by Helmut Newton; Helmut Newton, Public domain, via Wikimedia Commons
A unique collection of famous Helmut Newton photographs
A celebration of the life of the prestigious fashion photographer
Explore around 464 photos from his long career
View on Amazon
From portrait to landscape and fashion photography, Helmut Newton's photography and style are a great example of how innovative artists of the modern period collaborated and navigated the complex landscapes and personalities within the fashion industry. Newton's approach to photography also helped champion some of the fashion world's most groundbreaking images that challenged existing standards of beauty, while presenting creative concepts that broaden our minds about the way fashion and photography can drive a statement.
Frequently Asked Questions
Who Was Helmut Newton?
The globally-renowned German-Australian fashion photographer Helmut Newton was a prolific photographer who was most famous for working with major fashion magazines such as Vogue and Harper's Bazaar. His work was considered to be controversial, erotically charged, and radical for the promotion of haute couture styles and the depiction of women in fashion in the 20th century.
What Was Helmut Newton's Photography Style?
Helmut Newton was praised for his photographic style and approach to fashion photography and portraiture. His photos were described by critics as provocative, erotic, and daring. He worked in black-and-white photography and utilized Polaroid photography to capture some of the most influential fashion campaigns. His style was characterized by striking visual compositions involving controversial scenes.
What Was Helmut Newton's Most Famous Photograph?
Naked and Dressed (c. 1981) was considered to be Helmut Newton's most controversial and famous photograph. The image was part of a series that was initially considered to be scandalous for its unapologetic display of nudity, which was set up in a scene with four stylishly dressed women who appeared in the complete nude on the left and contrasted with their fully clothed bodies on the right.
Why Was Helmut Newton Important in Photography?
Helmut Newton was recognized as one of the most influential photographers of modern fashion photography. He was celebrated for his radical and bold approach to photographing women in the 20th century, since he championed provocative and sexually expressive approaches to depicting women in haute couture. He was also nicknamed the King of Kink and often worked in Polaroid and black-and-white film during his fashion shoots. His contribution to fashion photography has been described by the New York Times as provocative, prolific, and widely imitated.
Which Famous Photographer Inspired Helmut Newton?
Helmut Newton was inspired by the renowned Hungarian photographer Brassaï, and admired his style and techniques in street photography. Newton was inspired to replace the image of objectified women in photography and fashion with the idea of portraying women who exude sexuality and desire, and use it as a tool to create dominance within a largely male-dominated society.
Jordan Anthony is a film photographer, curator, and arts writer based in Cape Town, South Africa. Anthony schooled in Durban and graduated from the University of the Witwatersrand, Johannesburg, with a Bachelor of Art in Fine Arts. During her studies, she explored additional electives in archaeology and psychology, while focusing on themes such as healing, identity, dreams, and intuitive creation in her Contemporary art practice. She has since worked and collaborated with various professionals in the local art industry, including the KZNSA Gallery in Durban (with Strauss & Co.), Turbine Art Fair (via overheard in the gallery), and the Wits Art Museum.
Anthony's interests include subjects and themes related to philosophy, memory, and esotericism. Her personal photography archive traces her exploration of film through abstract manipulations of color, portraiture, candid photography, and urban landscapes. Her favorite art movements include Surrealism and Fluxus, as well as art produced by ancient civilizations. Anthony's earliest encounters with art began in childhood with a book on Salvador Dalí and imagery from old recipe books, medical books, and religious literature. She also enjoys the allure of found objects, brown noise, and constellations.
Learn more about Jordan Anthony and the Art in Context Team.
Cite this Article