What Is an Art Gallery? – Understanding How Art Galleries Work
Entering the art world can seem scary at first, but once you understand the basics of what you see in public, you will be one step closer to pushing forward your art career. This article will discuss the meaning behind what an art gallery is and the difference between an art gallery and an art museum. We will also take a look at the various types of art galleries you may come across and what you can do to engage further with these institutional spaces.
Art Gallery vs. Art Museum
Before we take a deep dive into answering the question of "what is an art gallery?". It is important to consider the difference between a gallery and a museum. While the common factor is art, the key to differentiation is derived from the words "gallery" and "museum". So, what is the difference between a gallery and museum?
A gallery is a form of display, not necessarily the same as your local shop down the road, but in the context of art, it is a space where anyone interested in art or an art collection exhibited at a specific gallery, can view the work, and even make an inquiry into the purchase of an artwork.
The Louvre pyramid in the center of the Napoleon courtyard; Charlotte.vermersch, CC BY-SA 3.0, via Wikimedia Commons
To summarize, an art gallery is characterized by not only the display of art but also the sale of art. An art museum, on the other hand, is a larger institution that also makes art available for display. The artworks housed at art museums differ and are dependent on funding, the type of collection(s) owned or on loan by the institution, and the type of museum.
Like art galleries, museums differ and can range from public art museums such as the British Museum to private collections.
These are defined by typically historical institutions such as the Ashmolean Museum of Art and Archaeology in England. Art museums also tend to dedicate a specific section to maintaining historical collections and are commonly referred to as the conservation and preservation department, run by specialists whose aim is to ensure the proper upkeep of artwork, including storage.
Different Types of Art Galleries
Art galleries can be classified into different types but do not forget one of the main purposes of the art gallery, that being, one of the primary stages that inform the employability, integration, and longevity of an artist. Art galleries function as a formal environment for artists to sell their work.
This involves the artist's engagement with gallery officials on the sale, marketing, networking, and customer relations associated with the sale of an artwork.
While many art galleries have their unique methodology when it comes to conducting these types of operations and activities, the purpose of an exhibition for a public or private audience is a common trait. Below, you will find a list of the different types of art galleries and what they mean in context.
The Commercial Art Gallery
Many artists make art for different reasons. The main reason, for centuries, is to sell the artwork. A commercial art gallery may receive negative connotations from the idea of being called "commercial". However, the purpose of the commercial gallery is to collaborate with the artist to ensure the sale of the artworks associated with the artist.
Commercial galleries also assist artists in growing their career and repertoire in the art sphere.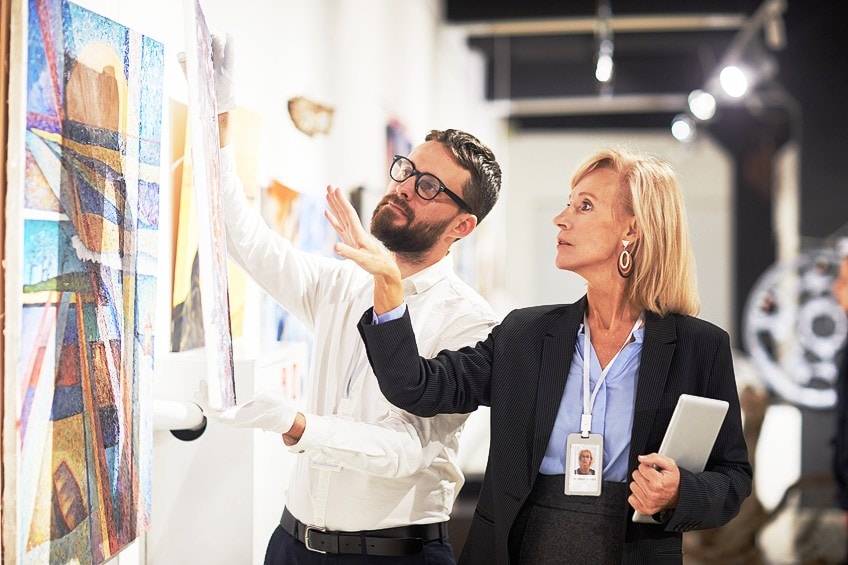 The commercial gallery usually consists of a group of artists who collectively, along with the gallery, build up the desired reputation and thus ensure positive income and recognition for both the commercial art gallery and the artists they represent.
The Artist-Run Gallery
If you are an art student in university and want to start your own gallery, perhaps an artist-run gallery may sound appealing. An artist-run gallery is just what the name implies – a gallery managed by a group of artists, forming a collective.
Given all members have the same goal and aim, an artist-run gallery tends to have more freedom.
An artist-run is less intimidating to venture into as compared to a commercial gallery. The benefit of considering the commercial gallery space is that commercial galleries tend to have more exposure and strategy when it comes to networking and "getting yourself in" the art scene.
The Mega Art Gallery
As in the name, the mega-art gallery is simply a commercial gallery with larger traction. This means that it has progressed beyond the confines of operating solely as a space for navigating the relationships between artists, gallerists, buyers, and visitors, and more towards expansion via multiple locations.
This is an upgraded form of the commercial gallery, which hosts a large number of employees and carries more influence over the gallery industry.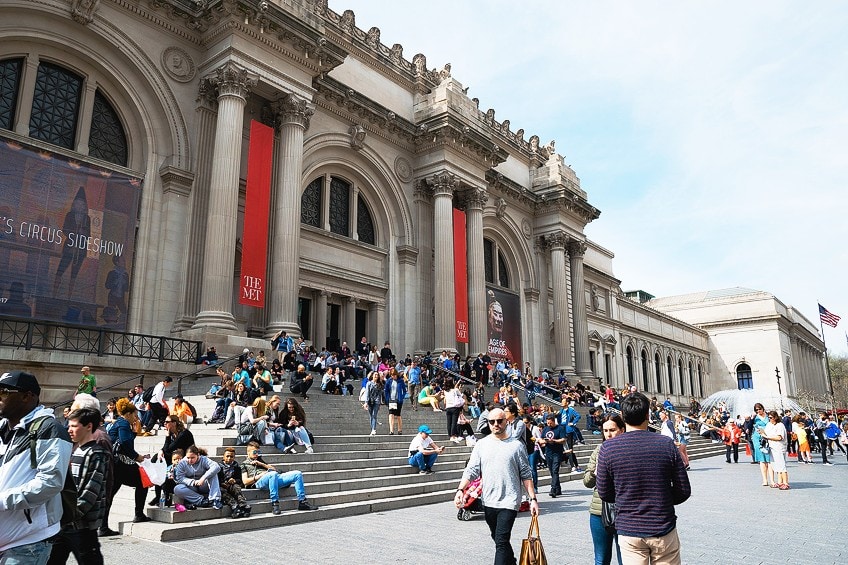 The outside of the famous Metropolitan Museum of Art in New York City, United States; Kai Pilger, CC BY-SA 4.0, via Wikimedia Commons
The artists represented by mega galleries comprise only the most famous artists. Examples of mega galleries include the Gagosian Gallery, White Cube, Pace Gallery, and David Zwirner, with galleries in various parts of the world.
The Vanity Art Gallery
The Vanity art gallery can be identified through its lack of a proper curated selection of artists. This type of art gallery operates based on involving the artist, who pays for their artwork to be represented by the gallery.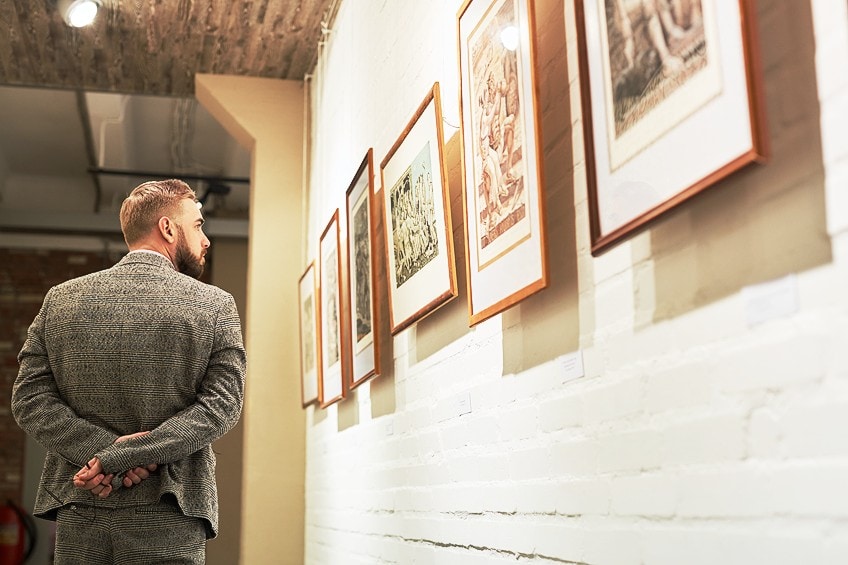 Often viewed in a negative light, the "vanity" art gallery is suggestive of a space that functions solely on the monetary value it can gain through association with individuals who can afford to pay for the association.
It is like a membership and quite often, almost any person can apply to have their work exhibited and automatically become an "artist".
Open-Ended: The Exhibition Space
Any space available for rent for the purpose of exhibition forms the last version of an "art gallery". This constructed space is not owned by anyone, and artists can rent specific venues for temporary activations.
This is sometimes called "Gallery X" and is not part of a curated program.
This is a great opportunity for new artists and beginners to exhibit work as an alternative to diving into the commercial space. Many artists simply aim for a commercial gallery as the administration is usually handled in a better way as compared to the business start-up equivalent of an artist-run gallery or a temporary exhibition space.
Non-Profit Art Gallery
Art is closely connected to business since it does involve a financial transaction of some sort in exchange for artwork. Non-profit art galleries operate on funding received through grant applications and donations. These institutions typically offer a lower commission percentage than that of a commercial gallery.
These galleries tend to prioritize their selection of artists based on accolades as opposed to word-of-mouth or popularity.
How Do Art Galleries Work?
As seen above, the various art galleries function on their different institutional goals and needs. Even artist selection is a key component of any art gallery when considering which artist will fit into the existing schema of operation. Many people unfamiliar with the concept of an art gallery may simply take it at face value.
Here, we will draw attention to the various ways that an art gallery can operate by highlighting common misconceptions about the way that art galleries function.
Buyer-Ready?
Most people assume that once they are signed with an art gallery, they automatically adopt a group of customers, ready to buy their work and make a profit. This could not be further from the truth. While most galleries do have a regular customer base of sorts, it is not guaranteed that the existing client base will buy the work.
The art gallery has to take on the duty of convincing the client as to why your artwork is significant and suitable for a particular genre of collection.
Collaboration Is King
Often thought that all you have to do is make the art and drop it off at your gallery? Incorrect! Collaboration is king when it comes to having your work shown at an art gallery. Most galleries require ongoing participation from the artist to engage in exhibitions and provide artwork and conceptual information for dissemination. The art gallery is not the sole player in launching an artist's career – they are simply the middleman.
Some galleries will enter into an agreement with their artist of choice and stipulate their terms of the consignment to include what is and what is not expected of the artist.
Artist Support
Galleries offer a huge amount of support to artists. This support comes in many forms such as administrative support, publicity, photography, reputation management, shipping, and customer relations. In addition to this, art galleries can even help artist's set up a feature in a major art museum that propels the artist's work into a new spotlight and audience,
This is perhaps with the intent of collection by the museum.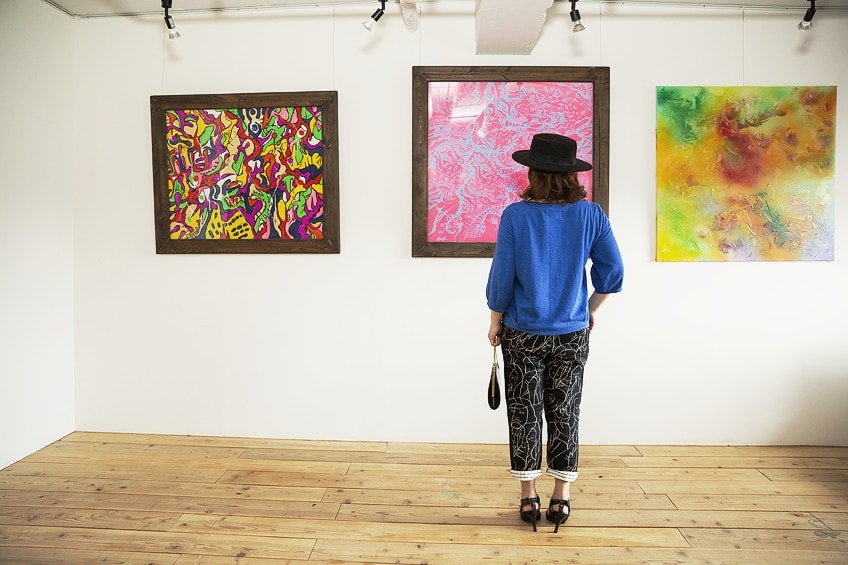 Commission
How do art galleries make money? The answer boils down to funding and commission. The split on commission after the sale of an artwork is often 50/50 simply due to the many costs that are involved in running an art gallery while helping all artists involved. Costs associated with art galleries include utilities, rent, transportation, art fair exhibitions, travel costs, gallery maintenance, and many other essential functions requiring funding.
The risk is quite large on the part of the art gallery; therefore, artist selection is key.
How Do Art Galleries Make Money?
As mentioned above, art galleries commonly acquire funds through commissions earned from the sale of an artwork. Other ways that art galleries make money include offering various professional services within the art context.
These include advisory services open to the public for advice on home art, art installation, investment services, and purchase and sales within the secondary art market.
Some galleries also come with an associated store for merchandise or a café, as an additional source of income. The gallery is primarily an exhibition space but when the need arises, galleries can always utilize their space as a venue for hire by the public for special events.
How to Get into an Art Gallery
When scouting for a potential gallery to house your most precious creations, it is vital to ask yourself a few crucial questions. Some of these questions may sound like "Where does my art fit in?" about galleries on your list. By identifying your style and pinpointing other galleries that seem to house similar genres of artists, you can take the first leap on your career path.
Below are some additional key tips on how you can get into an art gallery.
Be Open to Criticism
Being open to criticism is a strategic move to use when looking into how to get into an art gallery. Try approaching a gallery for a consultation for feedback on your body of work and possible advice. Sometimes going to your nearest professional is the quickest way to figure out your game plan and makes planning your next move a lot easier.
Feedback is useful since many large galleries do not regularly take in new artists fresh out of the academy.
It is essential to keep in mind that the customer base of these larger galleries is often used to seeing works they have been presented with as notable quality and from "highly esteemed artists" – so a lot of attention could be drawn to a new artist in a way that puts the gallery's collection under scrutiny.
Starting with your local gallery is a perfect start and with time, build up your reputation through strategic group shows for the build-up towards your entry into that large gallery.
Grow Your Online Following
Before considering an application to your favorite gallery, it is always a plus to make sure you boost your online presence through social media or even an online website, showcasing your process, artist statement, portfolio, and accolades.
Having a greater social presence is useful for galleries to see that you are an artist who carries a social influence of sorts and can therefore be used to strategically "market" your work to the appropriate client base.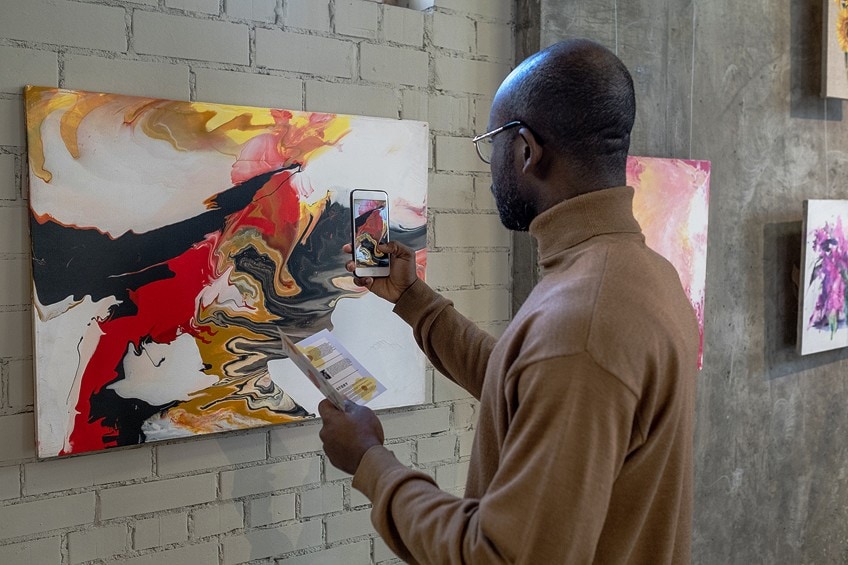 Use a Checklist
Making a checklist from which you can examine your body of work in preparation for a gallery application is a smart move. Below are just a few important questions that will help frame your body of work as being gallery ready. Included on your checklist should be the following list of questions:
Do all my artworks look as though they were made by the same artist?
Do I incorporate any unique methods or interesting mediums?
What was the motivation behind my artwork?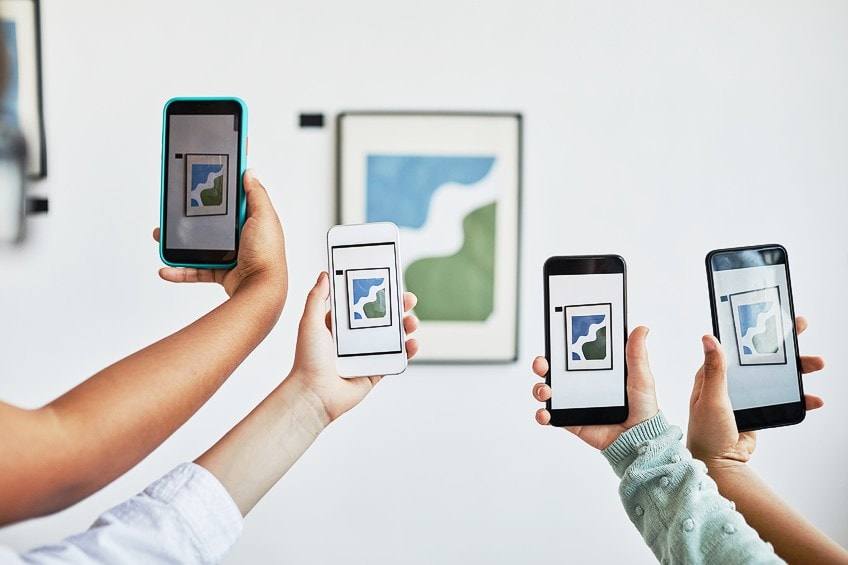 Is my work a reflection of a unique perspective?
Would people pay to see my work in real life?
Where can my art be displayed? Can it be hung in a buyer's home?
Hopefully, we have answered your question of "what is an art gallery?" and refined your understanding of how you, as a beginner or fresh art graduate, can get your "foot in the door". Once you have established an online presence and done the research on the kinds of artists your favorite gallery is affiliated with, you can also look into various open calls, competitions, and art opportunities to submit works. This way, you can build up your list of featured exhibitions and increase your traction forward into the art world.
Frequently Asked Questions
What Is an Art Gallery?
An art gallery is an institution characterized by the sale of artwork in a formal environment organized by a group of people who run the gallery. An art gallery is a place where artwork is also exhibited and open to the public for viewing. Art galleries are divided into different types depending on their operational strategy and intention in collaboration with a select group of artists.
How Can You Approach an Art Gallery?
A simple way to get closer to your art gallery of choice is to attend as many exhibitions and openings as you can. This way, you will become a regular patron and can easily begin to network with the right people. This way you are a few steps closer to getting information on when the gallery conducts its intake and how you can apply.
What Is the Difference between a Gallery and a Museum?
The main difference between a gallery and a museum is that the gallery is a smaller institution, whereby works are available to the public for display and sale. The museum is a larger institution that houses different collections and is often built around private funding, donations, and an organizational mission of cultural and artistic preservation.
What Do Art Galleries Do?
Art galleries serve as exhibition spaces, often open to the public for viewing, either with an entrance fee or without. Art galleries contain the art of various artists of a similar genre. These institutions also operate around the sale of artworks to particular client bases.
How Do Galleries Pay Artists?
Galleries pay artists off the commission earned from the sale of the artist's artwork. This means that if an artist's work sells, he or she receives a percentage of the profit, usually a 50-50 split, as the other half is kept by the gallery.
How Do Art Galleries Work?
Operationally, art galleries function based on the artwork they sell and any other form of funding they receive. To exhibit artwork in an art gallery, you would have to fill in an application form. Galleries usually take in artists on an annual basis. Art galleries collaborate with their artists to present exhibitions and art events that cater to their target customer base. Art galleries also rely on internal leadership and various arts organizations and networks to survive. An art gallery can also be either public or private, depending on the art collection it houses.
Isabella studied at the University of Cape Town in South Africa and graduated with a Bachelor of Arts majoring in English Literature & Language and Psychology. Throughout her undergraduate years, she took Art History as an additional subject and absolutely loved it. Building on from her art history knowledge that began in high school, art has always been a particular area of fascination for her. From learning about artworks previously unknown to her, or sharpening her existing understanding of specific works, the ability to continue learning within this interesting sphere excites her greatly.
Her focal points of interest in art history encompass profiling specific artists and art movements, as it is these areas where she is able to really dig deep into the rich narrative of the art world. Additionally, she particularly enjoys exploring the different artistic styles of the 20th century, as well as the important impact that female artists have had on the development of art history.
Learn more about Isabella Meyer and the Art in Context Team.
Cite this Article