Sofonisba Anguissola was one of the first female artists to gain an international reputation for her talent. She is known for her self-portraits and for the paintings she created of her family and the court of King Philp II. This article explores the life of this pioneering Italian female artist and begs the question: Who was Sofonisba Anguissola and what was her contribution to art history?
Artist in Context: Who Was Sofonisba Anguissola?
Sofonisba Anguissola was a female renaissance painter who specialized in portraiture. As one of the first known female artists of the Western world, Sofonisba Anguissola is a very interesting figure indeed. Sofonisba Anguissola painted at least 12 self-portraits during her life, a theme that was not common in the 16th-century. It was only in the 17th-century when Rembrandt was seen as the first artist to place importance on his self-portraits. Sofonisba Anguissola is also one of the few female artists that Giorgio Vasari mentioned in his 1568 book titled Lives of the Most Excellent Painters, Sculptors, and Architects.
Childhood and Early Training
Sofonisba Anguissola was born into a noble family as the oldest of seven children. The Anguissola family had six daughters and only one boy, but Anguissola's father, Amilcare Aguissola, gave equal education to all of his children. Proper education was something that was expected of all children of the elite during the Renaissance.
This education often included languages, art, and music. Sofonisba Anguissola's extent of education in the arts was, however, still much more intense than was expected of most noble children.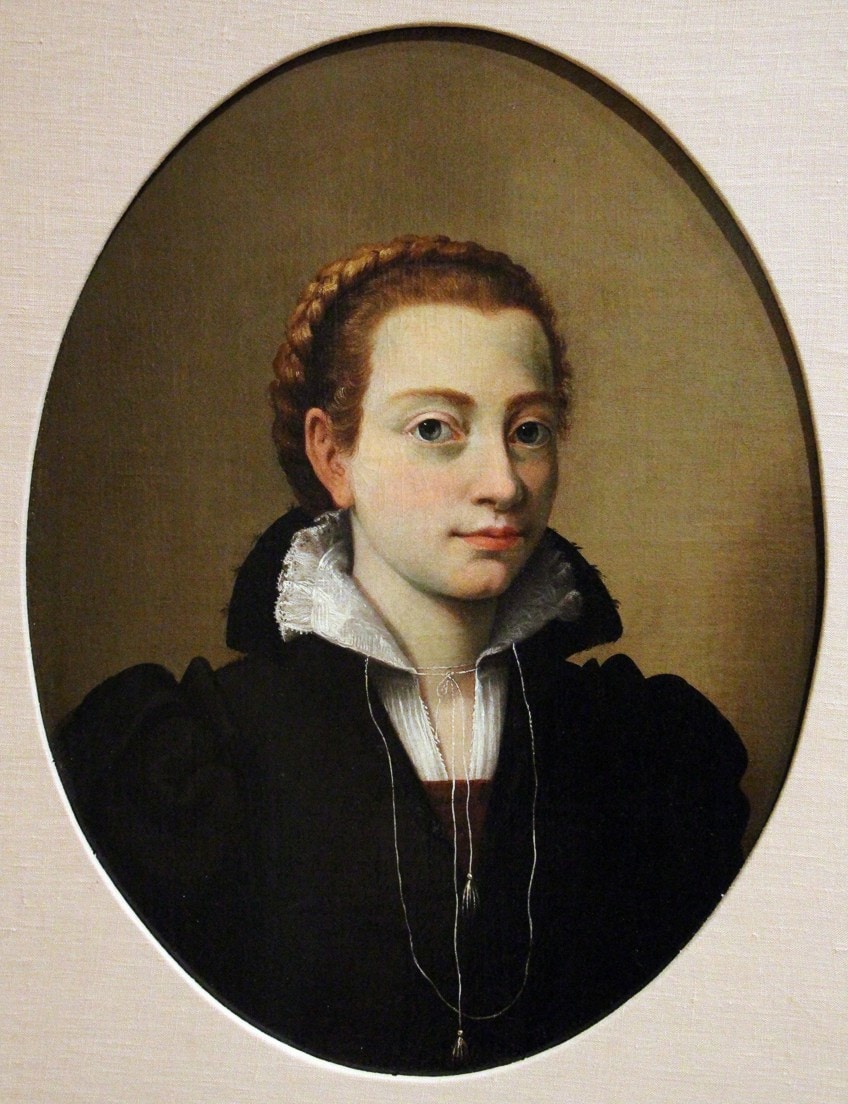 Self-portrait (c. 1558) by Sofonisba Anguissola; Sailko, CC BY 3.0, via Wikimedia Commons
Whilst it was expected of nobility to be educated in arts, it was not an expectation to pursue art as a profession. It was thus seen as radical when in 1546, Amilcare Amguissola sent his two eldest daughters to learn from a prominent local painter, Bernardino Campi.
Through her training as a young girl, and by the influence of her father, Sofonisba Anguissola gained a lot of skill and appreciation for painting.
After some years of apprenticeship with Campi, Sofonisba Anguissola continued her training with Bernardino Gatti, an important Cremonese painter. Sofonisba Anguissola's paintings even received admiration from Michelangelo. Michelangelo corresponded with Anguissola via multiple letters in which he advised and critiqued her work. His influence helped her to develop her skills even further. As Anguissola grew older, she started to earn a living from her art and she continued to teach her other sisters how to paint too.
Portrait Group with the Artist's Father, Brother and Sister (1559) by Sofonisba Anguissola; Sofonisba Anguissola, CC0, via Wikimedia Commons
Mature Period
Sofonisba Anguissola's skill grew the more she painted and by 1559, at the age of 27, her reputation as an accomplished female renaissance painter had spread so far that she was invited to Madrid where she was commissioned to paint the court of Philip II. King Philip requested that Sofonisba Anguissola also become the lady-in-waiting for Queen Elisabeth of Valois.
Anguissola painted the queen and the two of them also became close friends. Sadly, however, many of the paintings she did in this period had been destroyed by a fire during the 17th-century.
Sofonisba Anguissola stayed for many years in Madrid and with a dowry paid by the king, she married Fabrizio de Moncada in 1571. De Moncada had however passed away in 1579, leaving Anguissola widowed at the age of 47.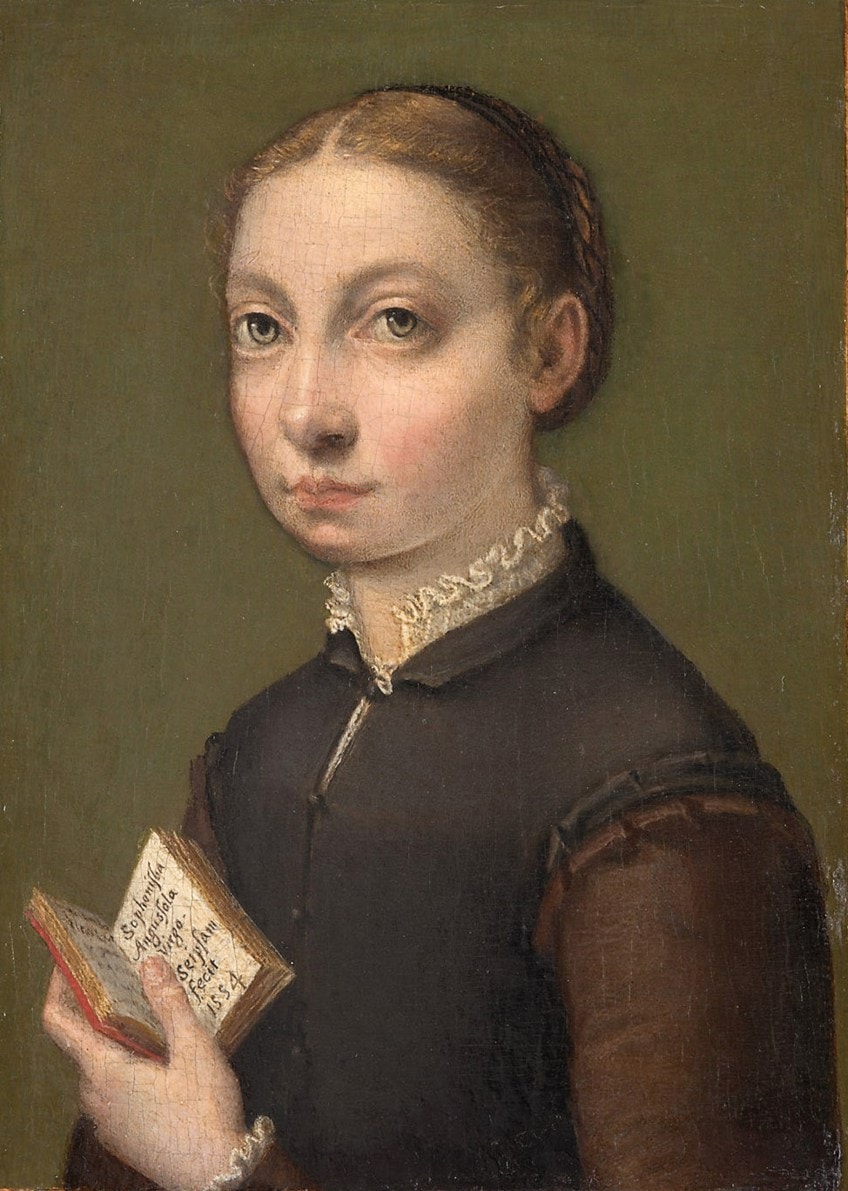 Self-portrait (1554) by Sofonisba Anguissola; Sofonisba Anguissola, Public domain, via Wikimedia Commons
Late Period
After the death of her husband, Sofonisba Anguissola decided to travel to Cremona, in the north of Italy, which was closer to her family. She took the journey by sea and she fell in love with the ship's captain during her travels. Sofonisba Anguissola and captain Orazio Lomellino got married in January 1580. Lomellino was a Genoese nobleman and together she lived with him in Genoa for 35 years. During her time in Genoa, Anguissola was greatly influenced by Luca Cambiaso, a Genoese painter.
In Genoa, Anguissola created various religious paintings with dramatic light effects.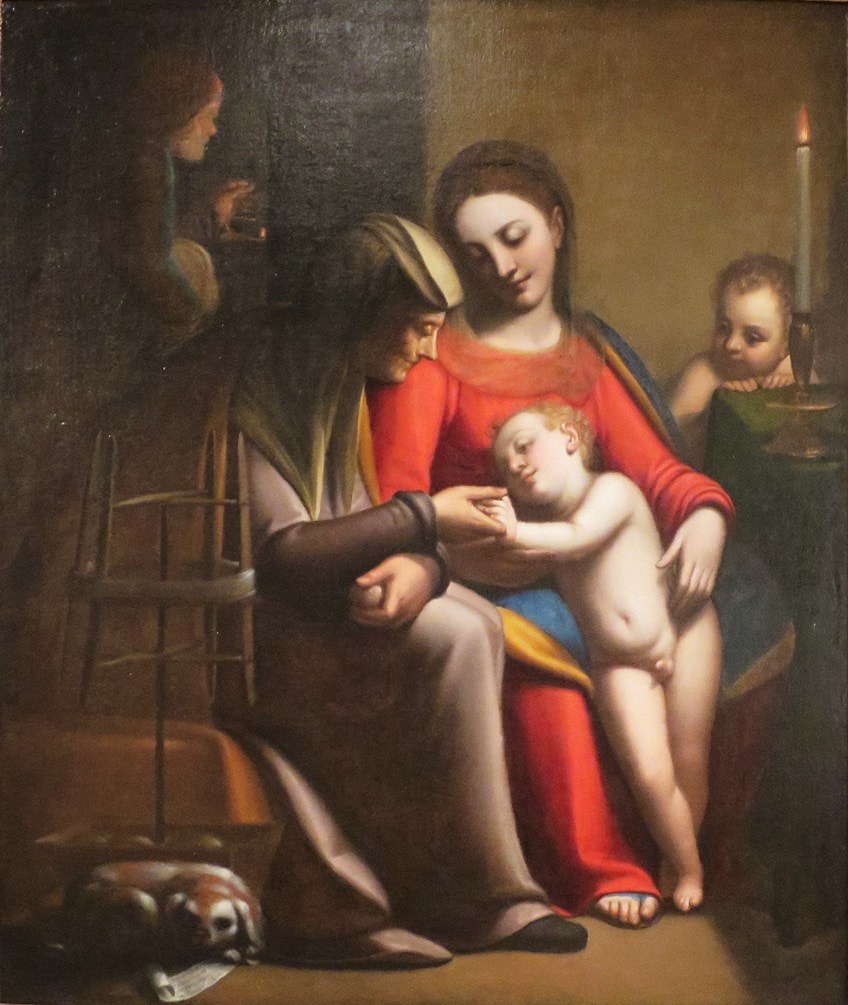 The Holy Family (1592) by Sofonisba Anguissola; Sofonisba Anguissola, Public domain, via Wikimedia Commons
In 1615, Orazio's business resulted in Anguissola moving with her husband to Palermo. Here, similar to in Genoa, many artists sought Anguissola guidance in their work. Anguissola had however slowly started to lose her sight, leaving her unable to paint herself but she nevertheless became a great patron of the arts. It is during this time that she met Anthony van Dyck, a young Flemish painter. Following the advice that Michelangelo gave her years before, Anguissola taught van Dyck all she could about portraiture painting.
Van Dyck recorded all of Anguissola's advice in a notebook and he painted an intimate portrait of her at the age of 92.
Important Sofonisba Aguissola Paintings
Sofonisba Anguissola is one of the most important women in Renaissance art. Her paintings are dramatic and striking, yet intimate and delicate at the same time. Whilst many of her Spanish paintings were destroyed in a fire at the Royal Alcázar in 1734, many other remarkable works remain, including various female renaissance portraits drawn from everyday life, and many other portraits of nobility and royalty. The below section takes a closer look at the most important Sofonisba Anguissola paintings.
Self-portrait at the Spinnet (1555) by Sofonisba Anguissola; Sofonisba Anguissola, CC BY-SA 4.0, via Wikimedia Commons
The Game of Chess (1555)
| | |
| --- | --- |
| Artwork Title | The Game of Chess |
| Date | 1555 |
| Medium | Oil on Canvas |
| Size | 72 cm x 92 cm |
| Collection | Raczyński Foundation, National Museum, Poznań |
The Game of Chess (1555) is arguably one of the most recognizable Sofonisba Anguissola paintings. This painting is one of Anguissola's female renaissance portraits that depict her sisters in an intimate and domestic setting. The painting portrays the women playing chess and the work gives an insight into the domestic female life of 16th-century Italy. In the foreground, the three young girls are playing chess, whilst an older woman is seen in the background watching over the girls.
Anguissola captures the details in the girls' clothing and their facial expressions make this painting particularly narrative.
The Game of Chess (1555) by Sofonisba Anguissola; Mortendrak, CC BY-SA 4.0, via Wikimedia Commons
The older sister looks calmly at the viewer, her posture indicating that she had just won the game of chess. The other sister gazes disbelievingly with parted lips at the scenario, indicating her defeat. The youngest girl of the three smiles with a cheeky grin at the winner of the game. The painting thus tells the story of a scene that had just transpired and is thus not a mere static portrait. In this work, Anguissola not only highlights her talent as a narrative or a portrait painter but she also shows her skills in painting different ages, landscapes, expressions, nature, composition, and perspective.
Above this, Anguissola is also making a statement in her work that highlights the intellect of her sisters as women of the Renaissance.
Self-Portrait at the Easel (1556)
| | |
| --- | --- |
| Artwork Title | Self-Portrait at the Easel |
| Date | 1556 |
| Medium | Oil on Canvas |
| Size | 66 cm x 57 cm |
| Collection | Łańcut Castle |
This painting is a Sofonisba Anguissola self-portrait painted in 1556. Anguissola paints herself in the process of painting another painting, that of the Virgin Mary and Christ as a child. Anguissola paints herself looking not at the painting she is making, but rather at the viewer. This glaze towards the viewer creates the feeling that the viewer had just interrupted the artist mid-stroke and she looks up to meet their eye.
However, her gaze is not accusatory, as her expression is reserved and calm.
Self-Portrait at the Easel (1556) by Sofonisba Anguissola; Sofonisba Anguissola, Public domain, via Wikimedia Commons
Bernardino Campi Painting Sofonisba Anguissola (1559)
| | |
| --- | --- |
| Artwork Title | Bernardino Campi Painting Sofonisba Anguissola |
| Date | 1559 |
| Medium | Oil on Canvas |
| Size | 111 cm x 110 cm |
| Collection | Pinacoteca Nazionale, Siena, Italy |
Bernardino Campi Painting Sofonisba Anguissola (1559) is a painting by Anguissola wherein she paints a portrait of her first painting tutor, Bernadino Campi. In the painting, Anguissola portrays Campi in the midst of painting a portrait of her, his student, in his studio. The work is a sophisticated mise-en-abyme, a painting within a painting.
The work is full of mystery and showcases Anguissola's mastery of the illusion of space.
Campi's studio is portrayed as a dark and atmospheric space, and he paints Anguissola in a dramatic crimson dress. This dress, with its many embellishments, is much more elaborate and expensive than the dress she gave herself in Self-Portrait at the Easel. Like with Anguissola's Self-Portrait at the Easel, she portrays Campi too to look directly at the viewer.
Bernardino Campi Painting Sofonisba Anguissola (1559) by Sofonisba Anguissola; Sofonisba Anguissola, Public domain, via Wikimedia Commons
The painting is like a snapshot of Anguissola's memories, where she had observed this scene unfolding. The composition of the painting gives us the sense that Anguissola is standing just outside of the picture frame, painting Campi as she paints her. The painting thus creates a play of painting inside of a painting and a further play between painter, sitter, and viewer.
The most interesting thing about the composition of this painting is that the artist made visible corrections in the process of painting, a process called "pentimenti".
In an earlier version of the painting, it appears as if Anguissola, in her crimson dress, had a third arm. The third arm seems to be reaching to the hand of Campi, attempting to take the paintbrush from him. This was possibly a statement by the artist to say that the student can now become the teacher. The third arm was covered up with dark varnish but then discovered by Sienese restorers in 1996 through the process of radiographic analysis of the painting.
Elisabeth of Valois (1561-1565)
| | |
| --- | --- |
| Artwork Title | Elisabeth of Valois |
| Date | 1561-1565 |
| Medium | Oil on Canvas |
| Size | 206 cm x 123 cm |
| Collection | Museo Nacional del Prado, Spain |
This painting is a large commissioned state portrait that Anguissola painted of the newly-married Elisabeth of Valois, the new queen of Spain at the time. In the portrait, the queen is portrayed in layers of black garments. Black clothing like this was very expensive at the time, due to the complicated drying process of the cloth. Everything in this portrait suggests luxury and wealth. Even the large marble column against which the queen leans suggests the wealth of the palace and the power of the royal.
The elaborate black sleeves of the dress are open at the front, showing its white silk lining and yellow sleeves beneath. The queen also wears various rings, a jeweled coronet, and an elaborate necklace. In the right hand of the queen, she holds a miniature portrait of her new husband, King Philip II of Spain.
This addition was to show her love and loyalty to her new husband.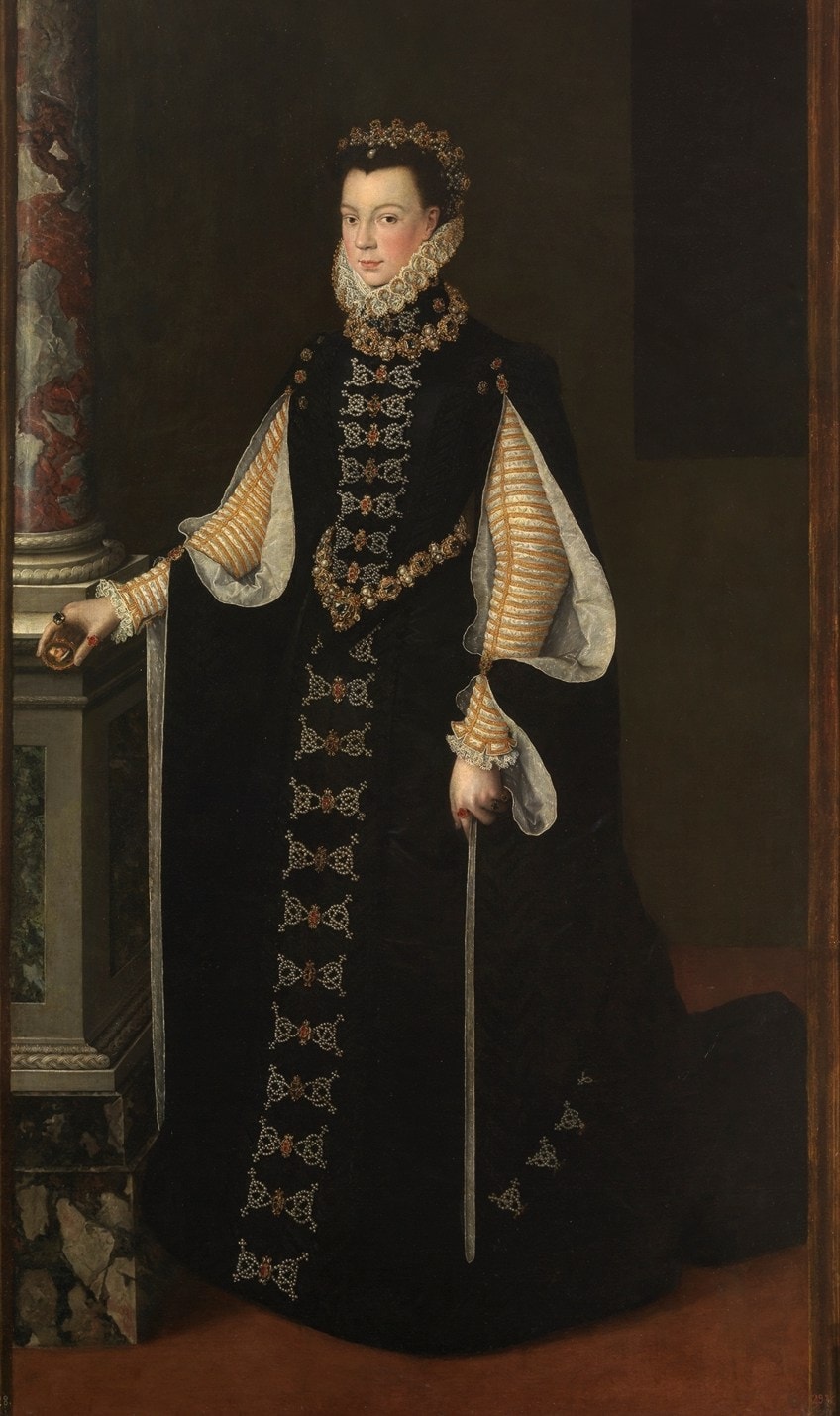 Elisabeth of Valois (1561-1565) by Sofonisba Anguissola; Attributed to Sofonisba Anguissola, Public domain, via Wikimedia Commons
To further highlight the queen's wealth and status, Anguissola paints the front of her garments embellished with pearls and rubies. Pearls were a very significant symbol of wealth and fertility in the Renaissance era. The addition of the pearls was to symbolize the many children that the king and queen would have.
Unfortunately, the queen would get pregnant only four times, of which two ended in miscarriage. The queen sadly died at the young age of 23 due to the miscarriage of her fourth pregnancy.
Self-portrait aged 78 (1610)
| | |
| --- | --- |
| Artwork Title | Self-portrait aged 78 |
| Date | 1610 |
| Medium | Oil on Canvas |
| Size | 69.5 cm x 54 cm |
| Collection | Private collection |
This painting is another Sofonisba Anguissola self-portrait painted in 1610. Similar to the way Anguissola started her career, she also finished it, with a self-portrait. In this painting, Anguissola paints herself sitting regally on a tasseled red velvet armchair.
Similar to her previous self-portraits, she paints herself in modest dark clothing, showing her respectful and noble character.
Self-portrait aged 78 (1610) by Sofonisba Anguissola; Sofonisba Anguissola, Public domain, via Wikimedia Commons
Anguissola also portrays herself as a literate woman, sitting with a letter in her right hand, and a book in her left hand. The index finger of her left hand is carefully placed within the pages of the book as if she is interrupted and holding her place to which she can return. Though the painting shows her old age with deep-set eyes, she maintains eye contact with the viewer.
The work gives the viewer a sense that the artist knew that this would be one of her last paintings and that she is portraying herself in the way she wishes to be remembered: curious, humble, noble, and intelligent.
Van Dyck's Portrait of Anguissola
Many artists traveled over long distances to learn from Anguissola. Among these was the famous Flemish painter, Anthony van Dyck. In 1624, Van Dyck, 25 years old at the time, was invited to travel to Sicily where he was commissioned to paint Emanuel Filiberto of Savoy, the Spanish viceroy. On the 12th of July 1624, Van Dyck traveled to Palermo to visit Anguissola, who was already an old woman at the time, with fading eyesight. He wrote extensively about their meeting in his notebook as he observed Anguissola's sharp memory and sound advice.
Van Dyck claimed that his conversations with Anguissola were so impactful that he learned more about painting in those conversations than anywhere else in his life.
Portrait of Sofonisba Anguissola (1624) by Anthony van Dyck; Anthony van Dyck, Public domain, via Wikimedia Commons
When Anguissola was 92 years old, van Dyck painted an intimate portrait of her with hooded eyes and a fierce gaze. The painting is a close reference to a sketch he made of Anguissola in his sketchbook. The painting is now housed in the National Trust collection at Knole, in Kent. Anguissola died only a year after the painting was made, in 1625.
Book Recommendations
Sofonisba Anguissola is one of the most important self-portrait painters before Rembrandt. This article served as an introduction to her life and work but there is still a lot more to be discovered. Below are three book recommendations to read more about the life of Sofonisba Anguissola, one of the most remarkable women in Renaissance art.
Self-portrait (16th century) by Sofonisba Anguissola; Sofonisba Anguissola, Public domain, via Wikimedia Commons
Sofonisba Anguissola: The First Great Woman Artist of the Renaissance (1992) by Ilya Sandra Perlingieri
This book outlines the life of Sofonisba Anguissola and discusses a good collection of her major paintings. The book is a well-researched critical study of Anguissola and the role of female artists in the Renaissance. The spirit of Anguissola is portrayed and her tenacious spirit is highlighted through archival research and beautiful illustrations.
Traces the life of the female Italian artist Sofonisba Anguissola
This artist was an apprentice to Michelangelo and a court painter
Discusses the artist's major paintings
View on Amazon
Sofonisba Anguissola: A Renaissance Woman (1995) by Sylvia Ferino-Pagden
In 1995, the National Museum of Women in the Arts, held in Washington DC, held an exhibition titled Sofonisba Anguissola: A Renaissance Woman. This book is the catalog that accompanied the exhibition, focusing on the work of Sofonisba Anguissola.
Accompanying the 1995 Sofonisba Anguissola exhibition
Drawn from the show "Sofonisba Anguissola e le sue sorelle"
An interesting and well-written piece of writing
View on Amazon
Sofonisba's Lesson: A Renaissance Artist and Her Work (2020) by Michael W. Cole
This book offers a major reassessment of the work of Sofonisba Anguissola and sheds new light on her life and work. Anguissola is described as a woman who changed the perception of female education in Renaissance Europe. Michael Cole explores Anguissola's portrayal of women as educated and intelligent through her female Renaissance portraits. The book gives a modern opinion on over 200 drawings and paintings of Anguissola and highlights where women are portrayed in the act of reading, playing chess, or painting.
Sheds new light on Sofonisba Anguissola's work
Offers a major reassessment of this female Renaissance painter
Complete illustrated catalog of over 200 paintings and drawings
View on Amazon
Sofonisba Anguissola can be seen as the pioneering artist of self-portraiture in 16th-century Italy, making her one of the most influential women in Renaissance art. Anguissola's sophisticated portraiture style is nuanced, yet very clever, often showcasing the intelligence of women. Anguinssola's painting style, which was full of personality and wit, also influenced a large number of female painters that followed. Many of these female painters, like Anguissola, chose to ignore the expectations of seclusive and private female domesticity at the time and pursued a career in art instead.
Frequently Asked Questions
How Did Sofonisba Anguissola Contribute to the Renaissance?
Sofonisba Anguissola was an exceptional Renaissance female painter and she was the first Renaissance female artist that received international fame during her lifetime. Her paintings and portraits were sophisticated, lifelike, narrative and they enhanced everyday mundane sense with wittiness and intelligence. Her paintings showcased the intelligence of Renaissance women.
Was Sofonisba Anguissola a Feminist?
After Anguissola's death, her reputation started to fade away. The reason for this is partly because she was a woman and female artists were not as well documented in history books. The work of Sofonisba Anguissola was however rediscovered in the 1970s by Western feminists. It would not be factual to describe the title of feminist to Anguissola, but she did take great care in how she represented women in her work. She often showed women reading books, painting, or playing chess, and thus she placed great emphasis on the intelligence of Renaissance women in her work.
Did Sofonisba Anguissola Study With Michelangelo?
Sofonisba Anguissola never had a formal apprenticeship with Michelangelo, but she did receive guidance from him Anguissola met Michelangelo in Rome when she was 22 years old. She showed him a drawing that she made of a laughing girl and he immediately noticed her talent. He then challenged her to draw a picture of a crying boy, saying that it will be more difficult. She responded by drawing her brother and sending Michelangelo the drawing titled Asdrubale Bitten by a Crayfish (c. 1554). Anguissola and Michelangelo engaged with letters for the next two years as he gave her guidance.
Chrisél Attewell (b. 1994) is a multidisciplinary artist from South Africa. Her work is research-driven and experimental. Inspired by current socio-ecological concerns, Attewell's work explores the nuances in people's connection to the Earth, to other species, and to each other. She works with various mediums, including installation, sculpture, photography, and painting, and prefers natural materials, such as hemp canvas, oil paint, glass, clay, and stone.
She received her BAFA (Fine Arts, Cum Laude) from the University of Pretoria in 2016 and is currently pursuing her MA in Visual Arts at the University of Johannesburg. Her work has been represented locally and internationally in numerous exhibitions, residencies, and art fairs. Attewell was selected as a Sasol New Signatures finalist (2016, 2017) and a Top 100 finalist for the ABSA L'Atelier (2018). Attewell was selected as a 2018 recipient of the Young Female Residency Award, founded by Benon Lutaaya.
Her work was showcased at the 2019 and 2022 Contemporary Istanbul with Berman Contemporary and her latest solo exhibition, titled Sociogenesis: Resilience under Fire, curated by Els van Mourik, was exhibited in 2020 at Berman Contemporary in Johannesburg. Attewell also exhibited at the main section of the 2022 Investec Cape Town Art Fair.
Learn more about the Art in Context Team.