The mask is an object made and worn for different reasons. In the physical, a mask is a form of disguise, a form of concealment, and a method of avoiding identification. Traditionally used on the face, masks have existed since 7000 BC and have carried multiple uses and meanings. Some of the reasons behind the invention of the mask involve ceremonial practices, performance art, hunting, sculpture, and more functional uses in the medical and sports industry. This article will take you through 10 of the most famous mask artists of all time, from all corners of the world.
Mask Art: An Overview
Given the recent state of the world, we have all needed to wear a mask at some point. The mask we are referring to here is the physical object or "sculpture" as seen in art. The mask as a concept itself is complex and can represent multiple things. In sculpture, a mask is defined as a vessel or face modeled without a body and "appears in low relief".
Mask art is not only informed by the structure or shape of the mask but it is also informed by the design.
The Mask Maker (1941) by Vilmos Aba-Novák; Vilmos Aba-Novák, Public domain, via Wikimedia Commons
In art, mask design can be considered a specific form of art that involves the outer decor of the mask object using various patterns or objects attached to the mask. Throughout history, masks have been constructed using a variety of materials such as clay, wood, ivory, paper, and metals, and have been decorated with materials such as fur, feathers, mosaic, stones, and engravings.
Masks displaying animal features are called theriomorphic in nature and masks that display human features are called anthropomorphic masks.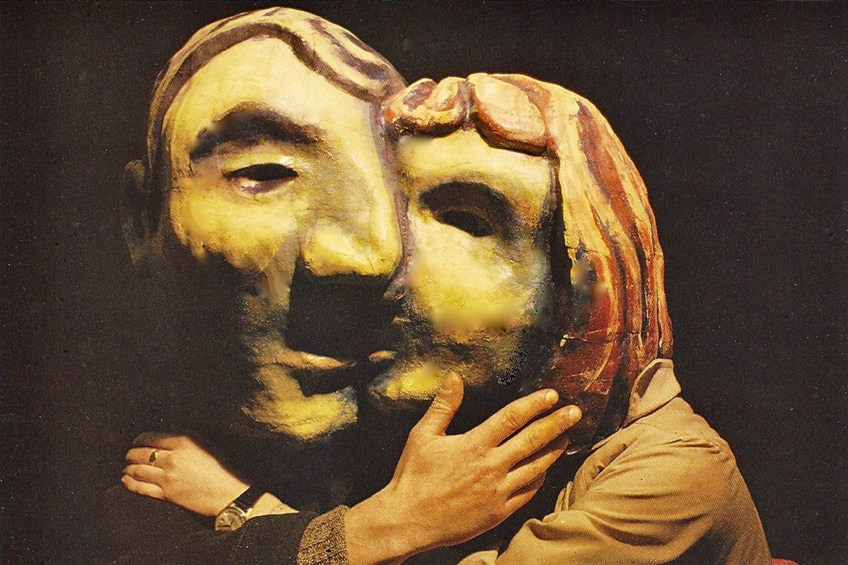 A Celastic mask from Needles in a Candleflame (1983) at the Horse + Bamboo Theater. Written and designed by Bob Frith; BobFrith, CC BY-SA 4.0, via Wikimedia Commons
Mask Artists From Around the World
The mask can be said to be a universal object that is most commonly known to carry spiritual and ritualistic meaning. Utilized in various parts of the world, including China, Papua New Guinea, some African countries, and Oceanic societies. The mask was also used by American Indians and groups of people in the Ivory Coast (Côte d'Ivoire) and Liberia. Below, you will find a list of the top 10 mask artists from around the world.
Pablo Picasso (1881 – 1973)
| | |
| --- | --- |
| Artist Name | Pablo Ruiz Picasso |
| Nationality | Spanish |
| Date of Birth | 25 October 1881 |
| Date of Death | 08 April 1973 |
| Movements, Themes, Art Styles | Analytical Cubism, Synthetic Cubism, African art, Primitivism, Surrealism, Neoclassicism, Expressionism, Modernism |
| Mediums | Sculpture, painting, drawing, prints, ceramics, sketches, collage |
An artist whose legacy exceeds many famous artists, Spanish artist Pablo Picasso is known to not only be the greatest Cubist painters, but he also holds the record for having one of the most expensive paintings in the world, just behind the Mona Lisa (1503).
Although one might not directly refer to Picasso as a mask artist, he was greatly influenced by African art and the depiction of the mask in African culture.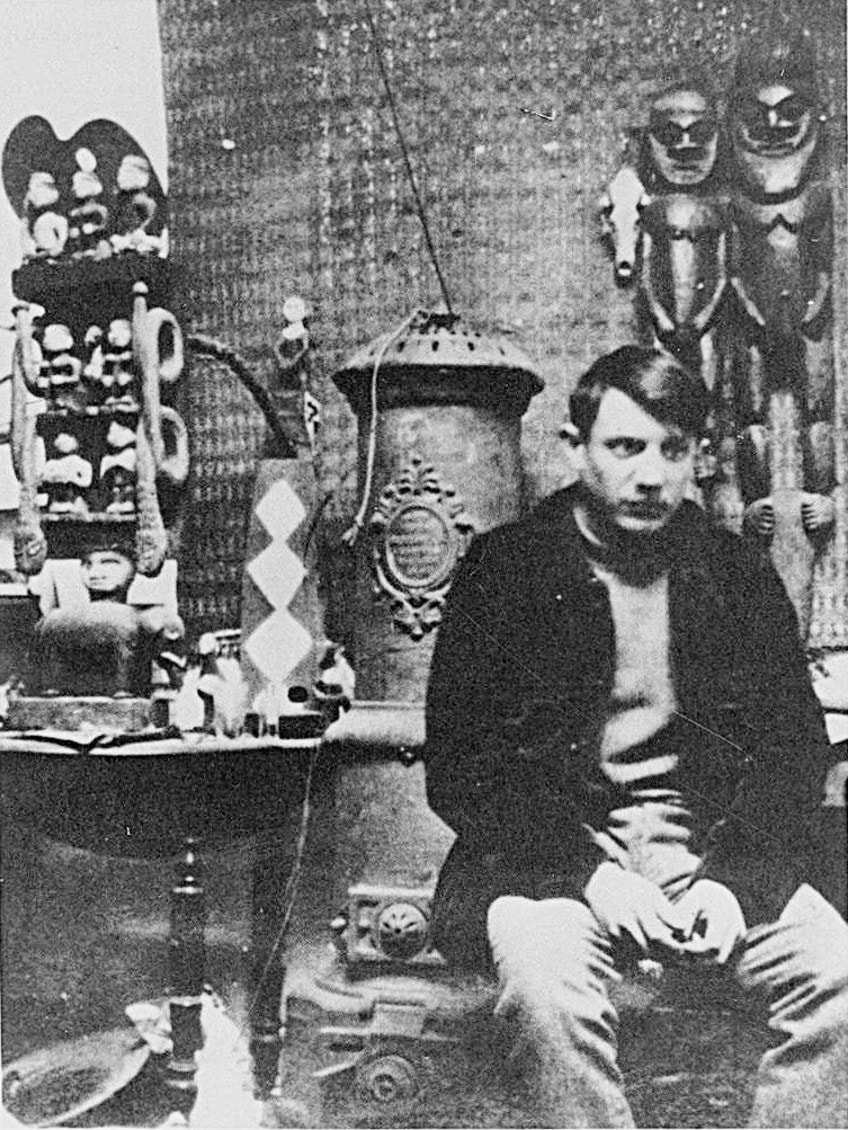 Pablo Picasso in his Montmartre studio with his African sculpture collection, 1908; Franck Gelett Burgess, Public domain, via Wikimedia Commons
Picasso was first exposed to the masks at the Musée du Trocadéro in Paris, which informed his African art-inspired works such as Head of a Woman (1907) and Bust of a Woman (1909). Head of a Woman was once part of a book that Picasso used to paint in watercolor and sketch. The painting depicts a woman whose head resembles that of an African mask, identified by the geometric elements and clear-cut lines and colors used to portray the woman's face.
Picasso's African-inspired paintings lasted between 1907 and 1909 and even received some harsh criticism from fellow French contemporary, Henri Matisse.
Most Famous Works
The Old Guitarist (1903)
Les Demoiselles d'Avignon (1907)
Guitariste, La mandoliniste (1910-1911)
L'Homme aux cartes (1913-1914)
Parade (1917)
Rebecca Horn (1944 – Present)
| | |
| --- | --- |
| Artist Name | Rebecca Horn |
| Nationality | German |
| Date of Birth | 24 March 1944 |
| Movements, Themes, Art Styles | Haute couture, BDSM, fashion, Expressionism |
| Mediums | Installation, film, performance, sculpture, body sculpture, drawing |
Sculptor and creative body artist, Rebecca Horn is well known for her cocoon-like creations, films, and sculpture, The Wounded Shooting Star in the fishing district of Barcelona. The artist is commonly associated as one of the key pioneers of the 80s art movement in Body art, including her famous performance art pieces such as Einhorn (Unicorn) of 1972. Horn's history with the mask can be seen in her work, Pencil Mask (1978), which resembles the skeleton of a mask with multiple sharpened pencils attached to the mask frame, pointing in an outward direction.
This version of mask art then becomes a tool for drawing.
Horn's installations and art pieces were featured in some of the largest art institutions in the world, including the Tate Gallery and the Stedelijk Museum. Her prestige is further elated after becoming the first female recipient of the Kaiserring Goslar prize, awarded to her in 1992. Another example of mask art created by Horn is Cockfeather Mask (1973).
Most Famous Works
Der Eintänzer (1978)
La ferdinanda: Sonate für eine Medici-Villa (1982)
L'Estel Ferit (The Wounded Shooting Star) (1992)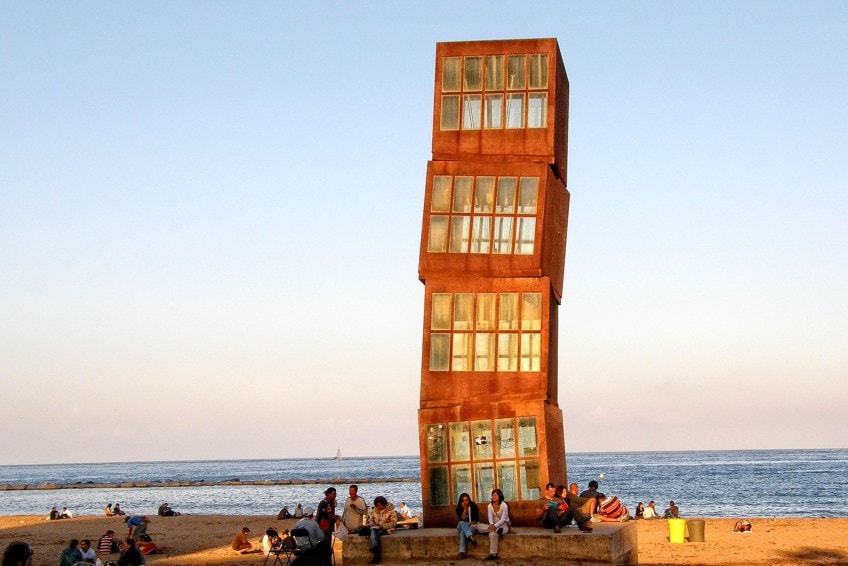 L'Estel Ferit (The Wounded Shooting Star) (1992) by Rebecca Horn; Andrei Dan Suciu, CC BY 3.0, via Wikimedia Commons
John Stezaker (1949 – Present)
| | |
| --- | --- |
| Artist Name | John Stezaker |
| Nationality | British |
| Date of Birth | 1949 |
| Movements, Themes, Art Styles | Conceptual art, Surrealism |
| Mediums | Found digital imagery, film stills, collage, photography |
Conceptual artist, John Stezaker is most famous for his process involving the use of collage and repurposed media to convey "a sense of the uncanny". The very production and repurposing of the mask over time make it an uncanny object open to evolution and evokes a spirit of "shapeshifting".
Stezaker uses collage to mask images, drawing attention to the other meaning of "mask" as more than a physical object for disguise, but as a means of "masking" over something.
The mask in Stezaker's collages and even his mask series (2006-2011) is embedded with the notion of masking. Stezaker draws references to popular culture and former glamorous celebrities to serve as "artifacts" of a now "obsolete culture". In this way, Stezaker employs not only the appearance of the mask through his collages but also the function in the process.
Most Famous Works
Marriage I (2006)
Visitation (2006)
Blind I (2006)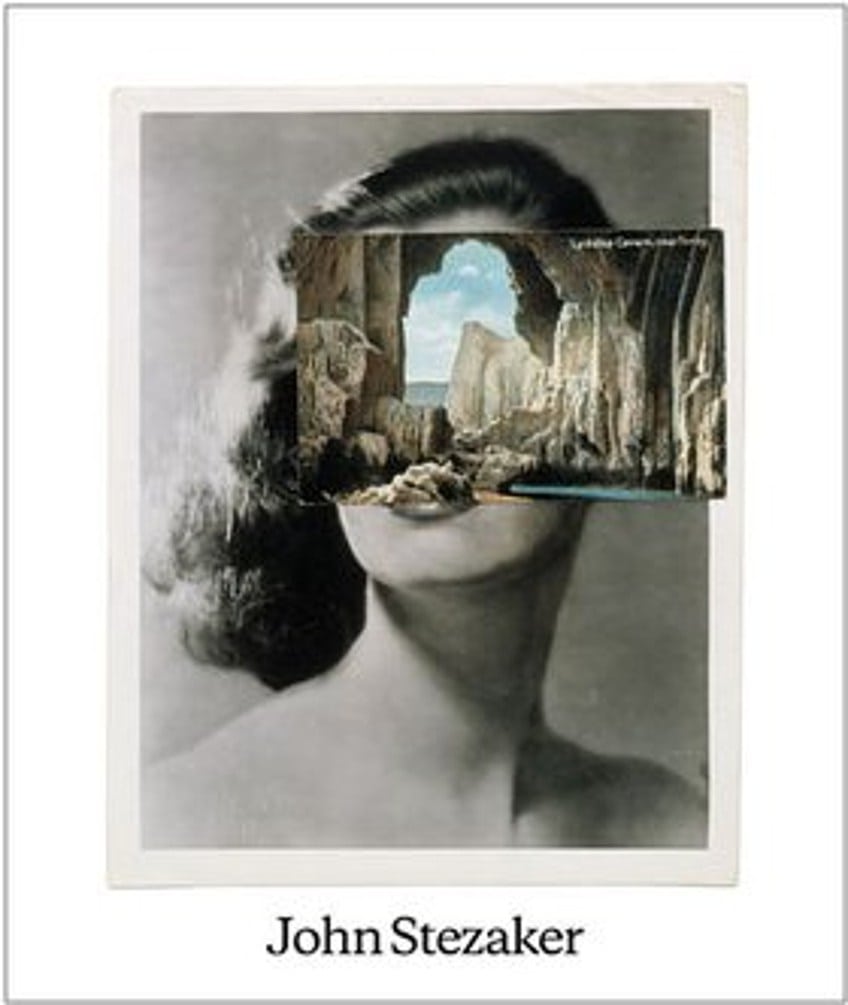 A John Stezaker monograph from 2010; Lou051 at English Wikipedia, CC BY-SA 3.0, via Wikimedia Commons
Laura Lima (1971 – Present)
| | |
| --- | --- |
| Artist Name | Laura Lima |
| Nationality | Brazilian |
| Date of Birth | 1971 |
| Movements, Themes, Art Styles | Contemporary art, site-specific installation, abstraction, human behavior, fragility |
| Mediums | Installation, sculpture, mixed media |
| Featured Group Shows | 24th and 27th São Paulo Biennale, XI Lyon Biennale (2011), VERTRIPTICAL (2014), Witch Hunt (2021) |
Having featured in exhibitions around the globe with artworks collected by the Modern Art Museum of São Paulo, Brazilian artist Laura Lima is a contemporary mask artist whose work can be interpreted as what it is not.
As stated by the artist herself, her work is not defined as theater, fiction, installation, or performance; rather, it is a manifestation of reality.
An international group exhibition, MASK. Present-Day Art, held at Aargauer Kunsthaus in 2019, arrived at the conclusion that the meaning behind "mask" for many contemporary artists reflects the condition of the world, that it represents "complex changes". Consisting of more than 160 artworks, the exhibition also featured Lima's work Nomads (2008), which is an acrylic painting of a landscape with small leaf-shaped holes cut into it, fashioned into a mask.
Maria Ignacia Walker (1984 – Present)
| | |
| --- | --- |
| Artist Name | Maria Ignacia Walker |
| Nationality | Chilean |
| Date of Birth | 1984 |
| Movements, Themes, Art Styles | Self-exploration, body art, body as site for memory, loss |
| Mediums | Metal, skin, hair, resin, mixed media |
The idea of the mask can also make you self-aware or for the external viewer, a lack of self. Chilean artist and trained jeweler, Maria Ignacia Walker makes use of a variety of organic materials closely related to the body.
The Florence-based artist uses "skin, cells and hair, elements that are subject to day-to-day renewal" to create these conceptually profound masks and "wearable" pieces inspired by the body and the artist's exploration of self, absence, memory, and the body as a site of material.
Maria Ignacia Walker's application of concept can be seen in her series All about Time (2020), which consists of a mask and bodysuit crafted out of a collection of brown hair from different people.
Ahaad Al Amoudi (1991 – Present)
| | |
| --- | --- |
| Artist Name | Ahaad Al Amoudi |
| Nationality | Saudi Arabian |
| Date of Birth | 1991 |
| Movements, Themes, Art Styles | History, representation, self-portraiture, post-digital culture, identity, islamophobia, female oppression |
| Mediums | Photography, installation, sculpture |
Featured on Edge of Arabia, Ahaad Al Amoudi is a Saudi Arabian artist whose work is informed by her transcultural experience between the United Kingdom and Saudi Arabia. Her work deals with issues surrounding representation, islamophobia, history, and the oppression of women in Islamic communities by the West. In her mask series consisting of 20 etched acrylic masks, she makes use of the patterns found in viruses, which also mimic that of patterns found in Arabic text, and etches these into her acrylic masks.
The significance of her work is highlighted in the message, that is, it is a visual representation of the "distaste" displayed by anonymous viewers for the "modesty of the Muslim woman".
Most Famous Works
Open Culture (2014)
The Mirage (2021)
Fly Right into the Future (2021)
Featured Group Shows
Colour Bar (2019)
Screens Series (2019)
Out of Place (2019)
Karolina Romanowska (c. 20th Century – Present)
| | |
| --- | --- |
| Artist Name | Karolina Romanowska |
| Nationality | American |
| Date of Birth | c. 20th century |
| Movements, Themes, Art Styles | Contemporary art |
| Mediums | Clay Sculpture |
Colorful, playful, and entertaining. Karolina Romanowska is a ceramic artist based in Wisconsin and describes her anthropomorphic masks as "extremely resilient yet fragile" objects crafted from clay. Romanowska's display of variety in her masks are what makes it so unique.
As mentioned in an interview with Colossal earlier this year, the artist reminisces on her childhood and states that she finds "material extremely giving" and her childhood memories of experiencing how she "transformed" mud into objects helps her "to experience true freedom".
Felicia Murray (1996 – Present)
| | |
| --- | --- |
| Artist Name | Felicia Murray |
| Nationality | American |
| Date of Birth | 1996 |
| Movements, Themes, Art Styles | Contemporary, textile art, fiber art, installation, mixed media |
| Mediums | Fiber and textile materials: yarn, wool, felt, embroidery, thread, beads |
| Featured Exhibitions | Art is Home at Gallery Go Go, Portland, Oregon |
American fiber artist Felicia Murray uses the structure of a mask in Our Dying Reefs (2020), exhibited at Vicki Myhren Gallery, as a means to highlight an important environmental issue concerning coral reef endangerment. Considering that many used masks have become a contributing factor to environmental pollution, the artist's clever use of dyed wool from seaweeds and foraged plants is an inventive idea.
Reflecting on her work, Felicia Murray adds "We have this alien environment below us that is rapidly deteriorating, a whole diverse ecosystem of life that relies on us to do the right thing. I made this mask intending to send a message about climate change and global warming. My main goal is to constantly be communicating through my art, to speak up about the issues that matter."
The artist is known to have collaborated with Nike, Gallagher Designs, and The Savannah College of Art and Design (SCAD) on large-scale fiber installation works. Both works, Fragmentation (2018), and Just Play (2022) are excellent examples of the mastery of her skill and resourcefulness. In her artist statement, she states "I breathe life into sterile and forgotten objects, bringing motifs from the outside environment inside". Her participation in the realization of reinventing the idea of the mask in Our Dying Reefs certainly brings the mask to life.
Polina Osipova (1999 – Present)
| | |
| --- | --- |
| Artist Name | Polina Osipova |
| Nationality | Chuvash, Russian |
| Date of Birth | 1999 |
| Movements, Themes, Art Styles | Chuvash culture, family archive, identity, mask art, self-expression, feminism |
| Mediums | Embroidery, sculpture, body art, photography |
Polina Osipova makes use of her familial archive and inherited objects to showcase her acceptance and re-embodiment of Chuvash culture. The 23-year-old artist states in an interview with Vogue that she calls all "jewelry, masks, and accessories wearable sculptures".
Osipova's intricate and imaginative masks are created using pearls and inform her critique of ideology as aesthetic through the facade of "gleaming masks" and jewels.
Osipova also collaborated with Gucci to create a face filter commenting on the theme of surveillance culture and honoring the freedom of self-expression. The filter, titled I See You can be found on Instagram under the Gucci story highlights section, under "Gucci filters".
Art Mask Design
Design is also considered another form of art since designs can be inspired by artworks to recreate new visual imagery for use on different items. Mask designs have not been very popular, aside from its place in the "arts and crafts" sector. As of recent events requiring people to use the medical mask as a protective body accessory from viruses and flues, the mask was open to recreation and re-realization in contemporary art.
Below are a few examples of contemporary art exhibitions reinventing the mask through design.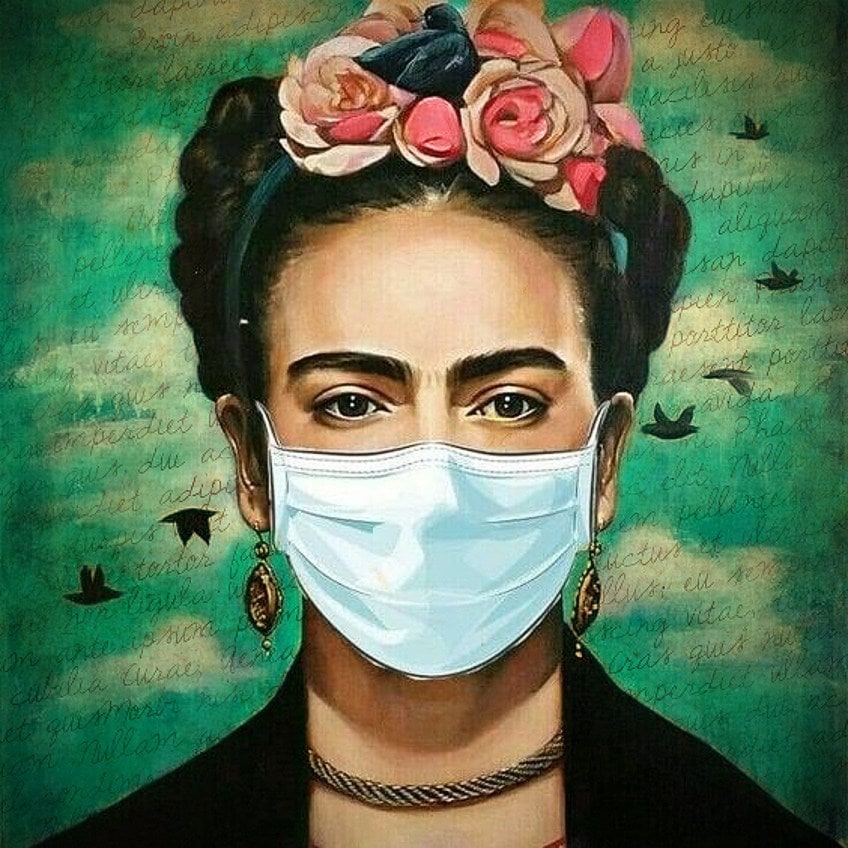 An image of Frida Kahlo wearing a COVID-19 protective mask [2021]; antonè, CC BY 2.0, via Wikimedia Commons
The Museum of Contemporary Art (2020)
In 2020, the Museum of Contemporary Art collaborated with the Hong Kong group, K11, on a major project involving a group of nine incredibly famous artists of our time. Among the group was Yoko Ono, a renowned Japanese artist whose influence has reached almost all corners of the globe.
The project was aimed at integrating the mask (as worn during the pandemic) into a fashionable statement piece.
Along with Ono, were other famous names such as the late Virgil Abloh and Andy Warhol, as well as Alex Israel, Catherine Opie, Hank Willis Thomas, Barbara Kruger, Pipilotti Rist, and Mark Grotjahn. All the artists of the group utilized this opportunity to create art mask designs that reflected their signature style. Other contributors to the project include The Museum of Contemporary Art (MOCA), The Andy Warhol Foundation for the Visual Arts, and Adrian Cheng, the founder of K11.
Aditi Art Gallery: Masks from +100 Destinations (2022)
In an effort to boost awareness of the world of masks, managing trustee Kiran Acharya of Aditi Art Gallery in Kunjibettu, Udupi, organized an exhibition featuring around 150 masks acquired from multiple countries, including Italy, parts of Africa, and Nepal. The exhibition was held over a three-day span from 16 June 2022 and featured special masks sourced from Sri Lanka, which represented 18 different types of health conditions.
This is possibly one of the oldest known documentations of human ailments, as stated by a British medical journal.
Clothing the Pandemic: International Council of Museums COSTUME (2021 – Present)
This virtual exhibition was a cultural project that took place online and in collaboration with various museums around the globe. The project was aimed at collecting over 200 masks from around the world as part of the idea of documenting the condition of the world during the pandemic. Several museums, including the Budapest Museum of History and the Musée Théodore-Monod d'Art africain joined the project, culminating in an online exhibition.
This online exhibition is the first global collaboration among such institutions executed with the intention of preserving social distancing and runs until December 2022.
Featured artists include Czarina Wilson, Rahul Mishra, Raymond Wong, threadstories, Don Kwan, and many others whose designs and reinvention of the Covid-19 mask are divided into six sections. These sections cover politics and protest, art and invention, fashion and popular culture, body and spirit, innovation and sustainability, and solidarity and communities.
According to Google Trends, the word "mask" started to spike around January of 2020, climbing for the first time in recorded history since 2005, eventually peaking in April of 2020 due to pandemic events. Mask art in comparison received a lot more recognition and interest since 2005, taking precedence over the mask referred to in medical terms, similarly, reaching its peak in 2020. Masks, as seen throughout history in popular culture, traditional practice, and art continue to share one thing in common, and that is transformation. The idea and significance of the mask continue to evolve and shift, bending to the movements and historical events that pass it by, collecting more meaning as it continues to be referenced.
Frequently Asked Questions
What Is Mask Art?
There is no straightforward answer to what mask art is, rather it can be understood as any structure produced through artistic means to resemble or imitate the use or appearance of a mask, in reference to the mask that covers the human face. Mask art can include mask paintings, mask photography, decorated masks, objects turned into masks, mask designs, and any artwork that has a direct visual reference to a mask.
Which Artists Made Mask Paintings?
There are many artists who have painted figures with masks or figures resembling a mask. Among the artists associated with mask paintings and mask artworks are Pablo Picasso, Genevieve Blais, Sara Riches, Amedeo Modigliani, Max Ernst, James Ensor, Patrick Cabral, Emil Nolde, Anastasia Movchan, and many others.
What Is African Mask Art?
The majority of artists from Europe and the West have drawn inspiration from African art, where the depiction of masks was first noticed in an African art context. These masks were traditionally used as part of ceremonial practices and even feature in tribal mythology of the Democratic Republic of Congo. Masks were painted using mineral pigments and decorated using other objects such as feathers, animal hair, bones, and even teeth. The appropriation of cultural items such as the mask is what is referred to in European terms as African mask art.