Famous Ceramic Artists – Looking at the World's Best Pottery Artists
Clay artists have been creating ceramic sculptures for thousands of years. These ancient pottery makers created everything from clay sculptures for religious use to pottery for holding liquids, and artistic ceramics for pleasure. From ancient pottery artists to contemporary ceramic tile artists, creative people throughout human history have made use of this easily available and cheap medium to create beautiful ceramic artwork.
Famous Ceramic Artists
Ceramic artwork is one of the oldest crafts and therefore many clay artists have come and gone over the centuries, of which very few have left their mark. Hence, it is necessary for us to highlight the ceramic tile artists, ceramic sculpture, and pottery makers that have set themselves apart from their peers with their artistic ceramics.
Beate Kuhn (1927 – 2015)
| | |
| --- | --- |
| Nationality | German |
| Lived In | Düsseldorf |
| Born In | 15 July 1927 |
| Known For | Ceramic sculpture |
Beate Kuhn is a famous ceramic sculpture artist who was born in Düsseldorf on the 15th of July 1927. Nature imagery is usually allegorical and figurative; they depict the complicated interaction that humans have with their surroundings. Her art combines the organic environment with the material realm, the man-made surroundings with nature's intricate structures. Kuhn's artwork combines her own unique perspective on the environment with technical methods of building that mimic certain organic and inorganic formations.
Since her art combines emotive and logical elements, it is both challenging and sensitive, intellectual but technically appealing; it represents both wildness and society.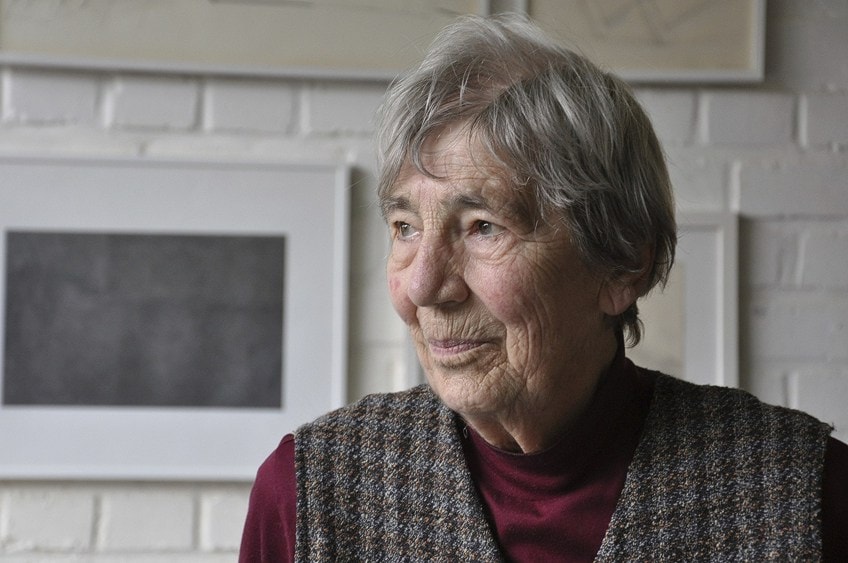 German artist Beate Kuhn, 2014; Sebastian Scheid, CC BY-SA 3.0, via Wikimedia Commons
Her art is founded on the study of organic shapes and activities, as well as her personal instinctive response to them. The work's strength rests in the audience's inability to recognize any of her shapes; they mimic a variety of diverse elements and living formations rather than any particular one. What she makes is identifiable as an encounter with the flow of nature. Her resources are nature's broad patterns and structures, which she employs in ways that utilize the dichotomy of micro and macrocosm.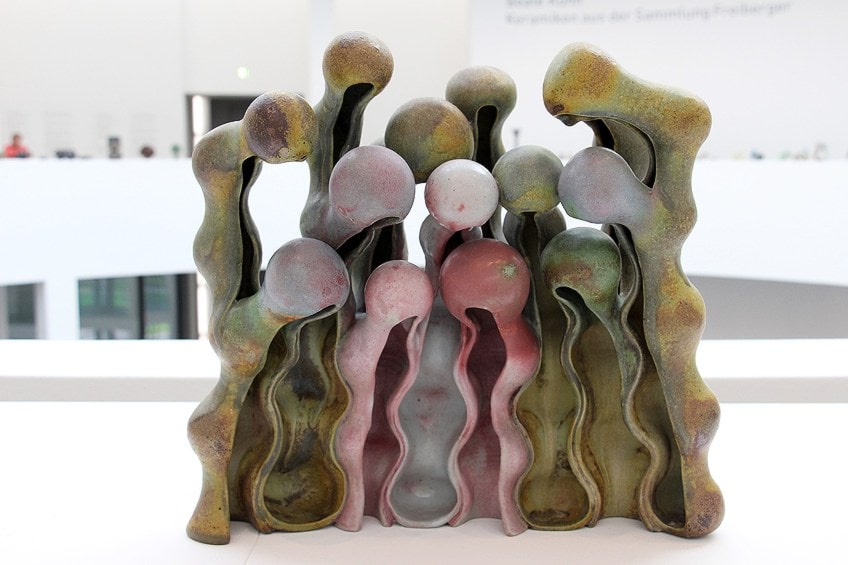 Small family in a semicircle (1988) by Beate Kuhn; Fred Romero from Paris, France, CC BY 2.0, via Wikimedia Commons
Her concise and powerful artwork crams a lot of intensity into a little amount of space. Kuhn enjoys exploring old forms of ceramic artworks, and her pieces adhere to the traditional stratum of the craft. And considering the timing of her appearance on the art landscape's horizon, this is not surprising. Kuhn's art, no matter how conventional, always sticks out in company.
Her remarkable ability to observe beauty even the most mundane things gives her artwork a precision and polish that no other clay artists can claim to have achieved with such ease.
Robert Arneson (1930 – 1992)
| | |
| --- | --- |
| Nationality | American |
| Lived In | California, United States |
| Born In | 4th September 1930 |
| Known For | Ceramic Artwork |
Robert Arneson was born in Benicia, California, and spent most of his life there. He studied cartooning at the neighboring College of Marin and then at the California College of Arts and Crafts. He grew more interested in ceramics after a few years of teaching art at local high schools and enrolled at Mills College. Traditional notions about the link between ceramics and art were shifting by the time he received his MFA.
While Arneson had studied as a potter, he quickly began experimenting with sculpture after seeing the work of artists like Peter Voulkos who were pushing the medium's boundaries.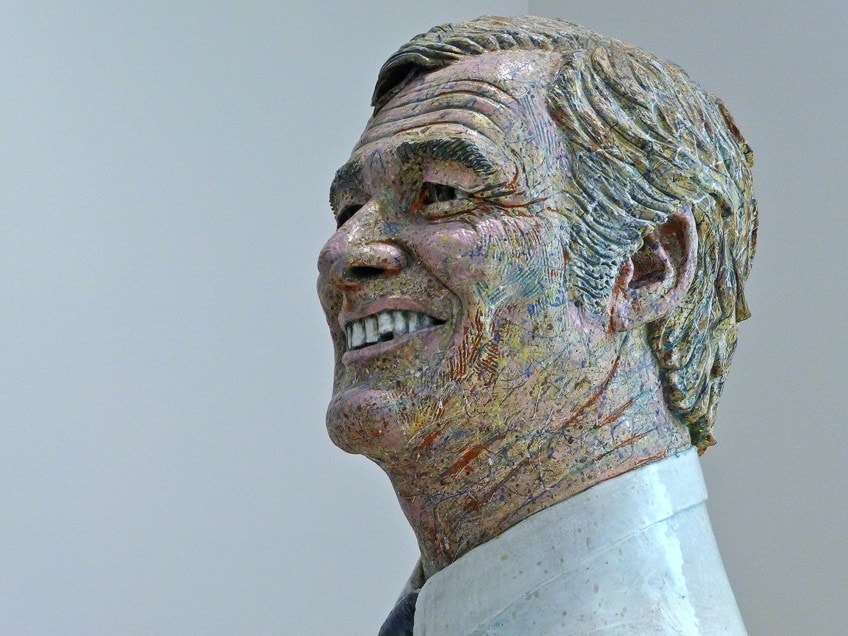 Glazed ceramic bust of George Moscone by Robert Arneson, 1981; Art Poskanzer, CC BY 2.0, via Wikimedia Commons
Arneson was invited to create a ceramic course at the University of California, in 1962, where he met artists including William T. Wiley, Roy De Forest, Manuel Neri, and Wayne Thiebaud, who would become collaborators and close friends. The Davis program was exploratory, with the art department just a few years old, and there was a feeling of cooperation between teachers and students, including David Gilhooly, Bruce Nauman, and Richard Shaw.
He began experimenting with self-portraiture as a medium to investigate the human experience in 1970.
He realized that he was allowed to "take a jab at himself," and also that his self-perception was as important to his art as the ceramic itself. His first retrospective, coordinated by the Museum of Contemporary Art Chicago, was presented in 1974 as a signal of his rising prominence. The next year, though, he was afflicted with cancer for the first time, necessitating operations and an ongoing battle with the illness that would afflict him for the remainder of his life.
Stan Bitters (1936 – Present)
| | |
| --- | --- |
| Nationality | American |
| Lived In | California, United States |
| Born In | 1936 |
| Known For | Ceramic Sculptures and Wall Murals |
Born in the United States in 1936, Stan Bitters is another very important ceramic artist to add to our list. Experimenting with ceramic sculptures, ceramic wall murals, fountains, and even garden paths, Bitters was an influential presence in the development and formation of the organic modernist movement during the 1960s.
Combining the concepts of art and architecture, his artworks went on to achieve international fame and are essential in most contemporary art and design shows.
Photograph of California ceramicist and sculptor Stan Bitters in 2012; User:Mikemaniquiz, CC BY-SA 3.0, via Wikimedia Commons
Some clay sculpture pieces that Stan Bitters is particularly associated with are his thumb pots and vintage birdhouses. His works exhibit an earthy and textural feel, demonstrating his merging of the elements of formal art along with the environment in which they are placed.
Throughout his career, which has spanned six decades, Bitters continually advocated for the role that sculpture plays in the urban environment.
Creating environmental ceramics, Bitters went on to form a union between his sculptural works and the outside environments he found himself in. Due to this, his artworks can be experienced in an array of places ranging from public spaces, schools, churches, hotels, industrial complexes, and even private residences.
John Glick (1938 – 2017)
| | |
| --- | --- |
| Nationality | American |
| Lived In | Detroit and California |
| Born In | 1st July 1938 |
| Known For | Artistic Ceramics |
John Parker Glick was a ceramicist from the United States. Although Glick was open to creative experimentation, he was primarily inspired by the forms and beauty of Oriental ceramics, which is evident in his utilization of ornamental motifs and glazing selections. His expertise with pottery prompted Glick to produce many essays about the subject. During the latter part of his career, Glick began manufacturing environment-themed wall panels in addition to ceramics.
He first gained prominence in the early 1960s after his awe-inspiring works caused a stir in the world of ceramic artwork.
He enjoys experimenting with and exploring his topics, although many of his creations are traditional, there is no shortage of pieces in his creative repertoire that exceed the borders of orthodoxy by huge leaps. Many of the clay artist's works have been displayed in global public and private exhibitions.
He is well-known for his homely, rustic-themed ceramic sculptures, which span genres such as modern and classical.
He established Plum Tree Pottery upon his return to Michigan from the service in 1964. Glick chose to start a private collection of his own work during the course of his career after being inspired by an art dealer he met. Over the course of 50 years, he kept about a thousand items, which is a big amount but just a small proportion of the approximate three hundred thousand pieces he made altogether.
Isaiah Zagar (1939 – Present)
| | |
| --- | --- |
| Nationality | American |
| Lived In | Philadelphia |
| Born In | 1939 |
| Known For | Sculpture, Mosaic, Ceramics |
Isaiah Zagar is one of the only ceramic tile artists on this list, as most clay artists seem to focus on ceramic sculpture and vases. He was born in Philadelphia in 1939 and is mostly known for his murals created on the streets of the city. After receiving his Bachelor's from the Pratt Institute, he got married and traveled to Peru where he was influenced by the Peruvian style of art.
After returning back home he opened a gallery and began making mosaics of his own.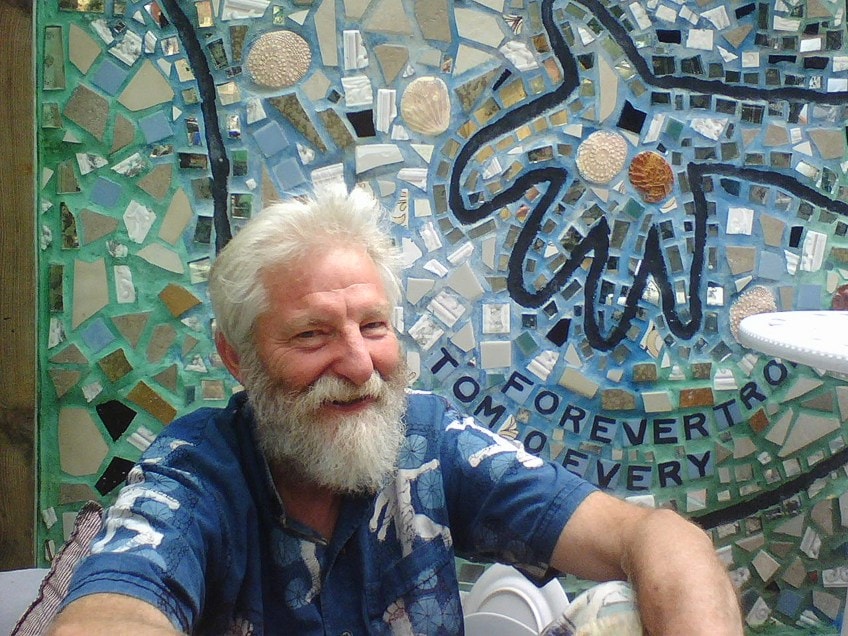 Philadelphia mosaic artist Isaiah Zagar in his Magic Gardens; TexasDex at English Wikipedia, CC BY-SA 3.0, via Wikimedia Commons
Magic Gardens, Zagar's biggest street mosaic piece, is both a three-dimensional, interactive exhibition as well as a museum space. Poems, quotations, the names of artists who have influenced him, as well as faces and shapes of humans and animals, are inlaid in the tiles. The gardens make use of a range of materials, such as bottles, bicycle rims, and folk art.
Isaiah Zagar's Magic Gardens; KimonBerlin, CC BY-SA 2.0, via Wikimedia Commons
The Art of Assemblage was a breakthrough show in New York City in 1961. Because the show contained assemblages of artists such as Jean Dubuffet, Pablo Picasso, Kurt Schwitters, and Antonio Gaudi, as well as unskilled bricoleurs Ferdinand Cheval and Simon Clarence, he was able to justify include their conceptions as expressions of high art as a trained artist.
It enabled him to start what might be considered a life's labor, transforming the town of Philly, Pennsylvania, into a meandering mosaics museum that combines all of his diverse knowledge and abilities, at a critical juncture in his life.
Victor Spinski (1940 – 2013)
| | |
| --- | --- |
| Nationality | American |
| Lived In | Poland, United States |
| Born In | 10 October 1940 |
| Known For | Ceramic Sculpture |
Victor Spinski was a ceramic artist from the United States and was born on the 19th of October 1940. He initially gained national attention when he was featured in the Museum of Contemporary Crafts' seminal 1971 show Clayworks: 20 Americans. Clayworks positioned Spinski as a peer to the exhibition's other ceramic pioneers, including Patti Warashina, Robert Arneson, David Gilhooly, Jack Earl, Richard Shaw, Clayton Bailey, and Marilyn Levine. Bailey, in particular, became a lifetime partner and friend.
Spinski's work first focused on the fabrication of imagined machinery and technical equipment that was made in pieces on the potter's wheel and then combined into sculptures that may stand more than four feet tall.
Spinski was instrumental in shaping the trompe l'oeil trend in clay. Attempts to delude the viewers into imagining they were viewing three-dimensional objects date back to the ancient world Greeks, where an often-repeated tale that involved painters Parrhasius and Zeuxis was awarded when Parrhasius created a veil on his canvas so believable that it duped his rival into thinking it was genuine. Spinski began making slip-cast porcelain sculpture still life pieces. Spinski, like most of his contemporaries, avoided using paint in favor of ceramic varnishes, lusters, and porcelain paint, which are more resilient but considerably more hard to manage.
Spinski, who grew up in an era when innovation and creativity in the clay sculpture scene were at their pinnacle, took the method of replicating non-ceramic things to their ceramic counterparts. His topics comprised everyday items that were reduced to clay sculpture with the flawless expertise of a seasoned artist. Spinski's paintings are particularly well-known for their technical accuracy and devotion.
Even five years after his death, his work continues to pique the curiosity of viewers. You can find his work in nearly every ceramic art gallery online.
Patti Warashina (1940 – Present)
| | |
| --- | --- |
| Nationality | American |
| Lived In | Washington, USA |
| Born In | 1940 |
| Known For | Ceramic Sculptures |
Patti Warashina is an artist from America known for her creative ceramic artwork. She was born in 1940 in Spokane, Washington., the youngest of three siblings. Warashina, the youngest of three children, was born in 1940 and reared in Spokane, Washington. Her father was a Japanese-born dentist, and her mom was Japanese-American. She came to Seattle to study sculpture with sculptors, Harold Myers, Rudy Autio, Shoji Hamada, and Ruth Penington at the University of Washington. Warashina graduated from the University of Washington with a Bachelor of Fine Arts in 1962 and a Master of Fine Arts in 1964.
She has been intrigued by the human form for the majority of her 55-year artistic career.
Her continuing fascination with the human form is most probably related to the fact that her own physique is the nearest source from which she pulls her inspirations. The use of the figure validates her everyday existence and acts as the topic of her own "graphic journal," which serves as a reminder, contemplation, and observance of private time and the society in which she exists.
She pulls from her daily life and has an unusual fascination with the silliness and flaws of human conduct, which has resulted in her figurines becoming the characters in her contemplative storylines.
Instead of painting garments on the figure, she prefers to keep the material work to a minimum at this point and instead utilize simple color in an abstracted structure, as if it were "levitating" above the person, creating the sense of two separate geographical realms colliding. She desires the surface to function in concert with the body's simplicity. The surface work's abstract nature also eliminates and rejects the work's association with time, period, and ethnicity. She aspires to speak about the common oddities that exist in every human nature.
Ellen Schön (1953 – Present)
| | |
| --- | --- |
| Nationality | American |
| Lived In | Massachusetts |
| Born In | 12 January 1953 |
| Known For | Ceramics |
Since the late 1970s, this clay artist has been actively showing her ceramic artworks in the cultural scene, and she rose to prominence with her clay sculptures portraying human feelings and situations. Her work, which is mostly allegorical, distinguishes her from other modern painters of the period. She now gives classes at the Art Institute of Boston. There, she instructs her pupils how to create ceramic sculptures that explore many facets of human existence.
People are discovering and appreciating her art at a number of ceramic sculpture galleries online.
She has always been fascinated by the capacity of a clay vessel to allude towards something larger than itself—to serve as a symbol. Pottery vessels featuring necks, shoulders, stomachs, and feet may recall the stance and vaguely humanoid attitude of the body; they can disclose profound facets of human perception and the nature of reality.
Schön's ardent fascination with ceramic containers has driven her to discover different forms and surfaces. Her recent study investigates three variants of the clay vessel type: The ceramics container as a source or cradle, with fertility and sterility possibilities; the vessel as a vial, whose shapes suggest the elongated stance of Cycladic gods and the rough texture of the clay heads of Yoruba, her The Planet Series investigates swirling colorful surfaces on spherical spheres, implying planets and terrestrial stratum depths.
These series exhibit disparate but connected artistic interests. Each work in a series is part of a constantly developing response to a set of issues or constraints that she has decided to operate within. The settings may vary as the series progresses. She tries to breathe life into shape through the impulsive manipulation of inert clay. Her artistic approach is based on reflective practice, which involves expressing ideas on the material in iterative cycles of development.
As she guides it, the material directs her. They have a mutually beneficial connection.
Tony Marsh (1954 – Present)
| | |
| --- | --- |
| Nationality | American |
| Lived In | New York |
| Born In | 27th May 1954 |
| Known For | Ceramic Artwork |
Tony Marsh's principal medium of creative expression has always been the ceramic container. In Marsh's Perforated Vessels series, he takes a thick clay mixture and eliminates materials from it one hole at a time, creating a graphic intensity in it to show shapes that float. Marsh describes this as "adding by reduction."
We can observe how the shadow created by light piercing the crystal formation, reflecting light back out, and flowing right through it contribute to the structural consistency of his creations.
His expertise and history in ceramics are evident in these bright and complex patterns that mimic cell components and bioinspired shapes. Marsh studied under Asian artist Shimaoka in Mashiko, Japan, for four years. His approach evolved as he was exposed to the region's working experiences and influences on a daily basis. Marsh obtained a Master's degree from Alfred University's New York State College of Ceramics upon leaving Japan, and then returned to his old institution, Cal State Long Beach, where he is still the director of the ceramics department.
Fernando Casasempere (1958 – Present)
| | |
| --- | --- |
| Nationality | Chilean |
| Lived In | Chile and London |
| Born In | 1958 |
| Known For | Ceramic Sculptures |
Fernando Casasempere, who was born in Chile in 1958 and currently lives and works in London, is a sculptor who uses ceramics, the traditional medium of pottery, to investigate notions of landscape and the environment. His use of earth/clay and consideration with nature and environmental matters links him to creatives affiliated with the Earth Art movement, but he works from a culturally diverse heritage, being deeply influenced by Latin American Pre-Columbian architecture and art.
In his ceramics, he investigates the concept of landscapes and ecosystems.
His use of ceramics transcends its physical medium by linking links between civilization and the soil itself. His piece, titled Out of Sync, was shown in London at Somerset House and earned critical praise. This piece, set in a genuine grass field, consisted of a massive field of 10,000 porcelain wildflowers and intended to examine the conflicts between the periods and the vulnerability of life. These blossoms were created from the 12 tons of Chilean ceramic that he brought to London in 1997.
Johnson Tsang (1960 – Present)
| | |
| --- | --- |
| Nationality | Chinese |
| Lived In | Hong Kong, China |
| Born In | 1960 |
| Known For | Ceramic and Stainless Steel Art |
Johnson Tsang, a ceramics artist based in Hong Kong, creates works that blur the lines between sculpture, surrealism, and realism. Tsang's bizarre topics are expertly done using the material of clay, extended, stretched out, and appearing a little awkward. Hand movements are integrated into his artworks in his collection 'Open Mind' to figuratively (and very literally) display a spirit of expansive mindedness in their narrative.
He was not always a creative person. In reality, he suffered not only monetarily but also academically throughout his childhood. He worked as an air conditioner helper, a potato cook, and a law enforcement officer before becoming an artist.
Tsang attended a clay modeling class throughout his 13-year tenure as a cop. This was his first encounter with the medium, and it was through that he first experienced clay's kind and calming character.
Tsang is now referred to as an illustrious artist. The Government of Hong Kong has given him "The Secretary for Home Affairs' Commendation" for his excellent successes in international art events thanks to his beautiful and whimsical sculptures. He has also won numerous prizes from competitions in Taiwan, the first artist from China to win both international awards for excellence in ceramic arts.
Grayson Perry (1960 – Present)
| | |
| --- | --- |
| Nationality | British |
| Lived In | Essex, England |
| Born In | 24th March 1960 |
| Known For | Ceramic Artwork |
Grayson Perry is the epitome of radicalism. Even though he's been referred to as an artisan who just happens to produce ceramic artwork, his pieces are well-known. Perry rose to prominence during the age of YBA artists like Tracey Emin and Damien Hirst and thanks to his choice of material, which shocked both the art and ceramics communities.
He will always be renowned for his artistic ceramics, no matter how diverse and vast his work becomes.
Perry attended pottery lessons and learned the basics after experimenting with ceramics throughout his time in art school, giving him a solid foundation in the medium. He preferred sitting at the table rather than at the wheel. Rather than tossing on the wheel, Perry used a method that included hand-building coils. He was producing vases that were 60 to 70 cm tall in a matter of months.
Grayson Perry at a Private View of Gilbert & George Retrospective at Tate Modern, 2007; Kirsteen, CC BY-SA 2.0, via Wikimedia Commons
At an auction, hand-built pieces by Perry, such as Men Have Lost Their Spirits, have sold for over £50,000. He relies on ceramics' illustrious past while also employing a wide range of methods that the medium enables.
When asked why he produces ceramic art in his unique way, he explains that for millennia, sculptors and designers have always displayed their greatest efforts on the vase, which is the tradition he was following.
He loved to dress in women's attire from a young age and discovered he was a transvestite when he was in his teens. He moved home with his dad's parents in Chelmsford at the age of 15, when he began to go out disguised as a woman. When his father discovered him, he promised to quit, however, his stepmother notified everybody and kicked him out several months later. He returned to Great Bardfield, Essex, to live with his stepfather and mother.
Yeesookyung (1963 – Present)
| | |
| --- | --- |
| Nationality | Korean |
| Lived In | Seoul |
| Born In | 1963 |
| Known For | Ceramic Sculptures |
Yeesookyung is a Seoul-based South Korean artist. She is well-known for her intricate and enthralling porcelain patterns and sculptures. The Translated series, as with several of her artworks, is composed of fragments and bits of shattered clay pieces that are meticulously put together like puzzle pieces. In 2002 she designed the Translated Vase after noticing abandoned rubbish from clay maestro Lim Hang Taek glistening in the sunshine.
Her work was inspired by the light that is reflected from the fragments and the natural shapes of the fractures.
She obtains shattered fragments from other Korean artists who try to recreate ancient vessels from the Joseon and Goryeo periods. She describes how she "morphs" these vases by applying 24-carat gold leaf over the fractures. Broken pottery, according to her, lose their traits and purposes, are "free from the tension and risk of being destroyed," and therefore are "free from the pressure of being a replica." She intervenes by rebuilding what is destroyed and transforming it into limitless perspectives.
She transforms them into new states by removing their frailty.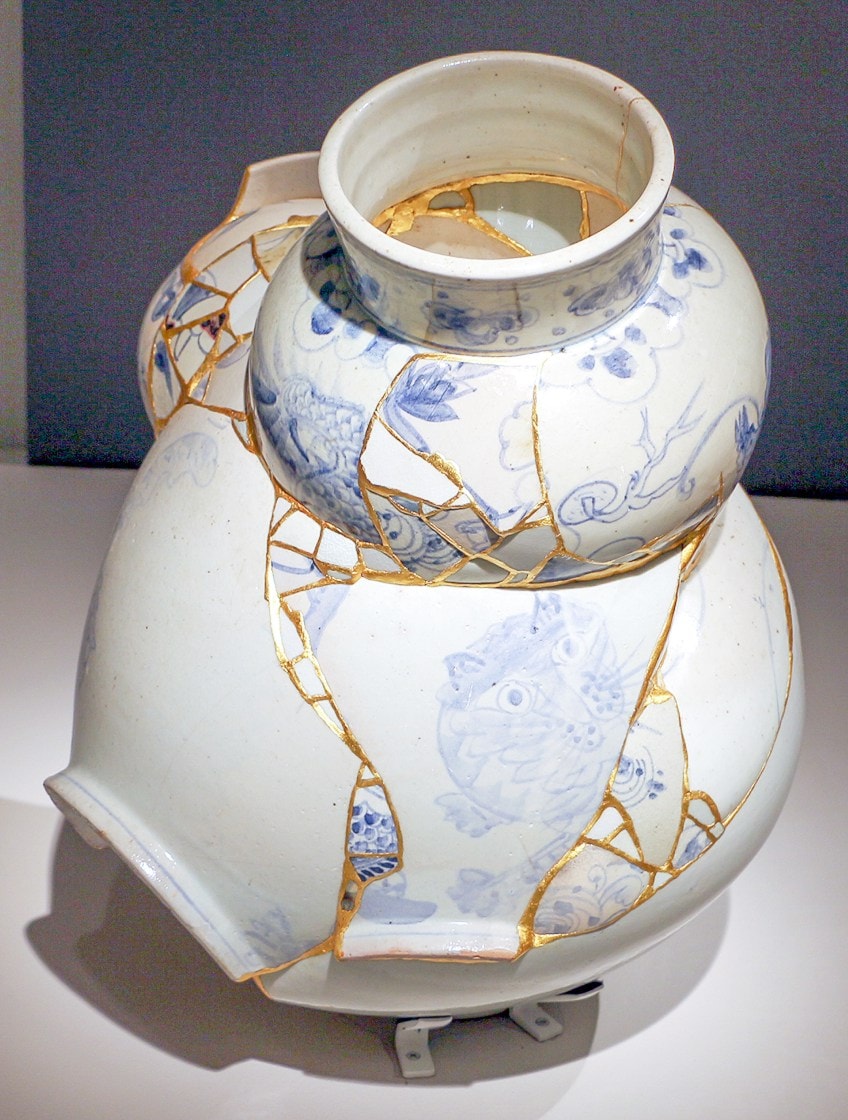 One of Yeesookyung's Translated vases; Sailko, CC BY 3.0, via Wikimedia Commons
The anthropomorphic shape of the jar instantly draws attention, and the recycled earthenware strives to outperform the original elegance of the container. The Translated Vase blends the fragile delicacy of clay ceramics with the reinforced solidity of adhesive and gold, yielding a very beautiful outcome. Due to the Korean words for gold and crack being similar, she covers the fractures in gold. The usage of items with the same name lends a humorous aspect to the piece.
Lei Xue (1974 – Present)
| | |
| --- | --- |
| Nationality | Chinese |
| Lived In | Darmstadt, Beijing |
| Born In | 1974 |
| Known For | Ceramic Art |
Lei Xue, who was born in 1974, paints, produces ceramics, and collaborates on film productions. He is a self-confessed fanatic when it comes to ceramics. He creates unusual aluminum cans out of clay and then utilizes them as molds for his ceramic masterpieces. Lei switches to a hair-thin bristle after the first of multiple firing cycles.
He enjoys painting traditional designs and symbols from his native China, particularly the Ming-era dragons, samurai dances, and cherry trees.
Not the ordinary, everyday style found on cups, dishes, and cookware of China, but on things such as the soda cans of the consumer society, disposable culture that ends up discarded, squashed, and crushed. The lid of Lei's cans even has a pull-tab release. The designer closely monitors each burning stage to guarantee that his creations do not decrease and emerge at the correct size. Since Andy Warhol, no cans have sparked as much curiosity and attention.
In his works, he combines the old with the contemporary. He produces porcelain cans in Ming Dynasty style for his series 'Drinking Tea,' effectively demonstrating links between both the ancient and the new. This novel approach to re-contextualizing material and implementation results in crumpled cans with Ming Dynasty patterns and themes.
Xue adds a modern touch by contrasting a large-scale image with a classical handcraft, comparing the consumption of canned beverages to that of tea ceremonies.
Christopher David White (1976 – Present)
| | |
| --- | --- |
| Nationality | American |
| Lived In | Indiana, United States |
| Born In | 1976 |
| Known For | Ceramic Sculptures |
Christopher David White is an artist from the United States who now resides and works in Richmond, Virginia. Sketching and painting were his first forays into the arts. He didn't start working with clay seriously until 2008, and in 2012 he got his Bachelor of Fine Arts in Ceramics from Indiana University. His sculpted creations are mostly constructed of ceramic and are meticulously detailed, mimicking decomposing wood, rusty metal, and other items in various states of degradation.
His most recent works are concerned with the link involving nature and people, as well as human perceptions of their surroundings.
Everything produced from the environment is subjected to the same repeated cycle of development and destruction in life and death – as nature is always changing. Permanence is the greatest illusion, and change is a continual reminder of that. He investigates the link between environment, humanity, and the concept of mortality by creating hyper-realistic sculptures.
He wants to show the grandeur that may come from deterioration while also having the spectator rethink their own perceptions of the world around them.
To do so, he starts by looking for examples of deterioration in his environment that I find interesting owing to shape, hue, or textures. He then carefully renders those components by hand using clay as his preferred medium, making use of clay's natural capacity to replicate a broad variety of materials. He uses trompe l'oeil as a style choice to underline the idea that our perception of the world is deceptive. The contrast of organic and man-made characteristics, as well as the distorting of size, proportion, and material, contribute to a shift in perspective, compelling the spectator to look a little closer.
And that brings our list of Famous ceramic artists to an end. We have discovered many artists that have used the medium in very unique ways. Pottery artists have developed their own distinct styles throughout the world. Today, these pottery makers continue to make clay sculptures and vases that push the boundaries of the medium.
Take a look at our Ceramic artists webstory here!
Frequently Asked Questions
What Is Ceramic art?
Ceramic artwork is created with clay materials. It can take the shape of beautiful pottery, such as dinnerware, mosaics, figures, and other sculptures. While certain ceramics, such as sculpture or pottery, are regarded as fine art, the majority are regarded as ornamental, commercial, or practical art products.
What Were Ceramics Used For?
Ceramic sculptures have been created by clay artisans for thousands of years. These ancient potters made everything from sacred clay sculptures to pottery for holding liquids and beautiful ceramics for enjoyment. From ancient pottery painters to current ceramic tile artists, creative people have used this readily available and inexpensive material to produce stunning ceramic artwork throughout history.
Isabella studied at the University of Cape Town in South Africa and graduated with a Bachelor of Arts majoring in English Literature & Language and Psychology. Throughout her undergraduate years, she took Art History as an additional subject and absolutely loved it. Building on from her art history knowledge that began in high school, art has always been a particular area of fascination for her. From learning about artworks previously unknown to her, or sharpening her existing understanding of specific works, the ability to continue learning within this interesting sphere excites her greatly.
Her focal points of interest in art history encompass profiling specific artists and art movements, as it is these areas where she is able to really dig deep into the rich narrative of the art world. Additionally, she particularly enjoys exploring the different artistic styles of the 20th century, as well as the important impact that female artists have had on the development of art history.
Learn more about Isabella Meyer and the Art in Context Team.
Cite this Article