Joan Mitchell: the name immediately recalls massive and bold paintings, powerful in their vibrancy, rhythm, and brushwork. An artist loved by many; Joan Mitchell was a passionate female painter of the 20th century and is considered one of the last Abstract Expressionists. By unpacking Joan Mitchell's biography, this article discovers how details about her life further enrich our understanding of the artist and her work.
Artist In Context: Who Was Joan Mitchell?
Joan Mitchell was a prominent Abstract Expressionist painter and printmaker, known for her large-scale, dynamic, colorful, multi-panel masterpieces. Her works are characterized by their layered inspiration from nature and their emotive qualities. Mitchell has a long and consistent career. She reached early success in the 1950s, a time when few female artists were recognized, and continued painting until her death in 1992. The following section elaborates more on Joan Mitchell's biography.
Childhood and Early Education
Joan Mitchell was born on the 12th of February 1925 in Chicago, Illinois. Mitchell was born the youngest of two daughters to an affluent family. From a young age, art and poetry were part of Joan Mitchell's life. Her mother, Marion Strobel Mitchell, was a poet, writer, and editor who sparked Mitchell's lifelong love for poetry. In 1935, at the young age of 10, Mitchell published her first poem, titled Autumn, in a poetry magazine where her mother was also an editor. Mitchell's father, James Herbert Mitchell, was a dermatologist and he would frequently take her to art exhibitions and museums. She also frequently attended Saturday art classes that the Art Institute of Chicago hosted.
Mitchell was afforded the possibility to pursue many interests at a young age.
Apart from her interest in art and poetry, Mitchell also pursued figure skating, horseback riding, and diving. She was particularly good at figure skating and in 1941, she won the Midwest Junior Pairs Title with Bobby Specht, her ice-skating partner. Just a year later, she received the fourth position in the Junior Women's Division of the U.S. Figure Skating Championships. Some critics would later argue that Mitchell's experience in competitive athletics can be seen in how diligent, precise, and daring her painting style was. Some would go so far as to say that her brushstrokes are performing gymnastics on the canvas. Her forceful and physical painting style demonstrated a degree of athleticism that was unique to the medium of painting at the time.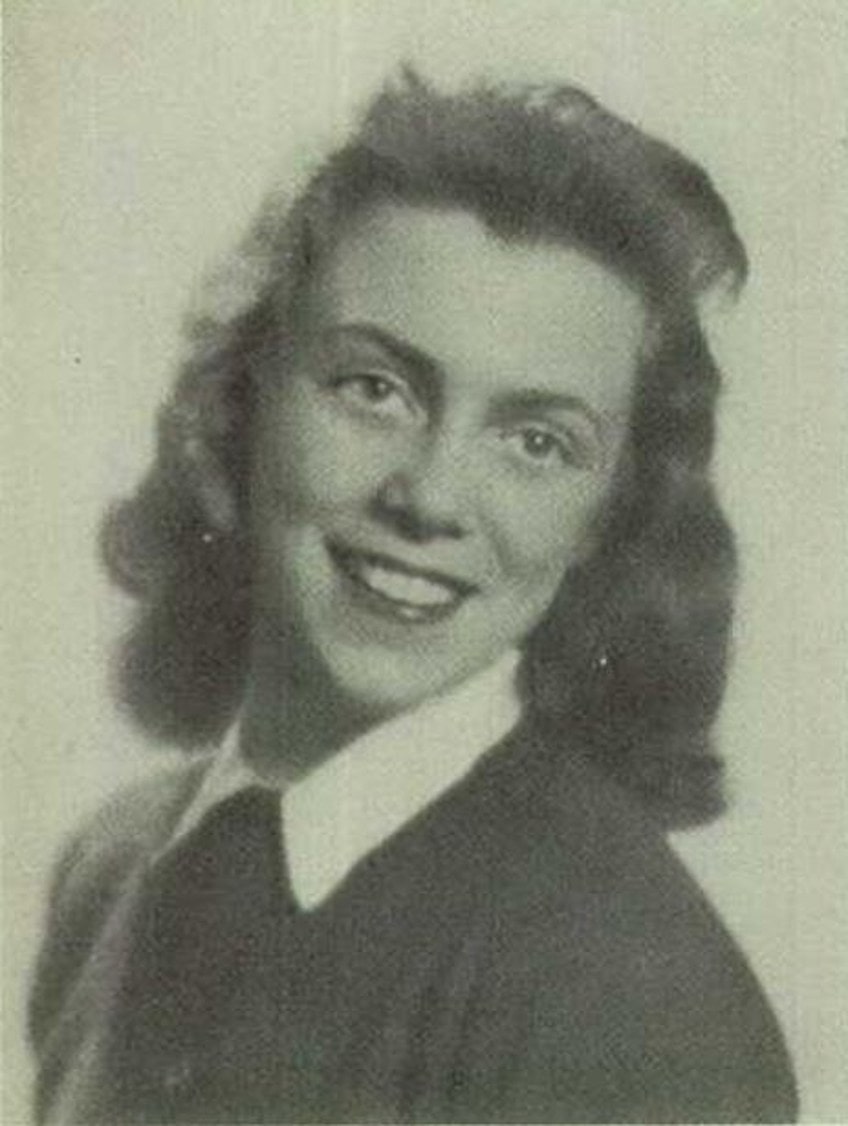 A portrait of American artist Joan Mitchell, c. 1942; Unknown author Unknown author, Public domain, via Wikimedia Commons
In 1943, at the age of 18 years old, Joan Mitchell had her first solo art showcase in Chicago, hosted by her alma mater, the Francis W. Parker School. In 1944, after two years of studying English and art at Smith College, Michell transferred to the School of the Art Institute of Chicago. Here, she studied Fine Arts, focusing on painting and printmaking. Whilst receiving traditional trading, her work already showed the influence of Modernist artists, such as Wassily Kandinsky, Henri Matisse, and the later cubist work of Paul Cézanne.
Mitchell graduated with a BFA degree in 1947 and received an award for her achievements, namely the Edward L. Ryerson Travelling Fellowship. She would later, in 1950, graduate with an MFA from the same institution. Mitchell decided to defer the scholarship with the hopes of studying under Hans Hofmann in New York City. She, however, only attended one class. Mitchell did not enjoy the classes and she was quoted saying "I couldn't understand a word he said" and feeling "terrified". Thus, she decided to leave.
Something else, however, happening in New York at the time had caught the artist's attention: Abstract Expressionism.
After a year of visiting galleries and museums, and becoming familiar with artists such as Jackson Pollock, Mitchell left for Paris on her traveling fellowship. It is during her time in Paris that her paintings of cityscapes, landscapes, and figures became all the more abstract.
Mature Period
In 1949, Mitchell returned to New York City. Here, she became quickly immersed in the Abstract Expressionist art scene. In the same year, she married publisher Barney Rosset, but the couple would divorce in 1952. By age 30, Mitchell was "discovered" and started to show her work with consistency. This was very rare in the 1950s and she was one of the few artists to have had more equal representation compared to her male contemporaries.
Other female artists that received critical acclaim in this era include Lee Krasner, Sonia Gechtoff, Grace Hartigan, Shirley Jaffe, Elaine de Kooning, and Helen Frankenthaler.
Not only were Joan Mitchell's artworks well exhibited, but she was also part of the social art scene. She joined regular gatherings at the Cedar Street Tavern, a popular meeting place for artists and poets. Here, she became friends with artists such as Franz Kline and Willem de Kooning.
The quality of Joan Mitchell's art, along with her social popularity, afforded her an invitation to join the "The Club".
This very exclusive invite-only artists' club, located In Greenwich Village, hosted debates, lectures, and panel discussions. Joan Mitchell's paintings were included in a landmark exhibition in 1951, curated by art dealer Leo Castelli, called 9th Street: Exhibition of Painting and Sculpture. This exhibition included the work of all of the members of "The Club", along with artists like Jackson Pollock, Hans Hofmann, and Willem de Kooning.
A year later, Mitchell would have her first New York-based solo show at the New Gallery, a defining moment in her career. Hereafter, Mitchell would exhibit frequently at the Stable Gallery from the 1950s to the 1960s. This would become a decade for profound development for the artist.
Her paintings became synonymous with a confident execution of color, balance, rhythm, composition, and tension between subtlety and boldness.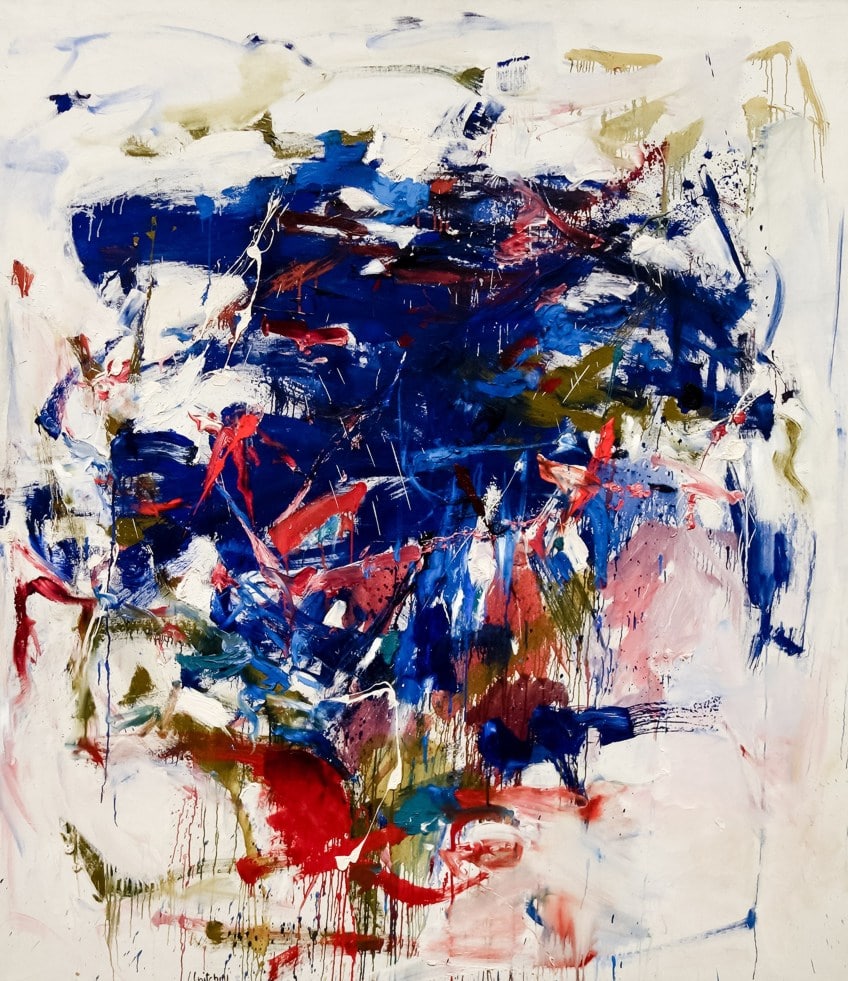 Rock Bottom (1960-1961) by Joan Mitchell; smallcurio from Austin, TX, CC0, via Wikimedia Commons
A Career in France
Up until 1959, Mitchell continued to split her time between New York City and Paris, where she first traveled on her fellowship. In 1955, during one of her visits to Paris, Mitchell met Jean-Paul Riopelle, a Canadian painter. The two shared a long and rich, though sometimes tumultuous, relationship until 1979. While they maintained separate residences and studios, they almost always shared dinners and drinks together.
In 1959, Mitchell decided to move to Paris permanently, stepping away from the New York art world where she was already successful. Part of the reason for her move was because she wanted to be with Jean-Paul Riopelle, and another part was because she enjoyed the different atmosphere and group of artists that she could engage with in France.
Joan Mitchell enjoyed great success in Paris too, exhibiting her work in numerous prolific international exhibitions.
Some of these include the 29th Venice Biennale and Documenta II in Kassel, both of which are still among the most prestigious events to exhibit to this day. Mitchell continued to also exhibit at the Stable Gallery in New York and had numerous international solo shows. She had solo exhibitions in Paris and Italy in 1960, and in Switzerland in 1962. She also participated in group exhibitions all over the world, including among others Germany, Italy, Japan, Switzerland, and the Netherlands.
Logo for the Joan Mitchell Foundation, which supports research, scholarship, and exhibitions to ensure that Joan Mitchell is widely recognized as a significant artist; Joan Mitchell Foundation, Public domain, via Wikimedia Commons
After Joan Mitchell's mother passed away in 1967, she decided to use her inheritance to purchase a two-acre estate that would be her permanent home and studio in the town of Vetheuil just outside of Paris. Mitchell argued that she bought the property so that her 13 dogs can roam freely. The property was immersed in the natural landscape and overlooked the Seine. This new exposure to nature greatly influenced her work. Her work became less structured and more organic.
The scale of her work also increased dramatically thanks to the added space that her new studio afforded her. In this home and studio, Mitchell would spend the remainder of her life.
Mitchell's professional relationship with Galerie Jean Fournier started in 1967, which would provide her work with significant ongoing support. In 1972, Mitchel had a solo museum exhibition, called My Five Years in the Country, which was held at the Everson Museum of Art in New York. This would be Mitchell's first solo exhibition held at a museum and would be followed in 1974 by a profound exhibition at the Whitney Museum of American Art. In 1976, Mitchell began exhibiting regularly with Xavier Fourcade. Fourcade would continue to be her New York art dealer until his passing in 1987.
Important Joan Mitchell Paintings
Whilst some critique her work for lacking subtlety, others praise it for its sensitivity and consideration. Joan Mitchell's paintings are famous for their rich connection to nature and as an expression of her emotions.
Critics observed her works as providing the viewer with a full spectrum of human emotion and the vastness of the natural world.
Even whilst still in school, Mitchell's work had a bold and intelligent relationship with color, something that only become more complex and powerful throughout her career. The following section dives a bit deeper into the power of Joan Mitchell's paintings and how her style shifted throughout her life.
City Landscape (1955)
| | |
| --- | --- |
| Artwork Title | City Landscape |
| Date | 1955 |
| Medium | Oil on canvas |
| Size (cm) | 185 x 152 |
| Collection | Joan Mitchell Foundation |
Mitchell's early work was heavily influenced by the urban energy of New York City. Her famous painting, City Landscape (1955), is an iconic example of this. The work is also influenced by her earlier admiration of cubism in the work of artists like Paul Cezanne. There exists a tension between the horizontal brushwork and the dynamism of the central focus point in the work.
The title of the work also suggests a relationship between the painter's brushwork and the arteries of a city.
The light-filled canvas with its layers of vibrant color also has a distinct impressionist influence. This was Mitchell's way of honoring the work of Philip Guston, an artist who combined Impressionism and Abstract Expressionism, and with whom she shared a studio during the year she spent in Paris.
Ladybug (1957)
| | |
| --- | --- |
| Artwork Title | Ladybug |
| Date | 1957 |
| Medium | Oil on canvas |
| Size (cm) | 197.9 x 274 |
| Collection | Museum of Modern Art |
When looking at Joan Mitchell's Ladybug, the viewer might be tempted to think that it is a very free and spontaneous work. Mitchell, however, was very unambiguous about her process and said that "the freedom in work is quite controlled", highlighting that the work was meticulously planned and plotted. Mitchell also was very clear about the meaning of the work, saying that her work does not aim to replicate nature, but rather tries to depict what nature leaves her with.
Mitchell planned and carefully applied each color, considering the relationship and weight between each brushstroke, and constantly re-evaluating the balance and composition of the work.
Untitled (1964)
| | |
| --- | --- |
| Artwork Title | Untitled |
| Date | 1964 |
| Medium | Oil on canvas, three panels |
| Size (cm) | 162.4 x 324.8 |
| Collection | Museum of Modern Art |
Untitled (1964) is a large dynamic work over three canvas panels. Each panel contains a dark green circular shape painted on them. The shapes appear ominous and looking with their dense, thick, and expressive brushstrokes. Many of Mitchell's work in this time was dark and ominous, and she herself described them as violent and angry paintings. Her previously bright paintings had suddenly become somber and intense. Her dynamic brushwork that used to stretch over the entire surface of the canvas now became dark central masses.
In her personal life, this transition was prompted by the loss of her father and the diagnosis of her mother's cancer.
Sans Neige (1969)
| | |
| --- | --- |
| Artwork Title | Sans Neige |
| Date | 1969 |
| Medium | Oil on canvas |
| Size (cm) | 259.72 x 500.38 |
| Collection | Carnegie Museum of Art |
Sans Neige, which translates to "no-snow", is arguably one of the most impressive of Mitchell's works, created at the height of her career. This massive painting of over five meters long showcases the mastery of mark-making in Mitchell's work. Ranging from thick wet on wet surfaces, to dry brushstrokes, to sensitive areas of wet dripping paint, this work has it all.
Some might even find the work disorientating at first glance, getting lost in the magnitude of its bold rhythm and movement.
When becoming still with the work, however, the marks settle into a beautiful harmony of texture and color, waiting to be explored. Mitchell said that her use of color was inspired by the landscape and by images in her memories of how different landscapes had made her feel. In this way, her work can be seen as aligned with the landscapes of Van Gogh and Matisse, expressive and emotional.
River III (1967 – 1968)
| | |
| --- | --- |
| Artwork Title | River III |
| Date | 1967 – 1967 |
| Medium | Oil on canvas |
| Size (cm) | 259 x 200 |
| Collection | Private collection |
In 1984, At the time Mitchell created this painting, she faced a period of depression of anxiety. In 1984, Mitchell was diagnosed with oral cancer and after extensive cancer therapy, she was left with osteonecrosis, a dead jawbone. Her health was further challenged as soon after she was also diagnosed with osteoarthritis and hip dysplasia. These traumatic events had a psychological impact on the artist's work.
Whilst in a clinic in Louceciennes, Mitchell made smaller watercolor paintings, a medium that required less movement of the hands and body. Her "River" works originated from these watercolor paintings.
Mitchell's New York art dealer, Xavier Fourcade, had suffered health issues around the same time when she was in the clinic. In 1986, Fourcade was diagnosed with cancer and he flew to France for treatment. Mitchell could spend some of Fourcade's days with him and they visited an exhibition of works by Matisse together in December, a few short months before his death on the 28th of April 1987. Mitchell's River, Lille, and Chord series of paintings were all inspired by these events and one can sense the tumultuous emotions of grief, frustration, and longing in these works.
Book Recommendations
As one of the most influential artists of the Abstract Expressionist movement, books on the life and work of Joan Mitchell seem to be endless. To help you avoid getting overwhelmed by choice overload, we have rounded up three of the best books on Joan Mitchell to start your journey.
Two of these books give a better context of the time whilst also introducing other prominent female artists of Abstract Expressionism, whilst the other is simply lush in its illustration and explanation of Joan Mitchell's artworks.
Women of Abstract Expressionism (2016) by Irving Sandler, edited by Joan Marter
This gorgeous book is a stunning full-color survey celebrating women of Abstract Expressionism. Artists in the book include Joan Mitchell, Helen Frankenthaler, Jay DeFeo, Elaine de Kooning, Grace Hartigan, and many more. This is truly a groundbreaking book, giving insights into the lives and art of previously underrepresented female artists that were central to the American Abstract Expressionist art movement.
The celebrated survey of female Abstract Expressionist artists

A lavishly illustrated, full-color biography of over 40 female artists
Explores the art and legacies of women in Abstract Expressionism
View on Amazon
Ninth Street Women: Lee Krasner, Elaine de Kooning, Grace Hartigan, Joan Mitchell, and Helen Frankenthaler: Five Painters and the Movement That Changed Modern Art (2019) by Mary Gabriel
This book brings together five female artists who revolutionized modern art. Written by the National Book Award and Pulitzer Prize finalist, Mary Gabriel, this book is sure to enthrall. Described by the New York Times as a publication that is gratifying, generous, and lush, the book unpacks the lives and art of five gutsy women who changed the art world. The book tells the true story of how these remarkable artists affected the turbulent social and political landscape of post-war America.
Five women revolutionize the modern art world in postwar America

A "gratifying, generous, and lush" true story by Mary Gabriel

Chronicles five women who dared enter the male-dominated art world
View on Amazon
Joan Mitchell (2021) by Sarah Roberts, Katy Siegel, et al.
This book is simultaneously a stunning Joan Mitchell biography and a rich retrospective of her work. The book considers the transatlantic context that influenced her and reveals the ways she contributed to abstract painting in the 20th century. Well-known and rarely seen before works are all printed in indulgent full-color illustrations, following her career from New York to France. The book also features academic essays, highlighting the relationship between the inner and outer landscapes of Joan Mitchell's art.
A sweeping retrospective exploring the oeuvre of

Joan Mitchell
Lavish illustrations cover the full arc of Mitchell's artistic practice
Features scholarly texts, essays, and artistic and literary responses
View on Amazon
Joan Mitchell was an artist who continues to inspire viewers since the 1950s. She is a unique female artist who remained true to her inner vision from her recognition at age 30, until her death in 1922. Her large and impressive body of Abstract Expressionist work can instantly be recognized by its striking energy, boldness, and deep consideration of color. The Joan Mitchell Foundation, established a year after her passing, continues to honor her legacy by supporting various other working artists today.
Frequently Asked Questions
How Many Paintings Did Joan Mitchell Make?
This is always a difficult question to answer because not all the work that an artist makes might be recorded in collections. The Joan Mitchell Foundation has gone to great lengths to try and catalog the massive bodies of work that Mitchell created. On their website, they say that they have recorded more than 550 Joan Mitchell artworks that are representative of the breadth and depth of her work.
Who Inspired Joan Mitchell?
Joan Mitchell was inspired by many things, including nature and her own emotional connections to nature and memories. She has, however, throughout her life, repeatedly mentioned a list of artists who inspired her. This list includes Willem de Kooning, Franz Kline, Vincent van Gogh, Wassily Kandinsky, and Paul Cézanne.
Why Is Joan Mitchell Important?
Joan Mitchell is widely known as one of the most important artists of the post-war era in America. She is one of the most recognizable painters in the second-generation Abstract Expressionist artistic movement and continues to inspire artists to this day. Mitchell is one of the few female artists who were well represented in that era, and it is impossible to talk about Abstract Expressionism and Modern art without considering her name.
Isabella studied at the University of Cape Town in South Africa and graduated with a Bachelor of Arts majoring in English Literature & Language and Psychology. Throughout her undergraduate years, she took Art History as an additional subject and absolutely loved it. Building on from her art history knowledge that began in high school, art has always been a particular area of fascination for her. From learning about artworks previously unknown to her, or sharpening her existing understanding of specific works, the ability to continue learning within this interesting sphere excites her greatly.
Her focal points of interest in art history encompass profiling specific artists and art movements, as it is these areas where she is able to really dig deep into the rich narrative of the art world. Additionally, she particularly enjoys exploring the different artistic styles of the 20th century, as well as the important impact that female artists have had on the development of art history.
Learn more about the Art in Context Team.