Famous cityscape paintings have played an important role in recent art history, from impressionistic paintings by Monet and Pissarro through George Bellows' canvases of American urban areas to Willem de Kooning's abstracted landscapes. From Caillebotte and Manet to Monet and Renoir, Paris was a favored setting for impressionist artists to create city paintings and cityscape art. This article will explore the most famous Cityscape paintings that have captured the imaginations of art lovers worldwide.
Famous Cityscape Paintings
It is difficult to pinpoint the origins of cityscapes or city paintings, however, some early works may be traced all the way back to ancient Rome. Ambrogio Lorenzetti's fresco City by the Sea (1340) is regarded as the first real cityscape in Western art history.
Even if the enthusiasm for cityscape art did not generate a consistent tradition in European cities, there are many representations of the theme in the works of Gentile Bellini, Vittore Carpaccio, Michael Wolgemut, Albrecht Altdorfer, and Jan van Eyck.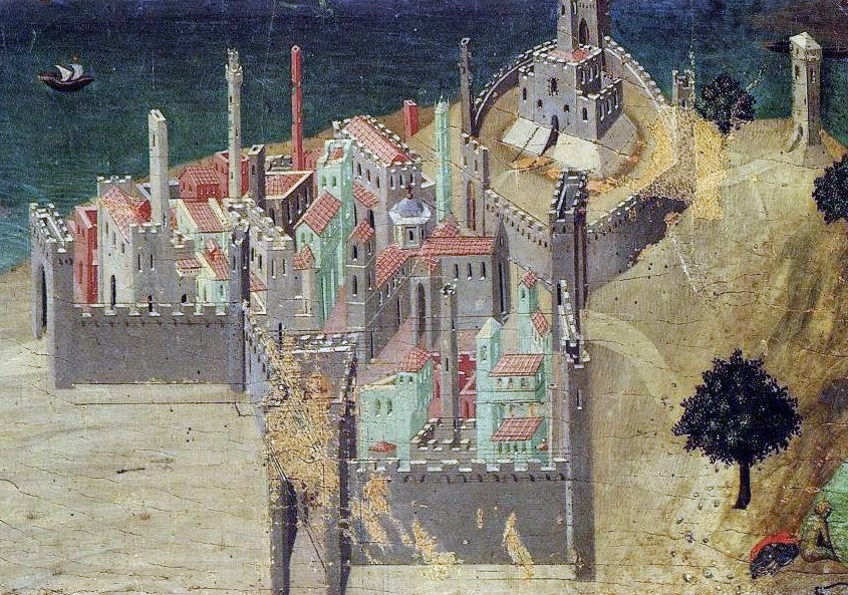 City by the Sea (1340) by Ambrogio Lorenzetti; A. Lorenzetti Siena 1337, Public domain, via Wikimedia Commons
Impressionists were drawn to the revolutionary characteristics of the contemporary city and created outstanding cityscapes that were even acclaimed by critics at the time. The 19th century also saw the rise of American cityscape art, with notable individuals like Robert Henri, Everett Shinn, and George Bellows.
The avant-garde also provided a unique image of the cityscape.
This resulted in paintings by Cubist artists like Robert Delaunay and Fernand Leger – as well as artworks by artists from the School of Paris like Marc Chagall and Henri Matisse – to Piet Mondrian's canvases, which were on the path to abstraction.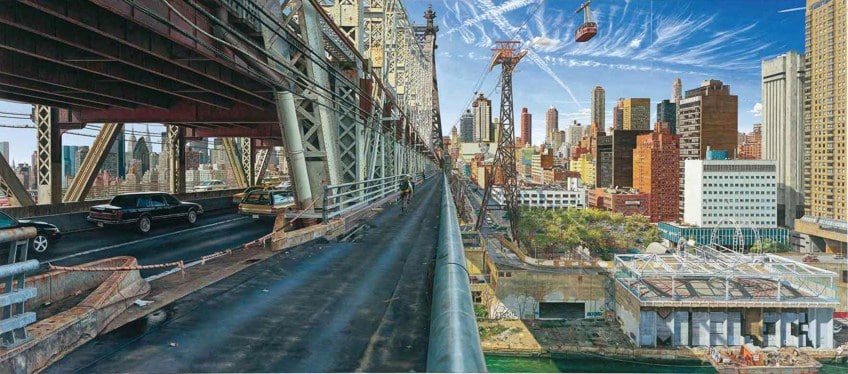 Queensboro Bridge (1999-2001) by Andreas Orosz; Andreas Orosz/Repro-Fotograf: Markus Witt, CC BY-SA 3.0, via Wikimedia Commons
Even though cityscape art fell out of favor throughout the course of the 20th century with the emergence of Conceptual art and abstraction, it influenced abstract artists such as Willem de Kooning and Joan Mitchell. Nonetheless, with the resurrection of figurative artwork at the end of the 20th century, cityscape art has undergone a renaissance due to the Hyperrealists, works of the Bay Area Figurative Movement, and street photographers.
Here are the most famous Cityscape paintings that helped define the genre.
Paris Street, Rainy Day (1877) by Gustave Caillebotte
| | |
| --- | --- |
| Artist | Gustave Caillebotte (1848 – 1894) |
| Date | 1877 |
| Medium | Oil painting |
| Dimensions (cm) | 212.2 x 276.2 |
| Location | Art Institute of Chicago, Chicago |
Until the mid-20th century, this Cityscape artwork was in the collection of the Art Institute of Chicago. The family of the painter sold it to the owner of the Chrysler Corporation, and the Museum was the next purchaser. This acquisition generated a lot of buzz about the creator's name. Varnado, a curator, and art critic was inspired by this picture and produced the sole remaining study on Gustave Caillebotte's life and career.
The artwork is far closer to the post-Impressionist ideals in terms of composition, scale, and atmosphere than it is to the Impressionist works.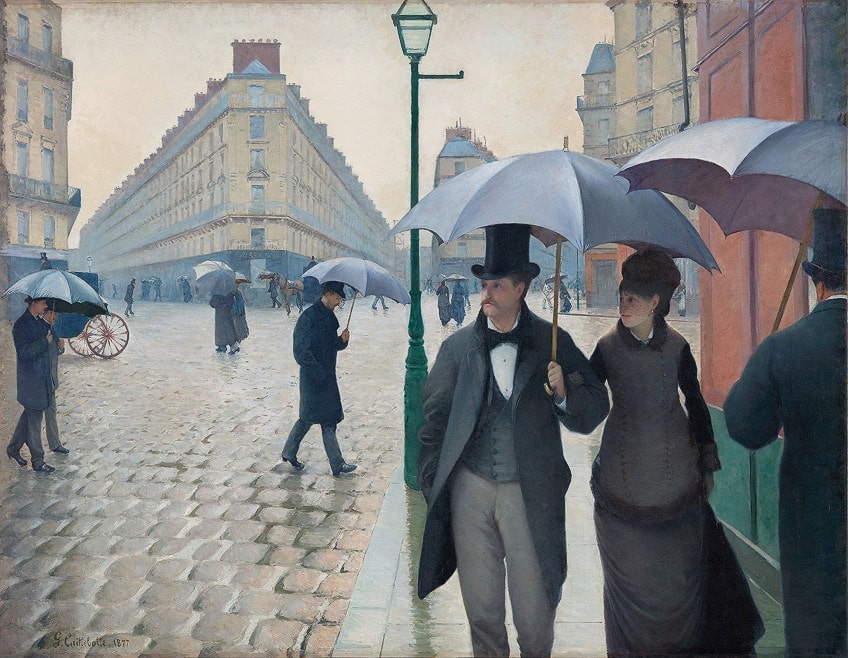 Paris Street, Rainy Day (1877) by Gustave Caillebotte; Gustave Caillebotte, Public domain, via Wikimedia Commons
A Spot in Venice (1894) by Frits Thaulow
| | |
| --- | --- |
| Artist | Frits Thaolow (1847 – 1906) |
| Date | 1894 |
| Medium | Oil on canvas |
| Dimensions (cm) | 66.5 x 82.5 |
| Location | The Pushkin State Museum of Fine Arts, Moscow, Russia |
Venice was maybe the ideal place for Frits Thaulow to work. Except, of course, for his beloved Norway. He couldn't help but be intrigued by the city in which he could observe water everywhere, having studied art from the famed Danish marine painter Carl Frederik Sorensen and spent the initial years of his creative career depicting water. He visited Venice twice and depicted it, but not its inhabitants, as was usual of him.
Thaulow was uninterested in both the hordes of visitors and the lovely people. Water was his goal and the subject of his constant research.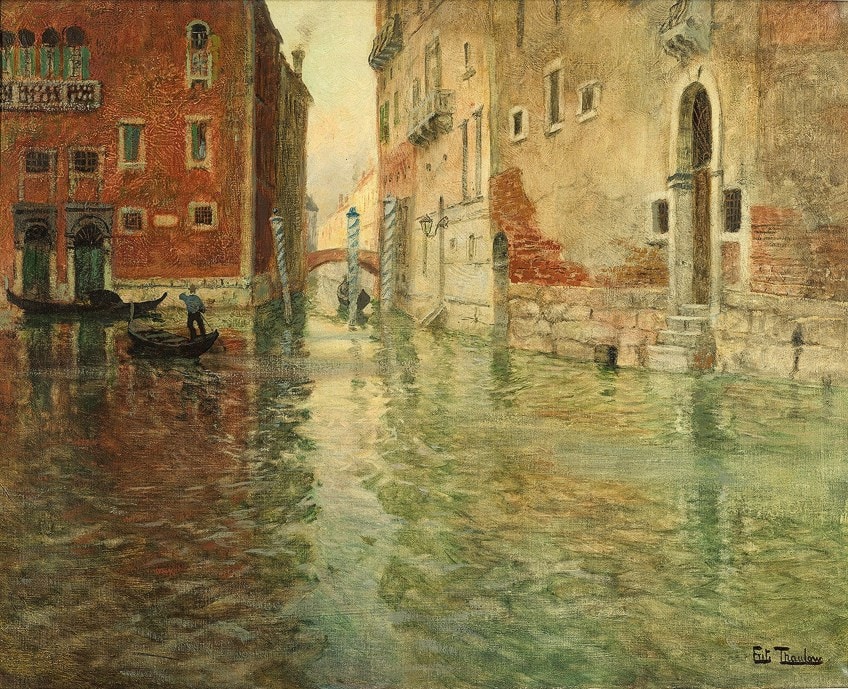 A Spot in Venice (1894) by Frits Thaulow; Frits Thaulow, Public domain, via Wikimedia Commons
The Old Town, Cagnes (1910) by André Derain
| | |
| --- | --- |
| Artist | André Derain (1880 – 1954) |
| Date | 1910 |
| Medium | Oil painting |
| Dimensions (cm) | 82 x 66 |
| Location | The Pushkin State Museum of Fine Arts, Moscow, Russia |
André Derain was an untiring experimenter who was always on the lookout, never remaining in one style for long. Fauvism, Impressionism, Gothic themes, and Neoclassicism are only a few of his interests. During his brief obsession with Cubism, he painted The Old Town, Cagnes.
Cubism's early Cézannist version drew him in initially.
At this point, Derain's aggressive Fauvist palette had been hushed somewhat, and the objects in his paintings had become enormous, and structured, with a definite geometry and a distinct reverse perspective. During these years, he was drawn to all colors of ocher and brown, as well as dark green and blue tones.
Night Windows (1928) by Edward Hopper
| | |
| --- | --- |
| Artist | Edward Hopper (1882 – 1967) |
| Date | 1928 |
| Medium | Oil painting |
| Dimensions (cm) | 74 x 86 |
| Location | Private collection |
Edward Hopper, regarded as one of the most influential realism artists of 20th century America, had a distinct and discriminating vision when depicting vacant towns, landscapes, and lonely persons. His works, imbued with interpretive representation, caught the tone and feel of the 20th century.
Hopper's art frequently depicted the metropolis at night.
This Cityscape artwork depicts an unknown woman in her apartment who is unaware that she is being watched. The picture contrasts ease and voyeuristic access to people's lives with loneliness and isolation in a huge metropolis.
Yellow Porch (1961) by Richard Diebenkorn
| | |
| --- | --- |
| Artist | Richard Diebenkorn (1922 – 1993) |
| Date | 1961 |
| Medium | Oil paint |
| Dimensions (cm) | 177.2 x 167.6 |
| Location | Sotheby's |
The work of American artist Richard Diebenkorn helped shape the school of Abstract Expressionism in California. Moving between abstraction and figuration, he created a distinct style of Northern California realism known as the Figurative School of the Bay Area.
He was primarily a West Coast artist who was heavily affected by his environment in California and New Mexico.
This famous cityscape painting depicts an empty outside porch and a shattered cityscape. A blue chair cut at the bottom border supports the foreground plane, thus drawing the viewer into the painting's setting.
Gordon's Gin (1968) by Richard Estes
| | |
| --- | --- |
| Artist | Richard Estes (1932 – Present) |
| Date | 1968 |
| Medium | Oil painting |
| Dimensions (cm) | Uncertain |
| Location | Private collection |
Richard Estes, the classic New York painter and longstanding pioneer of the Photorealist movement, produces his paintings using photos. His sculptures resemble theater sets, with a million storylines interwoven.
His paintings, which reconstruct reality in incredibly lifelike depictions, frequently have reflecting surfaces that enrich the viewing experience.
His constant inspiration is New York City, which he represents as only a New Yorker can. He depicts the city's renowned sights while also bringing to life its faceless residents. Gordon's Gin is one of his most well-known New York City paintings.
Ventilation Tower with Estivating Snow Plows (1988) by Rackstraw Downes
| | |
| --- | --- |
| Artist | Rackstraw Downes (1939 – Present) |
| Date | 1988 |
| Medium | Oil painting |
| Dimensions (cm) | 97.16 x 127.64 |
| Location | Private collection |
Rackstraw Downes, who is often described as a realism artist, is not fond of the label. Downes, who was born in the U.K. and attended the Yale School of Art, has been producing panoramic vistas of the American landscape for over 35 years. His works exhibit meticulous attention to detail and a unique combination of abstraction and realism and were created after lengthy studies that may take from days to months.
Subjects such as ventilation towers (seen in this cityscape picture), barbed wire fences, subway underpasses, buildings, and landfills demonstrate Downes' fascination with what he calls "the enchantment" of these locations.
Valley Streets (2003) by Wayne Thiebaud
| | |
| --- | --- |
| Artist | Wayne Thiebaud (1920 – 2021) |
| Date | 2003 |
| Medium | Oil painting |
| Dimensions (cm) | 121.9 x 152.4 |
| Location | San Francisco Museum of Modern Art, San Fransisco |
Wayne Thiebaud is most known for his bright Pop art paintings of everyday things such as lipsticks, pies, ice cream cones, cans of paint, pastries, and hot dogs, but he has also painted vistas and cityscapes. His cityscape series began in the early 1970s after he moved to San Francisco.
He depicted surprising views of San Francisco's streets and buildings using his signature vivid palette and precise artistic methods.
People Who Play and the People Who Pay (2004) by Jules de Balincourt
| | |
| --- | --- |
| Artist | Jules de Balincourt (1972 – Present) |
| Date | 2004 |
| Medium | Oil and enamel |
| Dimensions (cm) | 127 x 121.9 |
| Location | Victoria Miro Gallery, United Kingdom |
Jules de Balincourt, a Paris-born artist, investigates the political, social, and economic environments of the United States, where he presently resides. De Balincourt critiques influence and power structures through humorous analysis and flamboyant reinterpretation. His method is varied, and he frequently investigates the dynamic interplay between abstraction and representation.
Through the divides of labor and skin color, his main Cityscape artwork depicts superficial freedoms and their human consequences.
Third Avenue (with Reflection) III (2005) by Yvonne Jacquette
| | |
| --- | --- |
| Artist | Yvonne Jacquette (1934 – Present) |
| Date | 2005 |
| Medium | Digital pigment print |
| Dimensions (cm) | 40.6 x 50.8 |
| Location | Museum of Fine Arts, Boston |
Yvonne Jacquette, a well-known American artist and printer, uses Pointillist methods to create low-altitude aerial vistas. During a journey to San Diego in the 1960s, she got attracted to aerial views. She began flying regularly after that to sketch and explore sceneries and cloud patterns. Jacquette is another painter on our list who frequently depicts New York City.
Her picture contrasts her quilt-like approach with Manhattan's sparkling new skyscrapers and speeding traffic.
Famous Cityscape paintings have been prominently produced for the last century or so. This makes sense, as most modern cities have only been constructed in that time frame into the sprawling massive metropolises they are today. These wonderful cityscape artworks give us a taste of inner-city life through the ages.
Frequently Asked Questions
Which Art Movement Produces Cityscape Art?
Cityscape art is not confined to a single style. It can be found in many different movements and schools. From realistic depictions to abstract paintings, Cityscape art has been a favorite of many artists through the years.
What Is Cityscape Art?
Cityscape art is closely related to landscape art. Whereas landscape art is more focused on natural views, cityscape paintings focus on urban areas. Cityscape art captures the atmosphere, colors, buildings, and people that inhabit the inner-city areas.