Willem de Kooning – Abstract Artist Willem de Kooning's Biography
Willem de Kooning was a prominent American-Dutch painter and a key member of the Abstract Expressionist style. He was unquestionably one of the most influential artists of the 20th century. Willem de Kooning's art was loosely based on people, landscape vistas, and still life arrangements, and they contributed to the development of what is now known as a particularly American form of contemporary artwork. In this article, we will be exploring Willem de Kooning's biography and incredible artworks.
Willem de Kooning's Artwork and Life
The fact that he retained a devotion to the figurative traditions to some extent distinguishes this artist from the majority of his prominent peers who chose total abstraction. De Kooning, who was strongly influenced by Pablo Picasso and Arshile Gorky, was regarded to have merged Expressionism, Cubism, and Surrealism within his visual compositions, setting the way for decades of expressive figurative artists.
Although he was known for constantly altering his paintings, De Kooning frequently left them with a feeling of active incompletion, as if the figures were continuously flowing, resting, and growing into clarity.
Presentation of the Talensprijs to Willem de Kooning in 1968; Jack de Nijs for Anefo, CC0, via Wikimedia Commons

Willem de Kooning's Biography
| | |
| --- | --- |
| Nationality | American-Dutch |
| Date of Birth | 24 April 1904 |
| Date of Death | 19 March 1997 |
| Place of Birth | Rotterdam, the Netherlands |
De Kooning was born in the Netherlands in the year 1904. He embraced the creative path from an early age, leaving school at the age of 12 to undertake an internship in commercial designing and interior decoration. Leaving school to seek a career in contemporary painting was not an uncommon event at the time, as many creative people did in search of an artistic outlet.
Early Training and Career
During this time, De Kooning attended night studies at the Rotterdam Academy of Fine Arts. He began his first job in the art sector at the age of 16 when he was presented with the chance to collaborate with the art director of a prominent department store. Nevertheless, his life did not appear to improve even after he acquired work.
In 1926, De Kooning slipped away on a ship destined for America, thinking that the mythical American art scene would prove to be a far more lucrative environment for a young, ambitious artist.
He bounced between numerous occupations in the Northeast before settling in New York City. De Kooning was unable to devote himself to his artistic ambitions while having little trouble obtaining work in New York. He was employed in the commercial art industry for several years, and things didn't seem to have changed all that much from when he worked in a comparable profession in the Netherlands.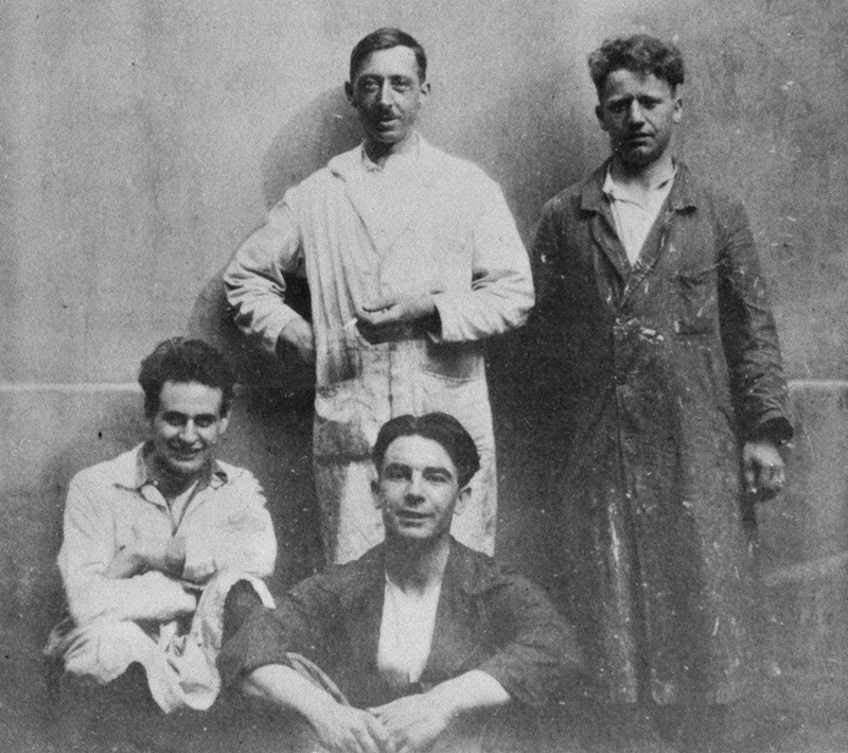 Group portrait painting studio of Jaap Gidding in the Aert van Nesstraat, 1905-1930. Standing on the left is Jaap Gidding and sitting front-center is Willem de Kooning; Anoniem., CC0, via Wikimedia Commons

Nevertheless, De Kooning was able to connect with a community of like-minded creatives in New York who inspired him to create art for himself and to get as far away from the formal commercial art industry as possible. Around the time of 1928, he started to paint still lifes and humans, but it was not long before he was experimenting with more abstract compositions, motivated by artists like Joan Miró and Pablo Picasso.
Willem de Kooning's real breakthrough came in 1935 when he was selected to be the authorized artist of the government art project for the WPA, which required him to create a multitude of frescoes and other works.
Willem de Kooning's paintings were featured prominently in a MOMA exhibition titled New Horizons in American Art in 1936. This early professional achievement was regrettably tarnished the next year, however, when Willem de Kooning's work with the WPA was terminated since he was not an American citizen.
Shortly after, De Kooning started creating a series of masculine figures. He also employed an assistant, Elaine Fried, who would pose as a female subject for several of his works, including Seated Woman (c. 1940).
This would be De Kooning's first big artwork of a woman, as he would then go on to be most renowned for his decades-long work depicting women in his works.
Willem de Kooning's Art and the Abstract Expressionist Movement
De Kooning and Fried wedded in 1943 and had a hot-tempered, booze-soaked existence together until they divorced in the late 1950s. Creatively, De Kooning continued to represent figures while also stretching out into more abstract kinds of art. For the rest of the artist's career, these abstract compositions proceeded to reveal the existence of human shapes inside them. Willem de Kooning's two creative techniques eventually blended in Pink Angels, one of his earliest notable contributions to Abstract Expressionism, in 1945.
De Kooning quickly rose to prominence in the Abstract Expressionism movement. Due to its conceptual essence, heavily affected shapes, and mixed medium technique, De Kooning's iconic black works are also important in the development of this broad and vaguely defined school of American art. In the mid-1950s, he shifted his focus from abstract to landscape paintings.
Willem de Kooning's paintings of landscapes would help establish a whole creative phase in his artistic life, since his decision to focus on them was a surprise to the entire industry.
Mature Works
While landscape paintings were the central topic of de Kooning's mature work, the female figure stayed an essential symbol for his work and for his entire life. Willem de Kooning's artworks depicted women as a consequence of cravings, disappointments, inner conflicts, and joys.
His earlier abstract paintings and later landscape canvases were also profoundly philosophically anchored, but the depiction of women remains his most personal artistic output.
De Kooning would become an American citizen in 1961 and moved to East Hampton, New York. De Kooning and Fried reconnected in the mid-1970s and stayed together until her passing in 1989. Throughout the 1980s he continued to work, but the emergence of Alzheimer's disease eroded his memory and significantly hampered his capacity to paint. When his wife passed away in 1989, De Kooning was cared for by his daughter until his passing in 1997. At that time, he was 92 years old.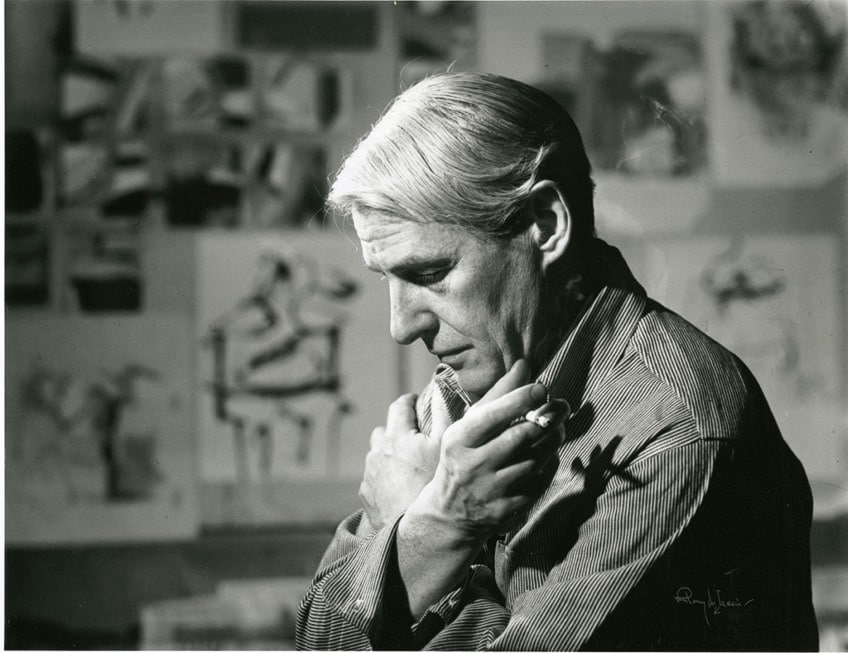 Willem de Kooning in his studio, 1961; Unknown author Unknown author, Public domain, via Wikimedia Commons
Willem de Kooning's Artistic Legacy
Whereas Jackson Pollock has been hailed as the most significant and impactful Abstract Expressionist and is said to have inspired Allan Kaprow, many young artists at the time discovered that copying Pollock's method of painting often resulted in works that just looked like Pollock's. Nevertheless, De Kooning's utilization of color and impressionistic implementation of paint, as well as his disdain for the boundaries between abstraction and figuration, helped inspire artists and led critics to praise his work.
Following in De Kooning's footsteps, figurative painters Grace Hartigan and Larry Rivers and artists like Jack Whitten and Al Held continued to play freely with abstraction. Even artists like Robert Rauschenberg, who infamously used one of De Kooning's works, erased it, and then displayed it as his own art, and who tried to remove himself from the existential jargon around De Kooning, discovered insights in Willem de Kooning's artwork.
The beauty of Willem de Kooning's paintings from the 1980s and the rich vibrancy of his paintings from the 1960s and 1970s may not have garnered the same critical praise as his previous work, but De Kooning's effect on artists is still significant today, especially those drawn to gestural approaches.
Without his influence, Cecily Brown's very abstract and sexual art is impossible, and Amy Sillman has similarly rebalanced the masculine histrionics connected with Abstract Expressionists in her modern paintings.
Signature of Willem de Kooning, 1977; Wmpearl, CC0, via Wikimedia Commons
Willem de Kooning's Artworks
While he came to symbolize the common stereotype of the masculine, hard-drinking painter, De Kooning treated his work with diligence and was regarded as one of the most informed of the New York School painters. He exhibited remarkable skill, having been properly taught as a young man, and while he appreciated Modern masters such as Matisse, Picasso, and Miró, he also adored Rubens, Ingres, and Rembrandt. Let us now take a look at some important examples of Willem de Kooning's paintings.
Seated Woman (1940)
| | |
| --- | --- |
| Date Completed | 1940 |
| Medium | Oil and charcoal, masonite |
| Dimensions (cm) | 137 x 91 |
| Current Location | The Philadelphia Museum of Art |
A portrait commission led to the creation of Seated Woman. Elaine Fried was a frequent model for De Kooning about this time. in Willem de Kooning's artwork, the woman is seated on a chair, with one of her legs crossed over the other one, donning a low-cut yellow dress. One arm lies on her empty lap, while the other appears to curve up toward her face despite the absence of a hand. As curator John Elderfield points out, all of her body parts, which appear more like forms, float about her body, seemingly unconnected.
In the early 1950s, De Kooning wrote, "I'm talking about the familiarity you get when you look at someone's big toe up close or a wrinkle in a nose. The pictures created by those components are interchangeable and become several patches of paint or brushwork."
Given his difficulties with portraying specific human parts, it's understandable that he would simplify them to so many forms, flipping, turning, and employing them in diverse arrangements. This picture clearly demonstrates De Kooning's aesthetic inspirations. The green, orange, and blue backdrop have been sanded down numerous times, resulting in a flawless, almost jewel-like finish. The color planes allude to both Cubist space and Mondrian's Neo-Plastic works. The squares also resemble the walls of an artist's workshop, with numerous paintings nailed and heaped against them.
This work might be considered a companion piece to a sequence of works of seated males, and it was De Kooning's first big portrait of a woman, a topic to which he would often return over the years.
Pink Angels (1945)
| | |
| --- | --- |
| Date Completed | 1945 |
| Medium | Oil and charcoal |
| Dimensions (cm) | 30 x 33 |
| Current Location | Frederick R. Weisman Art Foundation |
Coral- and pink-colored biomorphic figures hover above and blend with a backdrop of yellows and golds in this work, which marks a significant milestone in De Kooning's transition from human figures to abstractions in the late 1940s. The fleshy pink structures resemble eyeballs and other bodily features that have been ripped apart or are clashing. Certainly, the horror of WWII must have been in his thoughts, but curator John Elderfield has also noted links to Picasso's Guernica, Matisse, and Miró.
Crucially, De Kooning refused to conceal the method of creating the painting.
Charcoal lines define the pink shapes and cross the golden sections all through the composition. In the bottom left corner, there is an eye, maybe part of a fish head, adjacent to a crab-like figure in the bottom right. De Kooning frequently drew shapes on paper and then traced them onto canvas.
"He was continuing to utilize tracings to place and rearrange sketched shapes alongside and above the others on the canvas as he produced," Elderfield writes, "a method that helps to explain the intricate layering and startling, changing dissonances that enliven the artwork's surface." Whereas most Abstract Expressionists eschewed making drafts for their works but rather worked impulsively, De Kooning developed a process that permitted for the fluid creation and reorganization of his compositions, retaining their spontaneity.
Woman III (1953)
| | |
| --- | --- |
| Date Completed | 1953 |
| Medium | Oil on canvas |
| Dimensions (cm) | 170 x 120 |
| Current Location | Private Collection |
Thick swaths of dynamic, vertical, and horizontal motions in creamy and silvery tones blanket the canvas's surface. The form of a wide-eyed, lady arises from this frenzied surface. She has golden hair and a wide smile. The figure's compactness provides the impression that the body is being crushed or restrained, while its gestural character gives the impression of wound-up vitality.
The figure's subtle narrowing towards the ankles and the knees are evocative of ancient figurine idols, predecessors for the prominence of the feminine form in the art to which De Kooning frequently referenced.
Significantly, De Kooning combines the person and ground altogether, making it impossible to tell where one starts and where one finishes, resulting in the lady dissolving into and emerging from the backdrop, an effect De Kooning referred to as "no-environment."
We can see the manner in which body and nature would blend in his later works in these female works from the early 1950s. De Kooning frequently returned to the topic of women. Some attributed the matter to his strained relations with his wife, his alienated connection with his own mother, and his predilection for womanizing.
Some speculated that De Kooning must despise women since he used streaks of red paint to simulate three bullet wounds across her chest, but De Kooning answered by stating, "I thought it was rubies." "The bullet holes, be it known, are extremely stylish rubies that attach to the skin" Elaine de Kooning said.
While detractors may have superimposed their own worries and sexist inclinations onto Willem de Kooning's paintings, they overlooked how De Kooning dealt with and embraced popular, consumerist culture in his works. He frequently described his women as humorous, satirizing department store shoppers and the elegant ladies who strutted along Madison Avenue.
De Kooning was fascinated with pin-up females and cinema celebrities, as well as old idols. He was one of the very few Abstract Expressionists to tackle such themes, and as a result, he became a reference for new artists such as Larry Rivers, Robert Rauschenberg, Grace Hartigan, and subsequent Pop artists.
Woman and Child (1967)
| | |
| --- | --- |
| Date Completed | 1967 |
| Medium | Oil on paper |
| Dimensions (cm) | 139 x 91 |
| Current Location | Private collection |
It didn't take long after De Kooning relocated to East Hampton, for him to pick up the figures again. While he was still fascinated by celebrity culture, he also became interested in individuals who lived nearby and visited the beaches. Woman and Child depicts the pink skin and bosom of a woman whose legs are raised up and touching.
A large-eyed orange-haired person, likely the child suggested in the title, lays beside her, or perhaps the youngster is seated. In fact, the title alludes to the names given to traditional portrayals of the Virgin Mary and Christ Child, which De Kooning was undoubtedly conscious of. De Kooning, in a bold move, helps make the celestial and divine somewhat tangible.
De Kooning alters the viewpoint and figures to such an extent that the artwork's space becomes completely indeterminate.
Body parts, like in his early female figure works from the 1940s, take on shapes and life of their own, totally distinct from where they are intended to be. In the 1970s, the more abstract figure would totally disintegrate into vast, expressive, all-over abstraction. Many people criticized these artworks for being out of date.
Their excessively pink and pastel colors, rich and seemingly overwhelming gestural nature, and enthusiasm stood in stark contrast to the coldness of Minimalism, and Pop art of the period. Some others were also put off by a person of De Kooning's age indulging in such overt sensuality. Despite these reservations, De Kooning was at the pinnacle of his reputation in the 1960s, with buyers and institutions alike eager to purchase Willem de Kooning's art.
Untitled VI (1983)
| | |
| --- | --- |
| Date Completed | 1983 |
| Medium | Oil on canvas |
| Dimensions (cm) | 137 x 152 |
| Current Location | Robert and Jane Meyerhoff Collection |
Towards the close of the 1970s, De Kooning was dealing not only with his own alcoholism and despair but also with his old all-over painting approach; he was seeking for a new manner of painting. At the time, a friend described the artist, "What he wants to accomplish today is really 'free,' He evokes Matisse's La Danse." Even though he tried to forge a new path, he reverted to old traditions in certain instances. Untitled VI's surface is richly and exquisitely painted in places and thin and scraped away in others. There are compelling forms, layers, and striking contrasts. Stringy ribbons of blue and red appear to float across the canvas's surface, evoking forms, and eddies.
The white, empty screen between the lines gradually becomes substantial and equally provocative, a recurring theme in Willem de Kooning's artwork.
The shapes in De Kooning's 1980s works of art were frequently influenced by his earlier works, according to one of his workshop assistants from the time. He explained that he glanced at photographs of the earlier works and streamlined their shapes and lines "so that the new works of art are distillations of the older ones."
Many people regarded De Kooning's later works with suspicion after he stopped painting in 1990 as if they were too dependent on a group of studio helpers who were filling in for an ill artist. However, when compared to his older artworks, the paintings from the 1980s are a graceful and lighthearted emanation of his entire professional life.
A number of artists have been affected by Willem de Kooning, one of the most well-known abstract expressionists in art history, both during his lifetime and long after his passing. His use of intricate figures, which added a sense of ambiguity, was the most effective method that increased De Kooning's popularity. Additionally, it was noted that certain background figures appeared to cross over other painting elements, giving the impression that they were in the front. All these small details helped establish Willem de Kooning as the Master artist he is seen as today.
https://www.youtube.com/watch?v=B0Xd61nV1Gg
Frequently Asked Questions
What Is Willem de Kooning's Interchange?
Willem de Kooning's Interchange (1955) is the title of one of his art pieces. De Kooning's choices for the titles of his canvases seemed to be allusions to the New York City area where he was then residing, such as Interchange. It signaled the shift in Willem de Kooning's artworks from depicting ladies to abstracted urban settings. It illustrates a change in De Kooning's painting style brought about by the artist Franz Kline, who encouraged De Kooning to use fast gestural markings rather than forceful brushstrokes.
Who Was Willem De Kooning?
Willem de Kooning, who was regarded by many of his contemporaries as their leader, may be compared to Jackson Pollock, who served as the New York avant-garde's poster boy. De Kooning had become well-known as an artist by the 1940s. He worked in a variety of genres throughout the span of nearly 70 years, finally establishing himself as a key connection between New York School painting and European modernism. His art, which spanned from abstraction to figuration and sometimes combined the two, was characterized by endless modifications.
Isabella studied at the University of Cape Town in South Africa and graduated with a Bachelor of Arts majoring in English Literature & Language and Psychology. Throughout her undergraduate years, she took Art History as an additional subject and absolutely loved it. Building on from her art history knowledge that began in high school, art has always been a particular area of fascination for her. From learning about artworks previously unknown to her, or sharpening her existing understanding of specific works, the ability to continue learning within this interesting sphere excites her greatly.
Her focal points of interest in art history encompass profiling specific artists and art movements, as it is these areas where she is able to really dig deep into the rich narrative of the art world. Additionally, she particularly enjoys exploring the different artistic styles of the 20th century, as well as the important impact that female artists have had on the development of art history.
Learn more about Isabella Meyer and the Art in Context Team.
Cite this Article