Armenian-Russian artist Ivan Aivazovsky (1817-1900) is considered one of Russia's greatest painters for more than just his influence, rankings, political affiliations, and wealth. Named Hovhannes Aivazian by baptism, Aivazovsky 's popularity continues to thrive as a source of mastery and reference for aspiring seascape painters. Below we will dive into the life and development of the artist, whose 60-year-long career, spanning Russia, Europe, and the United States, informed the process and artwork of this Romanticist.
An Ivan Aivazovsky Biography
Born in 1817 in one of the most isolated areas of Russia, Feodosia, Ivan Aivazovsky became one the most important Russian painters specializing in oil painting across a variety of art styles, the best executed being nautical painting. Feodosia was located quite far from the artist's first formal artistic education in Saint Petersburg, and while many have claimed that Aivazovsky displayed a traditional mindset, it is evident from his expression in romantically-styled paintings that his journey away from old-school beliefs shifted.
| | |
| --- | --- |
| Date of Birth | 29 July 1817 |
| Date of Death | 02 May 1900 |
| Country of Birth | Feodosia, Crimea |
| Other Names | Hovhannes Aivazovsky, Giovani Aivazovsky, Ivan Gaivazovsky |
| Art Movements | Romanticism, Realism, |
| Genre / Style | Maritime painting, Orientalist, Armenian, Portraiture, Religious painting, Landscapes, Seascapes, Realistic, Romantic painting |
| Mediums Used | Oil painting, Drawings, Sketches |
| Dominant Themes | Seascapes, Coastal Scenery, Naval Battle Scenes, Ocean Waves, Memories |
In joining the move away from the rationalist approach brought through the era of "enlightenment", one can perhaps say that Aivazovsky, through his superb execution of Romanticism in his maritime paintings, shaped him into a deviant of tradition.
Aivazovsky was also exposed to multiple scenes and environments, being a well-traveled man of stature from Russia with the fourth-highest civil ranking as Actual Civil Councilor in 1870, he was most definitely set up for success and opportunity for experience.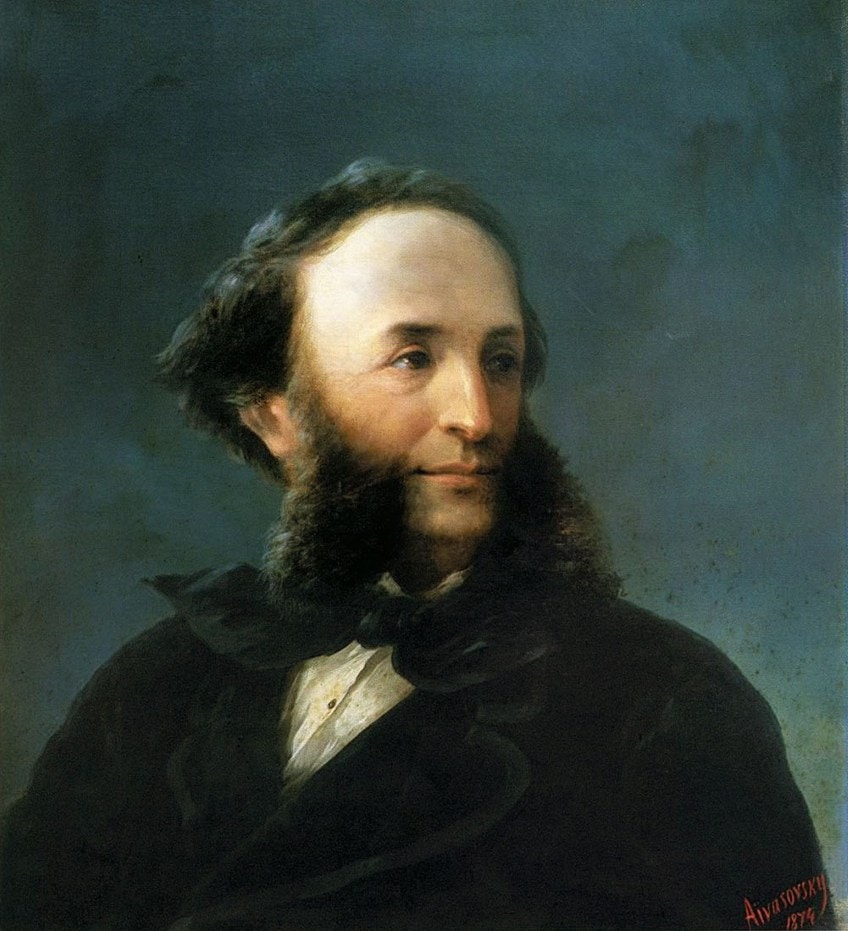 Self-portrait (1874) by Ivan Aivazovsky; Ivan Ayvazovsky, Public domain, via Wikimedia Commons
Maritime Painting – For the Romantics
As an avid art historian or enthusiast, you may have come across a genre of paintings defined by large crashing blue waves, dark stormy seas, and intricately designed ships either battling to stay afloat at the mercy of the ocean or being "wooed" gently by the calm waves. This genre of painting is referred to as maritime painting (or nautical painting) depicting scenes in an "expressionistic" manner, with vast open seascapes, gigantic ships dancing in the sea, a contrast of either a violent stormy evening, the crack of dawn, or a magnificent orange sunset.
These are just some of the features you might find when viewing famous maritime paintings.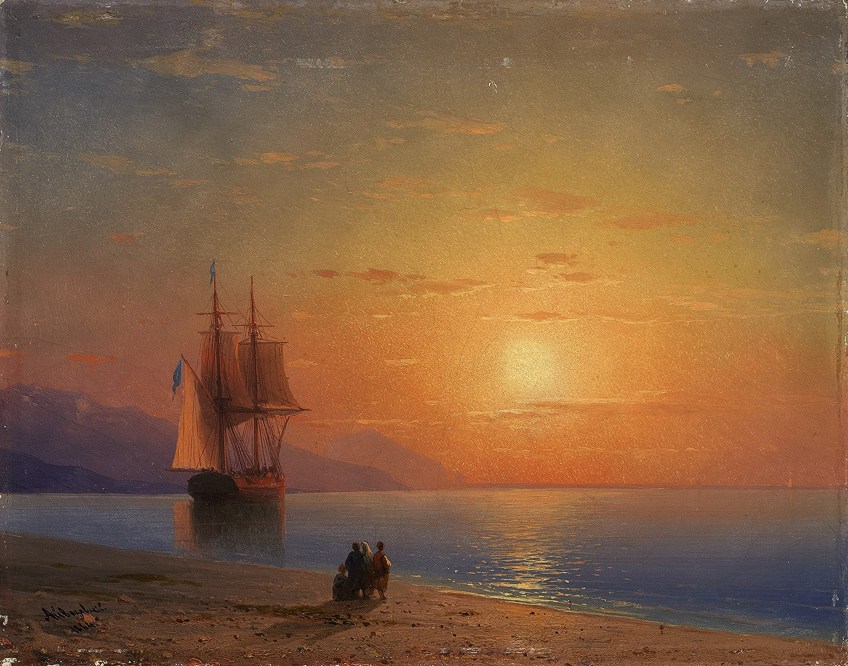 Sunset at Sea (1864) by Ivan Aivazovsky; Ivan Ayvazovsky, Public domain, via Wikimedia Commons
Maritime painting is associated with a particular style of painting called Romanticism. The Romantic style of painting included more freedom of expression and integration of emotion and intuition when painting. This movement emerged at the close of the 18th century and was seen as a break away from the traditions of the great "enlightenment" characterized by rational-centric methodologies.
Following the American revolution of 1775, the idea of Romanticism grew and spread throughout Europe and even reached the United States. It is important to keep in mind that movements are not events that occur solely on their own.
Movements within art history are informed by the social, political, and economic environment around the world, which in turn impacts the visual imagery produced by a movement.
Considering the American Revolution was a major historical event of upheaval and war, many experiences falling under the Romantic era of painting include "a sense of nationalism". Romanticism as a genre allowed artists to express their point of view of such historical events and travels with enough room and acceptance of the idea of incorporating the artist's personal views.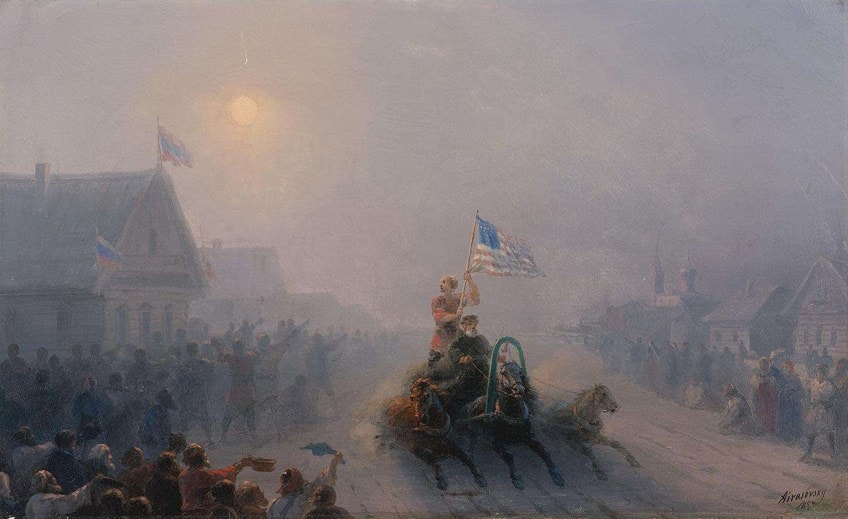 Distribution of Supplies (1892) by Ivan Aivazovsky; Wdmitry16, CC BY-SA 4.0, via Wikimedia Commons
Ivan Aivazovsky: Artistic Development
Aside from acquiring and posthumously maintaining the status of being one of Russia's great masters, Ivan Aivazovsky was a highly-skilled artist who initially received training in drawing from the architect, Jacob Koch. After his move to the Russian capital of Saint Petersburg, he received artistic training from a landscape class at the Imperial Academy of Arts in 1833.
From then on out, Aivazovsky set the tone of his career as a high flier, graduating from the academy two years earlier than expected – and with a gold medal.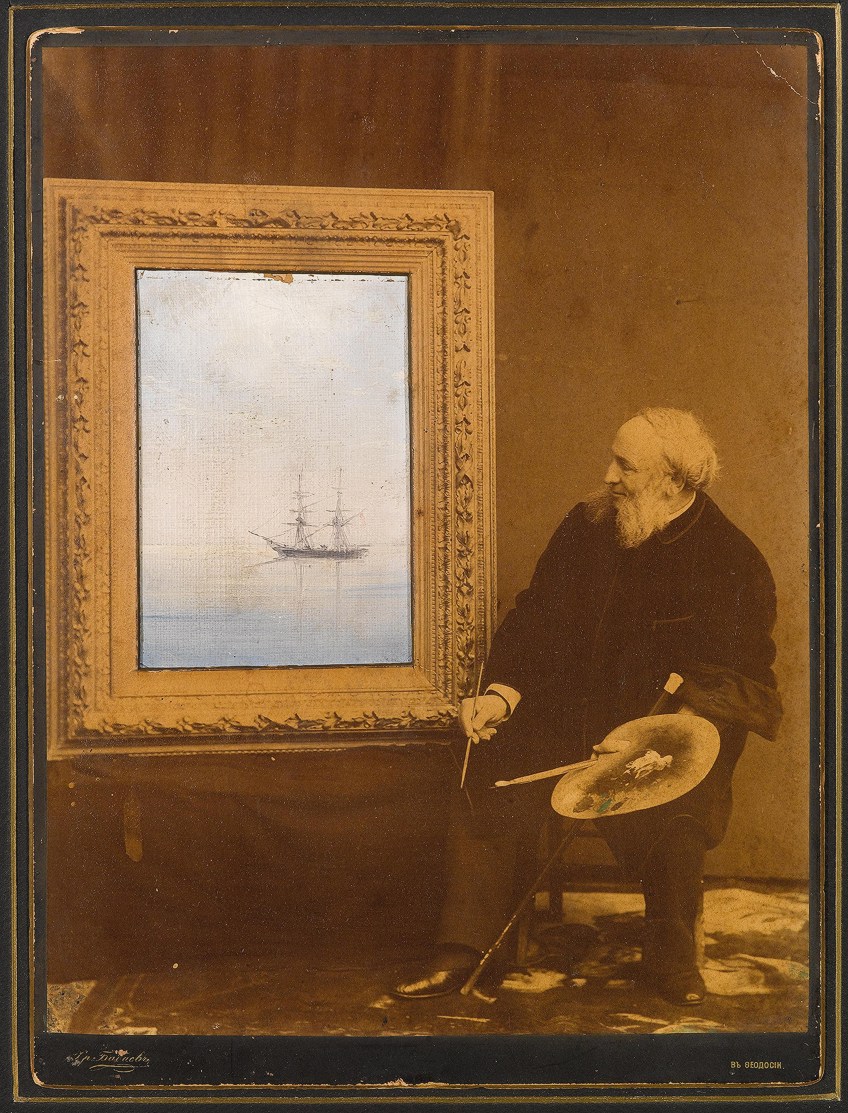 View of a seascape with a photo portrait of Ivan Aivazovsky [by 1900]; Ivan Ayvazovsky, Public domain, via Wikimedia Commons
Travel and Resistance
Aivazovsky was a well-traveled man of stature, having multiple connections with Russia's political elite, and was even appointed the primary artist assigned to the Russian Navy to paint various militant scenes, including seascapes, battle scenes, and coastal environments.
In addition to the benefit of exposure to different experiences as a well-established member of Russian society, Aivazovsky also received his fair share of criticism during a period in Russia when Romanticism was at the turning point of losing traction in the art scene.
It was during the period when Russia was in the process of moving towards Realism and Aivazovsky's reputation of not embracing current Russian development can be seen in a new light. Despite the trends of Russia, Aivazovsky chose to keep painting through the lens of Romanticism – a movement he kept in motion for the rest of his life.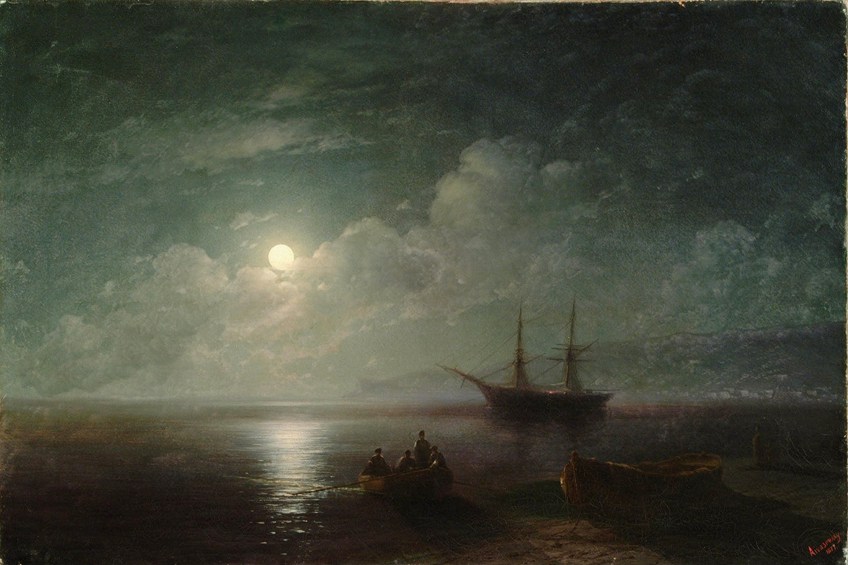 Seascape with a full moon (1857) by Ivan Aivazovsky; Ivan Ayvazovsky, Public domain, via Wikimedia Commons
Ivan Aivazovsky: Inspired
Among the many external influences that contributed to Aivazovsky's greatest artworks are the influence of his hometown culture, his Armenian nationality, Armenian art, Italian art, as well as his many expeditions. One key event that truly affected the artist, which was quite close to his culture, was the Hamidian massacres (also known as Armenian massacres), which took place around 1894 to 1896 and were initiated by the Abdülhamid II regime.
During the time, the news of the massacres spread like a plague across the globe and the tragedy had a massive emotional impact on many whose families still lived in the Ottoman Empire.
Aivazovsky had also felt a degree of betrayal since he was commissioned for many works in Istanbul, upon the request of Sultan Abdülmecid. Around 30 of his commissioned pieces are on exhibit at the Dolmabahce Museum, Ottoman Imperial Palace, and numerous other Turkish museums.
Stormy sea (c. 19th century) by Ivan Aivazovsky at the Dolmabahce Museum; Sefer azeri, CC BY-SA 4.0, via Wikimedia Commons

Ivan Aivazovsky and Archaeology
In addition to his many accolades, expeditions, and interests, Aivazovsky also had a keen interest in archaeology and was even responsible for a few excavations in Feodosia. The majority of his findings consisted of gold jewelry, clay statues, bones, amphorae, and even a sarcophagus, all dating around the third to fifth centuries BC.
The artist pursued his interest with a high level of seriousness, eventually founding a Museum of Antiquities in 1871, the architecture of which was designed after an ancient Greek temple.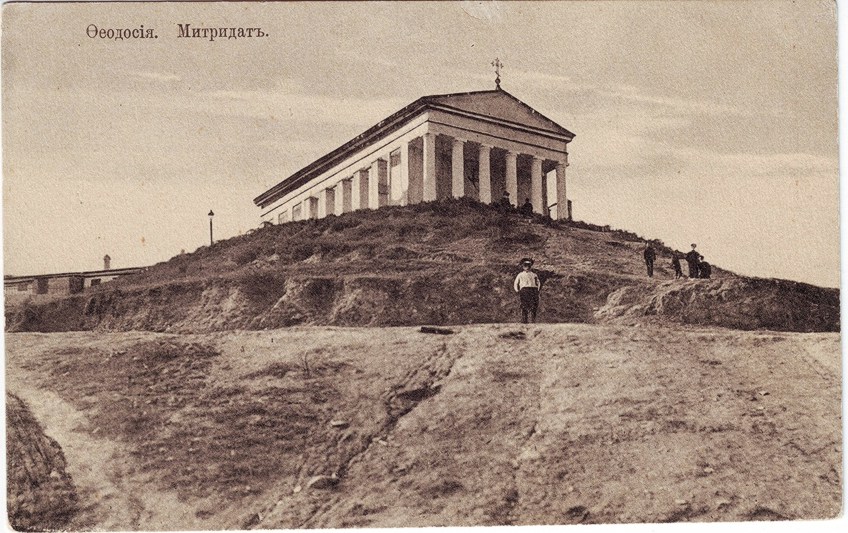 Museum of antiquities in Feodosia on Mount Mitridat, founded by Ivan Aivazovsky [before 1941]; Unknown author Unknown author, Public domain, via Wikimedia Commons
Aivazovsky: "He Was Born a Mortal, Left an Immortal Legacy"
During his lifetime, the artist was married twice, with the first wife being an English governess who he divorced in 1877, and his second wife, an Armenian woman, Anna Burnazian, who he married in 1882. Towards the later stages of his life, Aivazovsky traveled far and wide, moving from Paris to the United States and back to Russia where he gained much influence over the establishment of the railway network in Feodosia.
Within the span of 60 years, the artist delivered over 6000 paintings of varied subject matter ranging from landscape, maritime painting, portraiture, realism, and orientalist styles. The artist was finally laid to rest on 2 May 1900 in a custom white marble sarcophagus at St. Sargis Armenian Church.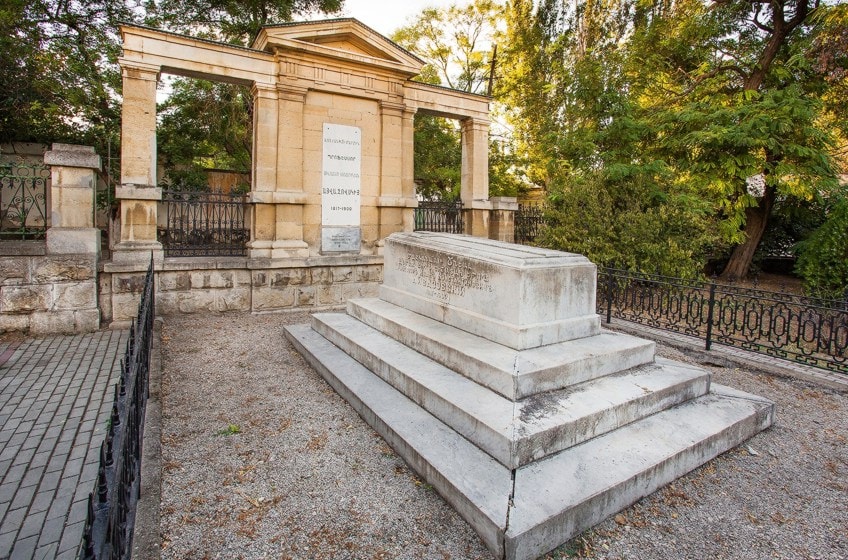 The grave of Ivan Aivazovsky; Деревягін Ігор, CC BY-SA 3.0, via Wikimedia Commons
Ivan Aivazovsky Paintings
Aivazovsky was incredibly famous for his maritime paintings and even received a commendation from prestigious English landscape artist, J. M. W. Turner, who was so impressed by Aivazovsky's talents that he dedicated a poem to him. Below are just some of the most famous paintings by Aivazovsky that are sure to catch your eye.
The Ninth Wave (1850): A Technical Masterpiece
| | |
| --- | --- |
| Artist | Ivan Aivazovsky |
| Date | 1850 |
| Medium | Oil on canvas |
| Dimensions (cm) | 332 x 221 |
| Where It Is Housed | The State Russian Museum, St. Petersburg, Russia |
A masterpiece familiar to many, The Ninth Wave is a brilliant depiction of the sailing expression referring to the title, "ninth wave", as the largest wave that appears in a succession of other large waves. The soft purple and indigo hues draw attention to the aftermath of a vicious storm, with the ship's survivors clinging onto refuge on what remains of the ship.
Aside from the atmosphere encompassing the "aftermath of the ninth wave", Aivazovsky's spectacular technical prowess shines brighter than ever through his focus on how the light glistens off the waves.
The artist's mastery over the light to draw attention to his primary subject, the sea, is splendid in every aspect. Aivazovsky's familiarity with the water and the way in which the waves rise and crash are visually evocative and give us a glimpse into his memory of this scene.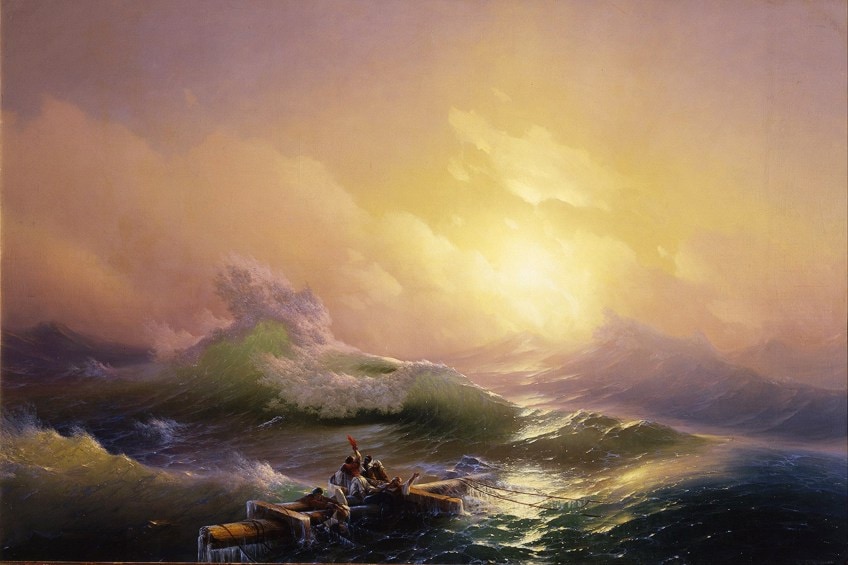 The Ninth Wave (1850) by Ivan Aivazovsky; Russian Museum, Public domain, via Wikimedia Commons
Memory and Painting
Rosa Newmarch, an English Poet and music writer stated that Aivazovsky never painted from pictures and always painted from memory, even the paintings depicting images out at sea. The ability of Aivazovsky to retain such detail and vivid imagery does connect with the romantic quality of his paintings and style. As seen in The Ninth Wave, Aivazovsky's account of the wave is so detailed and powerful in its visual impact that it mimics the moment at which the scene took place.
In a way, it can be said that whoever views his paintings, also becomes a witness to the artist's recollection and emotion experienced during that memory.
Coupled with Aivazovsky's ongoing practice in painting, we can safely arrive at the conclusion that he had a sharp memory. Research has shown that one of the many benefits that painting has is boosting memory through "conceptual visualization". Aivazovsky's ability to visualize such imagery, as witnessed by his travels and expeditions, is astounding.
The Ninth Wave (1850) by Ivan Aivazovsky on display at the Russian Museum's Academical Hall №14 [2019]; shakko, CC BY-SA 4.0, via Wikimedia Commons
Battle of Çesme at Night (1856)
| | |
| --- | --- |
| Artist | Ivan Aivazovsky |
| Date | 1856 |
| Medium | Oil on canvas |
| Dimensions (cm) | 193 x 185 |
| Where It Is Housed | The Aivazovsky National Art Gallery, Feodosia, Crimea, Russia |
Occurring around the fifth to the seventh of July 1770, the battle at Çesme Bay was one of many naval battles that inspired Aivazovsky's maritime painting. Currently housed in the Aivazovsky National Art Gallery, Battle of Çesme at Night is another excellent example of technical skill and mastery over natural light. Many of Aivazovsky's maritime paintings revolve around the waves of the sea and key moments in which Aivazovsky experienced naval battles.
The battle of Çesme also marked the moment when the Russians defeated the Ottoman fleet, leaving many battleships burning. Perhaps inspired by the Russian victory and driven by a sense of Romanticism towards nationalism, Aivazovsky took to the canvas.
His sense of pride is seen in his focus on the painting – the bright glowing flames, painted so realistically, as if they were to capture the life of the burning ships and the massive gray clouds of smoke that pooled above them.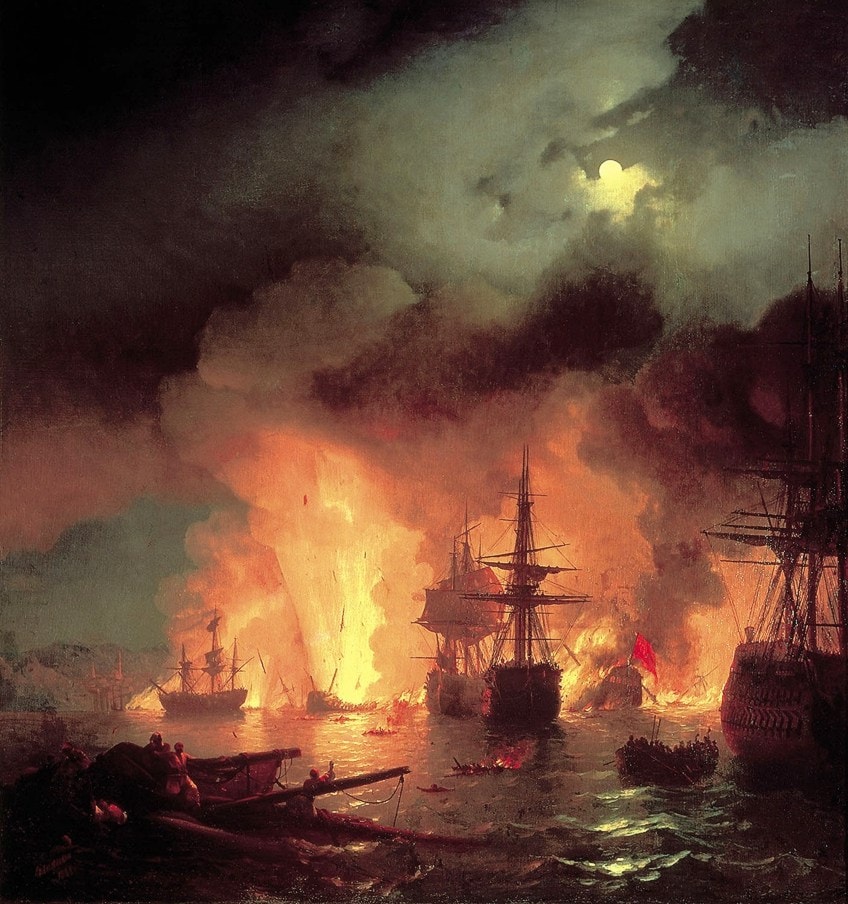 Battle of Çesme at Night (1856) by Ivan Aivazovsky; Ivan Ayvazovsky, Public domain, via Wikimedia Commons
The Great Pyramid at Giza (1871)
| | |
| --- | --- |
| Artist | Ivan Aivazovsky |
| Date | 1871 |
| Medium | Oil on canvas |
| Dimensions (cm) | 44.2 x 65.2 |
| Estimated Value | GBP 300,000–GBP 500,000 (Christie's) |
Aivazovsky also featured on the Russian delegation team who received an invitation to attend the grand opening of the famous Suez Canal in 1869. Among the notable attendees was Admiral Litke, also known as Fyodor Litke. Litke was not only recognized as the President of the Russian science academy but he was also part of the group sent by the Russian Emperor, Nicholas I, who joined Aivazovsky in accompanying the Grand Duke Konstantin Nikolaevich to the Aegean Island and Constantinople.
Prior to Aivazovsky's trip to the Suez Canal, it is possible that he was already inspired by the French campaign that took place in Egypt during 1798-1799 pertaining to the discovery of the mysterious Rosetta Stone (la Pierre de Rosette).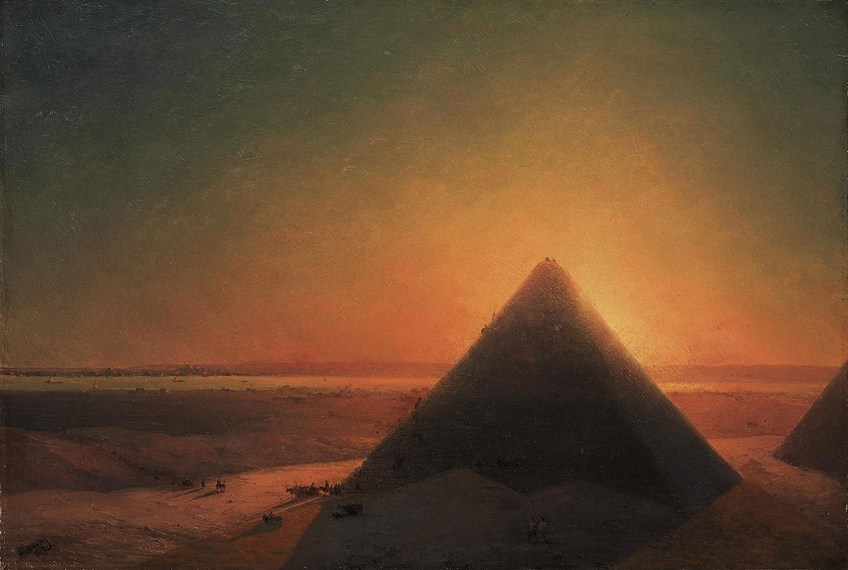 The Great Pyramid at Giza (1871) by Ivan Aivazovsky; Ivan Ayvazovsky, Public domain, via Wikimedia Commons
During this period, Europe was lit abuzz with archaeologists, scientists, and anyone whose interest was piqued. As opposed to his seascape paintings, Aivazovsky applies a similar technique to depicting the desert in The Great Pyramid at Giza. The enormous splendor of the pyramid gave Aivazovsky the key to experimentation and allowed him to alter his play with light given the new subject.
Unlike the burning embers of the battle at Çesme, "The Great Pyramid at Giza" is a softer approach, and considering the atmosphere of discovery and an archaeological breakthrough, Aivazovsky excels in depicting the romantic nature of the event and the great expanse of Egypt and all that is unknown.
Other Famous Ivan Aivazovsky Paintings
| | | | |
| --- | --- | --- | --- |
| Title | Date | Dimensions (cm) | Medium |
| End of Storm | 1839 | 91 x 135 | Oil on canvas |
| The Landing of N. N. Raevskyi at Subashi | 1839 | 66 x 97 | Oil on canvas |
| Chaos. The Genesis | 1841 | 108 x 73 | Oil on paper |
| Neapolitan lighthouse | 1842 | 87 x 69 | Oil on canvas |
| The Battle of Sinop on 18 November 1853 (Night after Battle) | 1853 | 220 x 331 | Oil on canvas |
| A market scene in Constantinople, with the Hagia Sophia beyond | 1860 | 65.4 x 57.2 | Oil on canvas |
| Self-portrait | 1881 | 61 x 48 | Oil on canvas |
| Sarkizova Ann, second wife of I. Aivazovsky | 1882 | 73 x 62 | Oil on canvas |
| Pushkin's Farewell to the sea | 1887 | 228 x 157 | Oil on canvas |
| Exploding Ship | 1900 | 67 x 96.5 | Oil on canvas |
Ivan Aivazovsky: A Multi-Faceted Man
As discussed earlier, Ivan Aivazovsky was an experienced artist, archaeology enthusiast, Russian master painter, father, and husband admired by all he engaged with. Some other big names associated with the talented artist include William Turner, the Russian Tsar, and even the Pope!
If art and wanderlust were not enough to convince you of the artist's greatness, his musical talent in playing the violin was even acknowledged by Russian composer, Mikhail Glinka, who incorporated one of Aivazovsky's melodies into his opera, Ruslan and Lyudmila.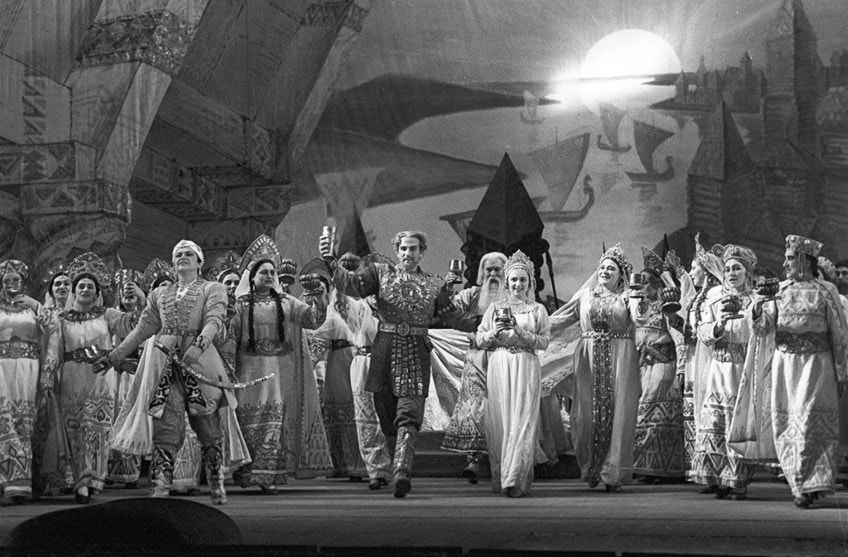 "Glinka's Ruslan and Lyudmila in the State Academic Bolshoi Theater of the USSR". A scene from the second act of Ruslan and Lyudmila, a Russian opera by Mikhail Glinka, staged by the Bolshoi Theater, 1954; RIA Novosti archive, image #855722 / David Sholomovich / CC-BY-SA 3.0, CC BY-SA 3.0, via Wikimedia Commons
Much of the artist's personality seems to be overlooked but one can attribute a quality of bravery and neurodivergence to this polymath. Aivazovsky attended many battles, even during the Crimean war where his multitasking abilities and fearlessness shone. It has been stated that some of his paintings were even "stained in blood" as he delivered medical assistance to crew members.
Once a romantic, always a romantic – At the senior age of 75, Aivazovsky embarked on a long journey across the world with his wife for their 10th anniversary. The couple visited many countries, the most important on Aivazovsky's agenda being Niagara Falls, Washington, and New York, all in 1892.
Ivan Aivazovsky with his wife Julia Graves and four daughters from left to right: Alexandra , Maria, Elena and Joanne; Unknown author Unknown author, Public domain, via Wikimedia Commons
Not just a great painter, but also a great host – Ivan Aivazovsky was also known for hosting various artists and creative practitioners at his home in Feodosia. Aivazovsky seemed to display his eccentric side during his many dinner parties, where his menus became his paintings.
More specifically, Aivazovsky was playful in naming his dishes after titles of his works – a memorable host indeed!
Piling on to the list of mentionables for Ivan Aivazovsky is his role as a gallerist. Aivazovsky turned his home in Feodosia into an art gallery in 1880 and ranked third amongst the other art galleries in Russia. Aivazovsky received even greater recognition by monarchs of the United Kingdom such as the Prince of Wales and even Edward VII in 1881, at an exhibition in London.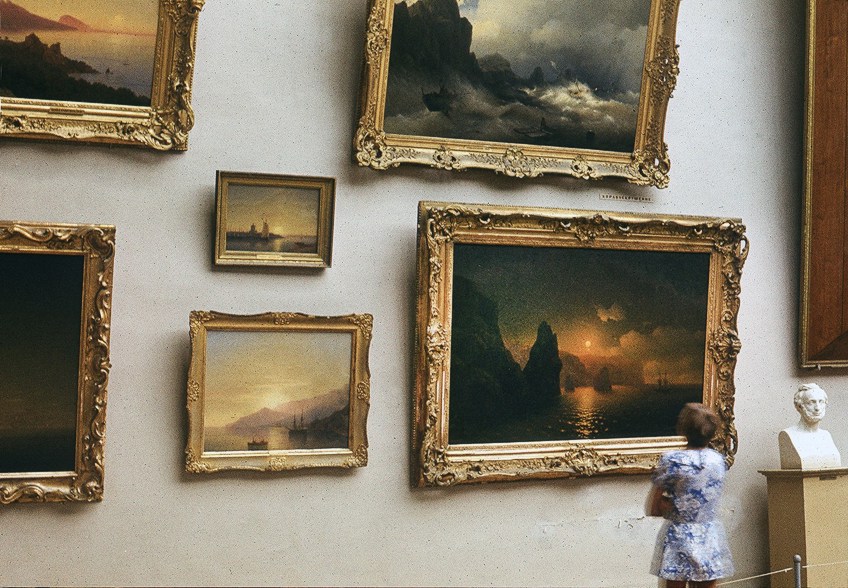 A person admiring the works of Ivan Aivazovsky at the Aivazovsky Gallery in Feodosia, Russia [1975]; Jaan Künnap, CC BY-SA 4.0, via Wikimedia Commons
Book Recommendations About Ivan Aivazovskyz
Looking for more information on Ivan Aivazovsky and his world-renowned paintings? Below are a few book recommendations available on Amazon to assist you with understanding not only the chronology of artworks by Ivan Aivazovsky, but also some great insights behind some of his most famous paintings around the world.
Aivazovsky (1980) by Nikolai Novouspensky
Given the title, this book serves as a good starter for any scholar looking for an Ivan Aivazovsky biography with his famous paintings such as The Wave and many other artworks housed in iconic institutions, namely the Russian Museum, Tretyakov Gallery, and the Picture Gallery. All works are printed in full color and the book even features pieces painted as a result of Aivazovsky's travels to exotic locations.
A good starter for anyone looking for an Ivan Aivazovsky biography
Includes over 150 color plates o

f Aivazovsky's paintings

Enjoy the artist's iconic works in full color
View on Amazon
Light, Water and Sky: The Paintings of Ivan Aivazovsky (2013) by Gianni Caffiero and Ivan Samarine
Light, Water and Sky: The Paintings of Ivan Aivazovsky (2013) is a book written by Gianni Caffiero and Ivan Samarine, both experts on the popular marine painter, Ivan Aivazovsky. If you are searching for more insights on the artist and wish to delve into the chronological details of the artist and his works, this book would make a fine addition to your bookshelf. The authors incorporate information on Aivazovsky's works from public and private collections.
Explore the works of this remarkable 19th-century master painter
Contributes largely to Aivazovsky's published oeuvre
An invaluable resource for scholars, collectors, and fans of the artist
View on Amazon
Ivan Aivazovsky is an exemplary Russian master of Romantic painting and a great example of creative genius informed by memory, archaeology, travel, revolution, and culture. Other famous painters who can be compared to Aivazovsky include William Blake, Francesco Hayez, Thomas Cole, Lorenzo Bartolini, and Eugène Delacroix.
Frequently Asked Questions
How Do You Define the Romantic Era?
The Romantic era, also referred to as the art movement of Romanticism, can be defined by the shift away from ideals of classical reference and towards the idea of personal expression in painting. This period is defined by the integration of artistic intuition and freedom of expression in art style.
How Many Paintings Did Ivan Aivazovsky Create in His Lifetime?
Ivan Aivazovsky produced more than 6,000 paintings of various genres. It has been reported that the artist may have produced as many as 20,000 artworks.
Is Ivan Aivazovsky a Russian Painter or a Ukrainian Painter?
While revered in Russia, Ivan Aivazovsky is also acknowledged by Ukraine as a so-called Ukrainian painter. His name is found in literature, referenced as being part of the top 100 Ukrainians, as well as having a statue at the administration center in Crimea. Aside from Russian and Ukrainian affiliations, Aivazovsky is also considered an Armenian painter by association with his culture, receiving the title as the first Armenian marine painter.