Pablo Picasso was arguably the most influential artist of the 20th-century whose experimentation with representation and various art styles triggered a multitude of discussions in the art world. Picasso's critical evaluation of form and technique can be seen in many of his famous artworks as he weaved through some of the most impactful art movements of the Modern era. Below, we will explore some of the most famous Picasso paintings that provide valuable insight into the Spanish artist's creative processes and experiences.
Famous Picasso Paintings
Pablo Picasso's involvement with Cubism resulted in the invention of assemblage art, which he used to assert his view of the world as an organization of symbols. Picasso employed a variety of techniques while exploring allegorical themes that would only be debunked years later. Of important note is the controversy of Picasso and his paintings that distort the human form and reproduce the misogynistic views of women, as many scholars and critics have highlighted in the 21st century. Below, we will dive into some of the most famous Picasso paintings that shaped the artist's career and impacted his legacy.
Pablo Picasso, 1962; Argentina. Revista Vea y Lea, Public domain, via Wikimedia Commons
Picasso had a multifaceted approach to form and regularly switched between various approaches, sometimes even within the same piece.
The influence of Surrealism affected not only Picasso's visual language in his wartime artwork, but also the delicate contours of the photographs he shot for his girlfriend. As he matured, he became more concerned about preserving his legacy, which can be seen in his later works, marked by an open dialogue between the styles of master painters.
The Soup (1903)
| | |
| --- | --- |
| Date | 1903 |
| Medium | Oil on canvas |
| Dimensions (cm) | 38 x 46 |
| Where It Is Housed | Art Institute of Chicago, Chicago, United States |
The Soup is one of Picasso's earliest works that portrays the artist's intense despair defined as his "Blue period". The painting was created at the same time as a series of other works discussing themes of deprivation, age, and disability. Picasso's artwork conveys his concern surrounding the tragic events he witnessed as a child in Spain and was influenced by the religious art he was exposed to. Such influences included works by artists like El Greco and Diego Velázquez. The Soup is recognized as a painting that represented the visual codes of the greater Symbolism movement of the early 20th century.
Picasso often described his Blue Period artworks as "nothing but feeling."
The Old Guitarist (1903 – 1904)
| | |
| --- | --- |
| Date | 1903 – 1904 |
| Medium | Oil on canvas |
| Dimensions (cm) | 123 x 83 |
| Where It Is Housed | Art Institute of Chicago, Chicago, United States |
The Old Guitarist is among the top three most famous paintings created during Picasso's Blue period and is recognized by its melancholic and chilling blue atmosphere. The painting depicts an elderly man hunched over his guitar with torn and ragged clothing. This famous image of an impoverished old man playing a guitar in the streets of Barcelona, Spain, is recognized by many as Picasso's most touching piece.
The guitar encompasses the old man's only hope of surviving on the streets and is a reminder of Picasso's own experience with poverty and reliance on art.
What makes The Old Guitarist so significant is its use of Expressionist brushstrokes and Surrealist imagery that leaves one haunted with the image of despair. This painting was also the first of Picasso's works to be acquired by an American museum and is currently housed at the Art Institute of Chicago.
Portrait of Gertrude Stein (1905)
| | |
| --- | --- |
| Date | 1905 |
| Medium | Oil on canvas |
| Dimensions (cm) | 100 x 83 |
| Where It Is Housed | The Metropolitan Museum of Art, New York City, United States |
Picasso's author, benefactor, and close associate Gertrude Stein was an important figure in his artistic growth. This famous Portrait of Gertrude Stein shows Stein dressed in her favorite brown velvet jacket and marked a turning point in Picasso's technique. This shift was noted by the contours of Stein's portrait, which appear chiseled in comparison to the flat elements of Picasso's other Blue period and Rose period paintings. This approach was influenced by Picasso's study of old Iberian sculpture.
Picasso's growing fascination with the textures and contours of the human face are evident in his use of flat surface and color.
Stein claimed to have modeled for Picasso approximately 90 times, and although this may be an exaggeration, Picasso may have also battled with finding a true representation for a figure who he admired. The Portrait of Gertrude Stein was produced within one day with Picasso declaring, "I can't discern you longer when I look," and finally, he abandoned the painting after several failed attempts. Picasso eventually completed the portrait, but only after his model was absent from the scene.
Les Demoiselles d'Avignon (1907)
| | |
| --- | --- |
| Date Completed | 1907 |
| Medium | Oil on canvas |
| Dimensions (cm) | 243 x 233 |
| Where It Is Housed | Museum of Modern Art |
Even Picasso's closest artistic contemporaries were shocked by this piece, both in terms of subject and technique. Les Demoiselles d'Avignon was somewhat of a taboo painting with a concept that distorted the representation and form of five prostitutes. The concept of nude women was not unusual for the time but Picasso's depiction of the women in a Primitivist style was uncommon and subject to intense criticism. The mask-like faces of some of the figures reveal Picasso's love for Iberian and African mask art, implying that their sensuality is not just aggressive but also primitive, which was highly problematic not only for his appropriation of African styles as a form of objectifying women, but also for the lack of information around the identities of the women and their role in the painting.
Picasso abandoned the Renaissance's use of three-dimensionality in favor of a severely flattened picture plane divided into geometric pieces. This technique was borrowed from the work of Paul Cézanne.
The thigh of the woman on the left, for instance, was portrayed in a Cubist style, as if it were viewed from multiple viewpoints at once. It is impossible to tell the leg apart from the empty space around it, which creates the sense that there is no clear element separating the foreground from the background. When the painting was finally exhibited to the public in 1916, it was criticized as completely immoral. Braque was one of few painters to analyze the painting in 1907 and resulted in his collaboration with Picasso.
"Les Demoiselles d'Avignon" is recognized as an example of proto-Cubism since it predicted many of Cubism's visual characteristics.
Still-Life with Chair Caning (1912)
| | |
| --- | --- |
| Date | 1912 |
| Medium | Oil on canvas |
| Dimensions (cm) | 29 x 37 |
| Where It Is Housed | The National Gallery, London, United Kingdom |
This well-known piece is often recognized as the first collage in Modern art. Picasso had previously included found objects in his works, but this was the first time that he did it with a comedic and dramatic intent. As the title of the work implies, the chair in the work is in reality a printed cloth and not a real chair caning. The rope that wraps around the painting is, in fact, real, and serves to imitate the carved border of a café table. The painting may also be considered as a pane of glass, while the chair represents the actual seating of the object viewed through the table.
"Still-life with Chair Caning" not only radically distorted visual space, as was characteristic of Picasso's experimentation, but also reshaped our understanding of representation in Cubism.
Ma Jolie (1912)
| | |
| --- | --- |
| Date | 1912 |
| Medium | Oil on canvas |
| Dimensions (cm) | 100 x 64 |
| Where It Is Housed | Museum of Modern Art, New York City, United States |
Ma Jolie was another famous Picasso painting that saw the artist explore the boundaries between high art and popular culture. By reducing color and increasing the appearance of low-relief sculpture, Picasso moved closer to abstraction, building on the geometric contours of past works. Picasso adopted the use of painted text as part of his artwork and included advertisement typeface with the word "Ma Jolie" on the front of the work to highlight the visual aesthetics to that of a billboard.
This was the first time a painter had openly incorporated aspects of popular culture into fine art in the early 20th century.
"Ma Jolie" was also recognized as the name of a famous song at the time, and became Picasso's pseudonym for his fiancé. The figure of Ma Jolie comprised of changing planes, which was a characteristic of Analytic Cubism.
Pablo Picasso and Georges Braque had similar artistic signatures. Both artists thrived by adopting a variety of representational techniques at the same time.
A prominent triangular shape in the artwork represented the character's head and body, while Picasso represented the strings of a guitar by grouping a few vertical lines in the lower center of the composition.
Bowl of Fruit, Violin and Bottle (1914)
| | |
| --- | --- |
| Date Completed | 1914 |
| Medium | Oil on canvas |
| Dimensions (cm) | 92 x 73 |
| Where It Is Housed | The National Gallery, London, United Kingdom |
Bowl of Fruit, Violin and Bottle was an example of Synthetic Cubism, which saw Picasso use a variety of methods to represent the perceived objects. Picasso demonstrated elements and techniques such as painted dots, shadows, and sand grains to create synthesized textures while mentally deconstructing the materials at hand. Café life summed up 20th-century Parisian life for painters like Picasso who spent considerable hours at cafes socializing with other painters.
Picasso restricted color during his Analytic Cubist period in order to focus more on the shapes and dimensions of objects, which affected his choice of still-life throughout the 20th century.
The Three Musicians (1921)
| | |
| --- | --- |
| Date | 1921 |
| Medium | Oil on canvas |
| Dimensions (cm) | 204 x 188 |
| Where It Is Housed | Philadelphia Museum of Art, Philadelphia, Pennsylvania, United States |
The Three Musicians formed part of a small series by Pablo Picasso, who created two separate variants of the composition. This version is recognized as the smaller version and can be viewed at the Philadelphia Museum of Art. Although both paintings were significantly large for Picasso's Cubist phase, it is believed that he chose such a grand scale to commemorate the end of his Synthetic Cubism era, which lasted more than 10 years. The painting was created during the same period as the classical work Three Women in the Spring (1921), which was quite different to the style used here.
Picasso is seen seated in the middle as the Harlequin with Max Jacob and Guillaume Apollinaire on either side, both of whom Picasso was later alienated from.
In a small chamber, Picasso depicted three musicians illustrated as flat and vivid abstract forms. A clarinetist is spotted on the left with the guitarist in the middle, and a singer clutching music sheets on the right. The figures appear in costume and were well-known characters. Pierrot appears in a blue and white outfit, while the Harlequin is dressed a yellow and orange costume. A table with a pipe and other belongings lie in front of Pierrot. Beneath Pierrot, one can also spot a dog, whose stomach and legs are exposed below the performer's legs.
All the elements in this painting were created as flat forms, including the stage on which the three musicians perform.
The brown flooring in the background place the musicians is in a distinct location and stretches off further to the left. The lopsided space is created by the floor and flat walls framing the composition, but the musicians appear oddly stable.
Three Women at the Spring (1921)
| | |
| --- | --- |
| Date | 1921 |
| Medium | Oil on canvas |
| Dimensions (cm) | 204 x 174 |
| Where It Is Housed | Museum of Modern Art, New York City, United States |
Three Women at the Spring was perhaps Picasso's most complex depiction of a classical topic. The painting was a tribute to previous works by master painters Poussin and Ingres that draw from Greek sculpture. According to critics, the subject inspired Picasso since the period coincided with the birth of his first son, as well as the somber and melancholic mood of France in the aftermath of World War I.
The Classical Greek influence in this beautiful painting became yet another example of Picasso's passion for Neo-Classical subjects.
In the painting, the three ladies emerge from a rocky landscape in the form of massive relief sculptures, donning chiseled features and exaggerated statuesque outlines that evoke provincial Hellenistic forms. Their high hewed features, as well as the deep-gouged lines represent the folds of their gowns, which contrast the unusual rotundity of their bodies.
The dramatic breadth of the folds and the unique juxtaposition of silver, blue, and brown-orange hues make for a striking composition.
Guernica (1937)
| | |
| --- | --- |
| Date | 1937 |
| Medium | Oil on canvas |
| Dimensions (cm) | 250 x 777 |
| Where It Is Housed | Museo Nacional Centro de Arte Reina Sofía, Madrid, Spain |
Picasso created this painting in protest against the bombing of the town of Guernica on April 26, 1937, which took place during the Spanish Civil War. The painting was completed in less than a month and functioned as the focal point of the exhibition during the 1937 Parisian World's Fair. After the show, it was banned from being exhibited in Spain, until the overthrow of the tyrant Francisco Franco in 1975. Despite causing a stir, scholars and artists spent many hours attempting to understand the meaning of Guernica, with many concluding that the suffering of the horse in the center of the composition represented the soldiers of Spain.
"Guernica" is considered to be a hybrid of pastoral and epic genres, which possesses a journalistic feel due to the monochromatic aesthetic of the painting.
Guernica's interpretations are diverse and often contradictory. This includes two of the mural's most prominent parts such as the bull and the steed. Patricia Failing, an art historian, commented on the painting, stating that "in Spanish culture, the bull and the steed were considered prominent figures, and that Picasso used these figures to perform a number of various roles during his lifetime." Failing further stated that "their connection was a ballet that Picasso imagined in a number of forms over the course of his career."
Some opponents advise against believing Guernica's political message. For example, the raging bull, a significant symbol of devastation, previously appeared as Picasso's alter ego represented as a bull or a Minotaur. In this case, the bull most likely signifies Fascism's attack.
Picasso explained that it symbolized cruelty and darkness, which was a reference to his prophetic work.
Picasso also stated that the horse symbolized Guernica's people. His spirit of patriotism and justice triumphed over his actual location. When the Nazis attacked Guernica in 1937, Picasso had not visited his own country for several years. At that time, he resided in Paris and he never went back to his hometown. Despite the attack, which resulted in the mass murder of women and children, rocked Picasso to his core.
Portrait of Dora Maar (1937)
| | |
| --- | --- |
| Date | 1937 |
| Medium | Oil on canvas |
| Dimensions (cm) | 92 x 65 |
| Where It Is Housed | Musée Picasso, Paris, France |
Portrait of Dora Maar is perhaps one of the most famous portraits created by Picasso in 1937. Portrait of Dora Maar was painted a year after the war broke out and depicts Maar as the muse of Picasso.
The portrait illustrates the artist's lover, Dora Maar, seated on a chair, and is said to represent the struggles of women during the Spanish Civil War.
Maar encountered Picasso when she was 29 years old at Les Deux Magots, which was a popular cultural hub at the time. Today, this portrait is considered to be one of Picasso's best masterpieces that also reminds scholars of the tumultuous history between Picasso and his lover, which lasted for nine years and ended in the diffusion of a love triangle between Picasso, the mother of his child, and Maar. Other famous paintings inspired by Maar include Dora Maar in an Armchair (1939) and Dora Maar au Chat (1941).
Self-Portrait Facing Death (1972)
| | |
| --- | --- |
| Date | 1972 |
| Medium | Crayon and pencil on paper |
| Dimensions (cm) | 65 x 50 |
| Where It Is Housed | Museo Nacional Centro de Arte Reina Sofía, Madrid, Spain |
Not only was this one of Picasso's portraits, but this was also one of the last paintings by the Spanish artist. Picasso continued to paint until his death at the age of 91, with his preceding years resulting in a period of massive production. Pablo Picasso's last painting was a crayon artwork, which took several months to complete, and remains one of his most famous late-career works.
According to his companion Pierre Daix, Picasso "held the drawing next to his face to emphasize that the expression of terror was a fabrication", and added that when he returned to Picasso's workshop months later, the drawing had grown even rougher lines.
Daix further wrote that Picasso did not blink and was startled with the feeling that Picasso was perhaps facing his own mortality. The ultimate rendition of Picasso's portraits were created in green and milky pink hues, which represented a mask of sheer fear. The individual's wide-eyed stare pierces the observer, implying that he is not accepting of his imminent death.
Pablo Picasso – A Pioneer of Modern Art
| | |
| --- | --- |
| Artist Name | Pablo Ruiz Picasso |
| Date of Birth | 25 October 1881 |
| Date of Death | 8 April 1973 |
| Nationality | Spanish |
| Associated Movements, Themes, and Styles | Cubism, Surrealism, Modern art, Picasso's Blue Period, Impressionism, and Expressionism |
| Mediums | Painting, drawing, collage, sculpture, and printmaking |
Pablo Picasso is a name that many associate with the famous painting Les Demoiselles d'Avignon (1907) and the artist's contribution to Modern art as the co-founder of Cubism. Very few painters of the 20th century had such a massive influence on the art world and lived to witness the fruits of their labor. Picasso attended the Barcelona School of Fine Arts when he was 13 years old and was guided by his father, who also taught at the institution. He also attended a top academy, the Real Academia de Bellas Artes de San Fernando in 1897, and frequently visited the exhibitions held at the Prado Museum, carefully studying the works of painters such as Francisco de Goya and El Greco.
The famous Spanish artist was considered to be a master painter, whose experimental approach to color and representation of form proved incredibly influential in Western art.
In his early career, Picasso painted many portraits and eventually ventured into stylized landscape art, the latter of which Picasso was influenced by the Symbolist movement. Picasso produced around 20,000 sketches, paintings, and sculptures throughout the course of his artistic career, and engaged in costumes and theater set design projects, which boosted his reputation as a respected artist and jack-of-all-trades. Before he turned 50, Picasso had already introduced significant shifts in the art world, many of which will be unpacked in the artworks discussed later.
Portrait photograph of Pablo Picasso in front of his painting The Aficionado (Kunstmuseum Basel) at Villa les Clochettes, Sorgues, France, summer 1912; Anonymous Unknown author, Public domain, via Wikimedia Commons
Picasso is often cited as one of the most prominent and famous painters of the 20th century who partnered with Georges Braque and established the art movement known as Cubism. Cubism was a popular 20th century movement that changed the face of the visual arts in Europe and revolutionized the fields of architecture, music, and writing.
Among the major influences in Picasso's early career was the work of post-Impressionist Vincent van Gogh, as well as African, and ancient Greek and Roman art, which contributed to Picasso's distinct visual language.
The artistic style of Primitivist art also led Picasso to develop his style in Analytical Cubism, which was further inspired by the foundations of perspective techniques borrowed from the Renaissance. Together with Braque, Picasso produced a unique style that initially explored monochromatic and neutral tones in an attempt to deconstruct reality through geometric form and shape. This had a profound impact on the development of Abstract art in the 20th century and inspired many artists to explore Synthetic Cubism, which emerged shortly after Analytical Cubism.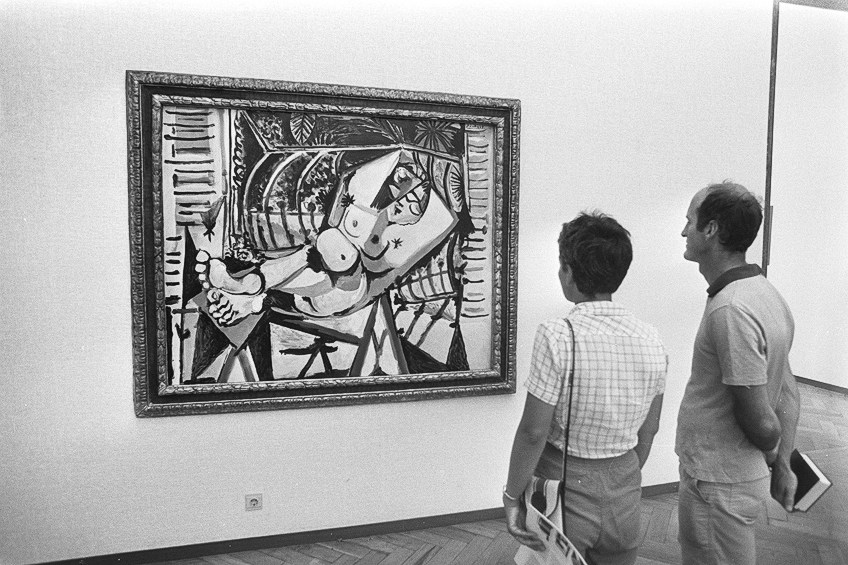 Visitors admiring Picasso's Femme nue devant le jardin ("Naked Woman in Front of the Garden", 1956) at the Stedelijk Museum, 1981; Hans van Dijk for Anefo, CC0, via Wikimedia Commons

Throughout the first quarter of the 20th century, Cubism propelled the emergence of other Modern art movements, including Dadaism, Constructivism, and Futurism. This development of Cubism by Picasso evolved throughout the 1920s through his active manipulation of material and deconstruction of color, form, and shape, which were sparked by advancements in printing and the introduction of industrial materials.
Picasso was also credited with popularizing the genre of collage in art as a Modern art form, which was further explored through constructed sculpture.
Plastic was another prominent and unconventional material that Picasso adopted since it could be manipulated in a variety of ways, resulting in new and interesting sculptures. In addition to embracing modern materials, Picasso went on to live through two World Wars and even produced poetry later in his career. Although raised to be a Catholic, Picasso rejected the religion he was born into and identified as an atheist.

Man with a Lamb (1943-1944) by Pablo Picasso, Philadelphia Museum of Art; Regan Vercruysse from Stewartsville, New Jersey, USA, CC BY 2.0, via Wikimedia Commons
While this concludes our review of Pablo Picasso's most famous paintings, one can also explore the influences of the Spanish artist's work that drove him to invent new forms of representation from Renaissance artwork. It is also useful to continue critically engaging with artists such as Picasso, who are considered controversial yet impactful figures in the European art historical canon.
Take a look at our "Picasso's most famous paintings" webstory here!
Frequently Asked Questions
Who Was Pablo Picasso?
Pablo Picasso was one of the most significant and well-known artists of the 20th century. Picasso was considered to be a trendsetter of new visual forms of representation and was credited with being the co-founder of Cubism. Cubism was a prominent movement in Europe that expanded the fields of painting and sculpture, as well as architecture, design, music, and poetry.
What Was Picasso's Most Famous Painting?
Guernica (1937) is considered to be the most famous painting by Pablo Picasso, which was inspired by the atrocities of an aerial bombing that took place in the Spanish Civil War. The painting is popular among scholars and historians as a prophetic piece that foretold the horrors of World War II.
What Are Three Famous Paintings by Pablo Picasso?
Among the top three most famous paintings by Pablo Picasso are Les Demoiselles d'Avignon (1907), The Old Guitarist (1903), and Guernica (1937). These paintings are considered to be the artist's best masterpieces.
How Much Are Picasso's Paintings Worth?
Paintings by Pablo Picasso are easily worth up to millions of dollars on auction since the artist is considered to be a prominent master painter of the 20th century.
Isabella studied at the University of Cape Town in South Africa and graduated with a Bachelor of Arts majoring in English Literature & Language and Psychology. Throughout her undergraduate years, she took Art History as an additional subject and absolutely loved it. Building on from her art history knowledge that began in high school, art has always been a particular area of fascination for her. From learning about artworks previously unknown to her, or sharpening her existing understanding of specific works, the ability to continue learning within this interesting sphere excites her greatly.
Her focal points of interest in art history encompass profiling specific artists and art movements, as it is these areas where she is able to really dig deep into the rich narrative of the art world. Additionally, she particularly enjoys exploring the different artistic styles of the 20th century, as well as the important impact that female artists have had on the development of art history.
Learn more about the Art in Context Team.