Pablo Picasso is arguably the most important artist in 20th-century art history. Picasso's art displayed a diversified array that was the result of his determination to critically evaluate the form and methodology best suitable to accomplish his greatest effect for each artistic work, rather than substantial alterations in his style over his career. From the early Picasso works to Pablo Picasso's last painting, his creations were intended to be weaved into the patchwork of humanity as some of the greatest works of art ever created.
An Introduction to Pablo Picasso
| | |
| --- | --- |
| Nationality | Spanish |
| Date of Birth | 25 October 1881 |
| Date of Death | 8 April 1973 |
| Place of Birth | Malaga, Spain |
Pablo Picasso produced about 20,000 sketches, paintings, and sculptures throughout the course of his long career, as well as costumes and theater sets. Due to the famous paintings by Picasso, the legendary painter had distinguished himself as the most known person in modern art, with the most identifiable style and taste for artistic creativity, before reaching the age of 50.
Very few painters had such a massive influence on the world of art or had such a strong reputation among both enthusiasts and detractors as Picasso.
Portrait photograph of Pablo Picasso in front of his painting The Aficionado (Kunstmuseum Basel) at Villa les Clochettes, Sorgues, France, summer 1912; Anonymous Unknown author, Public domain, via Wikimedia Commons
But before we get more into Pablo Picasso's drawings and paintings, let us first introduce you to the artist. He is often cited as one of the most prominent and famous painters of the 20th century. He is acknowledged as a co-founder of the Cubist movement, alongside Georges Braque, as an aesthetic pioneer. Cubism was a popular movement that changed the face of European painting and sculpture, as well as architectural designs, music, and writing, for the better. Cubist motifs and objects are abstractly dismantled and reconstructed.
Paul Cézanne and Vincent van Gogh, as well as antique and indigenous art, are among the inspirations that drove Picasso to give his figures more gravity and shape in about 1907.
They ultimately led him to Cubism, in which he undermined Renaissance painting's perspective rules. Picasso and Braques produced a style that used largely neutral tones and focused on "taking apart" objects and "assessing" them in terms of their shapes during this time period. Cubism had a tremendous effect on the growth of Western art, notably the second version known as Synthetic Cubism.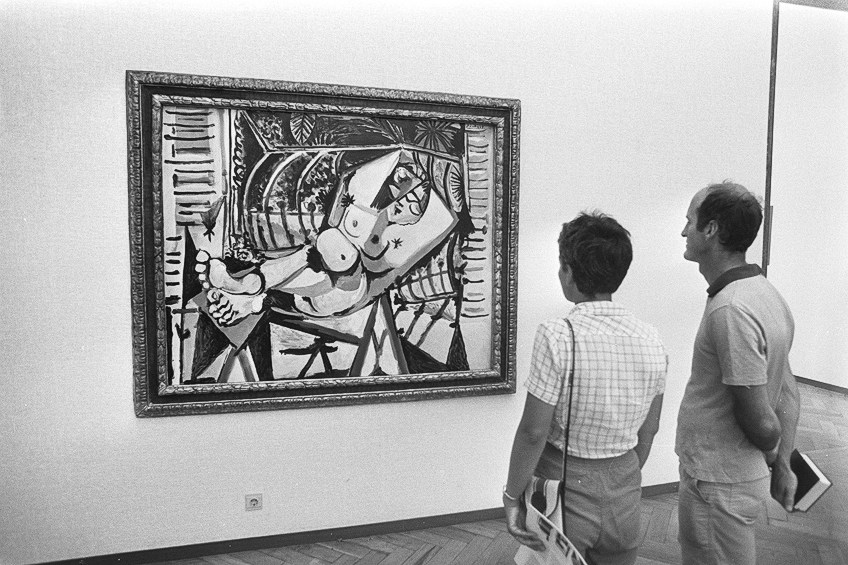 Visitors admiring Picasso's Femme nue devant le jardin ("Naked Woman in Front of the Garden", 1956) at the Stedelijk Museum, 1981; Hans van Dijk for Anefo, CC0, via Wikimedia Commons

Between 1910 and 1920, when Picasso and Braque laid the foundation for Cubism in France, their impact was so widespread that it spawned offshoots such as Dada, Constructivism, and Futurism, in other countries.
Picasso is also known for co-inventing the collage art genre and for inventing constructed sculpture.
This revolutionary art style moved civilization toward societal advancements in printing, paintings, sculpture, and ceramics by actively manipulating things that had never been cut or molded before. These were not simply plastics; they could be shaped in a variety of ways. Plaster, metals, and wood were employed by artists to produce unique sculptural pieces that had never been seen previously.
Man with a Lamb (1943-1944) by Pablo Picasso, Philadelphia Museum of Art; Regan Vercruysse from Stewartsville, New Jersey, USA, CC BY 2.0, via Wikimedia Commons
Famous Picasso Paintings
Pablo Picasso's involvement with Cubism resulted in the invention of assemblage, in which he abandoned the idea of the visible as a window on the world's things in favor of considering it as an organization of symbols that employed various, often allegorical, techniques to relate to those items. This, therefore, would have far-reaching implications for years to come.
Picasso had a multifaceted approach to form, and while famous Picasso paintings were identified by a single dominant technique at any one time, he regularly switched between various approaches, sometimes even within the same piece.
Surrealism affected not only the delicate contours and subtle sensuality of his girlfriend's photographs but also the aggressively fragmented iconography of his wartime artwork. Picasso was always eager to distinguish himself in time, and some of his most renowned works hint at a variety of past precursors – even as they are subverted. As he became older, he became more concerned about preserving his legacy, and later famous Picasso paintings were marked by an open dialogue with Old Masters.
Pablo Picasso, 1962; Argentina. Revista Vea y Lea, Public domain, via Wikimedia Commons
The Soup (1903)
| | |
| --- | --- |
| Date Completed | 1903 |
| Medium | Oil on canvas |
| Dimensions | 38 cm x 46 cm |
| Location | Art Institute of Chicago |
This is one of the early Picasso works on our list. This painting exhibits Picasso's profound despair during his Blue Period, and it was painted at the same time as a series of other works on themes of deprivation, age, and handicap. Picasso's artwork conveys his concern about the awful events he witnessed as a child in Spain, and it was clearly influenced by the religious art he grew up with, notably El Greco's. Nonetheless, the painting is representative of the greater Symbolism movement of the time.
Regardless of the fact that many of these pictures are famous and, of course, highly expensive, Picasso finally described his Blue Period works as "nothing but feeling." Reviewers generally agreed with him.
Portrait of Gertrude Stein (1905)
| | |
| --- | --- |
| Date Completed | 1905 |
| Medium | Oil on canvas |
| Dimensions | 100 cm x 83 cm |
| Location | Metropolitan Museum of Art |
Picasso's author, close associate, and even benefactor, Gertrude Stein, was important in his artistic growth. This painting, in which Stein wears her favored brownish velvet jacket and marks a turning point in his technique. The contours of this image appear practically chiseled in comparison to the flat aspect of other Blue and Rose period paintings, and they were influenced by the creator's study of old Iberian sculpture.
Picasso's growing fascination with a person's face shown as a succession of flat surfaces is evident.
Stein claimed to have sat for Picasso 90 times, and although this may be exaggerated, Picasso clearly battled with representing her head for a long period. He produced it completely one day, declaring, "I can't discern you longer when I look," and finally abandoned the picture after attempting it several times and failing. He didn't complete the head for a long time, but he did so without the person in front of him.
Les Demoiselles d'Avignon (1907)
| | |
| --- | --- |
| Date Completed | 1907 |
| Medium | Oil on canvas |
| Dimensions | 243 cm x 233 cm |
| Location | Museum of Modern Art |
Even Picasso's closest artistic contemporaries were shocked by this piece, both in terms of subject and technique. The concept of nude ladies was not unusual, but Picasso's depiction of the girls as prostitutes in overtly sexual poses was unique. The mask-like faces of three of the characters reveal Picasso's love for Iberian and indigenous art, implying that their sensuality is not just aggressive but also primitive.
Pablo Picasso went even further with his spatial studies, abandoning the Renaissance illusion of three-dimensionality in favor of presenting a severely flattened picture plane divided up into geometric pieces, a technique Picasso borrowed from Paul Cézanne's brushstrokes.
The thigh of the woman on the left, for instance, is portrayed as though seen from many viewpoints at once; it's impossible to tell the leg apart from the empty space around it, creating the sense that they're both in the foreground. When the photograph was finally exposed to the public in 1916, it was widely viewed as immoral. Braque is one of very few painters to study it thoroughly in 1907, which resulted in his Cubist works with Picasso.
It is recognized as proto- or pre-Cubism, since it predicted some of Cubism's characteristics.
Still Life with Chair Caning (1912)
| | |
| --- | --- |
| Date Completed | 1912 |
| Medium | Oil on canvas |
| Dimensions | 29 cm x 37 cm |
| Location | National Gallery, London |
This well-known piece is often recognized as the first collage in modern art. Picasso had previously included pre-existing objects in his works, but this is the first time he did it with such a comedic and dramatic intent. As the name of the work implies, the chair in the work is in reality printed cloth and not real chair caning. The rope that wraps around the painting, on the other hand, is quite real and serves to imitate the carved border of a café table. The painting may also be considered as a pane of glass, and the chair as the actual seating of the object as can be viewed through the table.
As a result, the artwork not only distorts visual space radically, as is characteristic of Picasso's experimentation but also confounds our understanding of what we're gazing at.
Bowl of Fruit, Violin and Bottle (1914)
| | |
| --- | --- |
| Date Completed | 1914 |
| Medium | Oil on canvas |
| Dimensions | 92 cm x 73 cm |
| Location | National Gallery, London |
This painting is an example of Synthetic Cubism, in which he uses a variety of methods to allude to the objects shown, such as painted dots, shadows, and sand grains. Picasso "synthesized" textures in this paint-and-mixed-media piece, creating wholes after mentally deconstructing the materials at hand.
Picasso restricted color during his Analytic Cubist period in order to focus more on the shapes and dimensions of the things, which affected his choice of still life all through the period.
The café life clearly summed up current Parisian life for painters – he spent considerable time there speaking with painters – but the basic assortment of objects also ensured that metaphorical worries could be avoided.
Ma Jolie (1912)
| | |
| --- | --- |
| Date Completed | 1912 |
| Medium | Oil on canvas |
| Dimensions | 100 cm x 64 cm |
| Location | Museum of Modern Art |
Another one of the most famous Picasso paintings, Ma Jolie pushes the artist's experiments into new regions by straddling the line between high art and popular culture. By reducing color and increasing the appearance of low-relief sculpture, Picasso moves closer to abstraction, building on the geometric contours of past works. Picasso, on the other hand, used painted words as part of his canvas. Due to the choice of an advertisement typeface, the word "ma Jolie" on the front not only consolidates the field but also relates the artwork to a billboard.
It's the first time a painter has openly incorporated aspects of popular culture into fine art.
It was also used as the name of a renowned song at that time, and also Picasso's pseudonym for his fiancée, linking the picture even more closely to popular culture. The figure of Ma Jolie is made up of changing planes. Analytic Cubism is characterized by this.
Picasso and Georges Braque have similar artistic signatures. Both artists used a variety of representational techniques at the same time.
A prominent triangular mass in the artwork denotes her head and body. Picasso depicted the strings of a guitar by grouping vertical lines in the lower middle. The lady strumming this instrument creates a picture that many people may relate to.
The Three Musicians (1921)
| | |
| --- | --- |
| Date Completed | 1921 |
| Medium | Oil on canvas |
| Dimensions | 204 cm x 188 cm |
| Location | Philadelphia Museum of Art |
The musicians paintings by Pablo Picasso came in two variants. This smaller version may be seen in the Museum of Art in Philadelphia, although both are gigantic for Picasso's Cubist phase, and he may have opted to create on such a grand scale to commemorate the end of his Synthetic Cubism, which had preoccupied him for over ten years. It was created during the same season as the classical work Three Women in the Spring (1921), which is quite different.
Picasso sits in the middle, as usual the Harlequin, with Max Jacob and Guillaume Apollinaire on each side, from whom he had grown alienated.
In a small, boxlike chamber, Picasso depicts three musicians formed of flat, vividly colored abstract forms. A clarinetist is on the left, a guitarist is in the middle, and a singer clutching music sheets is on the right. They are costumed as well-known characters, including Pierrot in a blue and white outfit, the Harlequin in a yellow and orange patterned costume, and a monk on the right. A tabletop with a pipe and other belongings lies in front of Pierrot, and underneath him is a dog whose stomach, legs, and rear peek out from below the performer's legs.
Everything in this image is made up of flat forms, just like the stage on which the three performers play.
The brown floor behind these musicians is in a distinct location, stretching considerably more to the left than it does to the right. The lopsided space is created by the floor and flat walls framing the shot, but the musicians appear to be stable. Because the forms that compose them cross and overlap, as if they were paper cutouts, it's difficult to determine where one musician begins and another ends.
Three Women at the Spring (1921)
| | |
| --- | --- |
| Date Completed | 1921 |
| Medium | Oil on canvas |
| Dimensions | 204 cm x 174 cm |
| Location | Museum of Modern Art |
In order to paint this, his most complex portrayal of an antique classical topic, Picasso conducted a significant study. It pays respect to previous works by Poussin and Ingres, two traditional painting titans, but it also takes elements from Greek sculptures, and the figures' massive weight is extremely sculptural. According to critics, the subject drew him in because of the birth of his first son, and the figures' melancholy mood can be explained by France's current fascination with commemorating those who died in the First World War.
The primordial, early Mediterranean vibe of this beautiful painting is yet another colorful example of Picasso's gigantic neo-Classical figures.
The three ladies appear from the rocky landscape like massive relief sculptures, their chiseled features and exaggerated statuesque outlines evocative of late or provincial Hellenistic forms. The highly hewed features, as well as the deep gouged-in lines to signify the folds of the gowns, contrast the unusual rotundity of the bodies.
The heightened relief created by the enlarged breadth of these folds and the dramatic application of color to produce them – silvery in quality against the bright blue – contrasts with the brown-orange backdrop of the rocks.
Guernica (1937)
| | |
| --- | --- |
| Date Completed | 1937 |
| Medium | Oil on canvas |
| Dimensions | 250 cm x 777 cm |
| Location | Museo Nacional Centro de Arte Reina Sofía |
Picasso created this painting in protest against the bombardment of Guernica, a Basque town, on April 26, 1937, during the Spanish Civil War. It took less than a month to produce and functioned as the focal point of the exhibit for Spain during the 1937 Parisian World's Fair. It was afterward banned from being exhibited in Spain until the overthrow of military tyrant Francisco Franco in 1975, despite causing quite a stir during the showing. Many hours have been spent understanding the meaning of the painting, and some believe that the suffering horse in the center of the picture represents Spaniards.
This work is considered to be a hybrid of pastoral and epic genres. The lack of color heightens the drama, giving the image a journalistic feel similar to that of a photograph.
Guernica's interpretations are diverse and often contradictory. This includes the mural's two most prominent parts, the bull, and the steed. Patricia Failing, an art historian, stated, "In Spanish culture, the bull and the steed are prominent figures. Picasso surely employed these figures to perform a number of various roles during his lifetime. This has made deciphering the bull's and horse's exact meanings extremely difficult.
Their connection is a ballet that Picasso imagined in a number of forms over the course of his career." Some opponents advise against believing Guernica's political message. For example, the raging bull, a significant symbol of devastation in this work, has previously appeared as Picasso's alter ego, whether as a bull or a Minotaur. However, in this case, the bull most likely signifies Fascism's attack.
Picasso explained that it symbolized cruelty and darkness, which is apparently a reference to his prophetic work.
He also said that the horse symbolized the Guernica people. Picasso's spirit of patriotism and justice triumphed over his actual location. When the Nazis attacked the Spanish village of Guernica in 1937, he had not visited his own country in several years. At that time he was residing in Paris at the time, and he never went back to live in his hometown. Despite this, the attack, which primarily murdered women and children, rocked the artist to his core.
Self-Portrait Facing Death (1972)
| | |
| --- | --- |
| Date Completed | 1972 |
| Medium | Crayon |
| Dimensions | 65 cm x 50 cm |
| Location | Museo Nacional Centro de Arte Reina Sofía |
Not only is this one of Picasso's portraits, but this is also one of the very last paintings by Picasso. Picasso painted right up to his death at the age of 91, and the years preceding that were defined by his prodigious production. Pablo Picasso's last painting was a crayon painting on paper that took several months to create, and is one of his most famous late-career works.
Picasso "held the drawing next to his face to emphasize that the expression of terror was a fabrication," according to Picasso's companion Pierre Daix, who added that when he returned to Picasso's workshop months later, the drawing had grown even rougher lines.
Daix wrote, "He didn't blink. I got the startling sensation that, like a good Spaniard, he was facing his own mortality in the face." The ultimate rendition of Picasso's portraits, done in queasy green and milky pink, is like a mask of sheer fear. The individual's wide-eyed stare pierces the observer, implying that he is not accepting of his imminent death.
That concludes our look at Pablo Picasso's drawings and paintings. Around 1907, a flurry of influences, ranging from Van Gogh to tribal art, drove Picasso to give his figures more weight and structure. This all culminated in eventually leading him to Cubism, with which he defied Renaissance perspective conventions in art.
Take a look at our "Picasso's most famous paintings" webstory here!
Frequently Asked Questions
Who Is Pablo Picasso?
Pablo Picasso is usually considered one of the 20th century's most significant and well-known artists. He is regarded as a creative trendsetter and a co-founder of the Cubist aesthetic. Cubism was a prominent movement in Europe that improved the face of painting and sculpture, as well as architectural designs, music, and poetry. Cubist ideas and objects are abstractly dissected and reconstructed.
What Was Significant About Pablo Picasso's Art?
The most famous Picasso paintings explored a technique that employed mostly neutral tones and concentrated on pulling apart things and evaluating them in light of their forms. Cubism had a significant effect on the evolution of the art of the Western world, notably the second version defined as Synthetic Cubism. When Picasso founded Cubism in 1910, its influence was so extensive that it produced offshoots such as the Dada movement.