Albrecht Dürer Paintings – Exploring the Most Famous Dürer Paintings
Albrecht Dürer's paintings are regarded as some of the finest artworks of the Northern Renaissance period in Germany. Albrecht Dürer's artworks display his multi-talented abilities; being adept at engraving, watercolor painting, oil painting, as well as producing ink drawings. Albrecht Dürer's Praying Hands might be his most well-known work, but there are many more of his works to be explored and appreciated.
An Introduction to Albrecht Dürer
It is safe to argue that printing as we recognize it in art history and modern art would not have existed were it not for Albrecht Dürer. Regardless of the fact that he lived almost 500 years ago, he is still recognized as one of the most renowned and influential printmakers in the history of art, particularly for introducing large-edition woodblock prints into the sphere of fine arts. Albrecht Dürer's popularity was based mostly on his prints and visual aesthetic, but his monetary support was guaranteed by contracts for paintings of theological themes and portraiture, and these pieces are still highly regarded for their draughtsmanship and application of color.
He was and still is the greatest Northern Renaissance artist, having effectively combined an extensively developed Northern manner with the Italian Renaissance's values of equilibrium, unity, and majesty.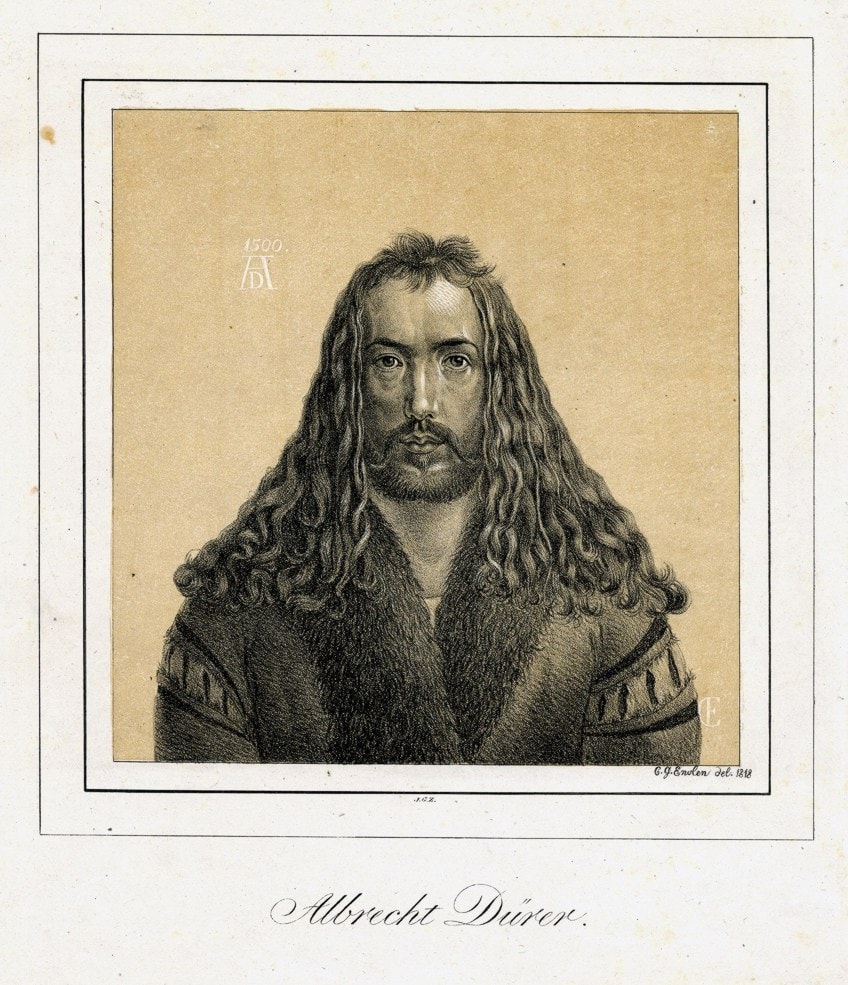 An 1818 print after a self-portrait by Albrecht Dürer, 1500; Carl Georg Enslen, Public domain, via Wikimedia Commons
Until the early 16th century, Renaissance Italian art (centered on proportionality, perspectives, and portrayals of humanity in its surroundings) was almost wholly separate from middle ages art in northern Europe, which was centered on naturalistic interpretations. Albrecht Dürer's artworks united these two ways of artistic expression and were the first non-Italian artworks to include modern philosophical, scientific, and religious concepts.
Famous Albrecht Dürer Paintings and Prints
Notwithstanding his clear Renaissance interests in Humanism and arithmetic, Dürer proceeded to generate incredibly comprehensive studies of the natural environment, especially fauna – whether recently encountered in Europe, such as the rhino, or commonly found local animals, such as Albrecht Dürer's rabbit artwork known as Young Hare. Dürer was acutely conscious of his own creative brilliance, which both tormented and thrilled him. Dürer's self-portraits were notoriously self-aggrandizing, and he frequently appeared as a figure in his painted orders.
He was one of the first celebrity artists, with imitators, admirers, and followers, in a paradigm that has endured to this very day.
The Four Horsemen of the Apocalypse (1498)
| | |
| --- | --- |
| Date Completed | 1498 |
| Medium | Woodcut |
| Dimensions | 39 cm x 28 cm |
| Currently Located | Metropolitan Museum of Art, New York |
The four Apocalyptic Riders as prophesized in the Old Testament are depicted in this artwork. Plague, War, Famine, and Death are riding their steeds and treading on a gathering of hapless humans. An angel watches over the landscape, which is framed by majestic clouds and beams of light. The three horsemen are recognized in the Scripture primarily by the colors of their horses.
Dürer, forced to work in grayscale owing to the limitations of the woodcut technique, clearly portrays their weaponry – trident, sword, a set of scales, and a bow – as defining features. Death is also identified as an old weary figure with a beard riding a malnourished stallion.
The four individuals are galloping close to one another, but their placements are somewhat overlapped, indicating their sequence of presentation in the text.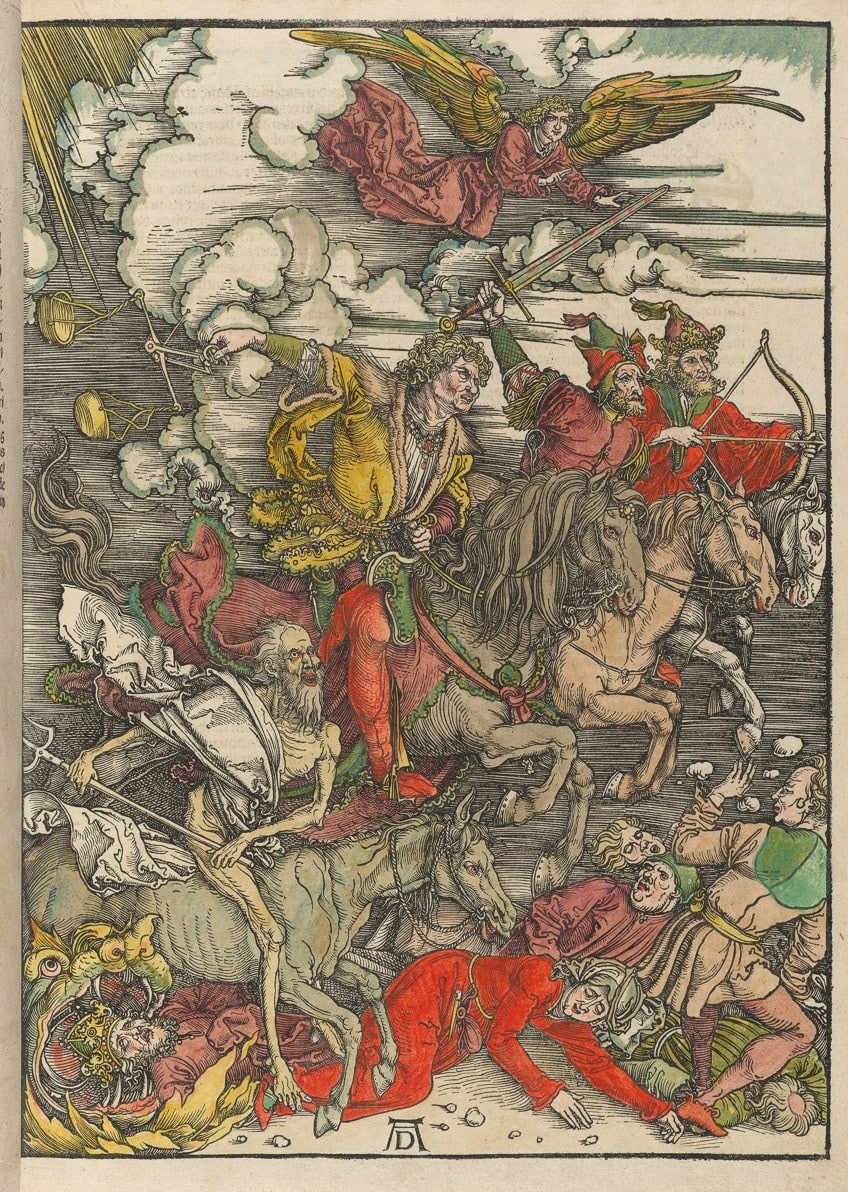 The Four Horsemen of the Apocalypse (between c. 1496 and c. 1498) by Albrecht Dürer; Albrecht Dürer, Public domain, via Wikimedia Commons
As the final character to join the stage, Death carries Hades with him, shown as a wide-mouthed creature swallowing a person wearing a priest's collar and hat. The priests and nobles, like the majority of the population, are decimated by the Apocalypse. Their modern attire allows the 16th-century observer to easily envisage their own misery ahead. By covering practically the whole panel with careful detailing, Dürer wonderfully conveys the terror and turmoil of the end times. The diagonal pattern made by the motorcyclists placed on top of the finely thin horizontal lines that compose the black backdrop gives the image a sense of forward momentum.
This piece, as well as the companion images in this series, demonstrates the artist's unrivaled skill to produce the same exquisite fluidity and intensity of emotion in the generally rough and cumbersome woodcut media as in a painting.
Self Portrait with Fur-Trimmed Robe (1500)
| | |
| --- | --- |
| Date Completed | 1500 |
| Medium | Mixed Media on Panel |
| Dimensions | 67 cm x 48 cm |
| Currently Located | Alte Pinakothek, Munich |
Dürer's self-portrait as Christ might be seen as blasphemy, but it is far more probably a declaration of devotion combined with conviction in the artist's ability as an originator. It depicts Albrecht Dürer the creator, his gifts granted by the Heavenly father. The artist is squarely addressing the audience and is set against a simple backdrop. His right hand is raised to his heart, two fingers split out, as though in a benediction gesture. His wavy hair flows over his shoulders, and his insignia is clearly shown to his right.
To his left is a Latin text that reads, "So I, Albrecht Dürer of Nuremberg, portrayed myself with lasting hues at 28 years of age."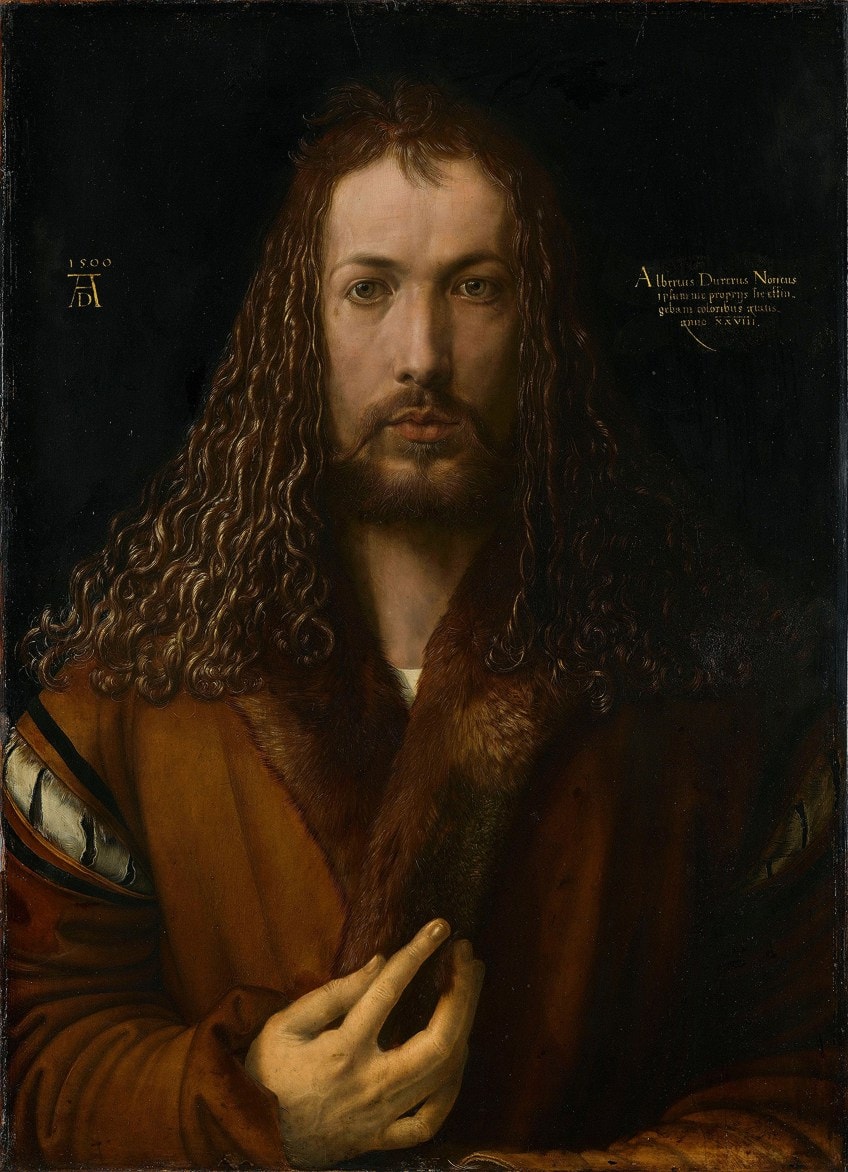 Self-portrait (1500) by Albrecht Dürer; Albrecht Dürer, Public domain, via Wikimedia Commons
The tradition for portraiture throughout the Renaissance period was to portray the subject in a three-quarter perspective, usually set against a naturalistic environment. Dürer invokes Medieval devotional pictures, particularly religious depictions of Christ Pantokrator, by using a frontal aspect and a dark generic background. The painter definitely represents himself as Christ in this painting, with his benediction motion, long dark brown hair (Dürer was actually a darkish blond), and idealistic characteristics.
Considering the piece's Apocalyptic year, the artwork would have been regarded as a powerful representation of the creator's identity as a fervent Believer.
Young Hare (1502)
| | |
| --- | --- |
| Date Completed | 1502 |
| Medium | Watercolor and gouache on paper |
| Dimensions | 25 cm x 23 cm |
| Currently Located | Albertina, Vienna |
The amazing depth and attention in this examination of a little wild creature is a forerunner to the meticulous scientific images it has inspired and continues as an exceptionally precise and sympathetic picture of one of nature's most ubiquitous species. It depicts a three-quarter perspective of a hare, with its rear legs curled below its body and its front legs slightly stretched forwards.
Despite the fact that Albert Dürer's rabbit artwork is commonly titled Young Hare, the creature is very possibly a fully grown feral hare. Dürer's nature paintings are remarkable for their attention to detail. Young Hare, on the other hand, is more than just a scholarly examination of a creature.
The juxtaposition between the topic and its portrayal creates an inherent drama in the piece: a hare is a typically hyperactive animal, escaping when inspected too intimately.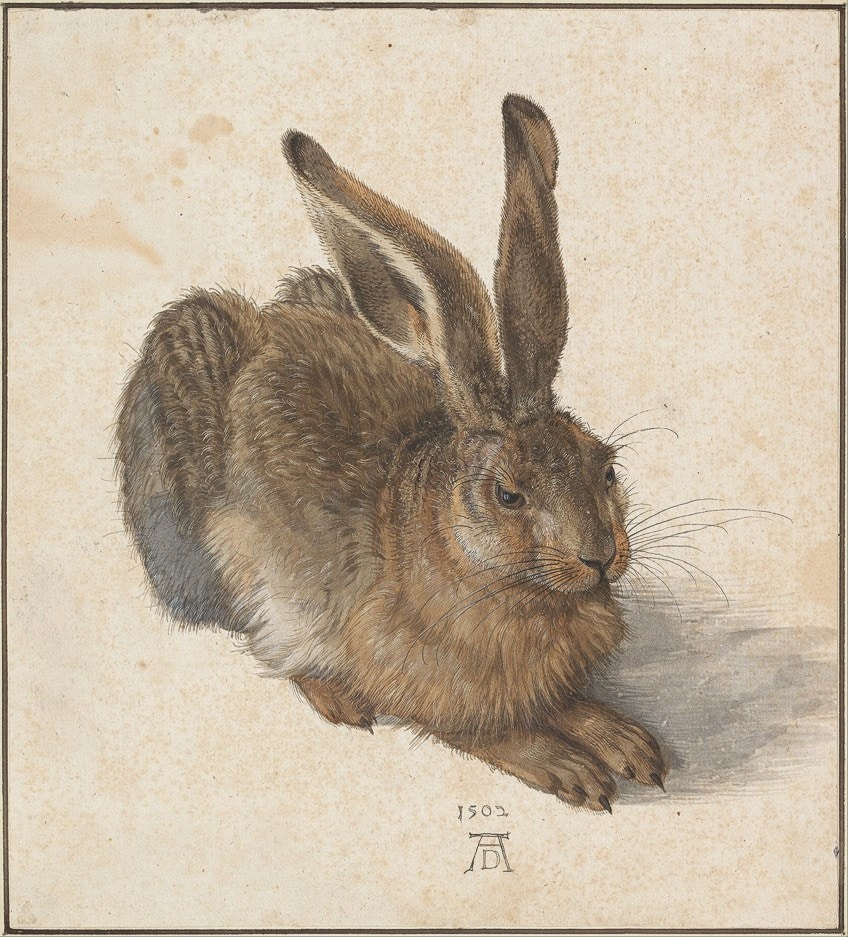 Young Hare (1502) by Albrecht Dürer; Albrecht Dürer, Public domain, via Wikimedia Commons
The hare was caught in a short moment of calm by the artist. The tiny tilt of its ear and the fixation on the spectator, on the other hand, show that the creature has observed us. Its rear legs are flexed and ready to leap. It's unclear if he drew a hare in the wilderness and finished the picture with a deceased sample, or if he kept a living hare in his workshop. The left eye appears to mirror a window.
This has been interpreted as a hint that Dürer retained and painted the hare inside.
Placing a crossbar on an eye's pupil is a frequent characteristic of Albrecht Dürer's artworks, and it might just be a practical means of creating liveliness in the eye. It might also be evidence of Dürer's great regard for details since he captured the reflection of his studio pane in his subject's pupil.
Adam and Eve (the Fall of Man) (1504)
| | |
| --- | --- |
| Date Completed | 1504 |
| Medium | Engraving |
| Dimensions | 24 cm x 19 cm |
| Currently Located | Museum of Art, Boston |
Dürer's representation of "the descent", the time in Christian doctrine when the very first two people, Adam and Eve, defied God and proceeded to eat from the Tree of Knowledge, is notable for its strong representation of mankind and earth. This engraving was created shortly after the young Dürer arrived back from Italy, and it reflects his personal passion for the Renaissance, as well as his patriotism in his own country, rather than the tale in the Origins story.
The characters in this painting are modeled on traditional nudity, as well as the idealized physical proportions and positions provided by Greco-Roman painters and builders of the time.
Adam and Eve (1504) by Albrecht Dürer; Albrecht Dürer, Public domain, via Wikimedia Commons
The wild vegetation behind the pair is reminiscent of German woodlands, which the artist was acquainted with, and therefore he actually sets Italian individuals into his local surroundings. Each animal, with the exception of the serpent, which is actually satan according to the Scriptures, has its own meaning. Three of the four humors are represented by the hare, cat, elk, and ox.
According to Ancient Roman and Greek physicians and intellectuals, each individual has four different physiological liquids, and an overabundance or shortage in any of these "humors" directly connects with character and condition.
The Feast of the Rosary (1506)
| | |
| --- | --- |
| Date Completed | 1506 |
| Medium | Oil on Panel |
| Dimensions | 161 cm x 192 cm |
| Currently Located | National Gallery, Prague |
Dürer's voyage to Venice in 1506 resulted in the production of one of his most notable large-scale canvases, The Feast of the Rosary. It depicts the Virgin Mary accompanied by a swarm of masculine characters and putti. Two angelic beings adorn Mary with a floral garland while she holds the Christ child on her knee.
This painting is among the most striking outcomes of the artistic exchanges that took place between 16th Venice and the creative hubs north of the Alps.
In this painting, Dürer utilized uniquely Venetian colors, including a great amount of lapis lazuli. Azurite was far more plentiful north of the Alps, and Dürer never utilized lapis lazuli in any of his Nuremberg paintings. He effectively crosses the divide between Italian and Northern styles of painting by blending materials, methods, and visual components from both Italian and Northern schools of art, uniting the Venetian fixation with light and color with the German traditions of a sacred altarpiece.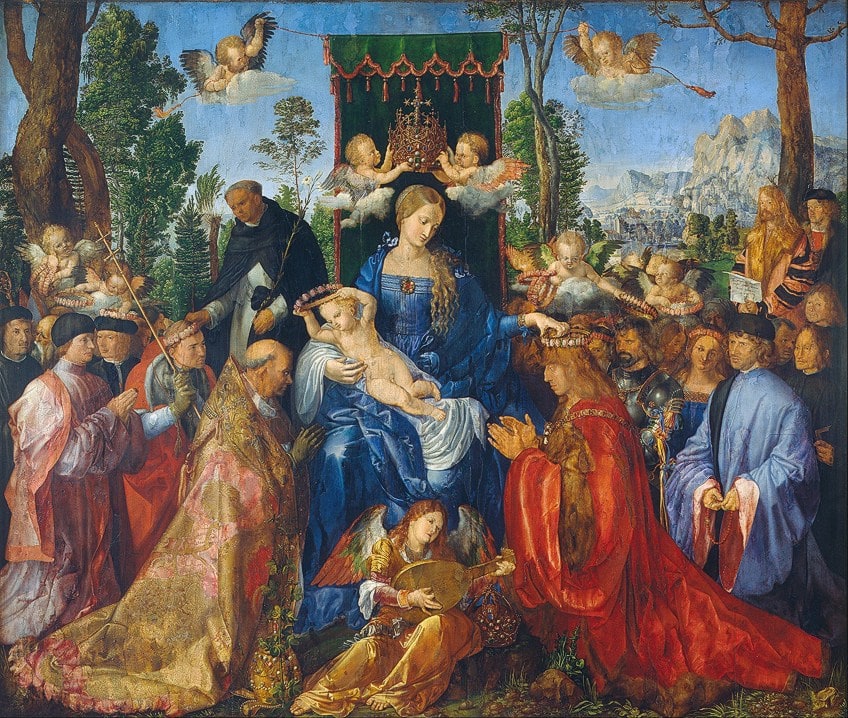 Feast of the Rosary (1506) by Albrecht Dürer; Albrecht Dürer, Public domain, via Wikimedia Commons
The inclusion of Venetian features in a German-made piece gains relevance since it allows clients to demonstrate their devotion to the city of Venice while also showing their nationalism. Dürer's desire to outdo his Venetian counterparts by embracing their techniques, abilities, and traits and elevating them to a higher degree undoubtedly had a part.
Being a well-known painter in his native country but without the same reputation in Italy, he worked hard to demonstrate his worth to the Italian Marketplace.
Praying Hands (1508)
| | |
| --- | --- |
| Date Completed | 1508 |
| Medium | Ink and Pencil on Paper |
| Dimensions | 29 cm x 19 cm |
| Currently Located | Kunsthistorisches Museum, Vienna |
Albrecht Dürer's Praying Hands is arguably one of the most reprinted photographs in the world, and it has remained a universal emblem of devotion and Christianity up to and including the current day. The picture has featured on religious books, T-shirts, needlework, and even Andy Warhol's grave, thanks to printing capabilities Dürer could never have imagined when he created this design more than 500 years ago.
This sketch was created using ink and pencil on blue paper manufactured by the artist and was not intended to be a stand-alone piece, but rather a preparatory design for an altarpiece ordered in 1507 by Jacob Heller.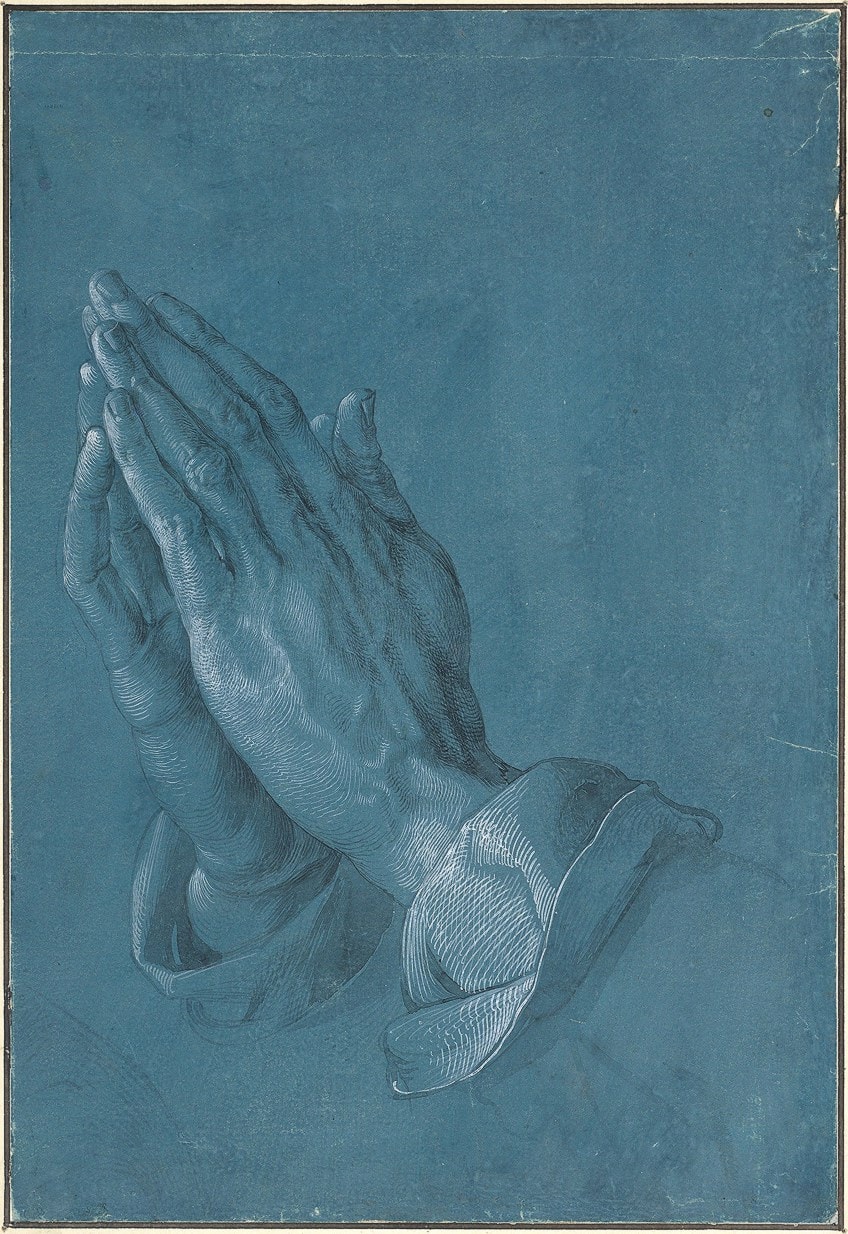 Praying Hands (1508) by Albrecht Dürer; Albrecht Dürer, Public domain, via Wikimedia Commons
A myth evolved around the 1930s about the hands in this image, speculating that they were the creator's brother's hands, weathered from hard labor and preserved in this image. Nevertheless, it is far more likely that the painter based the image on his own hands, as comparable hands can be observed throughout his work.
These drifting, praying hands are incredibly essential in the history of Christian iconography and remain appealing because they may belong to virtually anybody – with the rough shirtsleeves implying a laborer or common man, rather than an eminent cleric or academic.
Saint Jerome in his Study (1514)
| | |
| --- | --- |
| Date Completed | 1519 |
| Medium | Engraving |
| Dimensions | 25 cm x 19 cm |
| Currently Located | The British Museum |
Saint Jerome is seen seated at his table, immersed in his task. The desk, with a crucifix in one corner, is characteristic of the Renaissance period. As though to juxtapose death with the Rapture, an imagined line from Jerome's head would travel through the cross and stop at the skull on the window sill.
The lion in the forefront is part of Saint Jerome's conventional imagery, and beside him is a resting dog, a creature that appears frequently in Dürer's artworks and represents fidelity.
Both beings appear in Jerome's Golden Legend (about 1260), which contains fantastical memoirs of saints. Although the arrangement is personal, the spectator has difficulties placing oneself in reference to the image's space.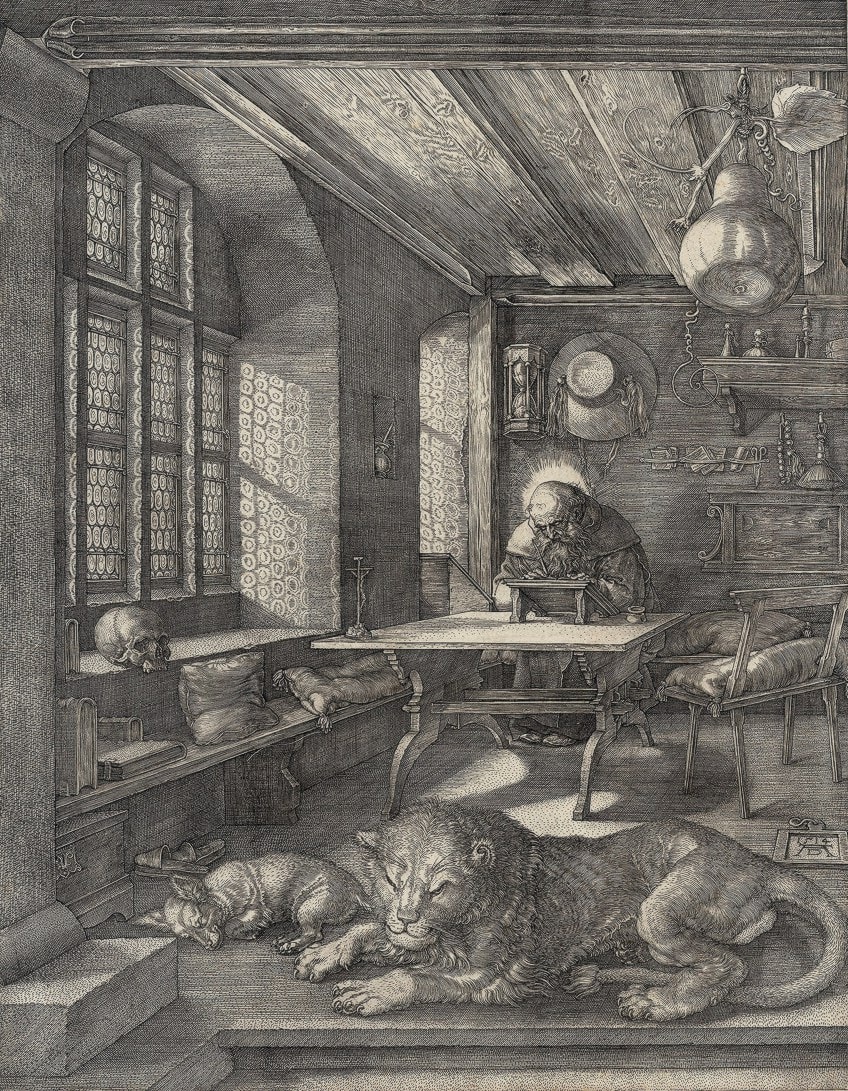 Saint Jerome in his Study (1514) by Albrecht Dürer; Albrecht Dürer, Public domain, via Wikimedia Commons
While the setting is quite near to the viewer, Thomas Puttfarken believes that Dürer did not wish for the observer to feel visible:
"The closeness is not ours, but the saint's as he is absorbed in studies and contemplation."
The placement of the slight juncture, which is very far off-center, reinforces the perception of a portrayal calculated not by the unbiased law of design but by the subjective point of view of the viewer who is just entering – a depiction that owes a significant portion of its distinctively "personal" effect to exactly this viewpoint configuration.
Melencolia I (1514)
| | |
| --- | --- |
| Date Completed | 1514 |
| Medium | Engraving |
| Dimensions | 24 cm x 18 cm |
| Currently Located | Metropolitan Museum of Art, New York |
This painting is a very early picture of sadness or melancholy, and it is an important image in the development of the mythology of the "suffering artist" as well as in the history of artists' portrayals of their own psychological health and agony.
"Melencolia I" is one of three plates known as Meisterstiche from 1514.
A winged feminine form is immersed in thought in this artwork, grasping a compass in her right hand distractedly. She is wearing a wreath and is flanked by several things, each of which has a specific symbolic significance. A depressed-looking putto sits behind her, and a malnourished dog lies at her feet.
Melencolia I (1514) by Albrecht Dürer; Albrecht Dürer, Public domain, via Wikimedia Commons
Melancholy was also seen to be intimately tied to artistic brilliance throughout the Renaissance. The numerous things represented in the engraving support the idea that Dürer used them to reflect his own creative mental state. The haphazardly strewn and discarded tools represent geometry, one of the liberal arts and most probably the most important to Dürer as a printmaker, and its inability to be employed. The hourglass, a popular metaphor for life's impermanence, the ladder with no obvious start or conclusion, and the unfilled scales all represent indifference and purposelessness.
The polyhedron appears to confuse the well-known Renaissance creative idea of linear perspective.
The Rhinoceros (1515)
| | |
| --- | --- |
| Date Completed | 1515 |
| Medium | Woodcut |
| Dimensions | 23 cm x 29 cm |
| Currently Located | National Gallery of Art, Washington D.C. |
Dürer's The Rhinoceros has maintained its status as one of his most beloved paintings since its original release in 1515. The woodcut depicts the artist's rendition of an Indian Rhinoceros standing on a little piece of earth from the side. The rhinoceros represented in the art was given to the administrator of Portuguese India as a gift by Sultan Muzafar II. The governor then gave it to King Manuel I of Portugal, who in turn gave it to Pope Leo X of Rome.
The rhinoceros was carried aboard a ship, but after a short stopover in Marseille to be viewed by King Francis I of France, the vessel sank in a storm and the rhinoceros drowned. Dürer was never able to view the animal in person.
Its image was only known to him from written tales, thus it is not surprising that Dürer's painting does not depict a genuine rhinoceros. The creature is shown with thick plates that seem like a coat of armor. A pattern of circular markings covers the surface.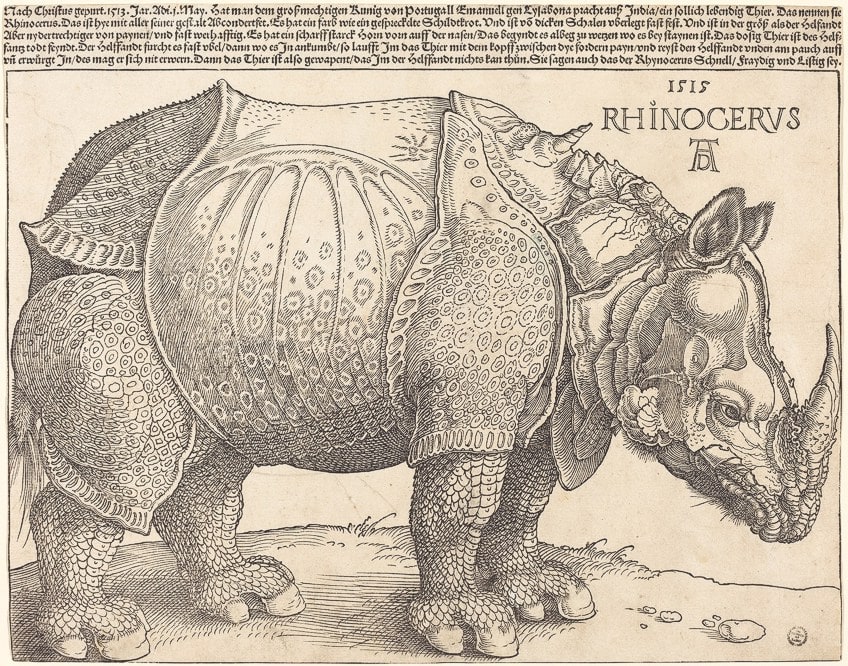 The Rhinoceros (1515) by Albrecht Dürer; National Gallery of Art, CC0, via Wikimedia Commons
Aside from the horn on its snout, it has a second horn in between the rhino's shoulders. It has scaly legs, somewhat like a crocodile. As the very first rhino to emerge in Europe living since the third century CE, the appearance of this virtually mythological beast was perceived in the framework of the Renaissance as emblematic of a rediscovery of antiquity and sparked enormous attention. Dürer's picture of the creature in the woodcut became renowned across Europe.
Selecting the woodcut process over the more time-consuming and expensive copper engraving approach resulted in a faster and simpler reproduction.
Portrait of Emperor Maximilian I (1519)
| | |
| --- | --- |
| Date Completed | 1519 |
| Medium | Oil on Panel |
| Dimensions | 74 cm x 62 cm |
| Currently Located | Kunsthistorisches Museum, Vienna |
In this 1519 oil painting, Emperor Maximilian I is seen in a half-length and three-quarter perspective on a green backdrop. He is facing his right, and in his left hand has a pomegranate, a sign of prosperity as well as his kingdom, with the pips symbolizing his people. The emperor is dressed in a fur-trimmed gown over a black garment. His black hat has a big brim and a broach on it. The crest of the Habsburg dynasty, as well as the emblem of the Order of the Golden Fleece, are featured in the artwork's top left corner.
Above the monarch, a text in capital characters recounts his honors and accomplishments.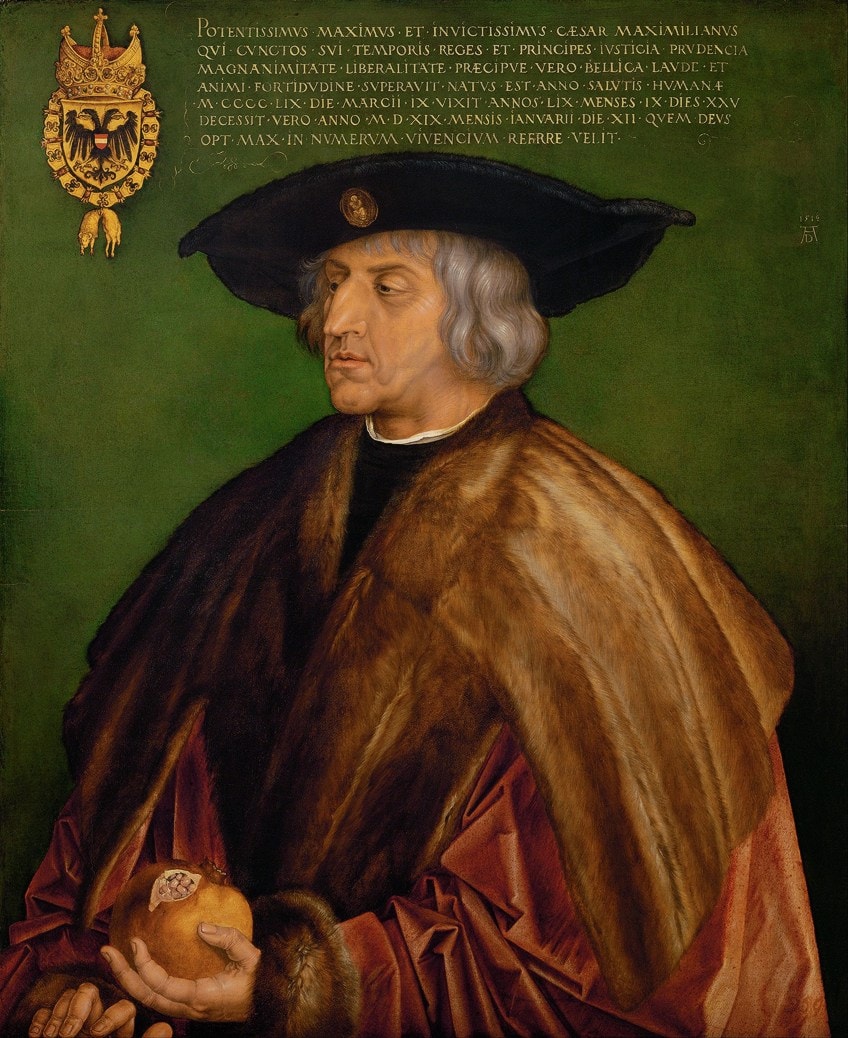 Portrait of Emperor Maximilian I (1519) by Albrecht Dürer; Albrecht Dürer, Public domain, via Wikimedia Commons
Maximilian did not hide the fact that he exploited artistic projects to promote himself. He was preoccupied with his reputation as a king, as well as the memorial of his life and accomplishments. The monarch is depicted in lavish attire in Dürer's painting, with the massive fur collar of his garment taking up a major portion of the image.
His grey hair indicates his seniority and experience, while the pomegranate in his palm reminds the observer of his responsibilities as a monarch. He has a hard and resolute expression on his face. Dürer later turned the picture into a woodcut, which was extensively disseminated and finally acknowledged as the best-known depiction of the emperor.
As we have learned today, Albrecht Dürer is regarded as one of Germany's most gifted artists, as well as a pivotal player in the Northern Renaissance. like many of his colleagues in Italy, he was a multi-talented artist who was skilled not only in oils and watercolors, but also in ink painting, engravings, and writing on subjects such as mathematics, construction, and technology.
Frequently Asked Questions
What Are a Few Famous Examples of Albrecht Dürer's paintings?
Albrecht Dürer's rabbit painting known as Young Hare is a rather renowned artwork, appreciated for its realistic study of animals. Dürer's self-portrait entitled Self Portrait with Fur-Trimmed Robe is an example of his self-aggrandizing portraiture. Albrecht Dürer's artworks were known for embracing both Northern and Italian styles.
What Is Albrecht Dürer's Most Famous Artwork?
Albrecht Dürer's artwork that has been seen the most is Albrecht Dürer's Praying Hands. It has been used in many various settings from coffee cups to bible covers. Albrecht Dürer's paintings helped spread the religious doctrine of Christianity, as well as achieved success for its realistic interpretations of nature.
Isabella studied at the University of Cape Town in South Africa and graduated with a Bachelor of Arts majoring in English Literature & Language and Psychology. Throughout her undergraduate years, she took Art History as an additional subject and absolutely loved it. Building on from her art history knowledge that began in high school, art has always been a particular area of fascination for her. From learning about artworks previously unknown to her, or sharpening her existing understanding of specific works, the ability to continue learning within this interesting sphere excites her greatly.
Her focal points of interest in art history encompass profiling specific artists and art movements, as it is these areas where she is able to really dig deep into the rich narrative of the art world. Additionally, she particularly enjoys exploring the different artistic styles of the 20th century, as well as the important impact that female artists have had on the development of art history.
Learn more about Isabella Meyer and the Art in Context Team.
Cite this Article