Famous Irish Artists – A Curated List of the Best 15 Artists
Ever wondered about who the most famous Irish artists were and what famous works were created by Irish painters and sculptors? Look no further! In this article, we will explore the 15 most famous Irish artists, whose experimentation with modern and traditional art styles in painting, sculpture, and printmaking has resulted in many visually potent works. From Impressionist landscapes to Cubist-inspired portraits, these artists and their unique profiles will be sure to spark your interest in Irish art!
An Introduction to Irish Art
If one is searching for a culturally vibrant historical portfolio of artwork, Irish art is one to explore. There are loads of gems to be discovered in Irish art history that showcase the cultural heritage of the nation's centuries' worth of creative expression. From Irish artworks such as those featured in the Book of Kells to the paintings of art icons like Jack Yeats, Irish artists have much to offer when it comes to shedding light on the innovations of Modern thinkers, Celtic traditions, and the natural landscape.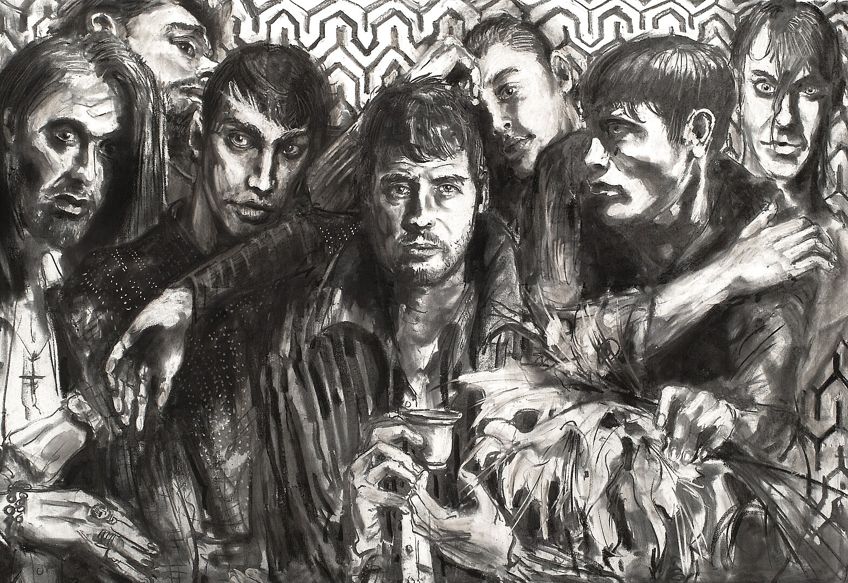 Boys without Toys (2014) by Gerard Byrne; Agatabyrne, CC BY-SA 4.0, via Wikimedia Commons
Among the most popular themes in famous Irish artworks include the country's magnificent landscapes, which inspired many painters to capture the urban vigor and rural charms of Ireland's countryside. Irish art is also largely shaped by the use of Celtic symbols drawn from ancient mythology that have been passed on for generations for Contemporary artists to innovate new narratives out of traditional folklore and stories. In terms of prominent Irish art styles, one can expect to encounter a diverse array of Modern and traditional elements that have drawn influence from Impressionism, Abstract Expressionism, Cubism, and many other popular 20th-century art movements.
As such, the development of Irish art has moved hand in hand with its history and absorption of global influences, from medieval literature to periods of political unrest, Irish artists have never failed to produce unique works that captivate global audiences.
The Top 15 Most Famous Irish Artists
Whether it is the traditional techniques of landscape painting to the modern influences of European art movements, these Irish artists have significantly shaped the course of Irish art history. Below, we have compiled a list of the top 15 most famous Irish artists whose works have piloted Irish art onto the global art market.

Sea Rhythm (1926) by Mainie Jellett; Mainie Harriet Jellett, Public domain, via Wikimedia Commons
Charles Jervas (1675 – 1739)
Artist Name
Charles Jervas
Date of Birth
1675
Date of Death
2 November 1739
Place of Birth
Shinrone, Ireland
Associated Movements, Themes, and Styles
Portraiture, art collection, and translation
Mediums
Painting
Famous Artworks

Joseph Addison (1672 – 1719)
Deer, Dog and Cat

(1672 – 1719)

Dorothy, Viscountess Townshend

(1717 – 1719

Queen Anne (1665-1714) after Kneller

(1736)
Charles Jervas was a famous 17th-century Irish painter, who specialized in portraiture and animal painting. Jervas created portraits of many famous historical figures, including Queen Anne, Dorothy Townshend, General William Cosby, and Joseph Addison. The renowned painter was also an established art collector and translator of the late 18th century who found his artistic success in London after selling a few Raphael cartoons in 1698 to the English architect George Clarke.
Thereafter, Jervas went on to build his career in portrait painting by creating portraits of intellectuals in the city, including two famous portraits of Alexander Pope and Jonathan Swift, which are housed at the National Portrait Gallery.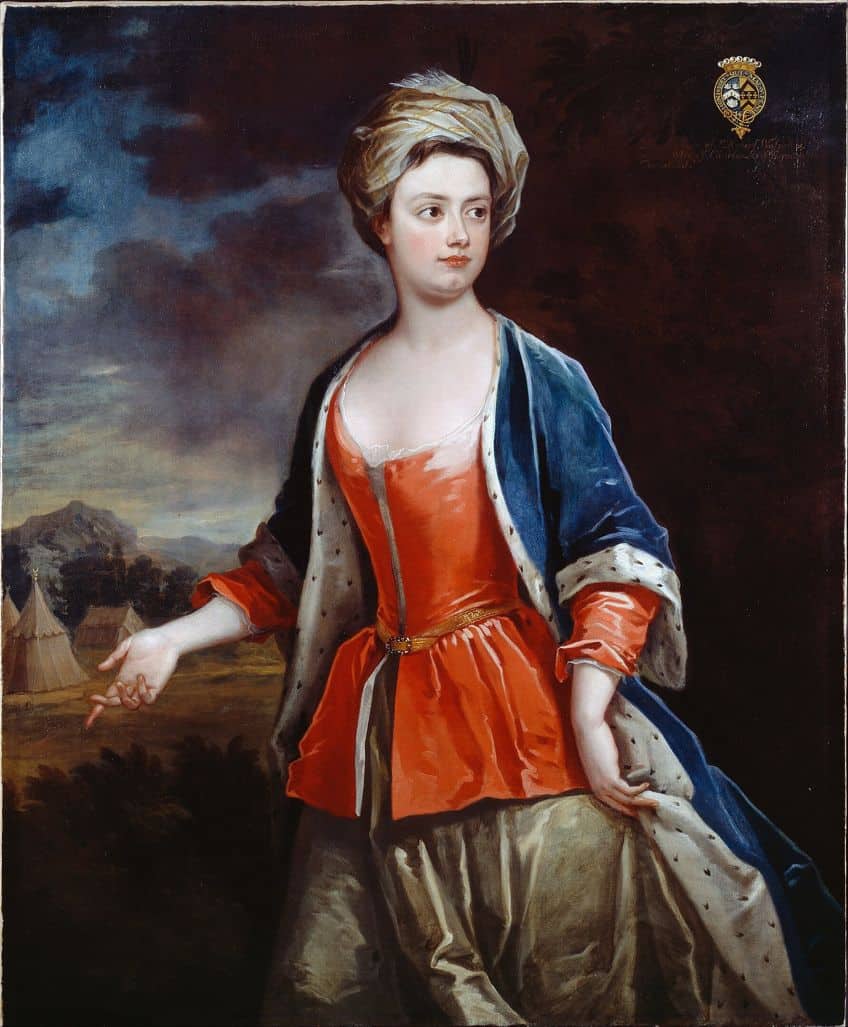 Dorothy, Viscountess Townshend (c. 1718) by Charles Jervas; Dulwich Picture Gallery, Public domain, via Wikimedia Commons
Norman Garstin (1847 – 1926)
Artist Name
Norman Garstin
Date of Birth
28 August 1847
Date of Death
22 June 1926
Place of Birth
Caherconlish, Ireland
Associated Movements, Themes, and Styles
Art criticism, Impressionism, Newlyn School, urban paintings, portraiture, and landscape painting
Mediums
Painting and printmaking
Famous Artworks

The Rain It Raineth Every Day (1889)
Portrait of a Basque Woman

(1896)

Saturday Josselin

(1911)

The Bull Hotel

(1916)
Norman Garstin was a prolific Irish artist whose works are a great example of Irish Impressionism at the turn of the 19th century. Garstin was also a journalist, art critic, printmaker, and teacher whose small-scale studies of city scenes and landscapes were executed in the plein air technique, which largely influenced students of the Newlyn School. Garstin was inspired by the styles of Japanese woodblock prints, as well as the painting style of artists such as James McNeill Whistler. Like many famous Irish artists, Garstin traveled frequently across Europe after finishing his studies in Antwerp and Paris. He was also a friend of Cecil Rhodes, whom he met on a trip to South Africa while working as a journalist.
One of Garstin's most famous Irish paintings include The Rain It Raineth Every Day (1889), which was inspired by Japanese composition techniques and the Shakespeare works, Twelfth Night and King Lear.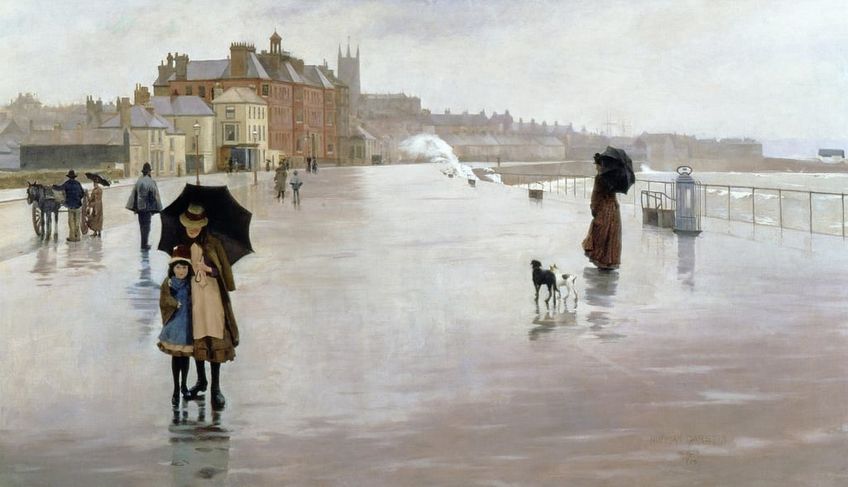 The Rain It Raineth Every Day (1889) by Norman Garstin; Norman Garstin, Public Domain, via Wikimedia Commons
Jack Butler Yeats (1871 – 1957)
Artist Name
Jack Butler Yeats
Date of Birth
29 August 1871
Date of Death
28 March 1957
Place of Birth
London, United Kingdom
Associated Movements, Themes, and Styles
Figurative art, Romanticism, Expressionism, portraiture, landscape painting, Impressionism, and Modern art
Mediums
Painting and illustration
Famous Artworks

The Two Travelers (1942)
Men of Destiny

(1946)

Grief

(1951)
Jack Butler Yeats was one of the most loved Irish painters of the Modern era, whose Impressionist and post-Impressionist painterly style captured the emotions behind Yeats' encounters with conflict, war, and grief. Yeats was also known to be an Olympic medalist, whose career began in illustration and progressed to oil and watercolor painting. From scenes of his childhood home in Sligo to romantic landscapes of the Irish West, Yeats' depiction of the world around him began to reflect his interests in Expressionism and Romanticism, which fused vivid color with expressive brushwork. His illustrative style also transitioned to include Symbolist influences as he explores universal themes such as the loneliness of man, individuality, and matters of existence among his favorite subjects of traveling players, horses, and Irish landscapes. Victor Waddington was a key figure in the launch of his career and management of his reputation, which took off in the 1940s.
Today, he holds the title of Ireland's first Olympic medalist.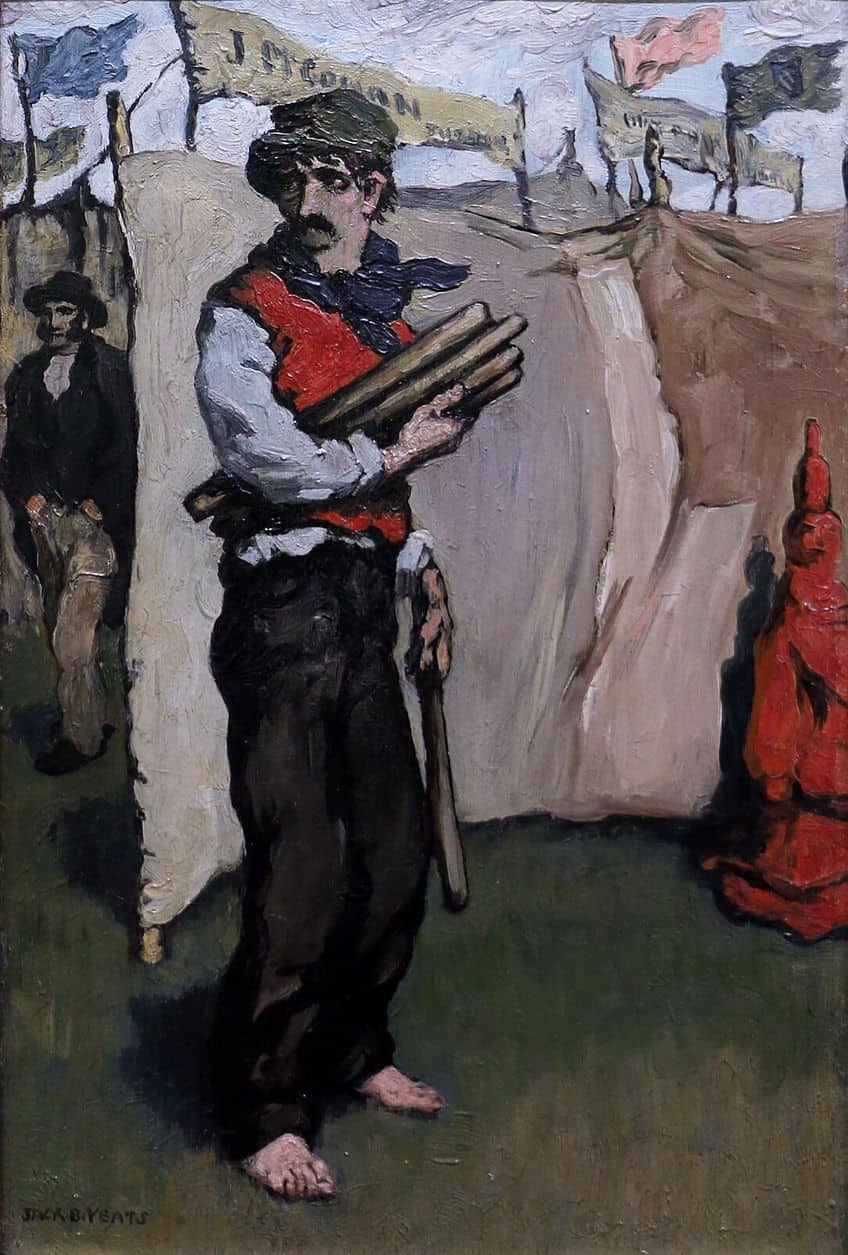 Il maggie man (1912) by Jack b. yeats; Sailko, CC BY 3.0, via Wikimedia Commons
Paul Henry (1877 – 1958)
Artist Name
Paul Henry
Date of Birth
11 April 1877
Date of Death
24 August 1958
Place of Birth
Belfast, United Kingdom
Associated Movements, Themes, and Styles
Post-Impressionism, Irish landscapes, West of Ireland paintings, and poster design
Mediums
Painting, drawing, and illustration
Famous Artworks

The Village by the Lake (1876 – 1958)
The Potato Diggers

(1912)

Connemara Cottages

(1936 – 1937)
Paul Henry was among the most famous Irish artists of the early 20th century, who created many famous Irish paintings of the West Irish regions. Henry was renowned for his post-Impressionist painting style and distinct use of color owed to his condition with red-green color blindness. He was married to two different painters, Grace Henry, and later Mabel Young, and later lost his eyesight entirely in the years before his death.
Henry was considered to be among the most popular Irish artists of the 1920s and 1930s, whose works have been exhibited at the National Gallery of Ireland and collected by museums around the world such as the Hunt Museum and the Musée du Luxembourg.
Letitia Marion Hamilton (1878 – 1964)
Artist Name
Letitia Marion Hamilton
Date of Birth
30 July 1878
Date of Death
11 August 1964
Place of Birth
Dunboyne, Ireland
Associated Movements, Themes, and Styles
Landscape painting, Modern art, the Irish countryside, Art Nouveau, and Impressionism
Mediums
Painting
Famous Artworks

Fair Day, Dunboyne, County Meath (c. 1910)
Glengarriff, Bantry Bay, from Garnish Island (dbl-sided)

(c. 1945)

Lake in Connemara

(c. 1950)

The Sacromonte from the Alhambra Granada

(1962)
Letitia Marion Hamilton was a famous Irish artist who was recognized for her contributions to Irish landscape painting. Hamilton used most of her earnings from her art career to support her family alongside her sister, both of whom were taught by William Orpen at the Dublin Metropolitan School of Art. Here, Hamilton pursued enameling, which resulted in her winning a silver medal from the Board of Education National Commission in 1912. Hamilton's paintings captured the various landscapes she encountered on her travels and in Ireland and were admired for their visual qualities that were believed to be inspired by Art Nouveau and Modernist trends.
She has also exhibited her work abroad at many prestigious institutions, including the Royal Hibernian Academy, Kensington Art Gallery, and the Royal Academy of Arts.
Mary Swanzy (1882 – 1978)
Artist Name
Mary Swanzy
Date of Birth
15 February 1882
Date of Death
7 July 1978
Place of Birth
Dublin, Ireland
Associated Movements, Themes, and Styles
Modern art, Cubism, Fauvism, Futurism, Orphism, Abstract art, landscape, and genre painting
Mediums
Painting
Famous Artworks

French River Landscape (1920)
Pattern of Rooftops, Czechoslovakia

(1920 – 1922)

Samoan Scene

(1924)
Mary Swanzy was a famous Irish genre painter who was also credited as one of the first Abstract artists in Ireland. Swanzy's works were inspired by the prevailing modern art styles found in Fauvism, Cubism, and Orphism to represent Irish landscapes. In the 1920s, Swanzy embarked on extensive travels across the globe to exotic locations to gain further inspiration, which resulted in new color palettes that were more vibrant. Her most famous landscapes were created from her travels in Honolulu and Samoa and included scenes of native women painted in a Fauvist style.
Swanzy had also exhibited alongside other famous Irish artists, including Clare Marsh, Jack Butler Yeats, and Paul Henry.
Seán Keating (1889 – 1977)
Artist Name
Seán Keating
Date of Birth
28 October 1889
Date of Death
21 December 1977
Place of Birth
County Limerick, Ireland
Associated Movements, Themes, and Styles
Romanticism, Realism, Modern art, portraiture, figurative painting, the Irish War of Independence, and industrialization
Mediums
Painting
Famous Artworks

Men of the South (1921)
An Allegory

(1924)

The Hellfire Club

(1944)

Waiting for the Steamer, Aran Islands

(c. 1950)
Seán Keating was a notable Irish painter of the 20th century whose romantic-realist artworks of the Aran landscapes and early Irish Industrialization era captured many iconic images of the period. A portrait and landscape painter, Keating remains a key Irish artist who graduated from the Metropolitan School of Art and went on to depict scenes from the Irish War of Independence, including one of his most famous works, An Allegory, which was created in 1924. Keating also served as a key committee member on a municipal art gallery in Limerick, to which he donated many of his paintings.
Between 1952 and 1962, Keating served as the President of the Royal Hibernian Academy and was recognized as an intellectual painter who sought to uncover the visual characteristics that made up Irish nationality and identity.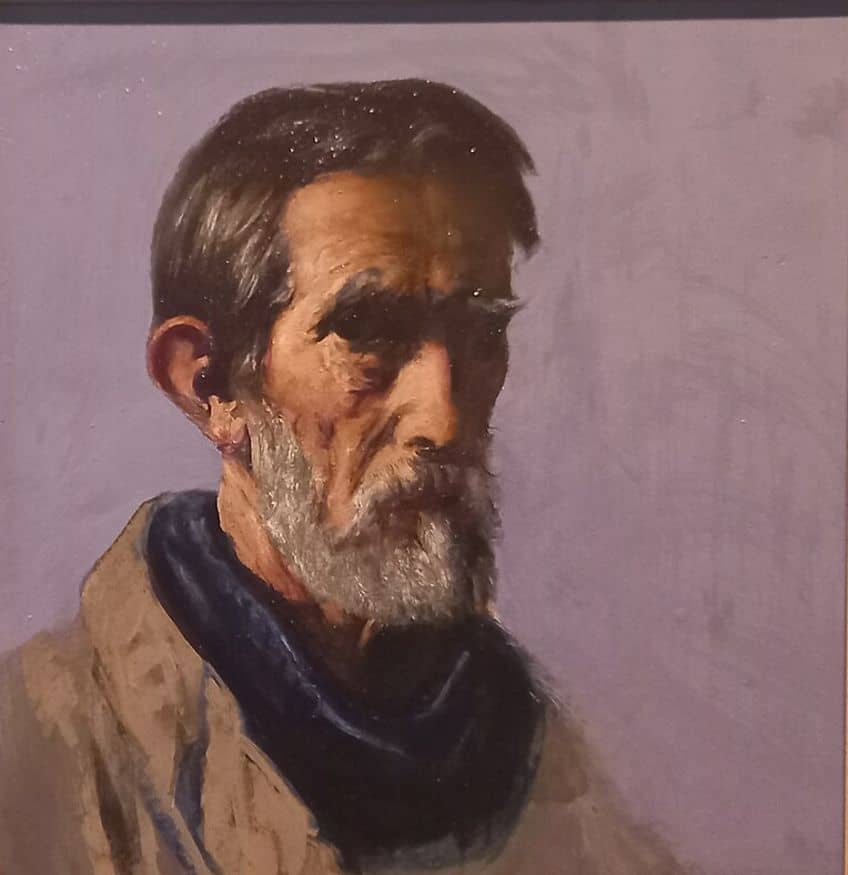 Self Portrait (1969) by Seán Keating; Sheila1988, CC BY-SA 4.0, via Wikimedia Commons
Mainie Jellett (1897 – 1944)
Artist Name
Mary Harriet Mainie Jellett
Date of Birth
29 April 1897
Date of Death
16 February 1944
Place of Birth
Dublin, Ireland
Associated Movements, Themes, and Styles
Abstract art, Modern art, and animal painting
Mediums
Painting
Famous Artworks

Decoration (1923)
Abstract Composition

(1935)

Achill Horses

(1939)
Mainie Jellett was one of the first Irish female painters whose abstract paintings were exhibited in Ireland in 1923 at the Society of Dublin Painters Group Show. Jellett studied under the painter André Lhote and was inspired by the Analytical Cubist works of Paul Cézanne and Albert Gleizes. Jellett's painting reflects her exploration of color, rhythm, form, and pictorial devices through abstraction, which was introduced in early works such as Decoration, which shocked many at the Society of Dublin Painters' group show.
Through her perseverance, Jellett turned around the opinions of many of her art critics, who were still skeptical of modernist art styles.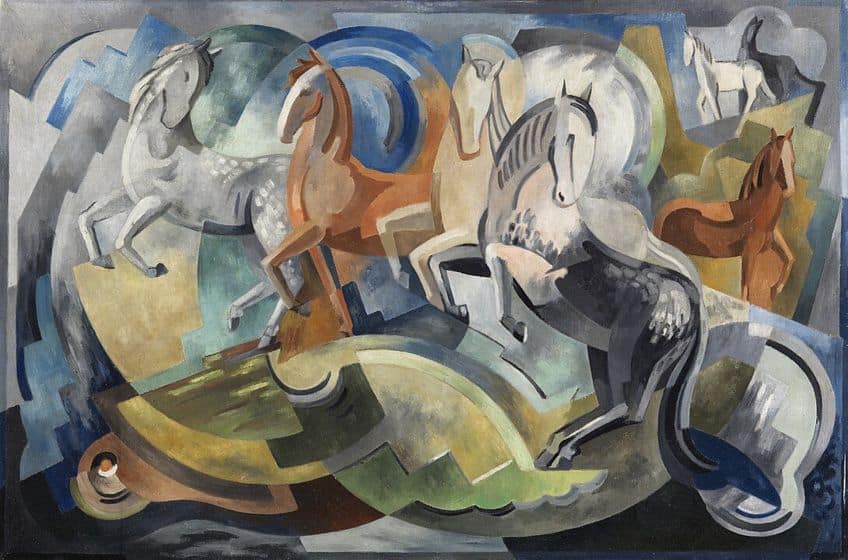 Achill Horses (1939) by Mainie Jellett; National Gallery of Ireland, Public domain, via Wikimedia Commons
Norah McGuinness (1901 – 1980)
Artist Name
Norah Allison McGuinness
Date of Birth
7 November 1901
Date of Death
22 November 1980
Place of Birth
Londonderry, United Kingdom
Associated Movements, Themes, and Styles
Modern art, still-life, portraiture, and landscape painting
Mediums
Painting, costume design, and illustration
Famous Artworks

New York Dockland (1948)
Flowers in a Vase

(1960)

The Startled Bird

(1961)

Donegal Stream

(c. 1967)
Norah McGuinness was the president of the Irish Exhibition of Living Art since 1944 and was best known for her Modernist painting style in a post-Impressionist technique. McGuinness is recognized as one of the best Irish artists of the 20th century who created many still-lifes, portraits, and landscape works that echoed the early influences of her Cubist teacher André Lhote. McGuinness went on to represent Ireland at the 1950 Venice Biennale and held her major retrospective at Trinity College in 1968. Her figurative style is largely associated with a fusion of Modern art movements that shaped her view of Irish landscapes and was largely influenced by Cubism.
As a costume designer and illustrator, McGuinness also designed windows over a 30-year span for Brown Thomas and was featured in the 2013 IMMA show Analyzing Cubism.
Louis le Brocquy (1916 – 2012)
Artist Name
Louis le Brocquy
Date of Birth
10 November 1916
Date of Death
25 April 2012
Place of Birth
Dublin, Ireland
Associated Movements, Themes, and Styles
Portraiture, Cubism, figurative art, Celtic mythology, and ethnic minority representation
Mediums
Painting, design, drawing, printmaking, sculpture, ceramics, illustration, and tapestry
Famous Artworks

Eden (1948)
The Holy Family, a Christmas Card

(1955)

The Táin – Cethern in Battle, no 5

(1969)

Tain, Birth of Conchobor

(1970)

Children in the Woods

(1991)
Louis le Brocquy was one of the most celebrated Irish artists of the 20th century, whose exploration of Cubist-inspired figures and Celtic mythology led to the creation of many unique prints and paintings that draw on the power of the imagination, otherness, and post-war Modern art. Brocquy was best remembered for his use of art as the secret medium of unlocking the "logic of the imagination" and thus presenting a new way of experiencing art through form, color, and shape.
Brocquy's works also tackled the representation of ethnic minorities in Ireland, as well as stylized figures and portraits of famous icons such as Francis Bacon and James Joyce.
Markey Robinson (1918 – 1999)
Artist Name
David Marcus Robinson
Date of Birth
7 February 1918
Date of Death
28 January 1999
Place of Birth
Belfast, United Kingdom
Associated Movements, Themes, and Styles
Naïve art, Modern art, Primitivism, landscapes, rural villages, clowns, and figurative abstraction
Mediums
Painting and sculpture
Famous Artworks

Still Life Gouache (1918 – 1999)
Delivering The Milk (

c. 1960s)

On The Shore

(1988)
David Marcus Robinson was best known as Markey Robinson and was one of the most famous Irish painters of the Modern era. Robinson was famous for his stylized clown portraits and landscapes that echoed his passion for figurative abstraction and Naïve art styles. Robinson's style is further characterized by his use of dark outlines in his paintings that produce the same effect as stained glass outlines and result in his signature style.
Additionally, Robinson was also a sculptor and designer, having produced a design for a stained-glass window for the Oriel Gallery with many of his paintings and sculptures collected by institutions like the Ulster Museum and Queen's University Fine Arts Collection.
Melanie Le Brocquy (1919 – 2018)
Artist Name
Melanie Le Brocquy
Date of Birth
23 December 1919
Date of Death
22 June 2018
Place of Birth
Dublin, Ireland
Associated Movements, Themes, and Styles
Modern art, figurative art, family, the female figure, and bronze sculpture
Mediums
Sculpture
Famous Artworks

St Patrick (1941)
Figures on a Bridge

(1982)

Woman on a Stone Wall

(2005)
Melanie Le Brocquy was a well-known Irish sculptor who began her art studies at the National College of Art & Design and completed her studies at the École des Beaux-Arts. She then enrolled at the Royal Hibernian Academy, where she perfected her talents in bronze sculpture, earning herself a prize in 1995 for creating the best bronze casting. Le Brocquy's most famous sculpture of Saint Patrick was installed in the St Patrick's Cathedral along with four additional Oscar Wilde busts installed at the Trinity College, American College Dublin, the Irish Embassy in Washington, and Magdalen College. Since the 1960s, her works have been exhibited far and wide, with solo shows across Dublin, Belfast, and London. Additionally, Le Brocquy was also the recipient of the 1939 California Gold Medal and the 1991 Claremorris Open Exhibition prize. Her sculptural works often tackle her exploration of the female form and portraits of her family members and women that emanate an atmosphere of tenderness and respect.
An admirable quality of her work is that despite the simplification of form in a medium such as bronze, her works do not appear rigid or stiff.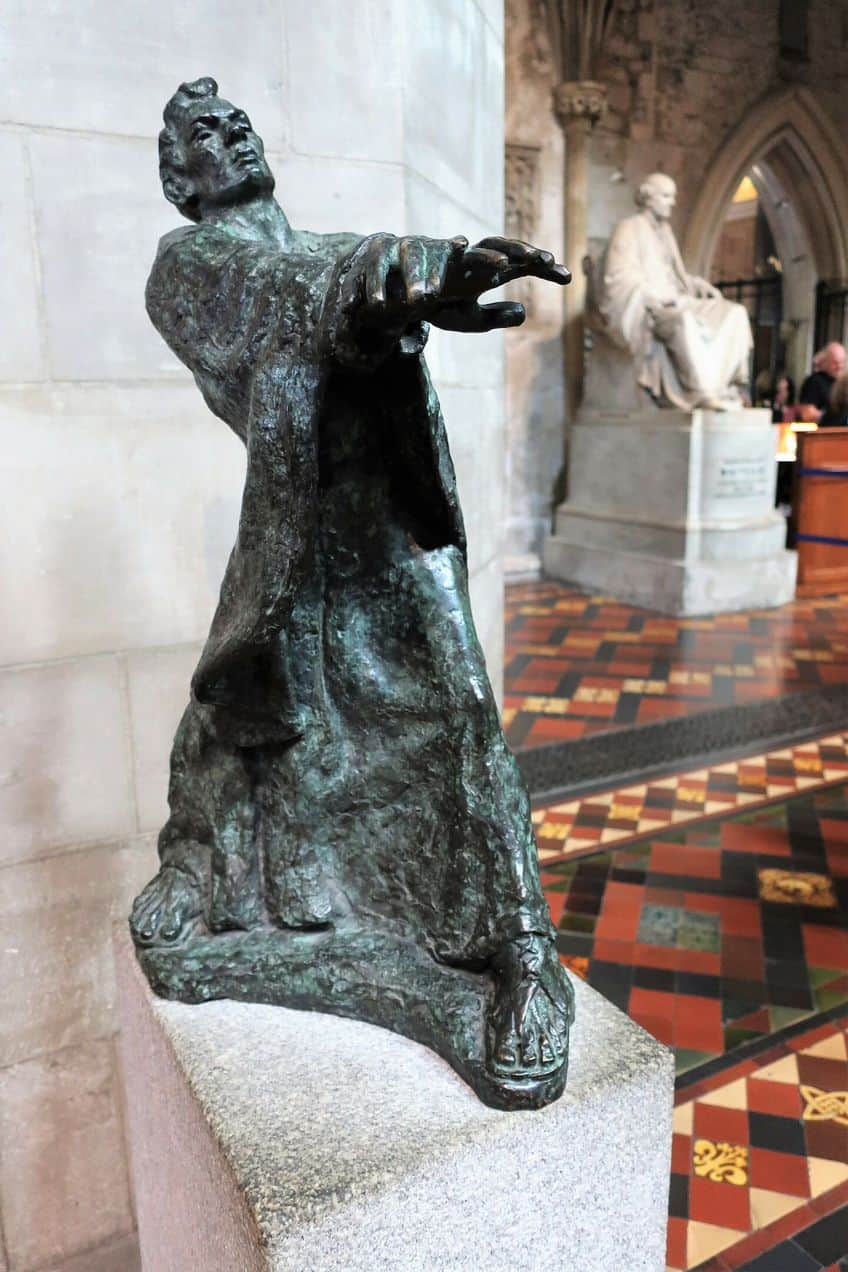 St Patrick (1941) by Melanie Le Brocquy; Bärwinkel,Klaus, CC BY-SA 4.0, via Wikimedia Commons
Brian O'Doherty (1928 – 2022)
Artist Name
Brian O'Doherty
Date of Birth
4 May 1928
Date of Death
7 November 2022
Place of Birth
Ballaghaderreen, Ireland
Associated Movements, Themes, and Styles
Conceptual art, Contemporary art, Modern art, and art criticism
Mediums
Painting, installation, writing, and performance
Famous Artworks

Portrait of the Artist as a Naked Young Man (1953)
Transitional Head

(1957)

One Here Now

(2018)
Brian O'Doherty was a famous Irish painter, art critic, and performance artist, who was best known for his contributions to NBC and The New York Times, as well as his many alter egos, one of which he laid to rest in 2008. O'Doherty was also a pioneer in Irish art criticism and wrote many important books and essays, the latter of which was published in Artforum. In 2005, he also held a major retrospective at the Hugh Lane Municipal Gallery of Modern Art and penned the novels The Strange Case of Mademoiselle P. (1992) and The Crossdresser's Secret (2014).
O'Doherty was largely inspired by the Modernist works of Marcel Duchamp, who motivated his passion for art criticism as a medium to always question artistic conventions.
Marjorie Steele-Fitzgibbon (1930 – 2018)
Artist Name
Marjorie Fitzgibbon (neé Steele)
Date of Birth
27 August 1930
Date of Death
20 January 2018
Place of Birth
Nevada, United States
Associated Movements, Themes, and Styles
Modern art and portraiture
Mediums
Sculpture
Famous Artworks

Tyrone Guthrie (1900–1971) (1970s)
Sir Basil Liddell Hart (1895–1970), Fellow

(1976)
While mostly recognized as an actress, Marjorie Steele-Fitzgibbon was one of the most famous Irish-American artists who specialized in bronze sculpture. Steele, as she was most commonly known, was famous for her busts of famous Irish literature icons and held her first show at the Brown Thomas Gallery in 1970. One of her most famous statues is located on North Earl Street and represents James Joyce.
She was also commissioned by the Royal Dublin Society to produce 12 busts of living Irish artists from the 1970s, followed by a commission from the Arts Council in 1988.
Gerard Byrne (1958 – Present)
Artist Name
Gerard Byrne
Date of Birth
29 March 1958
Place of Birth
Dublin, Ireland
Associated Movements, Themes, and Styles
Contemporary art, still-life, landscape, and floral painting
Mediums
Painting
Famous Artworks

Shimmer Koi Pond (2019)
Watching The Waves IV

(2019)

Until We Meet Again

(2021)

Bloomsday In Glasthule

(2022)
Gerard Byrne is another famous Contemporary Irish painter, whose stunning studies of floral arrangements, natural landscapes, seascapes, and pastoral settings will have you in absolute awe. Byrne's paintings are admired for his strategic use of contrast coupled with his masterful use of color, expressive brushwork, and large-scale natural landscapes that were all a product of the artist's self-education. From an early age, Byrne spent his time traveling extensively and demonstrated his knowledge and understanding of natural light in many of his works. His multi-figurative works also indicate his interactions with different cultures and sharp understanding of perspective and space.
Fragility of Life (2016) by Gerard Byrne; Agatabyrne, CC BY-SA 4.0, via Wikimedia Commons
These top 15 Irish artists have all contributed to the development of Modern Irish art styles rooted in painting, printmaking, and sculpture. From artists who work with Celtic mythology to Irish landscape painting specialists and Impressionists, you can certainly be inspired by these famous Irish artists and their creations!
Take a look at our Irish artists webstory here!
Frequently Asked Questions
Which Three Irish Artists Are Famous for Traditional Landscape Painting?
Among the many famous landscape artists from Ireland, figures like George Campbell, Patrick Hennessy, and Harry Kernoff are among the top three most renowned artists to specialize in traditional landscape painting.
Who Is the Most Famous Irish Artist?
The most famous Irish artist is considered to be the 20th-century painter Jack Butler Yeats, who was best known for his portraits. Yeats is also famously recognized as the brother of William Butler Yeats.
Which Famous Irish Artist Painted Wartime Scenes?
Famous 20th-century painter Sir John Lavery was known for his paintings of wartime scenes and portraits. Lavery's paintings are housed in museums across the globe, such as the Imperial War Museum, the Tate Gallery, and the Irish Museum of Modern Art.
Jordan Anthony is a film photographer, curator, and arts writer based in Cape Town, South Africa. Anthony schooled in Durban and graduated from the University of the Witwatersrand, Johannesburg, with a Bachelor of Art in Fine Arts. During her studies, she explored additional electives in archaeology and psychology, while focusing on themes such as healing, identity, dreams, and intuitive creation in her Contemporary art practice. She has since worked and collaborated with various professionals in the local art industry, including the KZNSA Gallery in Durban (with Strauss & Co.), Turbine Art Fair (via overheard in the gallery), and the Wits Art Museum.
Anthony's interests include subjects and themes related to philosophy, memory, and esotericism. Her personal photography archive traces her exploration of film through abstract manipulations of color, portraiture, candid photography, and urban landscapes. Her favorite art movements include Surrealism and Fluxus, as well as art produced by ancient civilizations. Anthony's earliest encounters with art began in childhood with a book on Salvador Dalí and imagery from old recipe books, medical books, and religious literature. She also enjoys the allure of found objects, brown noise, and constellations.
Learn more about Jordan Anthony and the Art in Context Team.
Cite this Article