El Greco Paintings – An Exploration of El Greco's Famous Paintings
El Greco's artworks are among the small group of paintings by artists that have achieved widespread popularity. Although he was born in Crete, he found his fame in Spain and was renowned as being an artist who experienced the inner workings of the mystery of life. It is said that no other master's paintings from the West transitioned as cognitively as El Greco's paintings did from the flattened allegorical realm of Byzantine iconography to the earth-embracing, humanistic perspective of Renaissance art, and subsequently to a mostly conceptual form of art.
Who Was El Greco?
El Greco is widely regarded as a pivotal figure in the Renaissance in Spain during the late 15th and early 16th centuries. Although El Greco's artworks were met with skepticism and bewilderment at the time owing to his highly individual aesthetic, today he is recognized as one of the elite individuals of the contemporary canon of outstanding artists and is recognized as a real visionary talent who existed significantly beyond his time.
El Greco's portraits, landscapes, and other paintings received widespread acclaim in the 19th century when a number of patrons, authors, and painters (particularly Romantic painters who appreciated his impassioned eccentricities) recast it in a better perspective.
Nonetheless, it is often assumed that his distinct creative style, with its emphasis on expressiveness, was only completely recognized in the 20th century when the creative landscape of the period acquired a greater understanding of his work.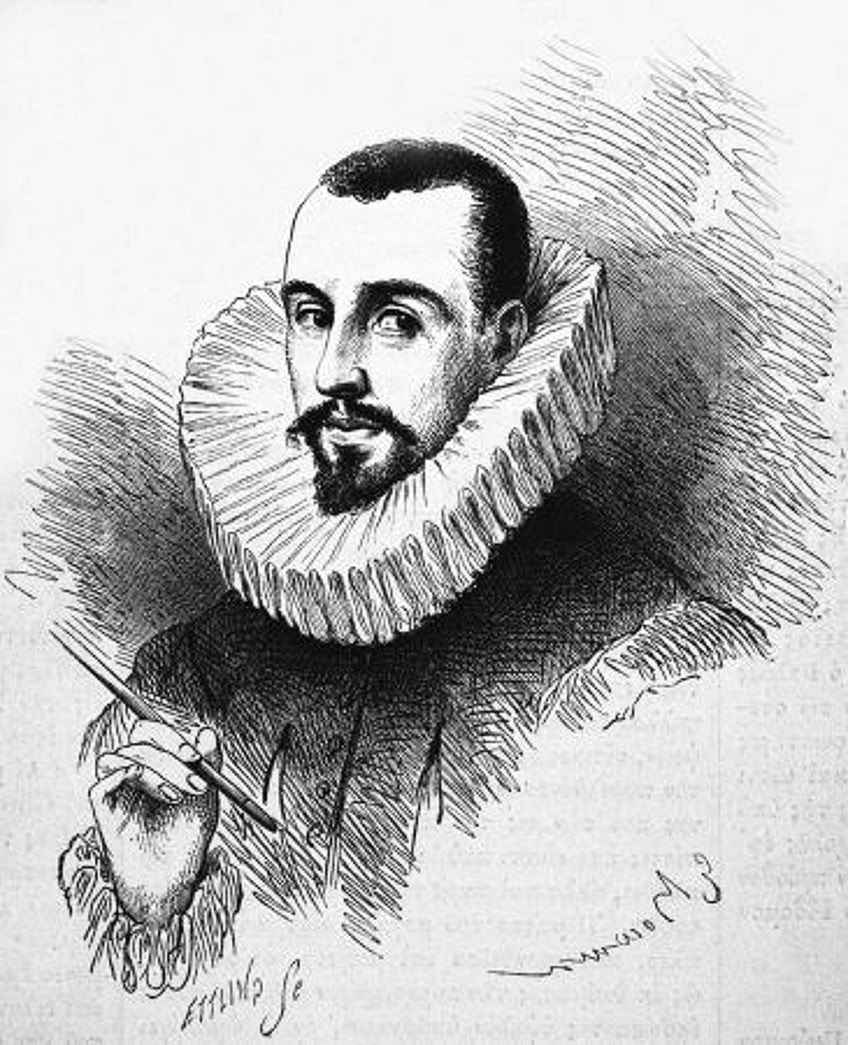 A drawing of El Greco, between 1870 and 1871; Unknown author Unknown author, Public domain, via Wikimedia Commons
Our List of Important El Greco Paintings
El Greco's famous paintings were influenced by his imagination and feeling of individual graphic aesthetic. These factors and the composition of the material laid the groundwork for the progression of Cubism, a trend in which painters started to renounce a fixed point of view in order to experiment with geometric forms and interlaced planes. He had a big effect on Pablo Picasso, who examined several of his works closely and perceived a contemporary approach to painting in El Greco's vocabulary. Picasso's Portrait of a Painter after El Greco (1950) might be viewed as an homage to the great artist.
El Greco may also be viewed as a forerunner to the modern art canon, pointing the route away from conventional realistic methods and towards a new creative conversation that stressed passion, internal emotion, and daring new renderings of colors and free form depictions.
His work was essential in the establishment of the Expressionist style and the Blaue Reiter Group. Several Expressionist scenes that used a more natural treatment of shape and color, such as those by Vincent van Gogh, had a clear relationship to El Greco's paintings.
El Greco's signature from his painting St. Francis Kneeling in Meditation (c. 1595-1600); Sailko, CC BY 3.0, via Wikimedia Commons
El Greco was the archetypal Spaniard – an artist of the soul who shunned materialist society in favor of pursuing life's innermost spiritual creations. He underlines that, in addition to El Greco's enormous effect on many art styles and painters, it is the mystical aspects of El Greco's paintings that define his worldwide legacy.
To get a better understanding of this master artist, let's take a deeper look at some of El Greco's famous paintings.
The Holy Trinity (c. 1579)
| | |
| --- | --- |
| Date Completed | c. 1579 |
| Medium | Oil on Canvas |
| Dimensions | 300 cm x 179 cm |
| Currently Located | Museo del Prado, Madrid |
The Holy Trinity, completed sometime between 1577 and 1579, portrays God cradling a suffering Messiah in his embrace as they soar in the heavens among the clouds, with the Holy Spirit's doves hovering over their bodies. Six spirits in multicolored garments encircle them, and a bright golden light shines down from above. The piece was part of El Greco's first large contract for the Church of Santo Domingo, and it cemented him as a respected painter as immediately as it was done. It is now regarded as one of El Greco's most famous paintings.
This early instance of El Greco's artwork represents a fusion of his two primary influencing factors: the Renaissance artists and the Byzantine emblematic heritage.
The Holy Trinity (c. 1579) by El Greco; El Greco, Public domain, via Wikimedia Commons

While the layout has parallels with the creations of Dürer and Michelangelo, and both painters are said to be a significant influence for this piece, the artwork also demonstrates some distinct characteristics that characterized El Greco's oeuvre and constituted his distinctive style. He created stretched, twisted shapes, severe foreshortening, and surreal hues the foundation of El Greco's paintings.
Every one of those elements is evident in this artwork: the superb and imaginative use of coloring in the garments, the coherency between shapes and content in the interweaving of the models' figures, the elasticity of the bodies, particularly in Christ's body, and the inventive trancey quality that characterizes the general impression of the picture.
One of his signature methods, the employment of highlights adjacent to darker and dense contours to produce a deeply striking impact, is already evident in the piece.
The Nobleman With his Hand on his Chest (1580)
| | |
| --- | --- |
| Date Completed | 1580 |
| Medium | Oil on Canvas |
| Dimensions | 81 cm x 65 cm |
| Currently Located | Museo del Prado, Madrid |
This El Greco artwork was sent to Philip V by the wife of the Duke of Arco. He had a set of six El Greco portraits of individuals in his leisure estate at El Pardo, the origin of which is now unclear. This set would go on to form the bulk of El Greco's portraits collection, which are now housed at the Museo del Prado.
The current painting is one of El Greco's early works produced in Spain and is the most unique of the six.
The model, who is about 30 years old, is clothed in late 1570s Spanish attire, with a thin, white frill that extends up over his ears and outlines his face. His dominant hand, lying on his chest, and the golden handle of his blade stand out over his snug black silk doublet. The manner in which his other arm is twisted implies that he is clutching and displaying the wrapped sword with his left hand, which is hidden from view.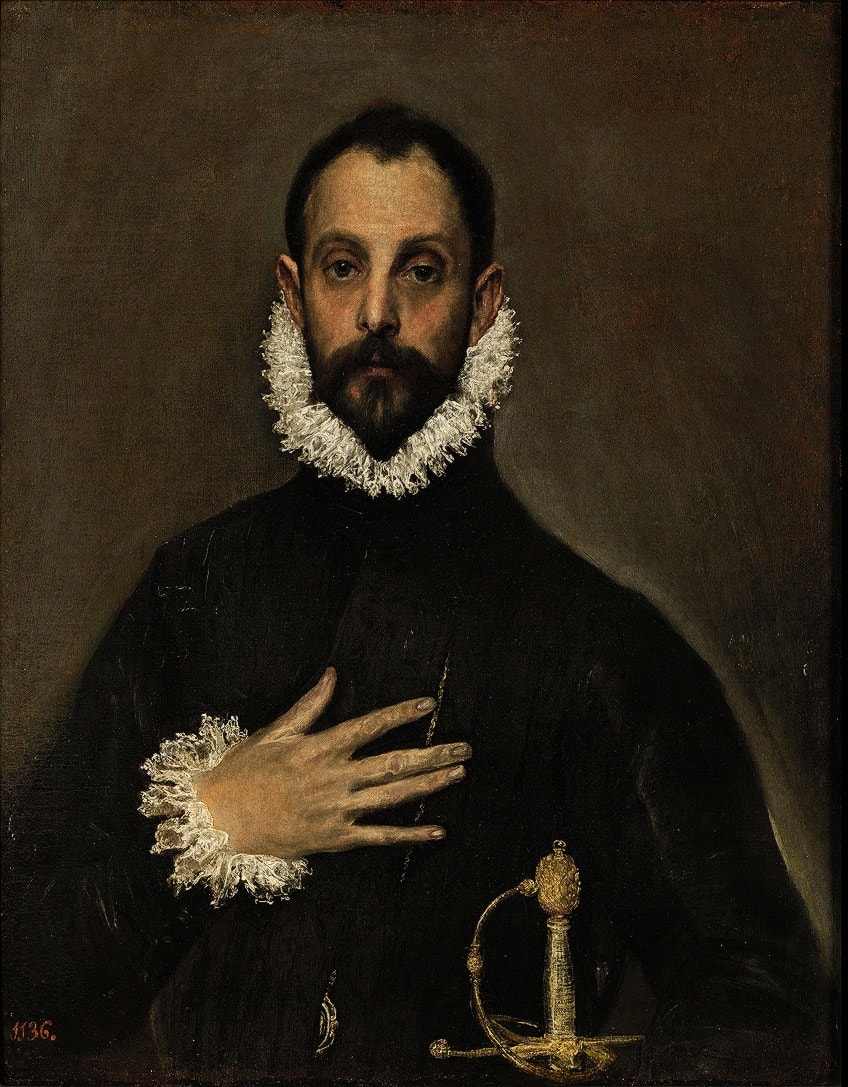 The Nobleman with his Hand on his Chest (c. 1580) by El Greco; El Greco, Public domain, via Wikimedia Commons
The image is defined on a plain backdrop of a pearl grayish tint modified by the reddish-brown of the preliminary layer underneath, which can be seen on the surface. It is one of the most famous El Greco portraits as a result of its early exhibition at the Museo del Prado.
The painting became one of El Greco's most renowned works as a result of its early showing at the Museo del Prado.
The incorporation of the pricey blade, the somber and discursive expression of the dominant hand, which is uncommon in his secular pieces but prevalent in his Christian themed artworks, the partially hidden pendant that he wears, and, above everything else, the clear link formed between model and audience have made this piece a legendary impression of the Spanish knight.
The Ecstasy of St. Francis of Assisi (c. 1580)
| | |
| --- | --- |
| Date Completed | c. 1580 |
| Medium | Oil on Canvas |
| Dimensions | 92 cm x 127 cm |
| Currently Located | El Greco Museum, Toledo |
The picture shows St. Francis' ecstasy, a prominent topic in classical art that was also represented by Caravaggio in 1595, Giovanni Bellini in 1475, Giovanni Baglione in 1601, and a number of other famous artists who were all captivated by the narrative. It shows a moment from the epic life of Italian Saint Francis of Assisi, who started on a trip to Mount La Verna for 40 days of prayer and fasting a couple of years before his death in 1224. As he meditated one day, he fell into spiritual rapture and was visited by a cherub or angel who bestowed the stigmata (the markings of Christ on his limbs).
El Greco depicts St. Francis at this precise point in the artwork, with a countenance filled with feelings of dedication, suffering, and submission.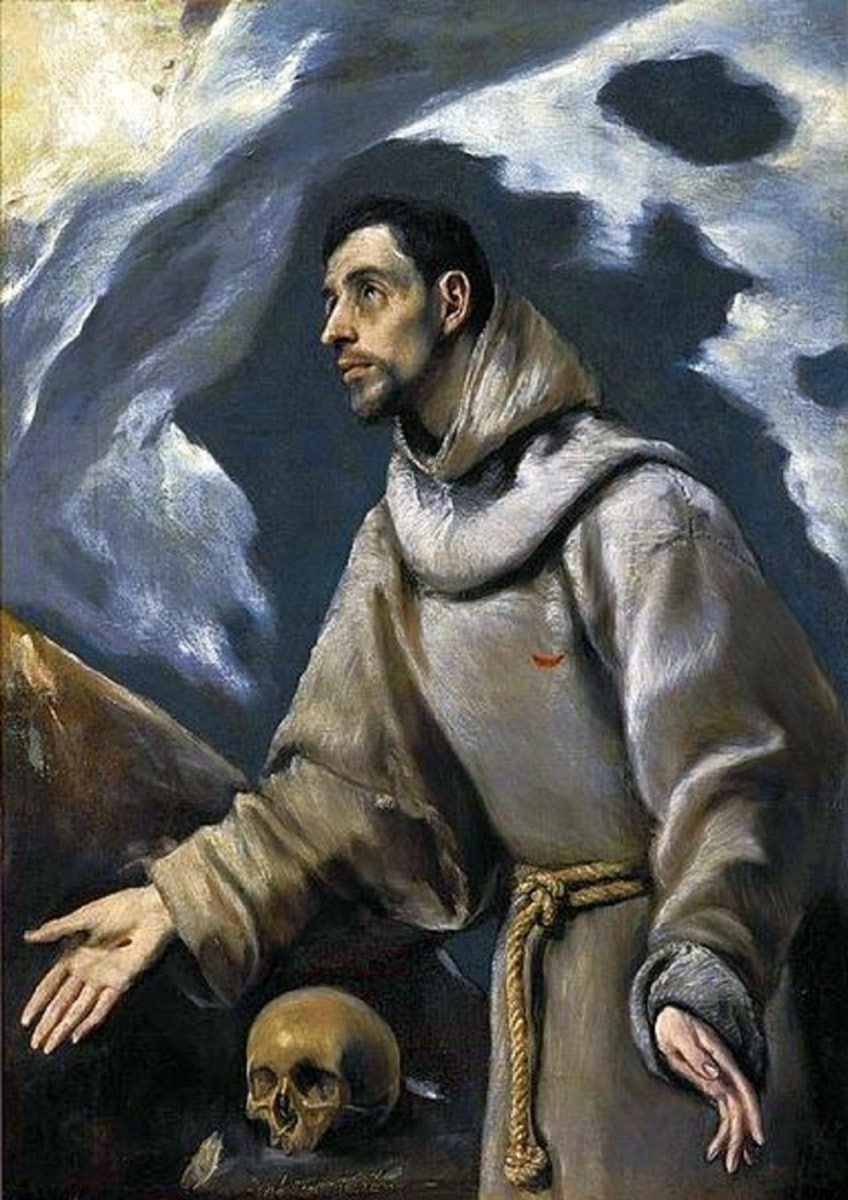 The Ecstasy of Saint Francis of Assisi (c. 1580) by El Greco; El Greco, Public domain, via Wikimedia Commons
A skull, traditionally connected with the Saint and a sign of death, stands in front of him. El Greco was obsessed with this topic, as evidenced by the fact that his studio had over a hundred depictions of St. Francis. In this artwork, however, El Greco abandons his typical cheerful, bright, and vibrant depictions in favor of a gloomy and dismal environment in order to re-create the Saint's sad and tragic ordeal.
Even though the picture is also an instance of Mannerism, its utilization of brightness and contrast appears to be evocative of another aesthetic style connected with Rembrandt's works from the 17th century.
The Burial of the Count of Orgaz (1588)
| | |
| --- | --- |
| Date Completed | 1588 |
| Medium | Oil on Canvas |
| Dimensions | 480 cm x 360 cm |
| Currently Located | Iglesia de Santo Tomé, Toledo |
This is the most renowned of El Greco's famous paintings. His participation in the evolution of the genre is distinguished by graphic creations that, via structure, creativity, and articulation, evolved away from an idealistic purity into a reality packed with strain and emotional depth. The Burial of Count of Orgaz is a famous tale in Toledo about a devout and benevolent man who died leaving a significant quantity of money to the clergy and was then buried and taken to paradise by Saint Augustine and Saint Stephen.
The funeral scenario is depicted at the bottom of the picture, with the Count flanked by the two angels, accompanied by other nobility and clergymen dressed in 16th-century attire and caught in a fixed manner.
The Burial of the Count of Orgaz (1586-1588) by El Greco; El Greco, Public domain, via Wikimedia Commons
It is juxtaposed with the divine realm, which contains God, Christ, the angels, Mary, and John the Baptist, all of whom view the event, which is represented in a more naturalistic and flowing manner to reflect the attributes and weightlessness of the soul, the planet's surface, and the divinity of eternity, each shown in its own way. Earth is depicted in regular size, with more proportionate forms, but heaven is made up of whirling clouds and abstract patterns, with individuals that have a more ethereal feel to them.
This obvious contrast considerably facilitates two ideas: on the one hand, a unification of both realms is offered, and on the other, the division of the worlds is strengthened.
Madonna and Child with Saint Martina and Saint Agnes (1599)
| | |
| --- | --- |
| Date Completed | 1599 |
| Medium | Oil on Canvas |
| Dimensions | 193 cm x 103 cm |
| Currently Located | National Gallery of Art, Washington DC |
This El Greco artwork portrays infant Jesus and his mother reclining on clouds in the heavens, flanked on the lower right corner by Saint Agnes carrying a sheep and on the lower left by Saint Martina. The individuals comprise the majority of this sizable artwork, interacting in a complicated interdependent fashion.
The picture was initially shown next to another of El Greco's artworks, Saint Martin and the Beggar, at Toledo's Chapel of Saint Joseph, and symbolizes a collection of works done between 1957 and 1607 of numerous contracts that characterizes his peak era. This piece exemplifies his very emotive personality and sophisticated attention to design.
The use of vivid, bold colors, which is also distinctive of El Greco's paintings, is prominent in the piece, with the angels' and Mary's robes in rich red, blue, and yellow.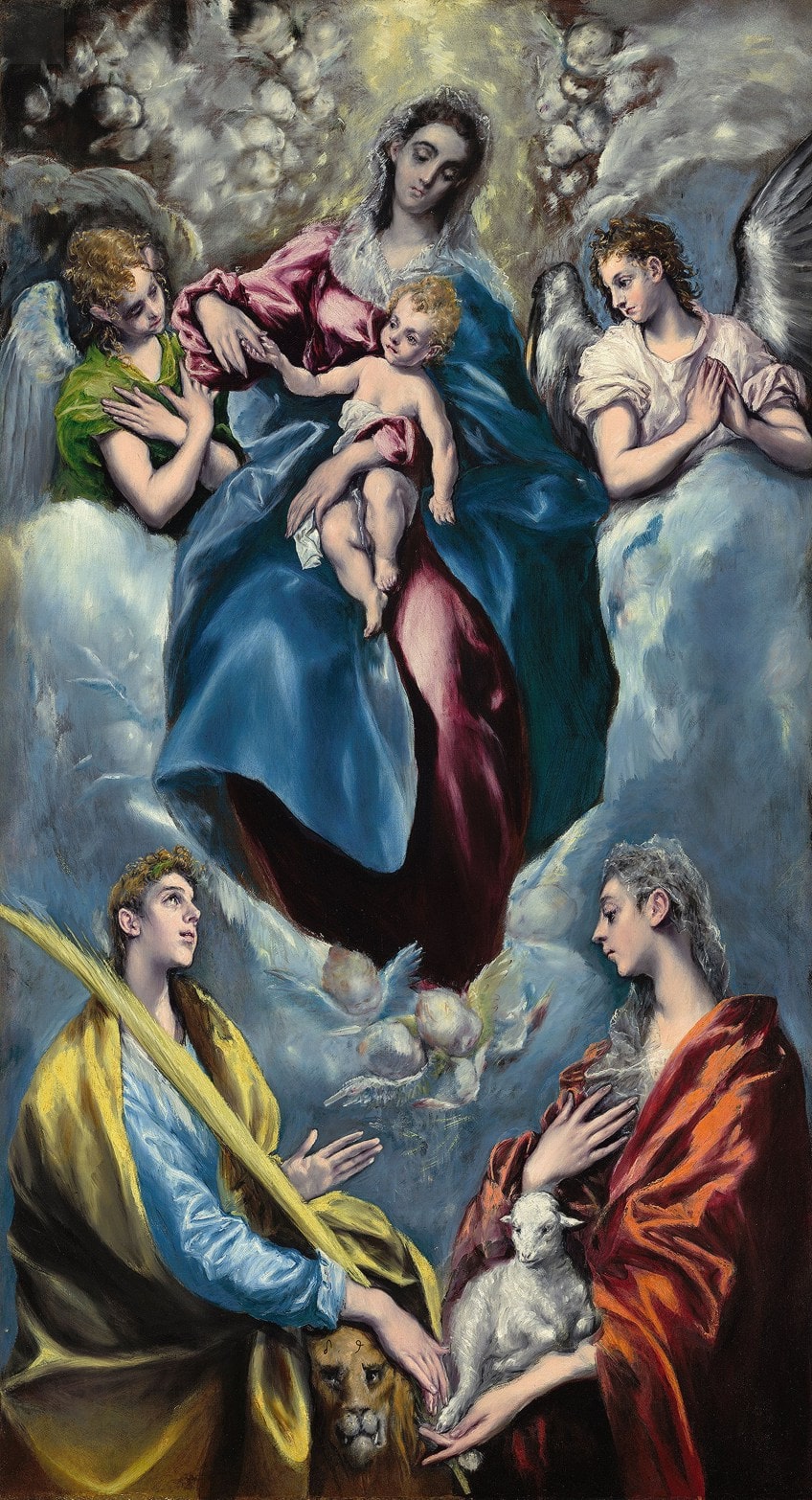 Madonna and Child with Saint Martina and Saint Agnes (1597-1599) by El Greco; El Greco, Public domain, via Wikimedia Commons
El Greco believed colors to be a basic aspect of any artwork, far more than structure, and he believed it was a very complicated matter, stating that the copying of colors was the biggest challenge in painting. According to art experts, the artist's goal was not to copy nature or to convey a tale with melodramatic plausibility, but rather to construct his own universe of visual form in imagery under visual illumination and use it as a medium for communicating what he intended to say about life.
According to this viewpoint, the work's global relevance stems from the underlying message, which depicts the heavenly body as a genuine presence on the earth.
View of Toledo (c. 1599)
| | |
| --- | --- |
| Date Completed | c. 1599 |
| Medium | Oil on Canvas |
| Dimensions | 121 cm x 108 cm |
| Currently Located | Metro Museum of Art, New York |
El Greco's View of Toledo portrays a panorama of the town where the artist spent most of his lifetime. The scene is portrayed in a striking way, with vibrant flora in the front and turbulent clouds in the distance that appear to be heralding a thunderstorm.
The town is portrayed in grey tones since it is located at a range at the crest of the native hills that slope downhill to the Roman Alcántara aqueduct. The structures are portrayed as a cloud-like aggregation, naturally grouped. The artist handled the topic in the same way he treated his previous pieces, gaining reference from life but being unfaithful to it.
He made up the setting in order to express the feelings he intended; except for the castle of San Servando, all of the other structures are based on his imagination.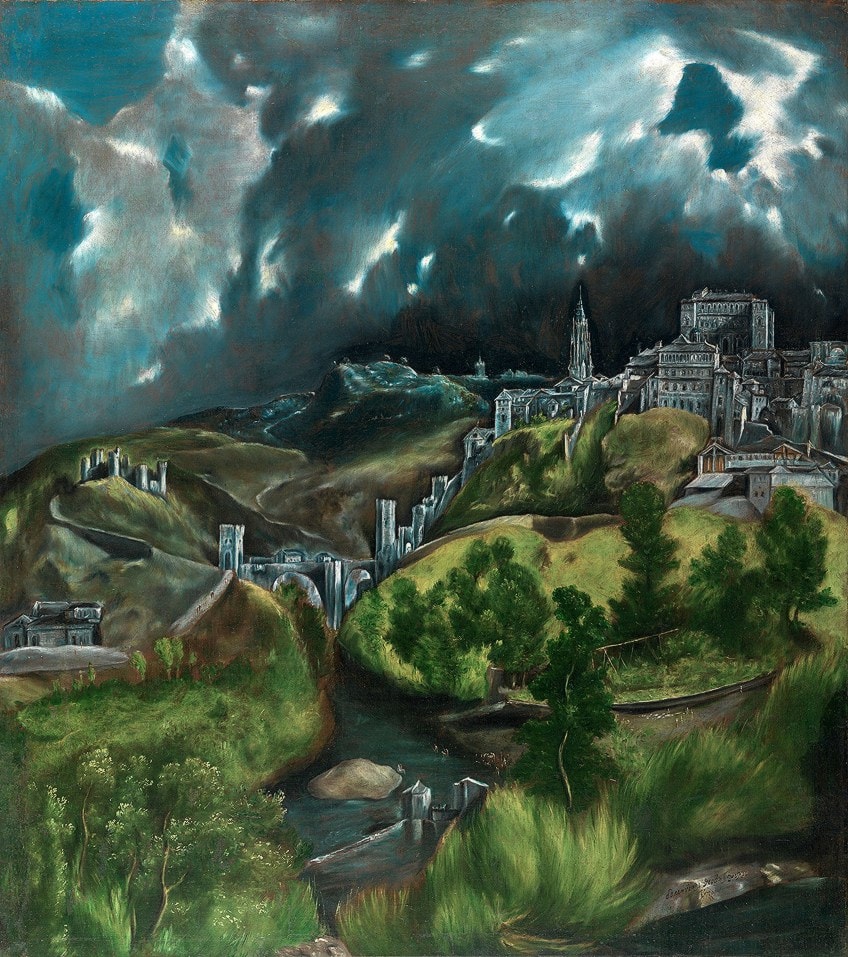 View of Toledo (between 1596-1600) by El Greco; El Greco, Public domain, via Wikimedia Commons
The depiction of a countryside topic was a unique subject at the period, particularly in a Spanish setting, earning El Greco recognition as the first painter of landscapes in Spanish art history. This specific depiction of the sky is one of the most well-known works in Western art. El Greco's View of Toledo is the only piece still existing of his landscapes, and nothing is known about its background, provenance, or conditions.
The painting's creative vocabulary may also be regarded as a direct impact on Expressionism.
Edvard Munch's 1893 painting The Scream, with its spectacular streaming skies and clouds, and Vincent Van Gogh's 1889 painting The Starry Night, with its twisted flora and dramatic sky, can be viewed to support El Greco's perspective.
Portrait of an Old Man (c. 1600)
| | |
| --- | --- |
| Date Completed | c. 1600 |
| Medium | Oil on Canvas |
| Dimensions | 52 cm x 46 cm |
| Currently Located | Metro Museum of Art |
El Greco's paintings have continuously been praised in the art world for their realism and deep psychological understanding. Portrait of an Old Man, one of El Greco's self-portraits, painted between 1595 and 1600, has been recognized and dismissed as a probing self-portrait. The artist seems to have put himself in supporting roles in a few religious paintings.
The figures in the Religious paintings are thought to match the current sitter. They do, nevertheless, appear to be more vibrant and have white hair. El Greco's self-portraits are now on exhibit at national institutions as a tribute to his brilliance. In this self-portrait created in the late stages of his life, the famed 16th-century painter may have depicted his own neurological difficulties.
Following the discovery of some of the famous artist's oeuvre, a group of academics recently proposed that the art archives in history revealed a left eye issue visible in the majority of his art pieces.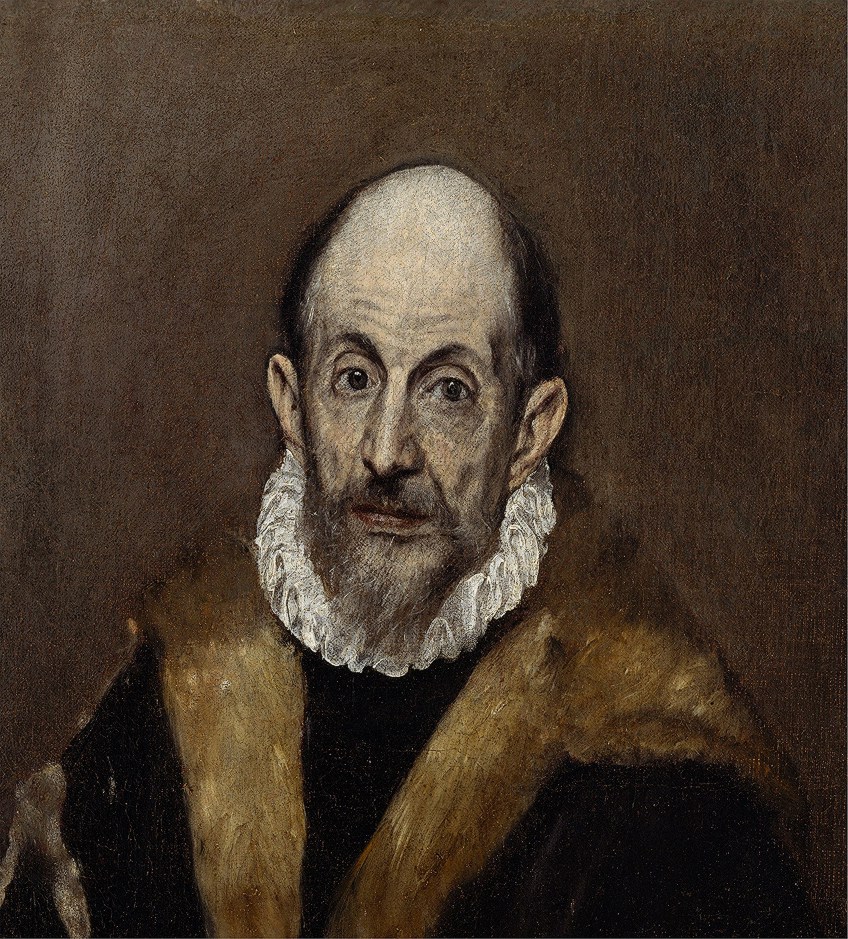 Portrait of an Old Man (c. 1600) by El Greco; El Greco, Public domain, via Wikimedia Commons
It was claimed that the artist's slanted left eye and lighting refraction in his cornea, which was depicted in numerous of his paintings, were symptoms of a disease he had whilst in utero. Congenital enophthalmos is the medical term for this disorder. His El Greco's optical axis was clearly misaligned in yet another of El Greco's self-portraits, predicated on the shade employed in the eye cornea of the picture. Based on findings by neurologists, when strabismus is not treated, it inevitably leads to a lazy eye, as shown in El Greco's self-paintings.
These bits of evidence spurred more investigation and examination of the picture. According to historical sources, El Greco had several small strokes that affected his left side, which the researchers discovered.
Christ Blessing (1600)
| | |
| --- | --- |
| Date Completed | 1600 |
| Medium | Oil on Canvas |
| Dimensions | 70 cm x 56 cm |
| Currently Located | Scottish National Gallery, Edinburgh |
Christ is seen in this picture placing one hand on a blue sphere and gesticulating to the heavens with the other. A halo of white light shines from behind or inside him, serving as a halo against the dark gloomy backdrop. It is produced in El Greco's trademark flowing manner and contains a deep artistic and mental impact, which is primarily provided by Christ's piercing gaze that stares deeply into the viewer. The strong brilliant red hue of his garments contrasts sharply with the muted and gloomy color scheme used throughout the picture.
The extended limbs and body, influenced by Titian and Tintoretto, give the picture a dreamy aspect that is simultaneously realistic and utterly unearthly, appearing to make Christ connect, literally and symbolically, to both realms.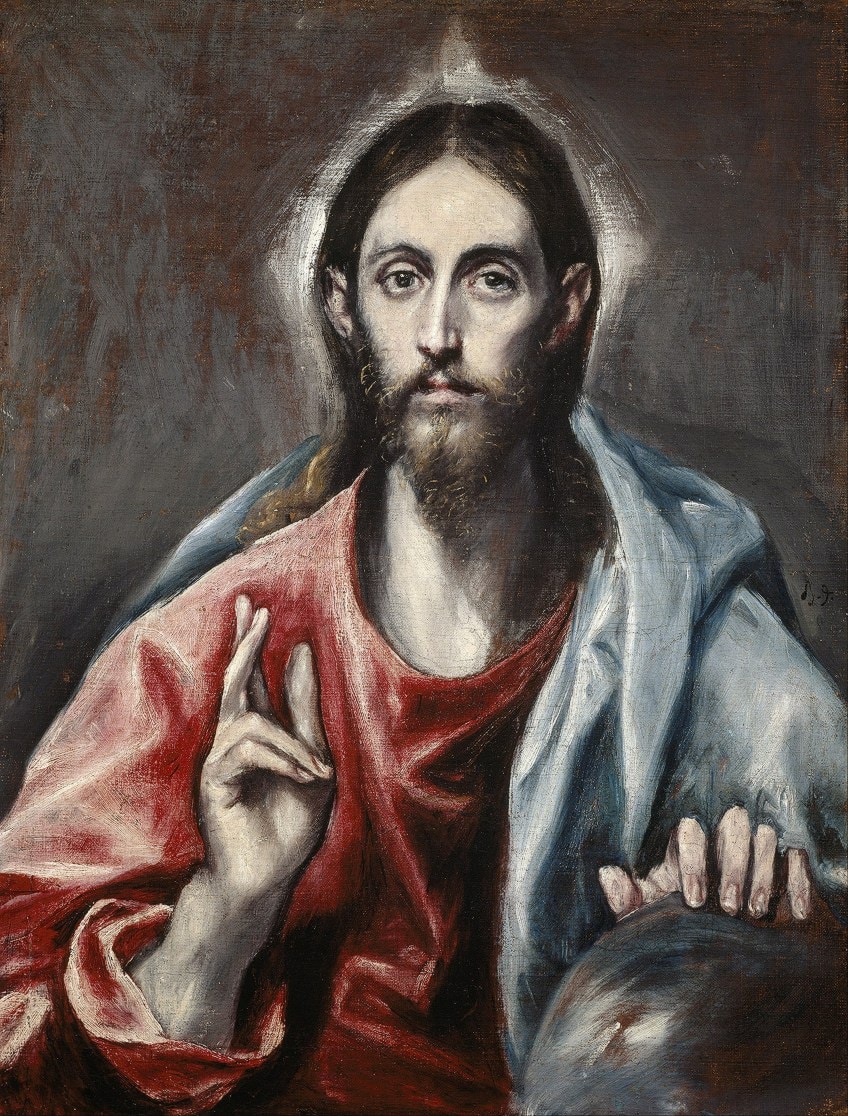 Christ Blessing (1600) by El Greco; El Greco, Public domain, via Wikimedia Commons
This painting exemplifies El Greco's style of blending a more Byzantine iconic style with the more humanistic perspective of the Renaissance while avoiding a precise copy of actuality. El Greco disregarded realism as a medium for his work, as he did the concept of art that was accessible to a broad audience.
What he accepted was the idea of a self-assured, intellectual flair, which was closely linked with Mannerism. By rejecting the reality around him and turning away from actual and realistic languages, he expresses the domain of the soul in a metaphorical and figurative fashion via fluidity and flexibility of form.
El Greco is famous for saying, "The essence of creativity is an agonizing, complex investigation from within the psyche."
Laocoön (c. 1614)
| | |
| --- | --- |
| Date Completed | c. 1614 |
| Medium | Oil on Canvas |
| Dimensions | 142 cm x 193 cm |
| Currently Located | National Art Gallery, Washington DC |
The artwork depicts the tale of Laocoön, a Trojan cleric who, tradition has it, informed the people about the Trojan horse and also defiled God's shrine. As a result, the furious Gods dispatched gigantic snakes to slay him and his two sons, Thymbraeus and Antiphates.
The trio is represented in the picture as being devoured by the enormous snakes in the front. On the right, one of the boys looks to be deceased, laying on the floor, while Laocoön and his other son struggle for their survival. The Trojan horse and the city of Toledo are depicted in the backdrop, surrounded by forest in vivid greens and blues.
These bright hues of life stand in stark juxtaposition to the subdued grey hue utilized for the figurines representing dying.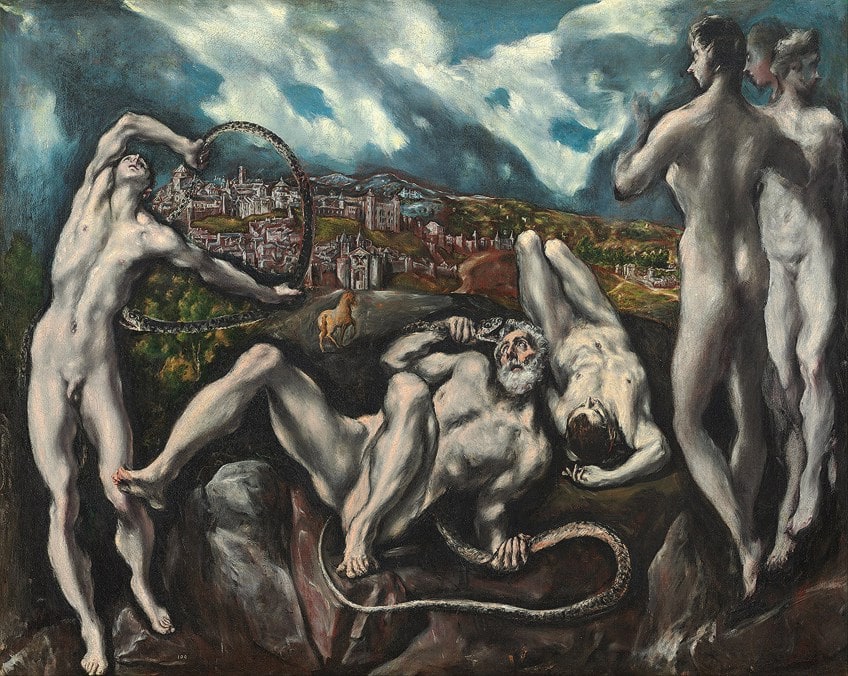 Laocoön (c. 1614) by El Greco; El Greco, Public domain, via Wikimedia Commons
The two people standing on the far side are said to represent Artemis and Apollo, who are watching the scene occur. The major meaning taken from the tale itself is that man is weak and forlorn in the domain of the Almighty and must surrender to his predestined fate. This painting is regarded as one of the greatest examples of El Greco's later pieces, as well as the only one of his famous works that represent a mythical topic rather than a theological one.
Because of its emotive symbolism and intense accentuation of each shape within the larger arrangement, it is recognized for having a major impact on the Cubist and Expressionist movements.
The Vision of Saint John (1614)
| | |
| --- | --- |
| Date Completed | 1614 |
| Medium | Oil on Canvas |
| Dimensions | 222 cm x 193 cm |
| Currently Located | Metro Museum of Art |
This huge painting is regarded as another masterwork by El Greco. It portrays Revelation (6:9-11), a verse in the Scripture that recounts the revealing of the Fifth Seal at the end of eternity and the delivery of white garments to "those that have been murdered for the service of Lord and for the testimony they had given." In the forefront, we find Saint John, stretched, kneeling with arms widespread, pleading with God above.
Behind him is a throng of nude individuals stretching up to the skies for their garments, some pure and some colorful. These would be the spirits of martyrs who prayed to God for righteousness.
The picture is one of several pieces commissioned by Pedro Salazar de Mendoza, an enthusiast, and patron. El Greco perished before completing the artwork, and it is reported that a top portion of the work is lost, thought to have been damaged in 1880. According to rumors, the missing segment may have portrayed the Sacrificial Sheep breaking the Fifth Seal.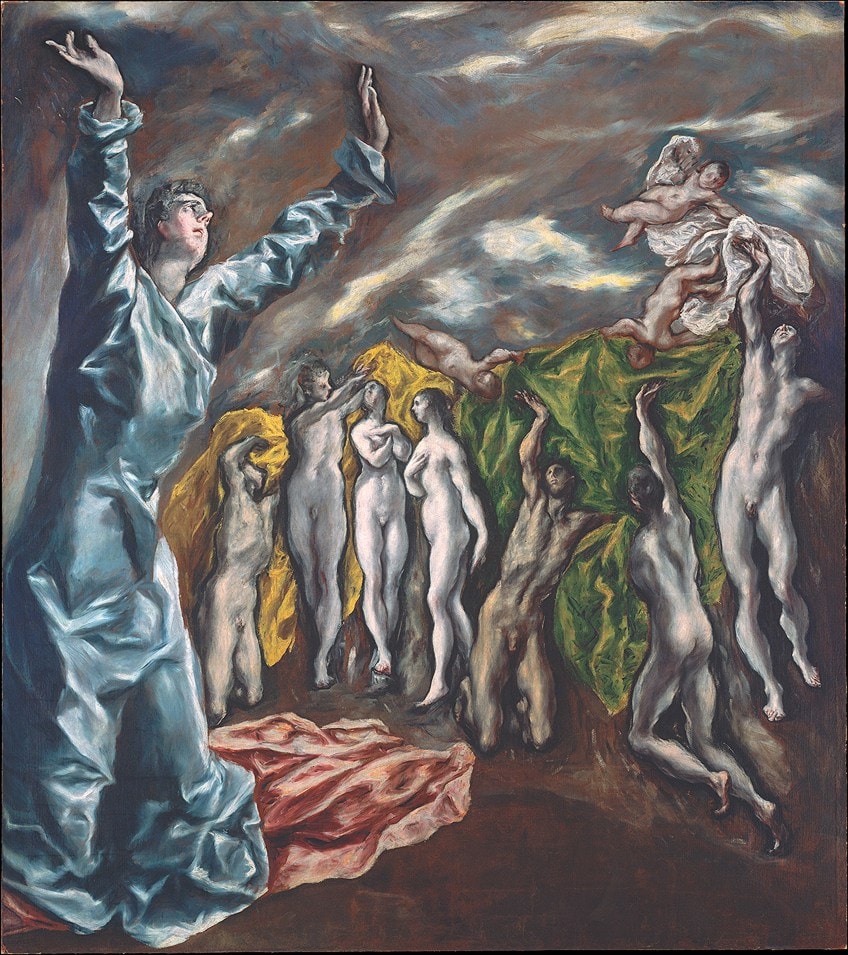 The Vision of Saint John (c. 1614) by El Greco; El Greco, Public domain, via Wikimedia Commons
The painting had a great impact on Picasso, who is said to have analyzed it extensively and used it as an influence for his own masterpiece. In both artists' artworks, connections may be established in the dynamic composition generated by the different individuals. El Greco was drawn to intricacy, mystery, and complexity, three qualities that strongly define this masterpiece, and he used a messianic discourse of spiritual rebirth. This regeneration via faith is, in fact, one of El Greco's principal motives, and it is the primary underlying theme of this piece, which stresses the redemption and preservation of virtuous souls.
And that brings our list of important El Greco Paintings to an end. We have learned how El Greco's artworks left a huge impact on several important movements. El Greco's famous paintings are regarded as pivotal contributions to Spanish Renaissance art.
Frequently Asked Questions
What Style Were El Greco's Paintings Produced In?
El Greco was an excellent illustrator of religious art, but he was also skilled in portraits and scenery. His painting is regarded as a forerunner of both Cubism and Expressionism. It is so unique that art critics hesitate to classify him in any traditional school.
What Are Some of El Greco's Important Artworks?
El Greco created many types of paintings, from religious to landscapes to self-portraits. El Greco's View of Toledo is regarded as the very first Landscape painting by a Spanish artist. The Burial of the Count of Orgaz is regarded as his most important and well-known artwork. One of his first pieces to gain widespread popularity was The Holy Trinity. Christ Blessing is his version of the "savior of the world".
Isabella studied at the University of Cape Town in South Africa and graduated with a Bachelor of Arts majoring in English Literature & Language and Psychology. Throughout her undergraduate years, she took Art History as an additional subject and absolutely loved it. Building on from her art history knowledge that began in high school, art has always been a particular area of fascination for her. From learning about artworks previously unknown to her, or sharpening her existing understanding of specific works, the ability to continue learning within this interesting sphere excites her greatly.
Her focal points of interest in art history encompass profiling specific artists and art movements, as it is these areas where she is able to really dig deep into the rich narrative of the art world. Additionally, she particularly enjoys exploring the different artistic styles of the 20th century, as well as the important impact that female artists have had on the development of art history.
Learn more about Isabella Meyer and the Art in Context Team.
Cite this Article