Easy Christmas Drawing Ideas – Homemade Gifts for the Holidays
For many of us, the Christmas season can be very hectic, with trying to finish gift-buying and sorting out preparations for Christmas lunch. It might seem that there is not much time left to just relax and enjoy the day. Why not consider a creative art experience with some easy Christmas drawing ideas? In this article, you will find some easy Christmas drawing ideas that you might find interesting. You can also get the whole family involved, create some amazing Christmas drawings, and have fun in the process!
Christmas Drawings
Drawing is a creative way to keep your children entertained and separated from their iPads and the television. Instead, why not use the time to draw your own Christmas cards, decorations, and gift tags? Pencil drawings are a great idea because they are affordable as well as accessible, you do not have to buy expensive supplies, and you can make festive art that you can be proud of. You do not need to be a professional to try these easy Christmas drawing ideas. You will find that we have provided a step-by-step tutorial for many of them, and all you need to do is follow the instructions.
There are drawing ideas that your kids can do, and more challenging ideas for you as adults. So, pick up your pencil and start creating your own easy Christmas drawings!
By trying these easy Christmas drawing ideas, you will find that you will be improving your drawing skills as well. Drawing an elf or Santa gives you excellent body drawing practice while drawing Rudolph or a candy cane, you will be able to add an extra dimension. By just adding a few extra lines and shadows, you can change a simple sketch into a beautiful Christmas drawing.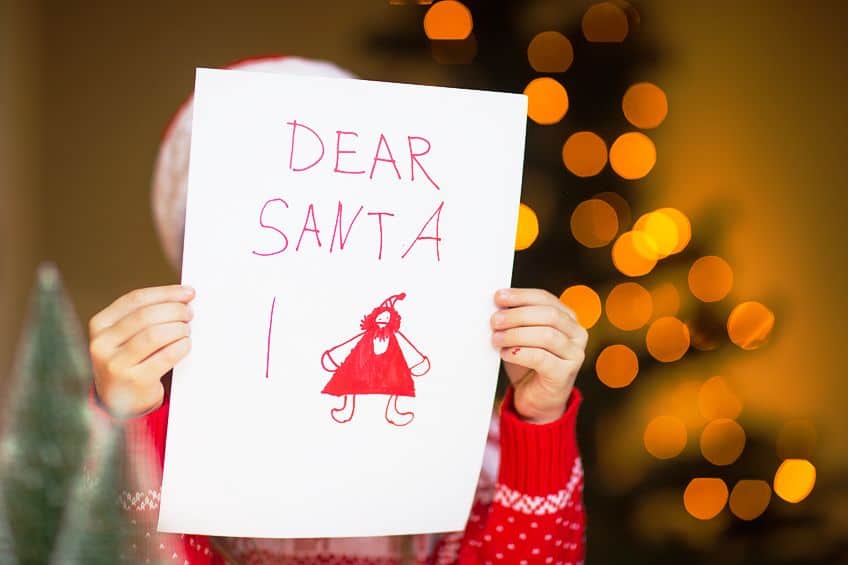 All the supplies needed include some paper or a thin board and a pencil, most of which you will already have at home. After you have finished your drawing, you can color it using colored pencils, crayons, or marker pens, or you could even use some paint. Below you will find some easy Christmas drawing ideas for you to try, enjoy, and above all have fun.
Christmas Drawing for Kids
Christmas drawing for kids is an easy way to get your whole family into the Christmas spirit, and it can be fun as well, and all you need are some pencils, paper, and of course some festive inspiration. Drawing is not only fun but can also benefit your children as it will improve their fine motor skills and help them to feel more relaxed and focused.
Here are some creative Christmas drawing ideas for kids, try them out over this coming festive season.
Santa Claus
Santa seems to be the focal point for every child around Christmas time, so we are going to introduce him first on our list of Christmas drawings. He is that character that is always dressed in a red suit, with a red pointed hat and a white beard. This idea is perfect for beginners, and even for young children, especially if you do not have a lot of experience in drawing people.
Christmas Elf
In mythology, the term elf was originally regarded as a good or bad spirit, which later changed and was then regarded as a small, human-like creature that was very mischievous and stole children and cattle and gave people bad dreams. Today, there are many versions of elves, but there are also those that are Santa's little helpers. Santa's elves are always busy making toys for children around the world, working in his workshop situated at the North Pole. Do you want to draw your own cute Christmas elf? Take a look at our easy guide on how to draw a Christmas elf.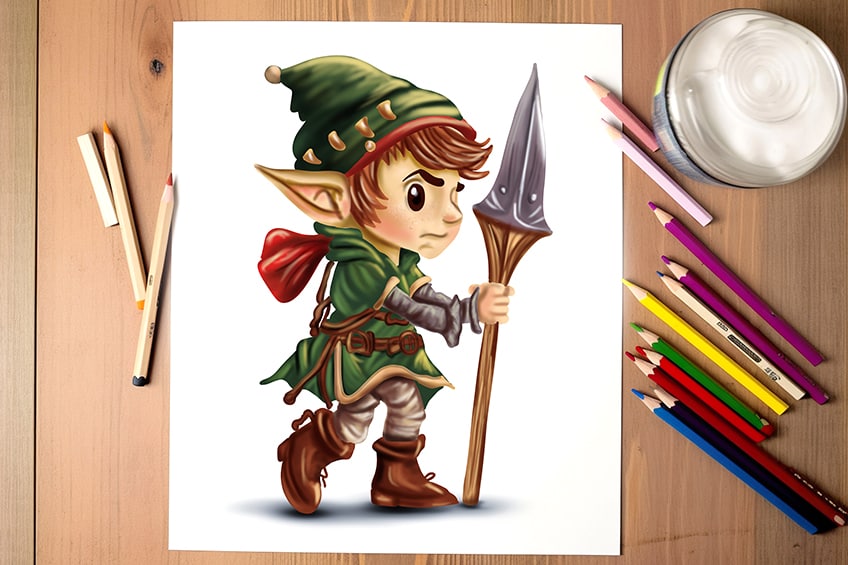 Christmas Snowman
Building snowmen during the winter season is quite popular. However, if you live in an area where there is no snowfall, you can still be a part of the excitement, by drawing your own Christmas snowman. A snowman is easy to draw, by just drawing a few simple shapes and adding accessories of your own, you can make a snowman come to life. Do you want to draw your own Christmas snowman? Go to our easy tutorial on how to draw a snowman.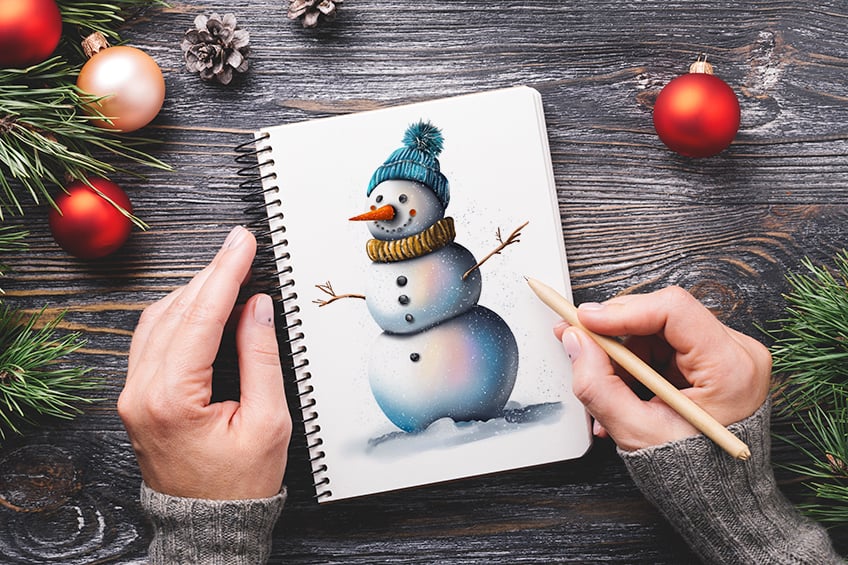 Christmas Candle
It is a tradition in many homes to decorate with these beautiful festive symbols of Christmas. They are very easy to draw, even for a child, and you can use your imagination when decorating the candle. You can use the drawings to add a little more festive atmosphere to your home. Do you want to draw your own Christmas candle? Try our helpful tutorial on how to draw a Christmas candle.
Christmas Drawing for Kids: Color Pages
If your children are too small to draw on their own, then why not print out some Christmas coloring-in pages and let them use their crayons to make their own Christmas drawings? You can also include a few extra details yourself. When the drawings are done, hang them up on the wall for all your visitors to see, or give them as gifts to family and friends.
Christmas Themed Drawings
Christmas is a time for family and friends, so if you are looking for inspiration, or trying to get into the Christmas spirit, there are many Christmas-themed drawings for you to try. You can start with a creative project that the whole family will love. Below you will find a few Christmas-themed drawings that everyone can enjoy.
Gingerbread Man
For a lot of us, baking at Christmas can bring back many fond memories, especially if it is the ever-popular gingerbread cookies. So, if you are thinking of a Christmas theme to draw, you can never go wrong with a gingerbread man, which is easy to draw for beginners as well as children. Once you have an outline, you can start to decorate it any way you like, making it look exactly like real cookies. Go to our easy guide on how to draw a gingerbread man.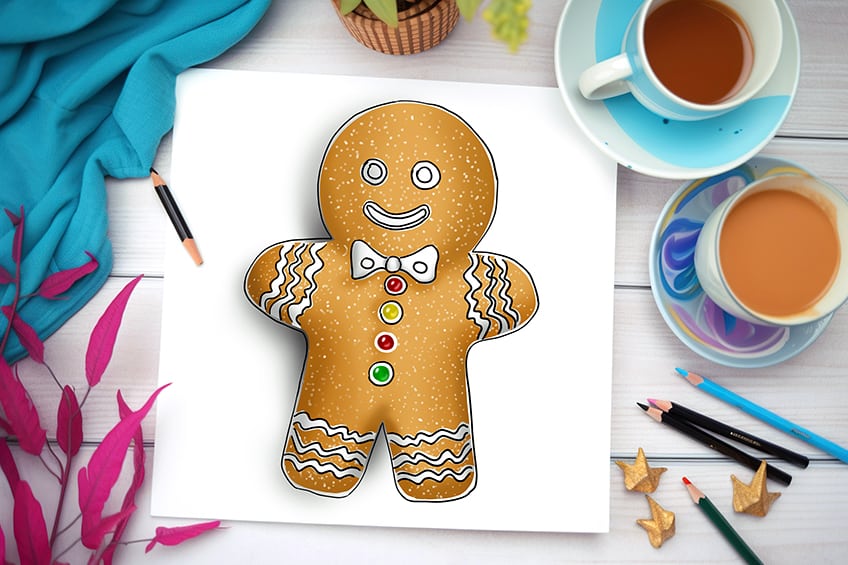 Christmas Tree
Christmas is an amazing time of the year when everyone thinks of gifts, and the Christmas tree plays a pivotal role. The Christmas tree is a true symbol of Christmas time, and it is simple and easy to draw. All you need to do is to draw a few triangles and add some decorations.
The simple triangles become a Christmas tree, and by adding some curved and squiggly lines, your Christmas tree will look amazing.
Christmas Reindeer
It is not Christmas without Rudolph the red-nosed reindeer leading Santa's sleigh, and Santa will not go anywhere without his reindeer. Every child knows that the best way for Santa to announce his arrival at your house is if you hear the reindeer's hooves on your rooftop. Animals are not the easiest things to draw, but you can follow the guide we have included on how to draw a deer.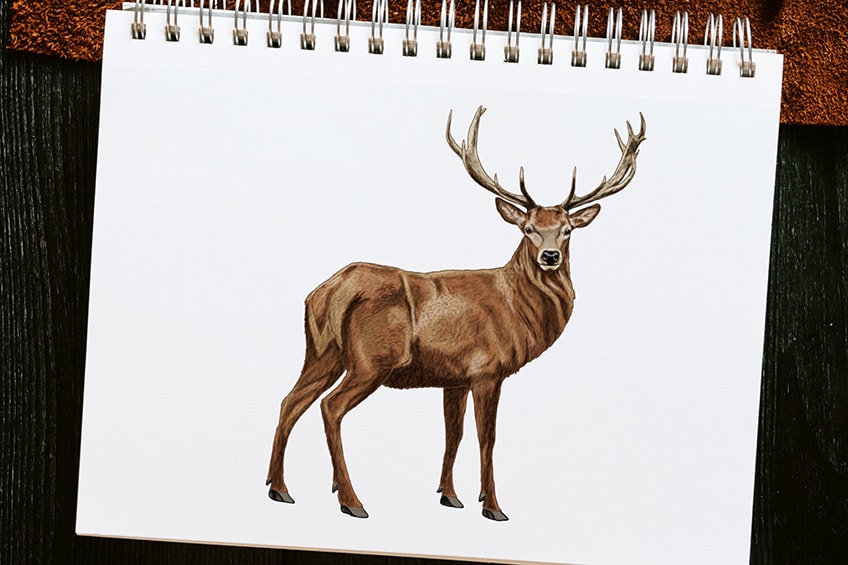 Christmas Tree Star
Christmas is a very popular holiday for many, you may enjoy the day by giving gifts or spending time with friends and family, or it may be a cultural or traditional celebration. So, why do we place a star on the top of a Christmas tree?
The star represents the Star of Bethlehem, which is a symbol that represents the birth of Jesus.
However, for many, it might just be a tradition that you have been following for many years. Irrespective of the reason you celebrate Christmas, the Christmas tree star plays an important part in our celebrations. If you want to put a star on top of your Christmas tree, we are here to help you and show you how to draw a Christmas tree star.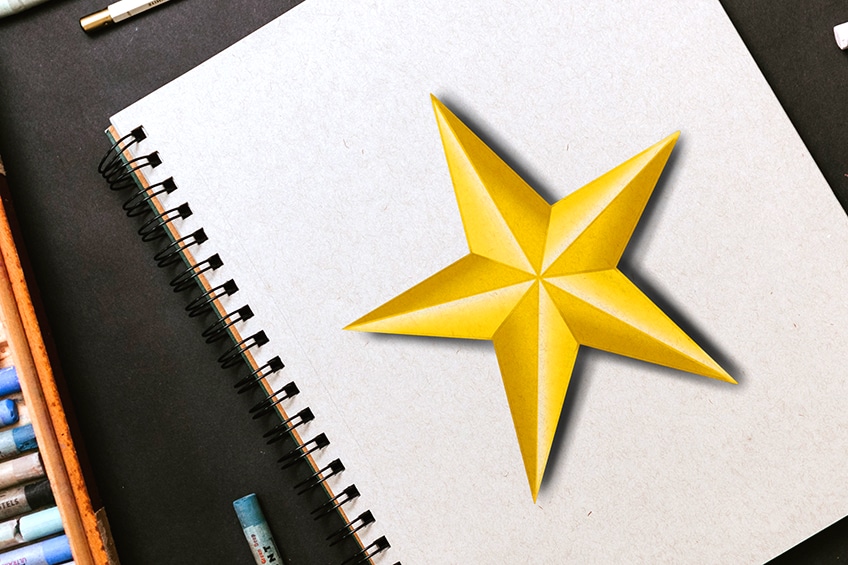 Cute Christmas Drawings
Cute Christmas drawings can be done by anybody, even if you do not know how to draw. Some ideas are even perfect for small children. The beauty of cute drawings is that they do not have to be perfect, and they do not have to closely resemble the actual thing. Get the family together and have fun with some cute Christmas drawings.
Cute Christmas Angel
Christmas angels are a very cute Christmas drawing idea and remember they do not have to look like an angel. You can draw the body in any way you want to and decorate it with some festive bright-colored clothing. Add two fluffy wings, and even include a halo, complete your drawing with some red, rosy cheeks.
Cute Christmas Elves
To draw a cute Christmas elf, you just need to doodle, even if it is made like a stick figure, or it seems to be way out of proportion. Once the elf figure has been drawn, then decorate it with some colorful clothing, put a big hat on his head with a pompom at the end, and lastly add some shoes with striped stockings.
Cute Santa
Instead of drawing Santa as he customarily looks, you can draw a Cute Christmas Santa as you want to portray him. Why not just draw his head with his beard and hat, or draw him going down the chimney and all you see is the top part of his body?
Cute Candy Cane and Bow
Drawing a cute candy cane can be exciting and does not take long to complete. The shape is just like a walking stick, and you can make it as long or as thick as you like. Drawing some gently curved stripes on your candy cane will make it look round. Lastly, candy canes are usually decorated with a colored festive bow, which may be the most difficult thing to draw on your candy cane, so we have included a step-by-step tutorial on how to draw a ribbon bow.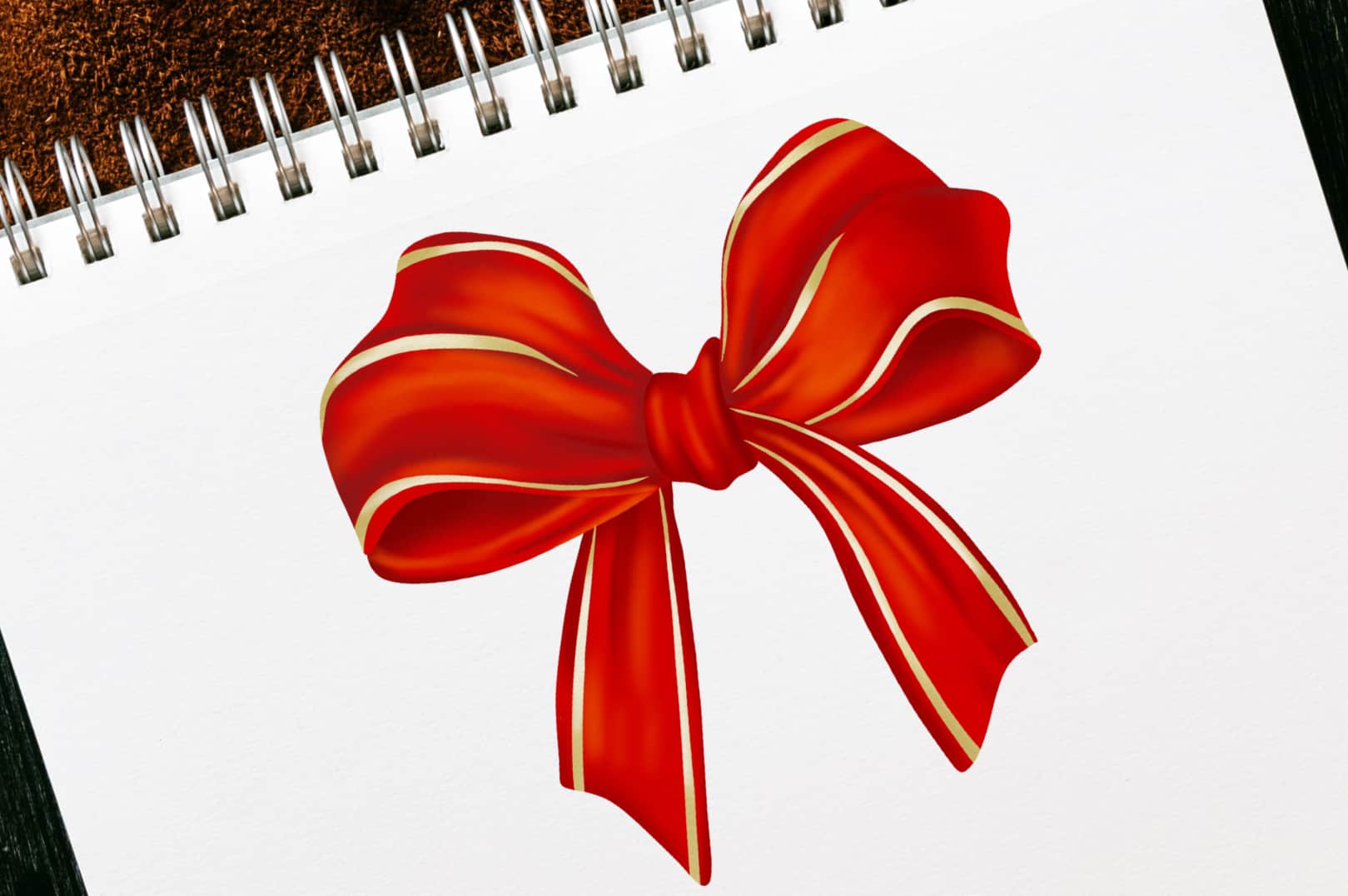 Simple Christmas Drawings
Most Christmas drawing ideas are very easy, and even though they may look very complicated, they can be made easy to draw. For example, we refer back to the Christmas tree, which can be complicated but drawing three triangles on top of each other makes it simple, even for a child. Let us consider some simple Christmas drawings you will enjoy.
Christmas Stocking
Christmas is a very enjoyable and exciting event, and the best part of it all is on Christmas morning when everyone opens their Christmas stockings. Christmas stockings are ideal for small trinkets and treats, and they are very simple to draw. You can decorate them with bright colors or any way you want.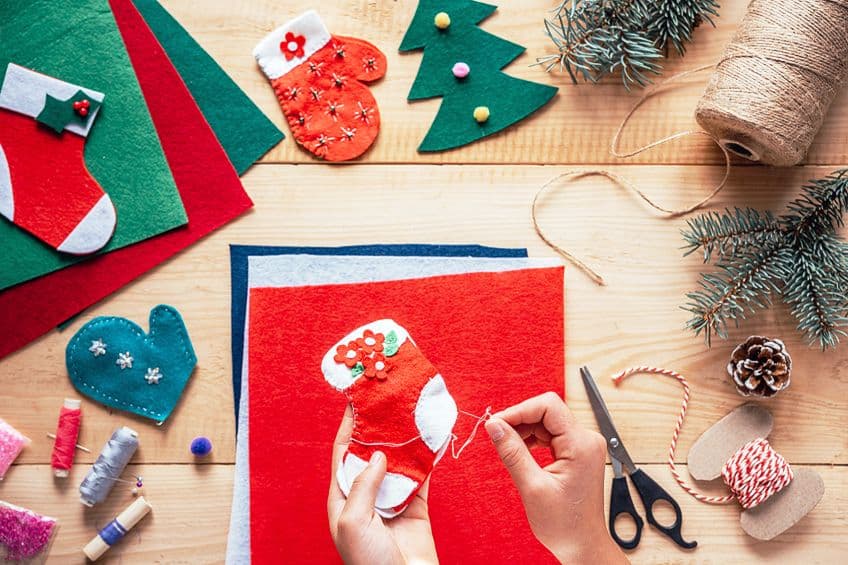 Snowflake
As the temperature drops and the air becomes cooler in December, we all find ourselves looking up into the sky and wondering when the snow will fall. There seems to be something magical about this event, and it all revolves around the arrival of these beautiful snowflakes, which is nature's form of art. Each snowflake is unique, and not one of them is alike, which truly makes it amazing.
This makes drawing a snowflake very easy as you can draw them without worrying if they all look alike, so even the kids can enjoy drawing them.
However, if you are more serious about your drawing skills, and want more of a challenge, then you can use your mathematical skills. Each snowflake can be seen as six-sided and geometrical. Also, the lines and angles need to be measured out and drawn accurately. To help you with this project, we have included a simple tutorial on how to draw a snowflake.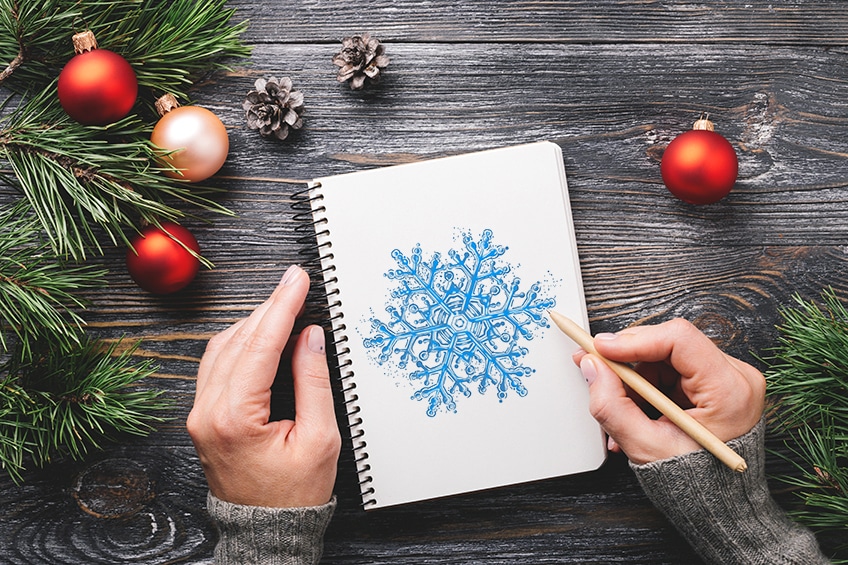 Christmas Bells
Christmas and bells have a long history together and are also part of Christmas traditions around the world. On Christmas Eve the bells will ring signifying that Christmas Day has arrived. Bells are also a part of the decorations in the home, as well as on the Christmas tree, and are cherished memories for many young and old people.
So, why not get busy and start drawing Christmas bells for your home, you can even decorate them with a ribbon bow.
Christmas Mistletoe
Mistletoe is a plant that is found growing on several trees like willow, oak, and apple trees. So, why is mistletoe used at Christmas? The tradition goes back hundreds of years ago when they believed it had some mystical powers and was also able to ward off evil spirits. However, it was also regarded as a sign of friendship and love.
The tradition, during the festive season, in the Western world, involves the phrase "kissing under the mistletoe".
This is when a piece of mistletoe was hung on the doorpost or in the house, and whenever a lady stood under it, the gentlemen were welcome to kiss her, and this is still practiced today. Have some fun this Christmas and draw some mistletoe and hang your drawings in your home, it is quick and easy to draw.
Aesthetic Christmas Drawings
Aesthetic means beautiful and appealing, and in the art world, there are many beautiful and appealing drawings that we can draw that symbolize the festive season. Aesthetic Christmas drawings can especially touch our hearts and transport us into many happy Christmas memories. So, why not try some of the easy drawings we have listed below and bring some cheer to others?
Christmas Gifts
The Christmas season is all about spending time with our families, but we all know that the giving and receiving of gifts is also fun. It stirs our hearts and brings back many memories of when we see the excitement of the children receiving their gifts, they just tear the wrapping off to see what is inside. Have some fun this Christmas and get your family to draw some Christmas gifts, they can be square, round, oblong, big, or small, there is no end to the possibilities available.
Finally, decorate them with colorful wrapping and ribbons. They are quick and easy to draw and can be a lot of fun, and you can use them as decorations around the home and the tree.
Christmas Decorations
During the Christmas season, the shops are full of Christmas decorations, and it is easy just to go and purchase them and hang them up. However, this year why not make your own Christmas decorations and draw them yourself? You can take all the drawing suggestions we have already shared with you or some of your own.
Hang them up around your home, it will be so much more fun and give you so much more satisfaction because you have done them yourself.
Christmas Mittens
Christmas mittens are very easy to draw as the outline is simple and is the same for both right and left hands. Once you have drawn them, you can use your imagination and artistic skills, and add patterns along with many bright colors.
Christmas is a special time of the year that is full of friendship and joy. Go ahead and use some of these great Christmas drawing ideas we have shown you to add some homemade festivity to the holiday. You can get the kids and the whole family involved in creating your own special Christmas drawings. You do not have to wait until Christmas time arrives; get those easy Christmas drawings going throughout the year so you can have a nice collection by the time the holidays come around!
Frequently Asked Questions
Can You Draw Christmas Lights?
If you love to decorate Christmas cards and tags, why not draw your own Christmas lights? All you need to do is draw some round bulbs in different colors and connect them with a line indicating the electric wire. You can draw the colored bulbs and cut them out individually, and then use them as a decoration in the home or on the tree.
Can You Draw Summer Christmas Drawings?
Many countries around the world do not have snow over the festive season, so you might want to create something more unique. For example, why not draw Santa on the beach wearing a swimming costume?
What Are Some Easy Christmas Drawing Ideas for Kids?
Many simple Christmas drawings can be done by children of all age groups, as they are very easy. Some examples include a Christmas tree, candle, stockings, a snowman, and a gingerbread man, among other ideas.
In 2005, Charlene completed her Wellness Diplomas in Therapeutic Aromatherapy and Reflexology from the International School of Reflexology and Meridian Therapy. She worked for a company offering corporate wellness programs for a couple of years, before opening up her own therapy practice. It was in 2015 that a friend, who was a digital marketer, asked her to join her company as a content creator, and this is where she found her excitement for writing.
Since joining the content writing world, she has gained a lot of experience over the years writing on a diverse selection of topics, from beauty, health, wellness, travel, and more. Due to various circumstances, she had to close her therapy practice and is now a full-time freelance writer. Being a creative person, she could not pass up the opportunity to contribute to the Art in Context team, where is was in her element, writing about a variety of art and craft topics. Contributing articles for over three years now, her knowledge in this area has grown, and she has gotten to explore her creativity and improve her research and writing skills.
Charlene Lewis has been working for artincontext.org since the relaunch in 2020. She is an experienced writer and mainly focuses on the topics of color theory, painting and drawing.
Learn more about Charlene Lewis and the Art in Context Team.