A recent global survey found that blue was the most popular color in ten countries, with 33% of the British population claiming blue as their favorite color. Not only is this shade incredibly popular, but it is also an essential element to any painting. Blue is all around us, from waterfalls to lakes. Whether you are an artist, graphic designer, or simply a color enthusiast, we have curated an article with the most in-depth discussion of all the ins and outs of mixing and using different shades of blue.
What Makes Blue Such a Meaningful Color?
It is clear that blue means a lot to many people throughout the globe. Colors naturally carry an emotional imprint, and different shades of blue can elicit very different emotional reactions. Depending on the exact hue, blue has a wide range of associations and meanings, including trust, relaxation, misery, expansiveness, and loneliness.
The meaning of the color blue not only differs by the shade, but also by the cultural climate in which you are viewing it. For example, Iranian people view the color blue as one of mourning, while many Western cultures associate "something blue" with joyous wedding occasions.
Let us take a closer look at some of the positive and negative associations of different shades of blue.
Blue Represents Calm, Trust, and Royalty
One of the most common associations with blue shades is that of peace and tranquility. Throughout history, humans have been associating blue hues with positive and relaxed mental states. In fact, many scientific studies have shown that this association is wired into our brains. Scans show that simply looking at a cool blue shade can encourage the production of various chemicals that promote relaxation and rest. As part of this relaxation process, blue shades can also suppress the appetite and slow the metabolisms.
Another strong positive association we have with shades of blue is that of self-expression and balance. Deeper blue shades can encourage feelings of confidence, and communicate significance and trust. As a result of the expense of early blue pigments, like cerulean, blue has long been associated with royalty. The saying that royals have "blue blood" has led to darker blue shades, in particular, is associated with power, intelligence, stability, unity, and trust. These associations also bleed into the corporate workspace, supported by blue suits.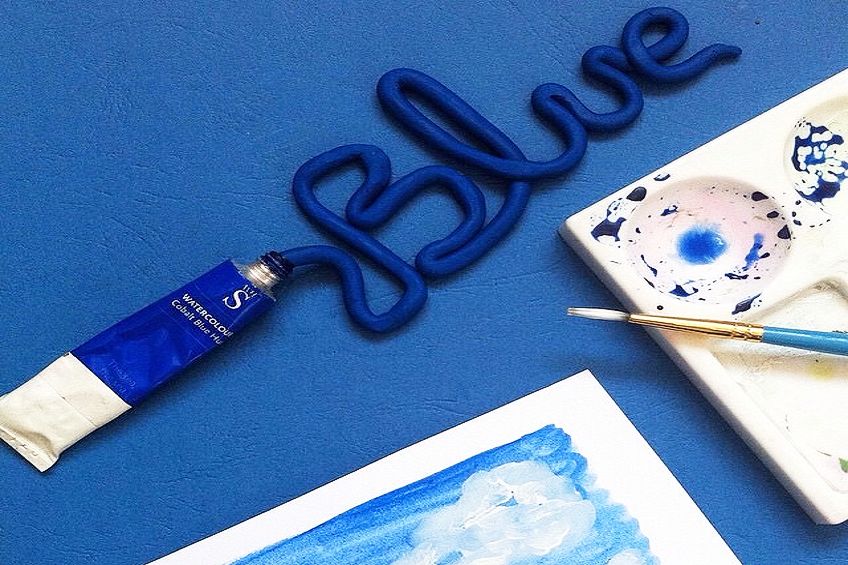 Blue Represents Sadness, Emptiness, and Loneliness
While blue has several positive implications, it can also represent a range of negative emotions. Certain blue shades can make us feel a little melancholy, and this association is also a cultural phenomenon that has been passed down through generations through phrases like "feeling blue." Typically, darker and cooler blue shades can enhance feelings of loneliness and depression, and the English language has several phrases that link these emotions to the color blue.
Often, the symptoms of postpartum depression are referred to as "baby blues," and if you are feeling a little depressed about the imminent return to work after the weekend, you could be dreading a "blue Monday." The Blue's music genre was born out of the struggle of Black Americans fighting for their freedom from the remnants of slavery.
Now that you know a little more about the most common associations of blue hues, it is time to dive into what colors make blue, and how to make blue paint that is perfect for your unique project.
Two Broad Ways of Conceptualizing Color Theory
For many of us, there is only one model of color theory that we use to mix different colors. This basic color theory includes the three primary shades, three secondary hues, and a range of tertiary colors. If we are to use this foundational color theory to make blue, we are only going to be able to create different shades of blue. The reason behind this is that blue is one of the primary hues, and according to this color theory, cannot be made by combining other shades.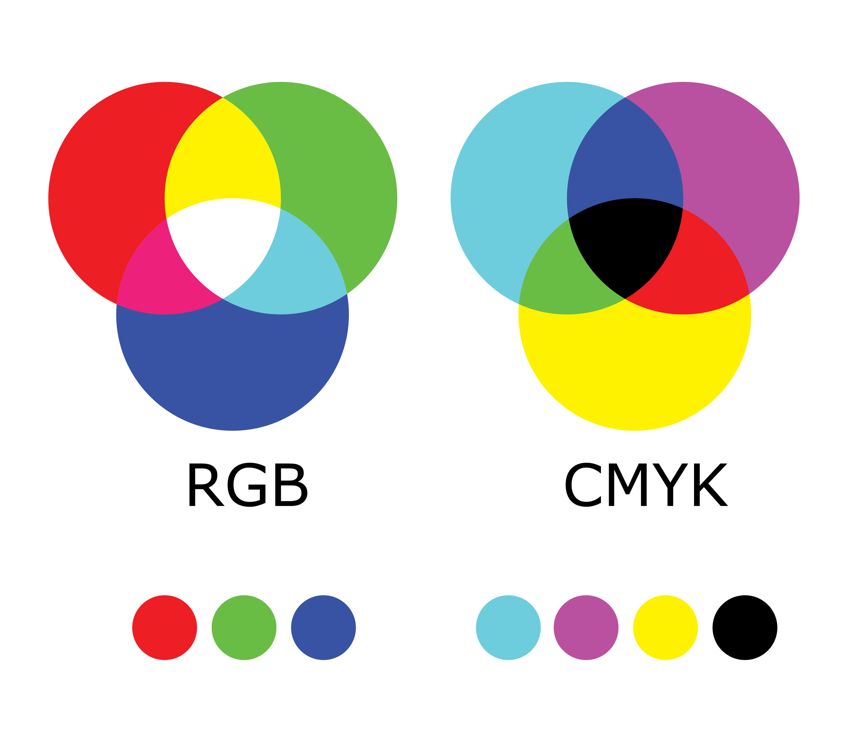 There is, however, another way to conceptualize color. The Cyan, Magenta, Yellow, and Black (CMYK) model of color is based on the system used by printers, and if you use this model of color theory, it is possible to make blue by combining different percentages of these four foundational shades.
We will begin by considering how to make blue with the most well-known foundational color theory, and then go on to explore what colors make blue with the CMYK model.
How to Make Blue Shades with Basic Color Theory
When it comes to mixing different shades of blue in traditional color theory, the most important thing to be aware of is color bias. In order to understand color bias, we need to quickly discuss the fundamentals of the color wheel.
Undoubtedly you will be familiar with the basic color wheel, which places blue, red, and yellow as the primary shades. Two primary shades will make a secondary hue. For example, you can create orange from a combination of yellow and red shades. Combining all three primary hues is typically avoided because the result is often muddy and slightly brown.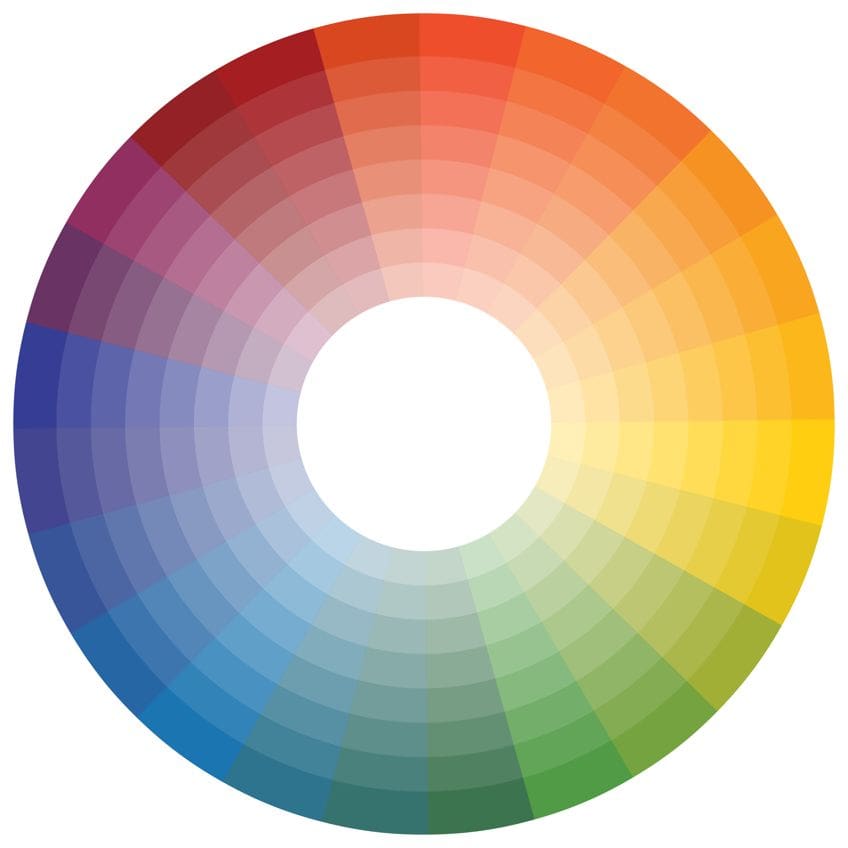 The second important aspect of the color wheel is color temperature. Temperature determines the warmth or coolness of your colors, with red being the warmest shade and blue being the coolest. Whether a color leans more towards red or blue, is referred to as color bias. For example, a light green shade includes blue as one of its primary hues, and as a result, it leans towards blue and is a cooler shade. A vibrant orange, on the other hand, includes red as one of the fundamental shades, and as a result, is a warmer shade.
Color temperature does not only apply to secondary shades, as different blue hues can be either warm or cool. You can tell the relative temperature of a blue shade by whether it seems more purple or more green. Blues with a hint of purple are warmer because they contain a tiny amount of red, while greener blues contain a tiny splash of yellow.
In the next section, we are going to tell you how to make blue paint shades that are warm, cool, dark, light, and muted with a variety of different shades. We recommend grabbing a page of your sketchbook and the colors we mention so that you can create a record of what colors make blue.
What Colors Make Blue Cool?
When it comes down to it, the trick to making a blue cooler is simply to add a splash of green. The particular shade of green you use will determine your final cool blue hue. The two best green shades for cooling down blues are Veronese green and cadmium green.
Veronese green is a bright and cool green, making it the perfect color for making cool blue hues. Because Veronese green is already a cool shade, it already leans towards light blue. If you mix Veronese green with ultramarine blue, the result will be a very cool and slightly darker blue shade. In contrast, if you are looking for a light and bright cool blue, try mixing Veronese green with cobalt blue.
Cadmium green is a little warmer than Veronese green because it contains a touch of red. The result of combining cadmium green with ultramarine blue will be a slightly muted and cool shade of blue. The red in the ultramarine blue and the red in the cadmium green result in the combination containing all three primary shades, which as we know, makes the mixture a little muddier. In contrast, mixing cadmium green with cobalt blue will create a much lighter and brighter blue shade.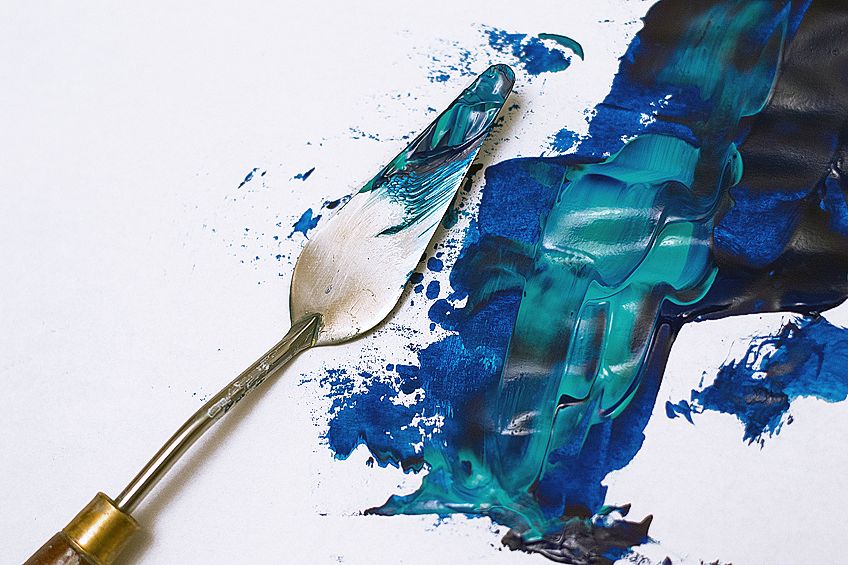 What Colors Make Blue Warm?
There are two primary colors that you can mix with a blue shade to make it warmer. The first is alizarin crimson, and the second is burnt sienna. The effect of each of these shades will differ, depending on the base blue shade you choose. If you are wanting to make a warm blue, we recommend beginning with a blue shade that is already quite warm. For our examples, we are using ultramarine blue which is a warmer blue, and cobalt blue, which is slightly cooler.
Alizarin crimson is a very warm and slightly purple shade of red. Because alizarin crimson is slightly purple already, it means that it contains a little blue.
This fact is important because if it were a warmer red that leans towards orange, it would contain some yellow, and by mixing it with blue your final color will be muddy. When you combine ultramarine blue and alizarin crimson, you will create a very dark and quite purple-blue shade. For a more vibrant yet equally warm blue, you can mix alizarin crimson with cobalt blue.
Burnt sienna is another shade of red, but it is much darker and warmer than alizarin. As a result, you will create a much darker warm blue shade with a combination of ultramarine blue and burnt sienna. Burnt sienna is also a little cooler than alizarin crimson, so this combination will be a little cooler than the other one.
What Colors Make Light Blue?
Now that we have covered how to make blue warmer and cooler, you may want to know what colors make light blue shades. Making light blue hues is very simple. Adding a touch of white is the easiest and most common way to make your blue colors a little lighter. The combination of ultramarine blue and white is a lovely vibrant shade of cornflower blue. The addition of the white paint highlights the warm undertones. For a much brighter light blue, combine cobalt blue with a touch of white.
Another, less common way to lighten a blue shade is to add a little yellow or light green. So, what color do blue and green make? The answer is a lighter shade of blue! If you choose to use this method, you will see that not only are you lightening your blue hue, you are also making it slightly cooler.
The method you choose to use depends entirely on your desired outcome.
What Colors Make Dark Blue?
So, we know what colors make light blue, but what colors make dark blue? While there are only two real options for lightening blue shades, there are three options for darkening them. Depending on whether you want a dark muted blue, a warm dark blue, or a cool dark blue, you can use different colors.
One of the best ways to darken a blue shade is to add a touch of dioxazine purple. The addition of this dark purple hue to ultramarine blue creates a very rich dark blue. Because dioxazine purple contains red pigments, it is likely to create a slightly muted dark blue when combined with cobalt blue.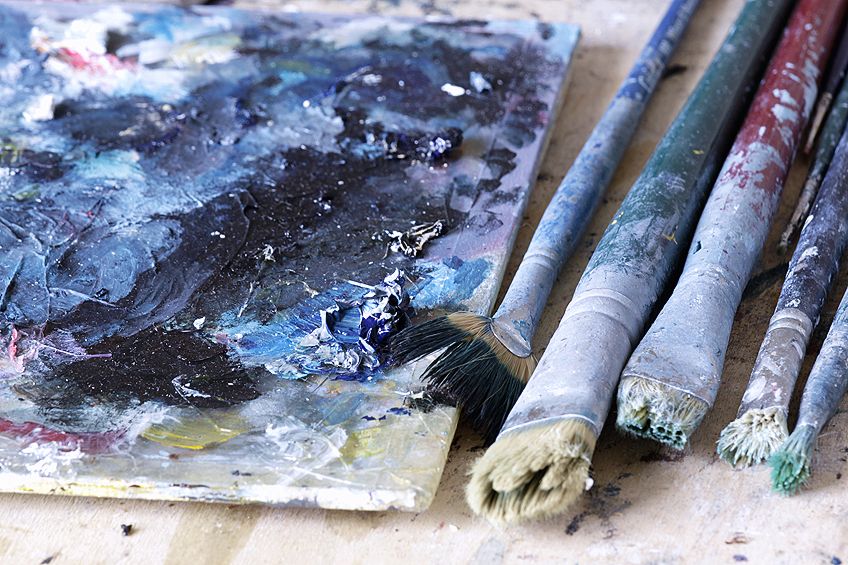 Burnt umber is another fantastic option for creating dark blue shades with both cobalt and ultramarine blue. Burnt umber will create a much more muted, almost brown dark blue shade because it contains a fair amount of red. If you want a very dark blue, then burnt umber is your best option.
The final option you have for creating a dark blue shade is to add a combination of phthalo green and alizarin crimson to your blue shade. The combination of these two additional colors mimics the effects of burnt umber, and as a result, you will get similar effects.
What Colors Make Blue Muted?
Bright blue shades are wonderful colors to use in your paintings, but they are not suitable all the time. There is a natural variation in color in the world around us, and to create realistic depth and dimension in your paintings, you will need to create some muted shades of your chosen blue color. Without muted shades, things are a little garish.
Muting colors is actually a very simple process. All you need to do is add a little splash of your chosen color's complement.
This is the color that sits directly opposite your chosen shade on the color wheel. For blue, the complement color is orange. Each unique blue shade will have its own unique orange complement, and you can experiment with these technicalities to find your perfect shades.
Cadmium orange is a great option for muting blue shades because it is vibrant and very warm. The combination of cadmium orange and ultramarine blue is a very warm, dull, and dark shade of blue. Cadmium orange is also a great choice for muting cobalt blue, making it far less vibrant. Burnt umber is the other fantastic muting option for blue shades. Burnt umber is simply a darker orange shade, so it will make your blues much darker and more muted.
How to Make Blue Shades with the CMYK Color Model
The information we have covered so far is all based on the most traditional and simple theory of color. There is, however, an entirely different way of conceptualizing color. The CMYK model is the method that printers use to create color by combining different percentages of magenta, yellow, cyan, and black.
Making blue with this model is incredibly easy! You can combine cyan and another shade to make blue. So, what colors make cyan turn into blue? The answer is magenta. You can use a combination of magenta and cyan to make a range of blue hues. Your final blue shade will depend on the ratio of these two colors. This is the answer to the question of what two colors make blue!
How to Make Blue the Technical Way
In this article, we have covered how to make blue paint in a variety of ways with different combinations of shades. Here, we present a table that outlines the technical details for making some of the most popular shades of blue.
| | | | | |
| --- | --- | --- | --- | --- |
| Type of Blue | Blue Shade | HEX Code | RBG | CMYK |
| Navy Blue | | #000080 | (0,0,128) | 100%, 100%, 0%, 50% |
| Denim Blue | | #1560bd | (21,96,189) | (61%, 33%, 0%, 33% |
| Oxford Blue | | #002147 | (0,33,71) | 100%, 53.5%, 0%, 72.2% |
| Egyptian Blue | | #1034a6 | (16,52,166) | 90.4%, 68.7%, 0%, 34.9% |
| Columbia Blue | | #9bddff | (155,221,255) | 39.2%, 13.3%, 0%, 0% |
| Azure Blue | | #007FFF | (0,127,255) | 100%, 50.2%, 0%, 0% |
| Turquoise | | #40e0d0 | (64,224,208) | 71%, 0%, 7%, 12% |
| Cobalt Blue | | #0047ab | (0,71,171) | 60%, 60%, 0%, 0% |
| Baby Blue | | #89CFF0 | (137,207,240) | 42.9%, 13.8%, 0%, 5.9% |
| Cerulean Blue | | #2a52be | (42,82,190) | 98%, 10%, 0%, 20% |
| Prussian Blue | | #003153 | (0,49,83) | 100%, 41%, 0%, 67.5% |
| | |
| --- | --- |
| Color | Uses |
| Navy Blue | Navy blue is a lovely dark blue color. Often, the navy blue color is used to represent integrity, authority, and responsibility. You can use navy blue to give your paintings or illustrations a sense of class and sophistication. |
| Denim Blue | Everyone has a loved piece of denim clothing, and the color makes a great addition to any palette. This denim shade is a very cool blue color, and it is widely considered to be one of the most popular colors in the fashion industry. |
| Oxford Blue | If you thought navy blue was a regal shade, then you are going to be wowed by this dark royal blue color. This amazing blue shade includes both warm and cool hues, and it works wonderfully in conjunction with lighter colors. Oxford blue has a slight grey tinge and also a hint of purple. It is the perfect middle ground between a bright and dark color. |
| Egyptian Blue | Egyptian blue is a cooler shade of royal blue that is instantly recognizable. This slightly warmer royal blue shade adorns many artifacts from ancient Egypt. Egyptian blue works very well alongside other bright colors like yellow and red. It also works perfectly with lighter, more pastel shades. |
| Columbia Blue | If you are looking for a color that works just as well for the sky and the sea, look no further than Columbia blue. This stunning and vibrant blue shade is a combination of royal and light blue and is perfect for anyone who wants a slightly brighter navy blue. |
| Azure Blue | Of all the blue shades, azure blue is most commonly used to represent the sky. This is the color of the summer sky in the brilliant heat. Azure blue is inviting and invigorating, and works very well with white, greys, and lighter color palettes. |
| Turquoise | Turquoise is one of the most well-known shades of blue globally. Named after the jewel, this lighter blue hue pairs well with almost every color. Turquoise is perfect for capturing the lightest part of a wave, just below the sea foam. It is a bright and vibrant blue shade with a very calming appearance. |
| Cobalt Blue | Cobalt blue is another very popular shade of blue. In fact, it is one of the most popular shades of blue sold around the world. Cobalt blue is named after the material originally used to color tile porcelain, and it is used by artists throughout the globe. Cobalt blue is a slightly warmer blue shade with hints of purple, and it is quite a deep blue hue. Cobalt blue is often found at the lower altitudes of a crystal clear sky, and it creates a sense of calm. |
| Baby Blue | Baby blue is the perfect pastel blue shade. First used in the 1800s, baby blue is commonly used as the shade for gendered items of clothing. Baby blue is a very gentle shade and works well with other lighter pastel shades. Baby blue is cooler than other blue shades, leaning a little more towards green than purple. |
| Cerulean Blue | Cerulean blue is one of the oldest shades of blue in the world. The name of this stunning blue shade comes from the first blue pigment, and the discovery of this pigment was a momentous moment in the history of color. Historically, this particular dye has been very expensive and difficult to find, as a result, it is now associated with luxury and riches. |
| Prussian Blue | Prussian blue is another one of the most commonly used shades of blue. Any good set of acrylic or oil paints will certainly contain Prussian blue as one of the staple shades. This very dark and very cool shade was first made famous as the color of the uniforms of the Prussian army during the 17th and 18th centuries. Prussian blue pairs very well with other dark colors like black, and also white. |
Frequently Asked Questions
What Colors Make Cyan?
If you use the RGB system, you can use a combination of green and blue. If, however, you want to know what colors make cyan with the CMYK model, then you can create cyan by removing red from grey.
What Color Does Blue and Green Make?
The answer depends on the ratio of each color. If you add a little green to blue, you are going to make a cooler shade of blue. If you add a little blue to green, you will simply make a cooler shade of green.
In 2005, Charlene completed her Wellness Diplomas in Therapeutic Aromatherapy and Reflexology from the International School of Reflexology and Meridian Therapy. She worked for a company offering corporate wellness programs for a couple of years, before opening up her own therapy practice. It was in 2015 that a friend, who was a digital marketer, asked her to join her company as a content creator, and this is where she found her excitement for writing.
Since joining the content writing world, she has gained a lot of experience over the years writing on a diverse selection of topics, from beauty, health, wellness, travel, and more. Due to various circumstances, she had to close her therapy practice and is now a full-time freelance writer. Being a creative person, she could not pass up the opportunity to contribute to the Art in Context team, where is was in her element, writing about a variety of art and craft topics. Contributing articles for over three years now, her knowledge in this area has grown, and she has gotten to explore her creativity and improve her research and writing skills.
Learn more about the Art in Context Team.