The fact that red is such a brilliant and powerful hue is no news given that it is one of the most commonly used colors. A lot of artists, designers, and painters like to use this color in their work. Red is available in many shades, but what are these red shades? This article will explain the shades of red, how to blend red tones, as well as how to include them into your projects in the proper places and ways.
What Is Red?
Red is among the most preferred colors of several types of artists. Red is an extremely vivid primary color that represents love and wealth in many cultures. It is also connected with upheaval and revolt. Red is represented by the hexadecimal code #FF0000. For several years, the color red was considered to be the color of nobility in most European nations. The color red is especially vibrant, and individuals who wear it are seen as courageous, daring, as well as full of emotion.
Red accessories are becoming more fashionable, even though the hue has been shunned in interior decoration for so many years. The color red comes in a variety of shades. Other shades of red are very popular while others are not very popular. Even though red is a primary color, which implies that you cannot mix pure red according to classic color theory, there are several strategies you can use to generate a range of diverse red colors.
History of the Red Color
Red is a primary color. It is also one of the earliest colors to be used by painters throughout the prehistoric period. Natural sources of red pigment are plentiful (from human blood to red dirt). Over the course of history, the color red has had significant importance in a variety of civilizations around the world. Colors associated with love have a strong connotation in Western society, and their brilliant tint always attracts the eye.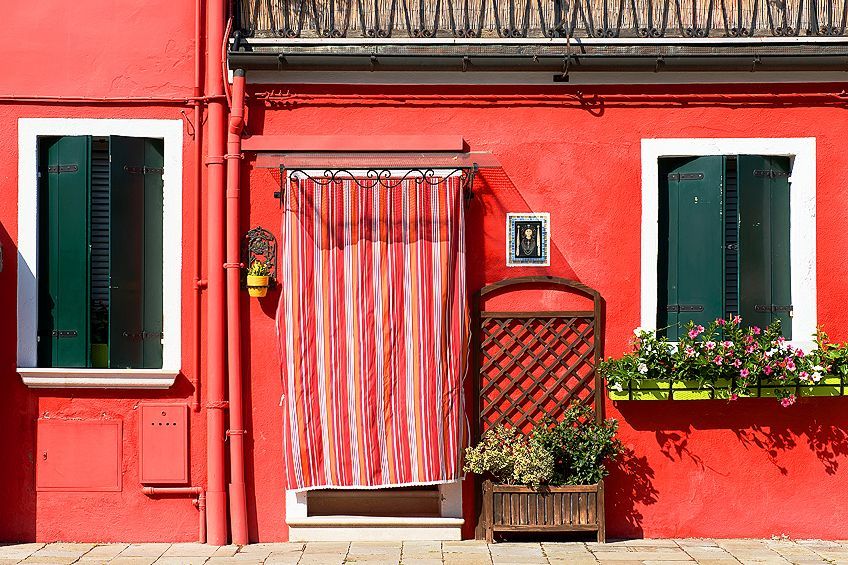 An artwork created with red ochre was discovered in a cave in Spain dating back to 16,500-15,000 BC. According to archaeological findings, in the stone age, people used red ochre as paint for their bodies. Red, together with white and black, was one of the few colors employed by painters during the Paleolithic era since it was readily available in the environment. During the 19th century, the first artificial red dyes were created, and they quickly displaced the previously used natural colors on clothing. Following the Revolutionary War, several shades of red color came to be associated with the event, and numerous nations began to use the hue in their flags.
Red was also popular in ancient China, as shown by the discovery of early instances of black and red ceramics dated between 5000 and 3000 BC. Traces of red ochre were even discovered on an artist's palette that was discovered within the tomb of King Tut in Egypt.
Shades of Red Names
There are a plethora of distinct colors of red available. Whether you are looking for eye-catching hues of red for your artwork or your home décor, there's a shade of red color for just about everything you could need. The following are some shades of red names:
Dark Red
This is a darker variant of the true red shade. This hue does not include any blue or yellow pigments and is readily compatible with both warm and cold hues.
It may also take on the characteristics of any of the color tones, even white.
| | | | |
| --- | --- | --- | --- |
| Color | Hex Code #RGB | Decimal Value | CMYK Value (%) |
| | #8B0000 | (139, 0, 0) | (0, 100, 100, 46) |
Red (True Red)
This is a pure shade of red. It is the most basic and undifferentiated tint of the color red. When combined with other warm colors, it seems to be a warm color, just as all other true colors do. The same is true when it is coupled with colder colors; it will seem cool in this situation.
| | | | |
| --- | --- | --- | --- |
| Color | Hex Code #RGB | Decimal Value | CMYK Value (%) |
| | #FF0000 | (237, 28, 36) | (0, 100, 100, 0) |
Blood Red
An intense hue of red that is frequently associated with blood is called blood red. The color may represent the true color of blood. This hue has a similar appearance to the dark red color mentioned above. Because of how this hue has been employed, it may be associated with evil symbols such as death, violence, rage, sin, Satan, and other similar concepts.
It may also be used to represent the monarchy, as well as love and life in general.
| | | | |
| --- | --- | --- | --- |
| Color | Hex Code #RGB | RGB Value | CMYK Value (%) |
| | #660000 | (102, 0, 0) | (0, 100, 100, 60) |
Maroon
The color maroon is one of the most inviting tones of red. There are many shades of dark red in this hue, with some shades bordering on the purple color spectrum. It may be used to represent a lot of things. This shade of red may represent attention, with the purple undertones in this color representing wealth or mystery. In addition, it is referred to as "a mysterious shade of red" because of its appearance.
| | | | |
| --- | --- | --- | --- |
| Color | Hex Code #RGB | RGB Value | CMYK Value (%) |
| | #800000 | (128, 0, 0) | (0, 100, 100, 60) |
Crimson
The color crimson refers to a vivid pinkish-red hue of red that is rather bright. Although it is not a true shade of red, this tint holds powerful symbolism for both strength and danger, as well as pleasure and celebration, among other things. It is sometimes referred to as the "fresh blood" hue.
This shade of red is also connected with the church and the Bible, and it was once associated with the monarchy, nobles, and other people of high social status during the Elizabethan era.
| | | | |
| --- | --- | --- | --- |
| Color | Hex Code #RGB | RGB Value | CMYK Value (%) |
| | #DC143C | (220, 20, 60) | (0, 91, 73, 14) |
Tomato
The color tomato alludes to a medium shade of red in its natural state. This shade is bolder and far less delicate than the brighter shades of red of the spectrum. It also contains a hint of the warmth and vigor associated with orange. Using this shade of red will help you to attract attention and inject vitality without becoming overstimulating.
| | | | |
| --- | --- | --- | --- |
| Color | Hex Code #RGB | RGB Value | CMYK Value (%) |
| | #FF6347 | (255, 99, 71) | (0, 61, 72, 0) |
Scarlet
This shade of red incorporates a few traces of orange in its composition. It is referred to as the hue of flames because of its appearance. Scarlet embodies the meaning of red in that it is a hue of authority and strength.
This shade of red is also used in religion, academics as well as military where it is used for ceremonial and traditional events.
| | | | |
| --- | --- | --- | --- |
| Color | Hex Code #RGB | RGB Value | CMYK Value(%) |
| | #FF2400 | (255, 36, 0) | (0, 86, 100, 0) |
Imperial Red
A warm, watermelon-colored shade, this is a beautiful hue of red. It is ideal for culinary advertisements as well as vintage graphic design projects. This bright red color is also sufficient for use within the primary color scheme.
| | | | |
| --- | --- | --- | --- |
| Color | Hex Code #RGB | RGB Value | CMYK Value (%) |
| | #ED2939 | (237, 41, 57) | (0, 83, 76, 7) |
Barn Red
This rich, rusty red-brown hue is ideal for both antique barns and even modern shoes. The warm, natural tones go nicely with the bright colors of orange and terracotta.
When used as a backdrop color, the dark tone truly stands out.
| | | | |
| --- | --- | --- | --- |
| Color | Hex Code #RGB | RGB Value | CMYK Value (%) |
| | #7C0A02 | (124, 10, 2) | (0%, 92%, 98%, 51%) |
Redwood
This color is primarily grayscale with a small amount of red to give it a pop. Because of the red in it, this would pop out if it were matched with a genuine gray color. When compared to other reds, though, it seems to be quite neutral.
| | | | |
| --- | --- | --- | --- |
| Color | Hex Code #RGB | RGB Value | CMYK Value (%) |
| | #A45A52 | (164, 90, 82) | (0, 45, 50, 36) |
Raspberry
This is a blush red shade that has a medium tint and therefore is highly lovely in any space, website, or garment production facility, among other things.
Even though it is essentially a warm blush hue, it contains enough blue droplets to be considered neutral.
| | | | |
| --- | --- | --- | --- |
| Color | Hex Code #RGB | RGB Value | CMYK Value (%) |
| | #D21F3C | (210, 31, 60) | (0, 85, 71, 18) |
Mahogany
This is a warm, rich brown containing reddish undertones that run across the whole color. This shade of red is best used with a medium tan that has a cool undertone. It also works best with other warm colors. The chocolate shade is quite appealing, and it makes an excellent backdrop color for both websites and individual rooms in a home.
| | | | |
| --- | --- | --- | --- |
| Color | Hex Code #RGB | RGB Value | CMYK Value (%) |
| | #621707 | (192, 64, 0) | (0, 66.67, 100, 24.71) |
How to Create Different Shades of Red
Following your understanding of the color red, we can go on to explain how to create various shades of red in your home or office environment. Whether you're looking for a light red, a fiery red, a pale red, or anything in between, you will easily be able to create them. This section describes how you can create a different type of red, whether warm or cool, based on the hue of red you are looking for.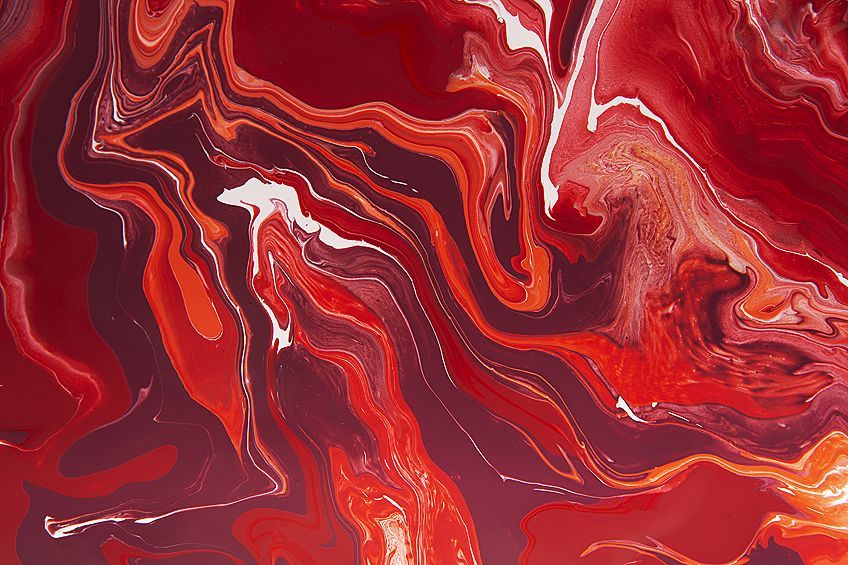 Using Yellow to Make Reds Warmer
Using color theory, combining all three primary colors will result in a drab and brownish tertiary hue when they are blended. Because of this, while attempting to make a red hue warmer by introducing yellow, you must choose a yellow that does not include any blue in the color mixture.
The result will be a murky crimson if you select a cool yellow that tends more toward green.
Cadmium Yellow
This is a bright yellow with red undertones that is quite warm in appearance. This makes it the ideal color to use for generating a vivid, blazing red effect. Try out various combinations on your own and see what works best for you. First, gather up some papers and paintbrushes as well as your chosen colors. You may then experiment with this on paper. You will notice that cadmium yellow, despite being a warm yellow, is a somewhat mild shade of orange. When combined with cadmium red, the result is a warm and light red that is less intense.
| | | | |
| --- | --- | --- | --- |
| Color | Hex Code #RGB | RGB Value | CMYK Value (%) |
| | #FFF600 | (255, 242, 62) | (0, 5, 76, 0) |
Yellow Ochre
Consider applying a small amount of yellow ochre if the mild warm red is produced if you are not looking for the warm and light yellow that you get from cadmium. Even though yellow ochre is a considerably deeper shade of yellow, it is still a warm color.
Combining yellow ochre with cadmium red produces a beautifully rich and warm red tone.
| | | | |
| --- | --- | --- | --- |
| Color | Hex Code #RGB | RGB Value | CMYK Value (%) |
| | #CB9D06 | (203, 157, 6) | (0, 23, 97, 20) |
Using Blue to Make Red Colors Cooler
In the same way that yellow colors can be used to make red colors warm, blue can be used to make red colors cooler. When using blue to make red colors cooler, you need to choose colors that do not contain any yellow in their composition. The following are blues free of yellow color that can be used.
Making a red cooler is simple if you use the general concept of testing the colors on a piece of paper. You can do this by grabbing your paints and drawing squares to complete your masterpiece. When adding this color to create a red shade, you need to make sure that you do not add too much blue at once. To balance the red, just a small amount of blue is needed. With just a smidgeon of too much blue, you'll end up with purple-tinged fingers.
Ultramarine Blue
When it comes to blues, ultramarine blue is a rather warm blue, which means it already includes a trace amount of red. By not allowing any yellow to seep into this cool red hue, you are reducing the chance of color mixing.
You may also use ultramarine to create a gorgeous deep shade of cold red since it has a dark blue undertone.
| | | | |
| --- | --- | --- | --- |
| Color | Hex Code #RGB | RGB Value | CMYK Value (%) |
| | #E1C984 | (30, 54, 123) | (76, 56, 0, 52) |
Creating Muted Shades of Red
When it comes to your artwork, a bright red color might be a bit too much for some people, even though it is beautiful and warm. If you want to add depth and variation to your work, you'll need to have a wide palette of distinct red tones to choose from. Suppose you're painting a flower, so you will need more than one shade of red to complete the project. In addition to your primary red shade, you'll need more subdued colors for depth as well as lighter tones for highlights.
The secret to creating muted shades of red is to use its complementary color. Green is the color that goes with red. Although it seems to be a straightforward process, all distinct shades of red have a corresponding distinct shade of green to match. The shade of green you pick will be determined by how light or dark you want your muted red to be when completed. Because green comprises all three primary colors, it has a calming effect on red.
The outcome is a red color that is significantly browner in tone, and considerably less dazzling and vibrant in appearance.
Use Forest Green
Forest green may be used to create an overall lighter, subdued green effect. Light forest green is a pleasant color to work with. When you combine forest green with a shade of red such as cadmium red, the red will become a bit less vibrant and somewhat browner in appearance.
| | | | |
| --- | --- | --- | --- |
| Color | Hex Code #RGB | RGB Value | CMYK Value (%) |
| | #228B22 | (0, 51, 20) | (76, 0, 76, 45) |
Phthalo Green
This is the ideal color for a deeper, more subdued red. Phthalo green is a shade of green that is both dark and refreshing.
Adding phthalo green to a muted red will result in a dark, brownish-purple color that is ideal for rich depth and highlights.
| | | | |
| --- | --- | --- | --- |
| Color | Hex Code #RGB | RGB Value | CMYK Value (%)) |
| | #123524 | (18, 53, 36) | (100, 0, 100, 0) |
Colors That Go With Red Shades
Color contrast is a combination of colors that, when mixed with another color, creates a feeling of freshness and tranquility. Colors that appear on the other end of the color wheel are known as complementary colors. When it comes to establishing a trendy appearance, selecting a nice color contrast is one of the most critical steps.
Colors such as white, beige, and grays go nicely with the color of red. Interiors that include these hues are relatively balanced and not overpowering, which is why most homeowners choose this color scheme.
| | | | | |
| --- | --- | --- | --- | --- |
| Color Name | Color | RGB Value | Hexadecimal Value | CMYK Code (%) |
| White | | #FFFFFF | (255, 255, 255) | (0, 0, 0, 0) |
| Beige | | #F5F5DC | (217, 187, 155) | (15, 25, 40, 0) |
| Charcoal gray | | #36454F | (110, 105, 105) | (0, 0, 0, 0.8) |
| Gray | | #808080 | (88, 89, 91) | (0, 0, 0, 80) |
Designers may choose a striking hue combo, such as a rich red with charcoal gray or black to create a stunning look. When working with a color palette of this kind, one must exercise caution. It should not be utilized in tiny spaces since it is quite dark and therefore will make the area seem substantially smaller than it is. Color pairings with red are also dependent on the specific shade of red that is used. What looks well when paired with a subtle, subdued red does not necessarily look good when paired with a deep red.
Take this into consideration if you want to use the color red.
The Most Popular Shades of Red Color
As previously said, there are so many shades of red color, and listing all of them is impossible. However, other red shades are more popularly used than other red shades. The most popular colors of red are shown here in the order they were discovered.
Scarlet
Scarlet is a brilliant hue of crimson red along with orange overtones that is a favorite of many people including designers and artists. If you have a space with soft and comfortable furnishings, this lovely and most popular red color will draw more attention.
This popular shade of red has the HEX code #ff2400 and is made up of 100% red, 14.1% green, and 0% blue, making it a perfect red combination.
| | | | |
| --- | --- | --- | --- |
| Color | Hex Code #RGB | RGB Value | CMYK Value (%) |
| | #FF2400 | (255, 36, 0) | (0, 86, 100, 0) |
Carmine Red
This is a shade of red that has a high intensity which makes it dominant. This color is associated with energy, passion, aggression, activity, as well as danger. A lot of people use this color to entice some kind of action. This color does not belong to any spectrum or sub-spectrum.
| | | | |
| --- | --- | --- | --- |
| Color | Hex Code #RGB | RGB Value | CMYK Value (%) |
| | #FF0038 | (255, 0, 56) | (0, 100, 78, 0) |
Mahogany
In furnishings, the rich red of mahogany is exquisite; other shades of green, such as mint and olive-green, as well as emerald, are utilized to complement this lovely hue.
The RGB color model shows that this contemporary shade of red with hexadecimal Code #621707 is made up of 38% red, 9% green, plus 3% blue.
| | | | |
| --- | --- | --- | --- |
| Color | Hex Code #RGB | RGB Value | CMYK Value (%) |
| | #621707 | (192, 64, 0) | (0, 66.67, 100, 24.71) |
Crimson Red
There are numerous elements in our world where crimson red is utilized as a symbol of danger, to increase feelings of fear and dread. Using the RGB color scheme, the color crimson red has the hexadecimal code #990000 is composed of 60% red, 0% green, and 0% blue.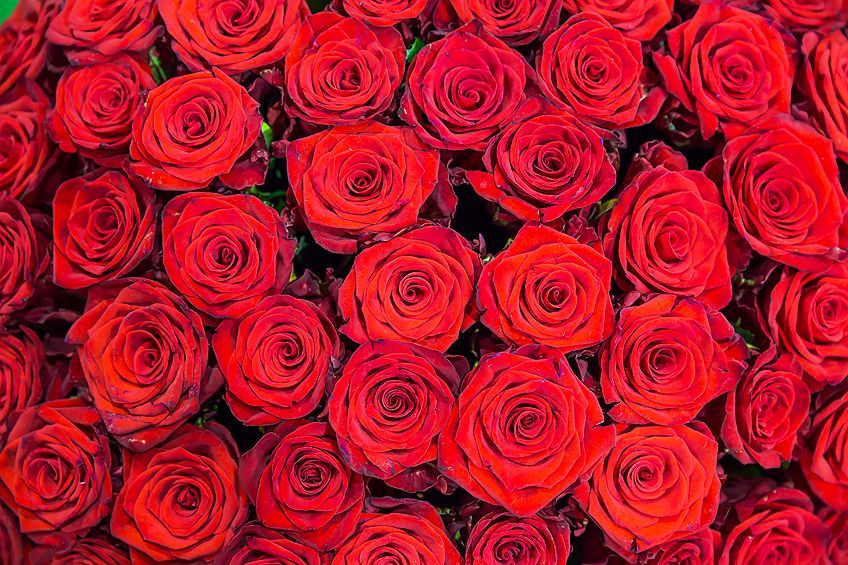 | | | | |
| --- | --- | --- | --- |
| Color | Hex Code #RGB | RGB Value | CMYK Value (%) |
| | #DC143C | (220, 20, 60) | (0, 91, 73, 14) |
How to Use the Color Red in Artworks
Being proficient in the mixing of every shade of red is one thing; however, being proficient in making it stand out is another whole other ballgame. The fact that green is the complementary hue of red makes it an excellent choice for pairing since it makes the red look even brighter. If you want to make your artwork more pleasing and striking, you may utilize some other amazing colors in conjunction with red.
Using a bit of mustard yellow with your red tones can assist in creating a comfortable and warm atmosphere in your paintings. Therefore, you may want to try this out if this is what you are looking for in your paintings. If used in conjunction with really warm reds, mustard yellow can be very striking. Keep in mind that if you utilize too much mustard yellow in the artwork, the warmth might become overwhelming. Red is a bright and powerful hue that pairs nicely with more subdued and neutral colors including beige and gray because of its warmth and intensity. These hues assist in balancing out the intensity of your red tone while offering significant contrast.
Gray and beige are incredibly useful since they will not clash with the red in your artwork as much as other colors would.
Hues of Red: Achieving the Right Look
For your shadowy colors, you may choose muted tones, or you could just add a little bit of black to your red to give it a more dramatic effect. The color black, on the other hand, is a powerful one, and we recommend that you exercise care while using even the slightest quantity.
Two approaches are available when it comes to generating hues of red. To lighten the red and make it more pinkish, you might use white paint as a starting point. If you would like to keep the intensity of your red tone, there is an alternative to using white. White has a natural tendency to soften tones a bit. Add a dash of yellow color to your red for a second look that is just as appealing.
With the addition of yellow, the color will become peachy and bright in appearance.
Red in Interior Design
Generally, there are no restrictions when it comes to incorporating the color red into any interior design scheme. Colors in different shades of red will look fantastic in a contemporary kitchen, a sitting room, or even a corridor. It all relies on the specific shade you choose as well as the quantity of the shade you chose to apply for your project. However, interior designers warn against using the color red for the entire interior décor. This is because the shade of red may appear too intense and overpowering.
The use of the color red on a wall is a fantastic option for anyone who enjoys expressing themselves as well as their personalities. Incorporating it in interiors, though, does not imply that the whole area is a show-stopping statement. The dark red color appears particularly striking when combined with gray or white.
The use of a red color scheme on the walls is good for making a TV wall, for example. This makes the red appear less intense since it has been toned down by the grays of the device. If you want to paint the entire space white, a red accent wall is also a great option to include. This will help to break up the monotonous pattern. In this situation, you may accessorize with items that are different hues of red.
The whole interior will be given a distinct personality.
The color red is also ideal for rustic interiors because of its ability to evoke a feeling of comfort, warmth, as well as contentment. Large red couches with wooden features are an excellent choice in this situation. In such environments, lights may help to create an extraordinary ambiance. It is advised that you choose numerous lighting fixtures and arrange them in various locations across the space.
Red chairs may be simply incorporated into traditional homes. They look fantastic when combined with natural wood as well as a gray color scheme. Everything should be well thought out, and the pieces should be complementary to one another, but this is doable. If you have a vision of an environment in which the color red is prominent in the accessories but you are unsure how to achieve it, consult with a professional. The designer may come up with several different options for you.
Whether you want to convey the heat of a blazing fire or a warm atmosphere, there is a red color that will work for you. The numerous connotations of the color red, how to create distinct hues of red, as well as how to make your red stand out have all been discussed in this article, among others.
Take a look at our red shades webstory here!
Frequently Asked Questions
What Are the Two Colors That Combine to Form the Color Red?
Yellow and magenta may be combined to create a pure red color. The precise shade of red you get will depend on the proportions of each color you use, and you may additionally customize the color by including a range of other colors.
What Colors Go Well With a Dark Red?
In your artwork, dark red color is a wonderful hue to utilize, and it goes well with a variety of other colors. A green color scheme is usually a good choice, especially when combined with red colors and dark green colors such as army green. Make your dark red color stand out even more by using neutral hues such as gray and beige.
What Is the Best Way to Make Red Color?
The color red is a primary color; therefore, one cannot mix the color from scratch. But you can make various shades of red by mixing specific colors together and adding various colors to your basic red shade.
What Does the Color Red Represent?
The significance of the red is commonly associated with love, although it is not the sole symbolism. It is also related to feelings of happiness as well as passion. A few have interpreted it as the hue of revolutionaries. For a long time, the color red was associated with royalty as well.
Where Does a Red Carpet Appear Best in a Home's Decor?
A red carpet is among the most common home décor elements, and it can be found in almost every house. It's perfect if you employ vibrant, classic hues in your design. It goes wonderfully with white, as well as with all hues of gray and black. A living area with white floors and walls, dark chairs, and a dark table seems to be very intriguing and inviting. A red carpet gives a sense of flair to a room and helps it stand out from the crowd.
Is Red a Good Choice for the Bedroom?
Red is not appropriate for a bedroom. An atmosphere like this is intended to be calming, but the color red is intended to invigorate the organism. More sensitive individuals will find it difficult to rest in such an environment.
In 2005, Charlene completed her Wellness Diplomas in Therapeutic Aromatherapy and Reflexology from the International School of Reflexology and Meridian Therapy. She worked for a company offering corporate wellness programs for a couple of years, before opening up her own therapy practice. It was in 2015 that a friend, who was a digital marketer, asked her to join her company as a content creator, and this is where she found her excitement for writing.
Since joining the content writing world, she has gained a lot of experience over the years writing on a diverse selection of topics, from beauty, health, wellness, travel, and more. Due to various circumstances, she had to close her therapy practice and is now a full-time freelance writer. Being a creative person, she could not pass up the opportunity to contribute to the Art in Context team, where is was in her element, writing about a variety of art and craft topics. Contributing articles for over three years now, her knowledge in this area has grown, and she has gotten to explore her creativity and improve her research and writing skills.
Learn more about the Art in Context Team.