You might not think about a periwinkle color for a painting project, but a light or dark periwinkle is a softer choice compared to a vibrant purple or cold blue. A periwinkle color can be used quite effectively in baby nurseries and other living areas.
What Color Is Periwinkle?
Is periwinkle blue or purple? You can view the periwinkle color as both blue as well as purple. However, many might refer to the color as periwinkle blue or lavender-blue, as colors can be seen differently by each person. If you want to get technical, it is considered more lavender purple and less of an indigo color. You can say periwinkle falls in the violet and is named after the flower of the same name, or it is also known as myrtle herb or Vinca minor.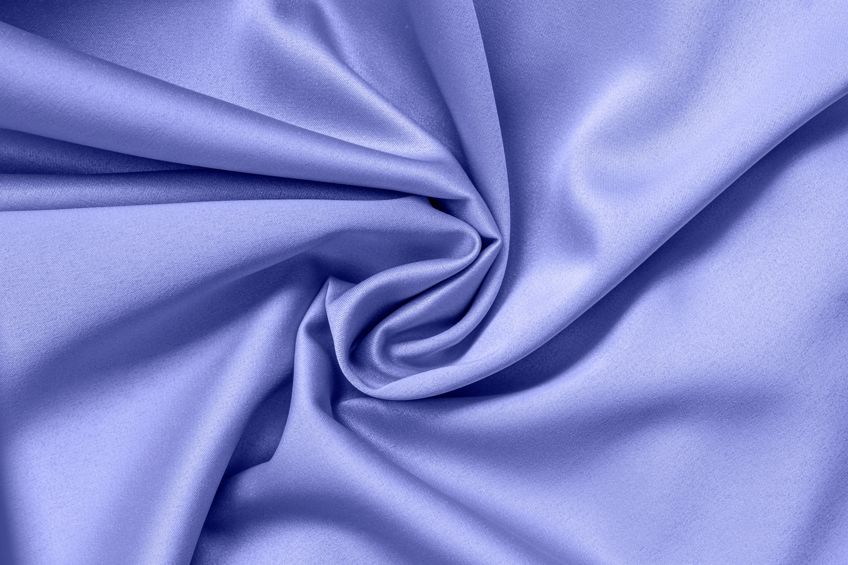 There are also various shades of this color from a pale or pastel purple to a dark periwinkle. When it comes to periwinkle vs. lavender, the main difference is that lavender is less blue and more of a pale purple, while periwinkle is purple with more blue.
Periwinkle: A Brief History
The periwinkle color name was first mentioned in the early 20th century. However, the color has been used for many years before by various artists. The word itself comes from Old English, from the word perwince and Latin, pervinca. You also have a Russian name for the flower called pervinka. Periwinkle has always been a plant first, whose flowers inspired the color. The flowers themselves came originally from areas of Europe and the British Isles. The plant itself is poisonous and due to its uses in the past, it is also known as the "flower of death".
In Europe, the flowers or parts of the plant were woven into head garlands of those who were sentenced to death and heading for the gallows.
In the USA, it was planted in cemeteries and in Italy, with wreaths of the plant on the graves of children that had died. In religion, particularly Catholicism, the periwinkle was a symbol of the Virgin Mary and represents love and purity. Many churches sometimes attach the flower to statues of the Virgin Mary and many stained glass displays and paintings also showcase the flower and color. In Europe, the flowers have been used in head adornments and bouquets for weddings, symbolizing faithfulness.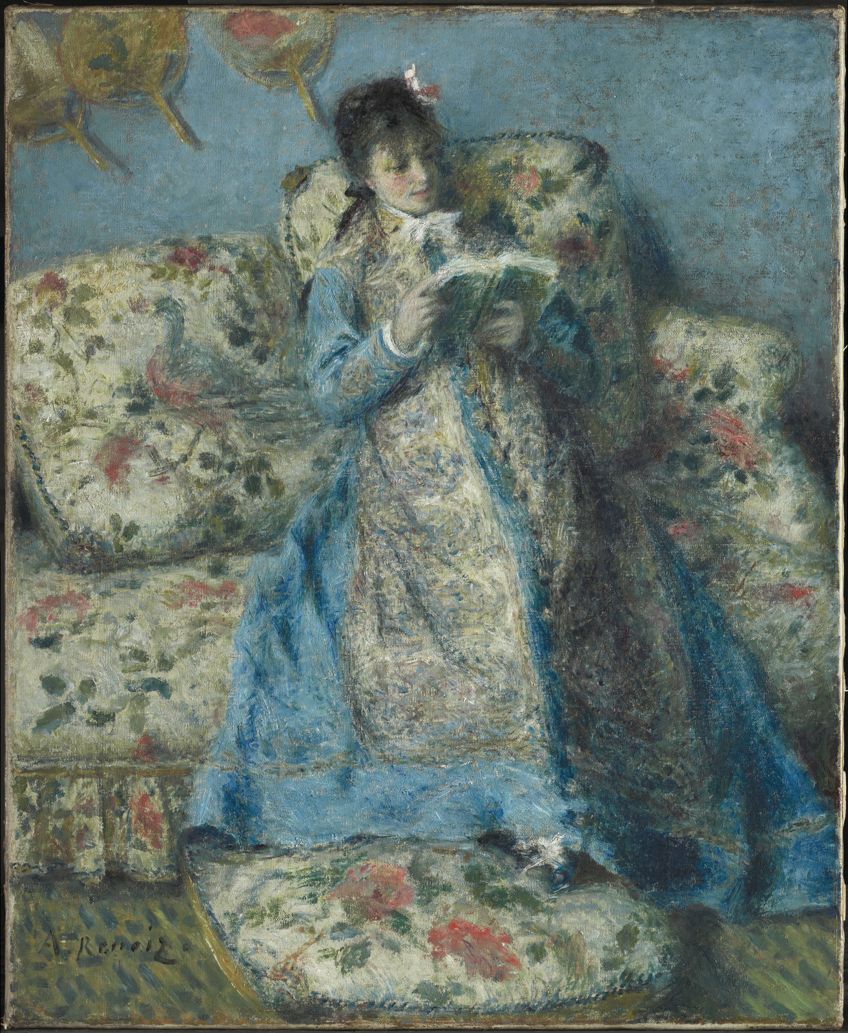 Portrait of Madame Monet (1874) by Pierre-Auguste Renoir; Pierre-Auguste Renoir, Public domain, via Wikimedia Commons
Periwinkle is known by many other names including fairy's paintbrush and sorcerer's violet. Not only is it a plant, but there is also a snail known as the common periwinkle. Since the periwinkle color has been used in art for many years, many famous paintings may include this color.
Portrait of Madame Monet (1874) by Pierre-Auguste Renoir
Old Oaks In Surrey (1890) by Jan Toorop
Young Girl Braiding Her Hair (1894) by Edgar Degas
Water Lilies (1919) by Claude Monet
More recently in 2022, Pantone named their color for the year "Very Peri". The color is a shade that brings in a livelier periwinkle blue that has undertones of violet red. The color combines the reliability of blue, with the enthusiasm of red. This is also the first time that the color is completely new, as in previous years pre-existing colors were chosen.
You might be able to find some Windows wallpapers and other themes or templates containing the color from Microsoft.
Meaning of Periwinkle
Periwinkle has had different meanings and symbolism over the years, depending on culture and religion. Today, the periwinkle color is a representation of calmness, peace, relaxation, comfort, love, and honesty. The color has a strong link to friendship and is seen as a childish hue that embodies innocence.
The color does represent a more feminine outlook and will add a certain elegance to any environment. The color is also tenacious and innovative as well as optimistic and lighthearted, yet with a focus on things that matter. Periwinkle remains pure and loyal to convictions and beliefs.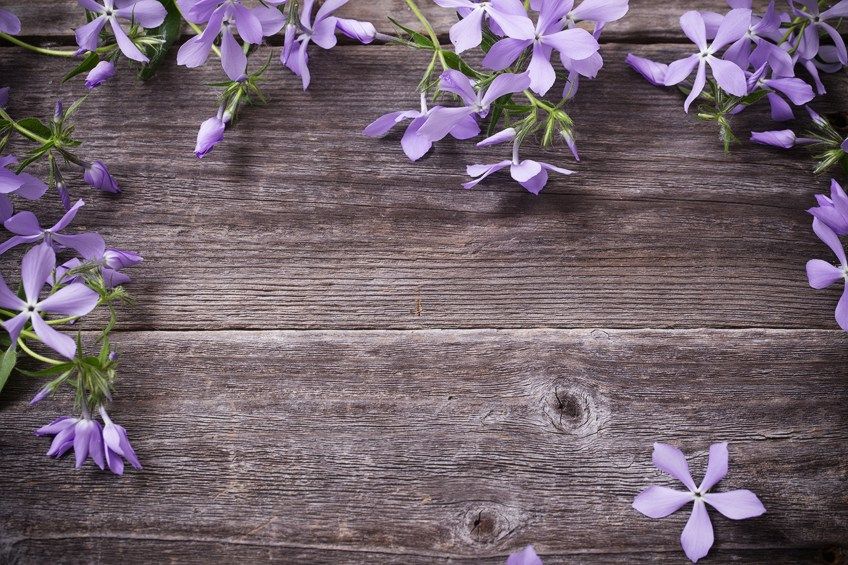 Periwinkle can have a fresh or clean feeling, similar to green and blue, which is why combining it with a warmer color can help prevent a sterile look and feel to an environment. The color can also help with things like concentration and improve creativity and has a soothing effect on the mind. The more muted or lighter colors have more of this kind of effect. Any positive experiences related to the color should elicit feelings of safety as well as being a comforting color.
The periwinkle color can also be associated with cold feelings, which is why it is often used in paintings of ice and winter.
Shades of Periwinkle
As with all colors, there are many variations of shades available. You can go from vibrant and energetic to subtle and neutral color effects. The periwinkle color sits between blue and purple on the color wheel and the periwinkle hex code is #cccff or some view #8e82fe as a more accurate representation.
All colors have a hex code, which helps you find a specific color online and represents color in an RGB (red, green, and blue) color format. This is great for any web design you want to do. Other color codes or formats include your CMYK (cyan, magenta, yellow, and black), which is what you would use when printing. Below are various shades of periwinkle you might want to use.
True Periwinkle Color
True periwinkle is a common form of the color that many use and is closely associated with the color purple. The other version is more of a light periwinkle and is also commonly used. This is a lesser periwinkle color.
When compared to the more traditional or darker periwinkle color and is also known as lavender blue.
| | | | | |
| --- | --- | --- | --- | --- |
| Periwinkle Shade | Periwinkle Hex Code | CMYK Periwinkle Color Code | RGB Periwinkle Color Code | Periwinkle Color |
| Periwinkle | #CCCCFF | 15, 14, 0, 6 | 204, 207, 240 | |
| True Periwinkle | #8e82fe | 44, 49, 0, 0 | 142, 130, 254 | |
Dark Periwinkle
This is a more vibrant and darker periwinkle that can help to brighten up a room, without being overwhelming. This darker version of periwinkle does tend to have more of a violet undertone and is closely associated with indigo.
| | | | | |
| --- | --- | --- | --- | --- |
| Periwinkle Shade | Periwinkle Hex Code | CMYK Periwinkle Color Code | RGB Periwinkle Color Code | Periwinkle Color |
| Dark Periwinkle | #665fd1 | 51, 55, 0, 18 | 102, 95, 209 | |
Light Periwinkle
This can also be seen as a soft blue and is a very light shade of periwinkle. The color also forms a part of the Very Peri Blue color scheme, as it is the lighter version. As mentioned, the lighter or more muted the color, it provides a more neutral effect.
The very peri blue is your darker option, which leans more towards your blue undertones.
| | | | | |
| --- | --- | --- | --- | --- |
| Periwinkle Shade | Periwinkle Hex Code | CMYK Periwinkle Color Code | RGB Periwinkle Color Code | Periwinkle Color |
| Light Periwinkle | #c1c6fc | 23, 21, 0, 1 | 193, 198, 252 | |
| Very Peri Blue | #8f99fb | 43, 39, 0, 2 | 143, 153, 251 | |
Periwinkle Gray
This color can be seen as a light, unsaturated shade of blue, with gray undertones. This is the perfect color if you wish to choose a cool neutral color for your designs. This is a color you are looking for if you want to calm and inspire creativity. The color is used often in large corporations and hospitals.
| | | | | |
| --- | --- | --- | --- | --- |
| Periwinkle Shade | Periwinkle Hex Code | CMYK Periwinkle Color Code | RGB Periwinkle Color Code | Periwinkle Color |
| Periwinkle Gray | #c3cde6 | 15, 11, 0, 10 | 195, 205, 230 | |
Lavender Blue Shadow
Lavender blue and periwinkle are very similar and are often seen as the same color. However, there are some distinctions between the colors.
This particular color is popular as an eyeshadow color but is also a well-liked color for bedrooms and living areas.
| | | | | |
| --- | --- | --- | --- | --- |
| Periwinkle Shade | Periwinkle Hex Code | CMYK Periwinkle Color Code | RGB Periwinkle Color Code | Periwinkle Color |
| Lavender Blue Shade | #8b88f8 | 44, 45, 0, 3 | 139, 136, 248 | |
Creating Shades of Periwinkle
There seem to be a few variations when it comes to mixing periwinkle paint. If you are using acrylic, oil, or watercolor paints, there is usually a periwinkle color you can purchase without having to worry about blending your own. The same goes for painting your house, where the store where you buy the paint, will mix up any color that is on their charts.
However, maybe you like to blend your own colors so that you can get more accurate colors from the paints you have. To blend a periwinkle color, you should first experiment and create a color palette, where you can record the colors and amounts of paint you use. This helps if you create a color you like by accident, you can always refer back to your color palette and see how you created it.
Blending Periwinkle Paint
The most recommended way to create a periwinkle color is to begin with a white base. Place some white paint onto your palette surface. Then choose blue and red paint to use with this blend. Add some blue paint a short distance from the white and begin using small amounts to mix with the white. Then begin adding small amounts of red, or you can also try using purple if you do not have red.
Carry on adding these two colors, making sure to add in smaller amounts of red paint than blue. Do this until you have reached the color you are looking for.
Others might begin with a white base and then add red to create a pink color. Then add in small amounts of light blue to make a purple color. In either case, always use small amounts of paint as it is easier to add in the paint than to remove a color. A simple way of blending a periwinkle paint color is to take equal amounts of blue and red paint to create a violet shade. Then add in small amounts of blue and lastly add in white until you achieve a periwinkle color. The periwinkle color is perfect to use in winter images of ice and snow, but it can also be used in landscape paintings of flowers and sunsets. Periwinkle can make a wonderfully calming color scheme for any painting or room.
Periwinkle Color Combinations
Periwinkle is not a color option that naturally springs to mind like many others, but it does provide a gentler color when compared to vibrant purples and blues. Periwinkle can be a color that forms the base for other more brilliant colors like orange. The color can also work well with other colors from the same family, namely your blues. However, periwinkle can also work well with neutrals, and it can be used as a neutral itself.
Complementary Color
When looking at a color wheel, you will find the complementary color for periwinkle is yellow. This means these two colors make each other stand out more and they form a contrast. The best colors to use with yellow are your dark periwinkle colors and shades of blue. Lemon yellow and periwinkle provide a more modern look, while using something like mustard yellow, provides more of a rustic look and feel.
Want to go for a bold combination, why not try chartreuse.
| | | | | |
| --- | --- | --- | --- | --- |
| Periwinkle Shade | Periwinkle Hex Code | CMYK Periwinkle Color Code | RGB Periwinkle Color Code | Periwinkle Color |
| Periwinkle | #8e82fe | 44, 49, 0, 0 | 142, 130, 254 | |
| Lemon Yellow | #fff44f | 0, 4, 69, 0 | 255, 244, 79 | |
| Mustard Yellow | #e1ad01 | 0, 23, 100, 12 | 225, 173, 1 | |
| Chartreuse | #dfff00 | 13, 0, 100, 0 | 223, 255, 0 | |
Green and Periwinkle
Periwinkle can blend nicely with nature-inspired colors like various shades of green, which helps to bring in a feeling of harmony and wellness. Light green colors and yellow-green colors are both split-complementary colors of purple, with which you can create some amazing color schemes. Just think of the natural combination, the periwinkle flowers, and green leaves, the colors are meant to go together.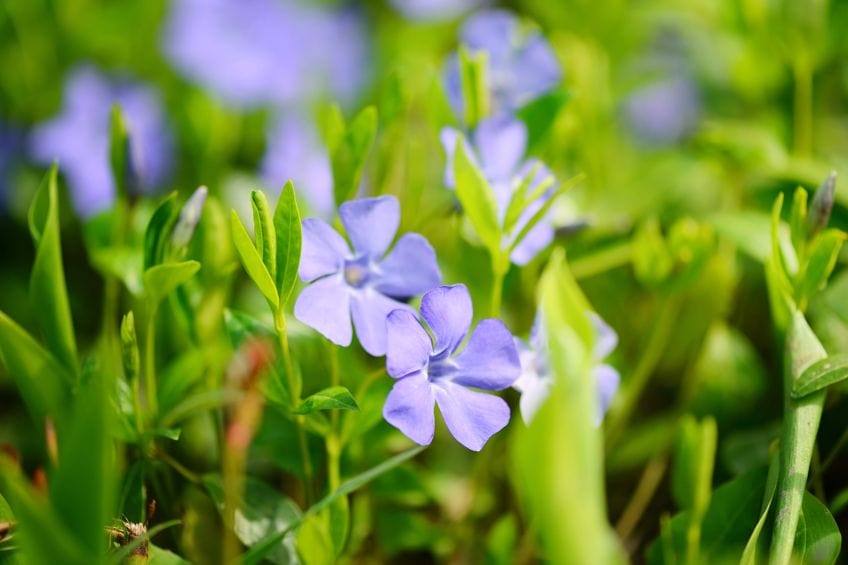 | | | | | |
| --- | --- | --- | --- | --- |
| Periwinkle Shade | Periwinkle Hex Code | CMYK Periwinkle Color Code | RGB Periwinkle Color Code | Periwinkle Color |
| Periwinkle | #8e82fe | 44, 49, 0, 0 | 142, 130, 254 | |
| Mint Green | #98ff98 | 40, 0, 40, 0 | 152, 255, 152 | |
Periwinkle and Shades of Orange
These colors are opposites of each other, one is warm, while periwinkle offers more of a cooler outlook. This makes it a striking combination of color when paired together, however, it is not too overwhelming. Orange is the complementary color of blue, so vibrant orange colors like pumpkin orange and softer hues of periwinkle make an eye-catching combination. The softness of the periwinkle highlights the liveliness of the orange.
When designing, it is always best to use one color as your main choice, while the other forms accents or hints of color in the background.
| | | | | |
| --- | --- | --- | --- | --- |
| Periwinkle Shade | Periwinkle Hex Code | CMYK Periwinkle Color Code | RGB Periwinkle Color Code | Periwinkle Color |
| Periwinkle | #8e82fe | 44, 49, 0, 0 | 142, 130, 254 | |
| Pumpkin Orange | #ff7518 | 0, 54, 91, 0 | 255, 117, 24 | |
Analogous Colors
Analogous colors can be found alongside one another on the color wheel. So, your blues and purples will always work well with periwinkle colors. When using periwinkle blue alongside blue, it may appear to be more purple. Softer and muted tones of purple, blue, periwinkle, and white can offer a more feminine look.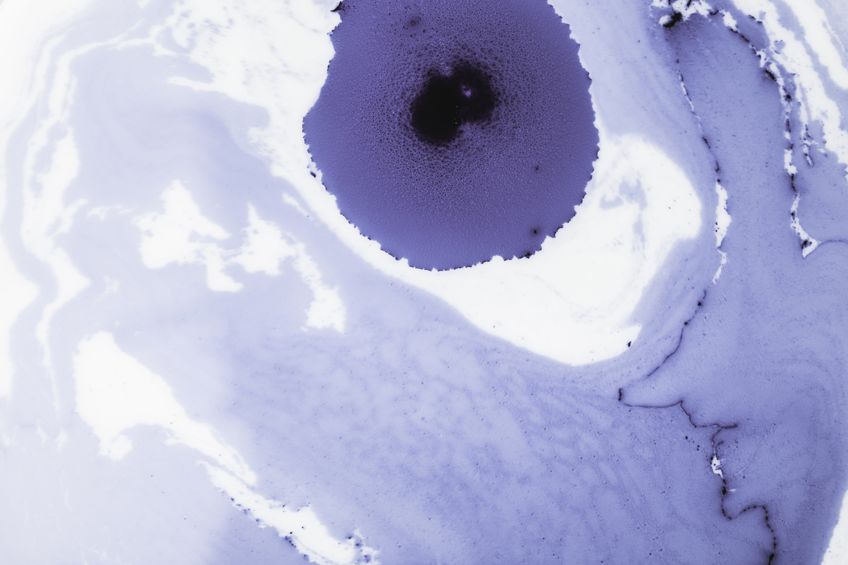 Navy blue and periwinkle is a popular combination, especially for weddings. The colors compliment each other and work in harmony to provide a sophisticated look. The navy blue also anchors the lighter color, which is a more delicate and romantic color.
| | | | | |
| --- | --- | --- | --- | --- |
| Periwinkle Shade | Periwinkle Hex Code | CMYK Periwinkle Color Code | RGB Periwinkle Color Code | Periwinkle Color |
| Periwinkle | #8e82fe | 44, 49, 0, 0 | 142, 130, 254 | |
| Navy Blue | #000080 | 100, 100, 0, 50 | 0, 0, 128 | |
Pink and Periwinkle
The color combination of periwinkle and pink is playful and also conveys a certain amount of lavishness. The colors can also represent a certain amount of girlishness and innocence, with a little romance included. Taking a dak periwinkle and combining it with a softer pink, creates a nice contrast in colors. This combination also makes a great wedding color scheme.
You may even want to include a warm hint of color using something like salmon pink.
| | | | | |
| --- | --- | --- | --- | --- |
| Periwinkle Shade | Periwinkle Hex Code | CMYK Periwinkle Color Code | RGB Periwinkle Color Code | Periwinkle Color |
| Periwinkle | #8e82fe | 44, 49, 0, 0 | 142, 130, 254 | |
| Salmon Pink | #fa8072 | 0, 49, 54, 2 | 250, 128, 114 | |
Periwinkle and Design
Many would say that periwinkle has more feminine qualities and is often used in wedding color schemes and other events that require a feminine touch that is not overwhelming. Periwinkle has often been used in designing dresses and beautiful evening gowns. The color provides a feminine look and also offers a fresh and calming effect. Some noteworthy celebrities who have worn this color like Lady Gaga with her appearance at the Golden Globes in 2019.
The periwinkle color has become well-liked and a popular choice in many homes. Even though it has feminine qualities, the color can also be gender-neutral and a beautiful addition to a nursery. However, the color can also successfully be used in all other living areas including the bedrooms, kitchen, living, and dining rooms. The color provides that subtle sense of energy, combined with its soothing qualities.
Using Periwinkle on Walls
Applying periwinkle to walls can add a touch of class and calmness to any room. Consider layers of various shades of blue and white with periwinkle walls. Add in patterns and other diverse designs to create a sophisticated yet balanced look. You can go for painting all the walls the same color, but you can also use periwinkle as an accent wall if you think the color is too much painted everywhere. A bathroom is a great place for periwinkle and white as this adds a calming, fresh, and subtle uplifting feeling to the room.
Instead of the walls, consider painting the ceiling, this could be a unique and fun way of adding color to a room. This can also highlight certain features of a room, for example, a high vaulted ceiling.
Adding Periwinkle Accessories
Maybe you like the periwinkle color but in moderation. You can easily incorporate the color using various accessories. You can enhance a space by simply adding the right amount of color to an otherwise neutral setting. For example, if you have a neutral kitchen space with an island, you can include periwinkle in the design by painting only the kitchen island. There are many ways you can include periwinkle accessories that fit with the room design. You can use periwinkle couches, pillows, or bedding.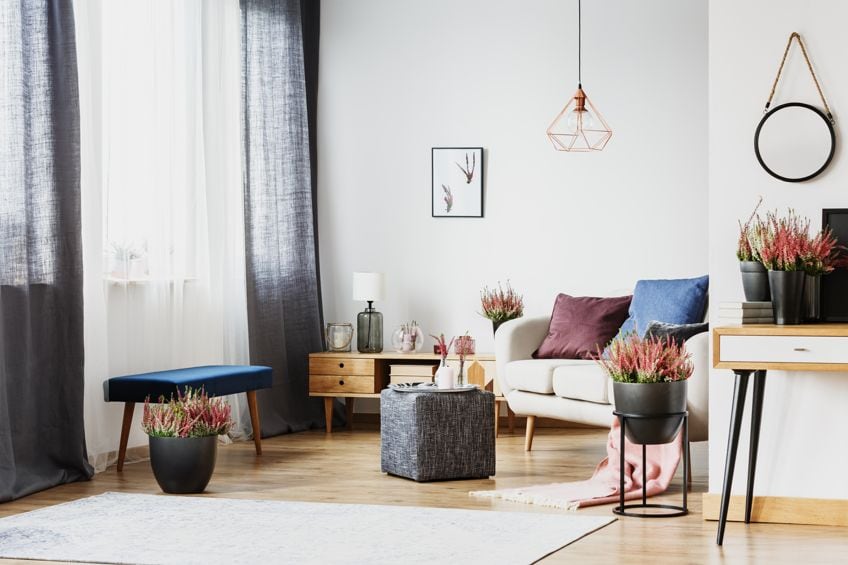 Place a periwinkle throw at the end of the bed, or simply add in some periwinkle-colored candles somewhere on the side table. Other ideas include drapes, paintings, pottery pieces, or other decorative elements. You can also add metallic accents to a room with periwinkle as it gives the room a more sophisticated look. You can also highlight other areas of the home, for example, take the stairs, adding stripes of periwinkle can provide a welcome focus of color. Another idea is to paint the fireplace mantle to highlight the area in a neutral room.
Choosing Periwinkle Paint for the Home
Besides the color combinations, when it comes to choosing periwinkle paint for the home, there are some things you need to take into consideration first. We have already established that periwinkle is a blend of lavender purple with slight blue undertones. However, you need to check out your paint color first, as the lighting can affect the color. Remember, you should always test the paint before you purchase it. Periwinkle has so many variations, with some being slightly bluer and others pinker, so you have a great variety to choose from, with the example below leaning a little more towards blue while maintaining that periwinkle sparkle.
The paint sheen also plays a role in your choice of paint, a matte or flat paint can help to hide imperfections but are prone to showing up new marks and stains. The glossy, as well as semi-gloss, and satin sheens offer more reflective qualities and can also hide various flaws. So, if you are painting a high traffic area like a bathroom or kitchen, it is best to use gloss or semi-gloss paint as these are more resistant to stains and marks.
Periwinkle may not have been a color that comes to mind, but now that you have learned a little more about the color, we hope you have gained a new respect for it. So, the next time you wish to paint, whether in art or design, take another look at the amazing periwinkle color.
Take a look at our periwinkle blue color webstory here!
Frequently Asked Questions
Is Periwinkle Blue or Purple?
What color is periwinkle? This can be a controversial subject as some may see the color in a different way. For example, when it comes to periwinkle vs. lavender, many see them as the same color. However, lavender is more of a pale purple, with an undertone of blue-red and some white. Periwinkle leans more towards blue but remains within the purple family as well.
What Colors Go With Periwinkle?
Since periwinkle is part of the purple and blue side of the family, it goes well with all the different shades of these colors. The complementary color to help with contrast will be your yellow and yellow-green colors. However, it also goes well with neutral colors like beige and other vibrant colors like orange. Periwinkle can also work with lighter shades of red like pink.
What Color Was Chosen for This Year?
Periwinkle, or what was named by Pantone as Very Peri, is the color chosen for the year 2022. The color has been associated with friendliness, joyfulness, confidence, and hope for a better future. This is also a newly chosen color from the Pantone company and not just a choice from the archives.
What Does the Periwinkle Color Symbolize?
The color itself is associated with hope, faithfulness and also has a romantic side. Since it does have blue undertones, it lends itself to calmness, peacefulness, and also provides a fresh and cool feeling. Other attributes include honesty and comfort among others.