The indigo color seems to be a bit of a confusing color, as many people have different views as to what color indigo is. To try and clear things up a bit, we are going to go into the various indigo color meanings and try to see what colors make indigo, so that we can achieve a better understanding of this amazing color.
What Color Is Indigo?
An indigo color can be described as a color that sits between purple and blue when we look at a color wheel. So, is indigo blue or purple? Considering where it is located and the various shades and tints you can find; you can say it is a little bit of both these colors. What colors make indigo? The color can be created by mixing blue and red, however, much debate over whether it is a blue indigo color, or is it more purple?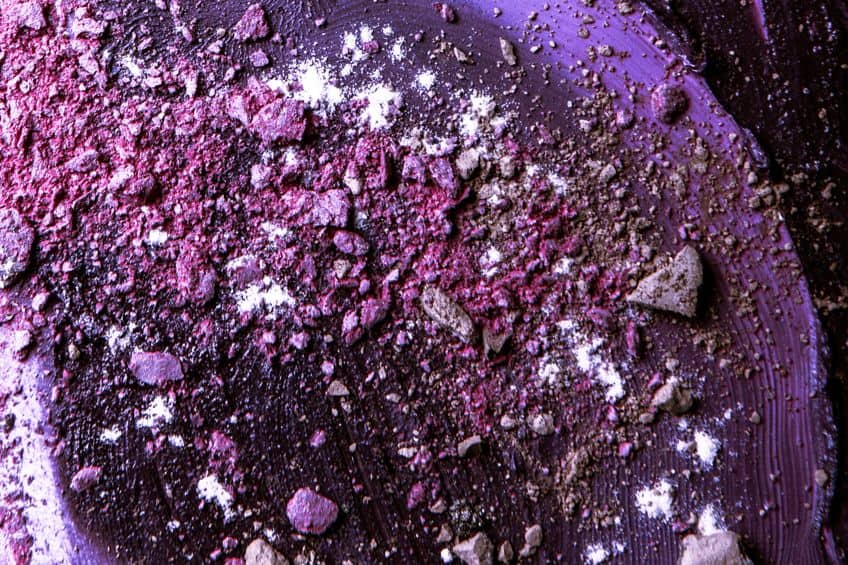 Even though you can get a variety of shades of indigo, in general, you can describe the color as mainly blue, but with violet undertones or a deep vibrant reddish-blue. Since many of us perceive color differently, indigo is one of those colors that is difficult to define precisely.
When searching for colors online, you will want the hex code to identify them. The hex code for indigo is #4b0082.
The table below shows you what it looks likes, along with other color codes if you wish to use the color in web design or for printing. This color might also differ from that of pigments you use to paint with. As you can see with the RGB or red, green, and blue color code, you will see that the amount of blue is a lot more, when compared to the red.
| | | | | |
| --- | --- | --- | --- | --- |
| Indigo Shade | Indigo Hex Code | CMYK Indigo Color Code (%) | RGB Indigo Color Code | Indigo Color |
| Indigo | #4b0082 | 42, 100, 0, 49 | 75, 0, 130 | |
Indigo Color: A Brief History
Where does the indigo color originally come from? There are two parts to this question, as there is more than one answer. First, the indigo color dye was obtained from a type of plant, known as Indigofera Tinctoria, or true indigo. The word indigo itself originated from Latin, indicum, which means Indian as the dye was first brought to Europe from regions in India. The dye color is closer to a blue than a purple color.
The indigo color dye goes back a distance into history, especially in India, which is the oldest region for dyeing.
Although, the dye was also cultivated in various Asian countries and places like Peru as well as Japan. There is evidence that indigo dates as far back as 4000BC from Peru, in a place known as Huaca Prieta. However, India was the main source of indigo dye during the Greco-Roman times, which was about a few years before and after Christ. The indigo dye eventually became a very rare, sought-after resource in Europe in the 17th century and was imported along what was known as the Silk Road.
Spanish explorers found an American plant species that also produced indigo, and they began cultivating it in Guatemala. Meanwhile, the English and French also began cultivating their own species in colonies in the West Indies. The dye was eventually also introduced to America and played an important part in the slave trade and even helped to fund the American Revolution War. Over the years, the original dye was ultimately replaced by cheaper synthetic dyes.
The second answer to where does indigo come from involves a more scientific view. Indigo is known as a color found in the visible spectrum and forms part of the colors in the rainbow. Indigo is between blue and violet, however, many disagree as to where the color is positioned. Indigo almost merges with blue and violet and often appears to be out of the mix altogether.
The reason indigo is one of the seven colors is that Isaac Newton was the one who discovered the color spectrum, and he included all the colors including indigo..
Many say he only added indigo because it was a valuable commodity during his time. So, many have supported the removal of the color as many people cannot distinguish between purple and blue. This leaves only six rainbow colors, namely purple, blue, green, yellow, orange, and red.
Over the years, many famous artists have used indigo in their paintings, although some have faded over time. Sir Peter Paul Rubens, a Flemish artist used indigo for the darker blue colors in his triptych art piece known as the Descent from the Cross (1612-1614).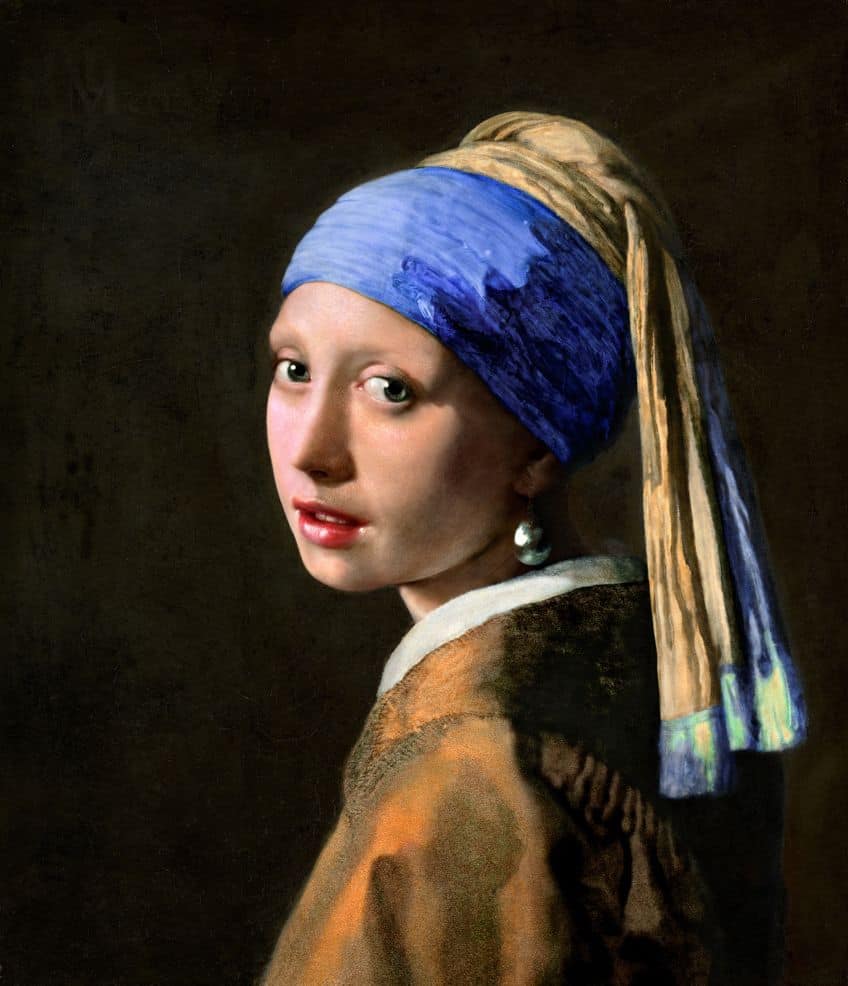 Girl with a Pearl Earring (1665) by Johannes Vermeer; Koorosh Orooj, CC BY-SA 4.0, via Wikimedia Commons
Johannes Vermeer, a Dutch Baroque Period painter, also used indigo in his paintings. One example would be Christ in the House of Martha and Mary (1654-1656). The indigo was used in the deep blue robe of Christ in the painting. Another famous example would be his painting of the Girl with a Pearl Earring (1665).
Today, most indigo dye is synthetic and most of the dye produced is used in the production of denim cloth and jeans. However, in 1873, the indigo dye was used by Levi Strauss and Jacob Davis to create the first denim jean, which is known today as Levi's. The color of the year, "Veri Peri", can be described as something very similar to a shade of indigo as it has the qualities of blue, but also has violet or red undertones. Crayola also has the color indigo as one of their crayon colors, along with Faber Castell with their polychromous artist pens and pencils for watercolor.
Indigo Color Meaning
Since indigo can be a mixture of blue and purple, it also has similar qualities to these colors. Indigo is the perfect color to help stimulate creativity and is often the color used for meditation. The color is also associated with wisdom, justice, authority, integrity, wealth, power, and devotion. Since it is a color for meditation, it is also a color that is linked to things spiritual and intuition.
The color is also linked to helping others and is seen as a color that imparts fairness.
Shades of Indigo
The indigo color is a difficult color to pinpoint, and many have different ideas of what the color should look like. There are also differences in the various types of indigo color, for example, the indigo dye color is different from the pigment and the indigo found in the color spectrum. Below are some of the shades of indigo.
Electric Indigo
This is a brighter indigo color when compared to the indigo or web color indigo below. This particular shade is only a guess when measuring it up against the actual indigo color in the color spectrum, as the RGB color system does not match the spectral colors. This shade is considered the brightest color of indigo and may even seem a little uncomfortable to look at for too long.
So, if you do use this color for any purpose, it should be used carefully.
| | | | | |
| --- | --- | --- | --- | --- |
| Indigo Shade | Indigo Hex Code | CMYK Indigo Color Code (%) | RGB Indigo Color Code | Indigo Color |
| Electric Indigo | #6f00ff | 56, 100, 0, 0 | 111, 0, 255 | |
Deep Indigo
This color, which is a blue-violet or blue-purple color, can be found in between the electric indigo and web color or pigment indigo below. This color leans more towards purple and is a color that is quite popular in web design.
| | | | | |
| --- | --- | --- | --- | --- |
| Indigo Shade | Indigo Hex Code | CMYK Indigo Color Code (%) | RGB Indigo Color Code | Indigo Color |
| Deep Indigo | #8a2be2 | 39, 81, 0, 11 | 138, 43, 226 | |
Web Color Indigo
This is the indigo we have been using to describe an indigo color and is the closest color that represents the pigment artists use. The color is deeper and less bright than the shade of indigo above. This color has more of a violet undertone than the indigo dye color below.
To achieve this color with pigment, you can add 55 percent of cyan with around 45 percent magenta.
This particular shade of indigo was prominent before the 1950s, however, brighter, and more psychedelic colors were introduced by the late 70s, and artists became comfortable using the brighter versions and the colors also began appearing in pencils and artist pigments. This deeper shade of indigo works very well alongside shades of yellow.
| | | | | |
| --- | --- | --- | --- | --- |
| Indigo Shade | Indigo Hex Code | CMYK Indigo Color Code (%) | RGB Indigo Color Code | Indigo Color |
| Web Color Indigo | #4b0082 | 42, 100, 0, 49 | 75, 0, 130 | |
Tropical Indigo
The tropical indigo is more of soft blue color and is a color mentioned in the Guide to Colorations, called añil. This color dictionary was published in 2005 and is well recognized by the Spanish community.
| | | | | |
| --- | --- | --- | --- | --- |
| Indigo Shade | Indigo Hex Code | CMYK Indigo Color Code (%) | RGB Indigo Color Code | Indigo Color |
| Tropical Indigo | #9683ec | 36, 44, 0, 7 | 150, 131, 236 | |
Indigo Dye
This color is closer to a dark or navy blue than it is to purple and is quite different when compared to the other shades of indigo. The indigo dye was acquired from the indigo plant, Indigofera, or other plant species like woad or Chinese Indigo.
Different methods were also used to obtain various shades of blue to dye fabric with.
| | | | | |
| --- | --- | --- | --- | --- |
| Indigo Shade | Indigo Hex Code | CMYK Indigo Color Code (%) | RGB Indigo Color Code | Indigo Color |
| Indigo Dye | #00416a | 100, 39, 0, 58 | 0, 65, 106 | |
More Shades of Indigo
There are a few more shades of indigo, including purple heart, which leans towards purple. There is also vivid violet, which is a vibrant color. Royal purple is another example and leans more toward a blue indigo color, just like the midnight blue hue.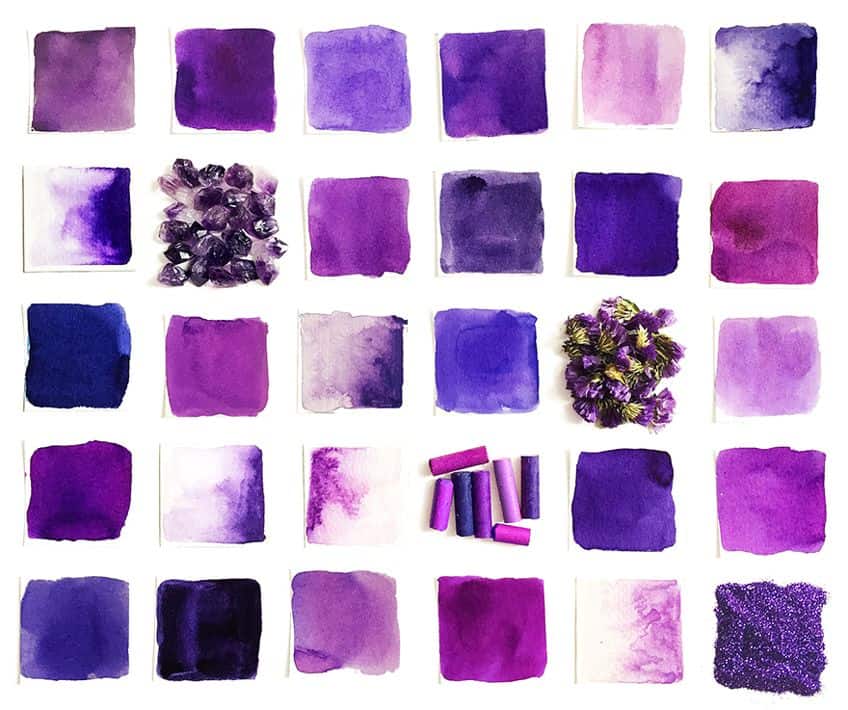 | | | | | |
| --- | --- | --- | --- | --- |
| Indigo Shade | Indigo Hex Code | CMYK Indigo Color Code (%) | RGB Indigo Color Code | Indigo Color |
| Purple Heart | #69359c | 33, 66, 0, 39 | 105, 53, 156 | |
| Vivid Violet | #9f00ff | 38, 100, 0, 0 | 159, 0, 255 | |
| Royal Purple | #7851a9 | 29, 52, 0, 34 | 120, 81, 169 | |
| Midnight Blue | #191970 | 78, 78, 0, 56 | 25, 25, 112 | |
Indigo Color Combinations
Indigo is a beautiful and popular color that can be used with greens, yellows, and shades of red. The deeper shades of indigo work well with shades of yellow and orange as accent colors. Softer shades of yellow also work nicely with indigo. Blue and white colors also pair wonderfully with indigo.
However, there is a way to create good color palettes and that is by using the types of color combinations you can find on the color wheel. The color wheel contains all colors from primary to secondary and intermediary, all within a visual circle shape. By simply finding a color and then checking the wheel to see where other colors are located, you can devise a balanced and workable color scheme. Below are a few of these color combinations, focusing on indigo.
Complementary Indigo Color Combinations
Complementary colors are colors directly opposite one another when looking at the color wheel. These colors, when placed alongside each other, create a contrast and make each other stand out. The complementary color for our chosen indigo color is a shade of dark green.
You may also try using mint green.
| | | | | |
| --- | --- | --- | --- | --- |
| Shade | Hex Code | CMYK Color Code (%) | RGB Color Code | Color |
| Indigo | #4b0082 | 42, 100, 0, 49 | 75, 0, 130 | |
| Dark Green | #378200 | 58, 0, 100, 49 | 55, 130, 0 | |
| Mint Green | #b4ff7d | 29, 0, 51, 0 | 180, 255, 125 | |
Monochromatic Indigo Color Combinations
This color combination will always work, as the colors are different shades and tints of the same color. Below, you have the indigo color and then a darker as well as a lighter form of the same color. When using this type of color combination, you can create a harmonious look that does not draw attention.
| | | | | |
| --- | --- | --- | --- | --- |
| Shade | Hex Code | CMYK Color Code (%) | RGB Color Code | Color |
| Dark Violet | #1f0036 | 43, 100, 0, 79 | 31, 0, 54 | |
| Indigo | #4b0082 | 42, 100, 0, 49 | 75, 0, 130 | |
| Strong Violet | #7700cf | 43, 100, 0, 19 | 119, 0, 207 | |
Triadic Indigo Color Combinations
This triangular shape color combination involves colors that are equally spaced from one another. Like complementary colors, it offers a color palette that forms a contrast.
Even though the colors form a strong contrast, they still provide a bold and vibrant balance.
| | | | | |
| --- | --- | --- | --- | --- |
| Shade | Hex Code | CMYK Color Code (%) | RGB Color Code | Color |
| Dark Cyan | #00824b | 100, 0, 42, 49 | 0, 130, 75 | |
| Indigo | #4b0082 | 42, 100, 0, 49 | 75, 0, 130 | |
| Dark Orange | #824b00 | 0, 42, 100, 49 | 130, 75, 0 | |
Analogous Indigo Color Combinations
This color scheme can also provide a harmonious look, as all colors are located near one another on the color wheel. The color scheme will be calming and pleasing to look at. Below in the table, you have dark blue and dark magenta that are analogous colors to the indigo color.
| | | | | |
| --- | --- | --- | --- | --- |
| Shade | Hex Code | CMYK Color Code (%) | RGB Color Code | Color |
| Dark Blue | #0a0082 | 92, 100, 0, 49 | 10, 0, 130 | |
| Indigo | #4b0082 | 42, 100, 0, 49 | 75, 0, 130 | |
| Dark Magenta | #820078 | 0, 100, 8, 49 | 130, 0, 120 | |
Creating Indigo Paint Colors
A major use for indigo colors in paintings is to create landscapes and night skies. If you want to use an indigo color when painting, it might be best for you to purchase a tube of indigo color paint. The pigment color is quite popular, easily obtained, and affordable. Most of these paints are made from around three parts blue and one part purple.
You can create your own indigo color by blending the following paints in the same ratio.
Darker blues are not the best option for creating indigo; rather use something like a cobalt blue.
When it comes to purple, you can consider dioxazine purple or violet paint, which might work even better.
Create a color palette when blending indigo so that you can test it out and make a reference chart for future use. Combine three parts blue with one part purple and then you can experiment from there. If you think you have added too much purple, and the color becomes too dark, try to add in more blue to lighten it instead of adding in white.
Interior Design With Indigo
Indigo is a color that can be used to great effect in all areas of design, but especially in fashion and interior design. Indigo is a classic color that lasts through all kinds of trends, and it can be combined with many other colors to make create some interesting interior designs. The indigo color can be used in most rooms, including the bedroom, living areas, and even the kitchen.
To create the best classic look, indigo will always work well with white and beige.
The color can be used as the main theme of a room and all the walls if you are looking for something bolder. Just remember to balance it out with other colors that work well with indigo, so it does not appear too heavy and overwhelming. Otherwise, adding in indigo accents can be a way of bringing in the color, without it becoming too much. This can be done by creating an accent wall and using accessories like throws and cushions to bring color into a room. There are all kinds of other indigo accessories you can bring into a room.
Patterned rugs
Vases
Paintings
Candles
Lamps
You could also decide on indigo furniture, think sofas, single-seated armchairs, and kitchen chairs. In the bedroom, the base of the bed could be indigo or use linens and fabrics to create a calm and welcoming space.
Add in a patterned comforter and other colors like white or for more color, consider yellow or orange accents. The color A dark, saturated blue indigo color is a good choice, as it has soothing properties. The color indigo can also make a beautiful and soothing bathroom design. Combine it with white as well as gold taps to add a bit of a luxury feel to the room.
Indigo might be a difficult color to describe, but it certainly does have a place in our lives. A soothing color that is also associated with creativity and wisdom, and with all the different shades available, indigo can be the next color theme for your home or outfit.
Frequently Asked Questions
Is Indigo Blue or Purple?
Indigo can be described as a color that is situated between blue and purple on the color wheel. So, it can be seen as a blend of both colors. However, there are many shades of indigo and some are more of a blue indigo color, while others have more of a purple undertone.
What Color Is Indigo?
Let us first look at what colors make indigo. Since indigo is a combination of blue and purple, you can say that indigo is a blue with a violet or reddish undertone. However, it can range between being more purple or bluer, which is what makes it difficult to define.
How Can You Wear the Color Indigo?
Indigo is a color that does not attract attention and is the perfect everyday color to wear. Some of the best colors to wear with indigo include mustard, emerald-green, orange, gray, and mint. The color can be used with pants, jackets, dresses, skirts, shirts, and shoes.