Memphis Design – Explore the Influential Memphis Design Style
When not knowing anything about Memphis design, and taking a first look at some examples, it is hard to believe that the Memphis design style began as early as 1981. Its vibrant colors and dynamic forms make it look like a concept that can't be older than a few months. Its unique combinations of colors with overlapping patterns and textures make it one of the most easily recognizable design styles of all. For a style that is still so popular today, it has a rich history that came with more negative reviews than positives. We will be looking at both sides and discussing why the style reemerged and is so popular today.
The History of Memphis Design
Memphis design is no different from most movements in the sense that it was established as a movement of rebellion against what was considered good taste and the norm of the time. The 1900s were the decade of Modernism and Minimalism, which exemplified structure, functionality, straight lines, as well as truth to materials.
Memphis design was so much the opposite of these movements that it could have been considered outrageous at the time.
Instead of the popular "form follows function", Memphis designers preferred the motto "form follows fun", wherein lies the perfect description of what Memphis design was all about (fun) as well as emphasizing what it is not (functional). Memphis design was all about bringing out the fun and crazy side of humans and evoking positive emotion, even though it was a rebellion against something that the group considered stark, cold, and boring.
The Memphis Group
The Memphis design movement was inspired by a collaborative design group of people who referred to themselves as the Memphis group. The Memphis group was established by Ettore Sottsass, who was an Italian architect and furniture designer. The group consisted of 22 Italian designers and architects who all had the same dislike for the Modernism movement and its principles.
The Memphis group made its debut in 1981 at the Milan furniture fair. The collective itself had a very short lifespan of only six years when it closed entirely.
Among the list of products that they designed and manufactured were Memphis-style furniture, ceramics, Memphis patterns, lights, and fabrics. They considered each piece to be a rebellious statement and in no sense timeless, but rather a political statement as a protest of the functional and neutral modernism period. They stood for everything that Modernism was against form instead of function, evoking emotion instead of contentment, and contrasting nature instead of integrating it.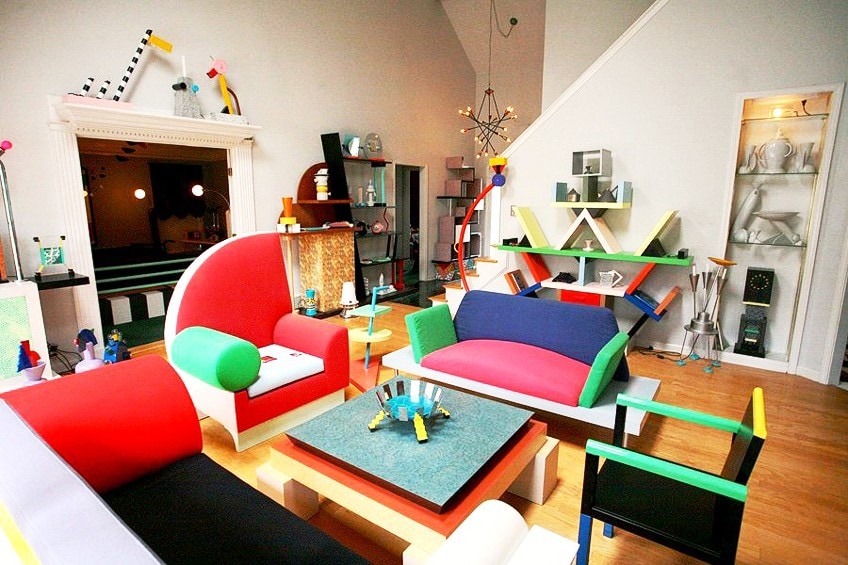 Memphis Group furniture featured within a living room space; Dennis Zanone, CC BY-SA 3.0, via Wikimedia Commons
Unfortunately, their products were liked by only a few and criticized by many, which is most likely why their reign was so short-lived. Their products were criticized for being impractical, expensive, and outright ugly. The use of cheap plastic laminates and bright, clashing colors was far from what was considered conventional and good taste at the time. During its prime, the Memphis design style was active from 1980 to 1987.
Sottsass himself decided to part from the group even earlier, in 1985 to turn his attention to his architecture and design firm, known as Sottsass Associati.
Many designers saw their work as merely a fad that will soon pass, very unaware of the historical and futuristic impact that they would be responsible for. After the group separated, most of them continued with their designs on their own, including Sottsass himself. It was only after the death of Sottsass in 2007 that Memphis design was brought to light again in an explosive way, which will be discussed later.
Notable Memphis Designers
Most of the notable Memphis designers were a direct result of the Memphis group, the most popular being Ettore Sottsass, the leader of the group. Two other significant designers were Martine Bedin and Nathalie Du Pasquier, who is responsible for the recurrence of modern Memphis design.
Below we will be taking a look at how these designers came to form or be part of the Memphis group, as well as the design pieces that they are known for.
Ettore Sottsass (1917 – 2007)
Sottsass was born in Austria and grew up in Austria under the guidance and influence of his father, his namesake, who was also an architect. Sottsass graduated with an architectural degree in 1939 at the Politecnico di Torino. Coming back from the military, Sottsass decided to open his architecture firm in Milan where he started to test different color combinations and shapes on furniture designs.
He started to become known for whimsical and bright designs made from glass and ceramic that were mostly associated with pop culture.
Photograph of Ettore Sottsass in 1969; Giuseppe Pino (Mondadori Publishers), Public domain, via Wikimedia Commons
Sottsass was also a member of the International Movement for an Imaginist Bauhaus but ended up resigning after only three years, as he perceived the movement as unprofessional and hostile. In 1956, he moved to New York and started working for George Nelson who was an industrial designer and the lead designer of the Herman Miller furniture company. In 1957, he joined forces with Poltronova, a furniture and interior design company, where he was appointed as an artistic consultant.
The work he did there highly influenced the designs he created later for Memphis design. One of his most iconic pieces is the "Tahiti Lamp", which he described as a symbol of Memphis's revival.
Martine Bedin (1957 – Present)
Martine Bedin, another member of the Memphis group, was tasked with overseeing the lighting products that were produced by the Memphis group. Growing up with an engineer as a father, she was always surrounded by so-called forbidden things, which she played with and had a great influence on the position that she was afforded at the Memphis group.
Despite only being appointed to "oversee", Bedin produced many of her own designs and, among others, was her famous "Super Lamp" placed on wheels which she designed in 1978.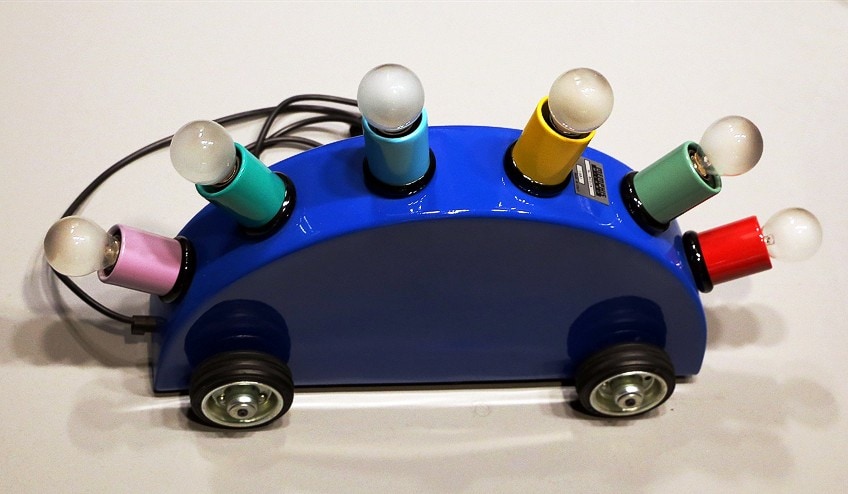 Super Lamp designed by Bedin for the Memphis Group in 1981; Sailko, CC BY 3.0, via Wikimedia Commons
Bedin's lamp was later manufactured in an artisanal workshop where many other Memphis designs were manufactured. The prototype of the Super Lamp is now exhibited in the Victoria & Albert Museum in London, England. Bedin currently finds herself in Paris, practicing architecture and design.
Nathalie Du Pasquier (1957 – Present)
Nathalie Du Pasquier can be seen as the person who was single-handedly responsible for the recurrence of Memphis design. She was also one of the founding members of the Memphis group. Although the group disbanded in 1987, Du Pasquier continued to collaborate with brands while keeping with the ethos of the Memphis design style.
During the past ten years, she has collaborated with companies such as "HAY", where she created bags with Memphis style patterns.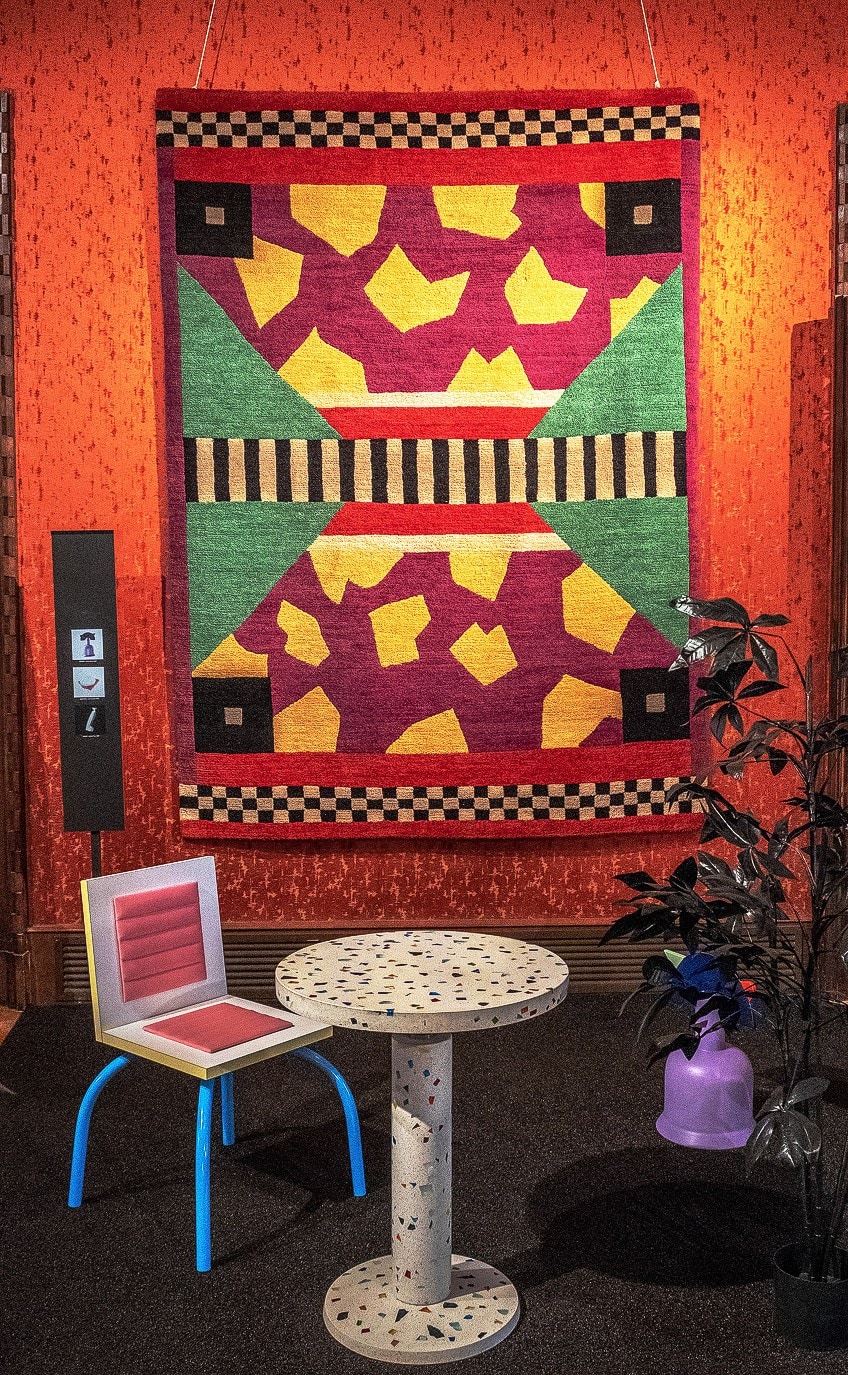 Memphis-styled ARAZONA carpet by Nathalie Du Pasquier in 1985; Caffe_Paradiso, CC BY 2.0, via Wikimedia Commons
She also collaborated with American Apparel, a fashion company where she designed an entire collection for them. An iconic piece that Du Pasquier designed was the Royal Sofa. Currently, she designs and paints textiles for her label, named CoopDPS.
Other Notable Memphis Designers
Memphis Designer
Iconic Memphis Design
Current Occupation
Aldo Cibic

(1955 – Present)

Andy Sideboard, Sandy Bookshelf, Louis Table
Milan-based sustainable designer
Andrea Branzi

(1938 – Present)

Magnolia Library
Co-founder of the Domus Academy (International Post Graduate school for design)
George Sowden

(1942 – Present)

D'Antibes cabinet
Owner of a Houseware design studio
Marco Zanini

(1971 – Present)

Alpha Centauri
Rio-based designer and architect
Matteo Thun

(1952 – Present)

Rare Bird Coffee Pot Series
Principal of the Milan design firm Matteo Thun & Partners
Peter Shire

(1947 – Present)

Bel Air Chair
Ceramic Maker in Echo Park, Los Angeles
Inspiration for Memphis Design
As with most design movements, Memphis design took inspiration from previous design movements. In the case of Memphis design, the design movements that inspired it were very unusual and made for interesting combinations.
These include Pop Art, Art Deco, 1950s kitsch, De Stijl and Cubism.
| | | |
| --- | --- | --- |
| Design Movement | Description | Date Active |
| 1950s Kitch | Design with pop culture references that were void of the depth of what was considered fine art. | 1950 – 1970 |
| Cubism | An Avant-Garde art movement that was mostly depicted in paintings, in which simple geometric shapes were used. | 1907 – 1914 |
| De Stijl | An abstract movement that was based on strict horizontal and vertical lines. | 1917 – 1931 |
| Art Deco | A design style that appears excessively flashy and decorative. Geometrical designs with sharp lines. | 1910 – 1949 |
| Pop Art | An art movement that included references to popular and mass culture. | 1950 – 1960 |
Characteristics of Memphis Design
Memphis design style is one of the easiest styles to identify, because of its overwhelmingly bold use of graphics and colors. Bright primary and secondary pastel colors such as blue, yellow, red, orange, purple, and green are used in different geometric shapes, squiggles, dots, and lines.
Strong Memphis patterns emerge from the backgrounds of the designs and overlapping stripes, and clashing colors emerge.
Squiggles and Strokes
Black squiggle shapes, usually on a white background are known as The Bacterio print, which was designed in 1978 by Ettore Sottsass himself and is considered a trademark Memphis pattern. These elements are usually white, black, or in full saturated colors.
They are found on sharp contrasting backgrounds to draw even more attention.
Terrazzo
Colorful terrazzo pieces on a white background are used throughout Memphis-style furniture pieces. Made of colorful marble chips poured in concrete, these terrazzo pieces look fun and unique, yet still like a natural material. Today, terrazzo can even be found in many textile designs that can be used throughout interiors.
Laminate
Instead of the expensive chrome and leather used by Modernist designers, Memphis designers used mostly cheap laminate for all their designs, which was quite ironic, considering that their designs were targeted at an elite market. As overused as laminate is today, at the time it was very unconventional for designers to make use of it in the way Memphis designers did.
Laminate afforded them endless possibilities through the experimentation of shapes and colors.
Unconventional Geometric Shapes
Memphis designers favored geometric shapes like asymmetric triangles and circles that were placed unconventionally. These shapes were illustrated with straight lines, or sometimes as hand-drawn. The popular Memphis "pill" pattern is often used inside these geometric shapes.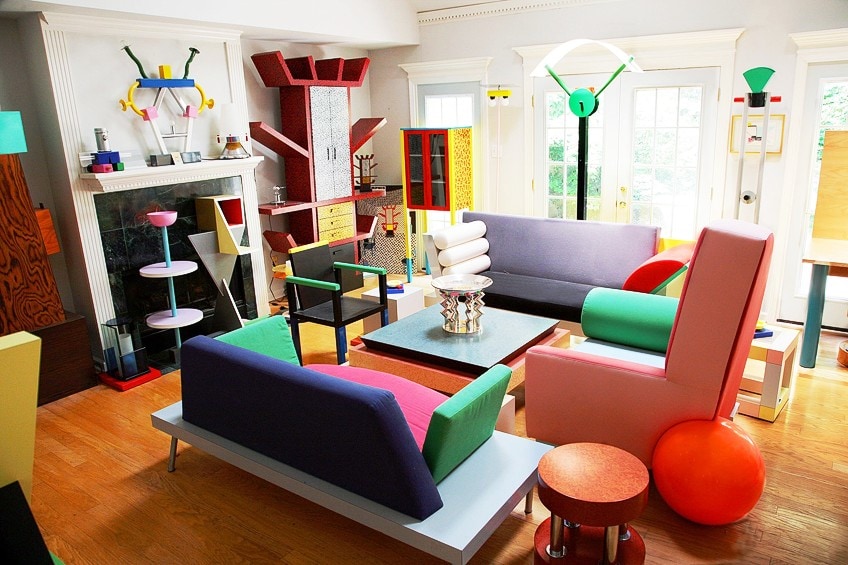 A collection of objects by The Memphis Group; Zanone, CC BY-SA 3.0, via Wikimedia Commons
Unconventional Colors
Memphis designers preferred the combination of unconventional hues such as magenta, lime, teal, and orange. These colors were usually clashing and some odd hues like pastels were introduced which made the pieces look even more out of place in comparison. The combination of these colors evokes a sense of fun and happiness.
These bright colors are in turn paired with black and white patterns which make them stand out even more.
Examples of Memphis Design
During their active years, the Memphis group was well known for its bizarre furniture designs. But aside from their furniture pieces, fashion, household items, architecture, and industrial designs were also heavily influenced by Memphis design.
The attention-grabbing Memphis aesthetic was also quickly picked up by sports companies, especially skiing, skateboarding, surfing, and BMX companies.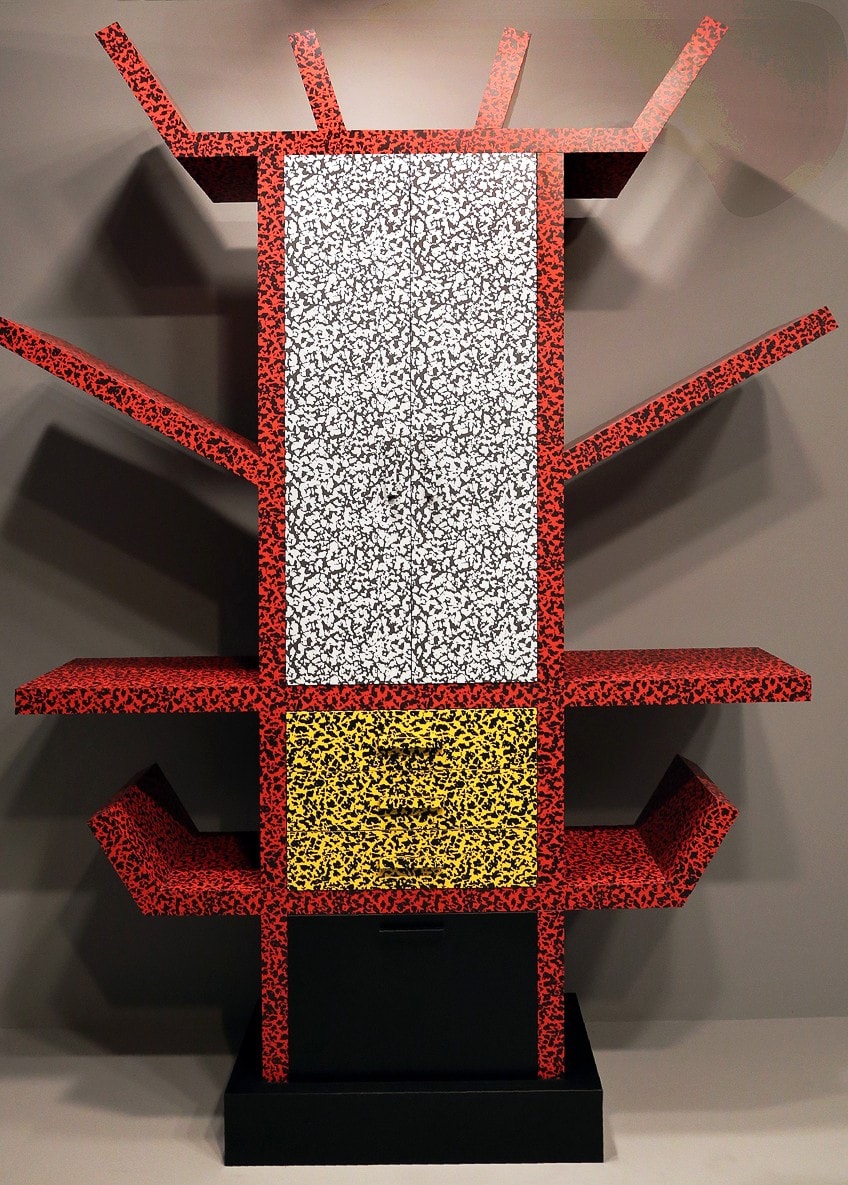 Furniture piece designed by Ettore Sottsass in the Kunstgewerbemuseum in Berlin, Germany; Sailko, CC BY 3.0, via Wikimedia Commons
When looking at entertainment as an example, the show Miami Vice included many architectural examples of Memphis design. Below we'll be looking at a few iconic examples of Memphis design in each of the different categories including furniture, interior design, sports, vehicles, and product design that played a large part in the re-emergence of the Memphis aesthetic.
Furniture: The Carlton (1981) by Ettore Sottsass
The Carlton is arguably one of the most iconic Memphis-style furniture pieces of Memphis design, and it is only fitting that the founder and leader of the Memphis group, Ettore Sottsass, was the one in charge of its design. As with most Memphis design furniture, The Carlton is made from laminated MDF in different, clashing colors. What makes this piece extra interesting, however, is the fact that it is seen and can be used as a room divider, a dresser, and a bookcase. Although its unconventional shape makes it seem more like a modern art installation of a sort.
"The Carlton" was designed in 1981 and can be seen in several museums. It is also still available to purchase from the Memphis group website for a hefty sum of money.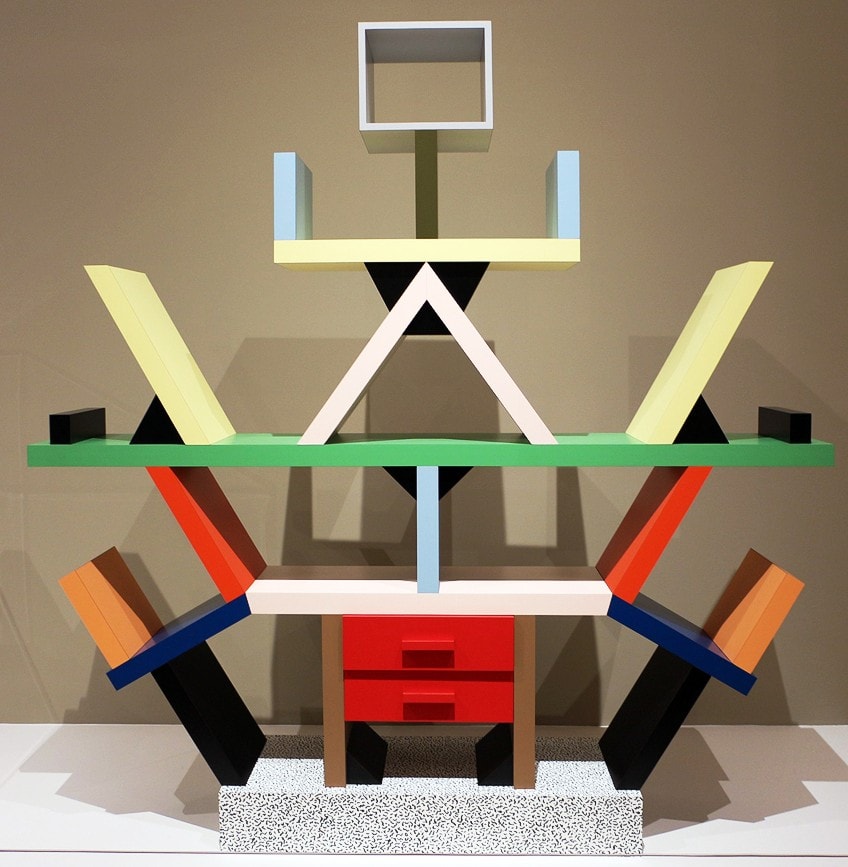 The Carlton room divider designed by Ettore Sottsass for The Memphis Group in 1981; Sailko, CC BY 3.0, via Wikimedia Commons
The Carlton has all the over-the-top characteristics of a Memphis design furniture piece, including the fact that it is enormous in scale at almost two square meters. Diagonal shapes are stacked on top of each other and are finished with clashing colors including bright orange, red, green, and soft pastel blue and yellow.
The entire structure rests on a plinth that is covered in the signature Memphis-style black squiggles on a white background.
Memphis Architecture: Dream Come True Building
A design style is never fully considered a design style until we start seeing evidence of it on the exterior of the buildings around us. Memphis architecture didn't emerge until much later when the design style made a reappearance. The Dream Come True Building by Camille Walala drips with the bold colors and patterns of Memphis design.
The five-story building can be seen on Great Eastern Street in Shoreditch and was designed by Walala very recently, in 2015.
The building consists of striking black and white stripes, and the speckled patterns that Memphis design is so well known for can also be seen above the entrance facade. Simple geometric shapes with vibrant colors engulf the building and make it stand out from a mile away.
Memphis Interior Design: Kartell's Flagship Store
Ettore Sottsass designed a range of products for the homewares brand Kartell in 2004 when he was in his late 80s. Unfortunately, Sottsass never had the chance to see the completed installation, as it was only much later, after the death of Sottsass, that the installation occurred, in 2015.
Some believe that the delay in the installation was a good thing, as the modern innovations of the year 2015 were a better fit to accommodate the vision that Sottsass had for the store.
The store is decorated with various diagonal zig-zags, dots, triangles, and crisscross patterns in bright shades of magenta, yellow, teal, and orange, a palette unique to Memphis design. The entire room is covered in Memphis patterns and colors from the floor to the ceiling, not a single surface untouched by either color or pattern.
Memphis Sport: Supreme Skateboards
Alessandro Mendini, who was also a founder of the Memphis group, was commissioned by the streetwear and skateboard company Supreme to design a set of skateboards that reflected the Memphis style. Although the skateboards consist of obvious Memphis design style characteristics, Mendini did add a modern twist to it with the addition of a splash of cyan to the mix of widely used pale pink, orange, and teal.
On top of the colors, bold abstract shapes, lines, and squiggles were overlaid, which screams Memphis design.
Memphis Vehicles: Memphis BMWs
Memphis design even made its way onto the giant motor vehicle brand, BMW. Garage Italia Customs were tasked to give two BMWs (the i3 and an i8) Memphis-style inspired makeovers for the Milan Design Week. The result is a color block of bold patterns and colors on both the exterior and the interior of the cars, where patterned textiles are featured on the seats.
Michele de Lucchi, who was an original Memphis Group member, oversaw the project.
The cars showcase the well-known monochromatic stripes together with a grid pattern, blocks of yellow, orange, and teal, and other distinctive Memphis-style geometric shapes that were carefully integrated into the curves of the vehicles.
Memphis Product Design: 1995 Apple Watch
To most people's surprise, the original apple watch was not the digital face that most people sport on their wrists today. Instead, it was a design that came much earlier, in 1995 with a Memphis aesthetic. The watch was never officially sold as a standalone product but was given away as a freebie when customers upgraded their Mac System 7.5.
The quartz-faced watch has a royal blue rim and interesting geometric shapes as analogs, with the iconic original rainbow-colored apple logo on the top part of the face.
Memphis Fashion: Christian Dior 2011 Fall Collection
After Sottsass' death, there was an overwhelming resurgence of Memphis design, especially in the fashion industry. Iconic fashion houses like Missoni, Karl Lagerfeld, and Christian Dior were heavily influenced by the style to such a degree that entire collections were designed with the style in mind.
Christian Dior's 2011 Fall collection was one of the most mainstream events that made people aware of the style again.
As with all Memphis style designs, graphic black and white stripes and bold Memphis patterns with vibrant and contrasting colors were displayed on the models with the iconic shapes and squiggles also included. Chunky, cubist-like shapes adorned the models' heads and made the fashion statement of the century.
Memphis Design Today
The death of Sottsass in 2006 had a defining impact on the re-emergence of Memphis design. After his death, interest began to grow in the previously negatively critiqued design style. The style captured the attention of several high fashion houses.
These fashion houses included Christian Dior, Karl Lagerfeld, and Missoni, who proudly displayed colorful prints on their models.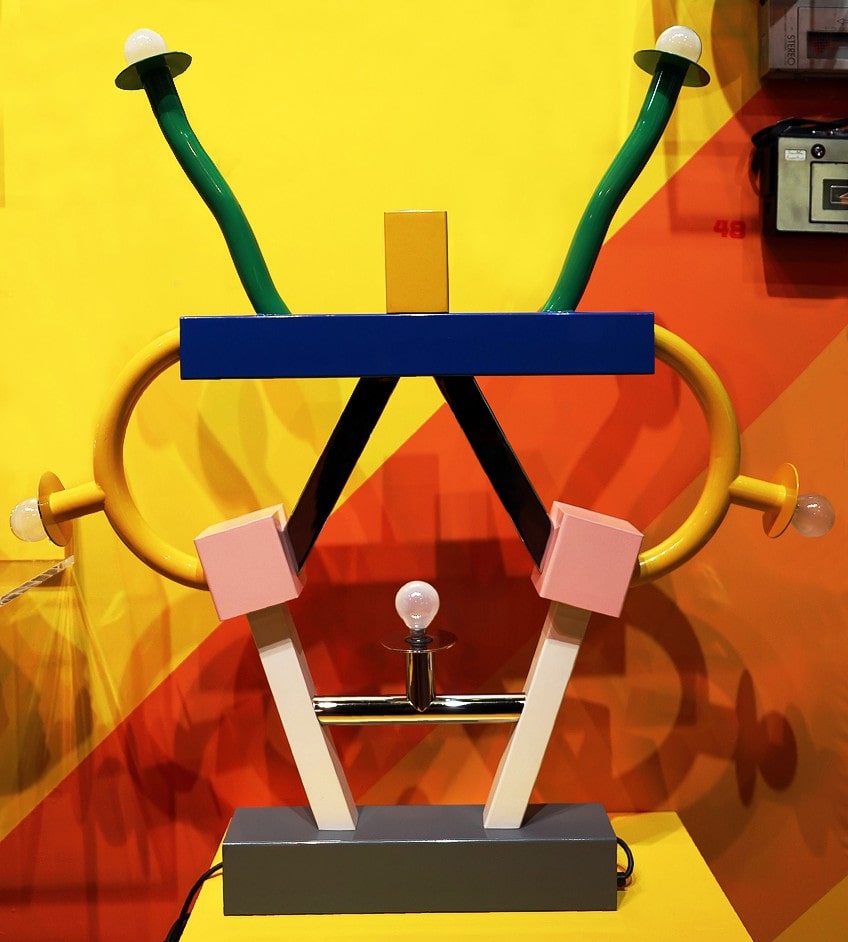 Ashoka Table Lamp designed by Ettore Sottsass in 1980; Sailko, CC BY 3.0, via Wikimedia Commons
In 2014, Nathalie Du Pasquier, who was a founding member of the Memphis group, designed a collection of prints for American Apparel. The style captured the attention of the company Supreme. The following brands were highly influenced at one point or another by Memphis design:
Missoni
Karl Lagerfeld
Christian Dior
American Apparel
West Elm
Supreme
HAY
Although Memphis design was not a style that resonated with many during the heyday, today in 2022, we can clearly see how groundbreaking the style was for the time and how it marked a new era in design, separated from the conventional, serious, and stark design styles of the 1970s. Memphis design relates to the fun, sporadic, and bold side of humans. Its visual impact is perfect for making modern-day statements whether it be with fashion, graphic design, architecture, interior design, or visual arts.
Frequently Asked Questions
What Is Memphis Design?
The Memphis style is one of the most easily recognizable design styles with its use of bright primary and pastel colors, black and white geometric shapes, and repetitive patterns.
What Are the Characteristics of Memphis Design?
Memphis design borrows characteristics from movements like Pop Art and De Stijl which consist of bright colors next to clashing pastel colors, bold patterns, geometric shapes, abstract designs, and making use of plastic laminate.
Where Does the Name Memphis Design Come From?
Because of the name, most people are led to believe that the Memphis design movement originated in Tennessee, however, this is not the case. Memphis design was born in Milan, Italy through the designer Ettore Sottsass, who was the founder of the Memphis group. The group took inspiration from the song Stuck Inside of Mobile with the Memphis Blues Again (1966) by Bob Dylan, which repeatedly played on the radio during their first meeting session.
Is There a Revival of Memphis Design?
There has been a revival of Memphis design ever since the death of the founder of Memphis design, Ettore Sottsass. The revival is clearly visible in interior design, product graphic design, and especially fashion design.
What Is Modern Memphis Design?
The current Memphis movement is even more chaotic and unorganized than the original Memphis movement. Original Memphis characteristics are much more eye-catching and recognizable than modern Memphis, where more subtle characteristics are made use of, and no strict rules apply.
Why Did the Memphis Design Movement End?
The Memphis movement aimed to make a political statement, of which many were not in favor and caused the movement to quickly die down and people to lose interest in their designs.
Kylie Deyzel is an interior designer and sustainability enthusiast from Cape Town, South Africa. She has a passion for writing and educating others on various interior design topics. Her favorite interior design topics include interior design theory, interior design history, and most of all: sustainable interior design.
She received her B-tech degree in interior design from the University of Johannesburg in 2018 and has worked at various interior design firms since and had a few of her own freelance interior design clients under her company name binnekant.
Learn more about the Art in Context Team.
Cite this Article