Art Nouveau is a highly decorative international style of architecture and art that was popular in Europe from around 1890 until the beginning of the first world war. The use of new technologies allowed for an elaborately ornamental style that swept through Europe and helped create some of the most striking Art Nouveau architecture in history. In this article, we will learn more about Art Nouveau buildings and the architects who built them.
What Is Art Nouveau Architecture?
Art Nouveau was a very short-lived movement that was popular in the United States and Europe between the years 1890 and 1914. The style is highly inspired by the forms found in nature such as the organic flowing shapes of flowers, vines, and leaves. Although it began as an architectural movement, elements of the style were soon found in interior design, jewelry, glassware, and poster illustrations.
The Origins of Art Nouveau Architecture
Art Nouveau was a reactionary movement of artists and architects that were not satisfied with the academic historicism of architecture in the 19th century. Artists of this movement incorporated modern technologies and materials into the construction of their works such as glass, ceramics, and iron. The style is typified by a sense of movement and dynamism due to the asymmetrical shapes of the organic flowing lines.
The architects of Art Nouveau houses were able to introduce exciting new concepts into architecture due to the advances made during the Industrial Revolution.
These advances would lead to the addition of sculptural elements such as wrought iron and glass features into the architecture of the building itself. This was not exclusively used on the exterior of the Art Nouveau houses, but extended to the interior decoration and furnishings as well.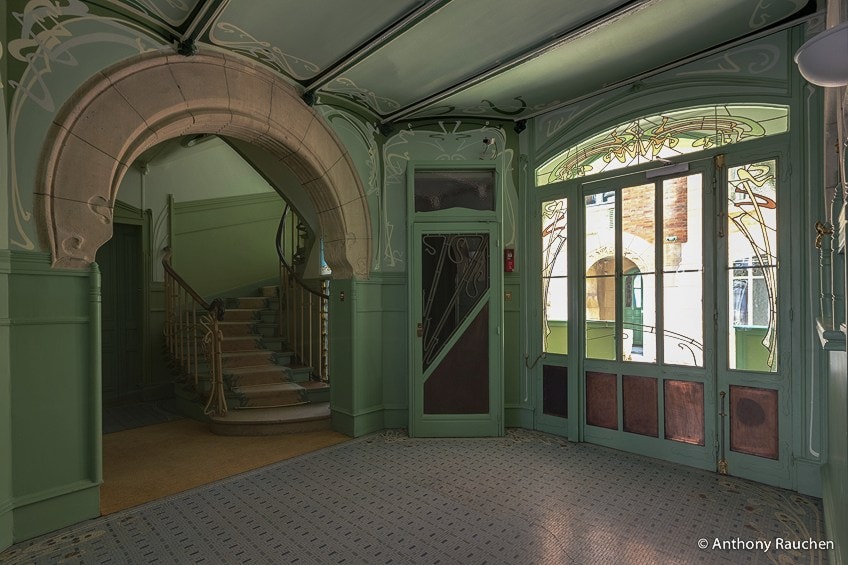 The vestibule of Castel Béranger; Anthony Rauchen, CC BY-SA 4.0, via Wikimedia Commons
Art Nouveau could be seen in everything from the wallpaper to the silverware, as they wanted the experience to be entirely immersive. The style is known by different names depending on which country we are talking about, and can also be referred to as Jugendstil, Stile Floreale, Sezionstill, and many others.
The term Art Nouveau came from France and was named after the Maison de l'Art Nouveau, a gallery that featured works which all contained elements of nature-inspired motifs and flow.
The Architects of Art Nouveau Buildings
The Art Nouveau period was relatively short-lived. Spanning over only a few decades, the style reached its peak just before the onset of World War I. However, there are still many exquisite examples of Art Nouveau houses and buildings that still exist today. Before we take a look at some examples of Art Nouveau architecture, let us learn a bit more about some of the architects who created these glorious monuments.
Antoni Gaudí (1852 – 1926)
| | |
| --- | --- |
| Artist's Birth Date | 25 June 1852 |
| Places Artist Lived | Catalonia, Spain |
| Medium Artist Is Known For | Architecture |
| Associated Movements of Artist | Art Nouveau, Catalan Modernism |
Antoni Gaudí was born on the 25th of June 1852 and was considered to be the most prominent driving force behind the Catalan Modernism movement. His architecture was very unique and most of his buildings can be found in the city of Barcelona, including his most well-known building, the Sagrada Familia church.
Gaudí's designs were inspired by those things that he held most dear to his heart being religion, nature, and architecture.
Every detail was under his creative scrutiny and control and he incorporated crafts such as wrought iron, stained glass, carpentry, and ceramics into his architectural designs. He also incorporated pieces of broken ceramics into his work, creating mosaic designs out of otherwise discarded waste materials such as broken tiles and chinaware.
Portrait of Antoni Gaudí, 1878; Pablo Audouard Deglaire (1856 – 1919), Public domain, via Wikimedia Commons
The Modernista movement was popular in the late 19th century, and Gaudí found himself a part of the movement due to his love of Oriental techniques and Neo-Gothic styles. However, his work went beyond the boundaries of the more mainstream renditions of the movement, and his work became increasingly influenced by the organic shapes of the flora of the natural world.
Gaudí did not commit his designs to paper but preferred to create his Art Nouveau houses as three-dimensional miniature models on which he could mold and change details throughout the creative process.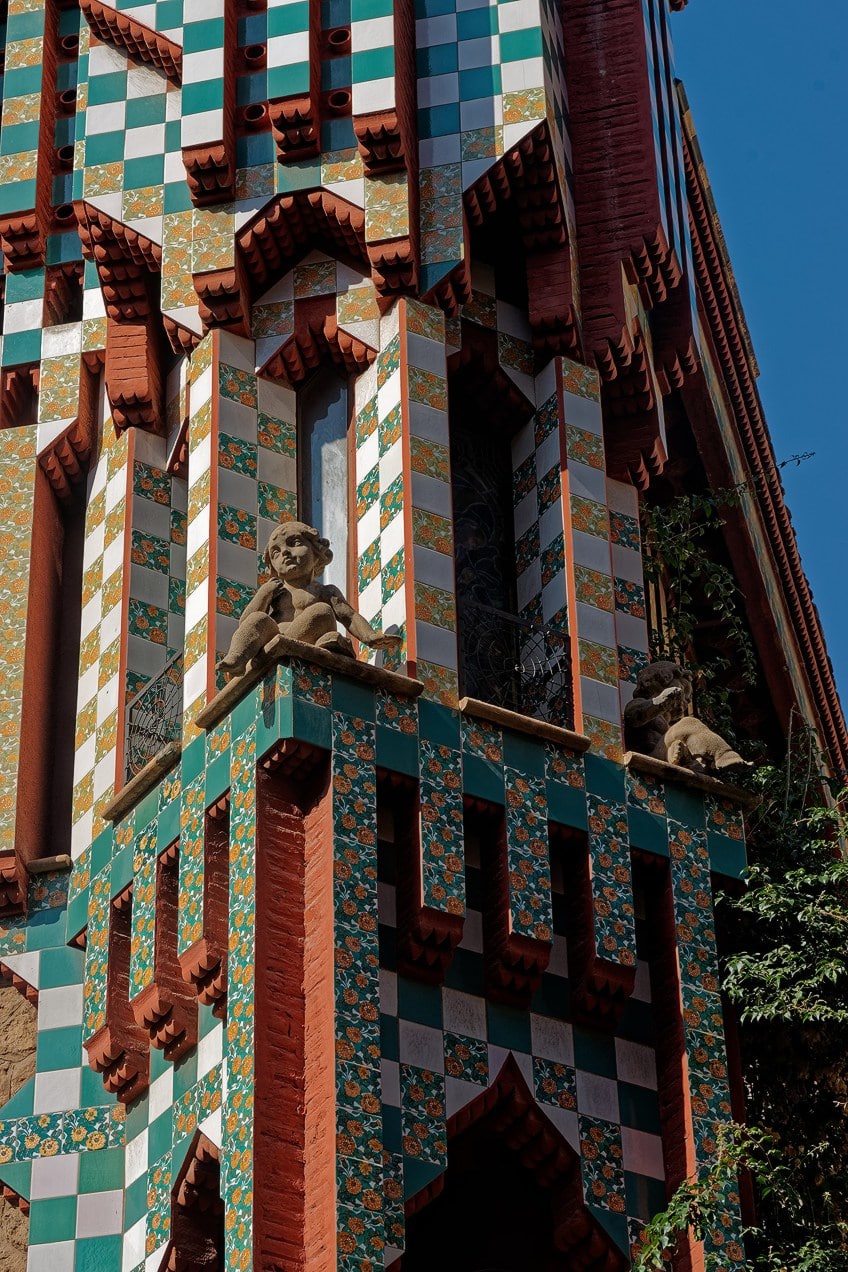 A view of the Carrer de les Carolines in Barcelona, designed by Antoni Gaudí (1883-1889); Txllxt TxllxT, CC BY-SA 4.0, via Wikimedia Commons
Up until the modern era, Gaudí's work continues to be a source of admiration and inspiration for architects and the general population alike with his masterpiece among Art Nouveau buildings, the Sagrada Familia holding the title as the most visited building in Spain. UNESCO declared seven of his Art Nouveau houses World Heritage sites between the years 1984 and 2005.
Many religious motifs also appear in his works along with the naturally-inspired elements, reflecting his ever-increasing devotion to the Roman Catholic faith.
Paul Hankar (1859 – 1901)
| | |
| --- | --- |
| Artist's Birth Date | 11 December 1859 |
| Places Artist Lived | Brussels, Belgium |
| Medium Artist Is Known For | Architecture |
| Associated Movements of Artist | Art Nouveau |
Paul Hankar was an architect and designer of furniture born on the 1st of December 1859 in Framaries, Belgium. Hankar was born to a stonemason father and studied in Brussels at the Académie Royale des Beaux-Arts. Here he met a fellow future architect in the Art Nouveau movement, Victor Horta. Similar to Horta, Hankar also studied the techniques used in the forging of iron, which would later become a staple material in his buildings. He gained most of his architectural training while working for Hendrik Beyaert as a sculptor of funerary monuments from 1879 until 1892.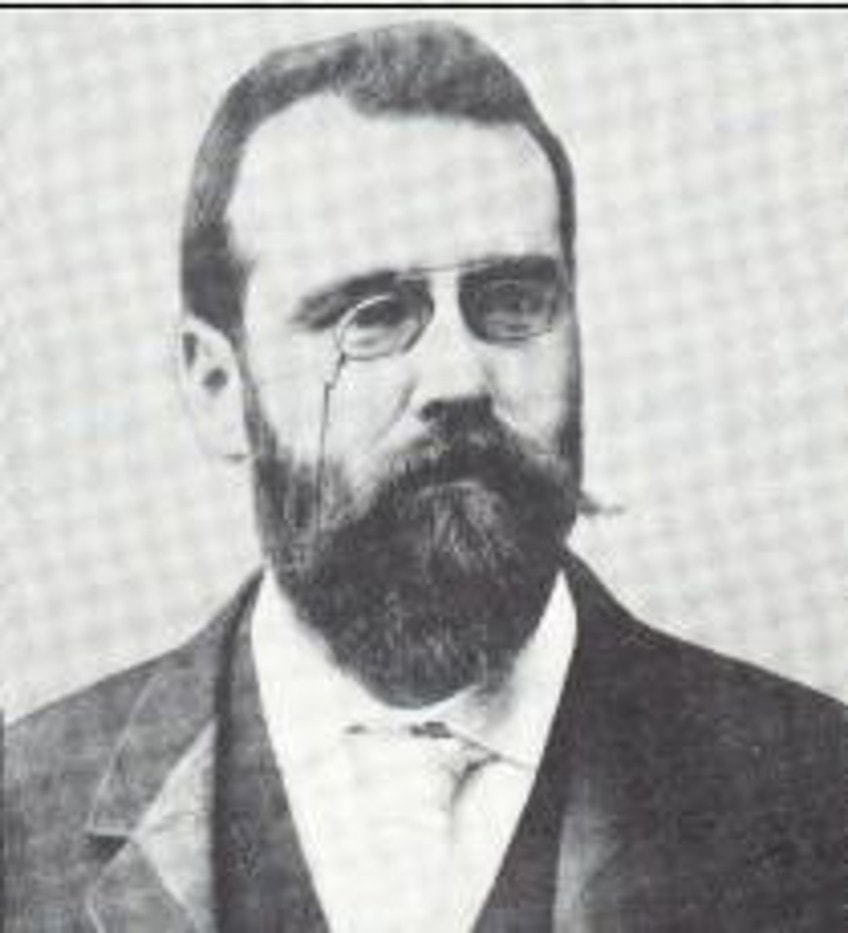 Belgian architect Paul Hankar, c. 1890; Unknown author Unknown author, Public domain, via Wikimedia Commons
In 1889, under the mentorship of Beyeart, he was appointed the chief designer for the construction of the Palacio de Chávarri in Bilbao, Spain. In 1893 he opened his own business in Brussels and soon after that began constructing his residence, Hankar House. Along with the Hotel Tassel, which had been designed and built by Horta, Hankar house is considered one of the first Art Nouveau buildings.
The composition of Hankar House has been described as visually vivid due to the mixture of Art Nouveau detailing and Renaissance revival materials and elements.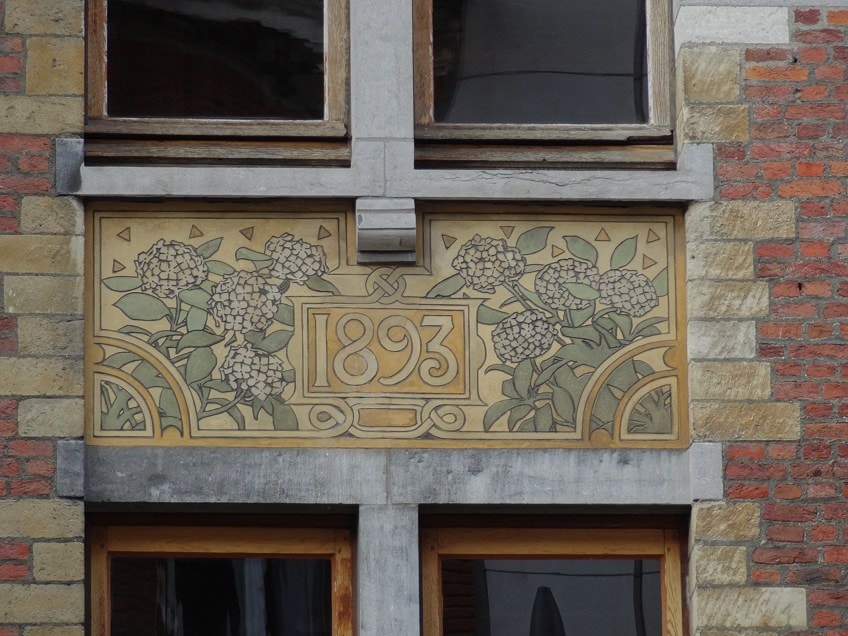 A detail of one of Hankar's buildings, Defacqzstraat 71; MarekF, CC BY-SA 3.0, via Wikimedia Commons
He also conceptualized a "City of Artists", a cooperative community of studios and housing for artists in Westende, a seaside town in 1896. However, the project never made it past the design stage yet it did play a role in inspiring the artist's colony in Darmstadt, as well as leaving an impression on the artists of the Vienna Secession. His design of the Congo section for the World's Fair in Brussels in 1897 would remain there and become a permanent feature of the building.
He was a large part of the academic architectural institution, with professorships at the University of Brussels and the School of Applied Arts in Schaerbeek.
Victor Horta (1861 – 1947)
| | |
| --- | --- |
| Artist's Birth Date | 6 January 1861 |
| Places Artist Lived | Brussels, Belgium |
| Medium Artist Is Known For | Architecture |
| Associated Movements of Artist | Art Nouveau |
Victor Horta was a Belgian designer and architect born in Ghent, Belgium, on the 6th of January 1861 and he is regarded as one of the fathers of Art Nouveau architecture. He created the first Art Nouveau houses, three of which have been listed as World Heritage Sites by UNESCO. The curving floral and vegetative themes he used in his work would become staples of the style and influenced many other architects such as Hector Guimard.
His use of iron, glass, and steel was innovative for its time, and along with his open floor building plans, helped set the groundwork for modern architecture.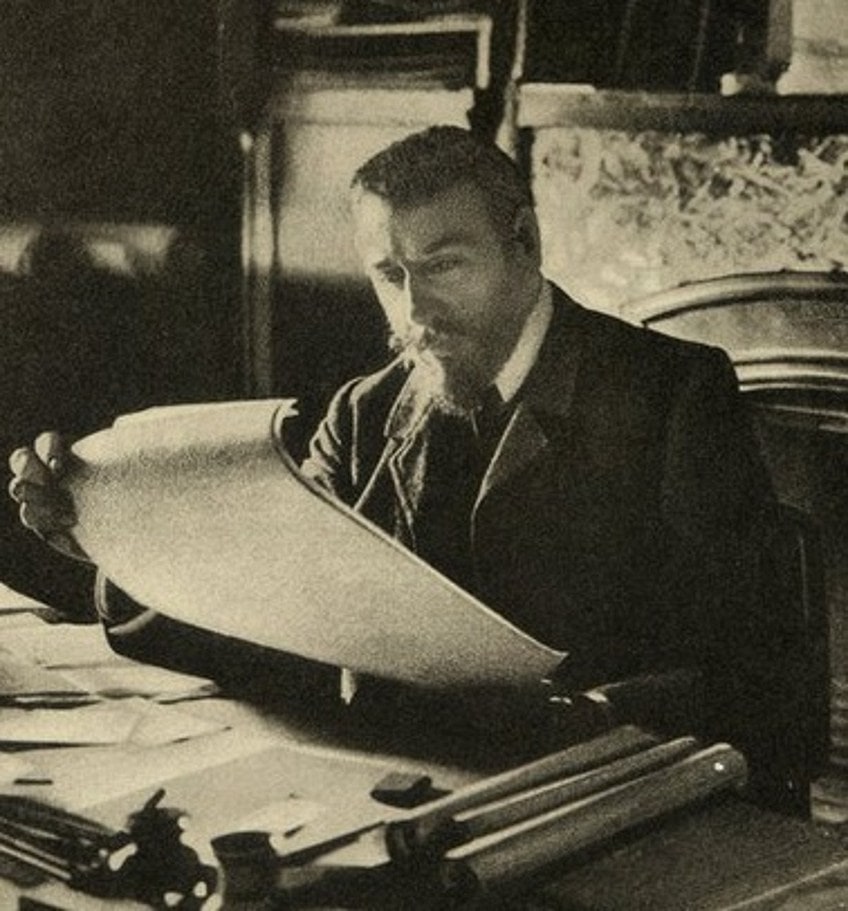 Portrait of Victor Horta in "La Belgique d'aujourd'hui" (The Belgium of today), c. 1900; Gustave Deltour, Public domain, via Wikimedia Commons
Victor Horta's first big breakthrough came when he was commissioned by the Belgian Professor, Emile Tassel, to design a home in 1892. Completed in 1893, the facade was made of stone and had been designed to fit in harmony with the surrounding buildings.
Although much of the exterior of Hotel Tassel was quite traditional, the interior was stylistically unique and fresh.
His technique of incorporating iron and glass to let in the light had been perfected during his construction of the royal greenhouses in Laeken. The interior featured curving lines that emulated the movement and forms of vines and leaves, a pattern that could be seen in the iron staircase railing, as well as the designs on the tiles and carpets.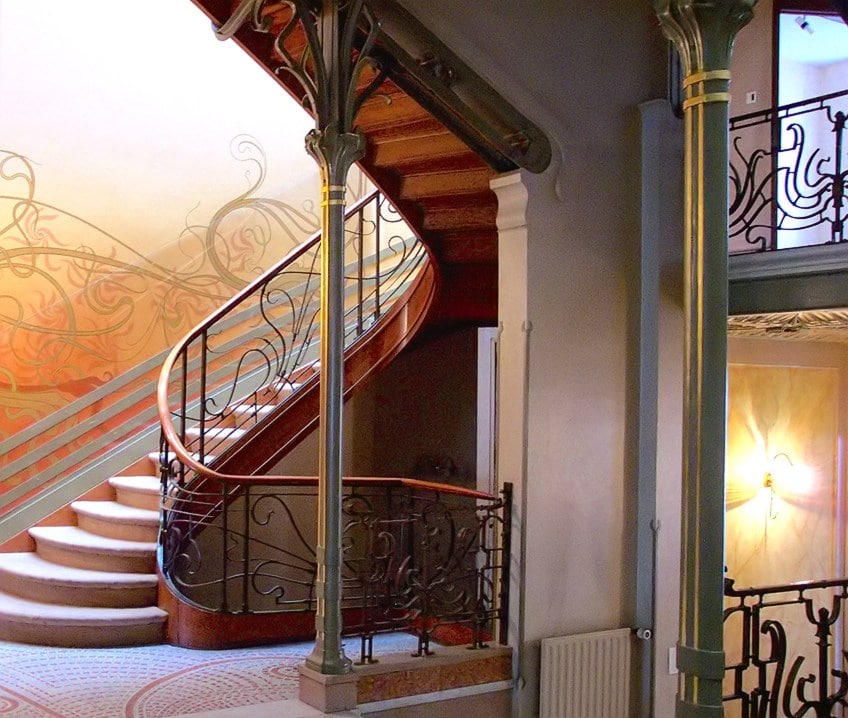 The interior stairway of Tassel House, Brussels; Henry Townsend, Public domain, via Wikimedia Commons
Later in his architectural career, he would move away from the Art Nouveau style and would become more formal and symmetric in his designs, incorporating columns and other classic touches. His works were renowned for their spacious open plan designs and use of skylights and steel frames to bring more light into the buildings. He was bestowed with the title of Baron for his work and accomplishments within the field of architecture by King Albert I of Belgium in 1932.
In total, he has had four buildings designated by UNESCO as World Heritage sites.
Hector Guimard (1867 – 1942)
| | |
| --- | --- |
| Artist's Birth Date | 10 March 1867 |
| Places Artist Lived | Lyon, France, and New York, USA |
| Medium Artist Is Known For | Architecture |
| Associated Movements of Artist | Art Nouveau |
Hector Guimard was born in Lyon, France in 1867 and was a prominent French designer and architect of the Art Nouveau movement. Guimard achieved success relatively early with his design work for the residential apartment the Castle Beranger, the first of the Art Nouveau buildings to be created in Paris. His style is characterized by his use of iron canopies and glass, with the signature ornamental curves of the Art Nouveau style.
His work on the entrances to the Paris Metro stations is a great example of this style.
Adeline and Hector Guimard, c. early 20th century; Unknown author Unknown author, Public domain, via Wikimedia Commons
He designed and built 140 entrances for the Paris Metro subways between 1890 and 1930, as well as fifty buildings, and other pieces such as decorative furniture. The popularity of Art Nouveau increased quickly from 1910 and onwards, and by the 1960s only two of his subway entrances remained, and most of his other works were demolished.
The 1960s also saw a revival of interest in Guimard's architecture after some of his work was acquired by the Museum of Modern Art. His work was reconsidered by academia after these acquisitions with scholars re-examining his designs and finding them to be significantly important to the history of architecture due to their highly original style.
Besides his work on the Castel Beranger, he was only known for designing and building several other villas and castles, such as the Villa Berthe, which was built in 1896.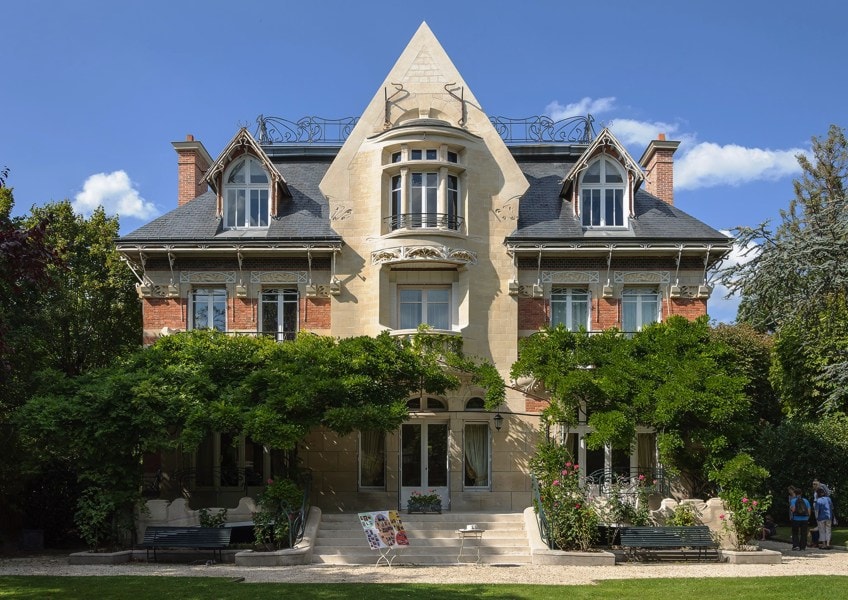 Main facade of the Villa Berthe, also known as La Hublotière, in Le Vésinet, Yvelines, France. Work of the architect Hector Guimard (1896); Photo: Myrabella / Wikimedia Commons
In a period lasting two years at the end of the 1890s, Guimard designed and built three Art Nouveau houses at the same time. One of these was the Maison Coilliot, which was constructed for Louis Coilliot, a ceramics manufacturer. The facade of Maison Coilliot was decorated with twisted wrought iron, intensely curved arches, volcanic rock enameled in green, and the typical organic and asymmetrical windows and doorways.
Charles Rennie Mackintosh (1868 – 1928)
| | |
| --- | --- |
| Artist's Birth Date | 7 June 1868 |
| Places Artist Lived | Glasgow, Scotland |
| Medium Artist Is Known For | Architecture, Design |
| Associated Movements of Artist | Art Nouveau, Symbolism |
Charles Rennie Mackintosh was a Scottish designer and architect born in Glasgow on the 7th of June 1868. His work had many similarities with the Symbolism movement of Europe, and along with his wife, Margaret MacDonald, Mackintosh had a huge influence on the design schools of Europe such as Secessionism and Art Nouveau.
He is considered one of the principal members of the British Art Nouveau style.
Charles Rennie Mackintosh was the fourth of eleven children and attended Reid's Public School as well as the secondary school, the Allen Glen's Institution. Mackintosh was a winner of the Traveling Studentship of Alexander Thomson in 1890, a prominent Scottish architect of his time. The studentship was created to further study the architecture of classic antiquity, specifically referencing the principles of Alexander Thompson's work.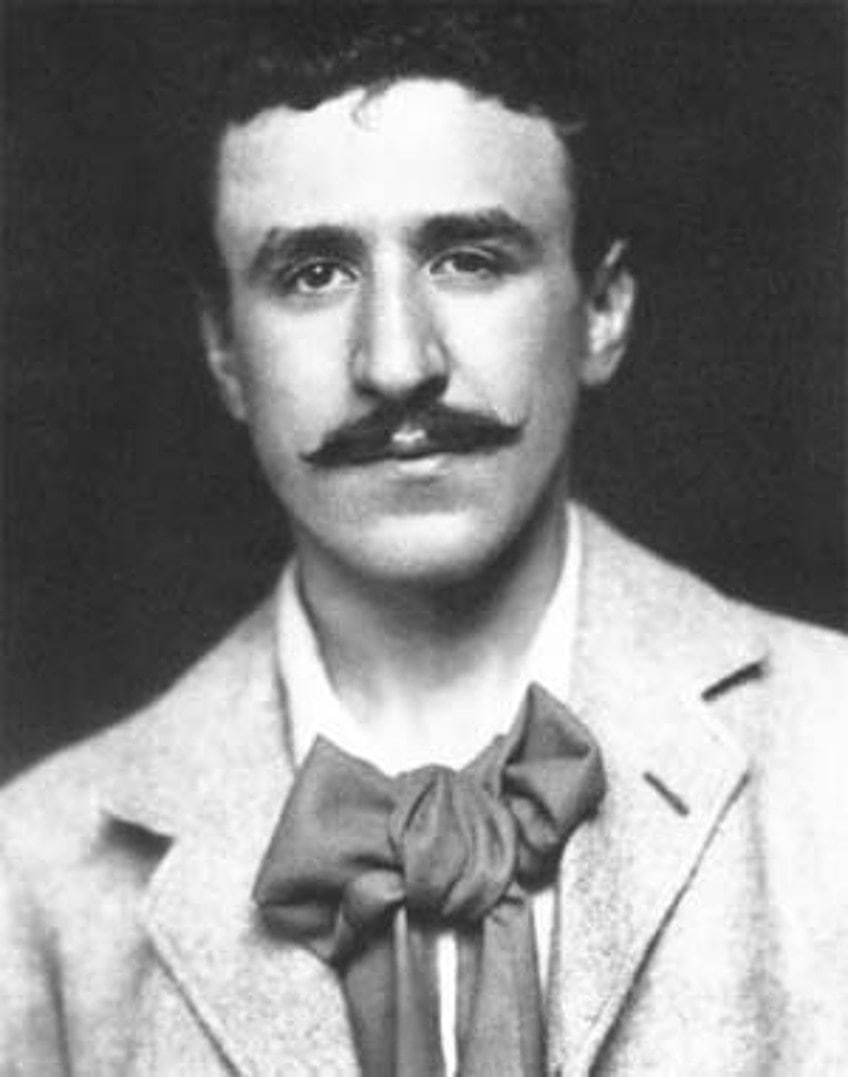 Charles Rennie Mackintosh, Scottish architect and designer, c. 1900; James Craig Annan, Public domain, via Wikimedia Commons
He began working on the Glasgow Herald Building, his first big architectural project, in 1899 after joining the Honeyman & Keppie architectural company. He met his wife at the Glasgow School of Art through the head of the school, and along with her sister Frances McDonald and friend Herbert MacNair, became prominent figures in Glasgow art, dubbed "The Four".
Mackintosh was influenced stylistically by the designs of the Japanese culture that had started to spread into Europe following the softening of the isolated regime.
Facade of Charles Rennie Mackintosh's Scotland Street Museum (1896-1909); Malcolm Neal / Scotland Street Museum
Japanese navy and training engineers were soon working in shipyards such as the River Clyde in Glasgow, and through more interaction of the two cultures, the style was adopted and appropriated by the local architects and artists. Mackintosh was drawn to the simplicity of form of the Japanese Modernist style and the use of natural materials, rather than the elaborate and sometimes cluttered appearance of the pre-existing architecture of the period.
The organic flow and use of furniture which enhanced the quality of space of the Japanese style appealed to Mackintosh immensely.
Mikhail Eisenstein (1867 – 1920)
| | |
| --- | --- |
| Artist's Birth Date | 5 September 1867 |
| Places Artist Lived | Ukraine, and Germany |
| Medium Artist Is Known For | Architecture |
| Associated Movements of Artist | Russian Art Nouveau |
Mikhail Eisenstein was an architect and civil engineer born in Ukraine on the 5th of September in 1867. He worked in Riga, which is the capital of present-day Latvia, which at that time was still a part of the Russian Empire. His time working as an architect coincided with the economic growth that the region was experiencing, leading to an enlargement of the area and a flourishing of new architectural styles such as Art Nouveau architecture.
He was responsible for designing and constructing many of the first Art Nouveau buildings in Riga during the period of 1901 to 1906.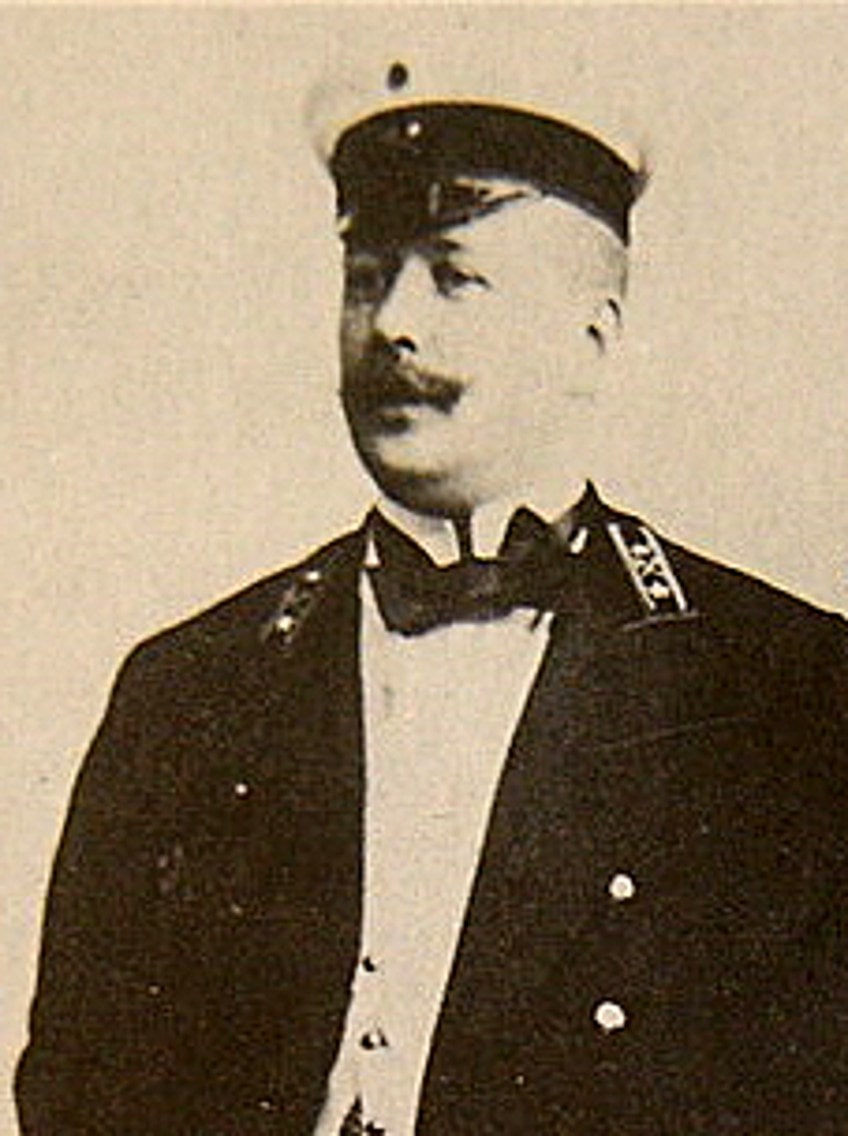 Portrait of Mikhail Eisenstein, Art Nouveau architect; Wars, Public domain, via Wikimedia Commons
Due to the work of architects such as Eisenstein, Konstantīns Pēkšēns and Eižens Laube, Riga up to today still has the highest concentration around the world of Art Nouveau houses and buildings. Not much is known about the earlier days of his development as an architect, but it is thought that he attended an exhibition in 1900 of architecture by people such as Hector Guimard while visiting Paris, and brought many articles about the Art nouveau style back with him to Latvia from France.
Many similarities in Eisenstein's designs can be found in the of the artists of the Vienna Secession, leading many scholars to believe that he was also influenced by the Vienna movement, especially the work of architects from Vienna such as Josef Hoffmann and Otto Wagner. Saint Petersburg also contains many early examples of the Art Nouveau style that are said to have had an influence on him.
If you hope to complete craft projects where you need paint that will work well for any number of surfaces, then craft paint is your go-to! The consistency is smooth, creamy, and easy to use.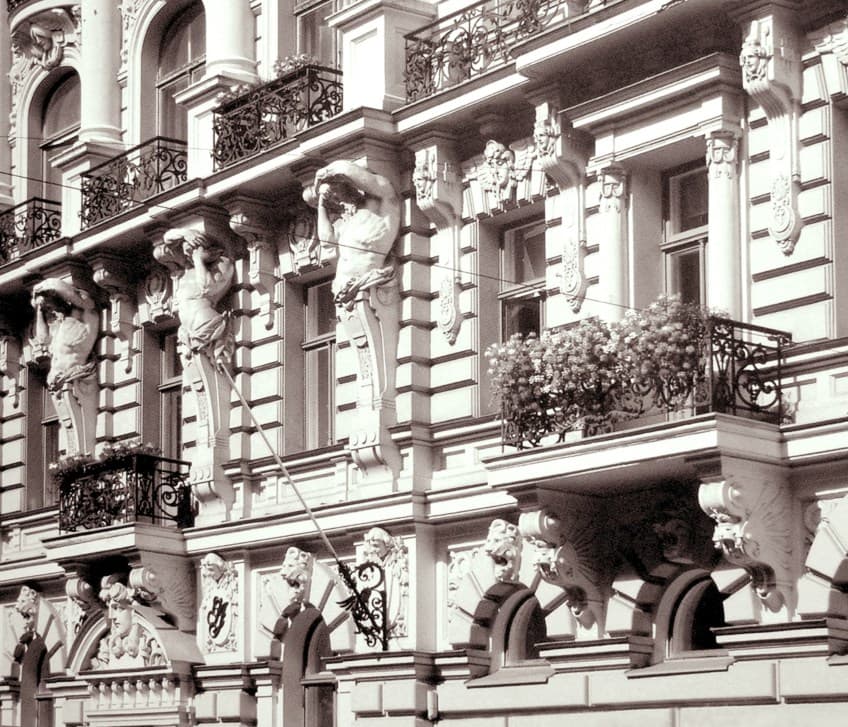 Elizabetes 33 seen from Antonijas street crossing Elizabetes street, designed by Mikhail Eisenstein; Kalnroze (Wikimedia), CC BY-SA 3.0, via Wikimedia Commons
Examples of Art Nouveau Architecture
As we have learned, the style of Art Nouveau was one that was internationally celebrated. Architects all over the world started creating Art Nouveau buildings for a brief period and have left stunning examples of the style around the globe. Many of them are still in existence today and have been classified as World Heritage Sites.
Let us look at some famous examples of Art Nouveau buildings and Art Nouveau houses.
La Sagrada Familia, Barcelona
| | |
| --- | --- |
| Location | Barcelona, Spain |
| Date Built | 1882-2010 |
| Architect | Antoni Gaudí |
| Function | Basilica |
The La Sagrada Familia church in Barcelona is created in the Catalan Modernist style and is generally regarded as an example of Art Nouveau architecture despite showing an influence from several offshoots styles. Designed by Gaudi, construction was started in 1882 by the architect Francesco de Paula del Villar and as yet, remains incomplete.
The plans of the church originally included 18 spires that were meant to represent the Virgin Mary, four evangelicals, the twelve apostles, and Jesus.
Gaudi placed tubular bells in the temple spires so that they would chime when the wind blew through the church, but only one remains in working order today. Some critics question whether it can be regarded as Art Nouveau as it represents the style in its formative and rawest state.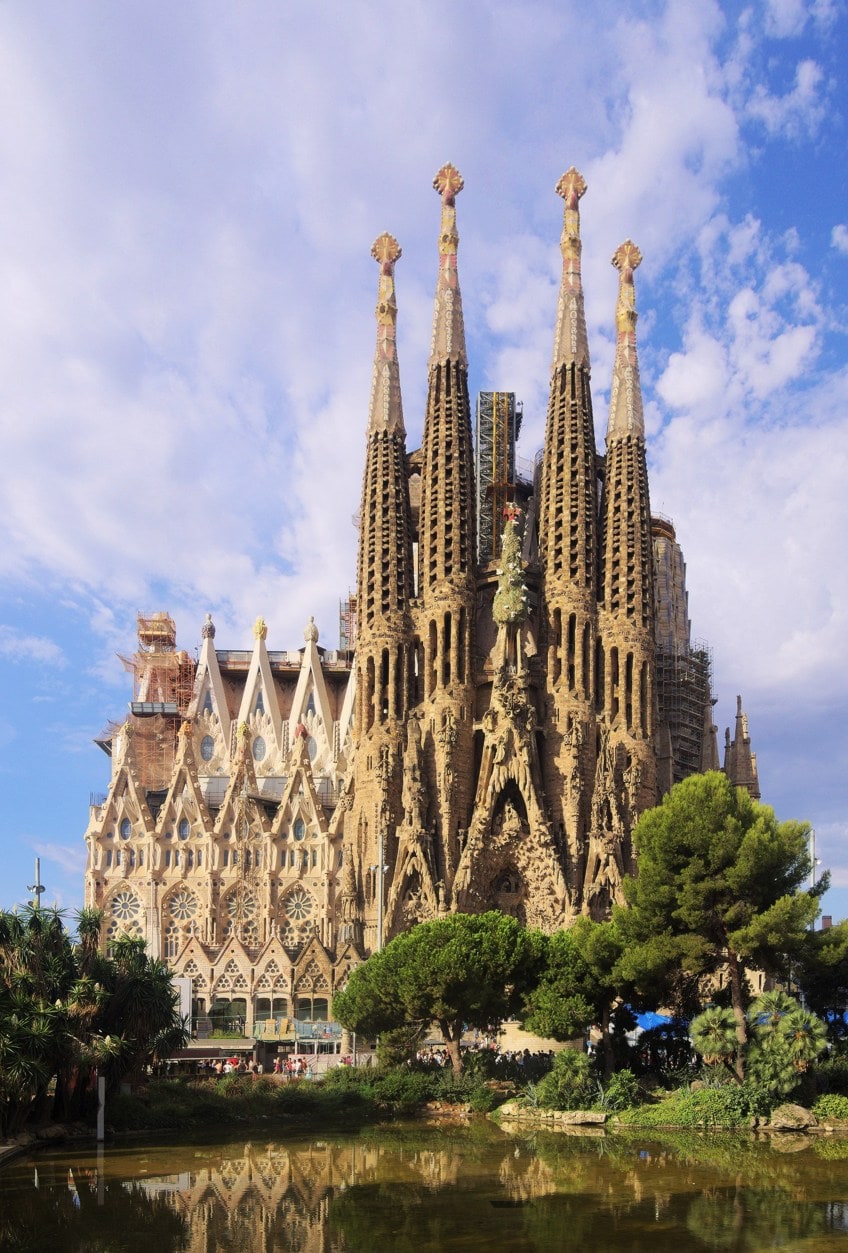 View of the Sagrada Familia from Plaça de Gaudi, Barcelona, ​​Catalonia, Spain, 2017. The cranes have been digitally removed; C messier, CC BY-SA 4.0, via Wikimedia Commons
Casa Battlò, Barcelona
| | |
| --- | --- |
| Location | Barcelona, Spain |
| Date Built | 1877-1912 |
| Architect | Antoni Gaudí |
| Function | House |
The Casa Battlò in Barcelona is another of Antoni Gaudí's architectural masterpieces and it embodies the style of Art Noveau to such a degree that it could almost be considered expressionist. The massive column-shaped windows with their brass embellishments must have been splendors to behold when the building was first constructed.
It is thought that the building was remodeled over an original structure that was most likely a farmhouse.
The Casa Battlò is so extensively detailed that trying to cover all the interior and exterior elements would take an article in itself to fully appreciate. The most eye-catching features that stand out when one sees the Art Nouveau building are the vivid colors of the exterior wall mosaics, the wrought-iron balconies, and the roof which has the color shimmer of fish scale.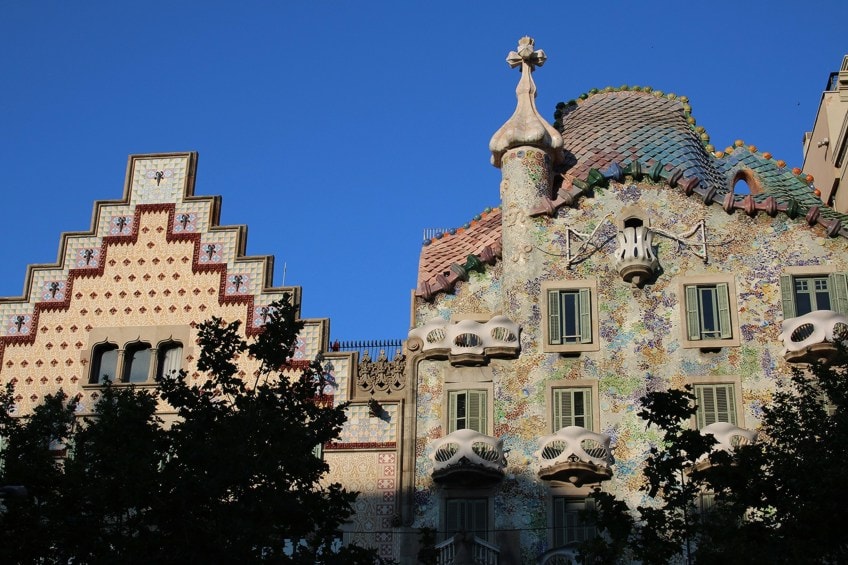 Casa Battlò (right) designed by Antoni Gaudí; FrDr, CC BY-SA 4.0, via Wikimedia Commons
Casa Amatller, Barcelona
| | |
| --- | --- |
| Location | Barcelona, Spain |
| Date Built | 1900 |
| Architect | Josep Puig i Cadafalch |
| Function | House |
The Casa Amatller in Barcelona displays characteristics of Art Nouveau, Germanic elements, and Neo-Gothicism. One of the most noticeable features of the facade is the cornice that's ridges adorn the borders. The building was originally designed by Josep Puig i Cadafalch and was later bought by Antoni Amatller, the Spanish chocolatier. Amatller then commissioned the architect Antoni Robert to redesign the Art Nouveau building.
The patterns on the facade are flush with the ridges which are offset from the cornice. The central roof contains stained glass which shows elements of Modernist style. Along with Casa Ileo Morera and Casa Batllo, the Casa Amatller forms part of the trio known as "Mansa De La Discord".
This famous trio of Art Nouveau buildings has been noted for their distinctly contrasting styles and refurbished elements.
Facade of Casa Amatller, designed by Josep Puig i Cadafalch; ElenaStromberger, CC BY-SA 3.0 ES, via Wikimedia Commons
Hotel Tassel, Brussels
| | |
| --- | --- |
| Location | Brussels, Belgium |
| Date Built | 1892-1894 |
| Architect | Victor Horta |
| Function | Hotel |
The Hotel Tassel in Brussels is considered to be the first building of its kind in the world. Designed by the Art Nouveau architect Victor Horta, the building was a statement of the new art style, with the entire interior being rendered in the Art Nouveau style.
This is evident by the use of thin columns that turn into creepers and vegetative tendrils, and the appearance of curving foliage and curvilinear surfaces.
The interior walls have been colored in hues of green, yellow, and ochre that reflect the shades of the natural world outside. The use of glass and wrought iron allows for the inner spaces to be lit with natural light, and every surface is ornately covered with curving shapes, the central stairwell acting as the main focus and eye-catching element with its winding handrails.
Hotel Tassel in Brussels, designed by Victor Horta, 1893; EmDee, CC BY-SA 4.0, via Wikimedia Commons
Museum of Applied Arts, Budapest
| | |
| --- | --- |
| Location | Budapest, Hungary |
| Date Built | 1893-1896 |
| Architect | Ödön Lechner |
| Function | Museum |
The Museum of Applied Arts in Budapest demands the attention of by-passers with its towering presence on the local skyline. Designed by Ödönlechner, the building incorporates oriental influences as well as elements of local art, such as the yellow and green Hungarian tiles used in the design of the dome.
This mixture of influences has led to a local variation of architectural design that can be considered Hungarian Art Nouveau architecture.
The stately yet decorative exterior is complemented with an interior that also portrays the application of local Art Nouveau. A big feature of the interior is the atrium with its nature-influenced Art Nouveau curves and eastern-style railings. Besides the building's main use as a museum, it also is the venue for events such as the Hungarian Design Week convention.
Museum of Applied Arts, Budapest; The original uploader was Misibacsi at Hungarian Wikipedia., CC BY-SA 2.5, via Wikimedia Commons
Secession Building, Vienna
| | |
| --- | --- |
| Location | Vienna, Austria |
| Date Built | 1898 |
| Architect | Joseph Maria Olbrich |
| Function | Convention Center |
This museum was designed by Joseph Maria Olbrich and exhibits a feeling of grandeur and is tastefully ornamental yet simplistic and minimalist. Olbrich created the building for the Viennese Secession as a statement in the departure from the traditional Assyrian and Byzantine stereotypical features, and a remodeling of those elements into a new form of Art Nouveau. The dome at the top of the building is known as the "Golden Cabbage" and is covered with gold leaf that complements the facade's white walls.
The interior is equally simple in layout and plan, consisting of a rectangle entrance foyer and several spaces for exhibitions.
Secession building, Vienna; Gryffindor, CC BY-SA 3.0, via Wikimedia Commons
And with that, we have come to the end of our look into the world of Art Nouveau architecture. We have seen how this international style of art had a very short period of development before peaking just before the start of the first world war. Artists wanted to create a statement about architecture that reflected the shapes and lines found in nature.
Frequently Asked Questions
Where Did Art Nouveau Architecture Come From?
Art Nouveau spread over much of Europe and the United States of America. It developed simultaneously in many different countries and therefore each region had a distinct character and unique design aspects. Many of the buildings also displayed a mixture of several older and developing architectural styles. The term Art Nouveau came from France and was named after the Maison de l'Art Nouveau, a gallery that featured works which all contained elements of nature-inspired patterns, but many of the architectural elements first arose in places like Brussels and Barcelona.
What Are the Characteristics of Art Nouveau Architecture?
The architects of Art Nouveau were driven by their passions for nature and religion to create works of art that reflected the shapes of the natural world in their architecture. The style is characterized by the use of floral motifs such as curving vines and other vegetation. Another aspect of Art Noveau is the use of asymmetrical shapes for the doors and windows.
Justin van Huyssteen is a freelance writer, novelist, and academic originally from Cape Town, South Africa. At present, he has a bachelor's degree in English and literary theory and an honor's degree in literary theory. He is currently working towards his master's degree in literary theory with a focus on animal studies, critical theory, and semiotics within literature. As a novelist and freelancer, he often writes under the pen name L.C. Lupus.
Justin's preferred literary movements include modern and postmodern literature with literary fiction and genre fiction like sci-fi, post-apocalyptic, and horror being of particular interest. His academia extends to his interest in prose and narratology. He enjoys analyzing a variety of mediums through a literary lens, such as graphic novels, film, and video games.
Learn more about the Art in Context Team.