Keith Haring – An Introduction to Keith Haring's Biography and Art
Keith Haring the artist arose from the American Pop art scene in the 1900s. Keith Haring's artwork represents the graffiti subculture in New York, and much of his oeuvre was used as a means of communicating sexual social activism. Keith Haring's paintings became a popularly recognized artistic language.
Pop Artist Keith Haring's Biography
Who is Keith Haring and where was Keith Haring born? How did Keith Haring die and why was his oeuvre so important to the underground artistic community and activists alike? In this article, we will aim to cover the life of Keith Haring the artist as well as the history behind Keith Haring's artworks.
| | |
| --- | --- |
| Nationality | American |
| Date of Birth | 4 May 1958 |
| Date of Death | 16 February 1990 |
| Place of Birth | Pennsylvania, United States |
Early Life and Education
Keith Haring was born on the 4th of May, 1958 in Reading, Pennsylvania. His father, Allen Haring, a hobbyist cartoonist and engineer, and his mother, Joan Haring, reared him in Kutztown, Pennsylvania. Karen, Kristen, and Kay were his three younger sisters. Haring developed a passion for painting at an early age, enjoying time with his father creating innovative sketches.
Dr. Seuss, Walt Disney cartoons, the Looney Tunes, and Charles Schulz were among his early favorites.
Haring grew up in the United Church of Christ. He was a member of the Jesus Movement in his early adolescence. Subsequently, he traveled across the country while peddling anti-Nixon and Grateful Dead T-shirts he designed. In 1976, he completed his studies at Kutztown Area High School.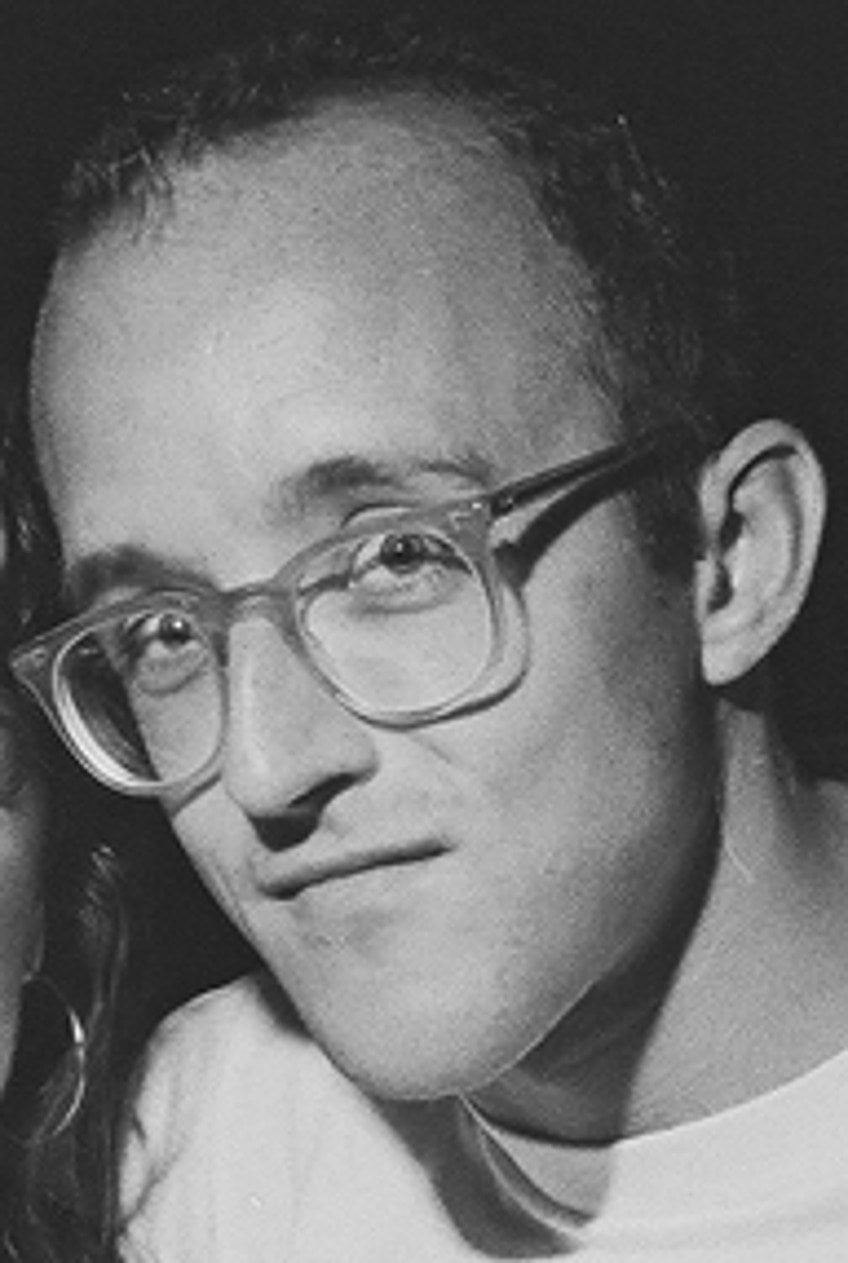 Keith Haring at a party at Gonzales y Gonzales, c. 1988; dmax3270, CC BY-SA 2.0, via Wikimedia Commons
He attended Pittsburgh's Ivy School of Professional Art from the year 1976 until 1978, but finally dropped out. After reading Robert Henri's The Painting Spirit (1923), he was encouraged to concentrate on his art. This had an impact on his choice to quit the Ivy School. Haring worked as a repair worker at the Pittsburgh Center for the Arts, where he was exposed to the works of Jackson Pollock, Jean Dubuffet, and Mark Tobey. Around this period, he was heavily affected by a lecture given by the artist Christo in 1978, as well as a 1977 exhibition of Pierre Alechinsky's works. He was inspired by Alechinsky's art to create huge paintings with words and characters.
Haring learned how to incorporate the community into his art from Christo. In 1978, he had his first significant solo show at the Center for the Arts in Pittsburgh. In 1978 he relocated to New York's Lower East Side to pursue art at the School of Visual Arts. Throughout this time, he also worked as a busboy at the club Danceteria. He explored semiotics with Bill Beckley while a student and dabbled with film and performance arts. Author William Burroughs also had a big effect on Haring's paintings.
Haring said in his notebook in 1978: "I'm getting more conscious of movement. When an artwork is transformed into production, the significance of movement is amplified. The process of creating (the presentation) becomes as significant as the finished artwork."
Early Work
Haring originally gained public prominence for his graffiti art at subway stations, where he produced white chalk paintings on a black, disused advertising backboard. He regarded the subway system as his "lab," a location where he could explore and produce his creativity, and saw the dark advertising paper as a blank canvas and "the perfect spot to sketch."
The Radiant Baby, a crawling newborn producing light beams, became his most recognizable icon. While working as a subway painter, he used it as his label to identify his work. In Keith Haring's artworks and iconography, symbolism and imagery (such as howling dogs, flying spaceships, and huge hearts) became prevalent. As a consequence, word of Keith Haring's paintings spread swiftly and he became very well recognized.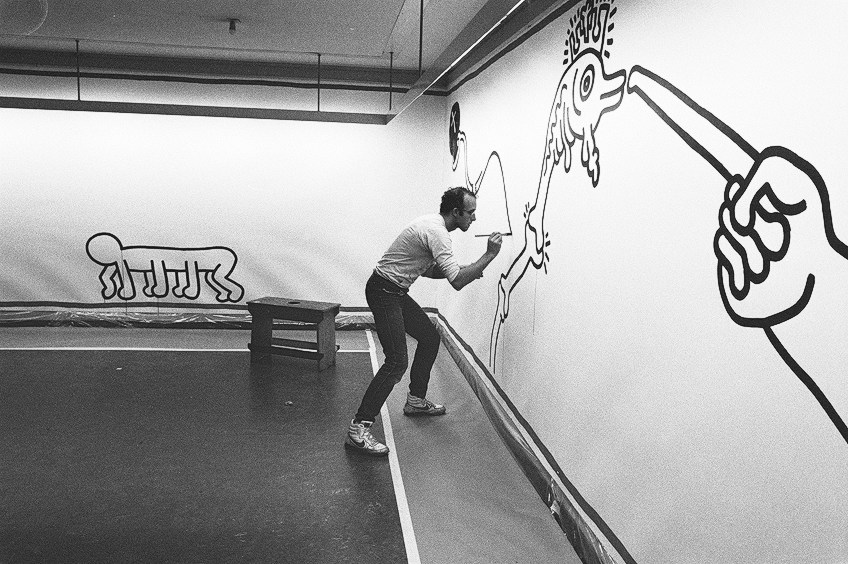 Keith Haring at work in the Stedelijk Museum in Amsterdam, 1986; Rob Bogaerts, CC0, via Wikimedia Commons
Brion Gysin and Burroughs' work influenced Haring's approach with letters and words. In 1980, he made headlines out of word juxtaposition and hung hundreds of them on lampposts across Manhattan. In the same year, a piece of his participation in The Times Square Show with one of his very first public installations, Haring modified a poster above a subway station entrance in Times Square depicting a woman encompassing a male's legs, blotting out the first letter so that it basically reads "hardón" rather than "Chardón," a European clothing company.
Later, he employed other corporate materials to propagate his works and beliefs.
This includes mass-producing badges and magnets for distribution, as well as working on top of subway advertisements. Keith Haring the artist began arranging shows at Club 57 in 1980, which were documented by Tseng Kwong Chi, a photographer and close acquaintance of Haring's. Haring held his first solo exhibit at the Hal Bromm Gallery in Tribeca in late 1981.
Rise to Fame
Haring was the first of 12 painters chosen by the Public Art Fund to have their artwork shown on the Spectacolor display in Times Square in January 1982. That summertime, Haring completed his first big outdoor artwork on the Lower East Side's Houston Bowery Wall. Lines were frequently employed in Keith Haring's paintings to convey vitality and motion. Haring would frequently work rapidly, attempting to complete as many pieces as possible in a single day—sometimes producing as many as 40 works in a single day.
Untitled (1982) is one of his paintings that display two characters with a dazzling heart-love theme, which critics see as a daring display of homosexual love and important social comment. Elio Fiorucci requested Haring to decorate the walls of his Fiorucci shop in Milan in 1983. In February 1983, he held a solo exhibit at the Fun Gallery in Manhattan's East Village. Haring encountered and started working with choreographer Bill T. Jones in 1983 when he was in London for the premiere of his exhibit which was held at the Robert Fraser Gallery. Haring painted from head to toe on Jones' torso as a canvas.
Haring was also featured in the Venice Biennale in 1984. Haring was commissioned to design impermanent paintings for the Art Gallery of New South Wales as well as the National Gallery of Victoria.
He also produced the iconic Keith Haring fresco at Melbourne's Collingwood Technical College. The media reported Haring's meteoric ascension to global celebrity notoriety. His artwork was included in the February 1984 edition of Vanity Fair, as well as the October 1984 edition of Newsweek. The United Nations requested Haring to design the first-day illustration for a United Nations stamp and an associated special edition lithographic print to celebrate 1985 as International Youth Year.
He created MTV set décor and created paintings for different cultural organizations and nightclubs, including Manhattan's Palladium. He created an artwork for the Live Aid performance at J.F.K. Stadium in Philadelphia in July 1985. Furthermore, he decorated an automobile belonging to art dealer Max Protetch, which was auctioned off with the proceeds benefiting African hunger relief.
Keith Haring the artist had his debut solo museum show in the spring of 1986 at Amsterdam's Stedelijk Museum, where he also created a mural. He then teamed up with the organization which is known as The CityKids Foundation to create CityKids Speak on Liberty in June 1986, a 90-foot banner commemorating the 100th anniversary of the appearance of the Statue of Liberty on American shores.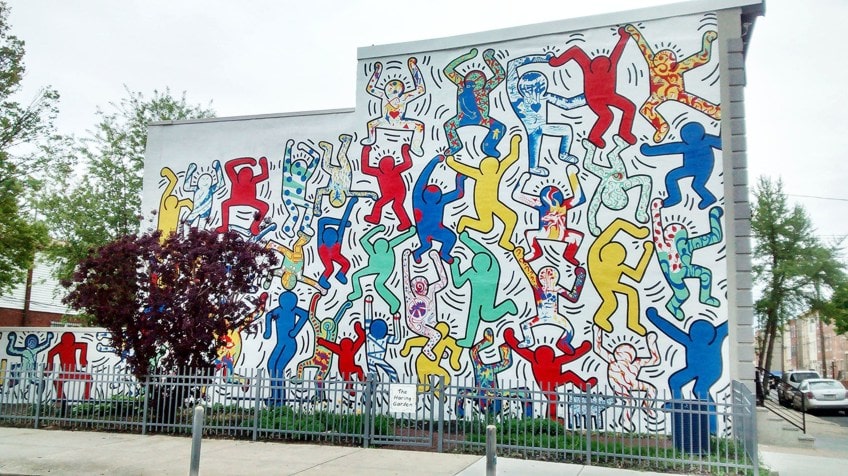 Keith Haring's mural We Are The Youth at 22nd and Ellsworth Streets in Philadelphia. It was completed in 1987 in collaboration with CityKids Foundation, a New York-based youth organization. The mural was restored in 2013 by the Philadelphia Mural Arts Program and added "The Haring Garden"; Keith Haring, CC BY-SA 3.0, via Wikimedia Commons
In October 1986, Haring created a fresco on the Berlin Wall for the Checkpoint Charlie Museum. The painting was 300 meters long and portrayed interlocking black and red figures on a yellow backdrop. The colors represented the German flag and represented the dream for reunification between West and East Germany.
Haring also made public paintings in the foyer and outpatient care section of the Mental Health Center and the Woodhull Medical that year. Haring worked with Grace Jones, whom he met thanks to Andy Warhol. Jones' body was painted by Haring for her music video "I'm Not Perfect" as well as for the live stage shows at the Paradise Garage. Jones was also colored by Haring for her part as the Queen of the Vampires, in the movie Vamp from 1986.
Haring worked with jewelry designer David Spada to create the sculpted ornamentation for Jones. The artist then produced his Crack is Wack painting in East Harlem in 1986, which can be seen from New York's FDR Drive. The New York Police Department first classified it as graffiti, and Haring was detained. Haring was freed on a reduced sentence after local media outlets followed up on the issue. Keith Haring's artwork was damaged while he was in prison.
This mural exemplifies Haring's use of social activism rather than commercialization, with "Crack is Wack" instead of "Coke is it."
On the very same wall, he later created an upgraded rendition of the painting. Pop Shop debuted in Soho in April 1986, offering t-shirts, posters, and other things featuring Haring's paintings. As a result, Haring's art became widely available for purchase at moderate costs. Some people chastised Haring for commercializing his art. When queried about it, Haring said, "I could earn more money if I only painted a few things and upped the price." My business is a continuation of what I was doing in the subway stations, which was to tear down borders between high and poor art."
The Pop Shop stayed open following Haring's death, with all proceeds benefiting the Keith Haring Foundation. Haring's Pop Shop was far from his sole attempt to make his art more publicly available. Haring created art in subways and on billboards throughout his career. His efforts to make his art approachable may also be noticed in the absence of discernible ages, ethnicities, or identities in his figures.
By the time Pop Shop arrived, Keith Haring's paintings started to portray more sociopolitical topics, such as AIDS education, and the crack cocaine crisis, and anti-apartheid ideologies.
Final Years
From 1982 through to 1989, Haring participated in over 100 solo and group exhibits and created over 50 public artworks for dozens of organizations, clinics, daycare facilities, and orphanage institutions. Haring was an out homosexual man who used his art to promote safe sex. In the autumn of 1988, he was confirmed to have AIDS. During his final years, he utilized his art to communicate about his sickness and to raise AIDS awareness and education.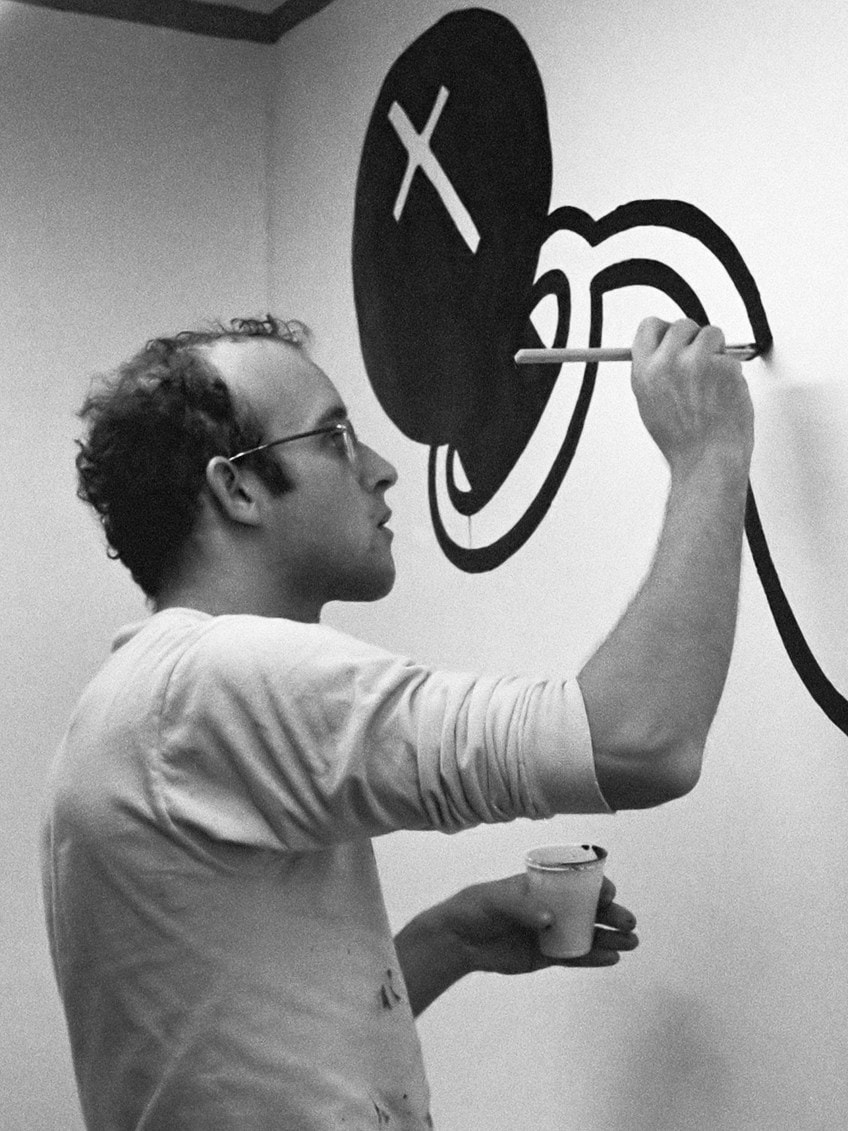 Keith Haring at work in the Stedelijk Museum in Amsterdam, 1986; Rob Bogaerts (Anefo), CC0, via Wikimedia Commons
Haring had shows in Helsinki, Paris, and other cities in 1987. During his visit to Paris for the exhibition of American painters, Haring and his partner Juan Rivera created the Tower painting on an external stairway of the Necker Children's Hospital, measuring 27 meters in length. Haring created a painting in the Museum of Contemporary Art, Antwerp, while in Belgium for his show at Gallery 121. He was also requested to execute a mural at the Casino Knokke by fellow artist Roger Nellis. From June through to August of 1987, Haring constructed a carousel for André Heller's Luna Luna, a transitory theme park in Germany with attractions designed by notable modern artists.
In August 1987, Haring completed a large painting at the Carmine Street Recreation Center's outdoor swimming pool in the West Village.
The cover of Haring's A Very Special Christmas compilation album features a characteristic Haring figure cradling a baby. Its "Jesus imagery" is unique among current rock Christmas albums. Keith Haring became one of a small handful of painters whose work has featured on the bottle of Chateau Mouton Rothschild wine in 1988. He flew to Japan in January of 1988 to start Pop Shop Tokyo, which failed and subsequently shut in the summer of 1988.
Haring painted a mural for the traditional White House Easter Egg Roll in April 1988.  Due to his health problems and the loss of his colleagues Jean-Michel Basquiat and Andy Warhol, he believed he had something to accomplish. To increase awareness of the HIV pandemic, Haring created the Todos Juntos Podemos Parar el SIDA fresco in Barcelona's dangerous Barrio Chino area in February of 1989.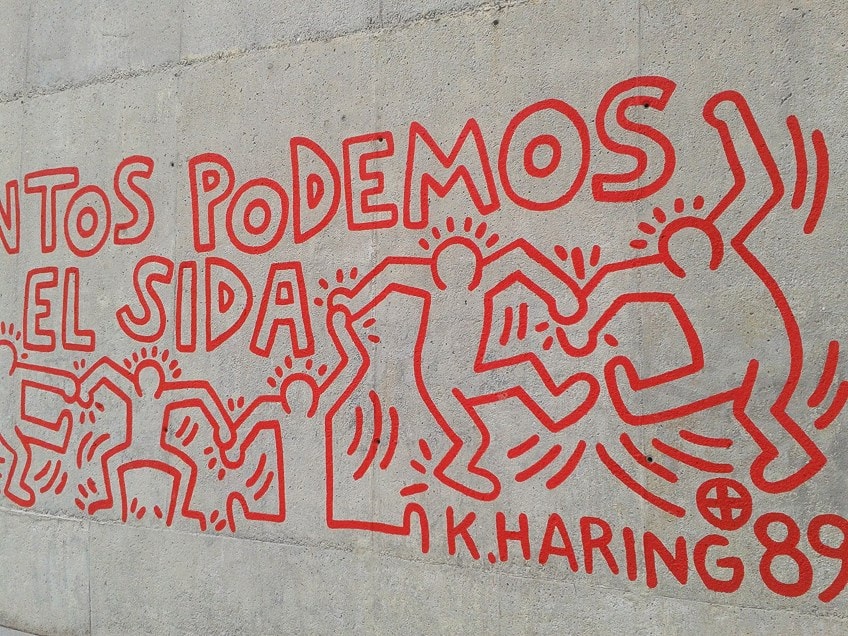 Todos Juntos Podemos Parar el SIDA ("Together We Can Stop AIDS") (1989) by Keith Haring; Keith Haring, Public domain, via Wikimedia Commons
Haring traveled to Chicago in May of 1989, at the request of a teacher called Irving Zucker, to produce a 480-foot painting in Grant Park with approximately 500 children. At about the same period, three more Haring murals appeared in Chicago: two at Rush University Medical Center and one at Wells Community Academy High School. The latter was constructed as a type of greeting to Haring's arrival in Chicago.
According to statements by Zucker, Haring offered the school a template for the painting, which was completed by an instructor, abstract painter Tony Abboreno, and the art students of Wells High School, although Haring granted final clearance and signed it personally.
Haring was commissioned by the Gay and Lesbian Community Services Center in New York to produce a site-specific piece for The Center Show, an installation commemorating the Stonewall Riots' 20th anniversary. In May 1989, he picked the second-floor men's toilet to create his Once Upon a Time artwork. He then created the Tuttomondo painting, which was located on the back wall of the monastery of the Sant'Antonio Abate church in Pisa in June 1989.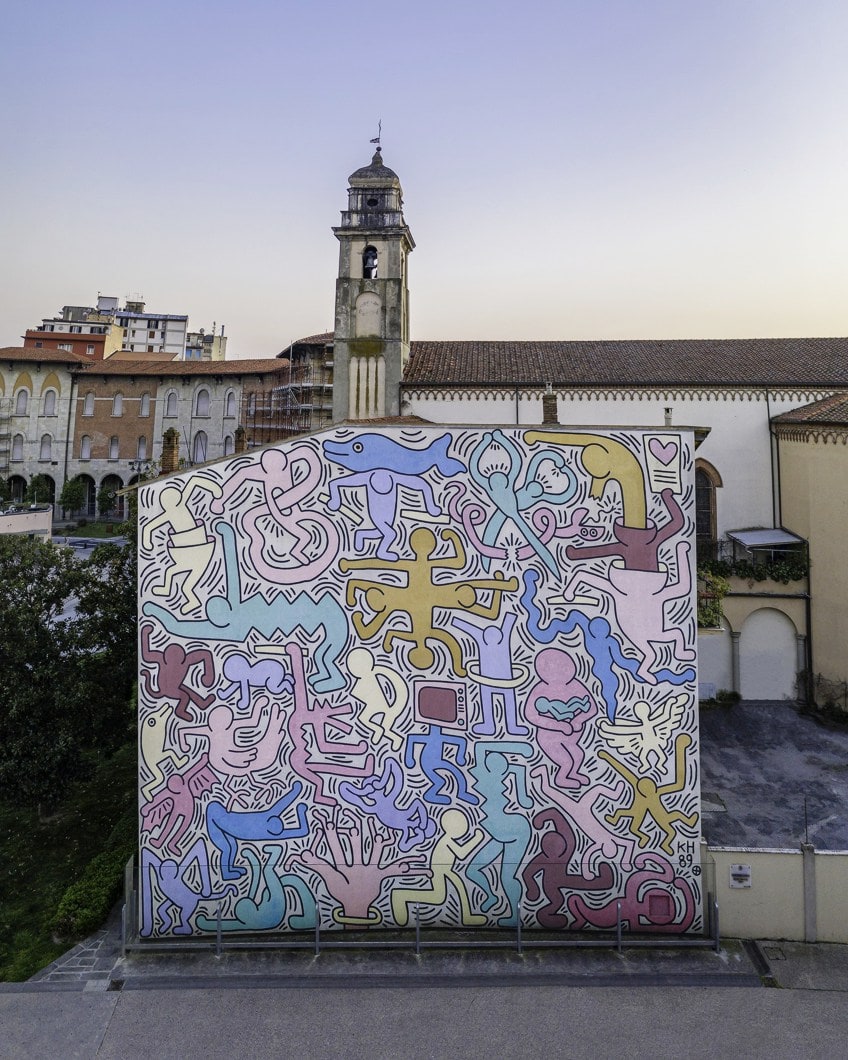 Tuttomondo (1989) by Keith Haring; Guglielmo Giambartolomei, CC BY-SA 4.0, via Wikimedia Commons
Haring addressed the evasion of social concerns such as AIDS in a piece titled Rebel with Many Causes (1989), which is based on the notion of "See no evil, hear no evil, say no evil." In the final week of November in 1989, Keith Haring created a painting for "A Day Without Art" at Pasadena's ArtCenter College of Design. On the 1st of December, the annual HIV Awareness Day, the artwork was honored. He paid tribute to the painting, telling the Los Angeles Times:
"My life is connected with my work. When HIV became an actuality in my life, it began to appear as a topic in my works. The more it interfered with my life, the more it interfered with my career."
Haring went to Paris in January of 1990 for his final show at La Galerie de Poche. Keith Haring the artist died of AIDS-related issues on the 16th of February 1990, at his residence in Greenwich Village. His ashes were dispersed in a field outside Bowers, just south of his birthplace of Kutztown.
Keith Haring's Artwork Style and Influences
Keith Haring followed in the footsteps of a lengthy but intermittent lineage of 20th-century painters who introduced aspects of pop culture, "low art," and non-art into the once privileged "high art" venues of galleries and museums. He relied on the methods and locations of street-based art like murals and graffiti, used brilliant and unnatural colors, and made images approachable in order to capture spectators' eyes and thoughts and get them to enjoy themselves while still engaging with serious issues.
Large outdoor mural by American artist Keith Haring in Collingwood, a suburb of Melbourne, Australia. The mural was painted in 1984 on a cement panel over a wall of the former Collingwood Technical School; Keith Haring, CC BY-SA 4.0, via Wikimedia Commons
Keith Haring the artist, together with his peers Kenny Scharf and Jean-Michel Basquiat paved the way for how apparently basic and even cartoonish aspects by self-taught artists may be valued. Haring's seemingly simplistic artwork and words delivered sensitive and incisive cultural criticism on topics like HIV, drug dependency, illegitimate love, and segregation.
As a painter and a campaigner, he demonstrated that expressing important concerns could be amusing or at the very least alive when presented through extremely cartoony pictures and vibrant color palettes.
In opposition to the more abstract and intellectual methods of the preceding generation and the more evocative expressive painting of his colleagues, Haring's adherence to sharp lines and uncomplicated motifs breathed fresh life into figuration in art. Haring demonstrated the potential of using public spaces that are not typically devoted to art to convey political and social ideas to a wide range of viewers. He gave street art recognition and legitimacy by bringing it into fine museums and art galleries, encouraging a younger breed of street-to-gallery painters. Haring's art is influenced by both personal and political factors. His sexual preference is referenced throughout his works, and his diaries prove its effect on his work.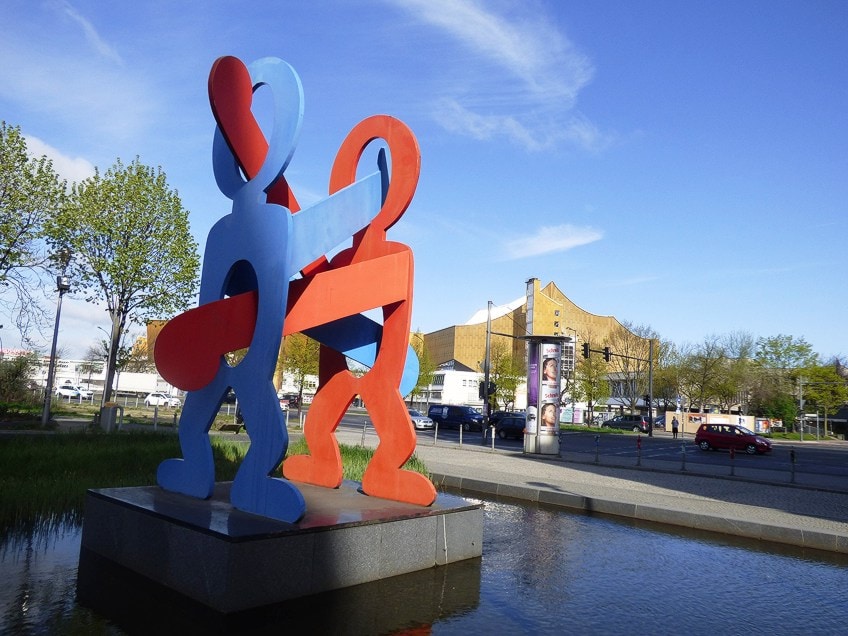 Untitled (The Boxers) (1987) sculpture by Keith Haring in Berlin; Luis Alvaz, CC BY-SA 4.0, via Wikimedia Commons
A few of his later artworks, including Untitled (cat. no. 27) and his drawing Weeping Woman (1986), include metaphorical parallels to the Aids crisis. The connotation in some of his paintings is obscure, but he also made some overtly activist pieces. Silence=Death (1989), a work of HIV/AIDS campaigning that echoes and incorporates the ACT UP poster's message, is nearly internationally recognized.
He drew parallels between the end of times and the HIV epidemic in some of his artworks.
He represents the disease as demon-like entities, and a massive explosion in a work he created with William Burroughs. Haring's closeness to the Three Mile Island nuclear disaster had a significant influence on him. His dread of a nuclear calamity began to manifest itself in his artworks. A white and black striped flag, for instance, he suggested represented the threat of a nuclear catastrophe.
Haring was strongly impacted by the Jesus Movement as a child, and it proceeded to impact his art throughout his career. The organization was comprised of a highly evangelical, loosely structured, and heterogeneous collection of Christians. They were noted for their anti-establishment ideas, as well as their emphasis on the Last Judgment and sympathy for the impoverished. Haring got deeply interested in the cause as a youngster. During that period, religious elements, as well as Jesus Movement emotions, began to appear in his works. This incorporated anti-church institutional sentiments evident in some of his later works.
Despite the fact that his period as a "Jesus Person" did not persist beyond his adolescence, religious imagery, symbolism, and allusions continued to surface in Keith Haring's artwork.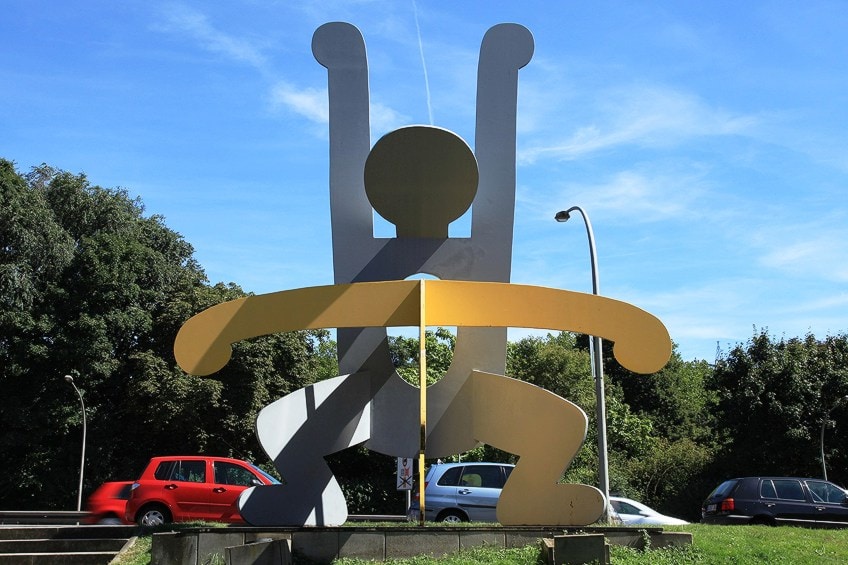 Untitled (Head through belly) (1987-1989) by Keith Haring in the Kaisergarten in Oberhausen; Frank Vincentz, CC BY-SA 3.0, via Wikimedia Commons
He said in a discussion at the end of his life, "All of that remained with me, and there are many religious elements in my works even now. Some people believe my art is the product of a religious fanatic or madman." Haring utilized a tag to sign his work while sketching graffiti on the subway. "The Radiant Baby", his tagline, portrays a baby with lines emanating from it, referring to the Christ Child.
Throughout his period as a subway painter, he continued to create works representing the Christ Child, particularly Nativity scenes, in his distinctive manner. His final works were two sacred triptychs, both of which were donated to Episcopal cathedrals. He depicts the Last Judgment in them, yet who is rescued in the works is uncertain.
Exhibitions
Keith Haring the artist had over 50 solo shows throughout his career and was promoted by well-known institutions such as the Leo Castelli Gallery and the Tony Shafrazi Gallery. Since his passing, he has been included in over 150 exhibits worldwide. Several worldwide retrospectives have also been held in his honor. In 1981, Haring took part in the New York/New Wave exhibition at MoMA PS1. Haring's first one-man show was held at the Hal Bromm Gallery in 1981, succeeded by his breakout show at the Tony Shafrazi Gallery in 1982.
In the same year, he took part in Documenta 7 in Kassel as well as the Public Art Fund program, for which he created artworks for a Spectacolor banner in Times Square. Haring's art was included in the So Paulo Biennial, as well as the Whitney Biennial and in 1983. He has held solo shows at the Fun Gallery and Galerie Watari in Tokyo, as well as his sophomore exhibition at the Tony Shafrazi Gallery. The very first significant show of his works in Australia was an exhibition at the Museum of Contemporary Art Australia in 1996. His work was the focus of a Whitney Museum of American Art exhibition in New York in 1997, organized by Elisabeth Sussman.
The Public Art Fund produced a multi-site display of Keith Haring's public artworks at Central Park's Doris C. Freedman Plaza and all along the Park Avenue Malls in partnership with the Family of Keith Haring.
This public show took place concurrently with Whitney's exhibition. Grace House Mural, which depicts 13 panels from a fresco Haring created at a Catholic adolescent facility on Manhattan's Upper West Side in either March 1983 or 1984, premiered at the Museum of Contemporary Art Denver in February 2021. The painting extended three stories and 85 feet and included Haring's luminous infant, barking dogs, and dancing man characters.
When Grace House was bought, the Church of Ascension fought against the objectives of the Keith Haring Foundation to find a buyer who would preserve the art in place. Instead, pieces of the artwork were torn out and auctioned off in 2019 to an unknown private collector for $3.86 million. The panels have been loaned to the institution and were on display until the 22nd of August, 2021.
Important Keith Haring Paintings
Keith Haring's artwork embodies the New York graffiti scene, and most of his work was used to communicate sexual social activism. Keith Haring's paintings established a well-known creative vocabulary. Here are a few of his important pieces:
Montreux (1983)
Free South Africa (1985)
Crack is Whack (1986)
Andy Mouse (1986)
Safe Sex (1988)
Tuttomondo (1989)
Radiant Baby (1990)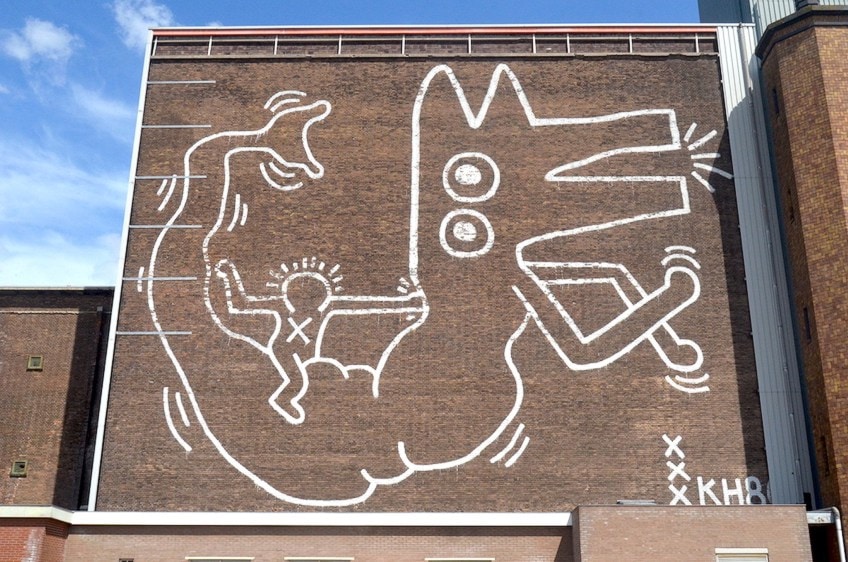 A Keith Haring painting at the Central Market Hall in Amsterdam; Eriksw, CC BY-SA 4.0, via Wikimedia Commons
Recommended Reading
Would you like to learn more about Keith Haring's paintings? Perhaps you would like to read further into Keith Haring's biography or a Keith Haring book that focuses on his artworks. We have created a little list of books that you might find interesting. A Keith Haring book would make a great gift for anyone who enjoys his artwork.
Keith Haring: 31 Subway Drawings (2021) by Jeffrey Deitch
Keith Haring the artist has been welcomed by popular culture for his characteristic bright graphic line drawings of characters and shapes. Haring, like some other graffiti painters of the 1980s, discovered an empty canvas in the advertisement boards strewn about New York City's public transit system, where he expressed his socially aware, often hilarious messages on stations and train carriages.
Haring created a large body of subway artwork over a five-year span in an immense takeover of civic spaces that remains intimidating in its scope and influence on the public mind. Keith Haring's paintings, dedicated to the people who might come upon them and the occasions when they were created, now only exist in the form of documentation of images and folklore.
A look at Keith Haring's New York subway artwork from the 1980s

Reproductions of archival materials relating to this subway project
Accompanied by essays by a leading Keith Haring expert
View on Amazon
Keith Haring (Rizzoli Classics) (2014) by Jeffrey Deitch
This collection comprises more than a decade of study and contains a variety of unreleased photographic and textual material, including sketches, studio shots, and diary entries. This novel tells the unbelievable progression of Keith Haring's artworks: how a youthful person from a small farming town Pennsylvania came to fundamentally change the art market the direction of art history—in little more than a couple of years, from illustrations underground in the New York City subway system to frescoes in Berlin and Pisa; collaborative partnerships with William Burroughs and the renowned paintings of Grace Jones. Keith Haring, an immensely prolific painter, created many daring, controversial, adorable, and iconic works that continued to inspire creatives to amuse children—all around the world.
This volume represents more than a decade of research
A wealth of unpublished photographic and written material
Follow the incredible trajectory of Keith Haring's artistic career
View on Amazon
We hope you have enjoyed this guide to the life and art of Keith Haring. He utilized the methods and settings of street art such as murals and graffiti, used dazzling and artificial colors, and made pictures approachable to grab viewers' eyes and ideas and get them to enjoy themselves while still dealing with serious topics. Keith Haring, the artist, and his friends Kenny Scharf and Jean-Michel Basquiat pioneered the path for how seemingly simple and even ludicrous features of self-taught artists might be respected. Haring's deceptively simple artwork and words conveyed sensitive and sharp cultural commentary on issues such as HIV, drug addiction, illicit love, and segregation.
Frequently Asked Questions
Who Is Keith Haring?
Keith Haring the artist, emerged in the 1908s from the American Pop art culture. Keith Haring's artwork embodies the New York graffiti scene, and most of his work was used to communicate sexual social activism. Keith Haring's paintings established a well-known creative vocabulary.
Where Was Keith Haring Born and How Did Keith Haring Die?
Keith Haring the artist was born in 1958 in Reading, a small village in Pennsylvania. He passed away from AIDS on the 16th of February 1990. Prior to his passing, many of his works would deal with the issue of the HIV crisis.
Isabella studied at the University of Cape Town in South Africa and graduated with a Bachelor of Arts majoring in English Literature & Language and Psychology. Throughout her undergraduate years, she took Art History as an additional subject and absolutely loved it. Building on from her art history knowledge that began in high school, art has always been a particular area of fascination for her. From learning about artworks previously unknown to her, or sharpening her existing understanding of specific works, the ability to continue learning within this interesting sphere excites her greatly.
Her focal points of interest in art history encompass profiling specific artists and art movements, as it is these areas where she is able to really dig deep into the rich narrative of the art world. Additionally, she particularly enjoys exploring the different artistic styles of the 20th century, as well as the important impact that female artists have had on the development of art history.
Learn more about Isabella Meyer and the Art in Context Team.
Cite this Article