Famous Op Art Artists – Well-Known Op Art Examples
Famous Op Art artists are renowned for making captivating and mind-bending artworks that challenge our perception of reality. Op Art examples usually involve some sort of optical illusion, hence why Op Art is also known as Optical Art. While all visual art is perceived by the eyes, not all visual art relies on the mechanics of the eyes to enhance what is perceived by the viewer. Today, we shall explore the most famous Op Art artists that have managed to create artworks that engage the senses through a mixture of art, patterns, and even science.
Exploring the Most Famous Op Art Artists
Op Art examples use certain optical effects to make it appear as if a static image is moving, pulsating, and breathing. It is a style that is typically derided by most critics, yet it is a very precise art form that requires a large amount of preplanning and accuracy. Op Art is a mathematically based form of Abstract art, and famous Op Art artists use colors and repetitive patterns to create this sense of movement in their artworks.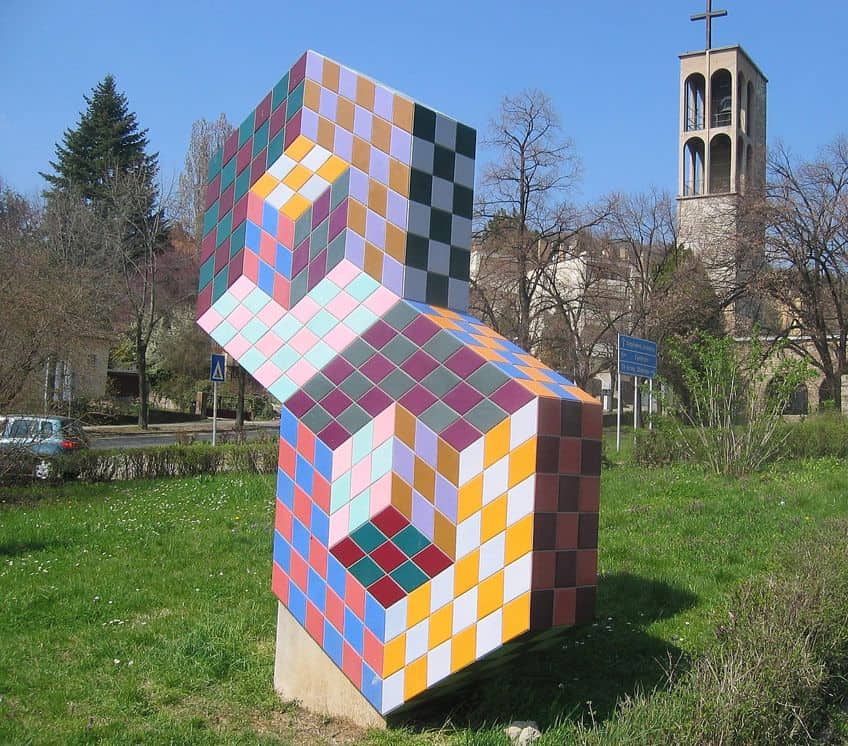 Sign Statue (2009) by Victor Vasarely; CMB, CC BY-SA 3.0 DE, via Wikimedia Commons
The Origins of Op Art
Op art first appeared in the 1960s and was defined by the use of optical illusions, geometric patterns, and visual effects to produce artworks that challenged the audience's vision. The Bauhaus movement, which promoted the merging of craft, art, and technology, influenced Op art. Kinetic artists, like Victor Vasarely, experimented with the use of motion and visual effects in their works.
Their explorations of visual perception and movement established the groundwork for the evolution of Op art.
Gestalt psychology, which investigates how humans perceive visual aspects as a whole, was also important in the creation of Op art. Science and technology advanced in the mid-20th century, including the creation of new printing processes and color theories. These advancements enabled painters to play around with detailed patterns, colors, and optical illusions, which contributed to the birth of Op art.
Our List of Famous Op Art Artists
This art movement was rather short-lived, yet its impact was still significant. Now that we have learned more about how the movement originated, we can explore some of the individuals that helped shape the movement. The famous Op Art artists listed below were all significant figures within the movement, and all left a legacy that remains to be influential today.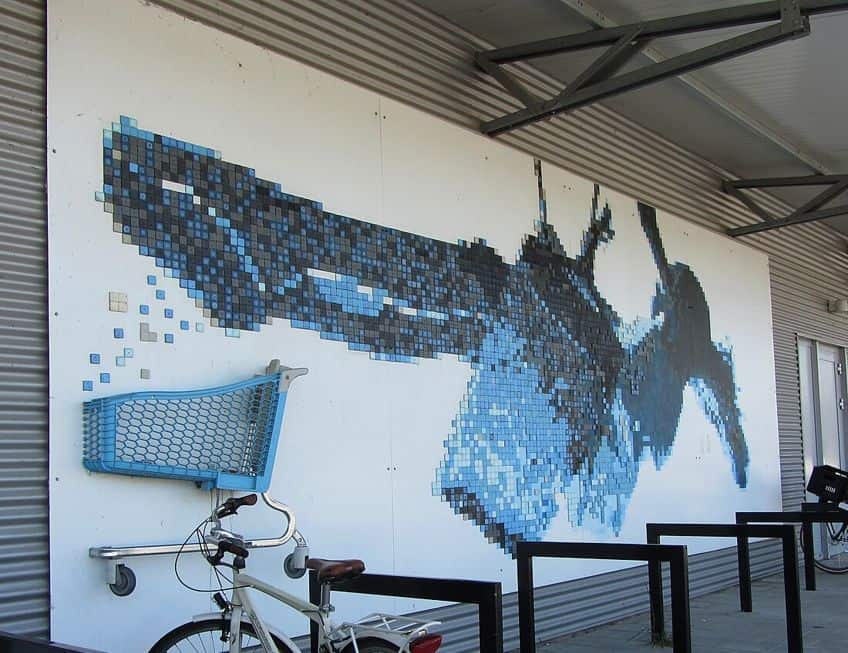 Child on a swing. Sustainable art, wall art, made from recycled material of a supermarket (2021) by an unknown artist; Agaath, CC BY-SA 4.0, via Wikimedia Commons
Victor Vasarely (1906 – 1997)
| | |
| --- | --- |
| Artist Name | Victor Vasarely |
| Nationality | Hungarian-French |
| Date of Birth | 9 April 1906 |
| Date of Death | 15 March 1997 |
| Place of Birth | Pécs, Hungary |
Victor Vasarely, considered the pioneer of Op Art, was born on the 9th of April, 1908 in Pécs, Hungary. His discoveries in color and optical illusions have had a profound effect on many modern painters, and he is widely regarded as one of the most influential artists of the 20th century. Vasarely first attended the University of Budapest's School of Medicine in 1925, where he stayed for two years. In 1927, he decided that he wanted to change the direction his life was going and enrolled at the Poldini-Volkman Academy of Painting. Though a medical degree may have seemed unnecessary in relation to his new work in art, Vasarely's experience in medical school provided him with a solid foundation in scientific methods and impartiality. This scientific method persisted in his own artistic approach.
Vasarely relocated to Paris after his first one-man display in 1930 at the Kovacs Akos Gallery in Budapest.
He spent the following 13 years in graphic studies. His lifelong obsession with linear patterning inspired him to create abstract and figurative patterned subjects such as checkers, harlequins, tigers, and, of course, the Vasarely zebras. Victor Vasarely also made multi-dimensional artworks during this time period by superimposing patterned layers of cellophane on top of one another to create the illusionary perception of depth. Vasarely discovered his niche in abstract painting in 1947. He decided that "internal geometry" could be observed beneath the surface of the entire planet, inspired by the events at Breton Beach on Belle Isle. He believed that shape and color were inextricably connected.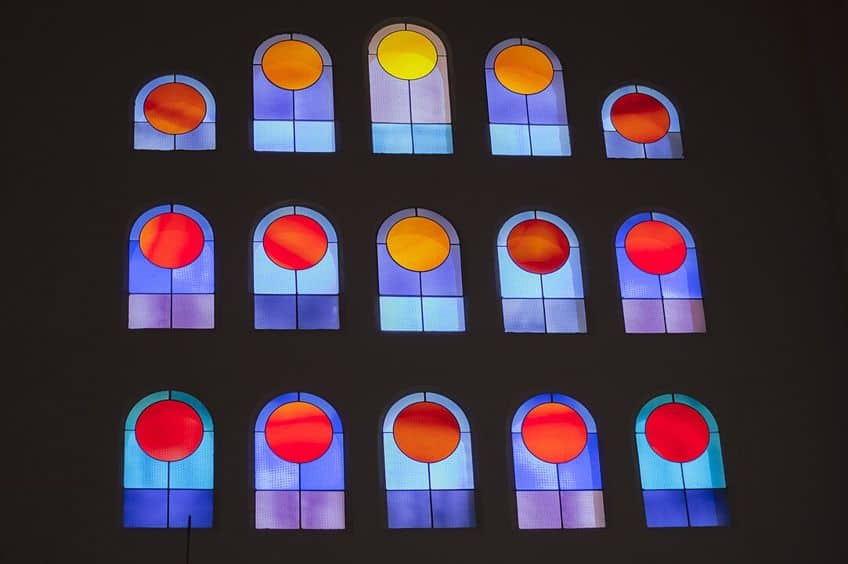 Stained glass (n.d) by Victor Vasarely; Cette photo a été prise par Brigitte ALLIOT ., CC0, via Wikimedia Commons
Richard Anuszkiewicz (1930 – 2020)
| | |
| --- | --- |
| Artist Name | Richard Anuszkiewicz |
| Nationality | American |
| Date of Birth | 23 May 1930 |
| Date of Death | 19 May 2020 |
| Place of Birth | Erie, Pennsylvania, United States |
Richard Anuszkiewicz, born in 1930, was regarded as America's new optical wizard. Richard always loved painting and was encouraged to pursue it by his father since he was a youngster. He was a founding member and early proponent of Op Art. His main international counterparts were Bridget Riley and Victor Vasarely. Anuszkiewicz was interested in the visual modifications that take place when different high-intensity colors are placed into various geometric arrangements with the same geometric configurations. The majority of his creative output is composed of visual analyses of formal structure and coloring effects, many of which feature nested square shapes evocative of the creations of his mentor Josef Albers.
His mentor had explored color juxtapositions in his Homage to the Square series, while Anuszkiewicz expanded on Alber's ideas.
Over the course of his career, Anuszkiewicz continued to create works in this Op Art style. Anuszkiewicz's method for painting was summarized in 1963 as follows: "My artwork is of an exploratory nature and is focused on exploring the impact of complementary colors of brimming intensity when contrasted and the optical shifts that take place as a result, and an examination of the fluid nature of the whole under varying conditions of light, and the influence of light on color.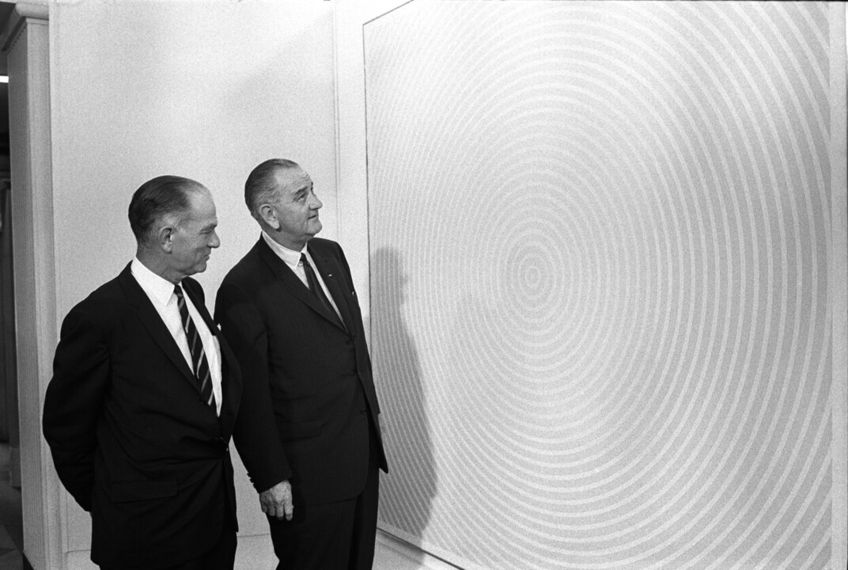 U.S. President Lyndon Baines Johnson and U.S. Senator J. William Fulbright inspect "Squaring the Circle", a bright red 1963 painting by Richard Anuszkiewicz, at the 1965 White House Arts Festival (1965); Yoichi Okamoto, via Wikimedia Commons
Peter Sedgley (1930 – Present)
| | |
| --- | --- |
| Artist Name | Peter Sedgley |
| Nationality | British |
| Date of Birth | 1930 |
| Date of Death | Present |
| Place of Birth | London, United Kingdom |
Peter Sedgley was born in 1930 in London and initially studied architecture and construction. He was charged with reconstructing post-war Britain as a young architect, but quit in protest at what he saw as attempts to merely copy instead of innovate. Before becoming an artist, he worked as an RAF radar technician and was a founder figure of a construction and design cooperative. He was self-taught and had an early interest in color theory, reading Goethe and Klee. He gained practically instant acclaim for his series of large-scale artworks in which he attempted to build a tonal range that followed the chromatic order so that a pure color could be tonally equated with a mutated color.
Sedgley developed a series of Target paintings to enhance his research on color theory and eye perception.
Concentric circles were painted in different colors over a black backdrop using a soft-edged spray. Circles were chosen because he felt they were a neutral shape, enabling the viewer to focus on color as opposed to shape. Soon after finishing these works of art, he realized that light could lead to color shifts and a sensation of apparent motion. He discovered that cold light amplified certain hues while modulating others, but warm light did the opposite. As a result, he became inspired to include lights that he set to a precise, thoroughly researched color sequence in order to establish an interaction between applied color and illusion.
Richard Allen (1933 – 1999)
| | |
| --- | --- |
| Artist Name | Richard Allen |
| Nationality | British |
| Date of Birth | 8 February 1933 |
| Date of Death | 9 February 1999 |
| Place of Birth | Worcester, United Kingdom |
Richard Allen, born in 1933 in Worcester, was motivated by his father to pursue a career in agriculture. Allen studied at the Shropshire Institute of Agriculture when he first started to become interested in painting. Richard entered the Bath Academy of Art after mastering the fundamentals of op art, where he continued to hone his style and technique. Richard Allen started his painting career in the 1950s, originally in a more conventional manner. He was instantly drawn to the potential of geometric abstractions and optical illusions. He started playing around with different approaches in order to create aesthetically appealing artworks that challenged the point of view of the audience.
Allen's paintings have become renowned for their exact geometric patterns, brilliant colors, and elaborate compositions.
He used precise lines, grids, and recurring patterns to produce optical illusions that seemed to shift, vibrate, or pulse. Allen sought to test the viewer's perception while developing an immersive visual experience by meticulously combining these components. His paintings became in high demand, and he exhibited regularly both in the UK and overseas. Allen's contributions to Op art aided in pushing the frontiers of visual perception and solidifying the movement's position in the art world. Allen was diagnosed with Motor Neuron Disease shortly before his death in 1999, and while he tried to battle it and continue producing work, the condition's quick onset prohibited him from making any progress at all. However, the work he left behind places him among the top Op-artists.
Getulio Alviani (1939 – 2018)
| | |
| --- | --- |
| Artist Name | Getulio Alviani |
| Nationality | Italian |
| Date of Birth | 5 September 1939 |
| Date of Death | 24 February 2018 |
| Place of Birth | Udine, Italy |
Getulio Alviani was born in 1939 in Udine, Italy. His varied artistic approach ranges from optical and programmed art to architecture and graphic design, from investigation to active cultural promotion, and from industrial design to curation. Until 1959, Alviani worked on difficulties pertaining to organized plasticity and visual communication overall, analyzing the complicated world of "realization", and engaging with architects, sculptors, and engineers. In connection to the environment, he created polyvalent monochromatic structures and investigated the possibility of modifying them in constructive and visual terms.
He created dynamic-optical structures out of plastic pieces in sequence, resulting in astonishing luminous vibration phenomena.
Beginning in 1960, his Vibrating Texture Surfaces are the most well-known of his projects: freehand steel and aluminum sheets developed in a strict mathematical sequence. The metal surfaces vary continually in response to the placements of the viewing angles and the light incidence, resulting in constantly changing pictures. The pieces, in which the artist's practice produces specific effects of brilliant reflection and refraction, are both works of art in the traditional sense and stimuli for the senses, according to Argan.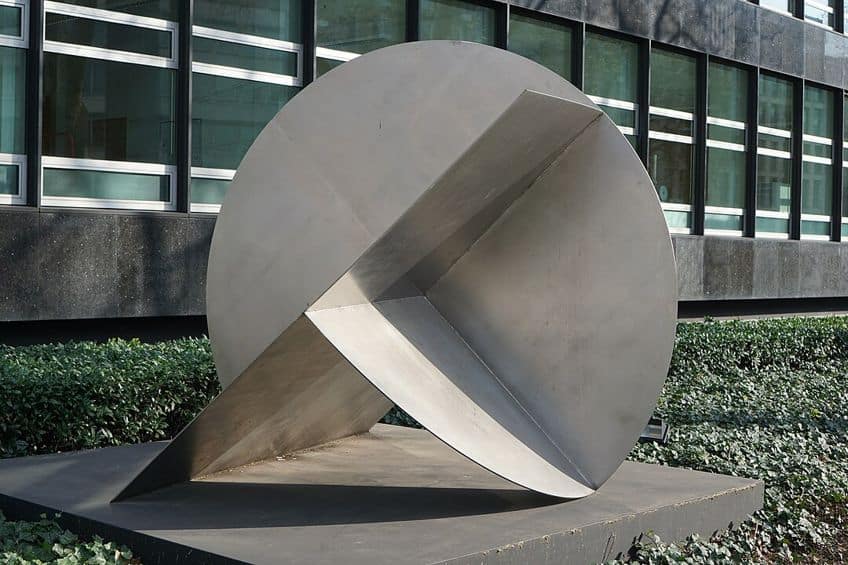 Square + Circle = Volume (1967) by Getulio Alviani; Cfbolz, CC BY-SA 4.0, via Wikimedia Commons
Marina Apollonio (1940 – Present)
| | |
| --- | --- |
| Artist Name | Marina Apollonio |
| Nationality | Italian |
| Date of Birth | 12 November 1940 |
| Date of Death | Present |
| Place of Birth | Trieste, Italy |
Marina Apollonio, an Italian-born artist, is another one of the most famous Pop Art artists. Marina was raised in an artistic environment and developed an early interest in perceptions and visual communication. Apollonio was born on the 12th of November, 1940, in Trieste. When she was eight years old, her family relocated to Venice, where she subsequently studied at the Accademia di Belle Arti di Venezia. Her first piece was completed in 1963. She, like other Op-Artists, was interested in depersonalized art as opposed to Abstract Expressionism. In her approach, she employed industrial materials to create dynamic and fluctuating worlds from the user's perspective.
She joined the international Op Art movement in 1965, interacting and exhibiting her works with other artists.
Apollonio began creating pieces that focused on the orthogonal connection of parallel colored lines in 1975, and she subsequently began working with textiles in 1981. Apollonio examines the different ways in which basic shapes and structures can develop. Following this process, she methodically performs her artwork, which is entirely based on a mathematical methodology. If the primary form is a circle, she develops a way to bring it to life, to make it lively and dynamic, achieving maximum results with the fewest resources.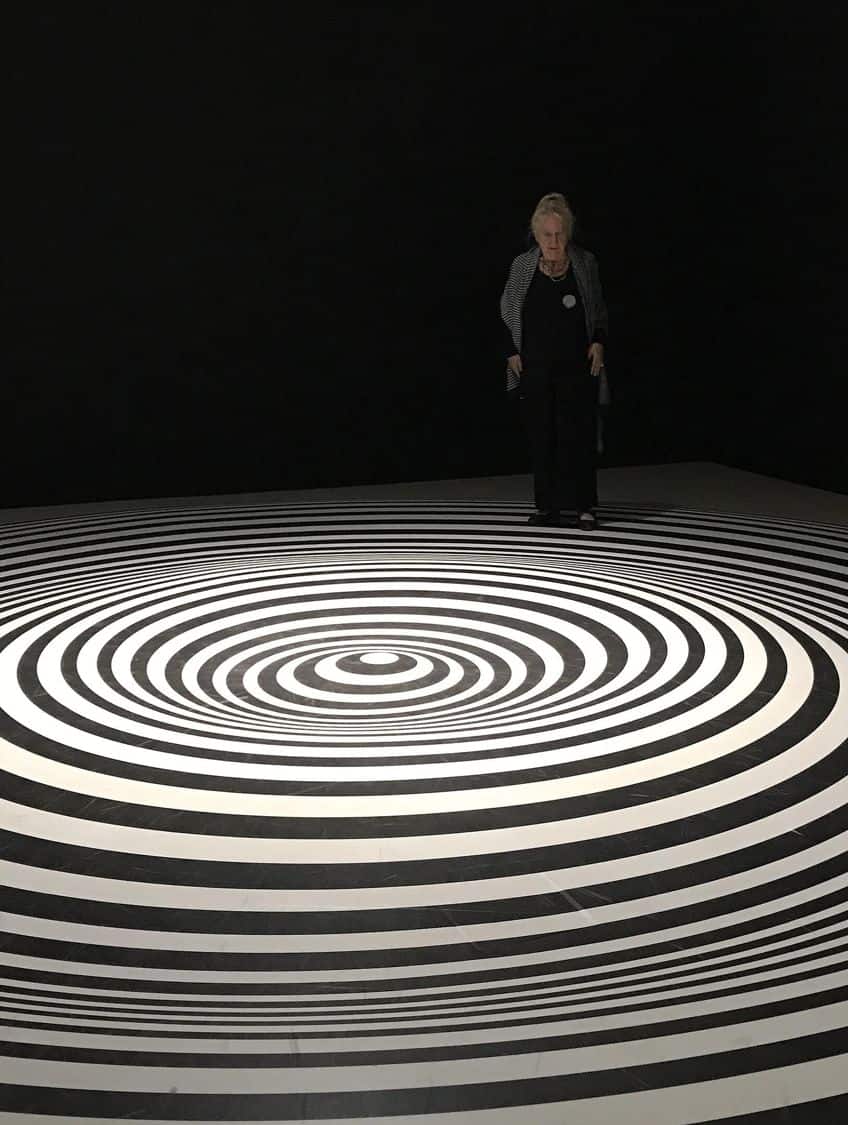 Marina Apollonio, Circular Dynamics 4S, 1968/2019 at Mumok, Vienna (2019); Alzen, CC BY-SA 4.0, via Wikimedia Commons
Carol Brown Goldberg (1940 – Present)
| | |
| --- | --- |
| Artist Name | Carol Brown Goldberg |
| Nationality | American |
| Date of Birth | 1940 |
| Date of Death | Present |
| Place of Birth | Baltimore, Maryland, United States |
Carol Brown Goldberg is a well-known American sculptor and painter who specializes in optical art. The use of reflecting chips nested amid acrylics on canvas distinguishes Goldberg's work. They are mesmerizing and vivid, even hypnotic in nature. Her art is prolific and readily identifiable, with a subtle yet aggressive style. Much of Goldberg's inspiration comes from light, music, geometric design, and brightness. When her art was presented at the Vero Beach Museum, it was characterized as follows: "Goldberg enriches the surfaces of her paintings with pulverized polymer to accentuate her colors and give them a nearly Venetian appearance".
Unlike the pieces of older painters whose hard-edged, geometric compositions look flat and limited, Goldberg's canvases cultivate vitality and lure viewers into a boundless abstract realm.
Carol Brown Goldberg's most recent works have an astral quality to them, combining Op Art with lyrical abstraction, and hard-edged painting to create gateways with views of some tremendous abyss or endless space beyond. Her works of art are inevitably about color and the application of paint to produce translucent veils and opaque constructions which lend definition to the portals and enable viewers to gaze at something accelerating away or towards us – maybe a mass being drawn by a vacuum in space or a cosmic blast with particles hurling toward the viewer – inspired by her mentors, teachers, and fellow students of the Washington Color School.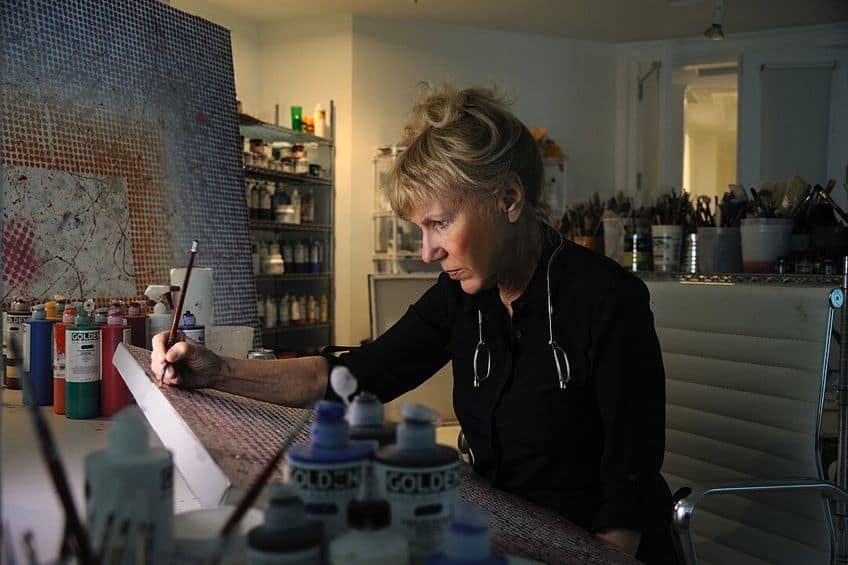 Carol Brown Goldberg in her studio (2013); TonyCesco, CC BY-SA 4.0, via Wikimedia Commons
Richard Caldicott (1962 – Present)
| | |
| --- | --- |
| Artist Name | Richard Caldicott |
| Nationality | English |
| Date of Birth | 1962 |
| Date of Death | Present |
| Place of Birth | Leicester, United Kingdom |
Richard Caldicott is a multidisciplinary artist based in London, England. Caldicott began broadening his body of work after obtaining international renown as a photographer in the 1990s for a collection of abstract images he shot of Tupperware. He added painting, sketching, photograms, and inkjet printing to his studio practice.
With pure color and form serving as the focal points of his artwork, Richard Caldicott creates his pieces in a laborious manner that entails cutting and arranging the paper in the physical environment before photographing it.
This London-based famous Op Art artist works with a variety of materials, experimenting with various photography, drawing, and sculpting methods. Sir Elton John, who has one of the world's greatest photographic collections, hailed Caldicott's work as having the rare capacity to change the medium of photography into something fresh while utilizing the most traditional approach.
Ara Peterson (1973 – Present)
| | |
| --- | --- |
| Artist Name | Ara Peterson |
| Nationality | American |
| Date of Birth | 1973 |
| Date of Death | Present |
| Place of Birth | Boston, Massachusetts, United States |
Ara Peterson is a Boston-born American visual artist who was born in 1973. He is well-known for his music-based films, as well as interwoven relief sculptures and paintings based on wave patterns and a labor-intensive work ethic. Ara Peterson transforms wave patterns into sculptural shapes using wood and paint. He hopes to capture the movements of waves in a static shape while employing the static materials of wood to create the illusion of movement.
Peterson's pieces appear to float, free of weight, and spaceless, offering a profoundly intense experience with vibrant vitality.
Ara defies the features of the technology and materials he employs, resulting in one-of-a-kind pieces and exhibits that leave the observer wondering and questioning the process. Peterson released multiple videos and records as a founding member of Forcefield, an art group. He has produced videos for several musicians such as the groups Black Dice and Panda Bear.
Tauba Auerbach (1981 – Present)
| | |
| --- | --- |
| Artist Name | Tauba Auerbach |
| Nationality | American |
| Date of Birth | 1981 |
| Date of Death | Present |
| Place of Birth | San Francisco, California, United States |
Tauba Auerbach's strict and formal approach to her creative practice has earned her a reputation as a purist. Her proclivity for pure and simple shapes is evident from the start of her career, but it is only with time that the maturity of her style becomes clear. Auerbach's continual fascination with science, particularly physics, and mathematics, leads him along the road of developing properly taught displays. In general, the artist's continued interest in variations on the topic of perception shows a defined purpose essentially anchored in the artist's aim to broaden traditional concepts of spatial experience and dimensionality.
Tauba Auerbach was born in San Francisco. She grew up in a family of theater designers which influenced her early interest in the arts, and her ambition to become a professional artist was unsurprising.
She graduated from Stanford University in 2003 with a BA in Visual Art and then worked as an assistant and sign artist at New Bohemia Signs Gallery in San Francisco from 2002 to 2005. Auerbach's activity has been pulsing since that time when she accomplished various solo projects and collaborations on the outer limits of media and genres and exhibited continuously in museum and gallery contexts. Auerbach, a lifelong physics and math student, deals with structure and connectedness on a microscopic to universal scale in her work.
Op Art is a type of geometric and abstract art that investigates optical senses via the application of visual effects, such as recurring basic shapes and rhythmic patterns, vibrating color combinations, moiré patterns, and foreground-background confusion. Traditionally, every Op Art piece makes use of visual perception tricks, like bending perspective laws to suggest three-dimensional space and combining colors to suggest light and shadow. The famous Op Art artists that we explored today all exemplified the notable advancements that occurred within the movement, and each helped shape its direction.
Frequently Asked Questions
What Kind of Art Do Famous Op Art Artists Create?
They make a kind of art known as Optical art. This type of art relies on optical illusions and patterns that make static images look like they are actually moving. The movement arose in the 1960s and was comparatively short-lived. However, there has been a resurgence of the style in the present era with the rise of digital software that allows one to create such works with relative ease as compared to making it free-hand.
Who Are the Most Famous Op Art Artists in the World?
The Op Art movement arose in the last half of the previous century. While not a particularly long-lasting trend, it did have artists that practiced the style across the globe. Famous Op Art artists include Peter Sedgley, Victor Vasarely, Richard Anuszkiewicz, Richard Allen, Marina Apollonio, Ara Peterson, Richard Caldicott, Carol Brown Goldberg, and Tauba Auerbach. Together, these individuals helped to push the boundaries of this style by incorporating mathematical principles into their works. Their works are renowned for their ability to change and shift when looked at due to their use of optical illusions.
Isabella studied at the University of Cape Town in South Africa and graduated with a Bachelor of Arts majoring in English Literature & Language and Psychology. Throughout her undergraduate years, she took Art History as an additional subject and absolutely loved it. Building on from her art history knowledge that began in high school, art has always been a particular area of fascination for her. From learning about artworks previously unknown to her, or sharpening her existing understanding of specific works, the ability to continue learning within this interesting sphere excites her greatly.
Her focal points of interest in art history encompass profiling specific artists and art movements, as it is these areas where she is able to really dig deep into the rich narrative of the art world. Additionally, she particularly enjoys exploring the different artistic styles of the 20th century, as well as the important impact that female artists have had on the development of art history.
Learn more about Isabella Meyer and the Art in Context Team.
Cite this Article