Jim Dine's artworks developed a language based on themes that exude a child-like aesthetic, such as birds, tools, and hearts. These personal themes in Jim Dine's paintings are common yet universal, resulting in art that is both autobiographical and subject to various interpretations. Let us find out more about this amazing artist by exploring Jim Dine's biography.
Jim Dine's Biography
| | |
| --- | --- |
| Nationality | American |
| Date of Birth | 16 June 1935 |
| Date of Death | N/A |
| Place of Birth | Cincinnati, Ohio |
Dine was also a key figure in the earliest "Happenings," a precursor to performance artwork. These Happenings questioned Abstract Expressionism's earnestness and exclusivity, de-emphasizing the art piece in favor of a participatory, performance experience.
Dine has questioned the validity of art throughout his career while also continuing a legacy of creating work that is rich with symbolism and metaphor.
Childhood
Jim Dine was born in the city of Cincinnati, Ohio. His parents were Eastern European immigrants who were also devout Jews, which affected his creative career. He once stated that he was "raised in a household of ironmongers, and the materials were always around". His family had a hardware business, where he developed a strong fascination with the potency of everyday items.
He was particularly taken with the "mythic" or "metaphorical" character of iron-working equipment, which inspired his early 1960s works in which he glued tools to canvases, producing combinations of found items and pictorial images.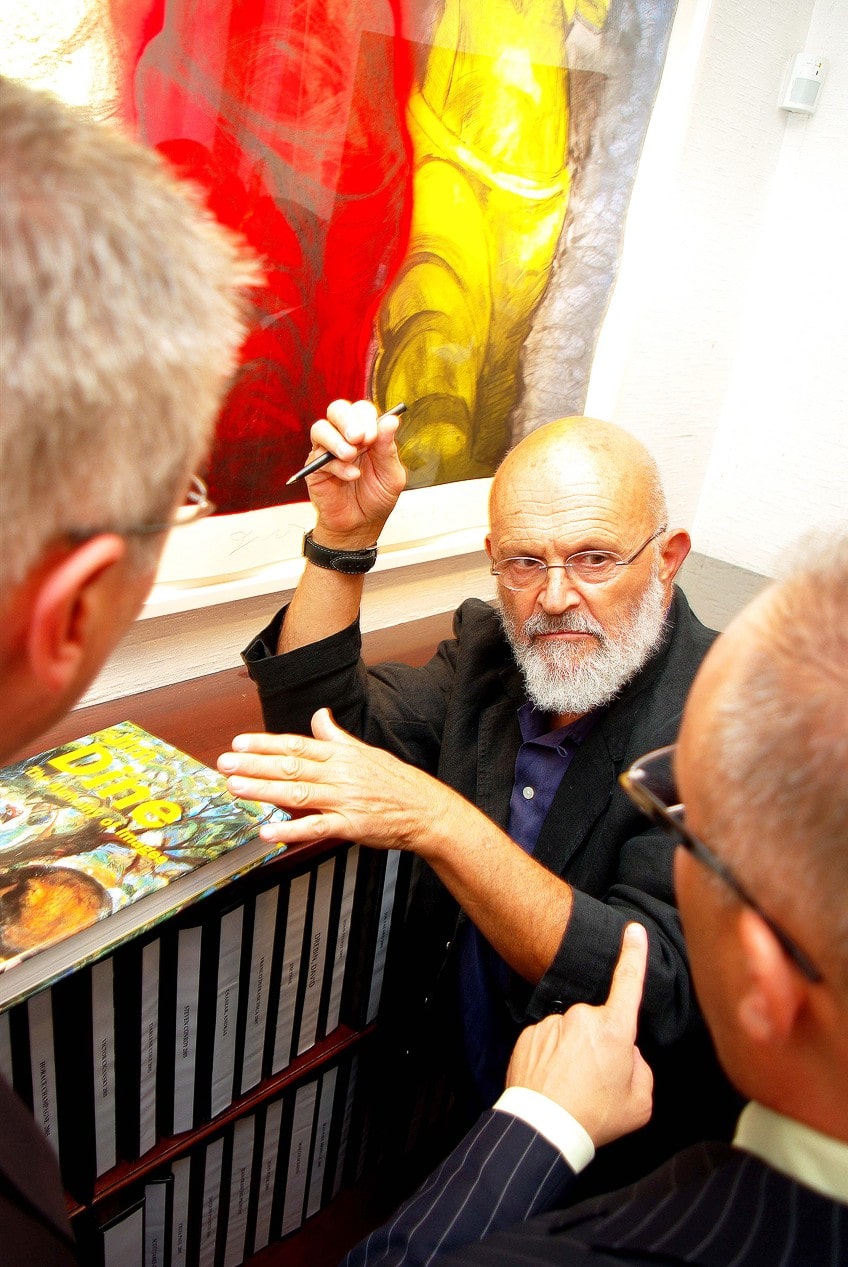 Artist Jim Dine at the Galerie de Bellefeuille in Quebec, Canada, in 2009; Martin C. Barry, Attribution, via Wikimedia Commons
The artist's mother passed away when he was only 12 years of age, and as a result, he had to take care of himself. He went to the University of Cincinnati after graduating from Walnut Hills High School. He found that reading was difficult because he was dyslexic, but found poetry was easier to read than novels.
As a result, he has always been an admirer of poetry as well as a poet himself.
Early Training and Work
Dine began attending evening sessions at the Art Academy of Cincinnati in 1953, where he studied under Abstract Expressionist artist Paul Chidlaw. Jim Dine would eventually abandon this technique, yet his painterly instruction would influence his subsequent work. He attended Ohio University and obtained a BFA in 1957. He married Nancy Minto the following year, and the pair relocated to New York in 1958.
Dine met and collaborated with several notable artists in New York, including Allan Kaprow, Claes Oldenburg, and John Cage.
They collaborated on "Happenings," a series of wild events that took place around the town, primarily downtown, away from the locations normally associated with art galleries and museums. One of the goals of the "Happening" was to break away from the prevalent Abstract Expressionist aesthetic favored by the art industry. Dine subsequently explained, "We were believed to be the heirs of Pollock's legacy. That's nonsense. Oldenburg and I emerged from the theater we loved; we were educated, young men". Dine encountered Oldenburg shortly after moving to New York, and the two became fast friends.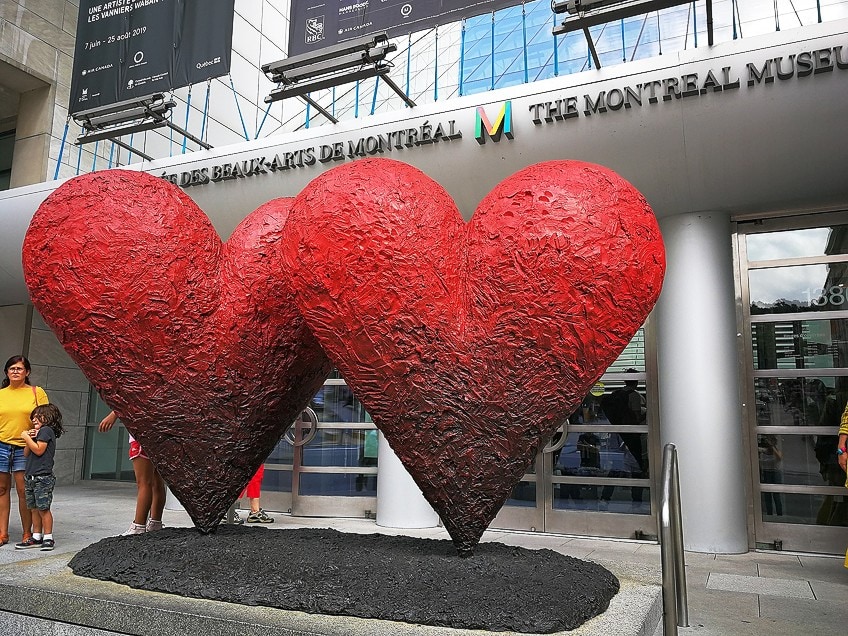 Twin 6'Hearts (1999) by Jim Dine, located in Montréal, Canada; art_inthecity from Montréal, CA, CC BY 2.0, via Wikimedia Commons
Dine recounts being connected through a friend who owned an art studio in Greenwich Village's Judson Memorial Church: "Claes and I got acquainted, consumed a lot of alcohol, and spoke for hours. We discussed what we could do." These discussions led to the establishment of Judson Gallery, which Jim Dine and a group of friends launched in 1959 in a Greenwich Village basement.
Before shutting down in 1961, the gallery displayed notable experimental art as a counterpoint to the Upper East Side's dominance of abstract expressionism.
Mature Period
Walter Hopps commissioned Dine to create art for his innovative exhibition in 1962. Jim Dine's paintings were included with works by Andy Warhol, Roy Lichtenstein, and Ed Ruscha in what is widely regarded as the inaugural exhibit of Pop art in the United States. Dine's prominence and role in the new art movement were cemented by this exhibition, yet Dine never considered himself a Pop artist.
Rather, he saw himself as carrying on the heritage of artists like Robert Rauschenberg and Jasper Johns.
He would reject Warhol by claiming "I didn't know what to say to Warhol. He came to my workshop early on and purchased stuff, and I knew him as a renowned graphic designer". Jim Dine's artwork was well-known on worldwide level by the mid-1960s. Robert Fraser held an exhibit of Jim Dine's paintings at his London gallery, but police interrupted the exhibit and confiscated 20 of Jim Dine's artworks; Fraser was charged under the Obscene Publications Act. The court subsequently decided that Jim Dine's paintings were "indecent," not "obscene," and labeled them "crassly unpleasant and repulsive".
Roman Red Venus (the Blue Patina) (2007) by Jim Dine, located in Montréal, Canada; art_inthecity from Montréal, CA, CC BY 2.0, via Wikimedia Commons
Fraser was severely fined for displaying them. The next year, Dine decided to relocate to London with his family where Fraser proceeded to promote him and he became friends with musicians like R.B. Kitaj. Dine only resided in London for four years, but his passion for the city lasted his entire life. When Dine returned to America in 1971, he decided to concentrate on his drawing, attempting to polish his technique and produce a softer, more delicate approach. He was an accomplished draftsman who made several portraits of his wife and himself.
During these years, he also established a number of visual themes that would appear again in his artworks, such as bath robes, hearts, and artists' palettes.
Dine started experimenting with sculpture as a medium in the 1980s. He developed a series of large-scale heart-shaped installations for a range of outdoor venues. Several of his sculptures were created using blow-torches and saws in an almost heavy-handed way characteristic of workmen's methods, tying these three-dimensional works to his longstanding obsession with laborers and their equipment.
Current Practice
In contrast to his previous conceptual and Pop-style paintings, Dine's most recent work has been predominantly photographic. Dine believes that photography has a force that other mediums do not, saying, "It's been quite enlightening to me what one may express with photography that I haven't desired to convey with sculpture and painting.
Dine has also created new personal iconography, drawing inspiration from his background and a lifelong obsession with birds.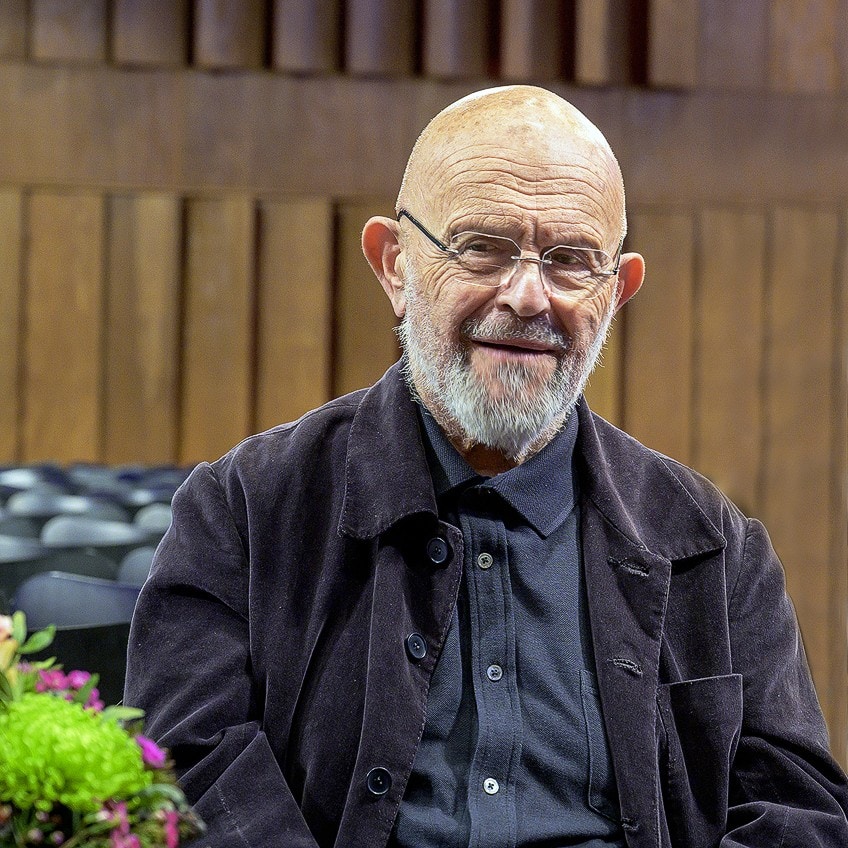 Photograph of Jim Dine in 2019; Hpschaefer, CC BY-SA 4.0, via Wikimedia Commons
Dine wedded Diana Michener, his companion since the early 1990s, in 2005. Dine has multiple studios in Walla Walla, which is in the Blue Mountains. They also maintain a residence in New York's West Village, although Dine continues to travel regularly, frequently establishing temporary workshops in various locations when working on specific projects or preparing for exhibits.
Legacy
Jim Dine's legacy encompasses a wide range of artistic genres and media. His major influence may be seen in the rise of performance art amid the New York Happenings. These impacted groups like Neo-Dada and Fluxus, with artists like Yoko Ono and Joseph Beuys expanding on avant-garde concepts articulated in these early Happenings. Despite his rejection of the Pop art label, his vivid works in this style, along with the work produced by painters such as Roy Lichtenstein, Andy Warhol, and Ed Ruscha, had a considerable effect on the younger generation.
Artists of the Neo-Pop style, such as Jeff Koons, adopted Dine's themes of elevating everyday things to the rank of high art.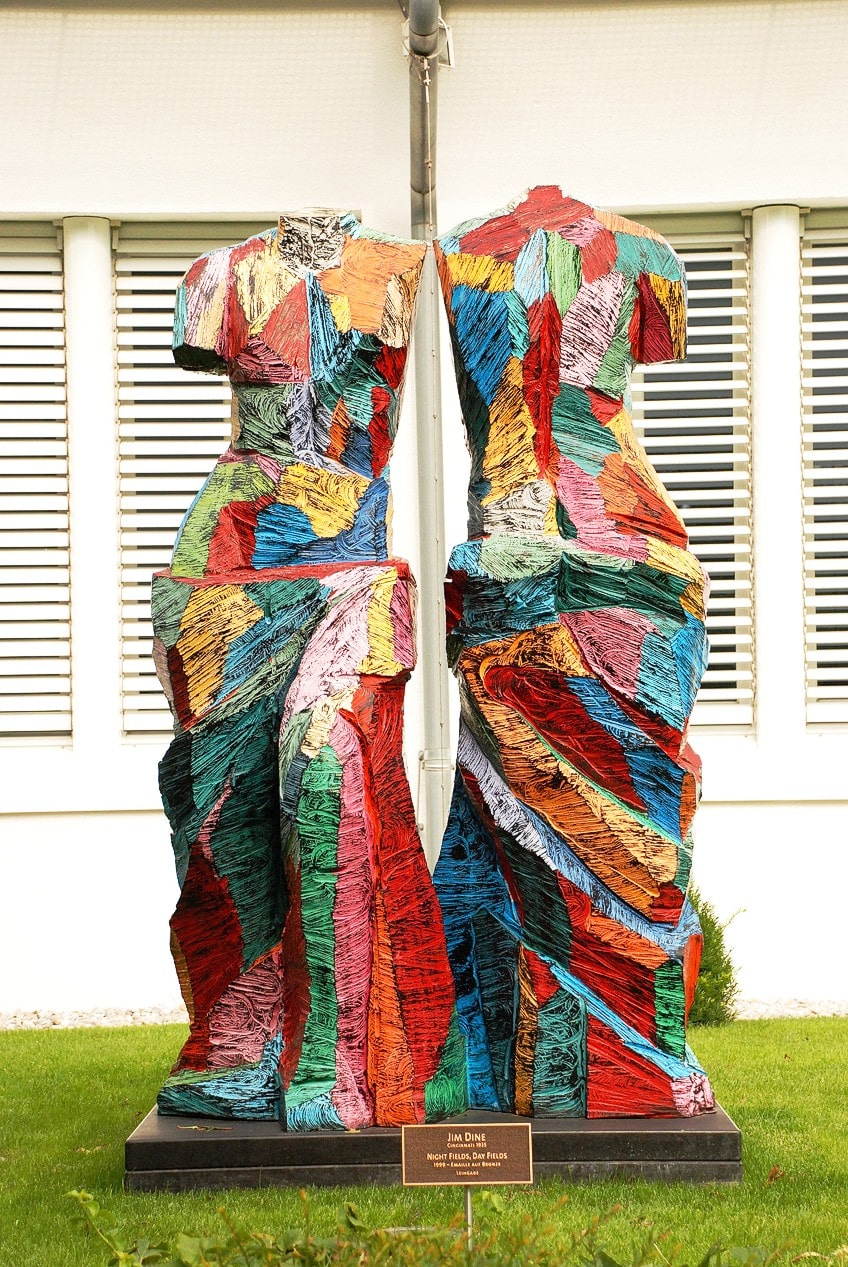 Night Fields, Day Fields (1999) by Jim Dine, located in Munich, Germany; Rudolph Buch, CC0, via Wikimedia Commons
Style and Accomplishments
Dine is motivated by simple pictures' ability to be both intimate and meaningful. His repetition of bathrobes, tools, or hearts is simple to understand while simultaneously hinting at deeper layers of significance. He frequently employs topics and pictures from his youth, lending his work a feeling of innocence as well as collective nostalgia.
Dine avoided the association with Pop art because of his powerful graphic style, vivid colors, and clear, popular iconography.
Instead of a more straightforward embrace of iconic symbols, he considered his works as a continuation of Jasper Johns' or Robert Rauschenberg's Neo-Dada art, challenging the significance of symbols. Dine's participation in the first "Happenings" broadened his reach outside traditional art media. The Happenings were a notable rebuke of Abstract Expressionism's seriousness and established a pattern for Performance art. Moreover, in these performances, his portrayal of the art object as unnecessary influenced postmodern art.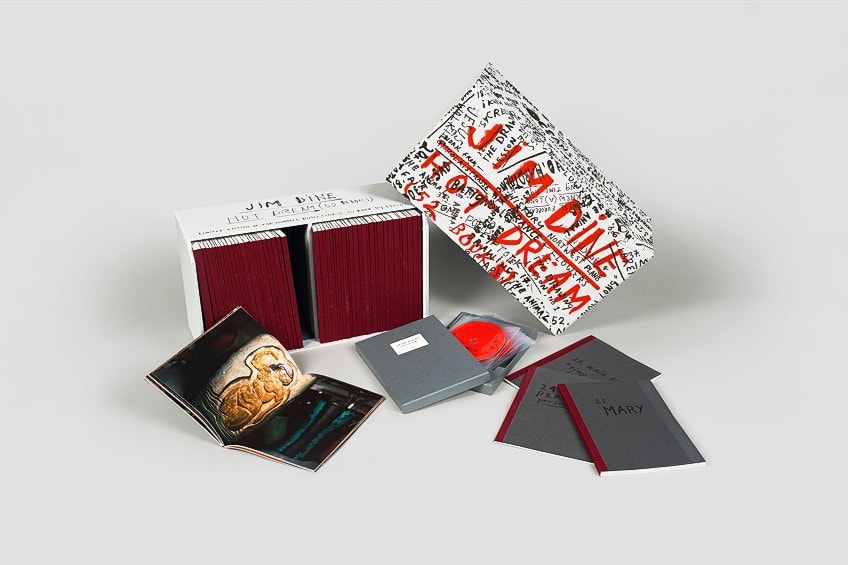 Jim Dine's Hot Dream (52 Books), Steidl, Göttingen, 2009; Steidl, CC BY-SA 4.0, via Wikimedia Commons
While Conceptual art was emerging, Jim Dine's utilization of iconic motifs and recurring patterns sought to reinterpret how pictures convey meaning. Dine demonstrates that simple everyday objects can be essential themes for aesthetic study by repeatedly showing them.
Expanding on Marcel Duchamp's readymades, these commonplace things take on a new, profound significance only because the artist selected and analyzed them repeatedly.
Dine considers them suitable topics to be appreciated in art by isolating and placing them in a museum or gallery environment, converting them into something substantial. Dine's conceptual work converts Duchamp's gesture into part of a genuine examination of how the artistic technique transcends the commonplace.
Important Artworks
We have just taken a look at Jim Dine's biography and legacy above. Now you might be interested in checking out some of his artworks. Below is a list of some notable Jim Dine artworks that you can peruse in your own time.
| | | | |
| --- | --- | --- | --- |
| Artwork | Date | Medium | Location |
| The Smiling Workman | 1959 | Performance art | Once-off at the Martha Jackson Gallery, Manhatten |
| Car Crash | 1960 | Performance art | Once-off at the Reuben Gallery, New York |
| Double Isometric Self-Portrait | 1964 | Oil on canvas, with metal hardware and dowels | Whitney Museum of American Art, New York |
| Hearts in the Meadow | 1970 | Oil, enamel, graphite, charcoal, glitter, and collage elements on paper | Private collection |
| Ten Winter Tools | 1972 | Hand-colored lithographs on paper | Collection of the Tate, United Kingdom |
| Looking Toward the Avenue | 1989 | Bronze | Sixth Avenue, New York |
| Two Thieves One Liar | 2007 | Wood | Pace Gallery, New York |
Recommended Reading
We are almost at the end of this article about Jim Dine, but before you go, why don't you have a look at these awesome books that are available. They will help give you an even deeper understanding of Jim Dine's artwork and lifetime.
Whether for a birthday present or for your own enjoyment, books are always a great idea!
Jim Dine: This Goofy Life of Constant Mourning (2004) by Jim Dine
This book displays a symbiotic union of three extremely personal elements: his images, his handwriting, and his words, the product of years of capturing poetry after he has scribbled them on walls and objects. While distinct in its own right, this collection of work is consistent with Dine's larger oeuvre, a multidisciplinary endeavor in which the artist strives to reach his psyche. Regardless of the medium, Dine has a familiar but ever-expanding repertoire of images: hearts, tools, and Venus's torso, as well as more modern imagery of skulls, a Pinocchio doll, crows, and an odd-couple cat and ape.
Result of years of photographing poems after writing them on walls
A collection of Dine's photographs, handwriting, and word
In keeping with Dine's greater oeuvre
View on Amazon
Jim Dine: Electrolyte in Blue (2021) by Jim Dine
This book is essentially a "long hate poem" about "the evil in our increasingly little globe and those who released it," touching on racism, anti-Semitism, climate change, and the international leaders he hates, most notably Donald Trump. Dine's rage and disappointment are palpable, yet his outlook is not solely pessimistic. He writes over vibrantly colored aquatints, etchings, and lithographs on botanical subjects.
Based on a macabre and glorious poetic tirade by Dine

Addresses racism, climate change, and Trump's presidency

The book is based on the original

Electrolyte in Blue

by Ruth Lingen
View on Amazon
Jim Dine's diverse multimedia approach has included drawing, printing, painting, sculpture, poetry, photography, and performance since the 1950s. Dine, together with Allan Kaprow and Claes Oldenburg, was a founding member of the Happenings movement, producing innovative live performances across mid-century New York City. His work later influenced art trends such as Pop, Neo-Dada, and Neo-Expressionism.
Frequently Asked Questions
Who Is Jim Dine?
Dine was a prominent figure in the early so-called Happenings, which served as a forerunner to performance art. These Happenings called into question the sincerity and exclusivity of Abstract Expressionism, de-emphasizing the artwork in favor of a participatory, performance experience. Throughout his career, Dine has questioned the value of art while simultaneously carrying on a heritage of making work that is rich in symbolism and allegory.
What Style Is Jim Dine's Artwork?
Drawing, printing, painting, and photography are among Jim Dine's mediums. His early works included assemblages, but his poetry production, both in publishing and readings, has expanded in recent years. Pop art, Neo-Dada, and Modern art have all been used to define his work. During the late 1970s and early 1980s, however, he was recognized as a pioneer of Neo-Expressionism and the new school of figure painting. Furthermore, in the 1980s, he began to devote more attention to sculpting.
Isabella studied at the University of Cape Town in South Africa and graduated with a Bachelor of Arts majoring in English Literature & Language and Psychology. Throughout her undergraduate years, she took Art History as an additional subject and absolutely loved it. Building on from her art history knowledge that began in high school, art has always been a particular area of fascination for her. From learning about artworks previously unknown to her, or sharpening her existing understanding of specific works, the ability to continue learning within this interesting sphere excites her greatly.
Her focal points of interest in art history encompass profiling specific artists and art movements, as it is these areas where she is able to really dig deep into the rich narrative of the art world. Additionally, she particularly enjoys exploring the different artistic styles of the 20th century, as well as the important impact that female artists have had on the development of art history.
Learn more about the Art in Context Team.