Jenny Saville is one of the most important painters working today. Her monumental and visceral oil paintings of the female figure are fleshy and transcend the boundaries of classical figuration. By combining figuration and abstraction, Jenny Saville's art presents an un-idealized version of the female nude that counters the male gaze and reimagines what painting can be in contemporary art. This article explains the relevance and importance of Jenny Saville's art.
Artist in Context: Who Is Jenny Saville?
| | |
| --- | --- |
| Date of Birth | 7 May 1970 |
| Country of Birth | Cambridge, United Kingdom |
| Art Movements | Neo-Expressionism |
| Mediums Used | Oil painting, charcoal |
Jenny Saville is a current contemporary British artist who challenges the way that the female nude has been represented throughout art history. As Saville draws on the history of the nude, she challenges the male gaze by not depicting the typical idea of female beauty as smooth and petite, but rather as imperfect and unidealized.
Her large fleshy paintings of obese women are also a statement of how many women see themselves. In her important works, Saville presents the female nude with presence, challenging the viewer.
Early Life and Education
Jenny Saville was born in Cambridge on the 7th of May, 1970, to parents working in education. As a child, Saville moved to several different schools, following her father's dynamic career as a school administrator. Saville was interested in art from the age of eight and her parents encouraged her to pursue independent work.
Saville's uncle, Paul Saville, was an artist and historian, and as head of the Liberal Arts at Clare College, he was an early influence on her appreciation of art.
Following her uncle's advice, Saville pursued an undergraduate degree in art from the Glasgow School of Art in the late 1980s. Saville enjoyed her time at Glasgow School of Art and achieved great success during her studies, receiving a six-month scholarship for exchange studies at the University of Cincinnati in the United States. Here she saw an exhibition of unidealized female nudes, an early influence in her career. Saville graduated with a BFA in 1992 and an image of her graduate exhibition appeared on the cover of the Times Saturday Review.
This cover grabbed the attention of Charles Saatchi, an important art collector, and advertising executive. Saatchi offered Saville an 18-month contract where she could create monumental oil paintings with financial support.
Mature Period
Saville remained intrigued by her earlier visit to the USA and was fascinated by the large bodies of women and the rise in popularity of plastic surgery. In 1994, Saville returned to the USA where she got the opportunity to observe procedures done by a New York plastic surgeon.
In the same year, Saville's paintings were included in an exhibition titled "Young British Artists III" at the Saatchi Gallery. In this exhibition, Saville is showcased alongside contemporaries including Tracey Emin, Sarah Lucas, and Damien Hirst.
In 1997, Saville's work was again showcased in an important exhibition, titled Sensation, hosted by the Royal Academy of Art in London. This exhibition traveled in 1999 to the Brooklyn Museum, where it was received with much controversy. Jenny Saville was soon considered an important artist as part of the "Young British Artists". This group of artists included Damien Hirst, Rachel Whiteread, and Tracey Emin, and their work was mostly conceptual in nature.
Saville, however, never considered herself to be part of this group and found more affinity with American painters, such as Cy Twombly and Willem de Kooning.
At her core, Jenny Saville is a painter's painter. Although Saville showcased her work frequently in both the UK and in America, she decided to buy an apartment in Palermo, Italy. She said that she fell in love with the city and her new apartment was also home to her new studio space.
Current Work
Saville moved from Italy black to the UK in 2014 where she now lives in Oxford with her partner, Paul McPhail, and their two children. Motherhood greatly influenced Saville's work and her children's spontaneity persuaded her to take a freer approach to her choice of material and subject matter.
Saville's new work is still primarily concerned with the human body, but instead of only painting the female nude, she now also references motherhood, ancient myth, and art history.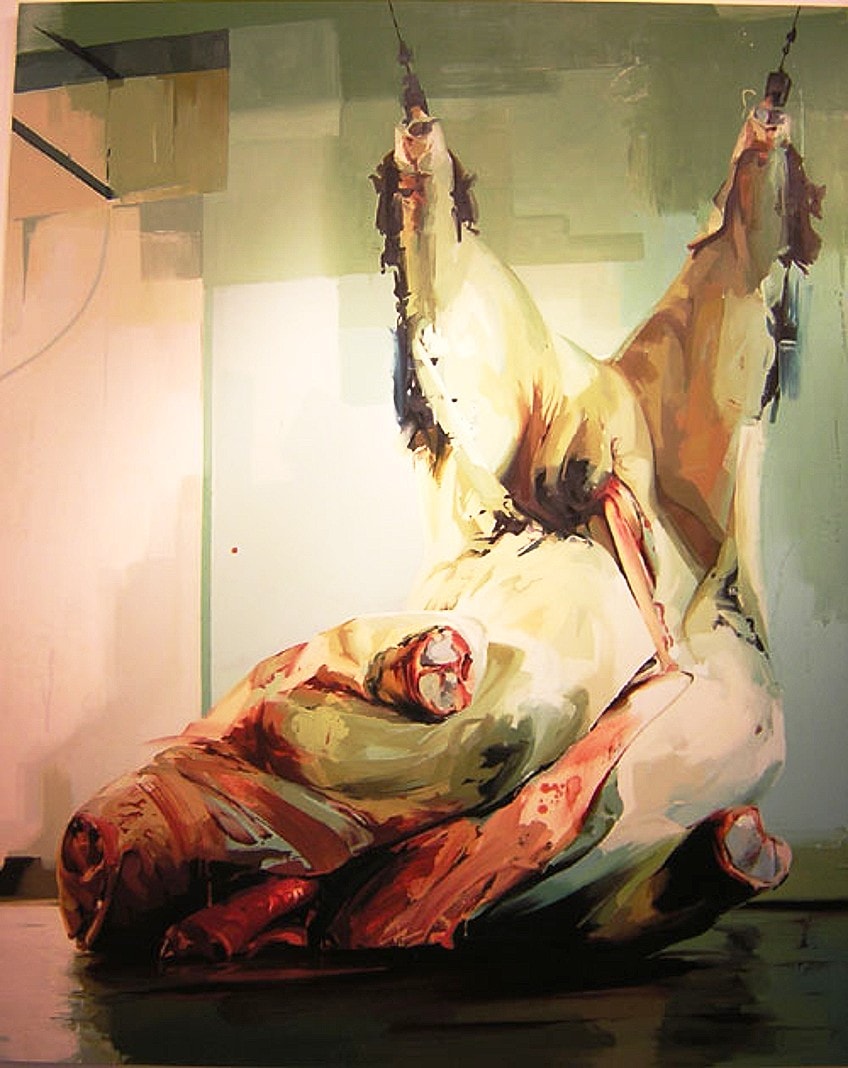 Torso (2004 – 2005) by Jenny Saville, oil on canvas; Diego Carannante from Rome, Italy, CC BY 2.0, via Wikimedia Commons
Her work now also includes charcoal and pastels. Her use of charcoal and pastels enable her to create more dynamic and layered drawings and paintings, as opposed to her earlier thick oil paintings that were fleshier and more static.
Important Jenny Saville Paintings
Jenny Saville's paintings have an incredible physicality to them and within the paint, one sees flesh. Her fleshy works are painted in a way that the artist's brush seems to be massaging the flesh of enormous female bodies, bruised and painful.
There are several important Jenny Saville drawings and paintings that can be discussed as seminal works by the artist.
In this section, however, we will only consider four seminal works. These Jenny Saville paintings are selected based on their popularity and excellence, and because they plot key moments throughout Saville's career thus far.
Propped (1992)
| | |
| --- | --- |
| Artwork Title | Propped |
| Date | 1992 |
| Medium | Oil on canvas |
| Size | 213.4 cm x 182.9 cm |
This Jenny Saville self-portrait is considered one of the most important paintings created by a British artist in the last 30 years. In this painting, Saville portrays herself in a way that challenges the male gaze and breaks down traditional representations of the female nude. This monumental painting shows the artist sitting down in the nude, balancing on a kind pedestal, and staring down at the viewer.
Inspired by artists such as Francis Bacon and Lucian Freud, Saville paints her body in thick layers of paint, enlarging and exaggerating her proportions to be huge and grotesque, fleshy and visceral.
Her flesh is painted in hues of blues, yellows, and pinks, and every imperfection in the body is highlighted. Jenny Saville's self-portrait interrogates society's preconceived ideas of beauty and the female muse in art history.
This painting broke the record for the most expensive artwork sold by a living artist and sold for an incredible £9.5 million at an auction at Sotheby's London.
Plan (1993)
| | |
| --- | --- |
| Artwork Title | Plan |
| Date | 1993 |
| Medium | Oil on Canvas |
| Size | 274 cm x 213.5 cm |
This Jenny Saville artwork depicts a female nude marked with contour lines across her body. The body of the nude becomes like a landscape, referencing a topographical map of hilly terrain. These lines across the female body are to indicate areas where the procedure of liposuction is to take place. Saville comments that the contours in the body were not drawn onto the painting, but rather "cut" into the thick layers of paint, as a surgeon would cut into a body.
In this work, the brushwork is simultaneously crude and delicate. The paint is thick and expressive, and yet every detail of the figure is captured as one can see the detailed veins, hairs, and dimples.
Passage (2004 – 2005)
| | |
| --- | --- |
| Artwork Title | Passage |
| Date | 2004 – 2005 |
| Medium | Oil on canvas |
| Size | 336 cm x 290 cm |
This work was created when Saville moved to Italy. At the time, she was photographing transgender people and transvestites in Rome. This Jenny Saville artwork depicts a transgender woman with surgically enhanced breasts and natural male genitalia. Saville comments on this work by saying that she was searching for the body that exists "between genders".
This type of body, Saville comments, could not have existed 30 or 40 years ago. The work explores the idea of gender fluidity and a new architecture of the body.
The body presented is confident, sitting outstretched and looking the viewer seductively in the eyes. The figure is sensually painted with thick paint and it is outstretched out of the picture frame as it cannot be contained within a canvas.
In this way, the body yet again resembles a landscape, and in this work, in particular, Saville referred to the painting as a "gender landscape".
Saville's Passage was made at a time where LGBTQIA+ issues were starting to present themselves in contemporary societies, which led to Saville wanting to create work that challenged the social constructs around gender.
Mothers (2011)
| | |
| --- | --- |
| Artwork Title | Mothers |
| Date | 2011 |
| Medium | Oil on canvas |
| Size | 270 cm x 220 cm |
This is a work in which we can see how motherhood had influenced the artist. The work is another Jenny Seville self-portrait in which she portrays herself being far along in her pregnancy, whilst struggling to keep hold of two infants. The painting references Renaissance Nativity scenes, but it is created in a rather chaotic style, creating a feeling of urgency and panic.
In this work, Saville uses both the thick painting style she is known for, as well as spontaneous line work. The work can be seen as one of the first Jenny Saville drawings as the figure is drawn and erased multiple times, creating an effect of a dynamically moving body through the layers of the drawing.
This work is part of Saville's series titled Continuum, and it investigates how the female body is affected by pregnancy and childbirth. During this time, Saville also began to reference the feelings and emotions associated with motherhood, which dramatically challenged how motherhood had historically been represented in art history.
By using the reference to Nativity paintings, such as paintings of the Virgin Mary with the baby Christ, Saville draws attention to how motherhood had traditionally been portrayed as a harmonious experience. Her work, in contrast, shows the reality of the multitude of struggles, and the overwhelming range of emotions that motherhood truly contains.
Reading Recommendations
Jenny Saville is an artist still living and working today, and as such there are bound to be new books released on her work in the future. There are however multiple exciting and important publications on the artist and her work at the time. Below are a few book recommendations to learn and see more of Jenny Saville's important work.
Jenny Saville: Oxythynchus (2015) by John Elderfield
This book explores Jenny Saville's more recent work where she expanded her use of mediums to include a combination of oil paint, charcoal, and pastel. The book explores the layered nature of Jenny Saville's drawings and presents images that show a landscape of figures, weaved and layered over each other. The book has illustrations and analyses of a dozen of this body of work.
References a mysterious narrative of layered bodies and images
A dozen new artworks in oil, charcoal, and pastel on canvas
Combo of landscape and figures weaving throughout each other
View on Amazon
Jenny Saville (2018) by Richard Calvocoresi and Mark Stevens
This book is the most comprehensive monograph of Jenny Saville's art to date. The book included never before published paintings from her 2018 exhibition at Gagosian in New York. The book also includes essays that explore the impact and relevance of Saville's work over the decades. A further appeal of the book is that it includes the transcript of a conversation between Jenny Saville and American photographer Sally Mann.
Most comprehensive monograph on figurative painter Jenny Saville

Essays explore Saville's continuing fascination with the human body
Illustrated chronology of Saville's career completes this volume
View on Amazon
Disrupted Realism: Paintings for a Distracted World (2019) by John Seed
This book is a publication that surveys the works of 38 artists who are challenging the traditional way of representing the figure in realist art. These 38 artists, one of which is Jenny Saville, are seen as artists who are responding to the disruptions of the modern world. They are described as visionaries in the developing movement of the abstract representation of the human figure in contemporary painting.
The first book to survey the works of contemporary painters
Works of 38 artists who respond to the modern experience
Six sections lay out and analyze common themes
View on Amazon
Jenny Saville treats every female figure that she paints with a complex mixture of apprehension, empathy, delicacy, vulnerability, power, and awe. Her monumental sculptural paintings are full of glory and expansion. Her important paintings question not only the male gaze on the female figure but also the way in which many women see and feel about themselves. Jenny Saville's art demonstrated that painting as a medium is still relevant and important as a contemporary art medium.
Take a look at our Jenny Saville art webstory here!
Frequently Asked Questions
Who Influenced Jenny Saville?
Jenny Saville was influenced by artists such as Francis Bacon, Frank Auerbach, and Lucian Freud. She also looked closely at the way women were presented throughout art history and ancient myth.
Why Does Jenny Saville Use Oil Paint?
Jenny Saville uses oil painting as her main medium in her work. The reason for this is that oil paint has the right viscosity so that every brushstroke can be seen. Oil paint also has a richness of color and can be very thickly applied. This is important in Jenny Seville's art, which aims to show the fleshiness of the human body.
What Art Movement Does Jenny Saville Belong To?
Jenny Saville is a contemporary British artist. Her work is both figurative and abstract and many subscribe her works to the Neo-Expressionist movement. Her paintings, whilst figurative, are also conceptual, and she is described simply as a contemporary artist.
Chrisél Attewell (b. 1994) is a multidisciplinary artist from South Africa. Her work is research-driven and experimental. Inspired by current socio-ecological concerns, Attewell's work explores the nuances in people's connection to the Earth, to other species, and to each other. She works with various mediums, including installation, sculpture, photography, and painting, and prefers natural materials, such as hemp canvas, oil paint, glass, clay, and stone.
She received her BAFA (Fine Arts, Cum Laude) from the University of Pretoria in 2016 and is currently pursuing her MA in Visual Arts at the University of Johannesburg. Her work has been represented locally and internationally in numerous exhibitions, residencies, and art fairs. Attewell was selected as a Sasol New Signatures finalist (2016, 2017) and a Top 100 finalist for the ABSA L'Atelier (2018). Attewell was selected as a 2018 recipient of the Young Female Residency Award, founded by Benon Lutaaya.
Her work was showcased at the 2019 and 2022 Contemporary Istanbul with Berman Contemporary and her latest solo exhibition, titled Sociogenesis: Resilience under Fire, curated by Els van Mourik, was exhibited in 2020 at Berman Contemporary in Johannesburg. Attewell also exhibited at the main section of the 2022 Investec Cape Town Art Fair.
Learn more about the Art in Context Team.