Lucian Freud – Taking a Look at Lucian Freud's Art and Biography
You would surely be destined for greatness if you were the grandson of the revolutionary Sigmund Freud! Yet, no birthright or innate talent can secure the title of genius without dedication and hard work. Lucian Freud dedicated his life to his art and became one of the most influential and exceptional painters of the 20th century. Despite his immense fame, he led a remarkably private life, wrapped in mystery. In this article, we will explore who this elusive artist was and why his paintings redefined the way we look at portraiture today.
Artist in Context: Who Was Lucian Freud?
Lucian Freud is one of the most recognizable names of the 20th-century British art scene. The remarkable thing about his career as a painter, which spanned over nearly seven decades, is the consistency of his style. His expressionist portraits and figure paintings remained unmistakably unique right up to the end when he passed away at age 88. Celebrated as a figurative painter and portraitist, Freud's models included mostly himself, his friends, and his family.
In his notoriously long sessions with sitters, Freud managed to capture more than just the physical features of his models. His somewhat unsettling paintings bared a psychological intensity that seems to ask, "What are people really?"
| | |
| --- | --- |
| Date of Birth | 8 December 1922 |
| Date of Death | 20 July 2011 |
| Country of Birth | Berlin, Germany |
| Art Movements | Expressionism, Realism |
| Genre / Style | Figurative |
| Mediums Used | Oil Painting, Etching |
| Dominant Themes | Portraiture |
The Birth and Early Life of Lucian Freud
Lucian Freud was born in Berlin in 1922 to architect Ernst Freud and was the grandson of the psychologist Sigmund Freud. Freud was born to an Austrian Jewish mother and a German Jewish father, which made it dangerous for him to have a complete childhood in Germany at the time. At age 11, in 1933, Freud emigrated with his family to London, Britain, to escape the rise of Nazism. This was the same year that Hitler was made chancellor of Germany.
In London, Freud attended school for only a short period, as he was soon expelled for disruptive behavior.
Education and Artistic Style
Lucian Freud's artistic style can be divided into his early style and his mature style. In the sections below, we explore his foundation years, what influenced his early style, and what defines his mature style.
The Foundation Years (1939 – 1944)
After being expelled from school, Freud enrolled at the Central School of Art in London. He stayed here for a brief period and shortly after, from 1939 to 1942, found greater success in Dedham, when he attended the Cedric Morris's East Anglican School of Painting and Drawing. Surprisingly, he decided in 1941 to serve as a merchant seaman for the Atlantic convoy, only to be invalided a year later. Hereafter, he spent a year (1942-1943) at Goldsmith's College, which is part of the University of London. In 1944 Freud had his first solo exhibition at the Lefevre Gallery in London.
Whilst he traveled to Paris for an extensive visit to painter John Craxton, and frequently shared a studio in Dublin with artist Patrick Swift, he decided to make London his home for the rest of his life.
Early Style and Influences (1944 – 1950)
Freud's early style, which included mostly very small artworks, is often seen to be influenced heavily by Surrealism and Expressionism. This is because of the skewed and exaggerated compositions of people, animals, and their surroundings. He often painted with muted colors and strange skin tones, something that he developed even more in his later works.
While the paint in his later works was thick and textured, some of his early works were thinly painted, an example of which is his well-known 1946 self-portrait, titled Man with Thistle. Some of his early works also included drawings on etching plates, a medium which he returned to again later in his life.
Freud was later identified as part of a group of artists who were called the "School of London". This group of acquainted artists included Francis Bacon, Reginald Grey, Leon Kossof, Frank Auerbach, and Michael Andrews, amongst others. This group of artists were contemporaries of each other and was characterized by artist R.B. Kitaj for their unique figurative style of work.
This figurative style was described as "controversial" to the art world of that time, which was mostly dominated by Minimalism, Abstraction, and Conceptualism.
The "School of London" group symbolized a young generation that had a renewed interest in figurative painting, whilst the rest of the art world seemed to deem it out of fashion. The result was an emergence of a new style of figurative painting that included aspects of Expressionism, Surrealism, and Realism. These paintings were not merely a direct representation of the model, but also reflected within the figure something of the world in which they exist.
Mature Style (1950 – 2011)
Freud's mature style started developing when he was a tutor at the Slade School of Art from 1949 to 1954. In fact, it is in the 1950s when Freud began to exclusively focus on portraits and nudes. It is however only in 1966 that he painted his first full-length nude. This 1966 painting titled Naked Girl was the first of a series of nudes that Freud created.
It is shortly after his time at the Slade School of Art that his style developed into the one that he is so well known for; the thickly textured paintings made with large brushes and the varied colors of flesh that characterizes his obscured figures.
Freud made two transitions that had a huge effect on the way he worked during this time, namely that he swapped sable brushes for hog-haired brushes, and flake white for Kremnitz white. These changes allowed him to work much more expressively, and it led to the characteristic greenish-yellow palette that his paintings are known for.
One of the things that makes the paintings of Lucian Freud so unique is the varied colors that he uses in his skin tones, which he was able to keep so varied by constantly wiping his brush clean with cloths to keep the colors from blending too much. The result is portraits and figures are distinctly tangible and "fleshy". While his skin tones are textured and varied, his backgrounds are often muted, making sure that the viewer's focus is completely on the human flesh.
Freud was also known to prefer to stand and paint, though he later in his life opted for a highchair.
Whilst most of his work throughout his career was focused on painting, he did produce some etchings also in his later career. To make these etchings, he would direct his sitter in a slightly different pose right after painting them, and then continue by creating the drawings directly onto the etching plate whilst the sitter is still present.
Interesting Facts About Lucian Freud
Lucian Freud was known to have a very private life. Even though he very rarely sat for interviews or shared any personal information about his life, there are a few things that are known. Below are a few interesting facts about Lucian Freud's life.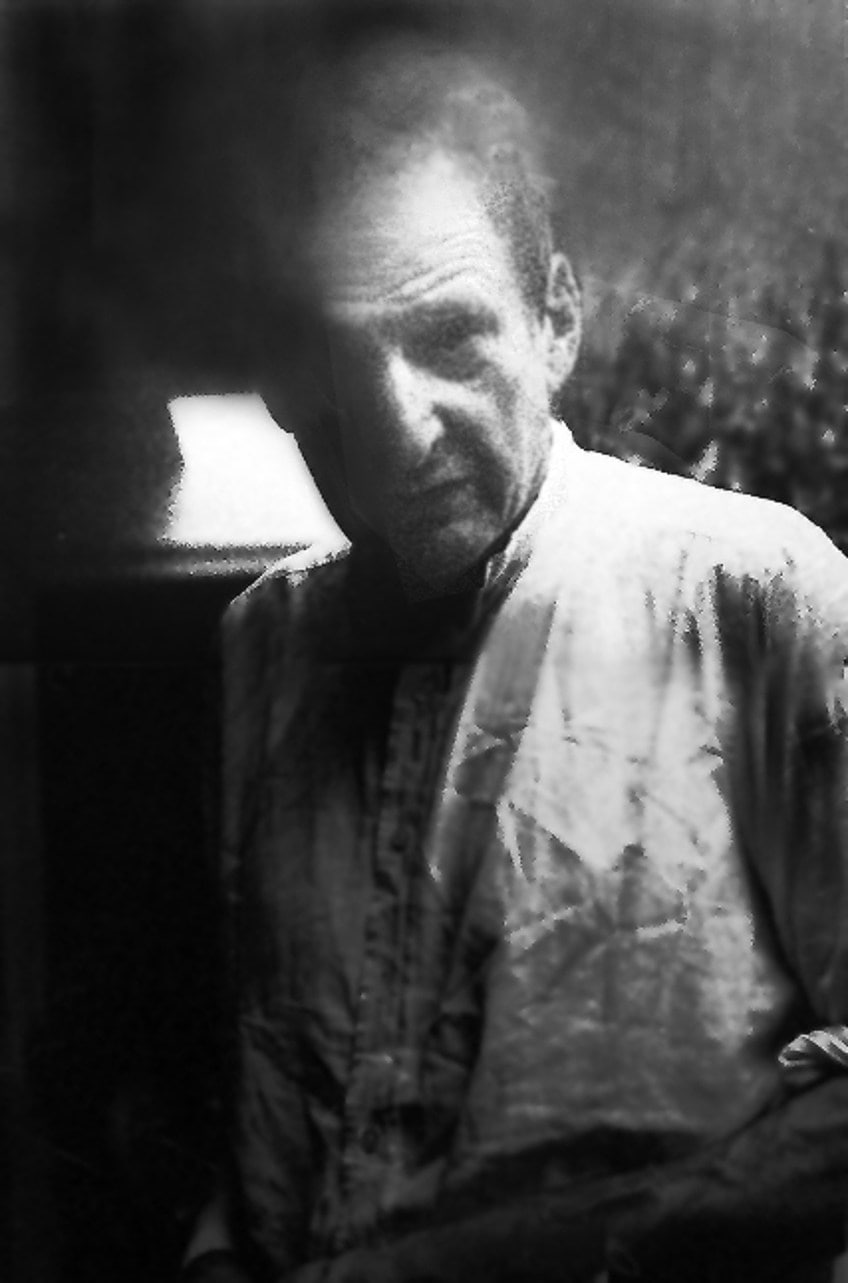 A superimposed photograph of Lucian Freud; procsilas, CC BY 2.0, via Wikimedia Commons
Lucian Freud and Francis Bacon Were Friends
Lucian Freud and Francis Bacon were great friends. The two met in the mid-1940s and a friendship over their mutual passions immediately started to blossom. The two saw each other nearly every day for 25 years and in 1954 they exhibited alongside each other at the British Pavilion of the Venice Biennale. Although their friendship was strong, they were incredibly critical of each other's work.
The friendship eventually broke up in the 1970s due to a feud in which Bacon disagreed with Freud's opulent lifestyle.
Freud Might Have Been Embarrassed by Some of His Works
Even though Freud was known as a private man, he did not shy away from using his own body as a model for many self-portraits and nude paintings. It is curious then why, in 1997, he so vehemently denied the ownership of a nude self-portrait, that was later undeniable proven to have been painted by the artist.
In 1997 at an art auction in Geneva, an unnamed Swiss collector bought a work titled Standing Male Nude (undated), in the belief that it was painted by Lucian Freud. The artist and his estate, however, denied ownership of the painting. The buyer of the work even attested that Freud himself called him on the night of the auction and offered to pay double the price to work back in his own hands. Many years later, after lots of research was conducted, it was proven that the painting was in fact done by the hands of Freud.
The unanswered question remains, why did Freud deny ownership of this work? It is believed that the painting was made by request from his close friend and contemporary Francis Bacon. In fact, some suspect that Bacon himself might have had a hand in the making of the work.
The biggest theory in Freud's denial of ownership is that he was embarrassed by the painting after a falling out happened between himself and Bacon.
Freud Had Great Success in the Art Market
Lucian Freud is one of the few artists that enjoyed great success while they were living. In 2008, one of his paintings of Sue Tilley, titled Benefits Supervisor Sleeping (1995), sold for $33.6 million, which was the highest price ever recorded for a living artist (until 2012).
In 2015, a few years after his death, this same painting sold at a Christie's auction in New York for a staggering $56.2 million. Freud's painting of the pregnant Kate Moss sold for nearly $5 million, and in 2002, the Tate Britain held the largest retrospective exhibition of Lucian Freud to date. The exhibition included 160 of Freud's work spanned throughout his life up to that point.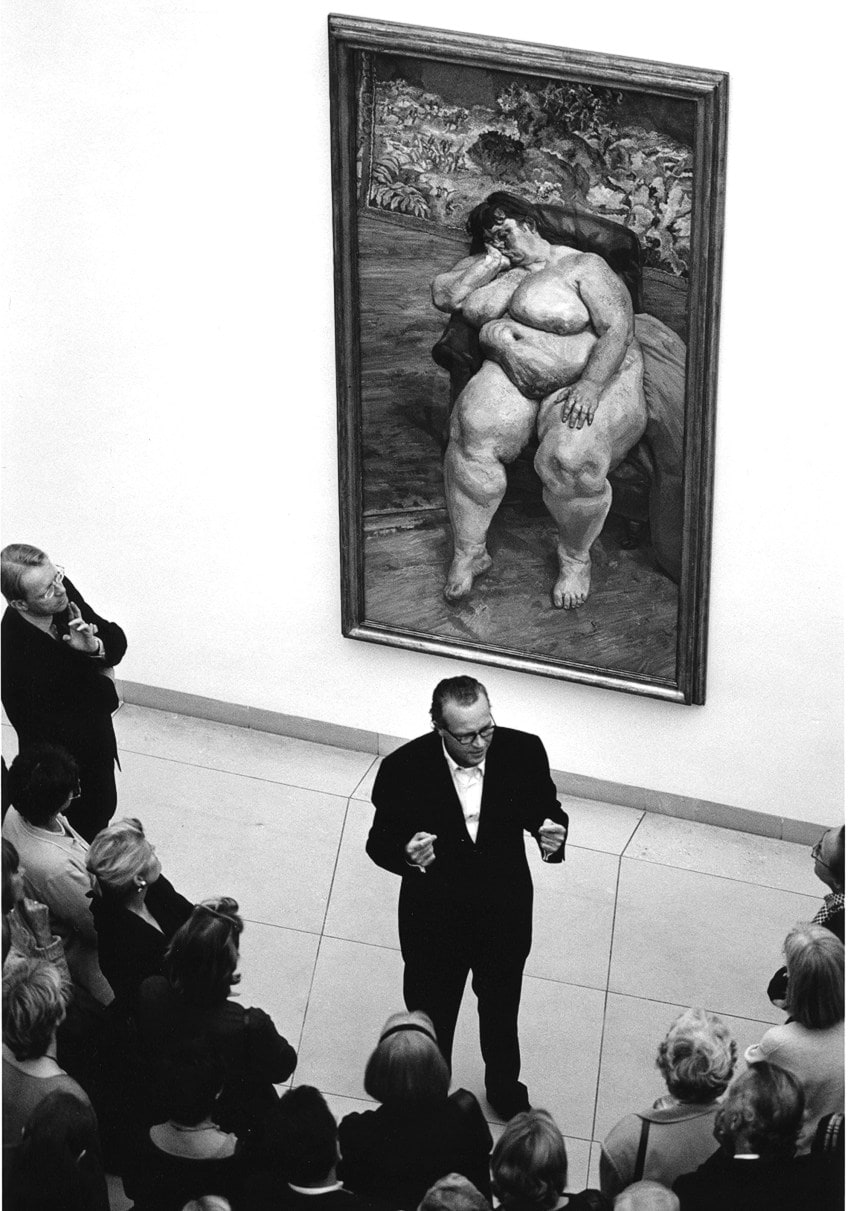 Curator's talk with Rolf Lauter at the exhibition "Lucian Freud: Naked Portraits", Museum für Moderne Kunst, Frankfurt am Main, October 2000. The photo shows Lauter in front of Lucian Freud's painting Sleeping by the Lion Carpet (1995-1996); © Mirko Krizanovic, CC BY-SA 4.0, via Wikimedia Commons
Freud Had a Rather Controversial Lifestyle
Whilst Freud was wholeheartedly dedicated to his career, he was also rumored to be an absent father, prone to gambling and philandering. Freud often gambled on horses and dogs and believed that debt can be a good motivator. Many of Freud's paintings contained representations of dogs and horses, and they were often painted finer and more proportionate than his human models.
Freud is also rumored to have up to 40 children, though it is believed that this number is exaggerated. He has, however, officially fathered 14 children.
Lucian Freud Had Many Interesting Models
While Freud mostly painted his family and friends, there were also a few other interesting sitters among the mix. His most famous sitter was probably civil servant Sue Tilley, who posed for several nude paintings.
Freud also painted a few celebrities.
One of these is Kate Moss, whom he painted in the nude whilst she was pregnant. Freud also tattooed two small swallows on the lower back of Kate Moss. In 2001, Freud did a painting of Queen Elizabeth II, although the portrait received some criticism in the British media.
Lucian Freud's Most Important Paintings
The best way to appreciate the greatness of Freud's life and the significance of his work is to unpack some of his seminal artworks. Below is a list of important works done by Freud, some of which will be analyzed in more depth in the following subheadings:
Girl with a White Dog (1950-1951)
Hotel Bedroom (1954)
Red Haired Man on a Chair (1962)
Reflection (Self-portrait) (1985)
Man with Leg Up (1992)
Naked Man Back View (1992)
Painter Working, Reflection (1993)
Benefits Supervisor Sleeping (1995)
HM Queen Elizabeth II (2000-2001)
Kate Moss (2002)
Girl with a White Dog (1950-1951)
| | |
| --- | --- |
| Artwork Title | Girl with a White Dog |
| Date | 1950-1952 |
| Medium | Oil on Canvas |
| Collection | Tate, England |
Girl with a White Dog (1950-1951) is one of the most important of Freud's work, perhaps because it captures the transition phase between his early style and mature style so well. In this work, Freud is still using the sable brush, which he used so much in his earlier work. Compared to his later, "fleshier" works that show broad brush strokes, this work has the finer and more subtle details that the smaller sable brushes allowed.
As a result, the work is softer and more precise than his works that were still to come.
There are, however, aspects in this work that marks the start of the shift in Freud's work to his mature style. This can be seen through his varied use of color, including the strange greens, yellows, and greys in the shadowed parts of the figure's skin. The soft features and subtle shading that Freud uses throughout the painting give it an unusual warmth and flatness.
The sitter of this painting is his first wife, Kitty Garman. On her lap rests a dog, a bull terrier which was given to the newly married couple as a wedding gift. Though the couple was only married for four years, Freud painted her many times. Given the closeness between the artist and the sitter, it is curious that the painting has a rather distant quality to it.
The distance in the work is also enhanced by the fact that Freud did not use his wife's name in the title of the work, but rather simply referred to her as "girl".
In the painting the sitter's gaze seems distant, her eyes made to seem hollow by the shadows painted underneath them. Freud assumes in this work not the role of a lover to his muse, but rather an analytical observer, similar, perhaps, to how his grandfather might have psycho-analyzed his patients.
Red Haired Man on a Chair (1962)
| | |
| --- | --- |
| Artwork Title | Red Haired Man on a Chair |
| Date | 1962 |
| Medium | Oil on Canvas |
| Collection | Private Collection |
Red Haired Man on a Chair is one of Freud's earliest artworks that can be fully classified under his mature style. In this work, Freud had completely moved away from sable brushes and transitioned to hog-hair brushes. Hog-haired brushes allowed him to paint with more confident broad strokes that carried more paint, resulting in the impasto style that marked his mature works.
Another thing that marks this work under his mature style is the unconventional posture of the sitter. The strange positionings of Freud's sitters later become one of his paintings' most recognizable characteristics.
The sitter in this painting is Tim Behrens, one of the friends Freud made whilst tutoring at the Slade School of Art. It is clear in this painting that the subject is also an artist, communicated to us by the pile of discarded clothes in the background. This is one of the first paintings where such discarded rags appeared in Freud's paintings, which is something that he continued to include in many other paintings to follow.
At this point, the clinical distance that exuded Freud's paintings has also become a key characteristic of his work. As with Girl with a White Dog, the title of this work too is remarkably impersonal. It seemed that no matter Freud's relationship with his sitter, he was committed to being an objective observer, aiming to infuse into the paintings something of the psyche of the subject.
In this work, Freud is not only relying on the clever use of color to portray the psyche of his sitter.
Here, he starts to include compositional elements that tell us more about the life of this person. Have a look, for instance, at the shape of a cross that emerges from the vertical of the wooden post in the foreground, and the horizontal line of rags in the background.
Whilst Freud was never openly religious, the figure seems to sit perched on his chair, his posture drawing tension between himself and the wooden post. It is almost as if at any moment, the figure might collapse to the side. This uncomfortable position of the figure in relation to the cross behind him communicates something of martyrdom – a student dedicating his life to his art.
Reflection (Self-portrait) (1985)
| | |
| --- | --- |
| Artwork Title | Reflection (Self-portrait) |
| Date | 1985 |
| Medium | Oil on Canvas |
| Collection | Private Collection |
Freud painted many self-portraits over the years. Looking at them collectively, one can see the artist's consistency in style as he ages through each subsequent painting. His dedication to offering insight into the psyche of the subject is never failing. Among the most famous of these is his self-portrait of 1985, painted at the age of 66.
While many of his works are explicitly nude, this self-portrait only suggests nudity by exposing the bare shoulders.
Another distinction between Freud's full-size nudes and his self-portraits (especially in this one), is that while his sitters appear strange with awkward poses, the self-portraits have a certain strength in pose. In this work, Freud gazes directly back at the viewer, making us feel that he has complete insight into his own mind.
There is a certain level of certainty in this painting, enhanced by Freud's placement of shadows that insists that the focus be completely on the features of the face. While the painting shows signs of aging, his portrait of himself is less obscured than those he paints of other people.
In contrast to the paintings of his sitters, which are often described as being "ugly", this painting of himself can be described as quite handsome.
Man with Leg Up (1992)
| | |
| --- | --- |
| Artwork Title | Man with Leg Up |
| Date | 1992 |
| Medium | Oil on Canvas |
| Collection | Hirshhorn Museum and Sculpture Garden, Washington DC |
Freud is well-known for re-using many of the same sitters over many years, and this painting is of one of those sitters, namely Leigh Bowery. Leigh Bowery is a performance artist from Australia who is known for his flamboyant fashion sense, full of sequins and many bright colors. Bowery was introduced to Freud by Freud's friends, who believed that Bowery's colorful style might influence Freud's usual "drab" palette.
Freud had been impressed not by the performance artist's fashion sense, but rather by the size of his legs.
Bowery was described as an enormous man with remarkable flexibility. The size of the Bowery must have inspired Freud as some of his largest works are of Bowery. Freud used Bowery as a sitter over the course of four years, until he sadly passed away in 1994 from AIDS.
Freud painted Bowery in full nudity. This was of course quite a contrast to how Bowery was normally observed, sequins and all. Freud once explained why he chose to paint his models in the nude is because when you are naked, there is nothing to hide.
He explains: "Being naked has to do with making a more complete portrait, a naked body is somehow more permanent, more factual."
In this work, Bowery is lying on the floor, one leg resting on a bed, and a pile of rags is lying beneath him. He once explained that it was physically taxing to pose for Freud as he had to lay for hours on end in the same position, including several sessions over several months.
The painting, however, does not seem strained or exhausting. Instead, Bowery seems calm and at ease with the extremely vulnerable position in which he is lying. His gaze is directed towards the viewer in a characteristically unapologetic way. Freud's paintings of the male figure are unselfconscious. He often posed his male figures in passive and explicit ways, something which is traditionally seen in the female figure in art history. This unconventional representation of the male figure in art is something that is celebrated in Freud's art.
Benefits Supervisor Sleeping (1995)
| | |
| --- | --- |
| Artwork Title | Benefits Supervisor Sleeping |
| Date | 1995 |
| Medium | Oil on Canvas |
| Collection | Private Collection |
This is arguably one of Freud's most famous paintings. In fact, Christie's regarded it as "one of the most remarkable paintings of the human figure ever produced". The model in the painting is Sue Tilley, who was working in London at a local government job center. In the painting, she is lying, apparently sleeping, on a couch. Her naked body is painted in an obscured fashion and exaggerated size. Her pose seems uncomfortable and vulnerable, and yet so incredibly human and relatable.
Sue Tilley is not the typical painter's muse, but then again, none of Freud's models ever were. Freud's interest was never to capture the conventional idea of "beauty" on a canvas, but rather to capture the essence of what is it to be human.
Sue Tilley is quoted in 2008 saying, "I'm not the 'ideal woman,' I know I'm not. But who is? And he never made the skinny ones look any better. He picks out every single little detail".
It is in fact these details that make this work so extraordinary. It is in this work that you can really see the mastery of Freud's painting. The absolute dexterity of the work can be seen in the subtle nuances that he inscribes in Tilly's ample figure. In fact, the painting took months to make and required countless sittings from Tilly. The time invested into the work is clear and Freud captured the fleshy rawness of the human condition with precise execution.
Even though Freud's role as an observant and analyzing outsider is still noticeable in this work, there is also a distinct intimacy in this work that makes it so unique from his other paintings. The sleeping figure, in such a vulnerable position, makes one feel that there is a level of trust from the sitter to the painter.
Freud once said, "If I am putting someone in a picture, I like to feel that they've fallen … that way they are there not to make the picture easy on the eye or more pleasant, but they are occupying the space of my picture and I am recording them."
Tilly sat for more paintings with Freud and confirmed that she enjoyed his company and found him "hilarious". Tilly herself has been described as a kind and generous person that is quick to laugh. It is possible that this abundance of laughter and generosity played a role in how abundantly Freud painted her generous figure. Her rosy completion compared to his normal grey and greenish renditions gives us another glimpse into Freud's relationship with Tilly.
Lucian Freud's Legacy
Lucian Freud changed the way we look at portraiture. His confrontational and unapologetic style of celebrating the rawness of the human figure has carved his name solidly in the art history books. Freud wholeheartedly dedicated his entire life to his artistic practice. Whilst he had a reputation as a philanderer and an absent father, his children returned to him frequently in their adult life and sat for him as models for numerous paintings.
During his career, Freud honed his skill, not only as a master painter but also as an observer.
By painstakingly observing his sitters with the piercing eye of an intelligent inspector, Freud succeeded to communicate something of the human condition through his paintings. And while Freud remained incredibly consistent in his mission and style throughout the decades, each of his works remains completely unique. His portraits go beyond mere representation and tell us how much more we can see about a person if we regard them with our full attention.
Book Recommendations
If you are interested in learning more about the fascinating secretive life of Lucian Freud, we recommend starting with these books:
The Lives of Lucian Freud: The Restless Years: 1922-1968 (2019) by William Feaver
This is the first of two biographical books written by the renounced art critic, William Feaver, that provides a rich insight into the life of Freud. The book is rooted in nearly 40 years of conversation between the author and the artist.
The first biography of the epic life of 20th-century artist Lucian Freud
Reveals the details of the life and innermost thoughts of the artist
A major work written by a well-known British art critic
View on Amazon
The Lives of Lucian Freud: Fame: 1968-2011 (2021) by William Feaver
This book was longlisted for the 2020 Baillie Gifford Prize. This is the second and final book written by William Feaver on the life of Freud. The book explores the life of Lucian Freud from age 45 until his death in 2011. In the book, Feaver writes about daily conversations he had with the artist and includes letters and conversations with Freud's friends and family.
The final volume of the definitive biography of Lucian Freud
William Feaver draws on years of conversations with the artist
Explore the intimate later life of artist Lucian Freud
View on Amazon
Lucian Freud (2007) by William Feaver
This is a hard-cover book that includes more than 400 reproductions of the artworks of Lucian Freud. Though this book is by the same author as the first two book recommendations, it is not a biography but rather a feast for the eyes! This book is the most comprehensible publication on the works of the artist to date.
The most comprehensive publication to date on Lucian Freud
Covering more a span of over 70 years with many unproduced works
Includes Freud's paintings, sketches, woodcuts, etchings, and more
View on Amazon
Lucian Freud was nothing if not passionate. Passion is what drove both his career and his personal life, and even though some consider his life unconventional, he dedicated it to becoming a master of his art. Freud has shown us, through his consistent dedication, that a portrait can convey so much more than someone's features: it can also reveal something about their psyche. Through his long career, Freud challenged the boundaries of representation and asked us to look closer and see more.
Take a look at our Lucian Freud paintings webstory here!
Frequently Asked Questions
What Inspired Lucian Freud?
In his early works, Freud was influenced by the flat and distorted shapes of cubism. At this time, his works were compared to the German expressionist movement, but he had denied this. During the 1950s, Freud was heavily influenced by the group of figurative painters that was later known as the Slade School. His phycological approach and distorted figures show that he might have been inspired by the earlier Surrealist movement. We can see an influence of Realism in the way that Freud tries to paint not only the sitter but also the environments that inform who they are.
How Did Lucian Freud Die?
Lucian Freud died at age 88 in his home in London on 20 July 2011. In line with the secretive nature of Freud's life is the cause of his death, for all that is known is that he died from a so-called unspecified illness. His funeral, in the same spirit, was a private family funeral, even though a public memorial service was arranged for a later date.
How Many Wives Did Lucian Freud Have?
Despite his many children, and suspected children, Freud had only married twice. In the 1940s, Freud was in a love triangle with two of his fellow artists, John Minton and Adrian Ryan. During this time, he had an affair with Lorna Garman, but then fell in love with her niece, Kitty Garman. Kitty was Freud's first wife. She was the daughter of the sculptor Jacob Epstein and is the subject of his famous painting titled Girl with a White Dog (2000). Freud and Garman were married from 1948 to 1952. In 1953, he married Caroline Blackwood, a writer and the child of the Marquess of Dufferin and Ava. Blackwood and Freud got divorced in 1959.
Chrisél Attewell (b. 1994) is a multidisciplinary artist from South Africa. Her work is research-driven and experimental. Inspired by current socio-ecological concerns, Attewell's work explores the nuances in people's connection to the Earth, to other species, and to each other. She works with various mediums, including installation, sculpture, photography, and painting, and prefers natural materials, such as hemp canvas, oil paint, glass, clay, and stone.
She received her BAFA (Fine Arts, Cum Laude) from the University of Pretoria in 2016 and is currently pursuing her MA in Visual Arts at the University of Johannesburg. Her work has been represented locally and internationally in numerous exhibitions, residencies, and art fairs. Attewell was selected as a Sasol New Signatures finalist (2016, 2017) and a Top 100 finalist for the ABSA L'Atelier (2018). Attewell was selected as a 2018 recipient of the Young Female Residency Award, founded by Benon Lutaaya.
Her work was showcased at the 2019 and 2022 Contemporary Istanbul with Berman Contemporary and her latest solo exhibition, titled Sociogenesis: Resilience under Fire, curated by Els van Mourik, was exhibited in 2020 at Berman Contemporary in Johannesburg. Attewell also exhibited at the main section of the 2022 Investec Cape Town Art Fair.
Learn more about Chrisél Attwell and the Art in Context Team.
Cite this Article