Egon Schiele the artist was a key character of Austrian Expressionism, with his unique graphic aesthetic, embracing of figural deformation, and strong rejection of traditional feminine beauty criteria. Schiele's self-portraits and portraits, which are piercing investigations of their models' minds and sensuality, are among the 20th century's most astonishing works. Austrian painter Schiele is famous not only for his mentally and erotically charged creations, but also for his captivating biography: his lascivious way of life marked by controversy, media attention, and a regrettably premature passing from influenza at the age of 28, at a moment when he was on the cusp of the major success that he had failed to attain throughout most of his career as an artist.
Egon Schiele's Biography and Art
With an unparalleled degree of sexual and emotional candor and the use of figural distortions in place of standard ideals of beauty, Egon Schiele's self-portraits and portraits helped re-establish the vibrancy of both genres. Schiele's paintings, which typically feature himself or people close to him, commonly exhibit his subjects in the nude, poised in exposing, uncomfortable angles – often viewed from above – and bereft of secondary qualities commonly represented in the portrait genre.
At times, classic elements appeared in Egon Schiele's artworks, giving the profoundly intimate imagery a more broad, metaphorical message on the human predicament.
| | |
| --- | --- |
| Date of Birth | 12 June 1890 |
| Date of Death | 31 October 1918 |
| Place of Birth | Tulln an der Donau |
| Nationality | Austrian |
Early Life and Training of Egon Schiele the Artist
Austrian painter Schiele was born into humble circumstances in Blumenstadt, a tiny yet dynamic Austrian town. Adolf Schiele, Tulln railway's station master, was his father. Schiele was captivated by trains as a youngster and would spend countless hours sketching them, to the extent that his father felt compelled to trash his sketchbooks. Schiele went to the adjacent city of Krems to attend secondary school when he was 11 years old.
Schiele was considered a peculiar youngster by people around him.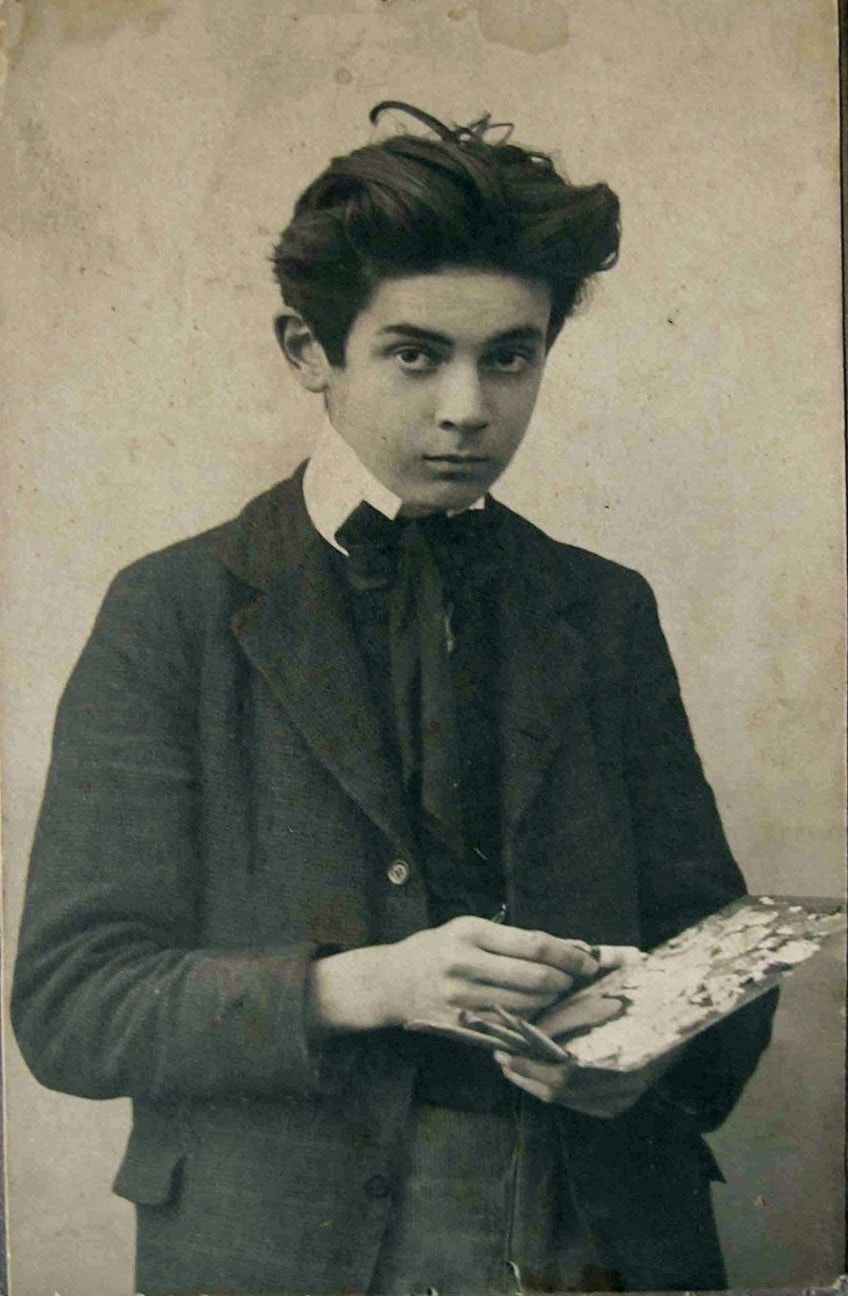 Egon Schiele as a boy, c. 1905; Unknown author Unknown author, Public domain, via Wikimedia Commons
Shy and introverted, he struggled in school save for athletics and painting, and he was frequently in courses with younger students. It is rumored that he had amorous feelings for his younger sister Gerti, and his father, who was fully aware of Egon's behavior, was once obliged to break down the door of a closed room where the two were located to see what they were up to, only to find that they were busy developing film.
Schiele's father died of syphilis when he was 14 years old, and he became a ward of Leopold Czihaczek, his uncle, who was also a railway officer. Despite his wish for Schiele to continue in his path and his dismay at his lack of academic interest, he noticed Schiele's talent for sketching and grudgingly consented to give him with a teacher, Austrian artist Ludwig Karl Strauch.
In 1906, Schiele applied to the Vienna School of Arts and Crafts, where Gustav Klimt had previously been a student.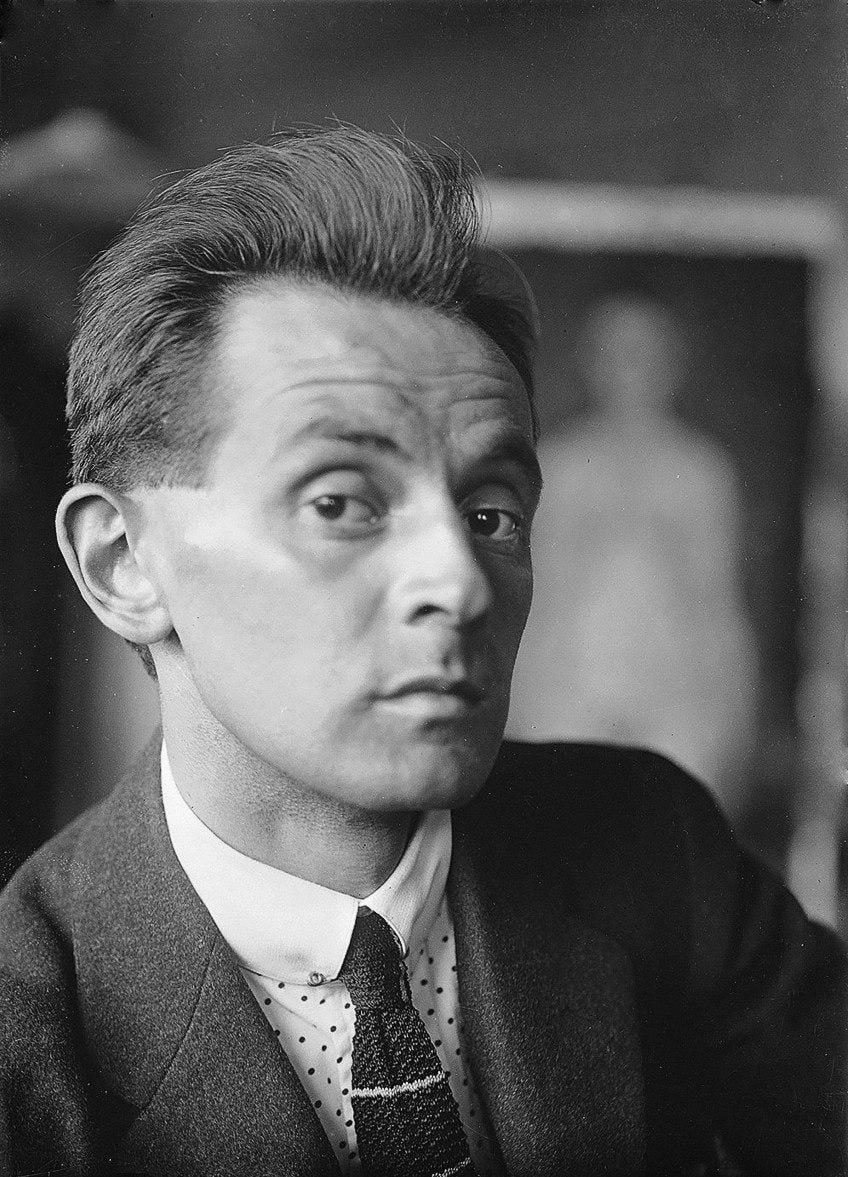 Egon Schiele, 1918; unattributed, Public domain, via Wikimedia Commons
In 1906, Schiele was transferred to the more conventional Akademie für Bildenden Künste in Vienna, at the demand of many faculty members. Christian Griepenkerl, a painter whose rigorous ideology and ultra-conservative manner so upset and disgusted Schiele and his fellow pupils that he departed three years later, was his principal instructor at the institution.
The Career of Egon Schiele the Artist
Schiele tracked down Gustav Klimt in 1907, who graciously taught younger painters. Klimt was particularly fond of the youthful Schiele, purchasing his sketches and proposing to trade them for some of his own, organizing subjects for him, and connecting him to possible sponsors. He was also responsible for presenting Schiele to the Secession's arts and crafts studio – the Wiener Werkstätte. Schiele's early paintings, created between 1907 and 1909 such as Portrait of Gerti Schiele (1909), bear striking resemblances to Klimt's, as well as Art Nouveau elements.
Portrait of Gerti Schiele (1909) by Egon Schiele; Egon Schiele, Public domain, via Wikimedia Commons
First Exhibitions
Schiele held his first exhibit at Klosterneuburg in 1908. After finishing his third year at the Institute, Schiele departed in 1909 to form the Neukunstgruppe with other unhappy pupils. The new group wasted little time, organizing many public exhibits across Vienna as Schiele experimented with new ways of pictorial expression, favoring distortion and jagged curves of structure and a more solemn palette than the more flamboyant and elaborate Art Nouveau style.
Egon Schiele's artworks were heavily inspired by Klimt and Kokoschka in his formative days.
Although representations of their style, especially the former, may be seen in Schiele's early works, he quickly developed his own specialized manner. Klimt urged Schiele to show some of his paintings in the 1909 Vienna Kunstschau, where he met Jan Toorop, Edvard Munch, Vincent van Gogh, and many others.
Freed of the Academy's limitations, Schiele began to investigate not just the human figure, but also human sensuality. Schiele's paintings were already adventurous, but he took it a step further by incorporating Klimt's ornamental sensuality as well as what some may call figurative aberrations, which comprised elongations, malformations, and sexual openness and transparency.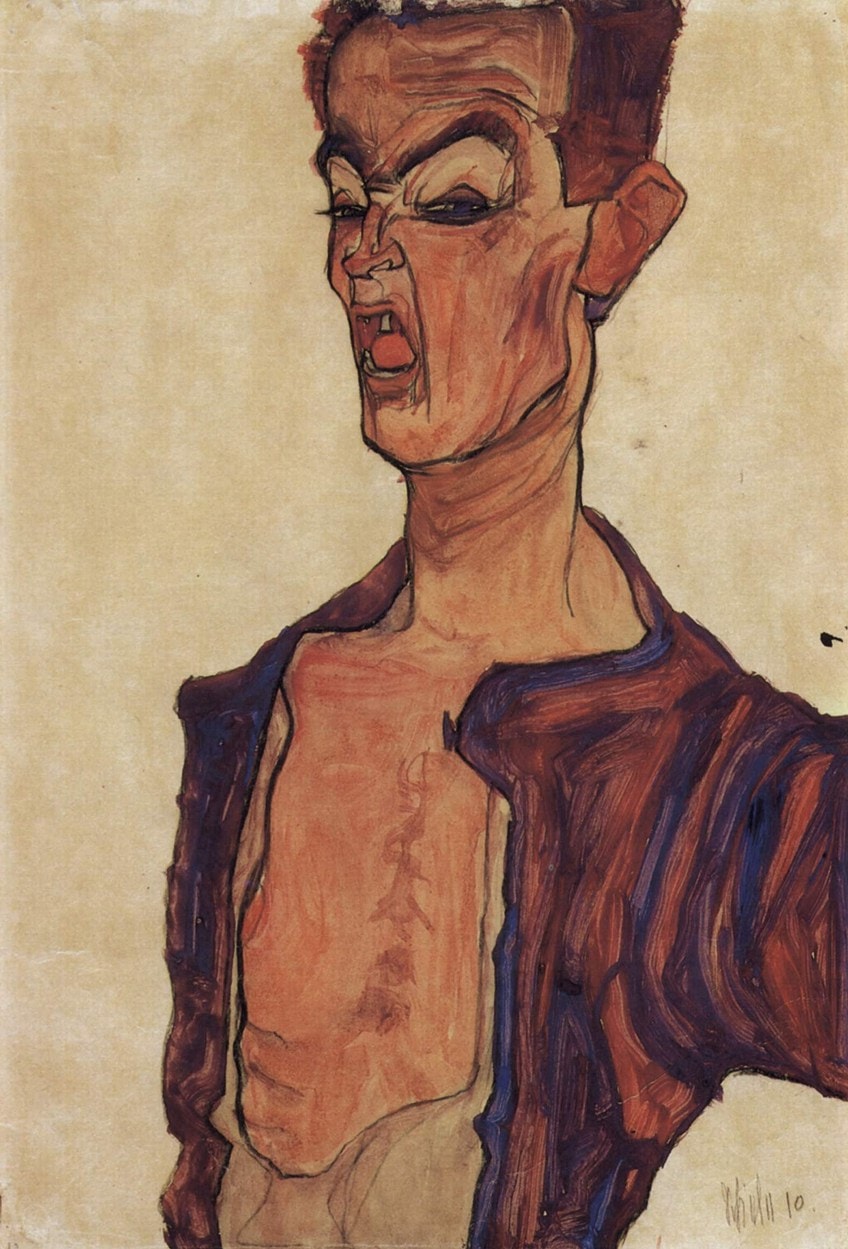 Self-portrait, making a face (1910) by Egon Schiele; Egon Schiele, Public domain, via Wikimedia Commons
Schiele's self-portraits such as Self-portrait, making a face (1910), with their unusual level of emotional and sensual candor and employment of figural distortions in favor of traditional ideas of beauty, helped re-establish the vigor of both genres. He also produced references to Van Gogh's Sunflowers and landscapes.
Schiele began experimenting with naked figures in 1910, and within a year had developed a distinct style that included emaciated, sickly-colored figures, frequently with strong sexual implications.
Schiele started painting and sketching youngsters as well. Kneeling Nude with Raised Hands (1910), a self-portrait by Egon Schiele is regarded as one of the most notable pieces of nude art created during the 20th century. Schiele's innovative and refined approach to the bare human form confounded both academics and progressives. With its distorted lines and extensive show of figurative emotion, this unorthodox art and style went against rigorous academics and caused a sexual commotion.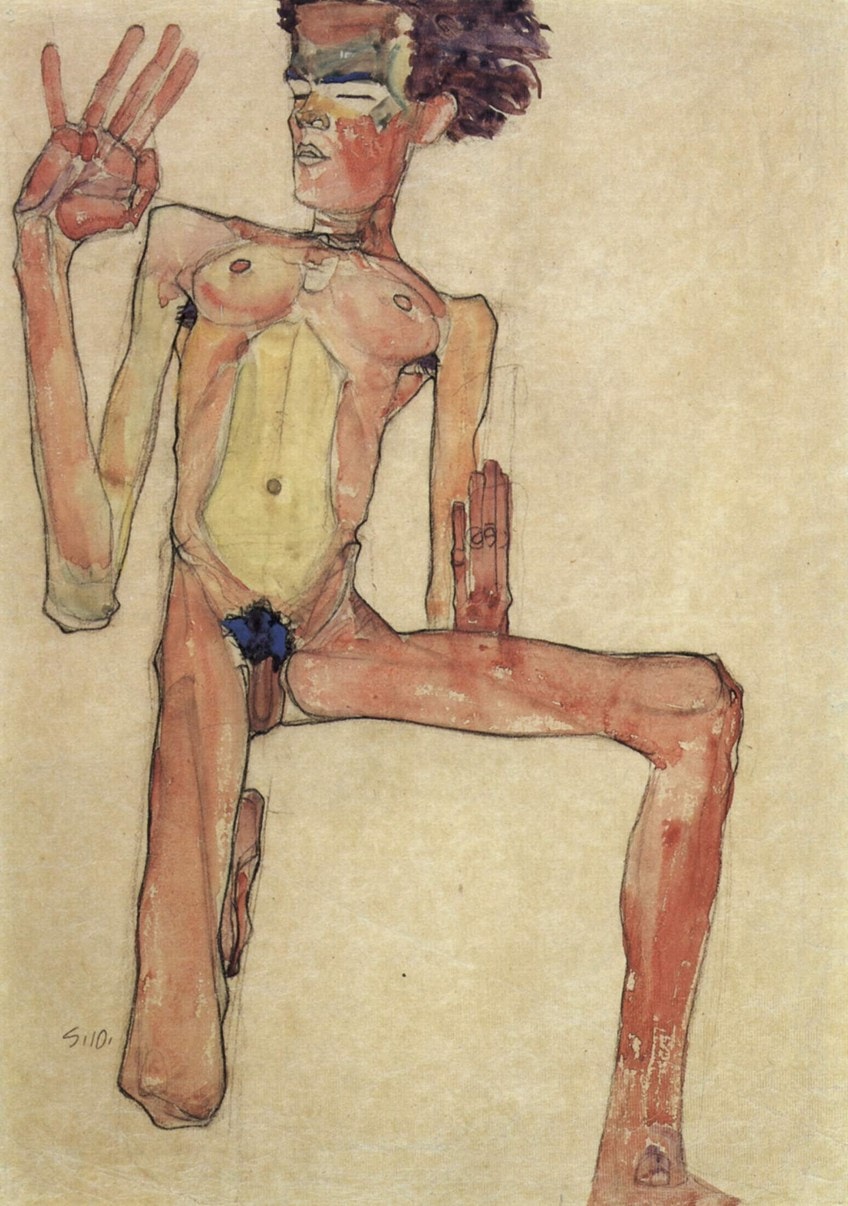 Kneeling Nude with Raised Hands (1910) by Egon Schiele; Egon Schiele, Public domain, via Wikimedia Commons
Many members of the media and the public at large found the overt sexualization of his works upsetting at the time. From then on, Schiele took part in a number of collective shows, including those in Prague (1910) and Budapest (1912). Schiele met Walburga (Wally) Neuzil, a 17-year-old model who stayed with him in Vienna and functioned as a subject for some of his most stunning works, in 1911.
Not much else is known about her except that she had modeled for Gustav Klimt and may have been one of his lovers. Schiele and Wally traveled to the little town in southern Bohemia to escape what they viewed as the cramped Viennese atmosphere. Krumau was the hometown of Schiele's mother, and it now houses a Schiele museum.
Imprisonment and Neulengbach
Schiele's following year was pivotal, both personally and aesthetically. In conjunction with appearing in a variety of group exhibits in Cologne, Budapest, and Vienna, Schiele was asked to present his work with artists of the Der Blaue Reiter group in Munich, which included Franz Marc, Wassily Kandinsky, and Alexej von Jawlensky. Schiele's most renowned piece at the time was Self-Portrait with Chinese Lantern Plant (1912), a compelling study of the painter, his head, and other features abounding with lines, scars, and minor abnormalities.
Schiele's biggest visibility to date came from the Goltz exhibition, which revealed to the public his profound use of private iconography and grim allegory.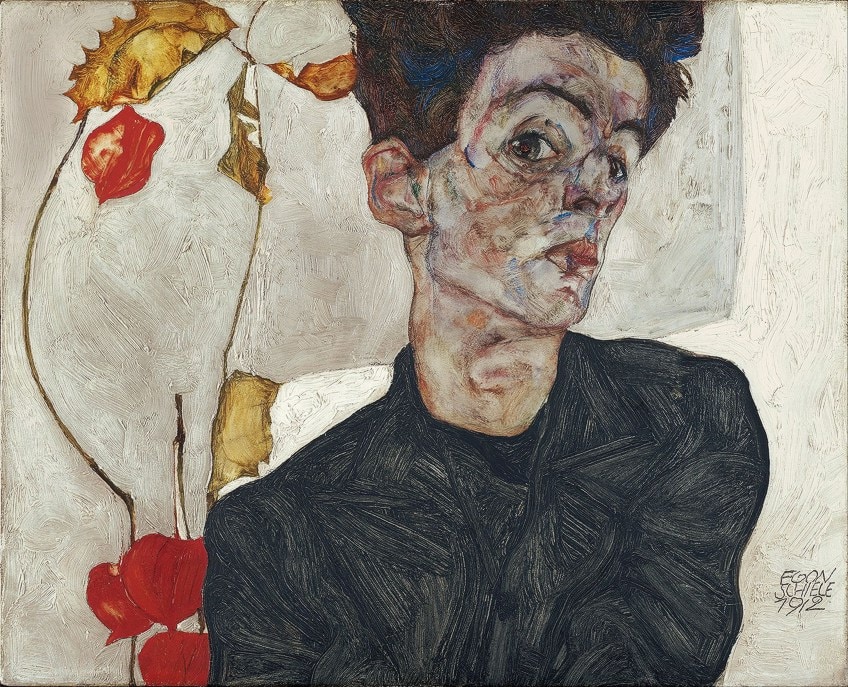 Self-Portrait with Chinese Lantern Plant (1912) by Egon Schiele; Egon Schiele, Public domain, via Wikimedia Commons
The pair relocated to Neulengbach, west of Vienna, in search of inspiring surroundings and low-cost studio space. While Schiele's art deeply offended Viennese culture, he sold many of his graphic pictures to private buyers at the same time, as he noted after five newspapers criticized his work, "doing an awful amount of advertising with my banned works."
Schiele's early works were especially controversial due to his use of minors as nude models and for depicting pubescent females in implicitly sensual positions.
This can be seen in his Two girls – Lover (1911), which depicts two adolescent girls as if after an amorous experience. Also in 1911, Schiele visited his mother's village of Krumau in Southern Bohemia, where his habit of bringing youths to his workshop drew criticism from the locals.
Two girls – Lover (1911) by Egon Schiele; Egon Schiele, Public domain, via Wikimedia Commons
Schiele's workshop became a meeting spot for Neulengbach's delinquent youth since it was in the capital. Schiele's lifestyle infuriated the town's residents, and he was arrested in April 1912 for courting a girl of 13, who was under the consenting age of 14 at the time. When the authorities arrived at Schiele's studio to arrest him, they confiscated over a hundred sketches that they deemed obscene.
Schiele was jailed while his trial was pending.
When his case was heard by a court, the allegations of enticement and kidnapping were withdrawn, but the artist was found to be guilty of displaying pornographic paintings in a place where minors may see them. In court, the judge used a candle flame to burn one of the offensive artworks. The 21 days he had previously spent in detention were considered, and he was condemned to three further days in prison. Schiele produced a collection of 12 paintings while imprisoned that depicted the challenges and misery of being trapped in a detention cell.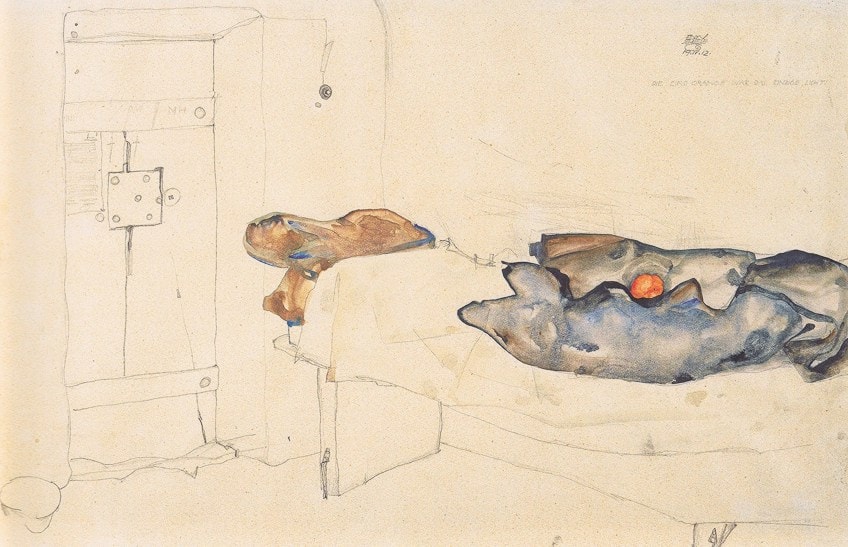 The one orange was the only light 19-4-1912 (1912) by Egon Schiele; Egon Schiele, Public domain, via Wikimedia Commons
Schiele encountered the sisters Adéle and Edith Harms, who lived down the street from his workshop in the Viennese area of Hietzing, in 1914. They were from a middle-class household and were Protestants; their father was a great locksmith. Schiele married the more culturally acceptable Edith in 1915, but he reportedly planned to keep a connection with Wally.
When he told the matter to Wally, she instantly abandoned him and never saw him again.
This desertion inspired him to create Death and the Maiden (1915), Schiele penned a message to his friend Arthur Roessler in February 1915, stating: "I aim to marry in the best possible way. Not according to Wally." Despite considerable resistance from the Harms household, Schiele and Edith wedded on June 17, 1915, the date of Schiele's parents' wedding anniversary.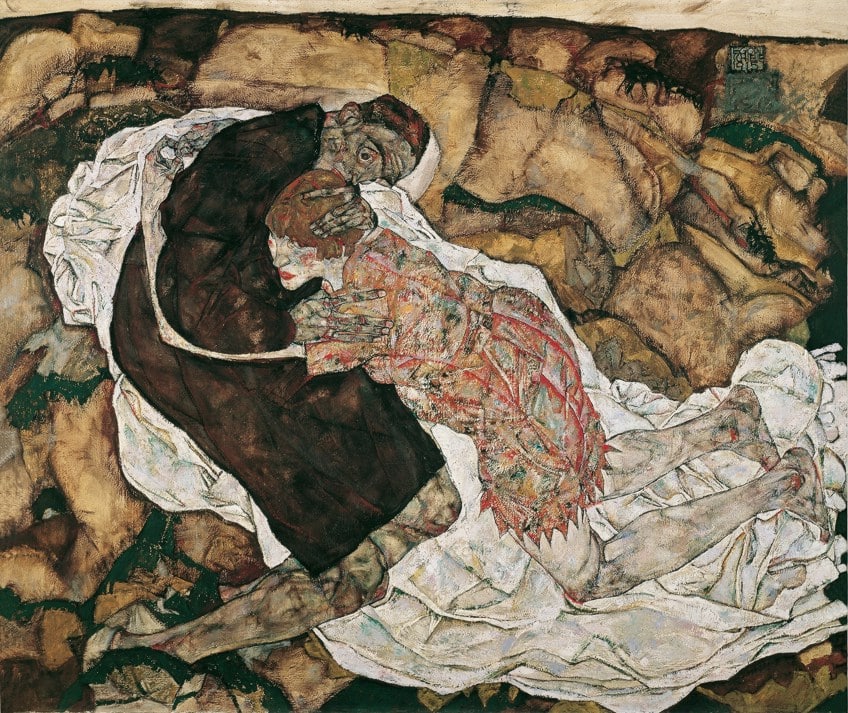 Death and the Maiden (1915) by Egon Schiele; Egon Schiele, Public domain, via Wikimedia Commons
Later Years
Despite avoiding conscription for over a year, World War I began to impact Schiele's work and life. Schiele was forced to register for active duty in the army three days after his marriage, and he was first posted in Prague. Edith accompanied him and remained at a city hotel, while Egon was housed in an exhibit hall with his other draftees. Schiele's superior officer let them visit each other on occasion.
Schiele's paintings grew bigger and more intricate throughout the conflict.
Due to the constraints imposed by his military duty, much of his production consisted of linear sketches of landscapes and military commanders. Schiele began playing with the themes of maternity and family about this period. Edith, Schiele's wife, was the basis for many of his feminine subjects, although owing to circumstances during the war, many of his models were men and boys. Since 1915, Schiele's female nudes had become larger in body, yet many were purposefully shown with a lifeless, doll-like look.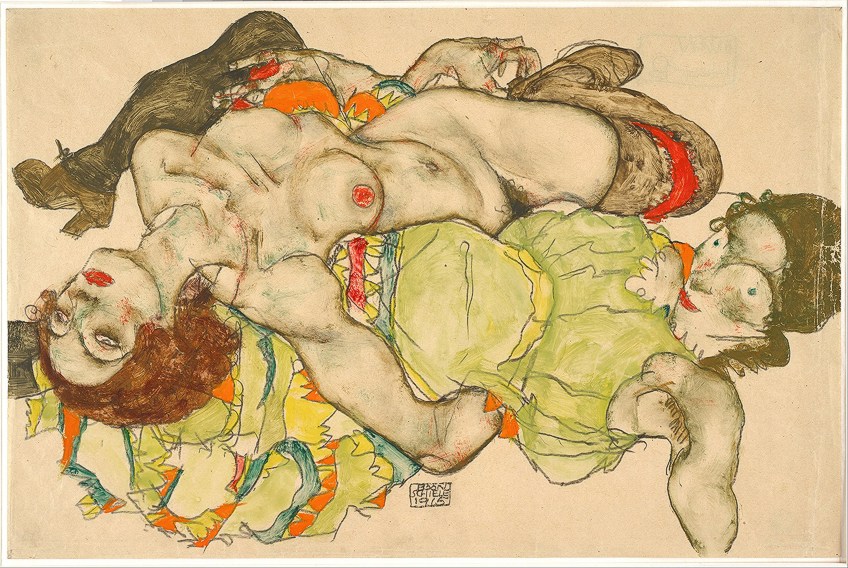 Female Lovers, 1915 (1915) by Egon Schiele; Egon Schiele, Public domain, via Wikimedia Commons
Despite his military duty, Schiele continued to exhibit in Berlin. He also performed well at Prague, Zürich, and Dresden. His first responsibilities were protecting and conveying Russian detainees. Schiele was finally assigned as a scribe in a POW camp near Mühling due to his weak heart and outstanding handwriting. Here, he was permitted to sketch and paint incarcerated Russian soldiers.
His captain, Karl Moser, who first believed Schiele was an artist and designer when he met him, even offered him an unused storeroom to utilize as a workshop.
Schiele and Edith were able to eat food other than rations since Schiele was in control of the camp's food stocks. By 1917, he had returned to Vienna and was able to concentrate on his creative career. His productivity was copious, and his work displayed the maturity of an artist who was fully in command of his abilities.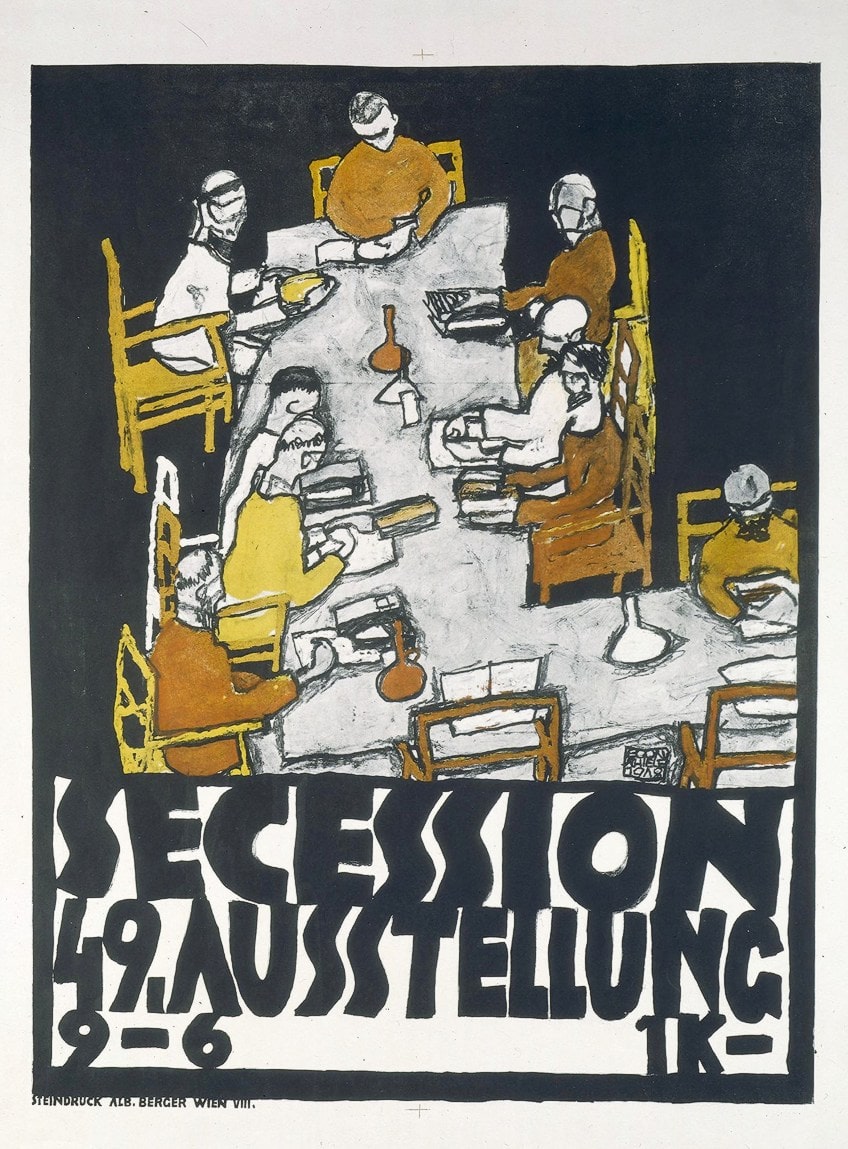 Poster for the 49th Secession exhibition in Vienna, 1918; Schiele, Egon (1890-1918). IllustrateurVerleger : [s.n.], Public domain, via Wikimedia Commons
In 1918, he was asked to participate in the Secession's 49th exhibition in Vienna. Schiele was approved for this show with 50 paintings, which were presented in the main hall. The show was a smashing success. As a result, the value of Schiele's drawings rose, and he earned more portrait contracts. The Spanish flu epidemic, which killed more than 20,000,000 lives in Europe, arrived in Vienna in the fall of 1918. Edith, who was six months pregnant at the time, died of the sickness on October 28. Schiele passed away just three days after his wife.
Art Style and Legacy of Egon Schiele
Schiele was an incredibly productive and unequaled draftsman, producing over 3000 drawings during his brief lifetime. He considered drawing to be his preferred art medium, enjoying its urgency of expression, and created some of the best examples of sketching in the 20th century.
With its concentration on contouring, graphic marking, and linearity, even his painting work exhibited a manner that caught some of the drawing's core traits.
Schiele's self-portraits, featuring their unprecedented sense of psychological and erotic incisiveness, enabled the vibrancy of both forms. Schiele's portraiture, which typically shows himself or people close to him, frequently exhibits their subjects in the nude, poised at exposing, uncomfortable angles and lacking additional qualities commonly portrayed in the portrait genre. Schiele employed classic themes at times, giving his very intimate paintings a more broad, metaphorical message on the human condition.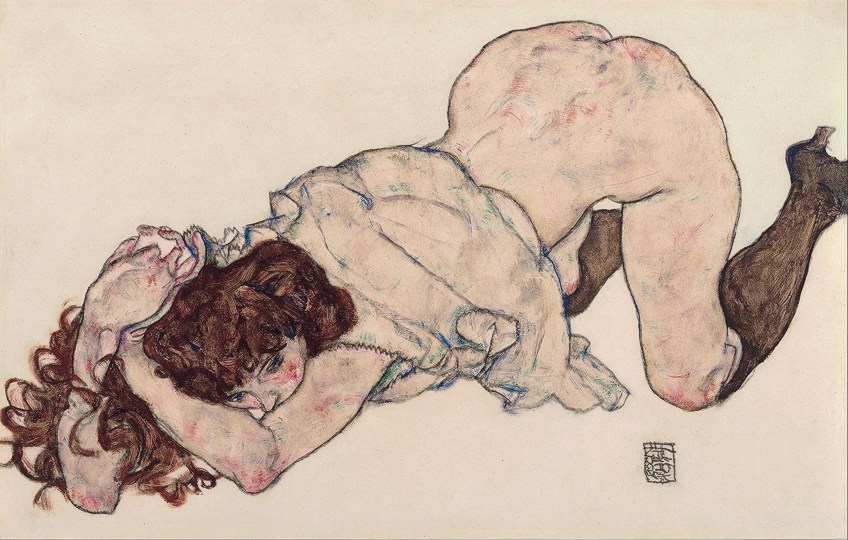 Kneeling Girl, Resting on Both Elbows (1917) by Egon Schiele; Egon Schiele, Public domain, via Wikimedia Commons
Gustav Klimt, a friend and confidant of Schiele, was the key influencer on his growth. While Schiele acquired Klimt's emphasis on erotic pictures of the feminine figure (and also shared Klimt's unquenchable sex drive), the intensely emotional, often unnerving expression Schiele later developed, with its inquiry of his sitters' inner lives and mental reactions, directly contradicted his master's Art Nouveau-inspired aesthetic, with Klimt favoring a more vivid palette and glinting, patterned surface areas. Some critics, like Jane Kallir, have described Schiele's work as monstrous, sexual, pornographic, or frightening, with a concentration on sexuality, death, and revelation.
He concentrated on portraits of people as well as pictures of himself. While he continued to deal with nudes in his later years, he did so in a more realistic manner.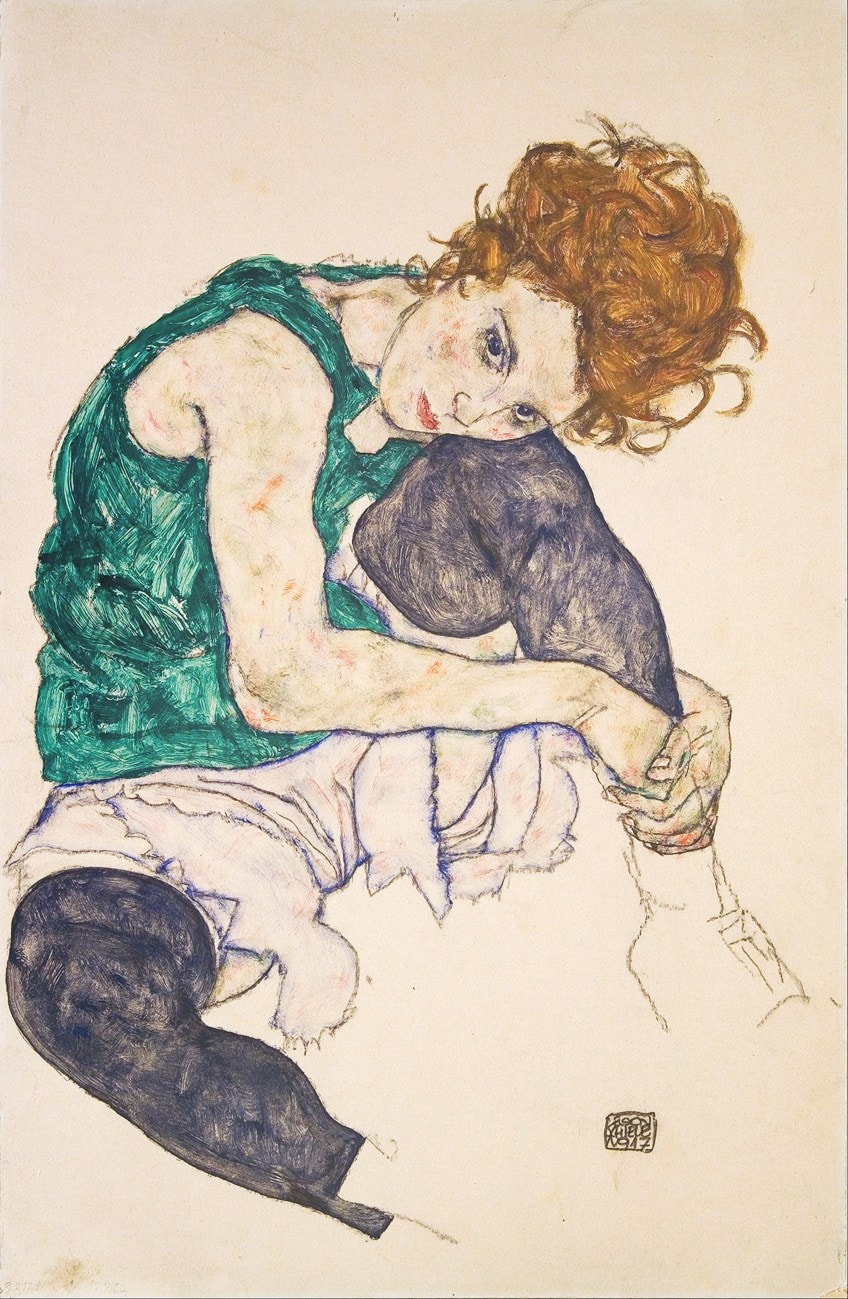 Seated Woman with Bent Knees (Adele Herms) (1917) by Egon Schiele; Egon Schiele, Public domain, via Wikimedia Commons
Schiele developed his particular style early on, according to art expert Martin Gayford. The majority of the material in the first of two rooms of this closely packed little display dates from 1910 to 1911, when Schiele was barely 20 years old. That helps to understand some of his unsettling preoccupations, such as his half-disgusted fixation with sexuality and his equally uneasy fascination with inspecting his nude self. The masculine figures appear to have been modeled mostly by the artist, however, this is difficult to confirm because the heads are frequently missing. Despite his brief life, Egon Schiele created an incredible quantity of works on paper and canvas.
He was essential in shaping the style of early-20th-century Expressionism, which was distinguished by the use of irregular forms, a frequently dismal palette, and grim symbolism.
Unlike his master, Klimt, with whom Schiele is most generally identified, he painted a large number of self-portraits, indicating an obsession with the self comparable to Picasso. Schiele's aesthetic affected both Expressionist contemporaries such as Oskar Kokoschka and Neo-Expressionist successors such as Julian Schnabel, Francis Bacon, and Jean-Michel Basquiat.
Excess and Punishment, a 1980 biographical movie produced in Germany with a cast from Europe, investigates Schiele's creative demon years leading to his early death. The cast includes Mathieu Carrière performing as Egon Schiele, Jane Birkin portrays his early creative lover Wally Neuzil, and Christine Kaufman portrays his wife, Edith Harms. In 1980, the Arts Council of Great Britain released Schiele in Prison, a documentary film that examined the conditions of Schiele's incarceration as well as the accuracy of his journal.
Egon Schiele's body of work, which he left behind at the age of 28, is irrevocably characterized by the imprint of his youth. His early Expressionist works depict the universal youth search for individual and sexual identification, while the acceptance of more traditional stylistic means corresponds to his maturation and acceptance of the position of spouse and creative leader. Although it is incorrect to combine Schiele's life with his work, the art is most likely more heavily influenced by his personal growth than is often assumed. Schiele, unlike many other modernists in other nations, did not have the backing of a community of like-minded peers.
He achieved his final formal solutions primarily on his own, drawing creative fuel from an eclectic scattering of foreign and home inspirations. Egon Schiele's distinctive talents could never be properly recognized as long as contemporary art history was described in terms of broad schools and trends. Today, though, we are more likely to see history as a jumbled tangle of loose ends, rife with illusions and personal prejudices.
From this vantage point, Schiele is very much a person of his era, since his sorrow and perplexity confirm our ubiquitous belief that there are no easy answers to the fundamental quandaries confronting us in the 21st century.
Egon Schiele's Artworks and the Nazis
Many Jewish art connoisseurs whose collections were plundered by the Nazis were among Egon Schiele's fans. As a result, many restitution proceedings in the 21st-century concern Egon Schiele's artworks. Fritz Grünbaum, a Jewish theater performer and cinema sensation, possessed Egon Schiele's Woman in Black Pinafore (1911), and Woman Hiding Her Face (1912) before the Germans transferred him to the concentration camps in Dachau. Daisy Hellmann possessed Krumau (1916) until it was confiscated by Nazis in 1942.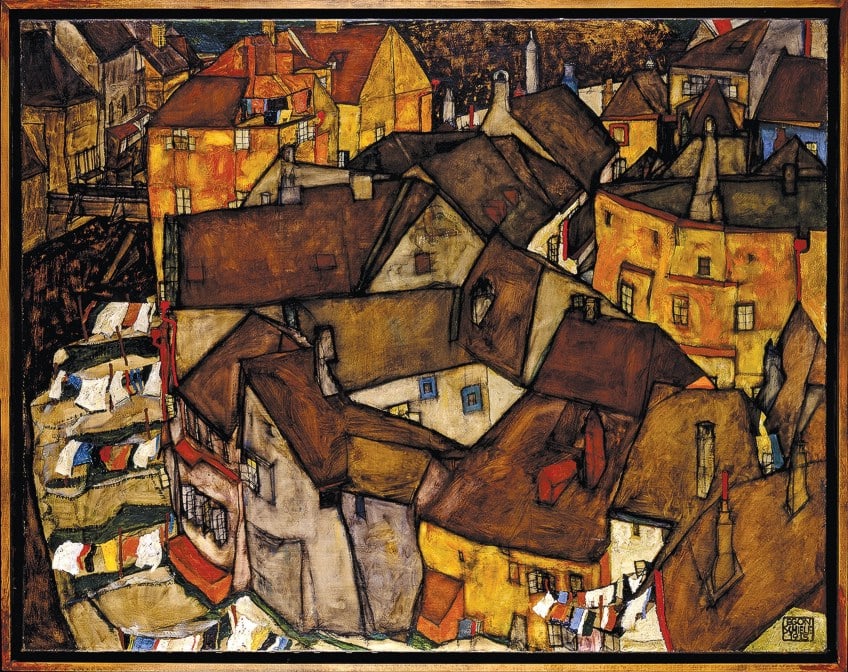 Krumau (1916) by Egon Schiele; Egon Schiele, Public domain, via Wikimedia Commons
She filed her first restitution petition in 1948, but her descendants did not reclaim the Schiele until 2002: The Vugesta, Austria's Nazi looting agency, sold Krumau in Vienna on the 24th of February, 1942, and the Sanct Lucas gallery purchased it on request of Wolfgang Gurlitt.
It was purchased by the City of Linz in 1953 for the Neue Galerie in Linz.
Karl Mayländer, a Jewish merchant in Vienna who was executed at Auschwitz, possessed Egon Schiele's 1917 artwork, Portrait of the Artist's Wife. Josef Morgenstern, the owner of Four Trees / Autumn Allée (1911), was imprisoned and sent to Auschwitz, where he was killed. Before his escape to London, the Nazis confiscated the exhibition space of Jewish gallery owner Lea Bondi Jaray, proprietor of the renowned Portrait of Wally (1912).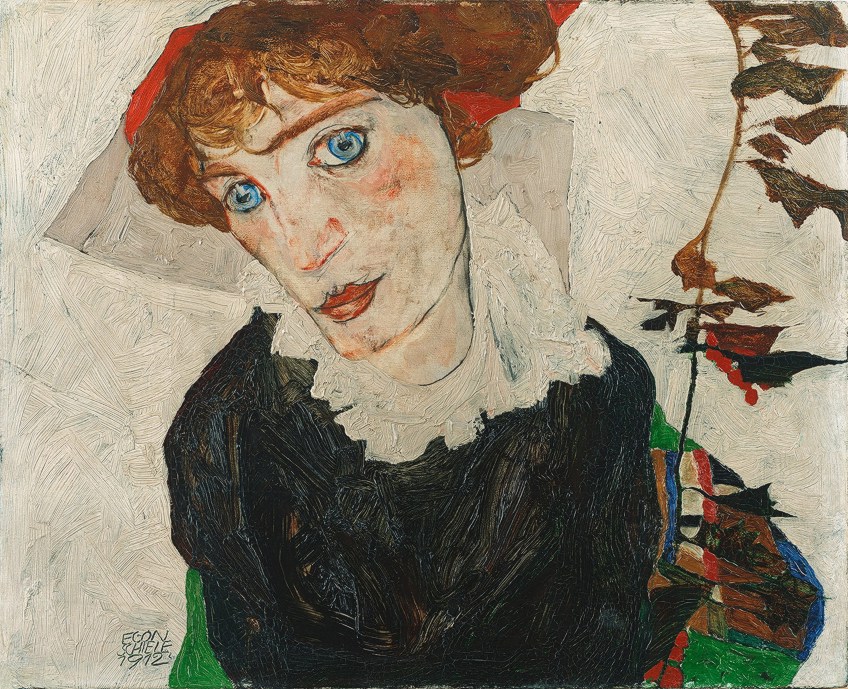 Portrait of Wally Neuzil (1912) by Egon Schiele; Egon Schiele, Public domain, via Wikimedia Commons
In 1954, Portrait of Wally (1912) was acquired by Rudolf Leopold and then became a part of the Leopold Museum's collection when it was founded by the Austrian government, which purchased over 5,000 items possessed by Leopold. Following a 1998 art show of Schiele's creations at the Museum of Modern Art in New York City, the work of art was taken by the New York County District Attorney's office and was entangled in a legal fight by the artwork's previous owners, who asserted the painting was Nazi pillage and thus should be given back to them.
On the 20th of July, 2010, the controversy was resolved, and the painting was acquired by the Leopold Museum for US$19 million. In order to fulfill the compensation claims for its Schiele work Houses by the Sea (1914), the institution sold three sketches by Schiele for £14 million at Sotheby's London in 2013.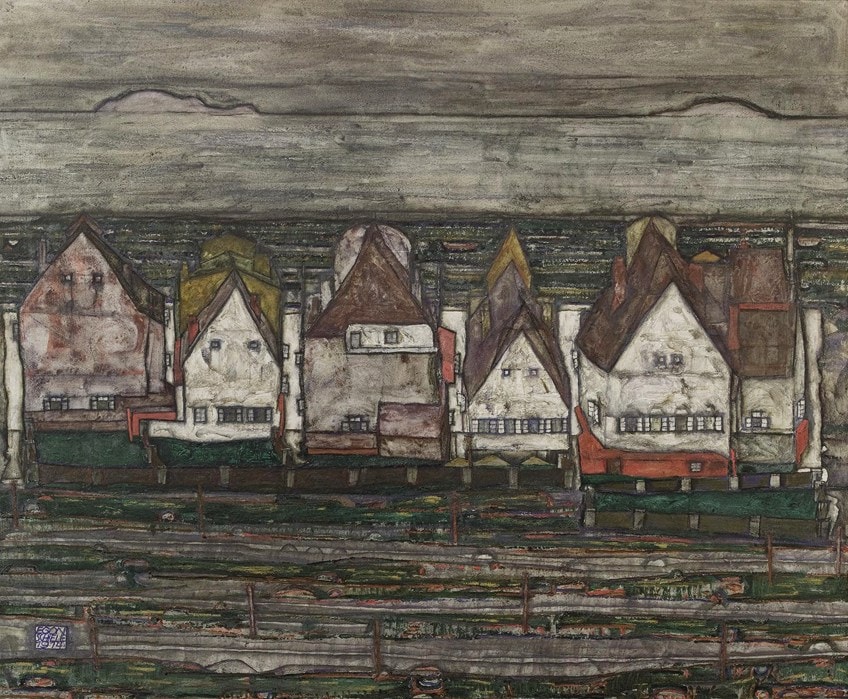 Houses by the Sea (1914) by Egon Schiele; Egon Schiele, Public domain, via Wikimedia Commons
Exhibitions and Art Collections
The Viennese Leopold Museum holds what is arguably Schiele's most significant and comprehensive collection of art, with over 200 pieces. In 2011, the gallery sold one of them, Houses With Colorful Laundry (1914), at Sotheby's for $40.1 million. Other prominent Schiele artwork collectors also include the Australische Galerie Belvedere in Vienna, Egon Schiele-Museum in Tull, and the Albertina Graphic Collection. Schiele's paintings, notably Dämmernde Stadt (1913), were gathered by Viktor Fogarassy.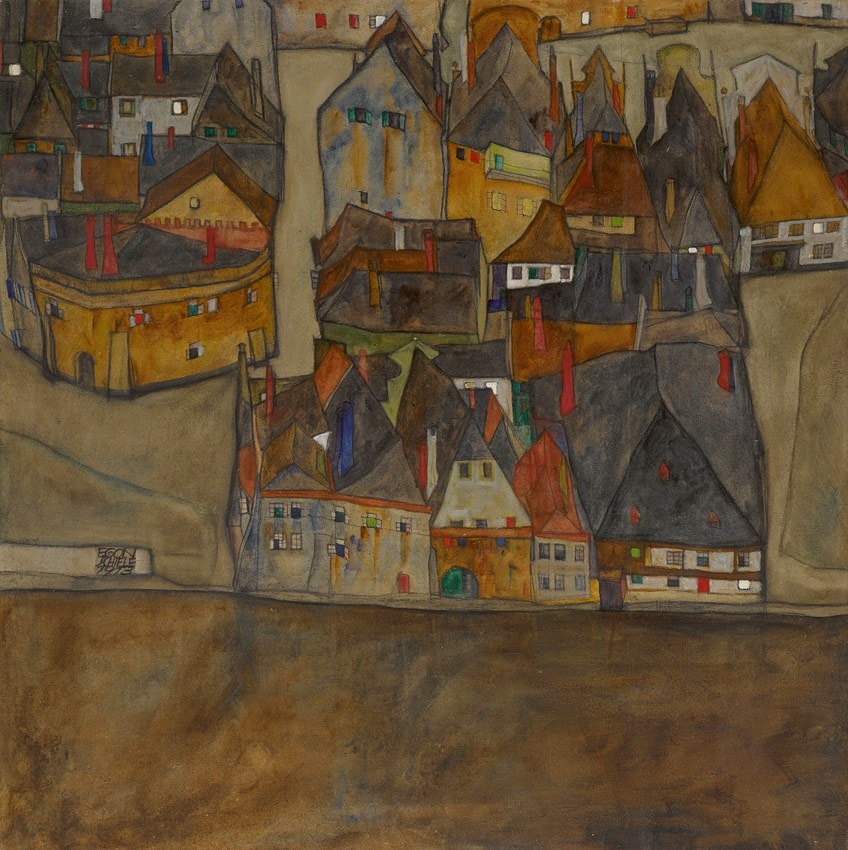 Dämmernde Stadt (1913) by Egon Schiele; Egon Schiele, Public domain, via Wikimedia Commons
Current Exhibitions of the Artist include
The Human Figure in Art – Thomas Modern (2021)
Modernism in Contemporary Art – Pinakothek Der Moderne (2022)
Schiele and his Legacy – Albertina Modern (2022)
Brno a Suburb of Vienna – Moravian Gallery in Brno (2023)
Important Artworks by the Artist
Schiele created numerous erotic portraits during his very short lifetime. His early works were inspired by Gustav Klimt. Here are a few examples of his work.
Girl With Black Hair (1910)
Reclining Nude (1910)
Frederike Beer (1914)
The Green Stockings (1917)
Woman (1917)
Seated with a Bent Knee (1917)
The Green Stockings (1917) by Egon Schiele; Egon Schiele, Public domain, via Wikimedia Commons
Recommended Reading
Perhaps you are interested in reading an Egon Schiele biography book. Or maybe you would like to buy a volume of his works as a table-top gift for Christmas. We have compiled a list of great books to read that you can purchase in case you would like to learn more about this controversial and famous artist.
Schiele (2017) by Reinhard Steiner
This book introduces major Schiele works to highlight his brief but important career and his deep impact on the evolution of modern art, which extends all the way to contemporary artists such as Tracey Emin and Jenny Saville. The Basic Art Series, which began in 1985, has grown to become the best-selling art book collection ever produced. This volume includes the following: a precise chronological account of the artist's life and work, emphasizing his or her cultural and historical significance, a brief biography, and over 100 drawings with accompanying captions.
Key Schiele works to introduce his short but urgent career
A detailed chronological summary of Schiele's life and works
Approximately 100 illustrations with explanatory captions
View on Amazon
Egon Schiele: Self-Portraits and Portraits (2011) by Jane Kallir
This intriguing new book examines how Egon Schiele revolutionized portraiture by masterfully portraying the interior lives of his many subjects, including himself. This book follows Schiele's career as a portraitist through four major historical periods, from 1906 to 1918. It traces Schiele's ultimate split with academics and the creation of his Expressionistic style, beginning with the artist's rigorous schooling at the Vienna Academy.
As he polished his technical skills, Schiele amassed a slew of clientele, many of whom he memorialized on canvas, and acquired a penchant for realism and introspection.
Schiele pushed the bounds of conventional portraiture throughout his career. Schiele's portraits are landmark works of inventiveness and great empathy with the human experience. They are confrontational, bluntly sexual, and typically free of props or backdrop. This collection also includes a careful investigation of Schiele's self-portraits and his connection with Gustav Klimt, as well as concise biographies of Schiele's models and excerpts of enlightening correspondence relevant to his life and work.
Exploring how Egon Schiele reinvented the art of portraiture
Tracing Schiele's development as a portraitist through four phases
Close examination of Schiele's self-portraits and relationships
View on Amazon
Egon Schiele was a forerunner of Austrian Expressionism and one of the most stunning portrait artists of the 20th century, with his vivid technique, figural deformation, and rejection of traditional beauty ideals. Schiele experimented with a sparkling Art Nouveau style before creating his own far more rough and aggressive approach of sharp lines, vivid hues, and awkward, elongated forms, mentored by Gustav Klimt. His prolific self-portraits and portraits astounded the Viennese institution with an unparalleled mental and sexual frequency, preferring arousing, revealing, or unnerving postures in which he or his models would bow down on the floor, linger with limbs akimbo, stare intently at the spectator, and push their genital area into the center of the frame. His figures are bony and sickly at moments, but robust and seductive at others.
Frequently Asked Questions
What Was Austrian Painter Egon Schiele Famous For?
Schiele's self-portraits and portraits, which are piercing examinations into their subjects' thoughts and sexuality, are among the most stunning works of the 20th century. Schiele is renowned not only for his mentally and erotically charged creations, but also for his captivating biography: his lascivious way of life marked by controversy, media attention, and regrettably premature death from influenza at the age of 28, just as he was on the verge of the major success that he had failed to achieve for the majority of his career as an artist.
What Kind of Art Did Schiele the Artist Produce?
He believed drawing to be his favored art medium, appreciating its immediacy of expression and producing some of the greatest instances of sketching in the 20th century. Even his painting work, with its emphasis on contouring, graphic marking, and linearity, reflected some of the drawing's key characteristics. Schiele's self-portraits, with their unique sense of psychological and sexual incisiveness, allowed both forms to vibrate. Schiele's portraits, which often depict himself or those close to him, frequently show their figures naked, positioned at revealing, awkward angles, and missing other features commonly shown in the portrait genre. At times, Schiele used traditional subjects, giving his extremely private paintings a more wide, metaphorical message about the human predicament.
Isabella studied at the University of Cape Town in South Africa and graduated with a Bachelor of Arts majoring in English Literature & Language and Psychology. Throughout her undergraduate years, she took Art History as an additional subject and absolutely loved it. Building on from her art history knowledge that began in high school, art has always been a particular area of fascination for her. From learning about artworks previously unknown to her, or sharpening her existing understanding of specific works, the ability to continue learning within this interesting sphere excites her greatly.
Her focal points of interest in art history encompass profiling specific artists and art movements, as it is these areas where she is able to really dig deep into the rich narrative of the art world. Additionally, she particularly enjoys exploring the different artistic styles of the 20th century, as well as the important impact that female artists have had on the development of art history.
Learn more about the Art in Context Team.