Venetian Renaissance Painters – History's Top Venetian Artists
Venetian Renaissance characteristics were very distinct when compared to Italian Renaissance art in general. Venetian art was not affected by the same cultural, economic, and political factors as the rest of the art in Italy was, due to Venice's isolated geographical position. Therefore, Venetian artists were able to explore art's pleasures leisurely. Venetian painters of the Renaissance not only inspired their contemporaries at the time but continued to inspire artists up to the 19th century.
Famous Venetian Renaissance Painters
The Venetian school's style was considered to prioritize color above line in comparison to the Mannerism style that was popular across the rest of Italy. The Venetian style had a significant influence on the later evolution of Western art.
Venetian art represented its peaceful harmony and prosperity, as well as its tight governmental administration.
Venice was well-known and respected for upholding a reputation for uncompromised liberty, steadfast religiosity, societal cohesion, and unwavering humanitarian intentions. In its recognition of the usefulness of art as a political tool, the Republic of Venice was the first city to promote the use of artistic funding as a governmental tool. Here is our list of notable Venetian Renaissance painters.
Gentile Bellini (1429 – 1507)
| | |
| --- | --- |
| Artist Name | Giovanni Bellini |
| Date of Birth | 1429 |
| Date of Death | 1507 |
| Place of Birth | Venice, Italy |
| Mediums Used | Tempera, oil paint |
Gentile Bellini, one of Venice's most accomplished Old Masters, was known for his view-paintings of the city as well as his Venetian Renaissance portraiture of the Doges and other notable figures. His father and brother were prominent early Renaissance artists in Venice. At the start of the 15th century, Venice fortified her status by seizing control of the nearby cities of Verona, Padua, and Vicenza, as well as establishing strong trading ties with Mantua and Milan.
By the mid-15th century, Venetian esteem had led to increased artistic and architectural interactions with Florence.
Self-portrait (1496 or earlier) by Gentile Bellini; Gentile Bellini, Public domain, via Wikimedia Commons
The Bellini family, led by Jacopo Bellini, were the most celebrated artists in Venice at the time. Jacopo, a former student of Gentile da Fabriano, was among the first Old Masters in Venice to display an appreciation for perspective and the art of oil painting. His workshop was extremely popular, with orders for altarpiece painting and portraits pouring in.
However talented Gentile was, he was mostly overshadowed by the works of his brother, Giovanni Bellini.
Portrait of Doge Giovanni Mocenigo (between 1478 and 1479) by Gentile Bellini; Gentile Bellini, Public domain, via Wikimedia Commons
Giovanni Bellini (1430 – 1516)
| | |
| --- | --- |
| Artist Name | Giovanni Bellini |
| Date of Birth | 1430 |
| Date of Death | 1516 |
| Place of Birth | Venice |
| Mediums Used | Tempera, oil paint |
Giovanni Bellini was the most important artist in Venice in the 15th century. Throughout the artist's lengthy career, he merged several elements of various styles to create his own peaceful and harmonious style.
Giovanni Bellini's artworks, whether massive altarpieces or little devotional panels, were predominantly about religious topics early in his career.
Self-Portrait (c. 1500) by Giovanni Bellini; Giovanni Bellini, Public domain, via Wikimedia Commons
Regarding the panels, he appears to have had a particular fondness for "Madonna and Child" works, which he made in an endless number of variants and for which his studio became rightfully famous. His paintings of wealthy Venetians were also extremely popular. Giovanni began work on a cycle of historical works for the doge's palace in 1479, which had been undertaken by his brother Gentile.
Bellini, a characteristically Venetian painter, is not reported to have left his hometown, though he may have toured adjacent Pesaro and Padua; he is regarded as the originator of the Venetian Golden Age of Painting.
Prior to Giovanni Bellini, conservative Venetian artists trailed behind the ambitious accomplishments of the Florentines. A master of the expressive interpretation of both light and color, Bellini founded the style in which Titian, Giorgione, Tintoretto, and Veronese subsequently flourished after absorbing the lessons of the great Italians.
Madonna and Child with St. John the Baptist (between c. 1490 and c. 1500) by Giovanni Bellini; Workshop of Giovanni Bellini, Public domain, via Wikimedia Commons
Vittore Carpaccio (1465 – 1525)
| | |
| --- | --- |
| Artist Name | Vittore Carpaccio |
| Date of Birth | 1465 |
| Date of Death | 1525 |
| Place of Birth | Venice, Italy |
| Mediums Used | Drawing, oil painting |
Carpaccio's schooling and early career are undocumented, however, it is believed that he trained at the Bellini workshop, where he most likely worked with both Bellini brothers. He may have spent some time on the Italian mainland after that.
Carpaccio is primarily known for his Venetian Scuola narrative cycles.
Carpaccio's narrative canvases, with their dramatic directness, structural clarity, diversity of people, and decorative complexity, fall immediately within the legacy of Venetian history painting illustrated by analogous works by Gentile Bellini. Their vibrant narrative, realistic humanity, and amazing architectural and environmental settings, however, reveal a distinctively different personality.
Portrait of Vittore Carpaccio, c. 1700; Unknown author Unknown author, Public domain, via Wikimedia Commons
Carpaccio's pictorial style in his greatest works is distinguished by fluid skill and command of color and light. However, even at the peak of his career, his work is noticeably inconsistent, and his skills and creativity waned in his senior years. Aside from works evidently done with workshop help, other ostensibly signed works appear bland and conventional.
Despite the retention of an exceptionally high number of dated images to function as reference points, this variety in quality makes stylistically dating Carpaccio's paintings extremely difficult.
The Triumph of St George (1502) by Vittore Carpaccio; Vittore Carpaccio, Public domain, via Wikimedia Commons
Giorgione (1477 – 1510)
| | |
| --- | --- |
| Artist Name | Giorgio Barbarelli da Castelfranco |
| Date of Birth | 1477 |
| Date of Death | 1510 |
| Place of Birth | Castelfranco, Italy |
| Mediums Used | Oil, wood |
At the time that Leonardo Da Vinci was bringing fame to Florence, a modest Venetian painter by the name of Giorgione was producing many of his own masterworks in Venice. Giorgione outperformed preceding icons – the Bellinis – by being intelligent, adaptable, and, naturally, a world-class artist. Giorgione was a design student in his early years, and his exploration of nature led him to cultivate an intense appreciation for natural beauty.
He resolved that everything he created would be utilized to highlight the splendor of nature, and he accomplished this with perfect elegance and clarity.
Self-portrait as David (between c. 1508 and c. 1510) by Giorgione; Giorgione, Public domain, via Wikimedia Commons
It was stated that he breathed life into his art and figures because of his incredible ability to create shapes of the living that were so beautiful and painstakingly constructed with either oils or fresco. This positioned him uniquely from practically all of the artists who came before him and left numerous admirers in his wake.
Giorgione's life was so brief that his most prolific years – about 1500 – were in the midst and conclusion of his career. By this point, his brilliance was well-known throughout the city, and his fame was spreading throughout Italy.
Sleeping Venus (1508-1510) by Giorgione; Giorgione, Public domain, via Wikimedia Commons
Titian (1488 – 1576)
| | |
| --- | --- |
| Artist Name | Tiziano Vecellio |
| Date of Birth | 1488 |
| Date of Death | 1576 |
| Place of Birth | Pieve di Cardore, Venice, Italy |
| Mediums Used | Oil paint |
Titian is regarded as one of the most influential artists of the Italian Renaissance. Titian was a versatile painter who was equally skilled at painting religious themes, landscapes, and portraits. His vivid use of color and dramatic compositions informed succeeding generations of European artists, notably Nicolas Poussin and Peter Paul Rubens.
He once said, "The artist must constantly seek the essence of objects, always depict the essential features and sentiments of the subject he is portraying."
As a child, the artist left home with his brother and learned to paint at the studios of the Bellini brothers. He completed his work Assumption of the Virgin in 1518, which established him as one of Venice's most renowned painters.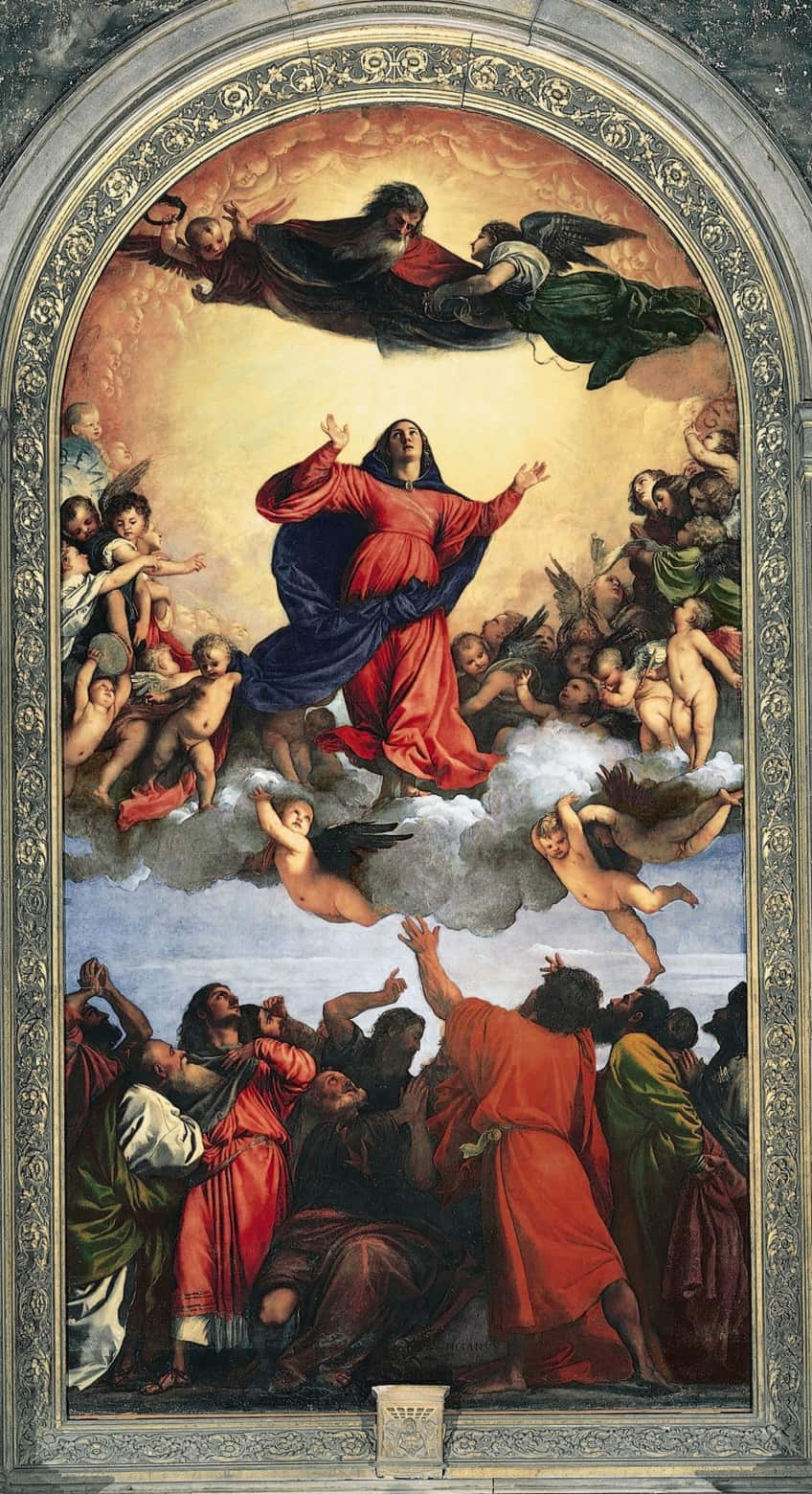 Assumption of the Virgin (1516-1518) by Titian; Titian, Public domain, via Wikimedia Commons
He was commissioned to produce paintings for members of the monarchy and the church throughout his life, notably Pope Paul II, who had the artist make portraits of himself and his family. Titian passed away on the 27th of August, 1576, in Venice, Italy.
His paintings are now housed at the J. Paul Getty Museum in Los Angeles, the Art Institute of Chicago, the Metropolitan Museum of Art in New York, the Hermitage Museum in St. Petersburg, and the National Gallery in London, among several others.
A close-up of Titian's Self Portrait (c. 1562); Titian, Public domain, via Wikimedia Commons
Jacopo Tintoretto (1519 – 1594)
| | |
| --- | --- |
| Artist Name | Jacopo Robusti |
| Date of Birth | 1519 |
| Date of Death | 1594 |
| Place of Birth | Venice, Italy |
| Mediums Used | Oil paint |
Jacopo Tintoretto was one of the three Venetian art titans of the 16th century. Nobody came close to achieving the number of paintings he produced for Venice's confraternities, churches, government institutions, and private residences.
His works stand out for their open, painterly technique, energy, and unique ways of depicting narrative themes, notably Biblical scenes.
His aggressive brushwork, which accentuates bold contours while exploiting and energizing the canvas surface, influenced artists ranging from El Greco and Sir Peter Paul Rubens to French artists of the romantic era as well as contemporary artists.
Presentation of Jesus at the temple (1540) by Jacopo Tintoretto; Jacopo Tintoretto, Public domain, via Wikimedia Commons
He was a superb artist of religious subjects and a great storyteller, depicting the eternal themes of Christian art with vigor, passion, and surprising touches. His approach was imaginative, even hallucinogenic at times, but always based on ordinary reality. His art reflects a profound sympathy for the impoverished and disadvantaged, anticipating the sensitivities of artists such as Diego Velázquez and Caravaggio.
Tintoretto was a source of contention throughout his career. While his force and originality were admired, critics frequently argued that his works appeared incomplete.
Self-Portrait as a Young Man (c. 1548) by Jacopo Tintoretto; Jacopo Tintoretto, Public domain, via Wikimedia Commons
Paulo Veronese (1528 – 1588)
| | |
| --- | --- |
| Artist Name | Paolo Caliari |
| Date of Birth | 1528 |
| Date of Death | 1588 |
| Place of Birth | Verona, Italy |
| Mediums Used | Oil paint |
Paolo Veronese is recognized as one of the famous trio that influenced Venetian art in the 16th century. The artworks of the Italian master reflected the opulent lifestyle of the 16th-century Venetians, displaying the prominent influences of wealth that were excessive at the time. Veronese's works are often big canvases depicting historical, religious, and mythical events.
Veronese was a brilliant colorist who specialized in using varied color compositions to add complexity to his works.
Portrait of Paolo Veronese; Nationalmuseum, Public domain, via Wikimedia Commons
As a Venetian artist, he had a very productive and active career, producing anything from elaborate decorations for villas to massive altarpieces for religious institutions, portraits for high-profile patrons, and countless historical artworks in various forms. When Veronese was 25, he relocated to Venice, where he cemented his position as a painter par excellence. He lived the remainder of his life in Venice, where he rose to prominence in the group of Renaissance painters.
Veronese was a fervent advocate of a creator's right to artistic control, and he was frequently forced to justify some of his works in the face of harsh conservative criticism.
The Coronation of Hebe (between 1580 and 1589) by Paolo Veronese; Paolo Veronese, Public domain, via Wikimedia Commons
Canaletto (1697 – 1768)
| | |
| --- | --- |
| Artist Name | Giovanni Antonio Canal |
| Date of Birth | 1697 |
| Date of Death | 1768 |
| Place of Birth | Venice, Italy |
| Mediums Used | Etching, oil paint |
The child of a theatrical scenery artist, Canaletto, Giovanni Antonio Canal was born in Venice. He was a powerful figure known for his perfectly rendered and captivating views of the city. Canaletto's early works for local customers are his most successful: The Stonemason's Yard (c. 1725) is one of these meticulously constructed, personalized, and atmospheric pieces.
He discovered that selling formulaic artwork to visitors was quite profitable.
He created these yet extremely competent pieces in partnership with an established studio. They mainly chronicle the most elaborate Venetian public occasions, such as the painting, Regatta on the Grand Canal (1740).
The Stonemason's Yard (c. 1725) by Canaletto; Canaletto, Public domain, via Wikimedia Commons
English collectors favored Canaletto. Between 1746 and 1756, he visited England many times and painted masterpieces. His most significant collaborator was his nephew Bellotto, who went on to become a successful artist in his own right. Canaletto was known for his detailed preparation sketches.
He may have utilized a camera obscura to achieve topographical realism in some of his works, but he was always more interested in pleasing compositional design than merely capturing landscapes.
Portrait of Canaletto (1754) by Antonio Visentini; Antonio Visentini, Public domain, via Wikimedia Commons
Francesco Guardi (1712 – 1793)
| | |
| --- | --- |
| Artist Name | Francesco Lazzaro Guardi |
| Date of Birth | 1712 |
| Date of Death | 1793 |
| Place of Birth | Venice, Italy |
| Mediums Used | Oil paint |
Francesco Guardi's practice as a "view" artist would seem to have started in the early to mid-1750s and arose out of the Guardi family's exercise of emulating the artworks of other painters instead of any formal instruction with another artist. Francesco Guardi's early views, such as those found in the Duke of Buccleuch's collection, use a style influenced mostly by Michele Marieschi and Canaletto.
Francesco Guardi frequently copied complete compositions from other artists' paintings and prints, though he frequently worked from his own sketches.
Portrait of Francesco Guardi (1764) by Pietro Longhi; Pietro Longhi, CC BY-SA 4.0, via Wikimedia Commons

Guardi, like other view artists, created pictures of Venetian festivals as well as the landscape and architectural topics that were prominent in the 18th century. All through Francesco Guardi's career, there are representations of festivals such as the Mardi Gras of 1758 and events relating to foreign dignitaries' visits. Francesco Guardi's prolific production appears to have been mostly acquired by middle-class Venetians and English tourists of moderate incomes.
Their documented words reveal respect for his artistic verve and lyrical vision, while others critique these same attributes as bad skill and carelessness in depicting specific locations.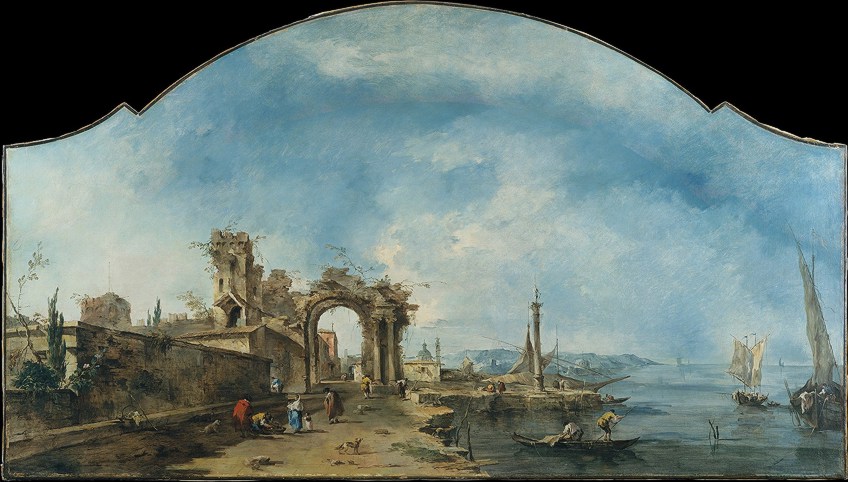 Fantastic Landscape (c. 1765) by Francesco Guardi; Francesco Guardi, CC0, via Wikimedia Commons
Giacomo Favretto (1849 – 1887)
| | |
| --- | --- |
| Artist Name | Giacomo Favretto |
| Date of Birth | 1849 |
| Date of Death | 1887 |
| Place of Birth | Venice, Italy |
| Mediums Used | Oil paint |
Giacomo Favretto's father was a carpenter and worked for several years in the family's workshop. In 1864, Favretto joined the Academy of Fine Arts, where he studied under Pompeo Marino Molmenti. He was believed to have been spotted cutting out silhouettes for a living in a stationer's store. His sight deteriorated in one eye so badly that he lost complete use of it by the age of 30.
His genre painting drew the notice of Camillo Boito during the Fine Arts Exposition of the Brera Academy in Milan in 1873.
Self-portrait (1875) by Giacomo Favretto; Giacomo Favretto, Public domain, via Wikimedia Commons
After visiting Paris with Guglielmo Ciardi in 1878 to participate in the Universal Exhibition, he returned to display work at the Brera in 1880, earning the Prince Umberto Prize. In the same year, he took part in Turin's Esposizione Nazionale di Belle Arti with pieces depicting ordinary life in Venice and scenarios in 18th-century attire. In 1887, Favretto died in Venice.
His success was confirmed in 1887 at the Esposizione Nazionale Artistica in Venice when his paintings were on display.
The school of painting (1871) by Giacomo Favretto; Giacomo Favretto, Public domain, via Wikimedia Commons
The Venetian Renaissance was a watershed point in the history of Western art, forging an aesthetic lexicon of astonishing mastery. Venetian painters of the Renaissance celebrated the lyrical possibilities of luxuriant colors and atmospheric effects, transcending the textural, and figurative realism of their forebears to produce works unrivaled in their visceral and sensual portrayals, lustrous textures, and majestic treatment of light. Venetian artists like Titian, Giorgione, Tintoretto, and Veronese were famous in their own right, and their works were highly valued by discriminating collectors all across Europe.
Take a look at our Venetian artists webstory here!
Frequently Asked Questions
What Are the Common Venetian Renaissance Characteristics in Art?
The Bellinis and their contemporaries established a distinctive Venetian painting style distinguished by rich, deep colors, a focus on surfaces and patterns, and a keen interest in the influence of light. While Venetian artists were aware of linear perspective and utilized it in their work, depth is typically portrayed by gradually shifting hues and the movement of shadow and light. Perhaps the sparkling gold mosaics and ambient light in the great Cathedral of San Marco, erected in the 11th century, influenced Venetian artists. Perhaps they were drawn to the aquatic metropolis and the dynamic reflections on the canal surfaces.
How Did the Venetian Painters of the Renaissance Become Popular?
Venetian artists have always had access to the best and most expensive pigments due to the city's dominance in the eastern trade for spices and luxury items. Greater interaction with Northern Europe exposed them to the new oil painting method that had lately been established in the so-called low countries. Oil paints dry slowly and can be mixed. Built up in transparent layers, they catch and reflect light in ways that tempera paints' flat opaque hues cannot. The innovative medium was quickly adopted by Venetian Renaissance painters, and its potentiality was revealed in the paintings of Venetian artists such as Giovanni Bellini. For the first time, the sensual, dazzling coloring that would define Venetian art for generations was visible.
Isabella studied at the University of Cape Town in South Africa and graduated with a Bachelor of Arts majoring in English Literature & Language and Psychology. Throughout her undergraduate years, she took Art History as an additional subject and absolutely loved it. Building on from her art history knowledge that began in high school, art has always been a particular area of fascination for her. From learning about artworks previously unknown to her, or sharpening her existing understanding of specific works, the ability to continue learning within this interesting sphere excites her greatly.
Her focal points of interest in art history encompass profiling specific artists and art movements, as it is these areas where she is able to really dig deep into the rich narrative of the art world. Additionally, she particularly enjoys exploring the different artistic styles of the 20th century, as well as the important impact that female artists have had on the development of art history.
Learn more about Isabella Meyer and the Art in Context Team.
Cite this Article