Japanese artist Takashi Murakami's artwork has been described as vividly colorful and madly happy. Takashi Murakami's paintings have skyrocketed in popularity in the contemporary art world, eliciting both praise and criticism for his Japanese Pop art. Murakami's sculptures and artworks combine the pop culture references of Japan with the nation's rich cultural tradition, masterfully blurring the line between commerce and high art.
The Life and Art of Japanese Artist Takashi Murakami
| | |
| --- | --- |
| Nationality | Japanese |
| Date of Birth | 1 February 1962 |
| Date of Death | N/A |
| Place of Birth | Tokyo, Japan |
For his art-as-business strategy, as well as his enormous factories of workers that make, promote, and sell his art, Takashi Murakami has been likened to Andy Warhol. His detractors have labeled him as a swindler who is caving in to the art market's rising need for readily digestible and exotic Japanese art.
However, for Murakami, this is a compliment, and that is exactly what he had set out to accomplish.
Childhood
Takashi Murakami was born in the year 1962 to a taxi driver father and a housewife mother. Murakami's involvement in the arts was greatly influenced by his mother, who practiced needlework and produced textiles. His parents frequently required him to write reports of exhibits he had attended. He was ordered to go to sleep without eating if he protested. Murakami learned to sit and think swiftly as a result of his upbringing in such a competitive setting.
These abilities helped shape his eventual reputation as a caustic art critic.
Murakami grew up listening to his mother say that if the United States had detonated another nuclear bomb on Japan, he would never have been alive. The pervasiveness of the damage, as well as the accompanying US occupation of Japan in the years after WWII, had a significant impact on Murakami's artistic development. During Murakami's upbringing, Japan developed a cultural character that revitalized historic Japanese culture while putting enormous pressure on its workers to perform to contend with the West both culturally and economically.
Photograph of artist Takashi Murakami, taken on his thirtieth birthday by Ithaka Darin Pappas, with early works at Galerie Mars in Tokyo 1992; IthakaDarinPappas, CC BY-SA 4.0, via Wikimedia Commons
Murakami's early pastimes ranged from observing Buddhist rites and studying Japanese calligraphy classes to touring museum exhibits of masters such as Goya and Renoir, reflecting this mixed focus on ancient Japanese traditions and Western ideas.
Though he gained an early affinity for both conventional Japanese heritage and contemporary European artwork, Japanese animation had the most profound influence on him throughout his adolescent years. This explains why he dedicates a large portion of his works to the otaku market, a subculture preoccupied with dystopian and fetishistic images.
These common tropes in manga and anime correspond with otaku fans' incapacity, or possibly reluctance, to engage in real life or use social skills. Murakami himself connects the otaku culture to postwar Japanese civilization.
Early Training and Work
Murakami enlisted in the highly prestigious Tokyo National University of Fine Arts and Music's nihonga department – a classical Japanese style of painting that pulls on aspects of contemporary western art, at first engaged in learning to create the background art for animations. He learned animation creation outside of school while researching old techniques at university, and he expanded his understanding of the current art world by touring exhibitions and participating in his school's traveling artist program.
An inspirational yet aggravating encounter with Joseph Beuys in 1984 proved to be a watershed moment in Murakami's creative career.
Beuys rejected numerous of the students' queries during an in-class debate, claiming "The questions are meaningless. I'd want to ask a more probing inquiry." Beuys' contemptuous attitude irritated Murakami, who was also angry with what he perceived as uneducated Japanese art students. As a result, during his seventh year of high school, Murakami's work had begun to show his extremely critical stance toward the Western art industry.
Murakami's early writings reflect the circumstances of his upbringing, delving into the difficult post-World War II connection between Japan and the United States. Polyrhythm (1991), for example, employs miniature World War II figurines, whilst Sea Breeze (1992) alludes to the atomic bomb.
These paintings show his early evolution of a fun, deceptively light style that constantly alludes to a more sardonic viewpoint.
Mature Period
The Japanese Pop artist moved to New York City on a grant from the Asian Cultural Council. There he felt alone and dissatisfied in New York, besieged by the constraints of the American art scene and exhibition system. There he recognized that to flourish in this environment, he needed to shed his overly-intellectual Japanese fixations and portray himself and his art in a more basic form as truly Japanese. As a result, this period marks a watershed moment in his career.
His work had previously concentrated on contemporary art with a global slant, but it was during this time that he chose to re-engage with his Japanese heritage and increase his artwork's connection with both the fine art form of nihonga and the pop culture genres of manga and anime.
On the verge of departing New York, Murakami created the character "Mr. DOB", who eventually went on to represent the designer's hallmark persona throughout his wide spectrum of artistic media. Mr. DOB-shaped inflatables were originally shown in New York in 1995 at the Angel Orensanz Foundation but gained little critical acclaim.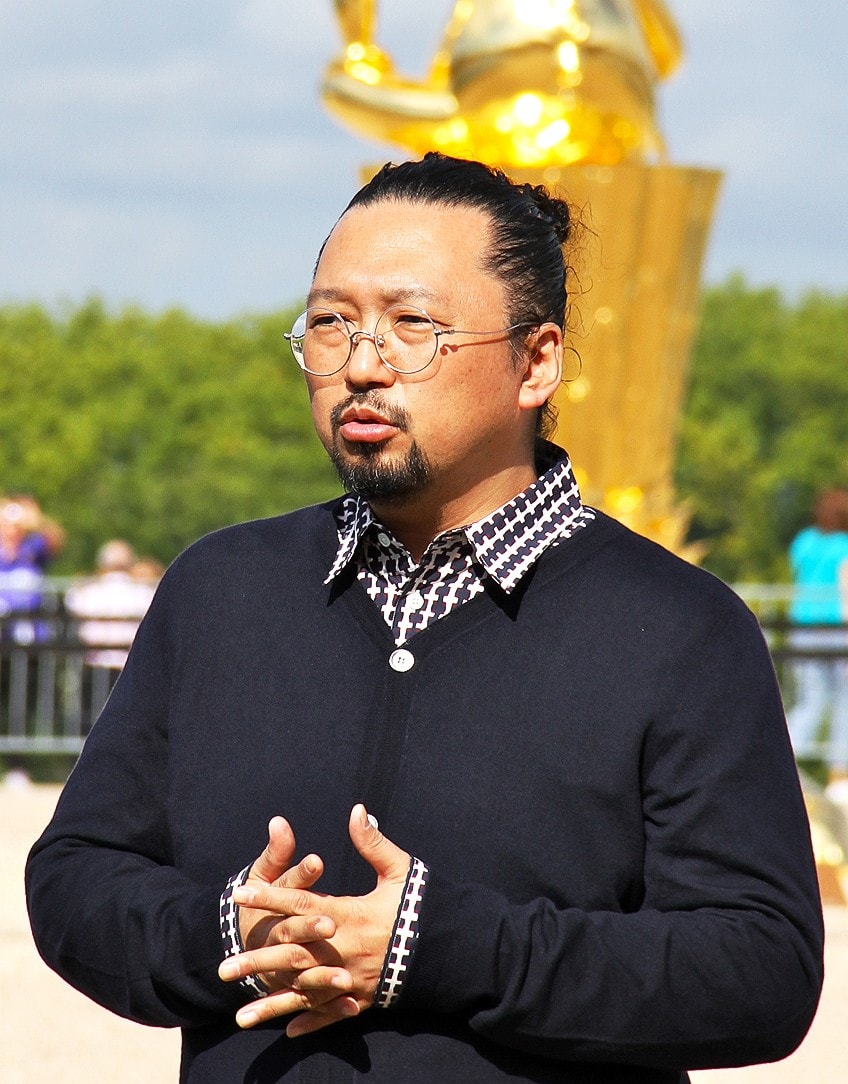 Photograph of Japanese artist Takashi Murakami at the Palace of Versailles in France on the 10th of September 2010, giving an interview to a film crew about his new exhibit; Sodacan, Public domain, via Wikimedia Commons
In 1996, he took part in a group show at the gallery Feature. His international reputation and fame began with this show. The Japanese Pop artist then subsequently created several significant sculptures influenced by the otaku subculture, notably Miss ko2 (1997), and My Lonesome Cowboy (1998).
Murakami started the Hiropon Factory in 1996 to make his otaku-inspired artworks. His workshop, like many of Murakami's creations, is based on both traditional Japanese art factories, such as those that created the vibrant woodblock prints of the Edo era, as well as Andy Warhol's factory.
At Hiropon, assistants educated in diverse areas of competence work on large-scale, mass-marketed initiatives under the artist's guidance. The Hiropon Factory was renamed Kaikai Kiki Co. in 2001. In addition to creating and promoting Takashi Murakami's artworks, the firm supports emerging artists, hosts art fairs, arranges joint initiatives with individuals and businesses in fashion, entertainment, and music, and creates animated movies and films.
Art presented in the exhibition "Flowers & Skulls" by Takashi Murakami, exhibited at the Tomie Ohtake Institute in São Paulo, Brazil; Anna Cicilini, CC BY-SA 4.0, via Wikimedia Commons
Kaikai Kiki Co. marks a change in modern artistic production in which fine art and industry are fully incorporated, and where the artist's tangible hand in the creation of the works of art no longer defines the value, but instead, the representational worth is generated through the artist's affiliation with the art-commodities generated in his enterprise factory.
Murakami proposed the Superflat theory in a group show of the same name in 2000, in quest of a post-war Japanese identity and frustrated by his compatriots' apathy to Japanese contemporary art.
The show included paintings by Shigeyoshi Ohi, Yoshitomo Nara, Aya Takano, and others, as well as his own. The Superflat theory quickly spread throughout the contemporary art world, becoming a defining trend in contemporary Japanese Pop art and the last significant style to achieve international renown in the art world since the Japanese Gutai group in the 1950s. Murakami's seminal article "A Theory of Super Flat Japanese Art" (2000) is the culmination of his early disdain for the art establishment.
There, he expresses a desire to create a distinctly Japanese creative style that is closely tied to Japan's lengthy shadow cast by the humiliating loss of WWII. This article aims to capture the essence of postwar Japanese culture to use it as a core philosophy for his artworks. Murakami, as writer Pico Iyer puts it, "is a realistic reporter of the departure from the real." And, just as Andy Warhol wanted to give contemporary America the excess of mass production and mass stardom it appeared so bent on, with a fury, Murakami gave Japan exactly the pictures it likes, in its passion for the cutesy and those deviant forms favored by the otaku."
The Japanese version of this article is filled with venomous anti-Americanism, although his English translations concentrate on the stylistic growth of his works. However, in both versions, Murakami discusses the notion of "super flatness," which he calls "an original Japanese concept that has been thoroughly westernized." His epic Superflat thesis tries to flawlessly connect the history of Japanese art from the Genji and Heiji scrolls of the 12th and 13th centuries to modern Japanese pop culture.
People are frequently lured to his artwork for its perceived vapidity and brilliant eruption of figures and colors, despite the art-historical and culturally-rich connotations in his paintings, articles, declarations, and interviews. This dichotomy between profound significance and quick pleasure received by his audience exemplifies the fluid character of his Superflat idea.
Current Practice
Murakami's work has become increasingly commercially charged and has explored atypical creative media such as design, music, leisure, public installations, animations, and movies since the creation of the Hiropon Factory. This shift in responsibilities indicates Murakami's determination to redefine what it means to be a postmodern, worldwide artist.
The Japanese artist then started his lengthy partnership with the Louis Vuitton brand in 2002. Murakami was able to blend his own distinct look into the LV project without sacrificing his uniqueness.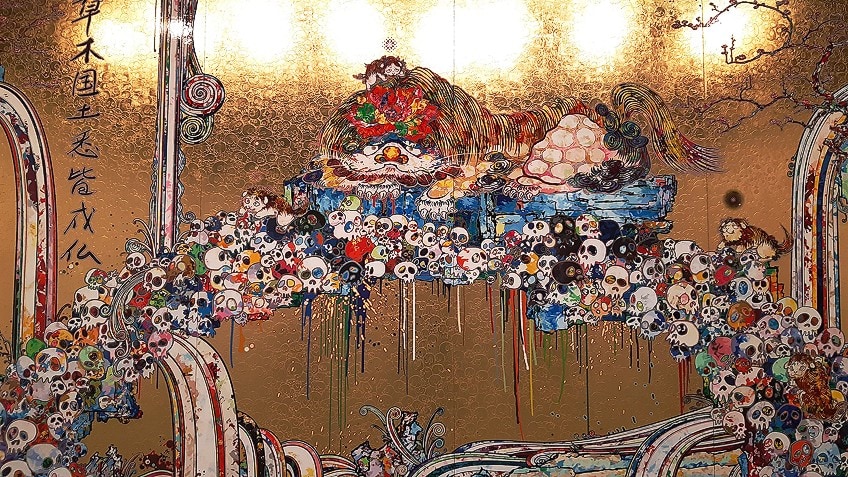 Art by Takashi Murakami, from the exhibition "Flowers & Skulls" that was presented at Instituto Tomie Ohtake in São Paulo, Brazil; Anna Cicilini, CC BY-SA 4.0, via Wikimedia Commons
He merged LV's monogram with his own distinctive jellyfish eyes, for instance, or reprinted the monogram with his cartoonish cherries. This partnership made Murakami well-known for further dissolving commercial barriers, elevated his profile to that of a superstar in his native nation, and increased the economic worth of his art to that of a highly valued commodity among (mainly Western) collectors. Legacy Murakami has mentored and influenced the next generation of Japanese artists.
To his Japanese supporters, he stated that he was on a mission to deceive the West and destroy the Japanese art establishment.
He is also an enthusiastic teacher to rising Japanese artists, having hired them at his workshops, curated exhibits of their work, and written articles contextualizing their work within the heritage of contemporary Japanese art. Despite the conflicting reactions to his work, which alternates between harsh scorn and outright praise, Superflat has come to define the world's perception of Japanese Pop art.
Takashi Murakami's Artwork
Takashi Murakami's art is influenced by the Japanese culture of otaku, which is full of odd perversions of sweetness and purity, as well as tremendous brutality. Murakami uses this to build a nuanced critique of modern Japanese society as well as the West's invading impact on it.
Murakami created the Superflat movement in rejection of the Western-dominated art scene. The name relates to both the flattened compositions of past Japanese creative trends such as Nihonga, as well as the flattening (or merger) of art and business.
Murakami's Superflat combines Japanese history with modern pop culture. Its colorful and simple eye-candy approach drew a large following to Murakami's work right away. Critics, on the other hand, have slammed Superflat as an obvious caricature and misrepresentation of modern Japan. Nevertheless, Superflat has influenced a new generation of Japanese artists.
727 (1996)
| | |
| --- | --- |
| Date Completed | 1996 |
| Medium | Synthetic Polymer on Canvas |
| Dimensions | 299 cm x 449 cm |
| Current Location | Museum of Modern, Art New York |
Murakami's avatar, Mr. DOB, sits in the heart of this modern triptych. His gaping mouth shows razor-sharp fangs, as his numerous eyes gaze maniacally about him. Japanese anime is famous for its cartoon characters with extraordinarily huge eyes that typically cover a substantial amount of their face. This piece's roaming eyes exaggerate anime's exaggeration even more.
Murakami's Mr. DOB, which developed in 1993, is inspired by the Japanese slang phrase "dobozite," approximately translated as "why?" Mr. DOB's crazy smile might be seen as Murkami's laughing posture toward the art world, as well as the West.
727 is a reference to the American jets that passed over his boyhood town on their way to U.S. military sites. In this regard, the name is a direct allusion to the United States' role in postwar Japan, which Murakami is anxious to both investigate and condemn in his art. Mr. DOB sits atop a modeled swell, an obvious tribute to the artist Hokusai, whose bold colors and flattened designs inspired both subsequent Japanese artists and manga graphics. The abstract backdrop, achieved by scraping away multiple layers of paint, is evocative of a nihonga-style Japanese folding screen.
The peaceful application of color in the backdrop of this painting contrasts sharply with the comical Mr. D.O.B. atop a parody of Hokusai's wave. Murakami, who holds a Ph.D. in nihonga, effectively combines the worlds of ancient Japanese beauty with popular modern Japanese cartoons. Murakami launched the Mr. DOB series intending to create a modern-day symbol equivalent to Mickey Mouse, or Hello Kitty. Mr. DOB is a mascot for the company.
This repeating pattern is Murakami's first "artistic DNA," which can be seen in a variety of media and cultural contexts, ranging from fine-art paintings and massive sculptures to mass-produced t-shirts, banners, and keyrings.
"The public doesn't need the creator, only the persona," he proclaims, to make the creator disappear. "I despair of the idea that the world would not cleanse, and that art is an efficient medium to endure gladly, even after my burial," Murakami continues, echoing the nameless Japanese craftsmen of the past. Mr. DOB's runaway popularity gave Murakami the courage to raise himself to the level of Duchamp, Cézanne, Warhol, and Picasso, who "had their characteristics to last many decades beyond their lifetimes," in his words. Mr. DOB is both a commemoration and a critique of current civilization, and it is this dichotomy that makes him so appealing.
Hiropon (1997)
| | |
| --- | --- |
| Date Completed | 1997 |
| Medium | Fiberglass |
| Dimensions | 223 cm x 104 cm x 122 cm |
| Current Location | Several versions sold at auction houses |
With her small waist and thick pink pigtails, this excessively sexualized sculpture has bosoms so big that they burst out of her thin bikini top, spraying a jet stream of milk that encloses her form. While this sculpture appears to be a cartoon figure, her imposing physical presence and placement atop a spotless white vitrine remind spectators that they are looking at "fine art."
This sculpture, which combines feminine sweetness with frightening depravity, represents Murakami's extensive connection with otaku society, particularly its pornographic underbelly, known as the "Lolita Complex," in which purity and femininity are paradoxically valued and glamorized.
In Hiropon, Murakami's love for anime-inspired figures is very evident. Murakami describes these artworks as "a reflection of my personal passion for anime when I was in junior high and assimilated many various things from anime like its sensual and fantasy qualities that very process culminated in this work."
However, beyond its cartoonish and relatively insignificant veneer, this artwork serves as a severe indictment of post-World War II Japanese civilization. Murakami has stated frequently in conversations and publications that the US presence after WWII infantilized Japan, making it the "little boy" in relation to the US. According to Murakami, after WWII, Japan was "barred from fully engaging in world geopolitics, Japanese aesthetic-political urges exploded into dreams of creatures and heroes, galactic battles, androids, and schoolchildren – all the manifestations of anime, comics, and video games."
He portrays this as having a brutalizing impact on Japan, and as a consequence, Japanese society grew preoccupied with youthful cuteness, and with it, a darker and more violent sexual embodiment of this desire. The term refers to the darker side of Japanese society – "hiropon" is a Japanese term for crystal meth.
Murakami's study of otaku subculture as an unlawful form of entertainment is shown by this physical connection to drug society.
Supernova (1999)
| | |
| --- | --- |
| Date Completed | 1999 |
| Medium | Acrylic on canvas mounted on board |
| Dimensions | 299 cm x 1049 cm |
| Current Location | Collection of Vicki and Kent Logan |
At first look, this multi-paneled picture of mushrooms, named Supernova, appears to be a whimsical, childlike fantasy, executed in Murakami's characteristic Superflat style that merges references to classic Japanese art alongside modern pop culture. However, the mutant eyes, fang-like spikes, kaleidoscopic hues, and twisted shapes of these animals suggest dark undercurrents.
The title of the artwork refers to the 1995 song "Champagne Supernova" by the British band Oasis. The song's relationship with drug culture implies that these fantastical pictures may potentially be regarded as magic mushrooms.
A massive fungus with a grotesquely gorgeous eyeball-covered crown and shard-like fangs sits in the middle. Over its seven panels, a horizontal band of tiny mushrooms spreads. The piece was inspired by Ito Jakuchu's Compendium of Vegetables and Insects (1761), which concentrates on mushrooms – mushrooms have long been adored in Japan for their gourmet virtues, variety, and connection to longevity. However, in the context of postwar Japan, the mushroom is also an unsettling remembrance of the mushroom-like cloud generated by the United States' nuclear bombs fired on Nagasaki in 1945.
The mutant condition of the mushroom conjures the horrifying and long-lasting negative consequences of nuclear radiation.
Mushrooms are commonly featured in Murakami's writings. Their fanciful portrayal of glossy cheerfulness is a veiled indictment of Japan's youth-obsessed society, which values both naivety and sweetness. This is reflected in the work's vivid colors and comical features.
Wink (2001)
| | |
| --- | --- |
| Date Completed | 2001 |
| Medium | Balloons |
| Dimensions | 55 cm x 53 cm |
| Current Location | Grand Central Station |
Invading the formal grandeur of New York City's Grand Central Station, gigantic bubbles covered with Murakami's distinctive eye-balls and flowers appear to float around the large space like balloons, while two grounded sculptures appear to rise from the floor. This work, presented by Creative Time, offers a contradictory and sarcastic coexistence of Japanese Neo-Pop with the formal grandeur of Grand Central Terminal's traditional Beaux-Arts architecture.
The sculptures throw a winking gaze to interested, amused, or busy passers-by, enticing them to engage in humorous dialogue.
Wink, Murakami's initial major installation in the United States, boldly brought Japanese Neo-Pop to a larger American audience. "When you stare at these images, they glance back at you," Murakami remarked of the cartoonish eyes on the luminous orbs. According to art writer Roberta Smith, "it is undermined by its improper context, a huge old waiting room devoid of its wood chairs, which feels all wrong for modern art." This odd cultural mash-up, however, is exactly what Murakami means.
Murakami's goal to appeal to a broad audience derives from his growing ambition to reveal the intertwined worlds of high art and business.
He states: "I learned the ways of the fine-art scene in Europe and America. Museums are visited by a small number of individuals. The cinema theaters are much larger. That place, the museum, is reminiscent of old-school media, such as opera. That is why I am so passionate about creating stuff for everyday folks."
Eye Love SUPERFLAT (2006)
| | |
| --- | --- |
| Date Completed | 2006 |
| Medium | Acrylic on Canvas |
| Dimensions | 100 cm x 100 cm |
| Current Location | Kaikai Kiki Co., Tokyo |
In 2002, Murakami began his long-term work with Louis Vuitton. Murakami's designs include the LV trademark monogram in 97 various colors, as well as his distinctive jellyfish eyes repeating on white or black backgrounds. Murakami has been a pioneer in marketing art as a commercial trademark as a result of this famous endeavor.
This historic cooperation also netted Louis Vuitton more than $300 million. Whereas many art critics sneered at his obvious commercialization, it is merely the business embodiment of the artist's approach to art for him.
Murakami was chosen by Marc Jacobs, the head designer of Louis Vuitton at the time, to attract a new group of Japanese youths into the embrace of the premium brand. Murakami, on the other hand, feels that fashion may be a visual mirror of the age, claiming that "subcultures and particular happenings in numerous nations mix together to produce the mood of an era, which generates fashion." This desire to depict our times is consistent with his greater creative purpose of confronting and disclosing the core of contemporary Japanese society to a worldwide audience.
Shortly after launching his Louis Vuitton collection, Murakami re-appropriated the very same motifs printed on bags into paintings intended for major art institutions and famous collectors, further blurring the barrier between art and consumerism. A Louis Vuitton store was included in the 2007 "Murakami" exhibition at the Museum of Contemporary Art Los Angeles, which, as art writer Dave Hickey observed, "Has converted the museum into an expensive Macy's."
When viewed from a different perspective, the Louis Vuitton/Murakami collection presents a new elite society for the wealthy.
"Murakami is teasingly (and conceivably shrewdly) engrossed in the procedures of neoliberal capitalism, in suggesting that he is challenging the dichotomy of art, while simultaneously trying to exploit and commemorating the procedures of commercialization and representational transfer that occur in the postmodern," writes art historian Kristen Sharp.
Blue Flowers and Skulls (2012)
| | |
| --- | --- |
| Date Completed | 2012 |
| Medium | Acrylic on Canvas |
| Dimensions | 69 cm x 53 cm |
| Current Location | Multiple Locations |
In this piece, mortality, and innocence meet as smiling daisies and large-eyed skulls flood the image plane and haphazardly melt together thanks to the work's blue color palette. Murakami's mash-up of sweetness and mortality is his method of connecting with – and criticizing – the Japanese fascination with cuteness. According to Murakami, "Kawaii tradition has become a live organism that penetrates everything."
"With a people unconcerned about the cost of celebrating immaturity, the country is in the grip of a conundrum: an obsession with anti-aging may control not only the person's heart but as well as the body", he states. Murakami exposes a harsher involvement with these joyful and childlike flowers in this phrase, which is aimed squarely at present society.
The skull has acted as a mirror of one's own approaching death spanning through the history of Western art.
This also corresponds to the Japanese Buddhist notion of Shogyo mujo, which approximately translates as "Everything is fleeting." Murakami understands this phrase to mean that, in the end, "Everybody will die, so don't worry."
Recommended Reading
Today we discovered the wonderful and weird world of Takashi Murakami's sculptures and artworks. There is much more to learn about this famous Japanese Pop artist though. Check out our list of recommended books to discover even more about Takashi Murakami's paintings and life.
Murakami: Ego (2012) by Takashi Murakami
A thorough collection of Takashi Murakami, one of the most known living painters today, is supervised by the artist himself in this book. Murakami is renowned across the world for his adept blending of high and low art. Audiences are engaged in Murakami's unique manner of channeling the thrill and anxiety of contemporary society in this collection, which coincides with a significant display of his oeuvre and the earliest in the Middle East. Murakami – Ego, conceived as a self-portrait in the form of a cartoon, highlights the artist's function as a decoder and critic of cultural phenomena, as well as a reflection of worldwide networks of consumption, reinterpretation, and trade.
A comprehensive volume overseen by Murakami himself
Features some of the artist's most celebrated series
Complete with an interview by curator Massimiliano Gioni
View on Amazon
Takashi Murakami: The Octopus Eats Its Own Leg (2017) by Michael Darling
Takashi Murakami, one of the most well-known exponents of modern art, receives long-overdue critical attention in this essential anthology. This book, which accompanies the first major exhibition devoted entirely to Takashi Murakami's paintings, follows Murakami's career from his early schooling to his current studio activity. Whereas prior volumes have focused on the commercial elements of Murakami's work, this is the first comprehensive examination of his works as a painter.
Richly illustrated with a detailed biography and exhibition history
The first serious survey of Murakami's work as a painter
A true essential for collectors and fans alike
View on Amazon
Taking inspiration from Andy Warhol's Factory, Murakami created a new type of Pop art, fittingly termed Neo-Pop, in which the barrier between pop culture and high art was not just blurred, but totally erased. Murakami's Japanese Pop art makes fun of postwar consumerist society by "sampling" and "repurposing" its motifs and figures within the setting of fine art. Murakami's workshops produce exquisite art worth huge amounts of money as well as simple trinkets for a few dollars. In this regard, Murakami shatters the art world's idea of exclusivity and superiority while benefiting handsomely from it.
Frequently Asked Questions
What Type of Art Are Takashi Murakami's Paintings?
His critics have dubbed him a swindler who is falling into the art market's growing need for easily consumable and exotic Japanese art. For Murakami, though, this is a compliment, and it is exactly what he meant. His art is influenced by otaku culture in Japan, which is full of strange perversions of beauty and purity, as well as incredible savagery. Murakami employs this to construct a sophisticated criticism of the current Japanese society and the West's encroaching influence on it.
Why Is Takashi Murakami Famous?
Takashi Murakami's sculptures and artworks have been characterized as brightly vibrant and insanely cheerful. Takashi Murakami's paintings have exploded in popularity in the contemporary art world, garnering both acclaim and criticism for his Japanese Pop art. Murakami's sculptures and artworks blend Japanese pop culture allusions with the country's rich cultural heritage, expertly blurring the boundary between commerce and high art.
Isabella studied at the University of Cape Town in South Africa and graduated with a Bachelor of Arts majoring in English Literature & Language and Psychology. Throughout her undergraduate years, she took Art History as an additional subject and absolutely loved it. Building on from her art history knowledge that began in high school, art has always been a particular area of fascination for her. From learning about artworks previously unknown to her, or sharpening her existing understanding of specific works, the ability to continue learning within this interesting sphere excites her greatly.
Her focal points of interest in art history encompass profiling specific artists and art movements, as it is these areas where she is able to really dig deep into the rich narrative of the art world. Additionally, she particularly enjoys exploring the different artistic styles of the 20th century, as well as the important impact that female artists have had on the development of art history.
Learn more about the Art in Context Team.