Bauhaus architecture developed from the prominent German institution formed by Walter Gropius with the idealistic goal of creating a fundamentally new style of design and architecture to aid in the reconstruction of society following the disasters of World War I. Whereas the original Bauhaus building closed in 1933, the concept remained, giving rise to a new type of architecture that generated simple, attractive, utilitarian, and mass-produced Bauhaus patterns and designs. Bauhaus house architecture features practical geometry, abstract shapes used selectively for décor, simple color palettes, integrative design, and basic manufactured materials such as steel, concrete, and glass. Today we will be discovering more about this unique architectural style as well as other interesting Bauhaus facts.
The History of Bauhaus Architecture
The Bauhaus school was founded in 1919, six months after World War I ended. Gropius said in the school's official statement that "the true objective of all artistic effort is the united work of art," and that "the ultimate, albeit remote, objective of the Bauhaus is the combined work of art." He adhered to the German notion of Gesamtkunstwerk, or "whole work of art," which combines many art disciplines into a single ethos.
The institution relocated from Weimar to Dessau and then eventually to Berlin before being forced to close by the Nazi regime in 1933 under its last head, the famed architect Ludwig Mies van der Rohe.
The Nazis labeled the Bauhaus as "degenerative artwork," labeling its liberal principles and globalism as "un-German." Regrettably, it was not the first or last occasion a state used patriotism as an offensive instrument against social development as articulated via architecture.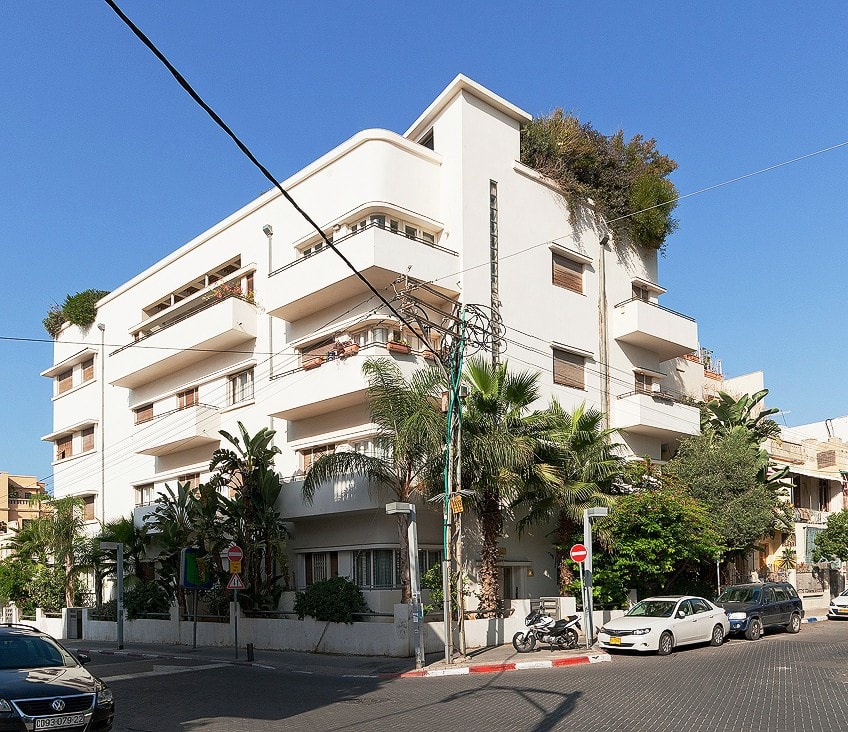 A Bauhaus-style building with "thermometer" windows on Pines Street in Tel Aviv; Ludvig14, CC BY-SA 4.0, via Wikimedia Commons
Gropius moved to the United States in 1937 and developed the Gropius House in Lincoln, Massachusetts, as well as heading up the architectural faculty at Harvard's Graduate School of Design. He was accompanied there by Marcel Breuer, another student from Bauhaus who went on to become an architect and furniture creator, best known for his tubular bent metal Wassily Chair, which is still made and seems as futuristic now as it did almost 100 years ago.
In 1937, László Moholy-Nagy, a photographer, painter, and Bauhaus lecturer, went to Chicago and formed the New Bauhaus.
Mies van der Rohe moved to Chicago the same year to become the dean of the IIT, creating its campus, which opened in 1958, as well as New York City's landmark Seagram Building. While only being in operation for 14 years, the Bauhaus quickly spread over the globe and is often regarded as the most significant arts and design school in existence.
Bauhaus Architecture Characteristics
What characterizes the Bauhaus building style? Are there certain Bauhaus patterns to be found in all examples of Bauhaus houses? From shapes and colors to materials and designs, here are the common characteristics of Bauhaus architecture.
Functional and Practical Shapes
Bauhaus style is characterized by a lack of adornment or ornamentation, focusing attention on the streamlined shape. Most Bauhaus buildings, for instance, feature flat roofs to produce a basic, geometric appearance. Tubular chairs, which are basic chairs supported by an angular piece of steel tubing, are another iconic illustration of Bauhaus pattern design's elegant functionality: utilitarian and uncomplicated, with geometric forms and few superfluous embellishments.
Another famous feature of Bauhaus design is the use of abstract forms sparingly in ornamentation and as a practical choice for mass manufacturing.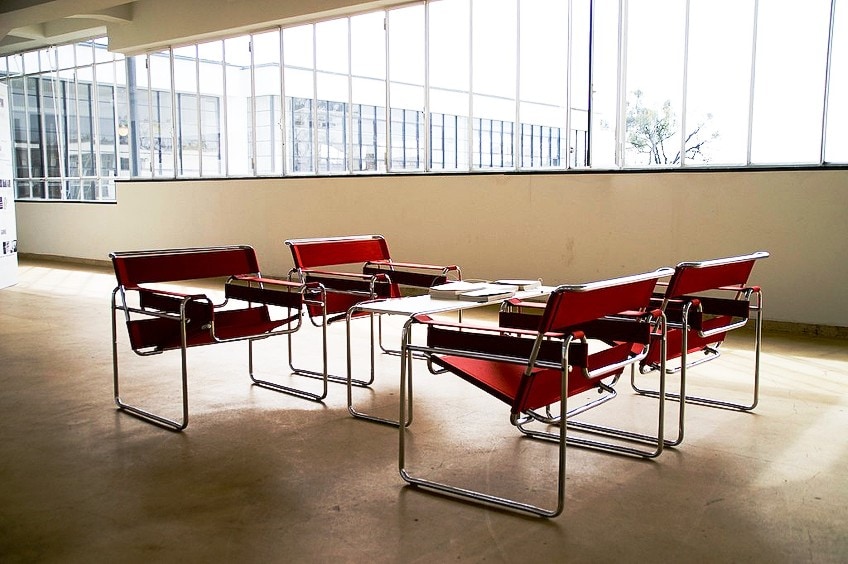 Wassily Chairs designed by Marcel Breuer (1925 – 1926); Kai 'Oswald' Seidler from Berlin, Germany, CC BY 2.0, via Wikimedia Commons
Simplified Color Palettes
Bauhaus design strives for unity and simplicity. Architectural color palettes are sometimes restricted to basic industrial hues such as gray, white, and beige. Primary colors – tones of yellow, red, or blue – are frequently utilized in interior design.
Occasionally, all of these colors are used together but quite often in targeted, planned ways, such as a yellow chair or a single red wall.
Materials
Bauhaus style emphasizes minimalism and industrialism. It frequently attempts to use the least number of diverse materials as practically possible, all of which are deemed industrial and essentially contemporary elements.
Glass, particularly in glass curtain walls, concrete, particularly in architectural architecture, and steel, particularly in appliances and things such as lights and chairs, are examples of these materials.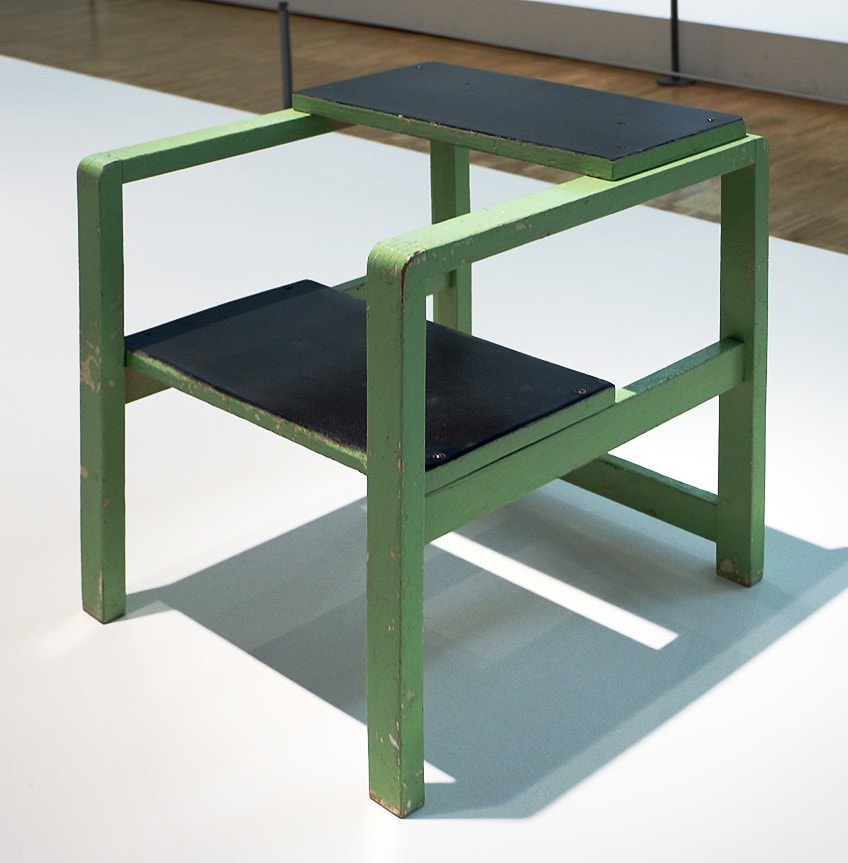 Chair by Erich Dieckmann (1925), an example of Bauhaus furniture; Sailko, Public domain, via Wikimedia Commons
Utilization of Asymmetry
As symmetry was deemed excessively industrial and lacking in artistic heart, Bauhaus architecture and design strived for aesthetic balance through asymmetry. As a consequence, Bauhaus designers attempted to connect and balance Bauhaus buildings and spaces by using the same components throughout without making all sides the same. This was seen in the use of the same materials and forms or the repetition of colors.
The Bauhaus building in Dessau is a notable example of this since it incorporates various diverse shapes and angles while maintaining unity with white paint and vast window patterns.
Holistic Design Features
Among the fundamental ideas of Bauhaus design is the incorporation of the institution's principles into all aspects of life. City architecture, public squares, Bauhaus house architecture, furniture styling, appliances, dining cutlery, and typography were all incorporated.
This comprehensive, integrated approach necessitates that the designer put the school's precepts at the center of every decision they make while constructing a Bauhaus-style room or structure.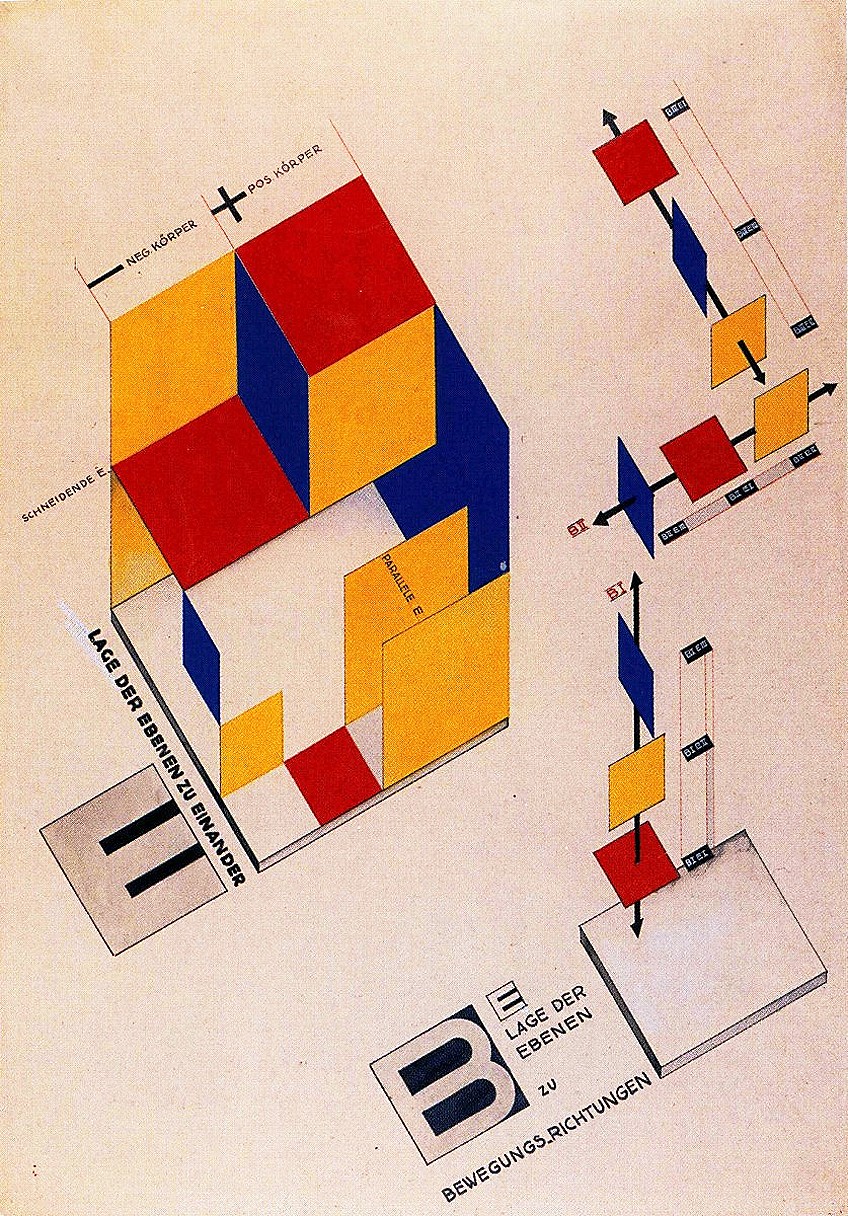 Mechanical Stage Design (1925) by Joost Schmidt; Joost Schmidt, Public domain, via Wikimedia Commons
Renowned Bauhaus Architects and Lecturers
The Bauhaus syllabus established a new standard for architectural education. The Bauhaus school was well-known for its complete design ideas, which sought to unite individual artists with large-scale manufacturing and to merge aesthetics and utility.
Walter Gropius, an architect, created the Bauhaus.
It was founded on the goal of developing comprehensive and durable designs. Bauhaus architecture developed to become one of the most important trends in modernist art and architecture. Now, let's take a look at the finest Bauhaus architects.
Johannes Itten (1888 – 1967)
| | |
| --- | --- |
| Nationality | Swiss |
| Date of Birth | 11 November 1888 |
| Date of Death | 25 March 1967 |
| Place of Birth | Suderen- Linden, Switzerland |
Johannes Itten, a trained elementary school teacher, was among the original educators at the Bauhaus, where he served as Master from 1919 until 1923. His creation of the school's preparatory class changed art instruction. Rather than making students duplicate the artworks of the Old Masters, he urged them to examine their own emotions and experiment with colors, mediums, and forms. This course stressed three elements: organic form and color investigations, canonical art study, and life drawing.
He was a forerunner of comprehensive art education, and he went on to operate his own art school as well as serve in top roles at prestigious art institutions.
Itten's Bauhaus Vorkurs, or foundational course, developed practices that are still important to art school education today, such as encouraging self-expression and experimenting with materials and processes. Before continuing on to more particular courses, all students were expected to finish this training – the class was the Bauhaus curriculum's launching point.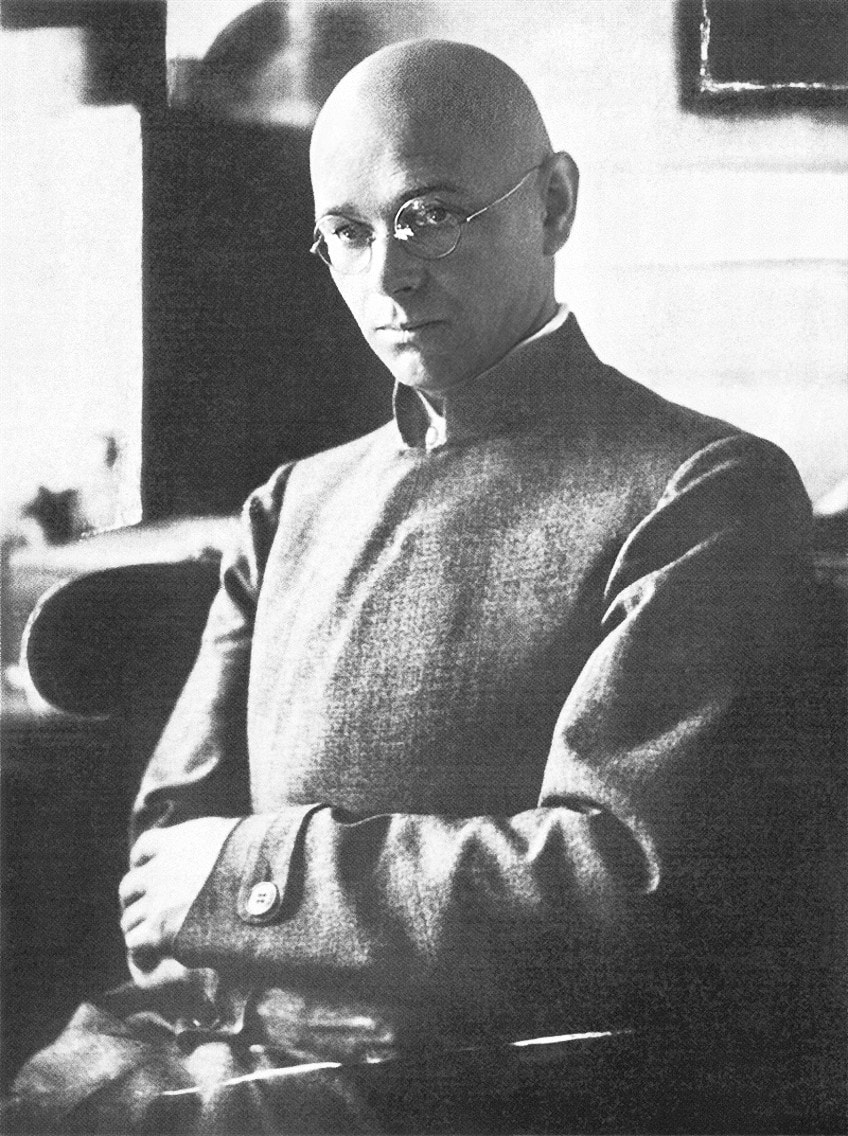 Photographic portrait of Bauhaus architect Johannes Itten (c. 1920); Photograph: Paula Stockmar (as mentioned at https://bauhaus.daserste.de/credits)Derivative work:MagentaGreen, CC BY-SA 3.0, via Wikimedia Commons
Itten, a devotee of Eastern Mazdaznan, urged pupils to incorporate mysticism into their artistic work. He instructed students in deep breathing techniques, as well as athletic routines aimed to boost creativity. Many at the Bauhaus followed his ideas, but when the school embraced a more industrial mindset, Itten departed to establish his independent art school in Berlin.
Itten devised a complex color theory that linked color palettes to different sorts of individuals and seasons.
His research on color contrasts, which classified seven different sorts of comparisons, was critical to the creation of Op Art, but it also influenced palettes developed by cosmetic businesses in the late 20th century. During his time at the school, Itten created several architectural constructions, the majority of which were based on simple geometric forms in dynamic combinations.
Hannes Meyer (1889 – 1954)
| | |
| --- | --- |
| Nationality | Swiss |
| Date of Birth | 18 November 1889 |
| Date of Death | 19 July 1954 |
| Place of Birth | Basel |
When the Bauhaus architectural department was ultimately founded in April 1927, Walter Gropius picked Meyer as its director, even though Mart Stam had been Gropius's initial choice. Meyer introduced his revolutionary formalist philosophy, Die Neue Baulehre, in 1929. His theory was that architecture was an organizing effort unrelated to aesthetics and that structures should be low-cost and built to meet societal demands. He was fired because he reportedly politicized the institution.
Meyer delivered the school's two most major construction commissions, both of which still exist: five apartment complexes in Dessau known as Laubenganghäuser.
Because they were designed by the Bauhaus department of Architecture, the flats are regarded as "genuine" Bauhaus structures. The development was bounded by the Walter Gropius-designed Törten housing complex. The ADGB Trade Union School in Bernau bei Berlin, which was finished in 1930, was the other significant building project. After the Bauhaus school buildings in Dessau, it was the Bauhaus's second-largest project.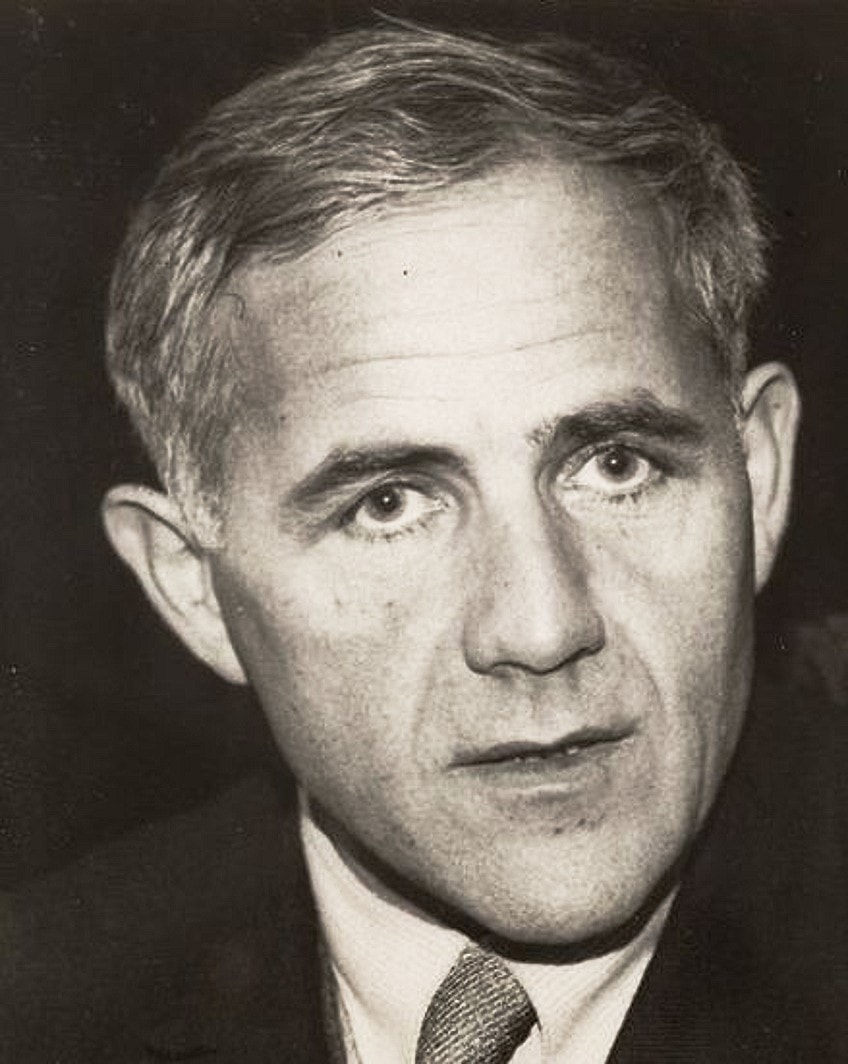 Photograph of Bauhaus architect Hannes Meyer (c. 1940). Original image from the Oslo Museum; Unknown authorUnknown author, CC BY-SA 4.0, via Wikimedia Commons
The school barely lasted three years before being taken by the Nazis in 1933 for use as a management training school. The structure is currently designated as historic, and it underwent major repair work that was finished in 2007. In 2008, the restoration effort was awarded the World Monuments Fund / Knoll Modernism Award. On the 1st of April, 1928, Walter Gropius chose Meyer to take over as director of the institution.
Meyer expanded on Gropius' discoveries, emphasizing prototype development for serial mass manufacturing and structuralist architecture. Dessau's Mayor, Hesse, claimed that Meyer enabled a Communist student group to thrive and provide bad publicity to the institution, risking its existence during the increasingly volatile political era of the Weimar Republic.
Meyer was fired as head of the Bauhaus school by Hesse on the 1st of August, 1930, with a monetary settlement. Meyer's open letter published two weeks later in a left-wing publication criticizes the Bauhaus as "incestuous ideas are impeding everyone's access to wholesome, life-oriented design. As the Bauhaus's director, I resisted the Bauhaus style".
Peter Keler (1898 – 1982)
| | |
| --- | --- |
| Nationality | German |
| Date of Birth | 2 December 1898 |
| Date of Death | 11 November 1982 |
| Place of Birth | Kiel, Germany |
Peter Keler was an architect, painter, and graphic designer whose works are still famous and sought after today due to their appealing simplicity. Keler's interior design pieces, such as seats and cradles, are so popular that they are still offered by the German business Tecta. Peter Keler was born in Kiel, Germany in 1898 and entered a school of applied arts there from 1919 to 1921. Between 1921 and 1925, he trained at the Staatliches Bauhaus in Weimar. Keler attended the wall painting courses after the winter semester of 1925, where he encountered Wassily Kandinsky and was captivated by his work.
At about the same time, Keler began designing color schemes for structures and rooms in the burgeoning Bauhaus style.
He was especially interested in furniture design, and the cradle he created for the inaugural Bauhaus Exhibition in 1923 became a long-lasting image of the Bauhaus movement as a whole. Keler chose to create his own workshop for paintings, interior decoration, and commercial graphics in 1925, as a result of his creative triumphs. In 1927, he began working as an independent artist in Dresden, and ten years later, he relocated to Berlin.
He worked as an art director throughout the war, and after the war, he was assigned to the newly created College of Architecture and Fine Arts to instruct pupils about the Bauhaus legacy. Keler retired after teaching drawing, design, and architecture at this college. Meanwhile, he continued to be a creative artist, devoted to painting.
His late works, such as "Meeres Sonne Polaritat" from 1973, retain a Bauhaus rigidity, as do his early works, such as "De Stijl" from 1922.
When we compare these two pieces, we can observe an intriguing growth of Keler's style – while his simplicity remained constant, he included some new features, such as a broader color palette. The fact that Keler's interior designs and products are ageless – they were fashionable and trendy in the 1920s, but we still view their simplicity and minimalism as delightfully useful even today – is the finest testament to his art's success. The same may be said for his paintings, which resemble color studies yet have genuine artistic appeal and worth.
Marcel Breuer (1902 – 1981)
| | |
| --- | --- |
| Nationality | Hungarian-American |
| Date of Birth | 21 May 1902 |
| Date of Death | 1 July 1981 |
| Place of Birth | Pecs, Hungary |
Marcel Breuer was a Hungarian-American artist whose work spanned practically every facet of three-dimensional design, from minute utensils to massive structures. Breuer advanced fast through the Bauhaus ranks, first as a student, then as a teacher, and finally as the head of his own business. Breuer, probably most famous for his distinctive chair designs, frequently collaborated with other designers, building a vibrant global business that finally secured his status as one of the most influential architects of the modern era.
Breuer, ever the inventor, was keen to explore the latest technological breakthroughs as well as to break with established shapes, often with shocking consequences. Breuer's early educational excellence sometimes overshadows his remarkable career as an architect.
Although Breuer was the principal designer for some of his most renowned projects, he was pleased to collaborate with other industry titans on others, frequently graciously sharing the distinction with his partners – a stark contrast to many other high-profile architects of the postwar era.
Breuer, a forerunner of the International Style in his utilization of steel and glass, eventually became a crucial role in the birth of Brutalism, which has garnered criticism owing to the heavy-handed sheer enormity of his projects. Breuer, on the other hand, countered this inclination with his small-scale buildings, which are renowned for their careful use of conventional materials like wood and brick.
Breuer is one of the most prominent and well-known people linked with the Bauhaus, where he was a student before taking over as director of the furniture design factory.
His status as a teacher was further enhanced when he accompanied Walter Gropius at Harvard University, where he taught some of the most prominent postwar architects, including I. M. Pei and Philip Johnson. Marcel Breuer is now recognized as one of the most influential modernists in design and architecture. His furniture designs are still as important and popular now as they were then, and are mass-produced by prestigious companies such as the Knoll Group.
According to New York Times journalist Maura Egan, Breuer's most renowned chair, the "Wassily," is an expression of "modernism's confidence in technology, ease, and the prospect of a better life." Breuer's ongoing fascination with the potential of new materials and technology, as well as his reconsideration of tendencies in architectural practice, distinguishes him as an essential practitioner of modernist philosophy.
Although he finally renounced lecturing in favor of his own work, Breuer left a significant legacy as an educator, first at the Bauhaus and then at Harvard, in which he and Gropius for the first time presented the International Style to American pupils and designers on a broad scale.
Interesting Bauhaus Facts
The Bauhaus school was an incredibly influential movement within art history, and has frequently been labeled as the most significant modernist art school of the 20th century. As its key ideas focused on more than simply art, Bauhaus architecture was able to develop and flourish. Below, take a look at some of the most interesting facts about the Bauhaus style!
"Truth to Materials" Is a Basic Element of Bauhaus Design
It emphasizes utilizing materials in their most organic, genuine form, enabling them to be embraced and seen instead of hidden. Concrete, as a rule, really shouldn't be coated, and the methods of its production should be honored by not sanding away markings, for example. In another instance, porcelain is rarely utilized in the outside face of structures; nevertheless, one case in point is the Dakin Building in California.
For example, the porcelain paneling of this structure has been left unprotected by any coat or protection.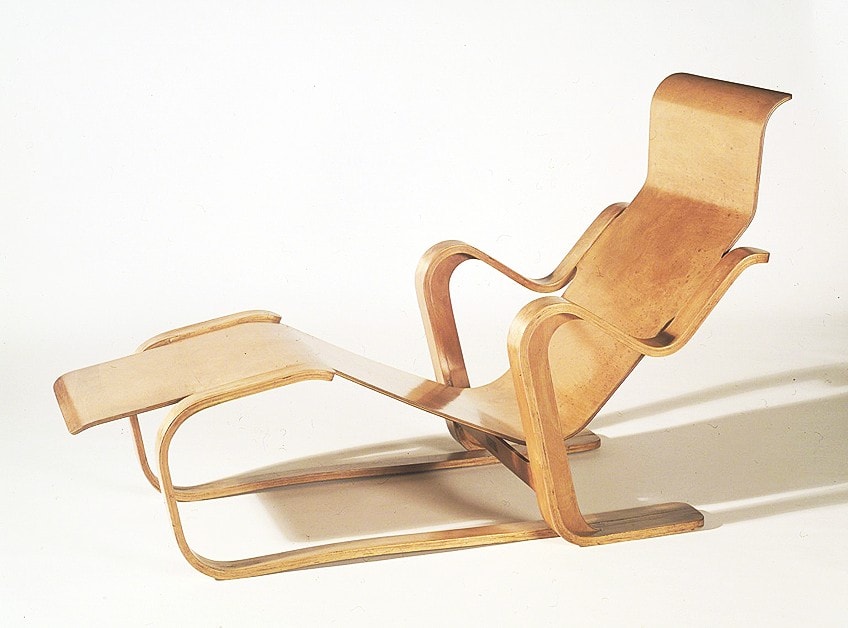 Long Chair (c. 1935 – 1936) by Marcel Breuer. Molded and laminated plywood, 80.6 x 61 x 129.5 cm. Located at the Brooklyn Museum, New York City; Marcel Breuer, No restrictions, via Wikimedia Commons
Bauhaus Architectural and Design Concepts Still Influence
Bauhaus design concepts continue to have an impact on the shape and appearance of daily products. For instance, Steve Jobs freely highlighted the effect of Bauhaus minimalism on Apple's look. The ultimate measure of its enormous power, though, is how commonplace it has become.
Bauhaus style, which was once a dramatic rebellion against the existing status quo, has now become the new normal.
It Heralded the "Modern" Era
Before and throughout the growth of the Bauhaus school, design styles were very ornamental and ostentatious, such as Victorian and colonial styles, and art deco. By striving for basic, efficient structures and furnishings, Bauhaus changed the design profession of the time.
These influences persisted in modernist architecture and may still be recognized in contemporary art and design, particularly in Scandinavian minimalism, mid-century contemporary architecture, apartment complexes, and office buildings.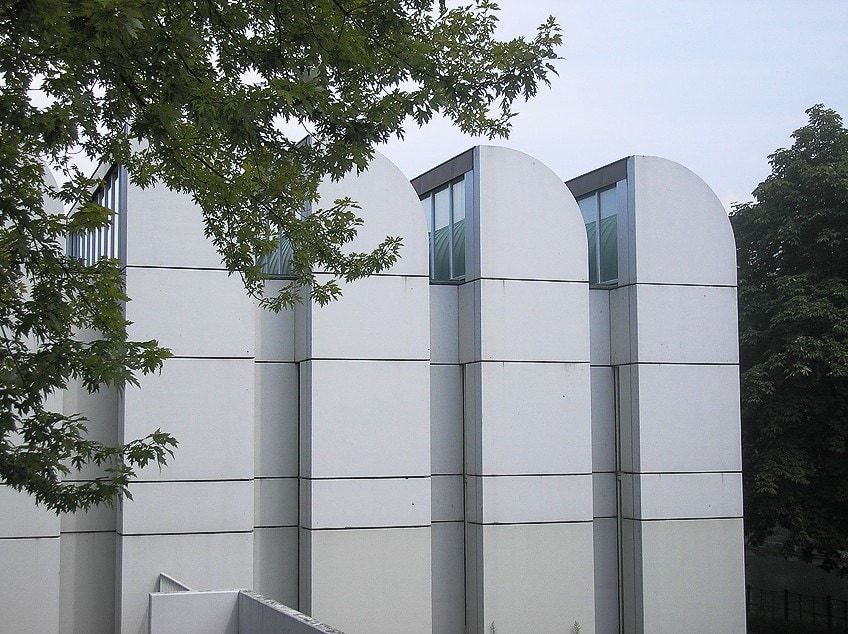 Bauhaus Archiv in Berlin, Germany; Deror avi, Attribution, via Wikimedia Commons
It Helped to Promote Industrial Materials
The Bauhaus movement is thought to have impacted the use of glass, steel, and concrete in modern interior design. Before Bauhaus, these materials were seen to be visually unappealing or mechanical; the school reinterpreted them as sleek, simple, and attractive in their usefulness.
Ribbon windows are common Bauhaus references, as are tubular chairs (influenced by the Bauhaus-designed Wassily chair) that are frequently used to adorn offices.
It Has an Impact on Current Course Instruction
The Bauhaus school featured a one-of-a-kind curriculum. Students began their first year with vorkurs (or "preparatory course") seminars that addressed topics such as color analysis and design concepts. Following the basic course, students would on to more specialized technical courses such as glassmaking or furniture designing.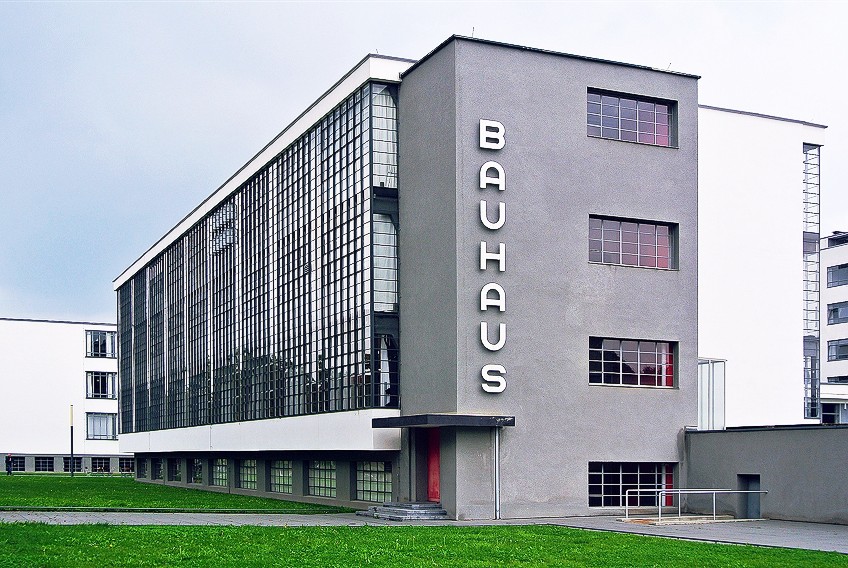 The Bauhaus building in Dessau was designed by Walter Gropius. It was the longest-serving of the three Bauhaus locations (1925 – 1932); Spyrosdrakopoulos, CC BY-SA 4.0, via Wikimedia Commons
Many architectural and design colleges throughout the world have embraced this class arrangement. In 1994, the German federal government established the non-profit Bauhaus-Dessau Foundation to assist exploratory design students.
The Bauhaus, which translates as "construction house," was a German design school that operated from 1919 until 1933. The school included a mix of artisan courses and fine arts studies. The Bauhaus curriculum established a new standard for architectural education. Bauhaus was well-known for its complete design ideas, which sought to unite individual artists with large-scale manufacturing and to merge aesthetics and utility.
Frequently Asked Questions
What Is Bauhaus Architecture?
Walter Gropius, an architect, created the Bauhaus in Weimar. It was founded on the goal of constructing a holistic artwork in which all of the arts would finally be combined. The school became notable for its design approach, which aimed to integrate mass production principles with a unique creative vision and strove to mix beauty with practical usefulness.
What Defines a Bauhaus House?
The Bauhaus style is distinguished by a lack of embellishment or elaboration, which draws emphasis to the streamlined design. Most Bauhaus buildings, for example, have flat roofs to create a simple, geometric aspect. Bauhaus pattern designs feature beautiful functionality: practical and simplistic, with geometric shapes and minimal unnecessary decorations. Another well-known element of Bauhaus design is the limited use of abstract shapes in decoration and as a practical choice for mass production.
Justin van Huyssteen is a freelance writer, novelist, and academic originally from Cape Town, South Africa. At present, he has a bachelor's degree in English and literary theory and an honor's degree in literary theory. He is currently working towards his master's degree in literary theory with a focus on animal studies, critical theory, and semiotics within literature. As a novelist and freelancer, he often writes under the pen name L.C. Lupus.
Justin's preferred literary movements include modern and postmodern literature with literary fiction and genre fiction like sci-fi, post-apocalyptic, and horror being of particular interest. His academia extends to his interest in prose and narratology. He enjoys analyzing a variety of mediums through a literary lens, such as graphic novels, film, and video games.
Learn more about the Art in Context Team.