Framing in Photography – A Photographer's Secret Weapon
What is framing in photography, and what are the best examples of framing in photography? The framing technique involves drawing the viewer's attention to certain elements within the image by blocking or framing them with other objects. The correct use of framing in photography can result in works that appear much more visually appealing and professional. Let us begin our journey to discover all there is to know about framing in photography in the article below.
What Is Framing in Photography?
Frames can be placed in the middle of a photograph or around its edges. They may encompass all four sides of the image or simply one or two of its corners. Though its main function is to draw the viewer's attention to the primary subject of the photograph, framing has a number of advantages. Professional photographers regularly use tunnels, branches, windows, arches, and even people to create frames in their images. Framing photographs produce a range of different effects.
Untitled (2016) by Thomas Leuthard; Thomas Leuthard, CC BY 2.0, via Wikimedia Commons
Framing can lend context to a photograph and tell observers about the person or location where it was taken. It may also produce a third dimension, the illusion of depth, or several layers in photos. Using architectural elements and natural features to create a frame can communicate the impression of strolling through the woods or a building, or it can express the sensation of walking in the photographer's shoes and seeing the world through their eyes. Framing in photography assists in controlling the point of view, allowing the eye of the viewer to be drawn not only to the object of the shot but also to the context of its environment.
Using Framing in Photography
Because of its multiple advantages, framing photographs is a popular option among both aspiring and seasoned photographers worldwide. It allows people to comprehend the photograph's context and experience the emotions depicted therein.
You may be interested in learning how to apply framing in photography now that you understand what it is, so let's find out how to use it below.
Picking a Subject and Story
Before applying any form of framing to a photograph, you must first decide on the subject of the photograph, as this is the major emphasis into which you want the viewer's attention to be drawn. After deciding on the object you wish to focus on, you must decide on the narrative. You need to know precisely what you want the photograph to represent. What is the perceived significance of this specific object and how do you want the audience to perceive it? In which way would you like people to think of the object? Once you have answered these relevant questions, you can decide what you want to use to frame your object.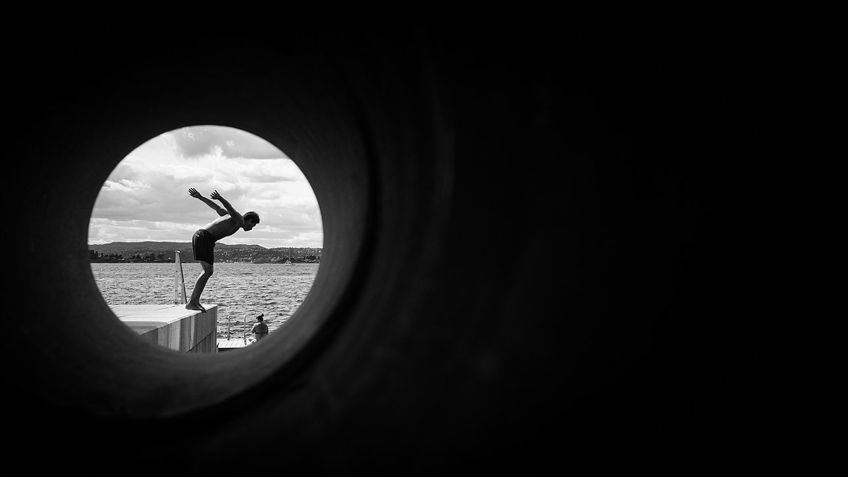 Untitled (2014) by Thomas Leuthard; Thomas Leuthard from Zug, Switzerland, CC BY 2.0, via Wikimedia Commons
You can take advantage of whatever is around the object you wish to focus on. If there isn't anything available, you can always create a frame yourself. Framing is a flexible concept in photography. This basically means you don't have to follow any rules in order to obtain your desired result. You may also combine a number of objects to create additional framing. Natural frames, for example, can be utilized to frame a structure, and vice versa. Moving frames, such as people strolling about, a train that is moving, or cars, can also be used. To get the perfect frame, pay close attention to your camera's settings.
Understanding Focus
You need to ensure that your camera is focusing on the object rather than the frame itself. You must also ensure that the frame complements the object and provides it with context. You must also consider the entire composition and the appropriate distance between the subject within the frame, and the camera.
Another thing to keep in mind is that you should select something that is intriguing on its own.
If you don't have an interesting subject, framing will be ineffective. The object remains the primary focus, while the frame just adds depth and enhances it. You could attempt to photograph the object on its own first, and then look for something to frame it with. This ensures that you have a captivating attention-grabbing object from the start.
Types of Framing in Photography
There are many different types of frames that can be used in your photography. You can choose which frame will best suit your image depending on the object and environment. Let's examine a few of the more popular types of frames that are typically used in photography.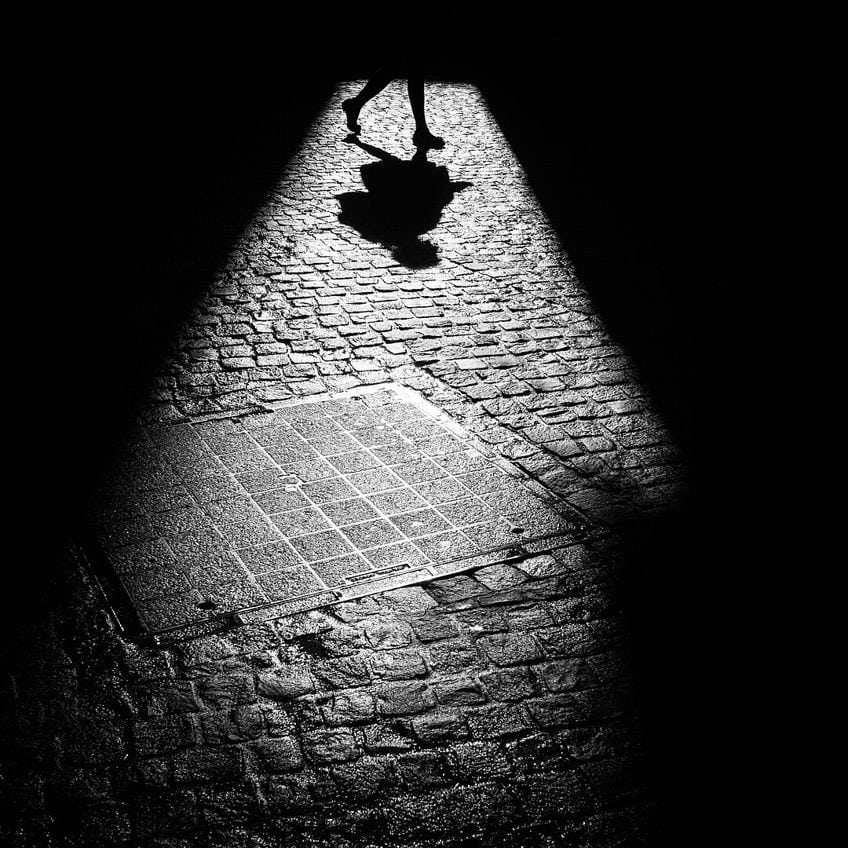 Untitled (2013) by Thomas Leuthard; Thomas Leuthard from Zug, Switzerland, CC BY 2.0, via Wikimedia Commons
Natural Framing in Photography
In landscape photography, the natural frame is the most commonly used framing device. A natural frame can be created by incorporating natural objects such as branches, trees, leaves, and so on. Natural framing is a wonderful way to bring additional aesthetic value to an object, particularly when the object seems incomplete on its own. Because the purpose is to complement the object in the image, the frame should have a relevant connection to it.
Of course, you are able to use random things for framing, but this could diminish the effect rather than make the things look stronger.
Architecture Framing in Photography
Doors and windows are not the only things that are used for framing when it comes to incorporating architectural elements. This also applies to things such as curtains, bridges, fences, blinds, stairs, and many other features. You can also utilize one structure to frame another if you believe it is suitable for the overall image.
Untitled (2016) by Thomas Leuthard; Thomas Leuthard from Zug, Switzerland, CC BY 2.0, via Wikimedia Commons
Using Light and Shadow as Framing Devices
You don't have to utilize a tangible object as a frame. Abstract elements, such as lighting and shadows, can be used. Non-natural light sources, such as a spotlight, can also be used to provide a similar effect. Bokeh may also be used to produce a light frame in the front or background.
Along with the growing popularity of neon and nighttime photography, this style is becoming increasingly popular.
Examples of Framing in Photography
As we have learned, the framing technique can be a very valuable part of your photography. As mentioned above, there are different types of framing techniques that you can use to draw attention to the object in your photographs. Let's now examine a few examples of framing photography created by some of the most renowned photographers.
Yosemite Wawona Tunnel (1935) by Ansel Adams
| | |
| --- | --- |
| Artist | Ansel Adams (1902 – 1984) |
| Date | 1935 |
| Medium | Vintage ferrotype gelatin silver print |
| Dimensions (cm) | 21 x 27 |
| Location | Artnet.com |
Ansel Adams is most well-known for his landscape black-and-white photographs of the American West. The acclaimed photographer used the sides of the cave to frame the mountains and lakes of Yosemite Valley extending in the backdrop in his famous photo. The creative framing of the items generated a dramatic impact, making the photograph stand out amid the many portrayals of the same valley. Adams first visited Yosemite when he was 14 years old, in 1916.
During that trip, he climbed a tree stump to photograph Half Dome, then slipped headfirst and mistakenly pressed the shutter release. The park itself remained a firm favorite. Adams spent most of his time in Yosemite, where he captured many of his most famous images. It is a pretty common occurrence to come across professional and amateur photographers attempting to retrace Adams' steps. The first stop on an Ansel Adams-inspired vacation to Yosemite is his family's gallery.
It is located in Yosemite Valley, the park's center part, and exhibits and sells photographs taken by Adams as well as photographs shot by other modern artists.
| | |
| --- | --- |
| Artist | Alfred Eisenstaedt (1898 – 1995) |
| Date | 1937 |
| Medium | Gelatin silver print |
| Dimensions (cm) | Unspecified |
| Location | Unspecified |
Sometimes objects frame individuals, and sometimes people frame themselves. This photograph by Alfred Eisenstaedt demonstrates how things such as buildings may be used to frame a shot. The sailors gathering at the steps provide a distinctive framing that underlines the subject of sealing above. The photographer used similar setups while photographing nurses at Roosevelt Hospital and achieved a similar dramatic visual impact.
Deutsche Bank Disconto Company, Postal Department (1930) by Alfred Eisenstaedt; Bundesarchiv, Bild 183-2007-0307-510 / Eisenstaedt, Alfred / CC-BY-SA 3.0, CC BY-SA 3.0 DE, via Wikimedia Commons
Self Portrait in Police Van (1940) by Weegee Arthur Fellig
| | |
| --- | --- |
| Artist | Weegee Arthur Fellig (1899 – 1968) |
| Date | 1940 |
| Medium | Gelatin silver print |
| Dimensions (cm) | 32 x 22 |
| Location | Museum of Modern Art, New York City, United States |
This photo of Arthur Felling in a police van is an excellent illustration of how framing may create the context for the photograph. By framing the shot using the doors of a police vehicle, the photographer gives the audience more information about the place where the photo was taken, moving the viewer's focus away from the subject and into the surrounding environment.
Weegee was regarded as one of the original ambulance chasers, with subjects in his photographs ranging from wild-eyed adolescents at a late-night gangland homicide to celebrities at Hollywood movie premieres. He was as colorful as some of the people he captured, establishing his own mythology and reveling in his own and his subjects' fame.
Self-portrait (1950s) by Erwin Blumenfeld
| | |
| --- | --- |
| Artist | Erwin Blumenfeld (1897 – 1969) |
| Date | 1950s |
| Medium | Gelatin silver print |
| Dimensions (cm) | 35 x 28 |
| Location | Unspecified |
Erwin Blumenfeld, one of the most prolific photographers of the 20th century, brought a bold, avant-garde perspective to his work in portraiture, nudity, advertising, and fashion, dramatically redefining the possibilities of his medium. Though he began taking pictures in 1907, his career did not take off until 1941, when he moved to New York to avoid Nazi persecution.
Though framing in photography is typically used to draw the eye of the viewer to a certain area of an image, it may also be utilized to achieve the reverse. Clever framing that conceals as much as it reveals often leaves viewers guessing and thinking about what is hidden behind the frame. Choosing the correct mix of seclusion and revealing may be difficult, but Erwin Blumenfeld mastered the approach with this self-portrait with a camera. The arrangement gives visitors a look into the photographer's life while also leaving them wanting even more.
Maria, Las Vegas (1970) by Lee Friedlander
| | |
| --- | --- |
| Artist | Lee Friedlander (1934 – Present) |
| Date | 1970 |
| Medium | Gelatin silver print |
| Dimensions (cm) | Unspecified |
| Location | Unspecified |
Lee Friedlander is most known for his America by automobile series, in which he frequently employed things such as automobile windows to frame what he encountered on his road trip across the huge country. In this shot, though, he used a different technique and used light to frame his subject. The artist's deft use of light and shadows draws attention to the women in the image as the rest of the picture fades to black. Maria, Friedlander's wife and muse, is one of his favorite subjects. Maria first seems to follow the adoring 'sitter' tradition that has come to be associated with classical portraiture.
When we look closely, we see that Maria is really framed inside of another frame, sharing the inner frame with her silhouetted husband. Even while Friedlander's secondary presence assists in reminding us that Maria's returning glance is meant primarily for her husband, the photograph manages to avoid his more intricate and elusive framing tendencies. Maria can be seen in a medium-closeup picture while being lit by rectangle-shaped light fragments that shine through a horizontal window blind.
Then, Friedlander adds a chiaroscuro effect to a scene that resembles a still from a 1940s noir movie.
Katsura Villa Portfolio (1982) by Yasuhiro Ishimoto
| | |
| --- | --- |
| Artist | Yasuhiro Ishimoto (1921 – 2012) |
| Date | 1982 |
| Medium | Gelatin silver print |
| Dimensions (cm) | 35 × 24 |
| Location | Gift of Nihon Keizai Shimbun, Peter Blum Gallery |
Yasuhiro Ishimoto, a Japanese artist, demonstrated that outdoor vistas may be beautifully framed with architectural elements. He used the patio doors to frame the scenery in this shot, creating a dual effect. On one hand, he has effectively brought the viewers' attention to the landscape that serves as the image's focal point, and on the other, he has conveyed the idea of resting in a Japanese villa room while admiring the scene from the outside.
Yasuhiro Ishimoto first toured Kyoto's Katsura Imperial Villa as a young man in 1953. Edward Steichen, the photography director of New York's Museum of Modern Art at that point, had invited Ishimoto to accompany the museum's curator of design on his study of Japanese temples, shrines, and gardens for an upcoming architectural show. Ishimoto was the ideal tour guide and recognized Katsura as a contemporary topic right away.
Andy Warhol (1986) by Robert Mapplethorpe
| | |
| --- | --- |
| Artist | Robert Mapplethorpe (1946 – 1989) |
| Date | 1986 |
| Medium | Gelatin silver print |
| Dimensions (cm) | 60 x 50 |
| Location | Guggenheim online collection |
In Robert Mapplethorpe's renowned shot of Andy Warhol, the photographer framed his fellow artist and friend in a white circle, emphasizing his pale appearance. The artist's wig and face were emphasized even more by the artwork's empty black borders. As the main character seems nearly saintly encircled by the white halo, the image symbolizes a sign of both idolization and affection.
Mapplethorpe studied at New York City's Pratt Institute. After dabbling with underground cinema in the late 1960s, he began producing photos with a Polaroid camera by 1970, either organizing them into collages or displaying them as a series. He garnered critical acclaim for his exquisite black-and-white images during the mid-1970s. He tried several approaches, such as employing a large-format press camera, mixing photographic pictures printed on linen, and creating his own wooden frames.
That brings us to the end of our article on framing in photography. The framing technique has been used by photographers for decades in order to bring the subject matter of the image into greater focus and to provide it with further context. Above, we explored a few remarkable examples of framing in photography. It is evident that there are many ways to successfully implement framing in photography. It also allows for much creativity for the photographer, enabling them to experiment with various objects, both naturally occurring as well as fabricated.
Frequently Asked Questions
What Is Framing in Photography Used For?
Framing is a method for drawing attention to the subject in your image. As a photographer, you want to draw attention to a specific point or topic in your photographs. When you photograph a person, an animal, a tree, or anything else, you usually strive to separate it from the rest of the shot. Framing is a compositional technique in which natural features in the scene are used to draw attention to and accentuate the main subject of the photograph. For example, you can frame a subject with a door, grass, window, trees, lights, or shapes. The framing technique will help you in making the subject matter stand out.
What Are Some Examples of Framing in Photography?
There are so many intriguing and wonderful frames in nature. Finding a perfect frame from mother nature is a skill. Nature has trees, shrubs, grasses, mountains, stone formations, branches, flowers, deserts, rivers, plants, and other components. Man-made structures might inspire you to create a framework. To capture a subject with a frame, you can utilize windows, doors, tunnels, automobile windows, railway compartments, railings, and other locations. Lights and shadows combine to form some lovely and delicate frames. However, using lighting and shadows is more difficult. A frame can be formed using either natural or artificial light.
Jordan Anthony is a film photographer, curator, and arts writer based in Cape Town, South Africa. Anthony schooled in Durban and graduated from the University of the Witwatersrand, Johannesburg, with a Bachelor of Art in Fine Arts. During her studies, she explored additional electives in archaeology and psychology, while focusing on themes such as healing, identity, dreams, and intuitive creation in her Contemporary art practice. She has since worked and collaborated with various professionals in the local art industry, including the KZNSA Gallery in Durban (with Strauss & Co.), Turbine Art Fair (via overheard in the gallery), and the Wits Art Museum.
Anthony's interests include subjects and themes related to philosophy, memory, and esotericism. Her personal photography archive traces her exploration of film through abstract manipulations of color, portraiture, candid photography, and urban landscapes. Her favorite art movements include Surrealism and Fluxus, as well as art produced by ancient civilizations. Anthony's earliest encounters with art began in childhood with a book on Salvador Dalí and imagery from old recipe books, medical books, and religious literature. She also enjoys the allure of found objects, brown noise, and constellations.
Learn more about Jordan Anthony and the Art in Context Team.
Cite this Article