Famous Art Nouveau Artists – Painters, Illustrators, and Designers
Art Nouveau artworks inspired admirers in the graphic and decorative arts, as well as architecture, across Europe and beyond. Art Nouveau manifested itself in a broad range of forms, and famous Art Nouveau artists took influence from natural components such as flora and insects. Curves, asymmetric shapes, and vibrant colors were also popular elements in Art Nouveau sculpture and art. The Art Nouveau style was also seen in ornamental art, architecture, paintings, and even advertising.
Famous Art Nouveau Artists
Art Nouveau sought to modernize design by eschewing the varied historic traditions that had formerly been fashionable. Artists were inspired by both natural and geometric shapes, creating attractive designs that combined undulating, natural patterns mimicking plant branches and petals. Color, which was frequently depicted with subdued blues, browns, yellows, and greens, took a back seat to the focus on linear forms.
The movement was dedicated to the abolition of the old arts paradigm, which regarded liberal arts, such as sculpture and painting, as greater than craft-based artwork.
The aesthetic fell out of favor in general before World War I, clearing the way for the creation of Art Deco in the 1920s. However, it underwent a popular rebirth in the 1960s, and it is today seen as a significant precursor – if not a fundamental element – of modernism. But who were the male and female Art Nouveau artists who helped to define the movement? Here is our list of the most famous Art Nouveau artists.
Adolfo Hohenstein (1854 – 1928)
| | |
| --- | --- |
| Date of Birth | 18 March 1854 |
| Date of Death | 12 April 1928 |
| Place of Birth | Sant Peterburg |
| Nationality | German |
Adolfo Hohenstein was born to German parents, Julius and Laura Irack, in Saint Petersburg, the capital of the Russian Empire. His father worked as a forest engineer, which required him to travel often. Adolfo relocated to Vienna, where he grew up and finished his education. His journeys took him to India, where he adorned the local nobility's homes. He settled in Milan, Italy in 1879. He went on to work as a set and fashion designer for La Scala and other theaters.
There he encountered Giulio Ricordi, a musical publisher, and in 1892 began working at the Ricordi Graphical Workshops, where he quickly became the art director in control of the visual side.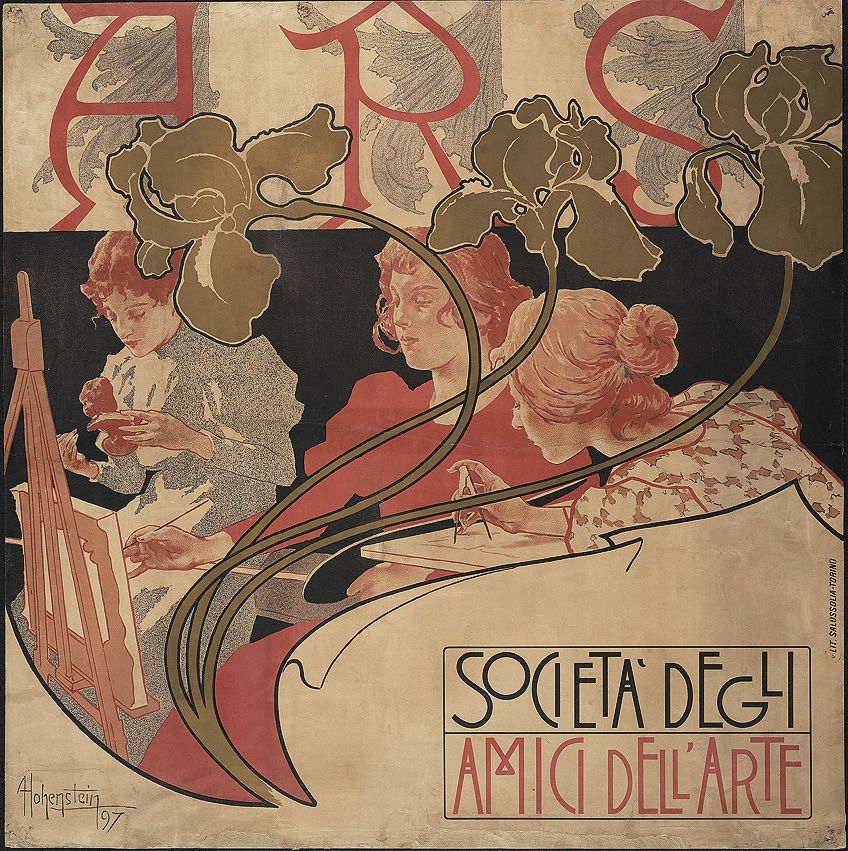 Color lithograph on paper (1897) by Adolfo Hohenstein, located in Museu Nacional d' Art de Catalunya in Barcelona, Spain; Adolfo Hohenstein, Public domain, via Wikimedia Commons
His work would continue to encompass the theatrical aspect: scenarios and costumes for various works, including Giuseppe Verdi's Falstaff (1893) and a large portion of Giacomo Puccini's projects, ranging from drawings of Le Villi (1884) to billboards of Madama Butterfly (1904).
He teamed up with Giovanni Mario Mataloni at Ricordi's.
Notable Art Nouveau artworks by the artist include:
Le Villi (1884)
Tosca (1899)
Madame Butterfly (1904)
Alice Russell Glenny (1858 – 1924)
| | |
| --- | --- |
| Date of Birth | 2 September 1858 |
| Date of Death | c. 1924 |
| Place of Birth | Detroit, Michigan |
| Nationality | American |
Glenny's oeuvre as a graphic designer included American Art Nouveau posters, in addition to being a muralist and producer of Art Nouveau sculpture. With the introduction of color lithography, the manufacture of posters was lifted globally from what H.C. Bunner referred to it as a "primitive technique" in which woodblocks were severely cut, providing for shape and color imprecision. Color lithography enabled American advertisers to create eye-catching and beautifully produced images, frequently of stylish ladies.
Glenny was a member of The 20th Century Club, a female's club in Buffalo, New York. She was involved in supporting the concerns of American female artists, including other poster painters such as Ethel Reed.
American poster for the "Women's edition Buffalo Courier" (c. 1896 and 1900) by Alice Russell Glenny; Alice Russell Glenny (American, 1858-1924), Public domain, via Wikimedia Commons
Her most well-known piece is the cover of the Buffalo Courier's Women's Edition from 1895. The cover, like other billboards and covers made at the period, features natural and organic shapes as well as the color block method associated with the Art Nouveau style.
Glenny's figure has a harsh face, which is unusual among the bourgeois ladies shown in posters at the period.
Notable Art Nouveau artworks by the artist include:
Plakat für Women's Edition Buffalo Courier (1895)
Women's Edition Courier (1895)
Buffalo Fine Arts Academy Cover (1897)
Alphonse Mucha (1860 – 1939)
| | |
| --- | --- |
| Date of Birth | 24 July 1860 |
| Date of Death | 14 July 1939 |
| Place of Birth | Ivancice, Czechia |
| Nationality | Czech |
Mucha's creative popularity rose in tandem with the growth of the Art Nouveau style at the beginning of the 20th century, and his identity became associated with the new visual art trend that was sweeping the world at the time.
Mucha was engaged in a wide range of shows and initiatives during the Paris Scene Exposition of 1900, demonstrating his important status in the worldwide art world.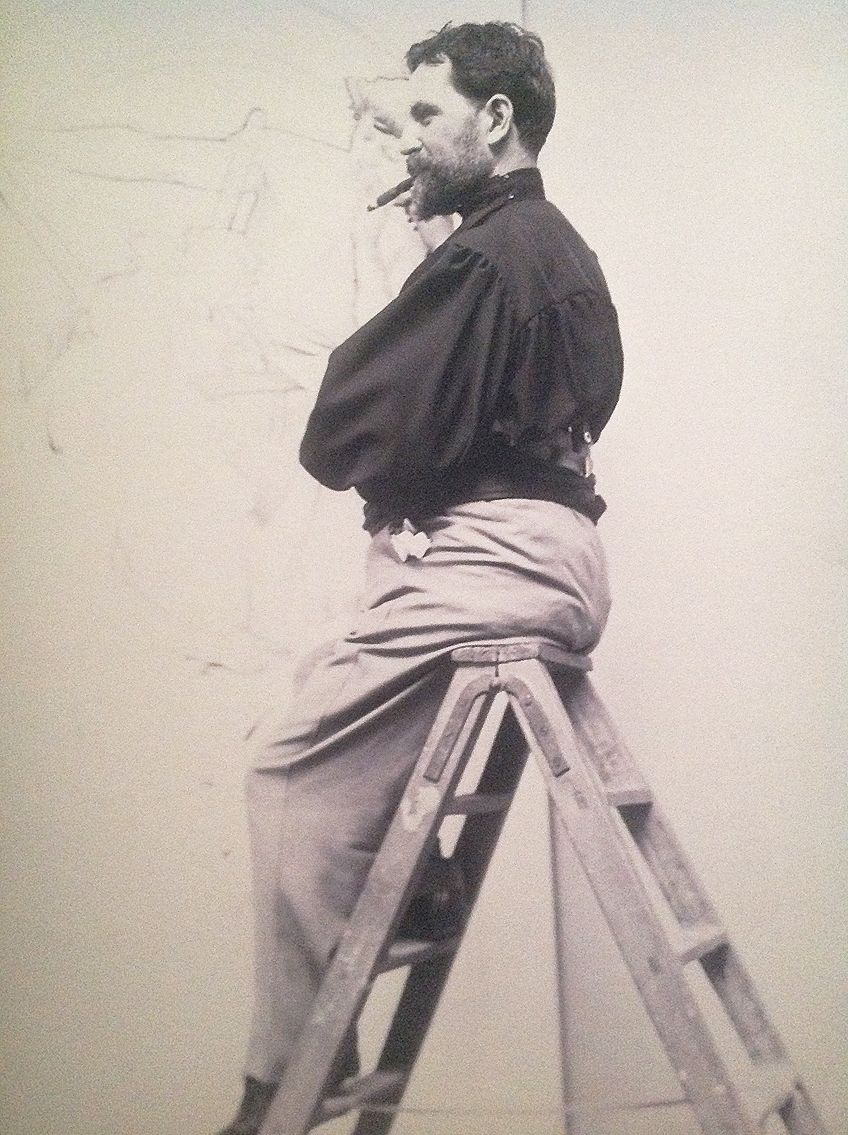 Photograph of Alphonse Mucha working on a poster for publishing house Cassan (1896); SiefkinDR, CC BY-SA 4.0, via Wikimedia Commons
When Mucha visited the United States for the first time in 1904, his visit made press headlines. Mucha became a superstar artist after being dubbed "the Globe's Greatest Decorative Artist" by the New York Daily News, following the sudden popularity of Gismonda (1894), Mucha's first billboard for the French actress and global sensation, Sarah Bernhardt, and the breakout in his creative career. Mucha rose to prominence in the Parisian art community as a result of his relationship and professional partnership with the renowned actress.
Throughout his life, Alphonse Mucha worked as a decorator, interior designer, graphic designer, painter, and illustrator, producing both paintings and posters.
Notable Art Nouveau artworks by the artist include:
Job Cigarette Papers (1896)
The Seasons (1896)
Snake Bracelet with Ring (1899)
Gustav Klimt (1862 – 1918)
| | |
| --- | --- |
| Date of Birth | 14 July 1862 |
| Date of Death | 6 February 1918 |
| Place of Birth | Baumgarten, Vienna |
| Nationality | Austrian |
Klimt disliked discussing his personal or professional life. "I'm certain that as a person, I'm not especially intriguing. "There's nothing unique about me," he once stated. "I am an artist who creates from daylight to night every day." The information he did leave us, on the other hand, reveals a different narrative.
Klimt was a painter who researched his craft intensely and openly revolted against the system; he was quiet yet charming; he painted in caftans; and he cherished his cat and, maybe most importantly, women.
Photographic portrait of Gustav Klimt, 1914; Josef Anton Trčka, Public domain, via Wikimedia Commons
Klimt grew up in this perplexing setting, which matched Victorian restraint against freedom of speech. Soon after, he began to use rich, symbol-laden artworks to express his thoughts on passion, visions, and life. "Whoever needs to understand something about me should look attentively at my images and attempt to discover in them what I am and also what I aspire to achieve," Klimt once stated.
Klimt's work defied artistic conventions.
He brought a new age of figuration that rejected naturalism and classicism's rigorous beliefs. Instead, Klimt demonstrated a marked preference for emotive, virile human beings who expressed their needs and feelings.
Notable Art Nouveau artworks by the artist include:
Music (Study) (1895)
Medicine (1900)
The Kiss (1907)
Henri de Toulouse-Lautrec (1864 – 1901)
| | |
| --- | --- |
| Date of Birth | 24 November 1864 |
| Date of Death | 9 September 1901 |
| Place of Birth | Alibi, France |
| Nationality | French |
Toulouse-Lautrec presented himself as a witty, amusing man about town, although he suffered immensely from physical illnesses as well as from familial tragedy, with his father never appreciating his son's decision to become a successful painter. He had also caught syphilis, which had a negative influence on his health.
Toulouse-Lautrec, as he had done for much of his adult life, resorted to liquor to deal with his anguish, eventually drinking himself to death.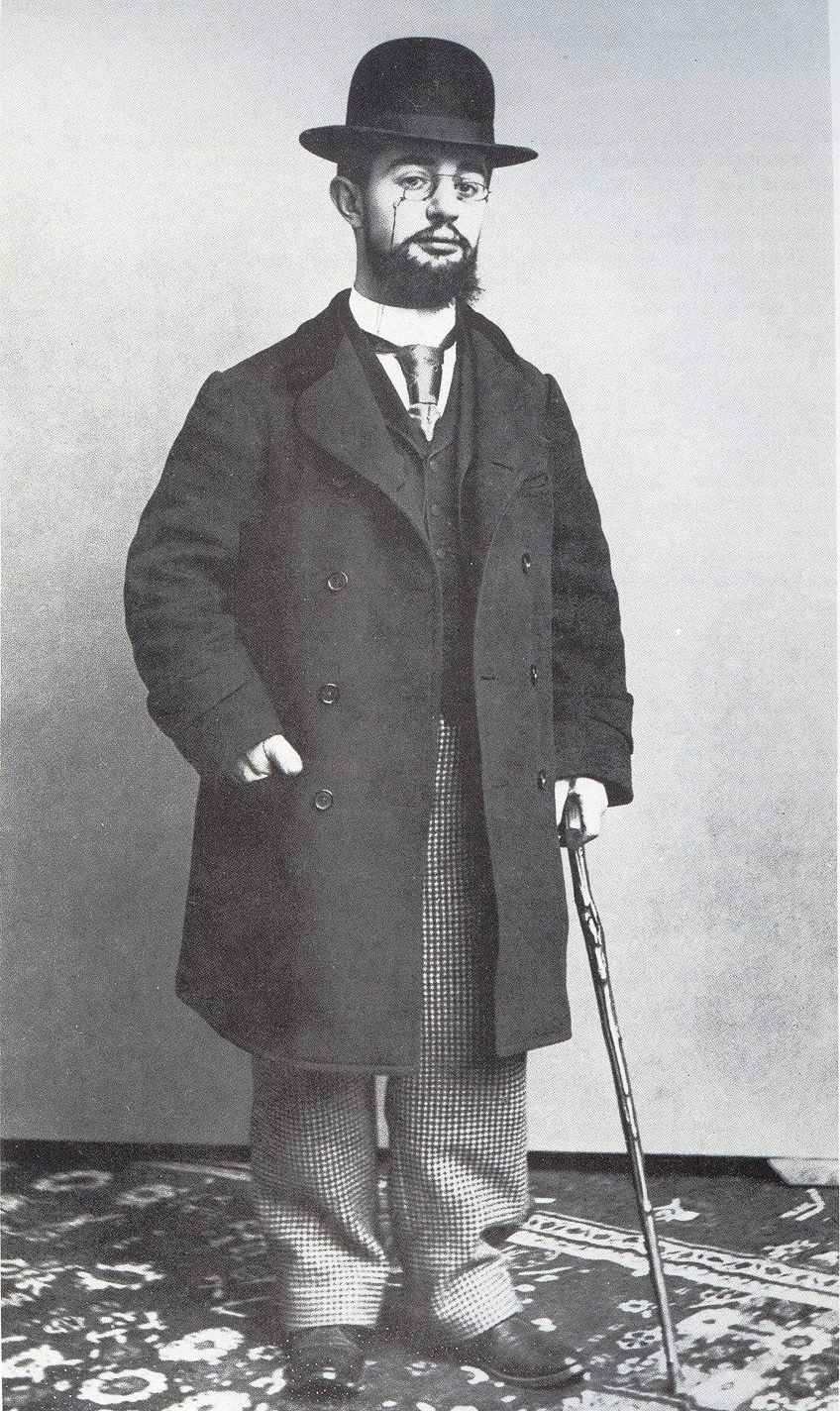 Photograph of Henri de Toulouse-Lautrec (1894), taken by Paul Sescau; Paul Sescau, Public domain, via Wikimedia Commons
In 1899, he suffered a psychological breakdown after his mother, with whom he was close, chose to depart Paris, and he was sent to a mental hospital for many months. Unlike many of his colleagues, art experts have noted that Toulouse-Lautrec was also recognized for his humanistic, realistic representations of women.
He ultimately abandoned fantasy in order to truly reflect on the situations of the many individuals he met.
Many of his works also depicted sex workers in situations other than erotic commodification. This concept may be seen in Toulouse-Lautrec's famous 1896 brothel series, Elles, as well as the 1897 picture Woman Before a Mirror.
Notable Art Nouveau artworks by the artist include:
In Bed (1893)
Jane Avril (1893)
At the Moulin Rouge (1895)
Koloman Moser (1868 – 1918)
| | |
| --- | --- |
| Date of Birth | 30 March 1868 |
| Date of Death | 18 October 1918 |
| Place of Birth | Vienna, Austria |
| Nationality | Austrian |
Moser's creations in furniture, architecture, jewelry, tapestries, and graphics helped define this period's output. In response to the Baroque excesses of his turn-of-the-century Viennese environment, he relied on the clean lines and repeating themes of traditional Greek and Roman architecture and art.
Moser and his collaborator, Josef Hoffmann, formed Wiener Werkstätte in 1903, whose workshops and workers created a variety of artistically and efficiently designed home items such as flatware, glasses, cutlery, carpets, and fabrics.
Self-Portrait as a Young Man (c. 1895) by Koloman Moser; Koloman Moser, Public domain, via Wikimedia Commons
He was a leading figure in the Vienna Secession school and a co-founder of the Wiener Werkstätte. Moser created a diverse range of artworks, encompassing books and graphic works ranging from magazine vignettes to postage stamps; couture; dinnerware and porcelain, blown glass, stained glass windows, tableware, silverware, jewelry, and furnishings.
The Austrian artist had a significant impact on 20th-century visual design.
Notable Art Nouveau artworks by the artist include:
Poster for Frommes Kalender (1899)
Ambilech (1899)
Venus in the Grotto (1914)
Charles Rennie Mackintosh (1868 – 1928)
| | |
| --- | --- |
| Date of Birth | 7 June 1868 |
| Date of Death | 10 December 1928 |
| Place of Birth | Townhead, UK |
| Nationality | Scottish |
While Western Modernist colleagues claimed to be breaking with tradition, expensive materials frequently alluded to the affluence and snobbery from which they aspired to distance themselves. Mackintosh, on the other hand, attained a simple simplicity in form, both for the outside and interior decorations of structures, and sought, above all, physical integrity and spatial harmony.
Mackintosh was always concerned with taste rather than fortune.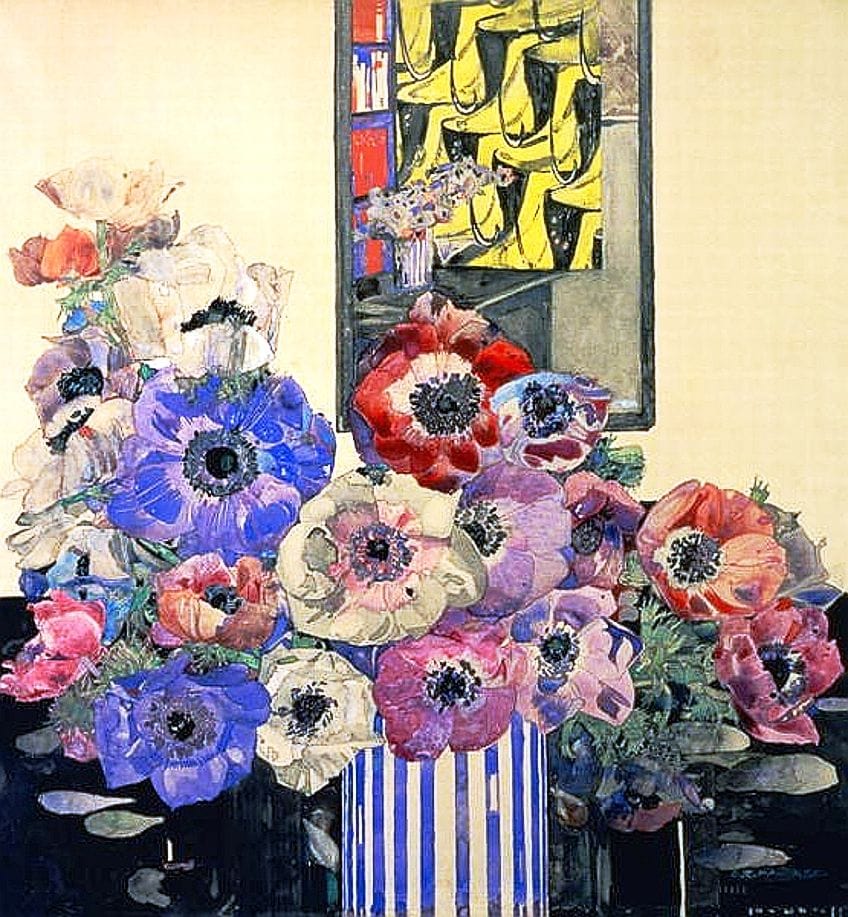 Still Life Of Anemones (1916) by Charles Rennie Mackintosh; Charles Rennie Mackintosh, Public domain, via Wikimedia Commons
Apart from being a very innovative visionary architectural designer and interior designer, he became an ardent flower painter in his final years. In addition to his well-known color abstractions, fellow Modernist Piet Mondrian was a prolific flower painter. The process of painting flowers beautifully reveals an artist's goal, which is a man-made attempt to capture nature's stunning beauty.
While Mackintosh paradoxically declared that one of his motivations for creating art was to produce something "more permanent than life itself," it appears that his work reveals the contrary message in many ways.
The fact that most of Mackintosh's plans were never realized, and that one of his most important buildings was recently irreparably devastated by fire, begs the painful issue of whether something can, or should, endure eternally.
Notable Art Nouveau artworks by the artist include:
Hill House (1904)
Fritillaria (1915)
Still Life of Anemones (1916)
Jan Thorn Prikker (1868 – 1932)
| | |
| --- | --- |
| Date of Birth | 6 June 1868 |
| Date of Death | 5 March 1932 |
| Place of Birth | The Hague |
| Nationality | Netherlands |
Jan Thorn Prikker was a Dutch artist and printer who helped to establish Art Nouveau. Prikker studied at The Hague's Royal Academy of Art, where he later became the head of the art gallery. In 1904, he traveled to Germany to assist with the establishment of a new arts and crafts school. The merging of artwork into the fine arts was a key component of Art Nouveau's ideology.
Landscapes and ornamental elements such as fabrics and stained glass were among Prikker's creations.
Mosaic picture (c. 1925) created by Jan Thorn Prikker; Jan Thorn Prikker, Public domain, via Wikimedia Commons
Much of his art dealt with religious subjects, and he used a distinctive figurative approach. His interests ranged from printing to architecture, furniture, mosaics, stained-glass windows, tapestries, and book covers, as well as paintings.
He also worked in other genres, including Impressionism, Symbolism, and Art Nouveau.
Notable Art Nouveau Artworks by the artist include:
The Bride (1892)
Inlay Box (1925)
Graalridders (1932)
Aubrey Beardsley (1872 – 1898)
| | |
| --- | --- |
| Date of Birth | 21 August 1872 |
| Date of Death | 16 March 1898 |
| Place of Birth | Brighton, Sussex |
| Nationality | British |
Aubrey Beardsley's creative career was remarkable in its briefness. Beardsley had a name as one of the most contentious painters of his day during the seven years he was able to sketch and communicate before succumbing to disease.
His compositions' linear beauty, along with the artist's odd quick wit and concern with the obscene and forbidden, both captivated and repulsed his Victorian viewers. His drawings incorporated elements of Decadence, Aestheticism, Symbolism, and, most notably, Art Nouveau.
Portrait photograph of Aubrey Beardsley (1893); Frederick Hollyer, Public domain, via Wikimedia Commons
Beardsley's block prints made it possible for his art to be easily printed and broadly distributed. Beardsley soon became the most prominent draftsman of his day due to the wicked splendor of his works and its overpowering prominence in English publishing firms.
Beardsley's drawings were more than just illustrations; they forcefully criticized restrictive Victorian ideals of beauty, sexuality, and consumerism. Beardsley appropriated elements from numerous aesthetic traditions and modified them to his own needs.
He used Indulgent topics such as decay, mortality, and sexuality to shock spectators out of their comfort, while his subtly interlacing shapes and serpentine arabesque lines made his work significant in defining the aesthetic transition from the Aesthetic approach to the contemporary Art Nouveau artworks.
Notable Art Nouveau artworks by the artist include:
How Sir Tristram Drank of the Love Drink (1894)
The Woman in the Moon, Frontispiece for Salomé (1894)
Avenue Theater Poster (1894)
Gerda Wegener (1886 – 1940)
| | |
| --- | --- |
| Date of Birth | 15 March 1886 |
| Date of Death | 28 July 1940 |
| Place of Birth | Hammelev, Denmark |
| Nationality | Danish |
Female Art Nouveau artist Gerda Wegener is well-known for her fashion sketches and, subsequently, artworks that pushed the bounds of sexuality and love in her day. At times, these pieces were classed as Lesbian erotica, and many were influenced by her lover, transgender lady Lili Elbe.
Wegener created these works in the Art Nouveau and subsequent Art Deco styles. She became interested in art at an early age and commenced training. Her family relocated to Hobro, and she eventually relocated to Copenhagen to attend the Royal Danish Academy of Fine Arts.
Wegener's paintings frequently depicted bold and stylish ladies engaged in a range of pursuits in either a Renaissance-inspired or Art Nouveau style. The photographs often depicted women posed or engaged in creative activities such as theater, writing, and dance.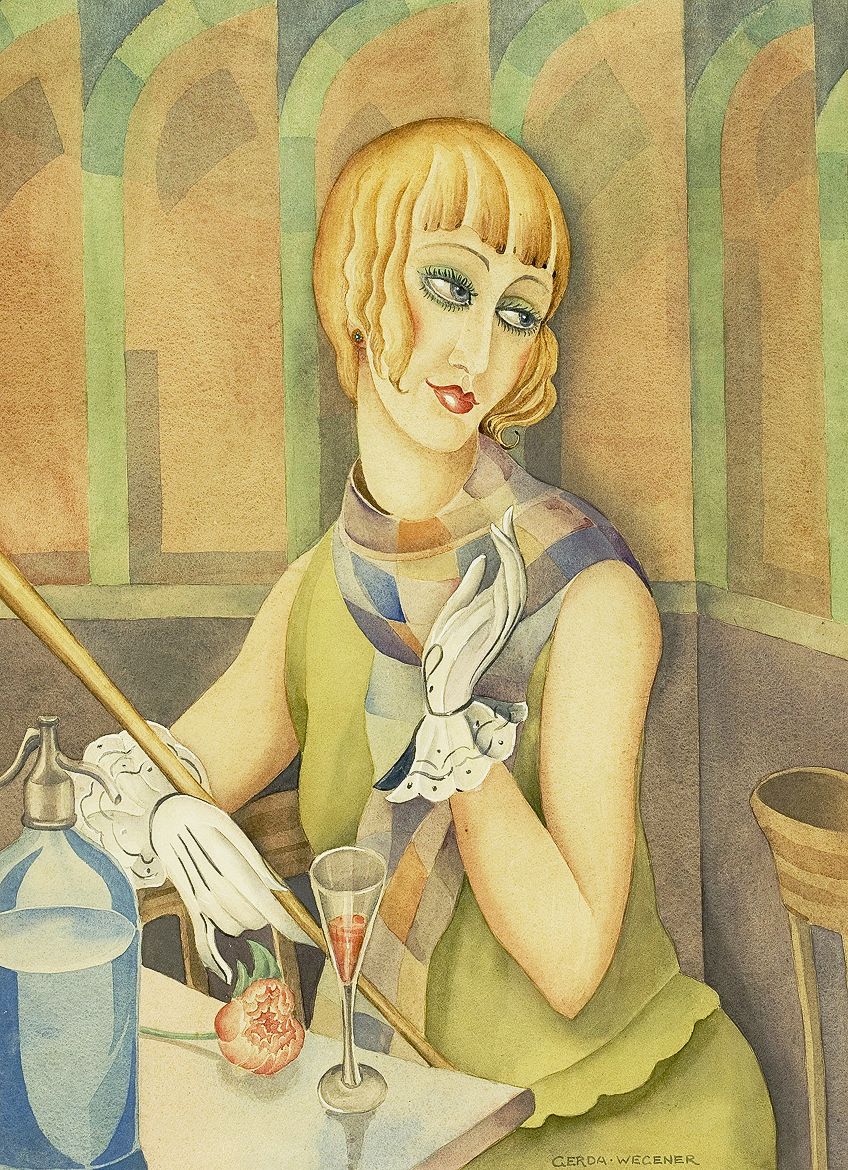 Lili Elbe (c. 1928) by Gerda Wegener; Gerda Wegener, CC BY 4.0, via Wikimedia Commons
Wegener later developed art in France depicting ladies expressing seductive power or engaged in sexual acts. This risqué painting was categorized as "lesbian erotica" and was published in illegal art publications.
Wegener's work questioned sexuality and gender identity norms.
Additionally, she also focused on changing how women were generally depicted in art. She accomplished this in tiny ways, such as sketching guys with slim bodies and gentle lines or portraying her transsexual girlfriend, Lili Elbe.
Notable Art Nouveau artworks by the artist include:
Le Peplos (1915)
La Guerre est morte (1917)
Lili Elbe (1928)
Art Nouveau existed as a movement that aimed to modernize design through graphic and decorative arts, as well as architecture. Appearing in a wide variety of styles, the whole point of the movement was to escape the previous historical and diverse techniques that had dominated the art world. If you have enjoyed reading up about the prominent artists of the Art Nouveau movement, along with their notable artworks, we encourage you to read further!
Frequently Asked Questions
Who Are the Notable Female Art Nouveau Artists?
Art Nouveau attempted to modernize design by rejecting the many historic traditions that had previously been trendy. There were numerous well-known female artists. These are some of the famous names in Art Nouveau art: Jessie Marion King and Alice Russel Glenny.
What Are Art Nouveau Sculptures and Artworks?
Natural and geometric shapes encouraged artists to create appealing designs that incorporated undulating, natural patterns that mimicked plant branches and flowers. Color, which was often represented in subtle blues, browns, yellows, and greens, took a second seat to the emphasis on linear shapes. The movement was committed to the eradication of the previous arts paradigm, which held liberal arts such as sculpture and painting to be more important than craft-based artwork.
Isabella studied at the University of Cape Town in South Africa and graduated with a Bachelor of Arts majoring in English Literature & Language and Psychology. Throughout her undergraduate years, she took Art History as an additional subject and absolutely loved it. Building on from her art history knowledge that began in high school, art has always been a particular area of fascination for her. From learning about artworks previously unknown to her, or sharpening her existing understanding of specific works, the ability to continue learning within this interesting sphere excites her greatly.
Her focal points of interest in art history encompass profiling specific artists and art movements, as it is these areas where she is able to really dig deep into the rich narrative of the art world. Additionally, she particularly enjoys exploring the different artistic styles of the 20th century, as well as the important impact that female artists have had on the development of art history.
Learn more about Isabella Meyer and the Art in Context Team.
Cite this Article