Famous Acrylic Paintings – Some of the Best Acrylic Artworks
From Prehistoric cave paintings to the ritualistic carvings of ancient societies, humans have always had a desire to create art. Although it was once very rudimentary, new methods and materials are being developed daily. Oil paints had been the medium most widely used by professional artists for a very long time, but in the 1960s, acrylic paints were developed and art changed forever.
A Brief History of Acrylic Paints
In the early 1930s, a German chemist named Otto Röhm invented a substance called acrylic resin. He soon realized its potential as a vector for pigment. By the 1940s, he and his business partner Otto Haas developed the first acrylic paints. This was done by refining the acrylic resin to a substance called acrylic polymer emulsion, to which pigment was then added. Their company (Röhm and Haas) sold these acrylic paints for painting houses, as it was more durable than other paints available at the time.
Nearing the end of the 1940s, a number of artists began experimenting with using these acrylic paints to create art.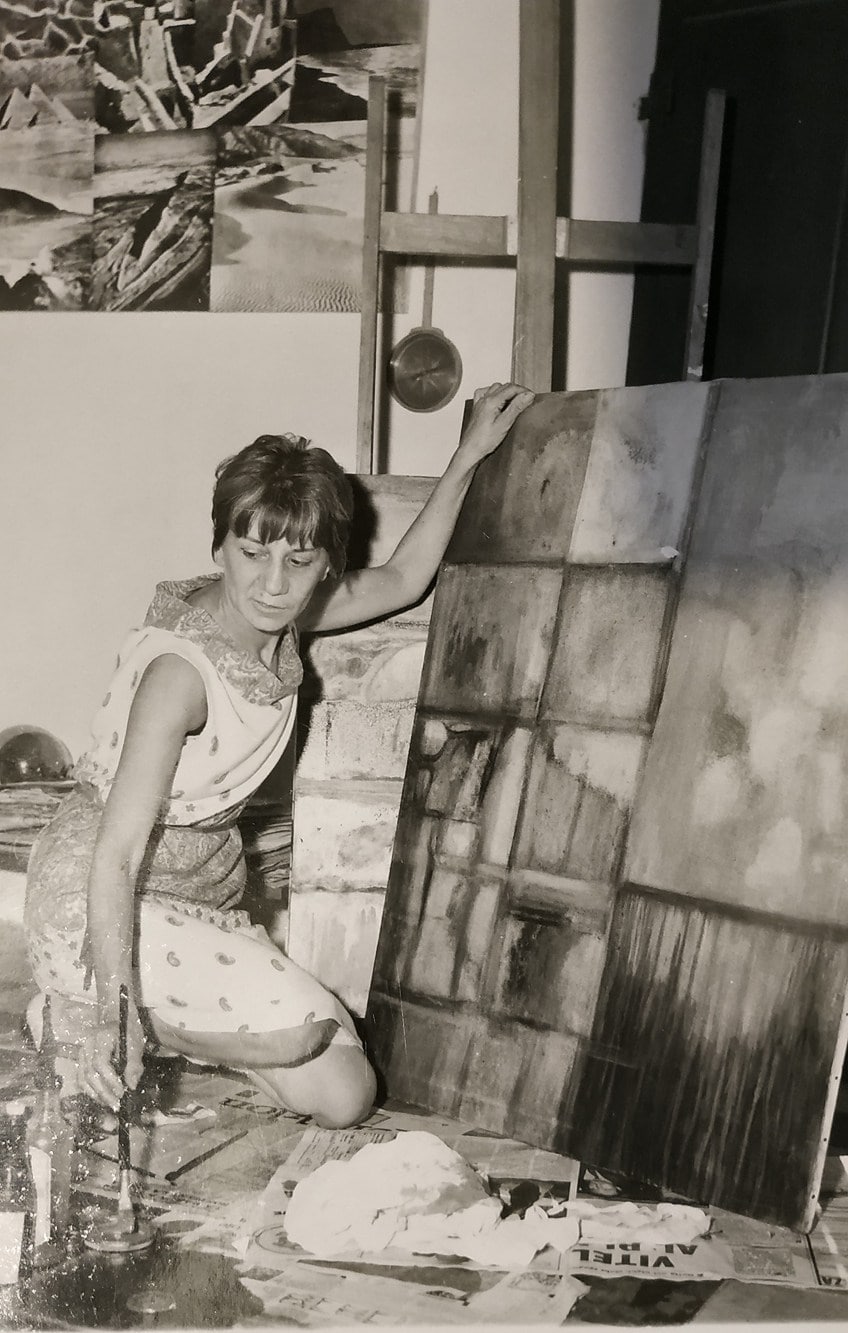 The painter Maria Petroni in her studio in Bologna, 1960; Walter Breveglieri, CC0, via Wikimedia Commons

However, this was not common until much later. In the early 1960s, a British artist by the name of Lancelot Ribeiro began creating paintings using acrylic paints intended to be used on houses. He found that not only did acrylic paint dry much faster than oil paint, but it also produced much brighter hues.
Ribeiro was very vocal about his discovery and helped in normalizing the use of acrylic paints for art.
With artists of the 1960s now frequently using acrylic paint, companies saw a gap in the market and began to produce acrylic paints specifically for artists. They manipulated the texture and packaged it in small tubes rather than big tins of paint. The convenience of this helped to popularize the use of acrylic paint even further.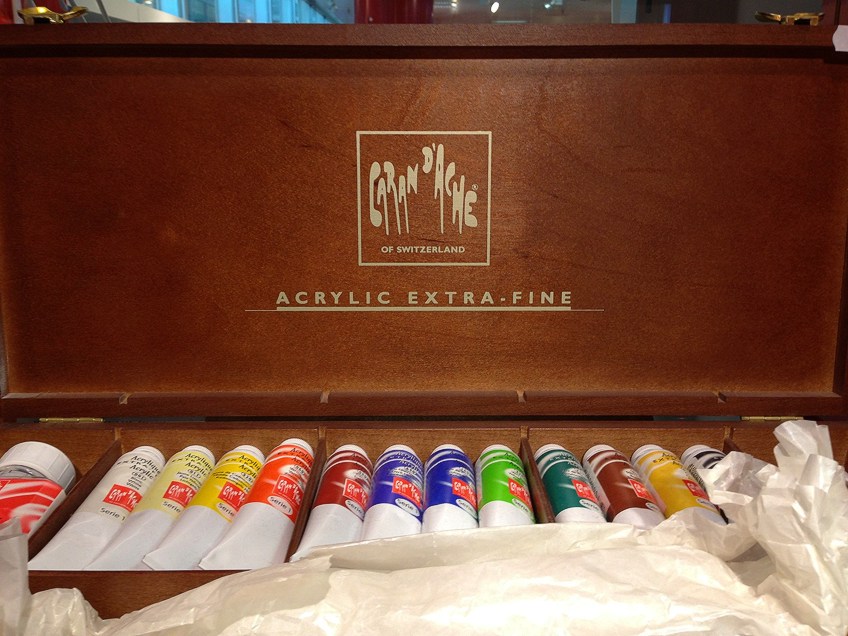 A box set of Caran d'Ache acrylic paints; WestportWiki, CC BY-SA 3.0, via Wikimedia Commons
Acrylic Paint vs. Oil Paint
Now you understand how and why acrylic artwork came into existence. But is there a big difference between acrylic paintings and oil paintings? How are the two mediums viewed in the art world? Which medium lasts longer? Are oil paintings more valuable than acrylic paintings? Each of these questions will be answered below.
Firstly, we have established that acrylic paints are created by adding pigment to acrylic polymer emulsion. Oil paints, on the other hand, are made by mixing powdered pigments with oil, typically linseed oil. Due to their different compositions, the two paints dry at different speeds.
Oil paints can take days to dry completely. This is because oil does not evaporate like water, but instead goes through a process called polymerization in order to solidify. Acrylic paints, on the other hand, can take just half an hour to dry. This is a huge advantage over oil paints for artists who are impatient or do not have much time.
Many are curious as to whether acrylic paintings or oil paintings last longer. If cared for properly oil paintings can last thousands of years. The oldest known oil paintings were created in 650 AD by Buddhist monks in Afghanistan.
However, acrylic paints have only been used for the last 60 or so years. Thus, we do not yet know whether they will withstand the test of time like oil paints.
Are oil paintings worth more? Well, there are a number of factors that go into valuing a painting other than just the medium. Do a lot of people like it? If so, then this will push up the price due to demand. The size of the painting should also be taken into consideration. Typically, large paintings will cost more. Is the artist well known or have they not managed to gain a reputation for themselves. Needless to say, famous artists will be paid more for their work than an artist that no one has heard of.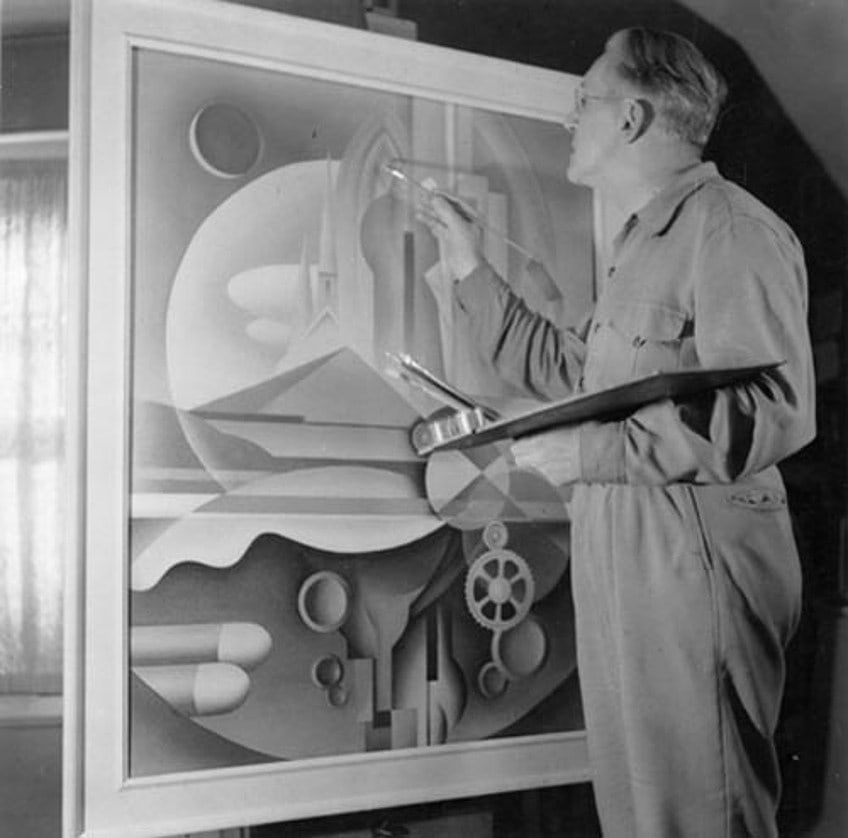 Artist Bertram Brooker painting in his studio, 1943; Ontario Society of Artists fonds Image taken from: http://ao.minisisinc.com/scripts/mwimain.dll/340/2/1/8756?RECORD, Public domain, via Wikimedia Commons
Most importantly, the age of the painting affects its value. Paintings created a long time ago, by famous artists that have passed will fetch the highest price. As acrylic artwork only started to be created during the 1960s, few are as old, and thereby as valuable as famous oil paintings. Oil paintings created in the modern day are priced at only marginally more than acrylic paintings. Taking into consideration that they cost more to produce, the two mediums are essentially on par in terms of price.
Thus, the factors mentioned above are of more importance than whether the paintings were created with oils or acrylics.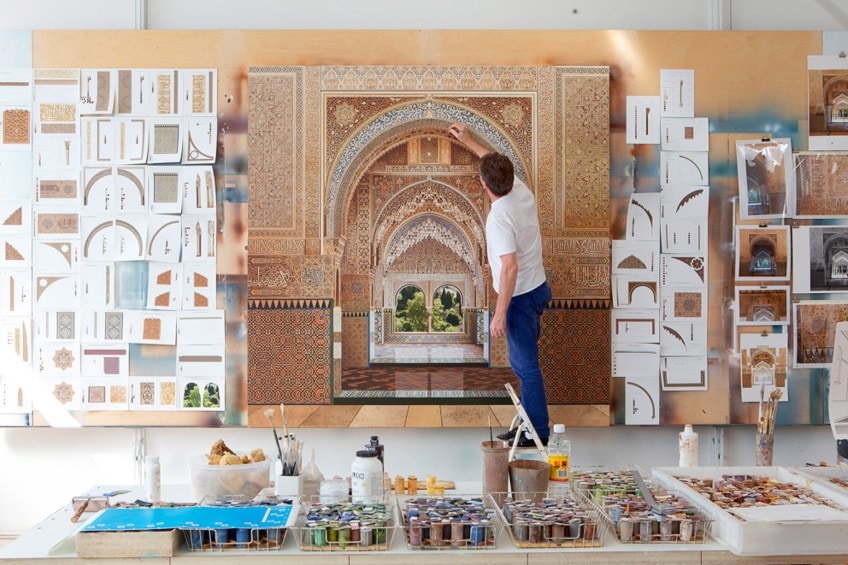 Mirador de Lindaraja (acrylic on canvas, 2013) by Ben Johnson; Wingate16 at English Wikipedia, CC BY-SA 3.0, via Wikimedia Commons
10 Famous Acrylic Paintings
As mentioned above, acrylic artwork has only existed since the 1960s. However, this does not mean that there is a short supply of amazing acrylic paintings. In this segment, we will look at 10 of the most famous acrylic paintings. From acrylic portrait paintings to acrylic nature paintings, there is something for everyone's preference.
Campbell's Soup Cans (1962) by Andy Warhol
| | |
| --- | --- |
| Artist | Andy Warhol (1928 – 1987) |
| Date Painted | 1962 |
| Medium | Acrylic on canvas |
| Dimensions (cm) | 51 x 41 |
| Where It Is Currently Housed | The Museum of Modern Art, New York City |
Andy Warhol is one of the most famous acrylic painters in history. Warhol had already gained a name for himself working in advertising. Yet, he always had a desire to create art simply for visual enjoyment rather than marketing purposes. During the latter half of the 1950s, Warhol showcased some of his art in a few unpopular exhibitions.
However, his big breakthrough happened in 1962 when he was allowed to display his works at the Wadsworth Atheneum in Connecticut.
The exhibition at the Wadsworth Atheneum was Warhol's first time displaying his painting Big Campbell's Soup Can with Can Opener (Vegetable) (1962). The painting, created by applying casein paint and graphite to linen, was a success. This inspired Warhol to create his famous 32-part series called Campbell's Soup Cans (1962).
Upon completion, Warhol displayed Campbell's Soup Cans on wooden shelving in order to emulate a grocery store display. His inspiration for the series was his love of the popular soup brand. Warhol stated that he had a can of Campbell's soup every day for lunch. Thus, the repetition of the soup cans in various flavors alludes to this habit of consuming the soup daily.
Warhol often used everyday objects as the focus of his artworks.
This was very typical of Pop art, hence the name, which is derived from "popular culture". Other than Campbell's Soup Cans, the famous acrylic painter created numerous similar artworks such as Green Coca-Cola Bottles (1962), Brillo Soap Pad Boxes (1964), and Hamburger (beige) (1986).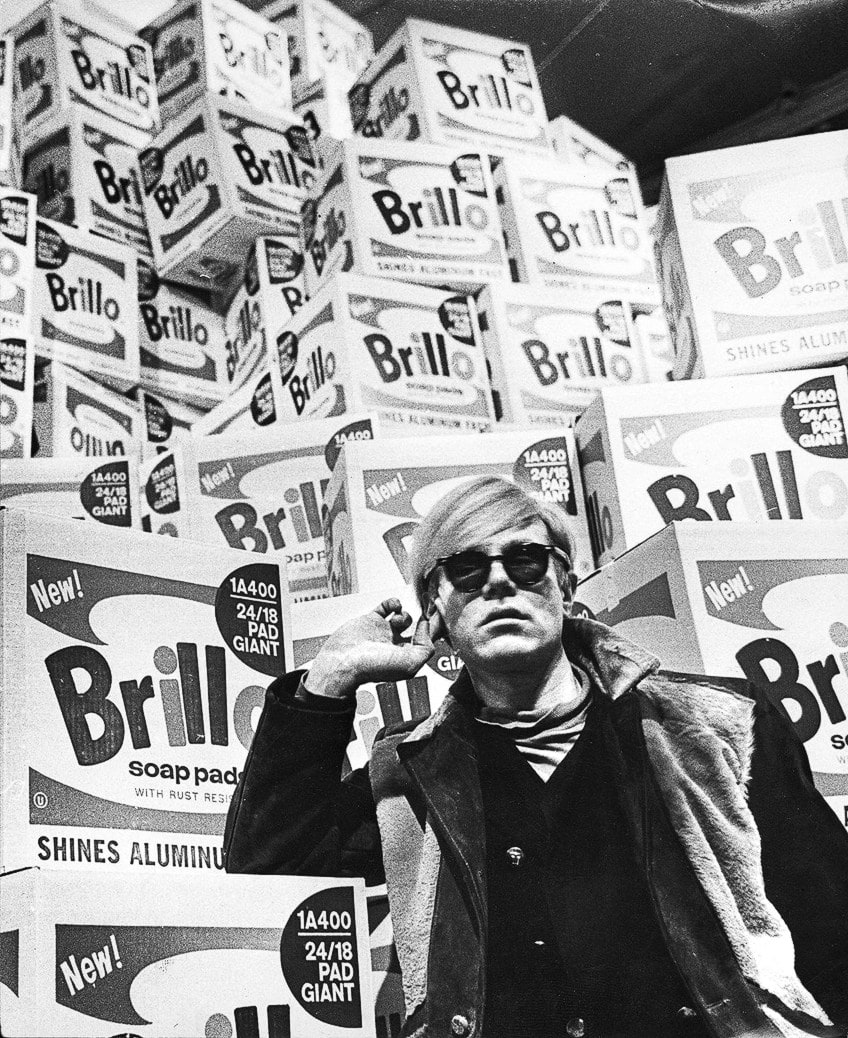 Photograph of the American artist Andy Warhol in Moderna Museet, Stockholm before the opening of his retrospective exhibition. Brillo boxes can be seen in the background, 1968; Lasse Olsson / Pressens bild, Public domain, via Wikimedia Commons
Warhol is one of the most notorious Pop artists in the world. He and other Pop artists took a new approach to art. Instead of aiming for uniqueness like most artists, they tried to mimic mass culture. Artists would even try to make their brushstrokes as indistinguishable as possible to give their paintings the appearance of a print.
Due to his background in advertising, Warhol had an edge over his peers. He often produced multiple copies of the same work. His intention behind this was to make art available to the masses, rather than simply a small, rich elite.
Milkwood Arcade (1963) by Helen Frankenthaler
| | |
| --- | --- |
| Artist | Helen Frankenthaler (1928 – 2011) |
| Date Painted | 1963 |
| Medium | Acrylic on canvas |
| Dimensions (cm) | 219.7 x 205.1 |
| Where It Is Currently Housed | Rotated between the National Gallery of Art, the Tate, the Art Institute of Chicago, the Metropolitan Museum, and the San Francisco Museum of Modern Art |
Helen Frankenthaler was an American acrylic painter with a long and colorful career. She produced many acclaimed acrylic artworks during the 60 years in which she created art. She is best known for her pioneering use of the soak stain technique, which entails mixing soluble acrylic paints with water in order to stain the canvas.
Jackson Pollock was a major inspiration for Frankenthaler. After seeing an exhibition of his artworks in 1950, she began to experiment with Abstract Expressionism. She created some of her most famous acrylic paintings during this time such as The Jugglers (1951) and Mountains and Sea (1952). However, during the 1960s, she took the abstraction even further, painting in a style known as Color Fielding.
Frankenthaler was one of the figureheads of the movement, which was a fusion of European Modernism and Abstract Expressionism.
Frankenthaler's 1963 painting Milkwood Arcade, an abstract mix of blues and yellows, epitomizes Color Field painting. The Color Field style focuses on color above all other elements. The colors themselves are the subject matter of the painting rather than shape or form. Frankenthaler was an intuitive painter who would often she would paint without any particular meaning.
The point was to feel the painting rather than to try to understand it. She said that often her paintings conjured up feelings that one could not even describe.
Frankenthaler made a name for herself as a skillful and original artist during a time when the art scene was still very male-dominated. Her talent spoke for itself and she was unphased by the apparent bias because she loved what she did. In 2001, at the age of 73 years old, she was awarded the National Medal of Arts for her contributions to the art world.
A Bigger Splash (1967) by David Hockney
| | |
| --- | --- |
| Artist | David Hockney (1937 – Present) |
| Date Painted | 1967 |
| Medium | Acrylic on canvas |
| Dimensions (cm) | 242.5 x 243.9 |
| Where It Is Currently Housed | The Tate Gallery, London |
David Hockney was one of the most famous acrylic painters of the 1970s. Hockney was born in Bradford, England. However, in 1963 he took a trip to California which changed his life forever. Hockney fell in love with the sunshine and glamour that California had to offer – so much so that he spent 20 years of his life living there, in which he created many paintings inspired by the Californian lifestyle.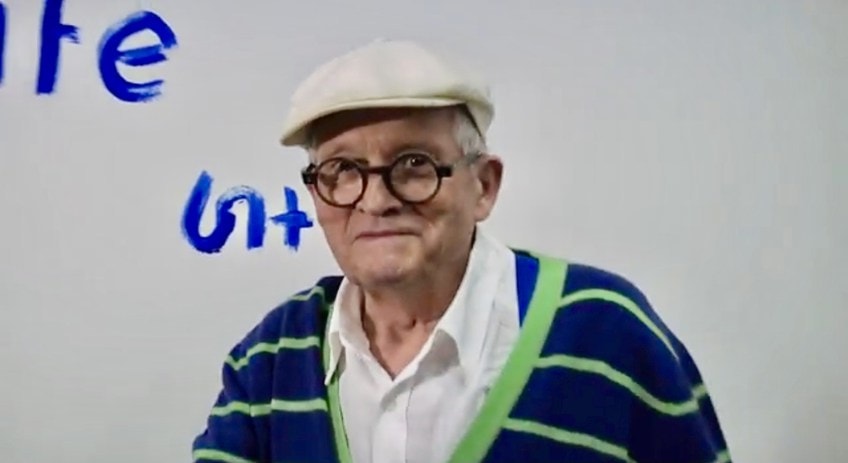 David Hockney at the 2017 Flash Expo; Connaissance des Arts, CC BY 3.0, via Wikimedia Commons
Upon arriving in Los Angeles, Hockney was amazed that almost all of the houses had private swimming pools. Owning a swimming pool was something that only the ultra-rich could afford in the UK. Thus, many of Hockney's paintings feature a clear, blue body of water.
Each of his paintings conveys a sense of fantasy that hints at sunny vacations and easy living.
Hockney got the idea for his most popular work, A Bigger Splash (1967) from a photograph he saw, which depicted a splash. He was fascinated by the contrast of the houses in the background, which are solid and enduring, with the splash, which is intangible and lasts only seconds.
In the early 1970s, a documentary about Hockney's life also titled A Bigger Splash (1973) was created. It followed a similar format to modern reality shows and included dramatizations, as well as segments that were completely fictional. The central theme of the film was around his separation from his ex-partner Peter Schlesinger.
Showing homosexuality on television was still uncommon during that time, which made it a groundbreaking film.
Elegy to the Spanish Republic No. 110 (1971) by Robert Motherwell
| | |
| --- | --- |
| Artist | Robert Motherwell (1915 – 1991) |
| Date Painted | 1971 |
| Medium | Acrylic and charcoal on canvas |
| Dimensions (cm) | 208.3 x 289.6 |
| Where It Is Currently Housed | The Guggenheim Museum, New York City |
Robert Motherwell is known for his famous acrylic paintings inspired by the Spanish Civil War. The war broke out in 1936 and ended in 1939. Motherwell was just a young man at the time and the horrors he witnessed stuck with him for the rest of his life. He created almost 200 paintings around the subject in an attempt to work through his emotions.
Motherwell painted in the Abstract Expressionist style, which was at its peak during the 1950s. Due to the conceptual nature of Elegy to the Spanish Republic No. 110 (1971), there are many interpretations of the message Motherwell was trying to convey.
He has expressed that the central theme is surrounding the cycles of life and death. This is why he used exclusively black and white.
The forms Motherwell used in Elegy to the Spanish Republic No. 110 has sparked much debate. Some believe that the series of ovular and vertical shapes represent reproductive organs, thus tying in with the theme of life and death. Others think that they depict buildings, which speaks of the air bombing of civilian towns during the war.
Whichever meaning one perceives, it is clear that the highly emotive painting is a tale of sorrow.
Fancy Feathers (2010) by Cher Anderson
| | |
| --- | --- |
| Artist | Cher Anderson (1962 – Present) |
| Date Painted | 2010 |
| Medium | Acrylic on gessobord |
| Dimensions (cm) | 41 x 28 |
| Where It Is Currently Housed | Currently for sale online |
Although she was born in the United States, Cher Anderson grew up in Mexico City. Accents of the vibrant Mexican culture are clear through her love of color. This is likely why birds, with their bright plumage, are her favorite subject to paint.
On a trip to the zoo, Anderson was fascinated by the flamingo enclosure. She was entranced not only by their graceful movements but also by the variety of colors that could be seen as they lifted their wings to groom themselves. She waited patiently to capture the perfect picture, which she then painted from. Due to her meticulousness Fancy Feathers (2010) took four months to complete.
Anderson's acrylic nature paintings have gained her a reputation as a talented artist and lover of wildlife.
She creates a variety of well-researched animal paintings, which captivate the viewer. On account of her love of nature, she is part of Artists for Conservation, a non-profit organization in which artists donate a portion of their profits to wildlife conservation.
Deiiy-ha VI Painting (2016) by Emma Lindström
| | |
| --- | --- |
| Artist | Emma Lindström (1978 – Present) |
| Date Painted | 2016 |
| Medium | Acrylic on canvas |
| Dimensions (cm) | 150 x 150 |
| Where It Is Currently Housed | Private collection |
Emma Lindström is a famous acrylic pouring artist from Sweden. She gained most of her influence through her vast social media following. Her unique use of fluid acrylics is mesmerizing and has earned the admiration of thousands since she began showcasing her works. Deiiy-ha VI Painting (2016) is just one of the paintings in her Cosmos series. Acrylic pouring is the perfect technique for creating these spectacular galaxies.
For Lindström, fluid acrylics give her the perfect balance between control and pure luck. They allow her to infuse her works with spontaneity and emotion.
Lindström primarily sells her acrylic artworks online as prints. However, one can view her originals in person at her gallery, Anohaao Gallery in Gothenburg. Although Anohaao Gallery is where most of her paintings reside, one can also find them at a number of other art galleries around Scandinavia and Germany.
Lanterns (c. 2017) by April M. Rimpo
| | |
| --- | --- |
| Artist | April M. Rimpo (1955 – Present) |
| Date Painted | c. 2017 |
| Medium | Acrylic on paper |
| Dimensions (cm) | 61 x 46 |
| Where It Is Currently Housed | HorseSpirit Art Gallery, Savage |
April M. Rimpo was born to be a painter. She came from a family of artists and expressed natural artistic talent from a young age. However, she decided to take a more practical path, studying engineering at university. Rimpo continued to take local art classes during this time, simply for enjoyment. Eventually, however, she realized that art was her calling and became a full-time artist in 2012.
Lanterns (c. 2017) is just one of her famous acrylic paintings. Rimpo mixes her own colors, which gives her paintings a vibrancy that those of other acrylic painters lack. She was captivated by the appearance of the lanterns reflected in the building windows.
She believes that her subject matter chooses her, not the other way around.
Rimpo has exhibited her works in many renowned exhibitions, including the International Society of Acrylic Painters. Her paintings have also appeared in a number of North Light Best of Acrylic books.
Unknown (c. 2017) by Marney-Rose Edge
| | |
| --- | --- |
| Artist | Marney-Rose Edge (1959 – Present) |
| Date Painted | c. 2017 |
| Medium | Acrylic on canvas |
| Dimensions (cm) | 77 x 77 |
| Where It Is Currently Housed | Private collection |
Marney-Rose Edge is a Canadian artist based in the city of Vancouver. She is known for her whimsical, romantic paintings. Her use of fluid acrylics allows her to create soft, seamless blends, which give an element of fantasy to her paintings.
Although Edge is not known for being one of the most famous acrylic pouring artists, she often uses this technique in her work.
In Unknown (c. 2017), she uses acrylic pouring to create an elegantly diffused background. This blends perfectly with the nest, allowing the eggs inside to be the focal point. They are further highlighted by pops of shimmering gold.
Edge is a respected artist in her community. She serves on the board of the Federation of Canadian artists as a senior member. She has also been featured on the cover of International Artists Magazine, with a ten-page article dedicated to her inside.
Keith Richards (2017) by Micheal Wagner
| | |
| --- | --- |
| Artist | Micheal Wagner (1953 – Present) |
| Date Painted | 2017 |
| Medium | Acrylic on canvas |
| Dimensions (cm) | 77 x 61 |
| Where It Is Currently Housed | The Painting Center, New York |
Micheal Wagner is a master of acrylic portrait painting. His artworks feature a mixture of photorealism with hints of Pop Art. Wagner worked in a number of artistic fields including graphic design and video creation. He even worked as a forensic sketch artist for the Stamford police for a time. Painting is now his full-time gig.
Having grown up in the 1960s, Wagner spent his youth listening to iconic rock groups such as The Rolling Stones, The Doors, and The Stooges.
Keith Richards (2017) is an ode to the legendary English musician. The emotion and soul Wager is able to express in Richard's eyes are unmatched. His eye for detail makes him an incredible artist. Wagner displays his acrylic artworks in a number of galleries in New York and Connecticut. He is currently on the board of directors for Loft Artists Studio. All of his artworks can be viewed and purchased online on his website.
Roar (2017) by Yael Maimon
| | |
| --- | --- |
| Artist | Yael Maimon (1980 – Present) |
| Date Painted | 2017 |
| Medium | Acrylic on Fabriano paper |
| Dimensions (cm) | 43 x 33 |
| Where It Is Currently Housed | Currently for sale online |
Yael Maimon is an acrylic painter from Israel. Although she received a BA in Psychology, she was always aware that art was her one true passion. Soon after she graduated from university, she dedicated herself to a full-time career in art, attending a number of classes by internationally renowned artists.
As one can see from her "Cats" series, Maimon is a huge cat lover.
She volunteers at animal shelters and has claimed a number of stray cats as her own. She states that they are her muses. She loves studying them in various states such as playing, sleeping, and meowing as in Roar (2017). Roar received the People's Choice Award at Jackson's Atmospheric Acrylic Competition. She has since won a number of other awards for her paintings.
Acrylic paint has only been around for a relatively short amount of time. However, this does not mean that artists have not been able to do amazing things within that short amount of time. This is only a short list of famous acrylic paintings. If you enjoyed them, we encourage you to explore further.
Frequently Asked Questions
Which Famous Artists Used Acrylic Paint?
From the 1960s onwards, a number of artists made the jump from oil paints to acrylic paints. They were cheaper, more vibrant, and set much faster. This made them more appealing to many celebrated artists such as Andy Warhol, David Hockney, Robert Motherwell, and more. Many contemporary artists such as Emma Lindström, Yael Maimon, and Micheal Wagner also use acrylic paints.
Does the Sun Fade Acrylic Paintings?
As acrylic paint was only popularized for art about 60 years ago, we are still unsure of how long-lasting it is. Thus, in order to make it last as long as possible, there are a number of precautions one can take. One of these is not placing acrylic paintings in a spot with direct sunlight. Although acrylic paint is very durable, it is likely that the UV rays will eventually cause the painting to become dull over time.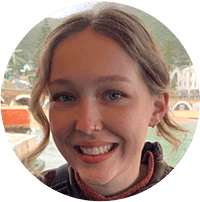 Emma completed her Bachelor's Degree in International Studies at the University of Stellenbosch. She majored in French, Political Science, and History. She graduated cum laude with a Postgraduate Diploma in Intercultural Communication. However, with all of these diverse interests, she became confused about what occupation to pursue. While exploring career options Emma interned at a nonprofit organization as a social media manager and content creator. This confirmed what she had always known deep down, that writing was her true passion.
Growing up, Emma was exposed to the world of art at an early age thanks to her artist father. As she grew older her interests in art and history collided and she spent hours pouring over artists' biographies and books about art movements. Primitivism, Art Nouveau, and Surrealism are some of her favorite art movements. By joining the Art in Context team, she has set foot on a career path that has allowed her to explore all of her interests in a creative and dynamic way.
Learn more about the Art in Context Team.
Cite this Article