The almost full-length portrait titled The Blue Boy painting was initially titled Portrait of a Young Gentleman and "unveiled" at the Royal Academy, London, in 1770. This painting has had a history highlighted in blue and has been away from its English home ground for almost a century. In the article below, we explore this painting further.
Artist Abstract: Who Was Thomas Gainsborough?
Thomas Gainsborough was born In Suffolk, England in a town called Sudbury. He was born on 14 May 1727 and his parents were John Gainsborough, who was a wool handler and weaver; his mother was Mary Gainsborough and Thomas had 10 siblings. He was interested in painting from an early age and during 1740 he studied in London with Hubert Gravelot, who was a pioneering artist in the Rococo art movement in England. Gainsborough also studied under William Hogarth.
He had various commissions in his artistic career and painted portraits, landscapes, and loved animals. Gainsborough's art style has been described as the beginning style that catalyzed Impressionism.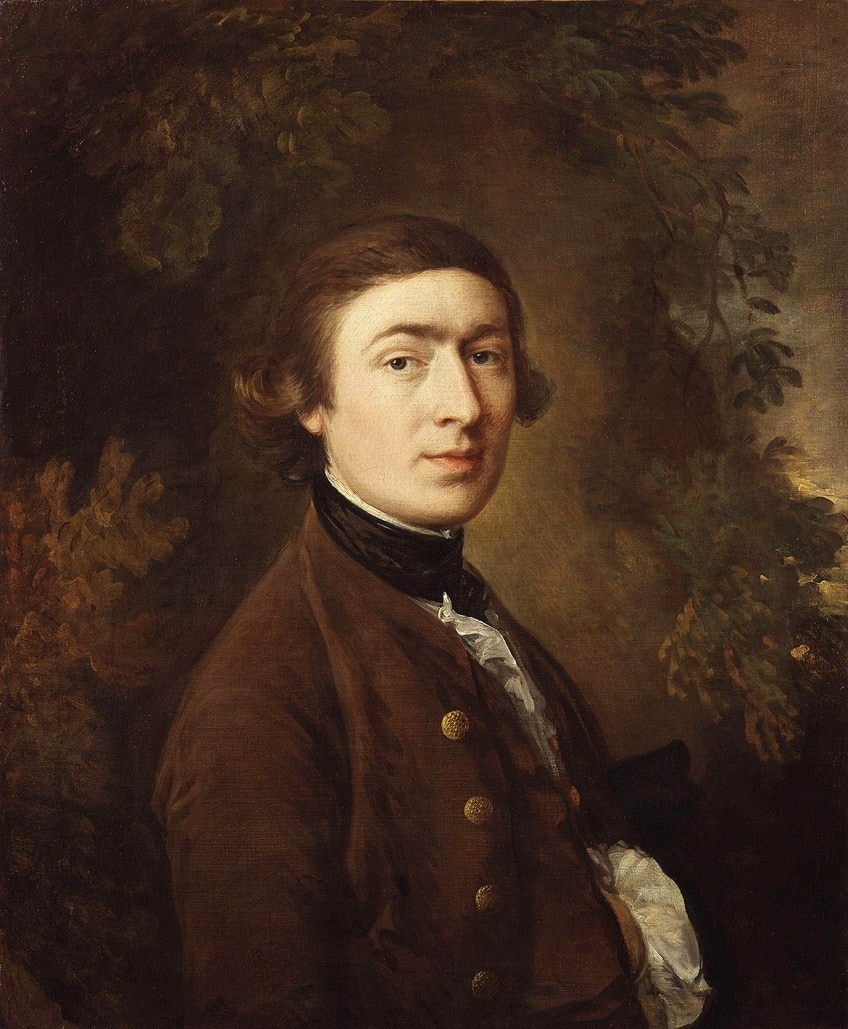 Self-portrait (c. 1759) by Thomas Gainsborough; Thomas Gainsborough, Public domain, via Wikimedia Commons
The Blue Boy By Thomas Gainsborough In Context
We will start by first looking at a brief socio-historical overview, discussing who the boy in blue has been thought to be as well as some of the factors surrounding why Thomas Gainsborough painted him. We will then discuss The Blue Boy painting in more detail by looking at the subject matter and stylistic elements like color and brushwork that made the painting a masterpiece, and as on often described "icon" of the 21st-century pop culture.
| | |
| --- | --- |
| Artist | Thomas Gainsborough |
| Date Painted | c. 1770 |
| Medium | Oil on canvas |
| Genre | Portrait painting |
| Period / Movement | Rococo art movement |
| Dimensions | 177.8 x 112.1 centimeters |
| Series / Versions | Not applicable |
| Where Is It Housed? | Henry E. Huntington Art Gallery, San Marino, California |
| What It Is Worth | Purchased by Henry E. Huntington in 1921 for $728, 800 |
The Blue Boy (c. 1770) by Thomas Gainsborough; Thomas Gainsborough, Public domain, via Wikimedia Commons
Contextual Analysis: A Brief Socio-Historical Overview
When we look at the famous Thomas Gainsborough Blue Boy painting a common curiosity is often about who the boy in blue is. There have been some who believe it was Jonathan Buttall, who was reportedly a hardware merchant's son and the initial owner of the painting. He was also reportedly a friend of the Thomas Gainsborough family.
However, there has been a debate that this was probably not a portrait of Jonathan Buttall.
The historian Susan Sloman suggested that the boy in the portrait was Gainsborough's nephew, Gainsborough Dupont. The latter was apparently an apprentice to his uncle and his art studio, and a model for other portraits done by his uncle.
A Costume Study
The Blue Boy painting is also believed to be a costume study, specifically drawing inspiration from Sir Anthony van Dyck, who was known as one the most famous court painters in Europe, having painted in Italy, Netherlands, and England. Van Dyck was a Flemish artist and painted in the Baroque style.
Van Dyck innovated portrait paintings during the 17th century, he was known to paint his portrait subjects more relaxedly.
His painting style has been described as "fluid" and his portraits often focused on the costumes of the time, which he painted as some sources describe, with an "informality", but nonetheless depicting the wealth and richness inherent in the subjects and their garb.
George Villiers, 2nd Duke of Buckingham, and Lord Francis Villiers (1635) by Anthony van Dyck; Anthony van Dyck, Public domain, via Wikimedia Commons
This was a considerable influence on Gainsborough's art and The Blue Boy painting was believed to be one of the examples in honor of van Dyck's style. For a reference and comparison against Thomas Gainsborough's portraits, an example referred to is van Dyck's portrait painting titled George Villiers, 2nd Duke of Buckingham, and His Brother Lord Francis Villiers (1635).
Have You Heard of Pinkie?
For anyone reading or researching about The Blue Boy painting will undoubtedly come across Pinkie (1794), which quite literally has been the painting across from The Blue Boy in the Huntington Art Gallery, San Marino, California. The painting is now titled Sarah Goodin Barrett Moulton: "Pinkie", which is the name of the girl in the painting; "Pinkie" was her nickname in her family.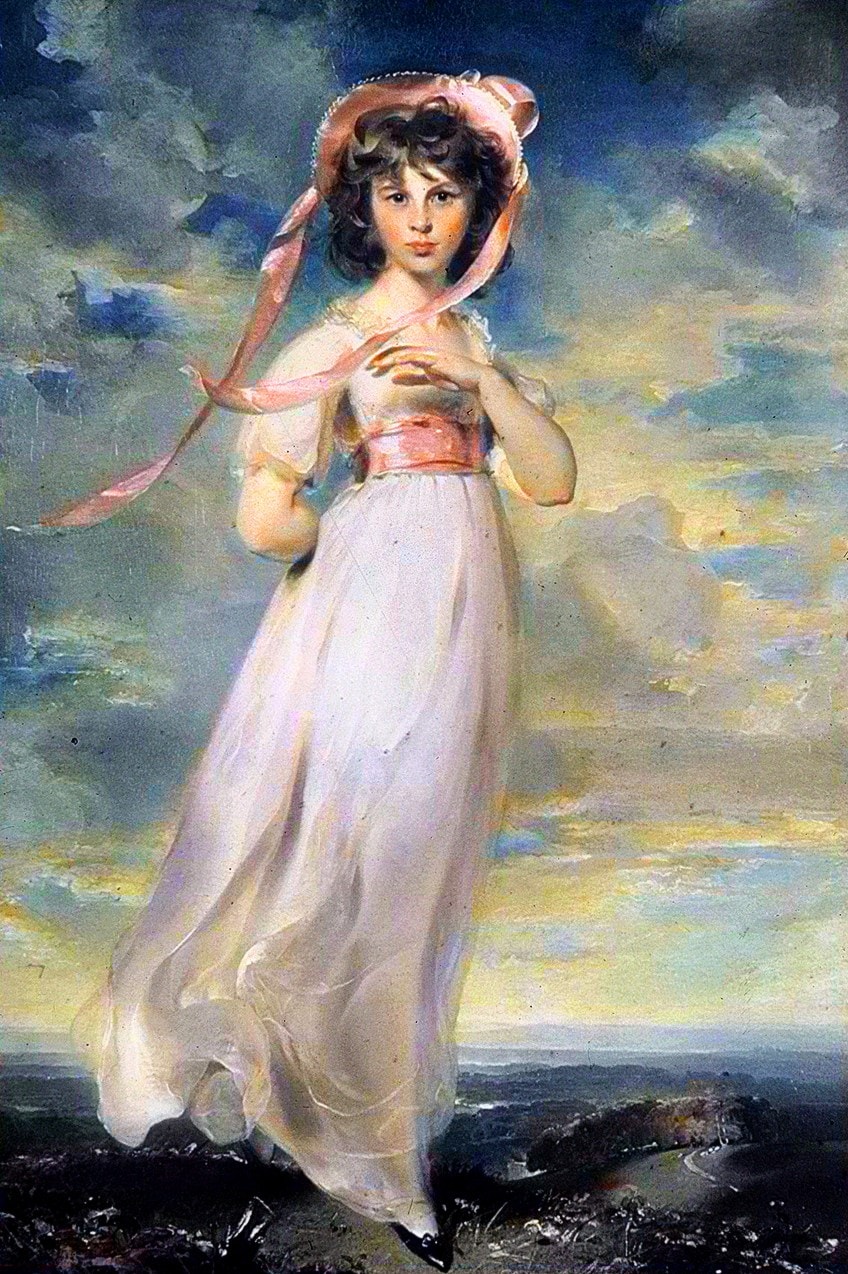 Sarah Barrett Moulton: Pinkie (1794) by Sir Thomas Lawrence; Thomas Lawrence, Public domain, via Wikimedia Commons
Pinkie was painted by another prominent English portrait painter, Sir Thomas Lawrence. Many may mistake these two paintings as made by the same artist or as brother or sister, but, in fact, the two come from different time periods, including their costumes.
Their close similarities have given both fame over the years and some authors like William Wilson have described them as the "Romeo and Juliet of Rococo portraiture".
Returning Home After 100 Years
Thomas Gainsborough was a United Kingdom artist and as such The Blue Boy held its heritage in English roots. In 1921 it was bought by Henry Edwards Huntington, who was from Los Angeles. He was primarily a wealthy railroad businessman, but also collected art, buying Gainsborough's famous boy in blue.
The Blue Boy painting value was $728, 800, reportedly one of the highest values someone paid during that time. However, some sources state that it was sold for $640, 000 and others $728, 000; the painting was apparently sold on 11 November 1921.
The painting was sent to California in 1922, however, historical reports state that many were disappointed that the painting was no longer going to be in England; a final exhibition was held at the National Gallery in London, and apparently 90, 000 people attended to see it one last time.
According to recent news reports from the Smithsonian Magazine Online, BBC News, and many others, the Thomas Gainsborough "Blue Boy" painting is set to visit England in January 2022 – a century after it was sent to America. It will be exhibited at the National Gallery again on 25 January 2022.
There are numerous potential risks involved in this undertaking, especially due to the changes in temperature and exposure to many elements when the painting will travel to the United Kingdom. Numerous conservationists have suggested the painting should not travel.
The president of Huntington, Karen R. Lawrence stated, "This is an unprecedented loan, one which we considered very carefully. We imagine this to be the one and only time the painting will travel, given its iconic status at The Huntington".
Formal Analysis: A Brief Compositional Overview
Below we look at the Thomas Gainsborough Blue Boy painting in more detail because it was also a costume study as much as it was a portrait. It is important to look at the finer details of what makes the subject matter so "iconic". Furthermore, Gainsborough's style of painting also planted the seeds for the Impressionists to come; his painting style was remembered as innovative and revolutionary. Let us take a closer look.
Subject Matter
In The Blue Boy painting, we see a young boy, possibly Gainsborough's nephew, Gainsborough Dupont, standing and looking directly at us, the viewers. He appears calm and confident in his stance and demeanor. His cheeks on his face are pronounced by their redness and we notice his fair-toned skin. He has dark brown curly hair, which appears to be at a length just above his shoulders.
His left foot (our right) is placed in front of his right leg and his left hand (our right) rests on his hip and waist area with a cape or coat held in place and hung over his arm. In his right hand (our left) he holds a black hat with a large white feather in and his arm hangs loose and straight down by his side.
The boy is wearing a blue costume, and the material appears to be either silk or satin. We can see the costume is reminiscent of those from Sir Anthony van Dyck's paintings and from the 17th century.
A detail of the costume worn by The Blue Boy (c. 1770) by Thomas Gainsborough; Thomas Gainsborough, Public domain, via Wikimedia Commons
The boy is wearing breeches here, which suggests that he must have gone through the initiation or rite of passage called breeching, this was usually when a boy turned eight and stopped wearing gowns or robes. The boy's breeches are blue with an elaborate fastening ribbon just below the knee.
He appears to wear white or light-blue stockings covering the lower half of his leg, which Gainsborough has also painted with muscular definition as we see the pronounced calf muscle of the boy's left leg. The boy's shoes are a light brown color, also with an elaborate blue ribbon adorning the top.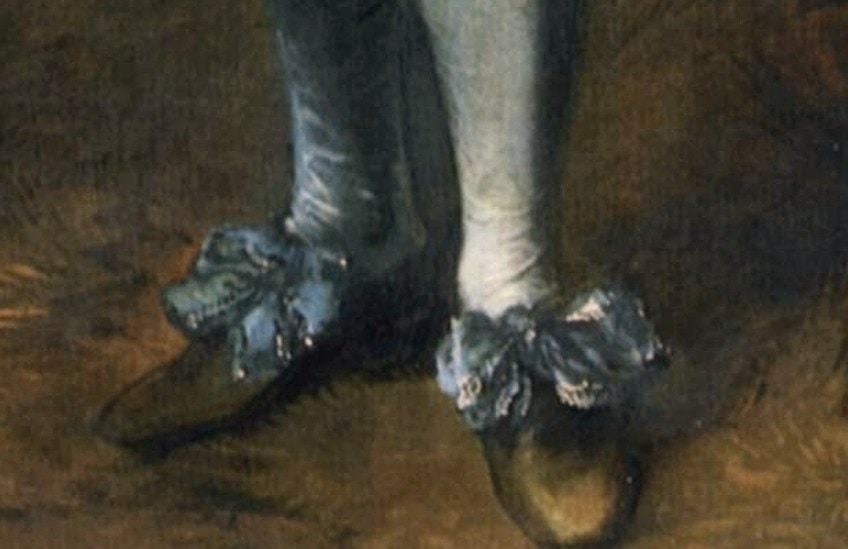 The shoes worn by The Blue Boy (c. 1770) by Thomas Gainsborough; Thomas Gainsborough, Public domain, via Wikimedia Commons
The top part of the boy's attire consists of a slashed doublet, which was fitted and worn as a jacket with a shirt usually underneath. It also fitted to the waist area. We see here that the boy's doublet and breeches are a match in color. He is wearing a lace collar with decorated trims on his doublet as well as a lace cuff around his wrist. There is also a hint of a white undershirt.
If we look at the background of the composition, we see a landscape setting. The boy is standing on a patch of ground and grass. There are several rocks here and there and foliage growing around him. Behind him is a small embankment with more shrubbery.
The left and right sides (respectively) of The Blue Boy (c. 1770) by Thomas Gainsborough; Thomas Gainsborough, Public domain, via Wikimedia Commons
Moving further into the distance we will notice there appears to be the shoreline and larger trees; the boy is possibly standing near the ocean. The sky is considerably dark, and we can only see a hint of a glimmer of light behind the boy, possibly the last rays of daylight.
The way Gainsborough painted the background gives the painting an ambiance that was so characteristic of paintings done during the Rococo and Baroque periods. The mood is further enhanced at what appears to be a storm brewing in the sky.
This can also attest to Gainsborough's penchant for painting landscapes; reportedly the artist enjoyed painting landscapes more.
Color and Light: A Red Rivalry
When reading about the "iconic" Thomas Gainsborough Blue Boy painting there is more often than not mention of the rivalry between Gainsborough and Sir Joshua Reynolds, who was another prominent portrait painter during the 18th century, as well as the founder of the Royal Academy of Arts, of which he was the first president.
Reynolds reportedly explained from his eighth "Discourse" in 1778 about the utilization of warm colors compared to cool colors.
He stated, in his "opinion", that "the masses of light in a picture be always of a warm, mellow colour, yellow, red, or a yellowish white, and that the blue, the grey, or the green colours be kept almost entirely out of these masses, and be used only to support or set off these warm colours; and for this purpose, a small proportion of cold colour will be sufficient. Let this conduct be reversed; let the light be cold, and the surrounding color warm".
Self-portrait (c. 1748) by Sir Joshua Reynolds; Joshua Reynolds, Public domain, via Wikimedia Commons
Reynolds compared his description to the classical art styles of Peter Paul Rubens or Titian, the "Roman and Florentine painters", all of whom make a "picture splendid and harmonious". This description has often been referenced against Gainsborough's style, which evidently employs more cool colors.
This description has been used as a possible source of inspiration for why Gainsborough painted The Blue Boy, but he painted it almost eight years before Reynolds' "Discourse", so the accuracy of this motivation has been widely questioned.
It is evident that Gainsborough's primary color is blue in this painting, and he created a contrasting effect with the darker colors in the background, which appear to consist of greens and browns, with the lighter and cooler colors of the blue in the foreground. Additionally, blue is the color of the main subject matter too, which is the boy.
This color scheme went against what Reynolds suggested about how paintings should be.
In a traditionally acceptable painting, the dominance of the blue would be preferred to be in the background with warmer colors dominating the main subject matter. Gainsborough undoubtedly expressed his own techniques and perceptions in this painting, which is why he was known as an innovative painter for his time especially when it came to portrait paintings.
A detail illustrating the brushwork of The Blue Boy (c. 1770) by Thomas Gainsborough; Thomas Gainsborough, Public domain, via Wikimedia Commons
If we look at the brushwork in the Thomas Gainsborough Blue Boy painting we will notice there is a seeming lightness to how the artist applied his paint, from the colors and textures of the clouds to the colors and textures of the blue costume.
It is important to remember that Gainsborough was a United Kingdom artist, and he was largely characterized as having a Rococo art style, which originated in France. The Rococo style depicted a grandiosity of life, especially that of elegance and aristocracy.
We can sense this opulence in the manner artists painted, each brushstroke soaked with stylistic curves. Rococo is often described as playful. We will notice how Gainsborough applies the Rococo themes here, and again that his studies under the engraver, Gravelot, would have given him the foundations of the Rococo style.
A Blue Tale
The Blue Boy painting is well over 200 years old, and it still retains the luster of style, although the boy in the painting has been reported not to be royalty. Nonetheless, Gainsborough has left us with his unique style that would continue to inspire other art movements throughout the years, namely Impressionism. However, he also inspired notable artists like John Constable, Joseph Mallord William Turner, and others.
Thomas Gainsborough's "The Blue Boy" painting has had a journey of a century we could say, and now it has almost come full circle where, in 2022, it will return to its roots in England only for a short period before it returns to America again. Upending the traditions of portraiture painting, Thomas Gainsborough left us with a painting, which has had quite the blue tale indeed.
Take a look at our Blueboy painting webstory here!
Frequently Asked Questions
Who Painted Blue Boy?
The Blue Boy was painted by the United Kingdom artist, Thomas Gainsborough in 1770. It is an oil on canvas painting standing almost at full-length in size. It is now housed at the Huntington Library, Art Museum, and Botanical Garden in San Marino, California.
What Is The Blue Boy Painting Value?
The Blue Boy was bought by the American businessman, Henry Edwards Huntington. He reportedly bought the painting in 1921 for $728, 800.
Was Pinkie Also Painted By Thomas Gainsborough?
The Pinkie (1794) painting was not by Thomas Gainsborough, who painted Blue Boy (c. 1770). Many would believe it was because it hangs across from The Blue Boy painting in the Huntington Art Gallery and the two paintings appear similar in their style. Pinkie was painted by Thomas Lawrence, who was also an English artist during the 18th century. The girl who was nicknamed "Pinkie" was Sarah Goodin Barrett Moulton.
What Famous Movie Did The Blue Boy Inspire?
Thomas Gainsborough's The Blue Boy painting has been the source of inspiration for many 21st-century pop cultural media, including film and television. It featured in films like Ghostbusters II (1989), Batman (1989), Cinderella III: A Twist In Time (2007), and others. However, The Blue Boy costume featured prominently in Director, Quentin Tarantino's film, Django Unchained (2012). In this film, the leading character wears a blue outfit with a white lace collar that mimics the outfit worn by the boy in Gainsborough's painting.
Alicia du Plessis is a multidisciplinary writer. She completed her Bachelor of Arts degree, majoring in Art History and Classical Civilization, as well as two Honors, namely, in Art History and Education and Development, at the University of KwaZulu-Natal, South Africa. For her main Honors project in Art History, she explored perceptions of the San Bushmen's identity and the concept of the "Other". She has also looked at the use of photography in art and how it has been used to portray people's lives.
Alicia's other areas of interest in Art History include the process of writing about Art History and how to analyze paintings. Some of her favorite art movements include Impressionism and German Expressionism.  She is yet to complete her Masters in Art History (she would like to do this abroad in Europe) having given it some time to first develop more professional experience with the interest to one day lecture it too.
Learn more about the Art in Context Team.