What Traditional Artists Should Know About Digital Art
The history of art is full of countless developments in technique and technology. From the earliest paints created from ground rock pigments to modern-day digital techniques, innovation is the name of the game. Whether you are a traditional artist who wants to transition to more digital forms, or you simply want to jump into the graphic deep end, you have come to the right place. In this article, we take a close look at the developments in art, the benefits and disadvantages of physical and digital mediums, and how to get started on your own unique and creative graphic journey.
The Growing Relevance of Digital Artforms
In most aspects of life today, technology is becoming increasingly essential in the way that we do things. From shopping to creating art, we are facing pressure to adopt, adapt, and change the way that we do things. Is digital art real art? As with all of these things, there is a certain level of resistance from those who love traditional art practices, but digital art has a great deal to offer all of us.
Digital Art vs Traditional Art
Although they may seem vastly different in terms of how they are created and the final appearance of the artwork, traditional and digital techniques have many overlaps. Traditional painting requires the use of physical mediums and tools, while digital artists use technology to replicate these effects and create new and exciting ones.
It would be a mistake to believe that digital artworks require less skill or time than more traditional art forms, the largest difference lies in the way you need to think about your work.
Traditional Art
Traditional art has many advantages and disadvantages over digital mediums. Many believe that a hands-on connection can impart more of your soul to your work, creating a more tactile and interesting experience for the viewer. Creating physical art improves hand-eye coordination and develops motor capacities. Unfortunately, traditional art can often be more expensive than digital mediums because you constantly need to replace your supplies.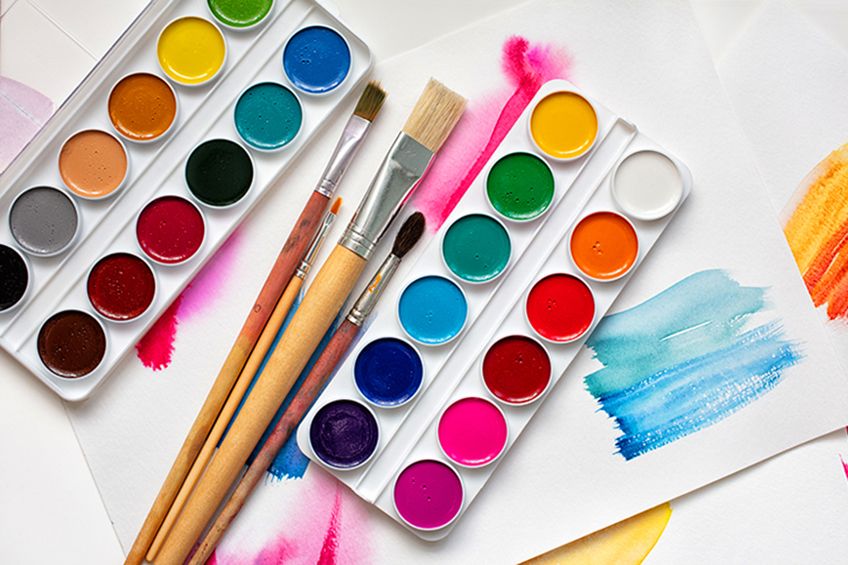 Traditional art is also seen as more unique than digital mediums. Each artistic work is completely one-of-a-kind, leading many to believe that traditional artworks carry more value, monetary and spiritual. Traditional artworks involve many mediums, like sculpture, painting, sewing, printing, and much much more. As such, you have the ability to create and experiment with traditional art mediums to create forms that are unique.
Traditional art mediums also encourage problem-solving and versatility in artists, perhaps more than digital creations do. Although versatile, mistakes that you may make with traditional forms like paint and sculpture are not easy to fix or remove. While this may seem like a disadvantage, it forces us to adapt, often resulting in exciting discoveries.
These imperfections have an authentic value that many believe digital artworks cannot compete with.
PROS
Imperfection creates authentic value
Increased hand-eye coordination
Develops motor skills
Materials are more versatile
Encourages problem-solving
Pieces are unique
CONS
Mistakes are hard to remove
Difficult to reproduce
Materials need replacement
Takes more time
Digital Art
Just like traditional art forms, digital art has its upsides and downsides. Many of the advantages of digital art forms relate to access, convenience, and experimentation. Digital art mediums allow you to combine the effects of many physical mediums with one device. While drawing devices may not be particularly affordable at the outset, they pay for themselves over time.
Digital technologies are also more convenient and portable. You can carry your whole art tool case around with you almost anywhere, and you will always be ready to create. You can also replicate and share your creations with ease. Digital technologies are, however, unfamiliar to many artists, so the learning process may take some time.
Digital art is also more forgiving than traditional art mediums. Any mistake can easily be undone with the touch of a button. You can erase and redraw shapes until you perfect them. Drawing with a digital medium allows you much more exploration and experimentation.
You can try different techniques and styles, and if they do not work out, you have not wasted materials and you can simply try again. There are unlimited possibilities with digital art, which is amazing but can also lead to creative paralysis. With so many possibilities, it can be overwhelming and difficult to know where to start.
Some purists also believe that this ease of use can make digital art too easy, but this is not the case as the tools require many unique and sometimes tricky skills and techniques.
PROS
Convenient for transport
Easy to replicate
Easy to share
Endless potential and possibilities
Efficient
Forgiving
CONS
Can lead to creative paralysis
Seen as too easy
No original authentic copy
Requires the learning of new skills
Things You Need to Start with Digital Art
While traditional art requires many different tools and materials, depending on your chosen medium, you only really need two things to start creating digital artworks. Typically, you will need a digital tablet and drawing software. We have curated a list of our top recommendations for each of these, to help you get started. Just a note, that these items can be pricey but as we have stated before, however, this initial outset investment can save you money in the long term.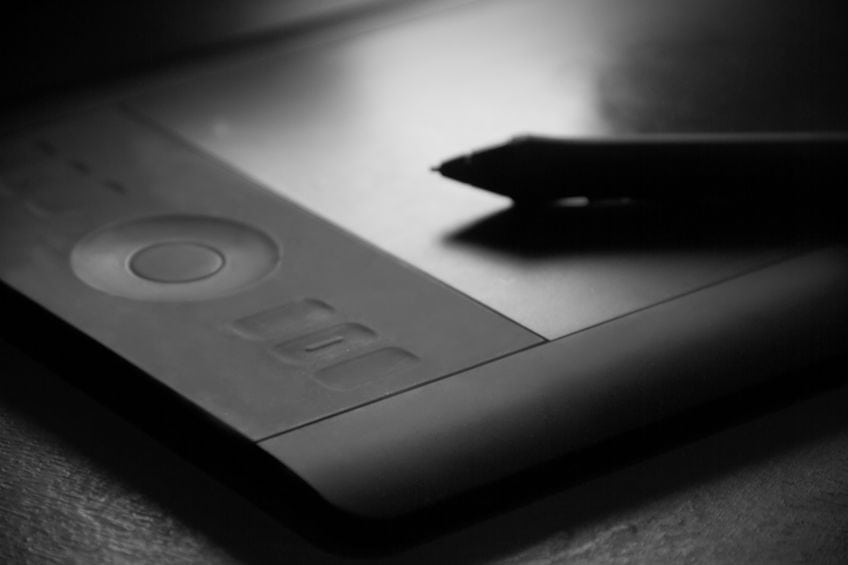 Things to Consider About Drawing Software
When it comes to choosing a drawing software or app, there are many options available. Different software may be specially tailored for particular drawing styles, including 3D modeling, hand sketching, painting, and graphic illustration. Some of the more basic options are free, but if you truly want to invest in good software, then we suggest spending some money.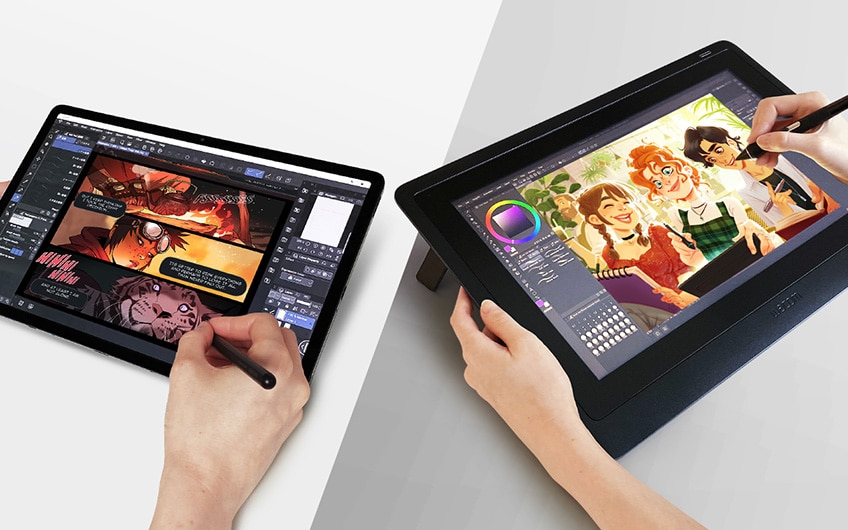 © CELSYS,Inc. / Miquel Montlló / Olga Andriyenko
When researching, you should always look out for stability, drawing feel, a variety of painting tools, and any unique features that may be useful for your drawing style. You also want to make sure that your chosen package is suitable for your drawing tablet. Some software options are only suitable for use with specific operating systems, like Windows.
Our Top Drawing Software Recommendation: Clip Studio Paint
Of all the varied software and apps available, we wholeheartedly suggest that you invest in Clip Studio Paint. This drawing software is versatile and suitable for use on all major platforms (Windows/macOS/iPad/iPhone/Android/Chromebook). With thousands of customizable brushes, you have so many options it may be dizzying! You are also able to customize each aspect of every brush, so you have an endless supply of unique tools to create beautiful works of art.
Some of the special features included in Clip Studio Paint are pattern brushes and other ready-made materials. These can speed up your drawing process and give you endless options for mark-making. You will also find a stunning collection of shape tools and rulers, including vector tools that enable you to edit already-drawn lines later on.
Clip Studio Paint includes a powerful brush engine that works with your drawing device to catch every single nuance of your pen. The brush feels natural in your hands, and this all-in-one drawing software is perfect for artists of any style and level. If you are a comic or animation artist, you will be inspired by the dedicated animation features that Clip Studio Paint has to offer.
PROS
Totally customizable
Includes asset library with thousands of brushes and materials
Suitable for all drawing devices
Natural feeling brushes
Includes dedicated animation features
CONS
Takes some time to learn to use all of the features
Some Basic Elements of Digital Drawing to Think About
The jump from traditional art forms to digital drawing can be intimidating. There are many things to consider when learning how to do digital art. In this section of the article, we have covered some of what traditional artists should know about digital art, including setting up canvases, using layers, erasers, and brushes, and blending techniques.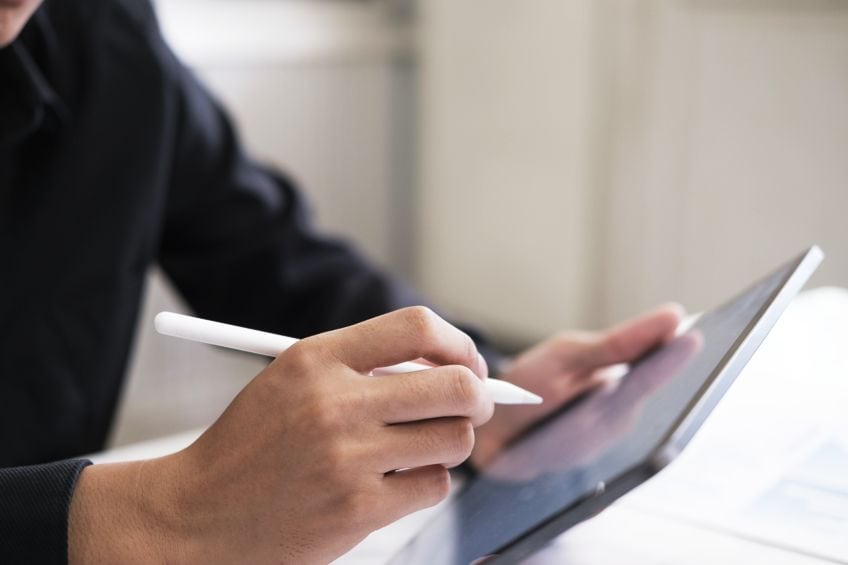 Creating Canvas Documents
Creating a digital canvas is the very first step in the process. The way that you create your canvas document will depend on the software that you are using, but the dimensions, color modes, and resolution will always be considerations. Setting the width and height of your canvas will dictate the size of your final drawing, and it also links to the final resolution of your piece.
If you want to print out a large-scale piece, it is essential that you set the size of your canvas to these dimensions, or else your resolution will be very low.
For printing purposes, you should stick to a resolution of at least 300 pixels. If, however, you do not want to print your work, you can keep the resolution lower at around 72 pixels. A smaller resolution will make your final files smaller and allow your computer to run more effectively. Traditional artists always need to consider their color palette before starting, and the same goes for digital art. There are two digital color modes, CMYK and RGB. It is always a good idea to begin your digital drawing in the RGB mode, and then if you would like to print your work at a later stage, you can transition to CMYK.
Exploring Brushes
As with more traditional art mediums, there are so many brushes and tools available to digital artists that can help elevate their final pieces. The great thing about digital art is that you have an almost endless supply of brushes available to you. Many software or apps, just like Clip Studio Paint, have fully customizable brushes with a natural brush feel you can enjoy creating your vision just how you want it.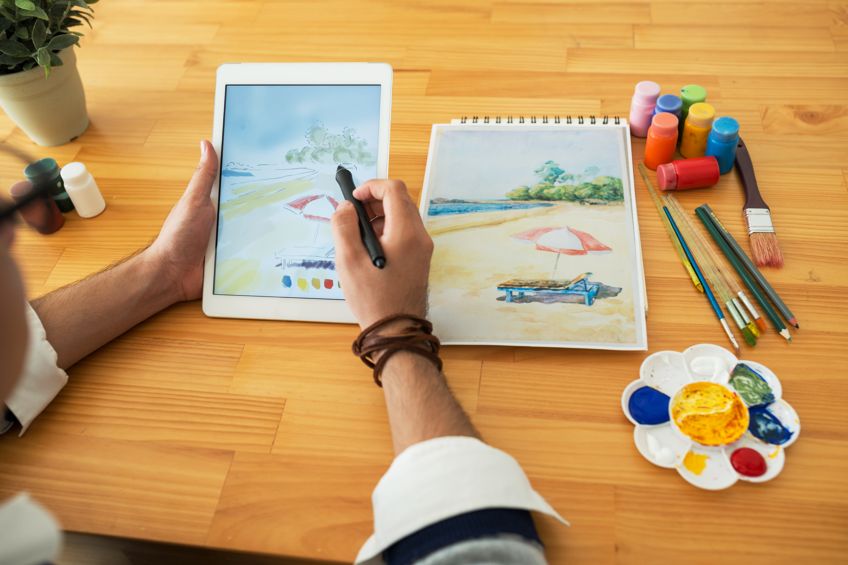 You can easily adjust the size and shape of the brush tip to create lines of different shapes and strengths. Depending on the medium you want to replicate, you can get brushes that create the impression of watercolor or charcoal.
Using Layers
Of all the differences between digital art vs traditional art, the use of layers is definitely one of the most useful. Layers allow you to separate different elements of your drawing, whether that is a rough outline or the final product. By using layers, you can carefully edit individual parts of your artwork without disrupting the whole thing.
The most important thing that we want to convey to you about using layers, is that the order in which they are listed reflects the order in which they will be displayed on your canvas.
Higher layers will sit above the lower layers. Another great thing about layers in digital art is that you can usually adjust the order of the layers by simply dragging and dropping them.
Blending Layers and Colors
If you want to create a seamless three-dimensional effect in your digital drawing, you will need to become a master of the blend. Each drawing software will have its own brush that you can use to blend, like a soft-edge brush or a smudge tool. As you are learning how to transition between digital art vs traditional art, you will need to do some experimentation to see which blending technique best achieves the final look that you want.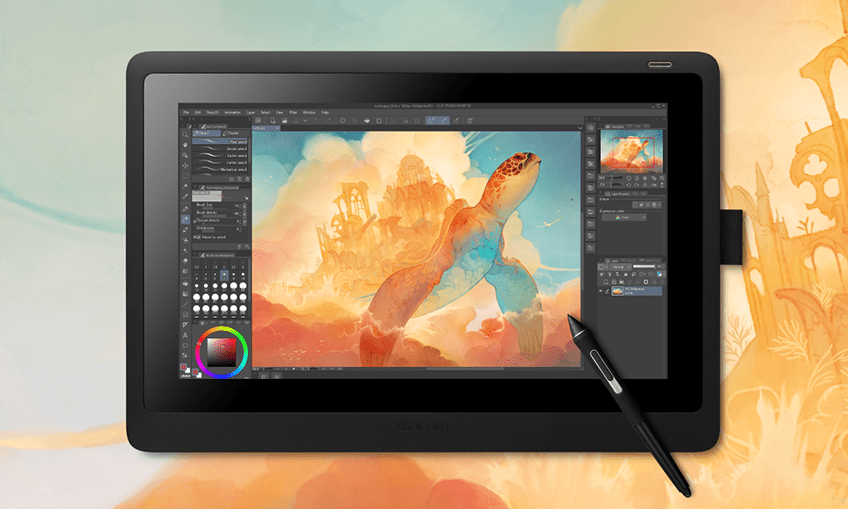 © CELSYS,Inc. / Jade Mosch
Things to Consider About Digital Tablets
There are several essential features that you should look out for in a good drawing tablet. These include pressure sensitivity, size, hotkeys, and connectivity. Let us take a brief look at what you should keep an eye out for in each of these categories.
Pressure Sensitivity
The sensitivity of your screen to pressure from the stylus will determine the quality of your lines and shading. Just as you adjust the pressure of your pen or paintbrush on paper to adjust the shade and shapes of your strokes, you will do the same with your graphic tablet. The more sensitive the screen of your tablet, the more exact your lines will be. The highest pressure sensitivity you will find is around 8,192 levels, but the standard level is around 4,096.
Screen Size
The size of your tablet really comes down to personal preference. If you prefer to work on a larger canvas with more room to create big sweeping strokes, then a larger screen may be your best choice. The size that you choose will ultimately depend on the price you are willing to pay, as larger screens tend to be the most expensive.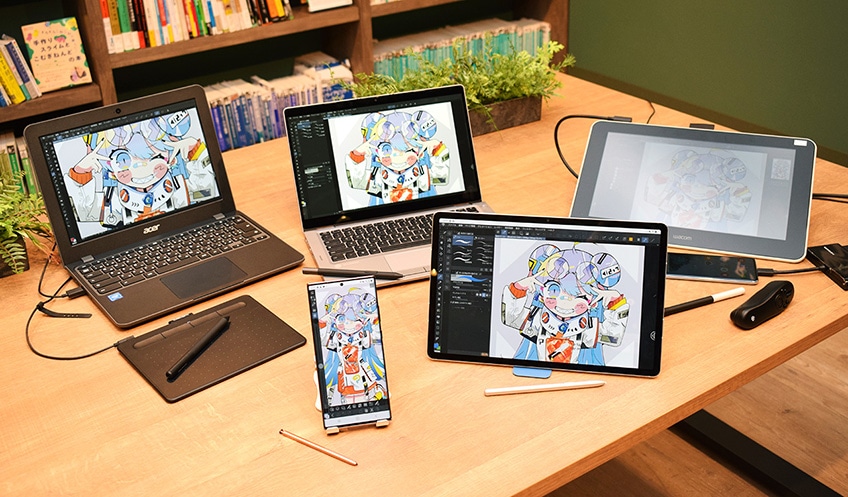 © CELSYS Inc. / Tera Terada
Connectivity
The ability of your tablet to connect to other technological tools is an essential feature to look out for. Some tablets have inbuilt display screens, while others will need to connect to a computer monitor. If you have a set workspace, you will likely be alright with a wired tablet. If you prefer to move around, then a wireless tablet with Bluetooth connectivity may be more your style. As is to be expected, wireless tablets do come with a higher price tag.
When it comes to affordability and portability, we simply cannot recommend a better drawing tablet for beginners. The Samsung Galaxy S7 tablet is thin and lightweight with a streamlined metal body. You are instantly set up for drawing with the S pen, which has a comfortable natural grip, impressive pressure sensitivity, and low latency. With a large 11 inch display with a fantastic resolution, you can create detailed and large-scale artworks in high definition.
The Samsung Galaxy S7 tablet is also compatible with many of the leading drawing software options, including Clip Studio Paint, and while drawing you can take advantage of the air action the S pen offers. In fact, the S7 comes with Clip Studio Paint preloaded, allowing you to use the software for 6 months without paying. For a beginner in the world of digital art, the Samsung Galaxy S7 tablet has everything you will need. Unlike many professional drawing tablets, the tablet does not require connectivity to a PC, allowing you to draw wherever inspiration finds you.
You can buy the Samsung Galaxy Tablet S7 here.
PROS
High definition screen
Comes with a highly sensitive drawing pen
Thin, lightweight, and portable
Compatible with leading drawing software brands
Affordable
Great for beginners
CONS
Not a dedicated drawing tablet
Some Other Digital Drawing Recommendations
The Samsung Galaxy S7 tablet is just one of many affordable and easy-to-use options available to beginner digital artists. Below you will find a list of some of these other options with the prices included.
As the world begins to move towards technology in every part of life, many traditional artists are feeling the need to explore digital art forms. So, the question is, is digital art real art? Our answer is definitely yes. Digital art is simply another medium choice, just like collage or oil paint. Hopefully, you feel empowered to learn how to do digital art, and we have answered the question of what traditional artists should know about digital art.
Frequently Asked Questions
Is Digital Art Real Art?
Many purists may disagree, but yes, we believe that digital art truly is real art. In fact, digital drawing can be thought of as simply another medium, just like charcoal drawing or acrylic paint.
What Should Traditional Artists Know About Digital Art?
As simply another art medium, there are a few different techniques that traditional artists will need to master, including the use of layers, how to manipulate different brushes, and how to blend smoothly.
Is Digital Drawing More Difficult than Traditional Art?
Many would actually argue the opposite. While digital drawing certainly takes some time to master, it can be much easier to create beautifully seamless drawings. The ability to quickly edit or undo any mistakes can make your art process much easier.
Matthew Matthysen is an educated multidisciplinary artist and illustrator. He successfully completed his art degree at the University of Witwatersrand in South Africa, majoring in art history and contemporary drawing. The focus of his thesis was to explore the philosophical implications of the macro and micro-universe on the human experience. Matthew uses diverse media, such as written and hands-on components, to explore various approaches that are on the border between philosophy and science.
Matthew organized various exhibitions before and during his years as a student and is still passionate about doing so today. He currently works as a freelance artist and writer in various fields. He also has a permanent position at a renowned online gallery (ArtGazette) where he produces various works on commission. As a freelance artist, he creates several series and successfully sells them to galleries and collectors. He loves to use his work and skills in various fields of interest.
Matthew has been creating drawing and painting tutorials since the relaunch in 2020. Through his involvement with artincontext.org, he has been able to deepen his knowledge of various painting mediums. For example, watercolor techniques, calligraphy and lately digital drawing, which is becoming more and more popular.
Learn more about Matthew Matthysen and the Art in Context Team.