Haunted Paintings – Famous Examples of Cursed Artwork
They say that artists put a lot of soul into their paintings, but how much is too much? There are certain works of art that are considered to be haunted paintings or cursed artworks. What are these cursed paintings, and what is the most haunted painting in the world? Join us as we explore the world's spookiest artworks below.
The World's Most Haunted Paintings
How do cursed paintings become haunted? Is it the input of the artist, the subject matter, or the circumstances surrounding the cursed artwork's production and subsequent history? It seems the most haunted paintings in the world were all created for different reasons at different times, so finding a common thread of origin or intention can be difficult. The only common factor in every example is that people were somehow affected by the presence of these cursed paintings. Maybe if we try and discover a bit more about each example, we can learn for ourselves whether this is truly supernatural, or just humans trying to find something that they can claim is the source of everything wrong in their lives.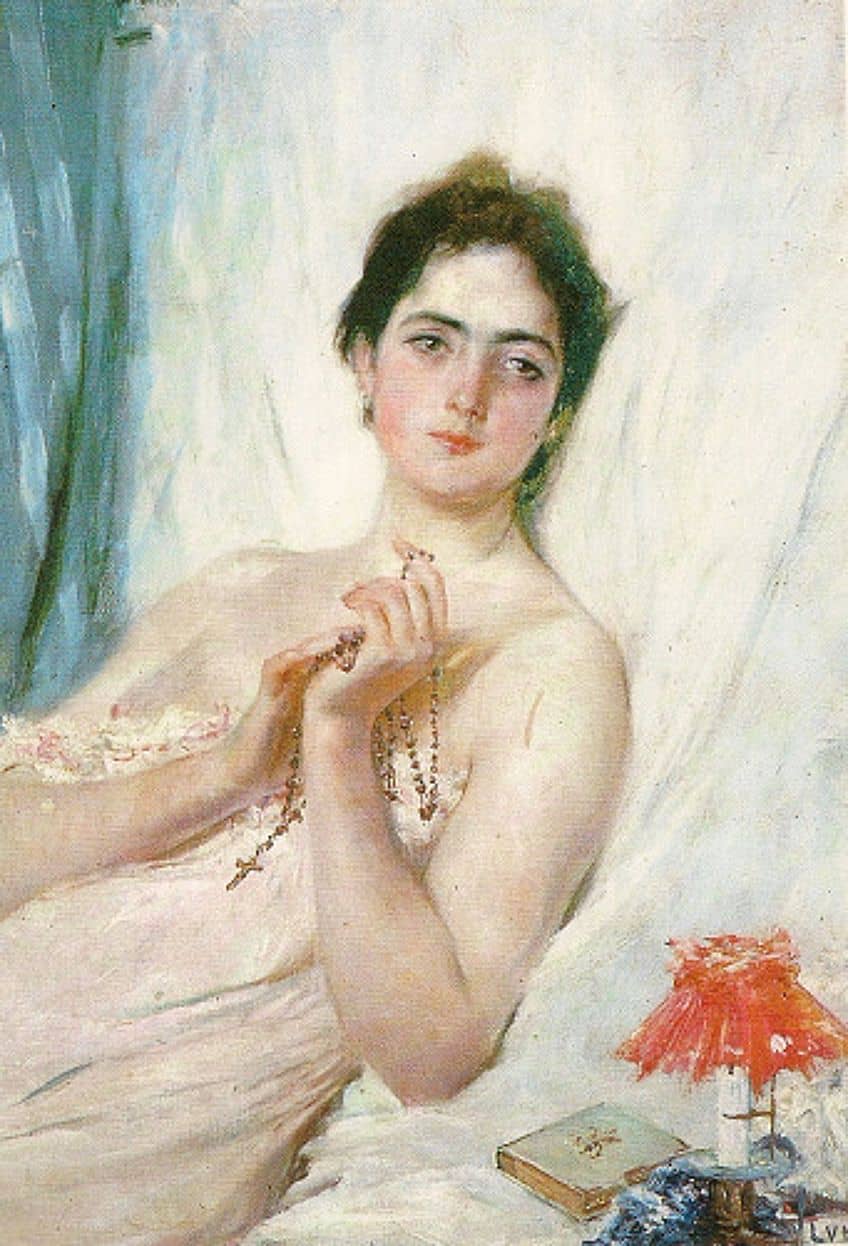 Portrait of Paz Pardo de Tavera (19th Century) by J.Luna; Juan Luna, Public domain, via Wikimedia Commons
Portrait of Miss Henrietta Nelson in a Blue and White Gown and White Hat, Holding a Rose, in a Rococo Interior (c. 1780) by William Johnson
| | |
| --- | --- |
| Artist | William Johnson (c. 18th century) |
| Date | C. 1780 |
| Medium | Oil on canvas |
| Dimensions (cm) | 43 x 34 |
| Location | Online auction (Artnet.com) |
Henrietta Nelson passed away after falling down a staircase at her Yaxley Hall residence in Eye, a small English town, and she was subsequently interred in a mausoleum on the grounds, as she had requested. Years later, though, new residents moved into Yaxley Hall and demolished the tomb, relocating her ashes to a neighboring church. Nelson, legend has it, has haunted the home ever since, attempting to return to her intended place of rest. Nelson's painting by William Johnson is said to be possessed with the woman's soul, with her apparition following it even after it is transported out of the home.
People have observed her face changing shape in the artwork and a pale person wearing the same kind of clothing roaming around the estate.
Portrait of Miss Henrietta Nelson in a Blue and White Gown and White Hat, Holding a Rose, in a Rococo Interior (c. 1780) by William Johnson; William Johnson, Public domain, via Wikimedia Commons
The Portrait of Bernardo De Galvez (c. 18th Century) by Unknown
| | |
| --- | --- |
| Artist | Unknown |
| Date | c. 18th century |
| Medium | Oil on canvas |
| Dimensions (cm) | Unspecified |
| Location | Hotel Gálvez, Texas, United States |
The painting of Bernardo De Galvez, a Spanish military leader who assisted American soldiers during the Revolutionary War and after whom Galveston is named, hangs at the end of a basement corridor in the Hotel Gálvez, Texas. He coordinated and won many raids against the British. His successes prevented the British from approaching from the west and south. Tourists and staff have stated that the portrait's eyes would follow them as they passed by. Orbs and temperature inversions have been noticed around the cursed artwork, and it is stated that if you do not expressly ask Bernardo de Galvez's ghost for permission to photograph his image, the subsequent shots will be fuzzy or distorted. To put this allegation to the test, a paranormal team investigating the hotel discovered a ghostly skeletal figure near the artwork in one of the images shot without permission. Who thought that someone in his position would be such a photo critic?
The Portrait of Bernardo De Galvez (c. 18th Century) by Unknown; http://bdgsar.org/galvez.htm, Public domain, via Wikimedia Commons
Man Proposes, God Disposes (1864) by Edwin Landseer
| | |
| --- | --- |
| Artist | Edwin Landseer (1802 – 1873) |
| Date | 1864 |
| Medium | Oil on canvas |
| Dimensions (cm) | 91 x 243 |
| Location | Royal Holloway, University of London, London, United Kingdom |
The search for Captain Sir John Franklin's lost expedition, which vanished in 1845 in the Arctic, inspired this apparently cursed artwork. It is well known that Royal Holloway pupils swear the artwork is haunted. It is based on the popular legend that a pupil in the 1920s or 1930s stabbed their eye during an exam, and wrote "The polar bears forced me to do it" on their paper in reference to the polar bears featured in the cursed artwork, and committed suicide.
Yet, there is no university record of any such death.
A student myth that goes as far as the 1960s states that any student who sits in front of the artwork during a test will flunk it. As it is thought to be a bad omen, a college protocol requires that it is temporarily covered with a Union Flag while exams are taking place. This is because of an event in the 1970s in which a test invigilator rapidly covered the artwork with the only object he could grab that was large enough after a pupil refused to take their test because the painting was exposed.
Man Proposes, God Disposes (1864) by Edwin Landseer; Edwin Landseer, Public domain, via Wikimedia Commons
The Love Letters' Replica (1887) by Richard King
| | |
| --- | --- |
| Artist | Richard King (c. 19th century) |
| Date | 1887 |
| Medium | Oil on canvas |
| Dimensions (cm) | 20 x 25 |
| Location | Driskill Hotel, Texas, United States |
Samantha Houston, a four-year-old girl, is said to have chased her ball down the main steps before tripping and falling to her death. Some believe this artwork was then placed on the fifth level of the hotel as a memorial to her. It's plausible that the artwork was brought because the small child in the painting slightly resembled Samantha, but it's very definitely not her. Once the painting was put on the fifth floor of the hotel, guests reported feeling dizzy, sick, and having unusual sensations such as being raised off the ground. Observers believe that as you look away for a second, the girl's expression in the cursed artwork changes. Her lips appear to broaden into a full smile at moments, while her face contorts at others. Similarly, when she feels like cracking a joke, she shakes the door knobs of the Yellow Rose apartment, which is close to her artwork, to let the guests know she is still present.
Death and the Child (1889) by Edvard Munch
| | |
| --- | --- |
| Artist | Edvard Munch (1863 – 1944) |
| Date | 1889 |
| Medium | Oil on canvas |
| Dimensions (cm) | 100 x 90 |
| Location | Kunsthalle Bremen, Bremen, Germany |
Almost all of Munch's family, including his sister, brother, and mother, died of a disease when he was a child. His devout father had taught him that their deaths were divine retribution for their misdeeds, leaving a dreadful impact on Munch's youth that he carried with him into his adult life.
This painting contains a hint of his early misfortune. It portrays a tiny terrified girl standing next to her bedridden mother as she succumbs to T.B.
Some people argue that, in contrast to the girl's disturbed expression, which practically begs the viewers for assistance, the girl's faraway expression in her eyes indicates that she has actually already checked out from the reality around her. It's as if she's attempting to drown out the silence in the room. Past owners said that the girl's striking blue eyes would track them wherever they went. As if that wasn't creepy enough, they report hearing the sound of the rustling of the mother's bed linens while walking close to the artwork.
Death and the Child (1889) by Edvard Munch; Edvard Munch, Public domain, via Wikimedia Commons
The Crying Boy (c. 1950s) by Giovanni Bragolin
| | |
| --- | --- |
| Artist | Giovanni Bragolin (1911 – 1981) |
| Date | c. 1950s |
| Medium | Oil on canvas |
| Dimensions (cm) | 70 x 50 |
| Location | Multiple prints |
This was a mass-produced print of an artwork by Giovanni Bragolin, an Italian painter, and it was widely distributed beginning in the 1950s. The Sun, the British tabloid, stated on the 5th of September, 1985, that an Essex firefighter said that intact reproductions of the artwork were regularly discovered within the ashes of buildings destroyed by fire. Two months later, the conviction of the painting's curse had escalated to the point that The Sun was organizing mass bonfires of the artworks, which had been mailed in by readers. In a television program, British comedian and writer Steve Punt researched the curse. After testing, the program concluded that the prints were coated with a fire retardant varnish and that the thread attaching the artwork to the wall would be the first to disintegrate, leading to the artwork dropping face down on the floor thereby being protected. The child was not named Diablo until 2000, in a book by Tom Slemen. They connect the painting to many fires, including the one at the painter's studio.
The Hands Resist Him (1972) by Bill Stoneham
| | |
| --- | --- |
| Artist | Bill Stoneham (1947 – Present) |
| Date | 1972 |
| Medium | Oil on canvas |
| Dimensions (cm) | 92 x 60 |
| Location | Perceptions Gallery, Michigan, United States |
This cursed artwork by Bill Stoneham was completed in 1972. It portrays a small boy and a doll of a girl standing in front of a glass-paneled door with several hands pressing on it. The artist says the child is based on a portrait of himself when he was around five years old. The door represents the boundary between the waking state and the domain of dreams and impossibilities, whereas the doll serves as a guide who will lead the child across it. Other lives or possibilities are represented by the hands.
In February 2000, the painting was listed on eBay. According to the owner, the artwork was cursed in some way.
Their eBay listing contained a number of assertions about it being a cursed artwork. Among the accusations were that the figures in the painting moved during the night and would occasionally leave the artwork and enter the room where it was hung. A series of images were also included in the listing, which was purported to be proof of an event in which the female doll figure intimidated the boy with a pistol she was holding, forcing him to try and escape the artwork.
Pogo the Clown (1986) by John Wayne Gacy
| | |
| --- | --- |
| Artist | John Wayne Gacy (1942 – 1994) |
| Date | 1986 |
| Medium | Oil on canvas |
| Dimensions (cm) | 45 x 35 |
| Location | Private Collection |
John Wayne Gacy was considered a valuable member of his community in the early 1970s. He was a wonderful partner, a respected restaurant owner, and an exemplary gentleman who wore a clown costume at charity events. "Pogo the Clown" was his alter ego. "Pogo" paid visits to several ill children at nearby children's hospitals. But, beneath his house's floorboards, lay the corpses of 33 molested and mutilated adolescent boys. Gacy was identified and convicted of being a horrific serial murderer. Gacy started to paint in jail on death row. Those who aspired to possess his works felt a strange mix of disgust and curiosity. Nikki Stone, a singer, purchased the cursed artwork in 2001. Stone soon noticed a sequence of disasters following him. His dog died unexpectedly, and his mother was later diagnosed with cancer. Frightened, he arranged for it to be stored at the home of a friend. A close neighbor of the person looking after it was killed in a car accident. The artwork was eventually given to another friend, but the clown tormented the man until he tried to commit suicide.
The Rain Woman (1996) by Svetlana Telets
| | |
| --- | --- |
| Artist | Svetlana Telets (c. 20th century) |
| Date | 1996 |
| Medium | Unknown |
| Dimensions (cm) | Unknown |
| Location | Merckx Furniture, Kyiv, Ukraine |
According to the artist, she produced this cursed artwork in around five hours, and during the entire process, she felt as if her hand was being guided by some force outside of herself. She soon sold the work, but it was returned several times by different customers. Its current location is Merckx Furniture store in Kyiv, where people who visit the store say that the woman in the artwork's expression seems to change – sometimes she appears to be smiling, and other times she seems angry.
The artist said she had always felt as if there was someone there with her, watching everything she did.
One day she had the urge to sketch something and she started to draw the figure with little control over the process as if someone was creating it through her. By the time the painting was complete, she immediately recognized it as the being that was always watching her. The first customer returned it saying that since she hung it up in her bedroom, it always felt as if someone was in the room with her. Another customer said that since he owned the painting, a woman's shadow would appear in his room at night and also begged that she take it back.
The Anguished Man (n.d.) by Unknown
| | |
| --- | --- |
| Artist | Unknown |
| Date | Unknown |
| Medium | Blood and paint on canvas |
| Dimensions (cm) | Unspecified |
| Location | Hidden location |
No one seems to know who painted one of the world's most haunted paintings. Sean Robinson of Cumbria, United Kingdom, claimed to have acquired the cursed artwork from his grandmother, who claimed that the painter who produced it had added his own blood into the pigment and committed suicide shortly after finishing the piece. Robinson posted footage of the artwork on his YouTube channel in 2010, claiming to have heard sobbing and groaning noises in his apartment and even seen the form of a male figure. The original artwork is currently claimed to be hidden away in a place only known to Robinson. The rights to turn the story of the artwork into a movie were acquired in 2016. There is not much more information available about this painting, so it seems we will have to wait for the movie's release to learn more!
That brings our list of haunted paintings to a close! These cursed paintings have all been accused of causing havoc in the homes of those that bought them, often resulting in them being returned over and over again. Some artists claim that the work was created in a state where they were being guided to create the image. On other occasions, the artists seem to have channeled their inner torment into their works. While some people have found potentially plausible causes for these occurrences, others remain a complete mystery. If provided with the opportunity, would you ever consider buying one of the most haunted paintings?
Frequently Asked Questions
What Are the Most Haunted Paintings in the World?
Cursed paintings can be found throughout history and there are many examples. Unfortunately, not much information is known about many of these cursed paintings, which just adds to the mystery surrounding them even more! One of the most famous cases of haunted paintings is the Crying Boy painting. Many reprints were produced of this painting from the 1950s onwards, and it hung in the living rooms of many homes during that period. They were often found unburnt in houses that had caught fire, leading people to assume that it was the cause of the fire. However, it was subsequently discovered that they were coated in fire-resistant varnish.
Are There Really Cursed Artworks?
Based on all the evidence, one could assume that there is a chance that these paintings are really haunted. However, it is also human nature to associate certain events with whichever person or object was around them at the time that it occurred. This can create an association in the mind that links the object or person to the occurrence, and they believe that one aspect is the cause of the other. However, there are no solid answers when it comes to the spirit world!
Isabella studied at the University of Cape Town in South Africa and graduated with a Bachelor of Arts majoring in English Literature & Language and Psychology. Throughout her undergraduate years, she took Art History as an additional subject and absolutely loved it. Building on from her art history knowledge that began in high school, art has always been a particular area of fascination for her. From learning about artworks previously unknown to her, or sharpening her existing understanding of specific works, the ability to continue learning within this interesting sphere excites her greatly.
Her focal points of interest in art history encompass profiling specific artists and art movements, as it is these areas where she is able to really dig deep into the rich narrative of the art world. Additionally, she particularly enjoys exploring the different artistic styles of the 20th century, as well as the important impact that female artists have had on the development of art history.
Learn more about Isabella Meyer and the Art in Context Team.
Cite this Article