There is no topic better than Copic to get you inspired to create. Copic markers are by far the most popular and sought-after brand of markers out there, and you will find out why in this article. Choosing the best Copic markers for Copic marker art may seem like a pretty straightforward task, but walking into a store without some prior knowledge can be surprisingly daunting if you do not know what you are looking for because there is a wide range of factors to consider when choosing your markers. That is why we are here!
What Is a Copic Marker?
Copic is a widely used brand of alcohol-based markers that is a favorite among coloring enthusiasts, regardless of whether they are just starting or have a couple of years of coloring experience under their belt.
It is a Japanese brand that is produced by a company called Too Corporation that was originally developed for use by the Manga artist community in the late 1980s. However, word spread, popularity grew and today it is one of the leading brands for professional artists and hobbyists alike.
What Makes Copic Markers So Popular?
There is no mystery as to why these markers are the preferred choice in the coloring community. Quite simply, Copic takes pride in the quality of their products and it shows how easy they are to use and the versatility they offer. They are world-renowned for creating a professional, smooth finish without streakiness.
There are a few characteristics that make these markers a cut above the rest and which make this brand elite.
Ink Quality
Anyone with coloring experience will tell you that one of the most important things to consider when buying markers is the quality of the ink. No matter how user-friendly or practically designed your markers are, seeing streaks after you have invested your hard-earned dollars in a set of markers that promises quality is the deciding factor.
With Copic, the quality of the ink is one of a kind. Colors are easy to blend and although the ink does tend to bleed through thinner paper, this is a feature of most brands of alcohol-based ink. Some brands are notorious for creating streakiness in the final appearance – Copic does not belong to this category of markers, with its seamless finish.
Dual-tipped Markers
The final feature that makes these pens the envy of many a coloring enthusiast is that these markers are dual-tip, which means that there is a tip on both sides of the pen. The nibs differ from one another, so you may find a fine-point with a medium-sized nib on the same marker for example instead of there being just one tip on one marker.
They may be slightly more expensive than single-tipped markers but may work out more economical than buying two single-tipped markers separately.
Lightfastness
Most alcohol-based markers are still prone to fading (especially when exposed to sunlight and other harsh conditions), and although Copic markers are not entirely immune to this, with this brand the ink is relatively lightfast, which means that it is more durable and will last longer than other brands of markers.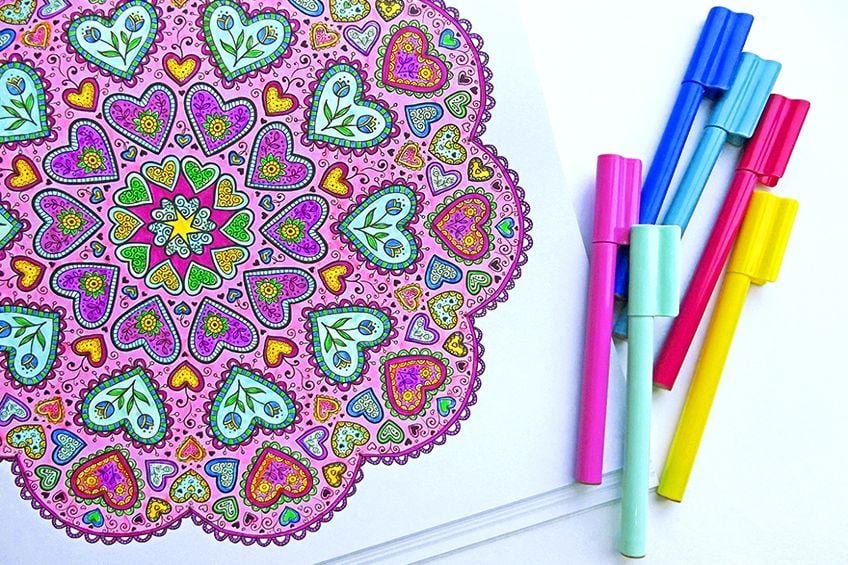 Refillable Ink and Replaceable Nibs
Above and beyond ink quality, the manufacturers of Copic have also added a few crucial touches to the design of their markers. One feature that sets them apart from many other brands is the fact that the markers are reusable – regardless of whether you buy Ciao, Classic, or Sketch (which are the three main types of Copic markers), they can be refilled with ink that you can buy in separate bottles.
Although most will argue that these pens are best purchased as a long-term investment as they do not come cheap, the possibility of re-filling the barrel numerous times before you have to discard them can dramatically reduce the money you will spend on them if you plan on using them for years to come.
Marker nibs are also replaceable, so instead of buying a new marker each time the nib wears down, you can simply buy the nib. This is another factor that can make these markers cheaper if you plan to use them for years to come. The other big advantage of having pens that can be refilled is that your hobby will have a minimal negative impact on the environment because you will not need to throw away or recycle the marker. These pens are therefore a way that you can take personal responsibility for your waste and still enjoy your favorite past-time.
Types of Copic Markers
Now that you have established, like the hundreds of thousands of individuals across the world who have their minds set on choosing the best quality markers, that Copics are one of your best options if you are looking for all-round quality and can afford to dig a little deeper into your pocket it is time to look closer at what Copic has to offer.
When you are deciding on buying markers for the first time, especially when making a sizable financial investment in a quality brand like Copic, choosing the right markers for your needs is crucial. Seemingly minor details, like the shape of the barrel, for example, can make a big difference to your coloring experience so it is worth taking a little time to investigate the nuances of each brand and each set of markers within your chosen brand.
The answer to the question "what is a Copic marker?" will vary according to which specific type of Copic you are referring to because, within the world of Copic markers, there is an assortment of options to choose from.
Copic markers are categorized into three main groups according to their unique properties: Classic, Sketch, and Ciao. The differences between them will be discussed below, but they have a few things in common with one another:
Refillable ink barrels
Dual-tips
Replaceable nibs
High-quality ink
Alcohol-based
These properties are what make Copic markers one of the best – the defining features of this brand that collectively make it what it is as the most sought-after brand on the market. But choosing which Copic markers you want to buy can be an art in itself, as there are a few differences between them that can affect your coloring experience from the get-go.
The differences between these three markers relate mainly to their price, the barrel shape, and the amount of ink they carry. They also differ in terms of the nib shapes that are available in each set, as well as the range of available colors.
Classic Copic Markers
Also called Copic Originals, markers in this range carry the largest amount of ink of all three types. This is beneficial because it means you do not need to refill the ink as often as you would the other pens. Another advantage to this set of markers is that you have a whopping nine nibs to choose from, with bullet and chisel tips being the default nibs that come with the marker.
The Classic Copic Markers full set consists of a total number of colors of 214, and the price is similar to the Sketch range which has a total of 358 colors.
It is easy to jump to the conclusion that that automatically makes Sketch markers superior, but 214 colors provide more than enough colors for you to choose from, especially if you are an amateur. It should be said that the colors included in the Classic set can also easily be blended to create different, unique colors. There are a few things to be aware of that may not make these particular Copic markers ideal for you and what you require from a set of markers. First off, these markers are more expensive than the other two types and it is widely agreed that they are best for people who have more coloring experience under their belt.
Also, these markers come with two nibs – unfortunately, you have to buy the other seven tips separately which will inevitably bring up the cost. Some people find it a little cumbersome to constantly keep replacing nibs during the coloring process. Although the square shape of the barrel can be advantageous because it does not roll off the table, the square shape of the barrel can be awkward to use, especially for longer periods.
Sketch Copic Markers
The best thing about these markers is that you can collect up to 358 of these beauties – a number that is unparalleled in the marker industry in terms of the number of markers you can collect in a specific set (of course, you collect more markers than this if you add markers from different ranges to your collection).
The second-best thing about the Sketch markers is the fact that they come with a brush tip and chisel tip as default nibs. Many people find the brush tip to be more versatile than the bullet tip, enabling you to create different shaped strokes depending on how you use the tip.
The main limitation with these pens is that there is only one extra nib that fits, which makes the total number of available tips for this pen three, which narrows down your possibilities when compared to the Classic markers. However, the shape of the barrel is more comfortable and practical than the other two types of markers. Plus, although the types of nibs that are available for these brushes are limited to three, the brush tip plus the chisel tip are versatile enough.
Ciao Copic Markers
These markers are ideal for beginners thanks to their design and size. They are cheaper and smaller than the sets of markers previously discussed and although there are fewer colors available than the alternatives, the Ciao Copic Markers full set provides you with 180 colors for your coloring pleasure. Of course, smaller barrels mean that you will need to refill your ink more often which can be a burden (and possibly more expensive) but not to the extent that they should prevent you from buying them!
In addition to the potential setback of the small barrels, another minor disadvantage with these pens is that the barrel has a rounded design which makes them prone to rolling around if you do not store them properly. This may seem like an irrelevant detail, but it can be a cause of frustration while you are coloring and it is preventable.
So these pens come with a chisel and brush nib, as is the case with the Sketch markers. Specifically, the tips that come with these markers are the medium broad and the super brush tip, with no other options that are sold separately.
Of all the types of markers that are sold by Copic, these are the most suitable for beginners and children. Two features make these types of markers the best Copic markers for children. Firstly, the size of the marker is small, and so fits well in tiny hands. The other feature that makes these markers more suitable for use by kids is that the lids contain small holes to prevent choking if they are swallowed.
The Best Copic Markers
When you cast your mind to the vast number of brands, not to mention sets of markers within each respective brand, you begin to realize that choosing markers can be tough. Especially when you take into account that some are more appropriate for beginner use than others. That is why we have narrowed down our top three favorite Copic sets according to suitability for beginner use, professional use, and best price and performance for Copic marker art.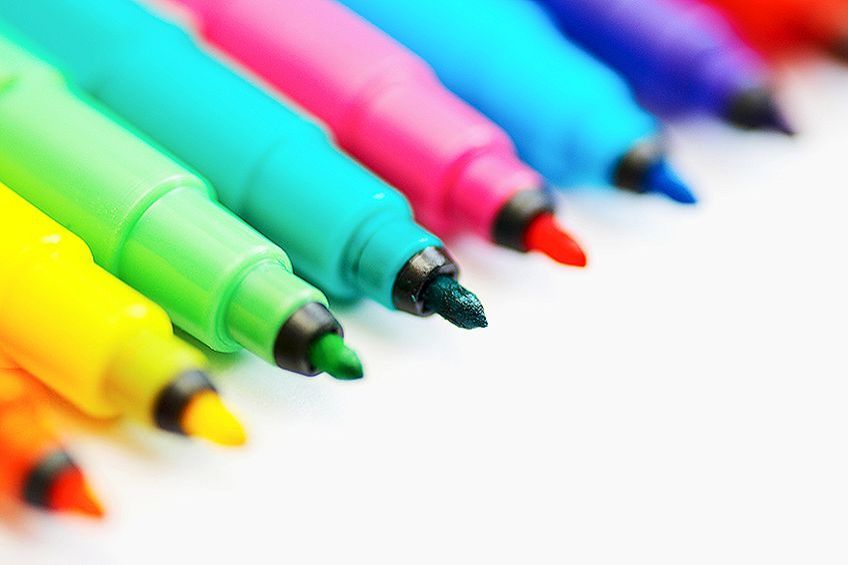 All markers come with top quality, refillable ink, and replaceable nibs. Each type of marker does come in different sized sets – the ones we have recommended in our Copic markers review below have a minimum of 24 pens in a set. How many markers you buy will depend on your budget, and we will discuss the recommended number of markers for beginners later in this article.
Best Markers For Beginners: COPIC Ciao Markers 24 Piece Set
It can be argued that Ciao Copic markers are the most appropriate for beginners as they are smaller in size, have a comfortable grip, and still promise a generous 180 colors. Ciao markers come in different-sized sets, with different sets of colors. We have included our favorite here. If you are just starting out and are understandably reluctant to make a large monetary investment in a wide range of markers, this 24-piece set is for you. It contains all of the most essential colors which you can add to as you get into the swing of coloring.
Refillable barrels and replaceable make this an affordable option
The alcohol-based ink is permanent, non-toxic, and acid-free
The pens are compatible with the Copic airbrush system
View on Amazon
It includes some flesh colors, blues, and greens, and basic earth tones. The colors indicated on the lids are consistent with the color of the ink on paper. While Copics are more expensive than most other brands, Ciao markers are the cheapest of all three types of Copic markers and this Copic marker set comes with an affordable range of 24 colors that provide most of the essential, basic colors you would need if you are just starting out. Given that there are only 24 colors, you may find blending to be a little difficult. But you can easily add to your collection of colors at a later point.
PROS
Includes 24 basic, vivid colors
The safety cap and small size makes it suitable for use by children
Can be used with a Copic airbrush
Refillable ink
The color matches the color indicated on the barrel
Long-lasting ink
CONS
Round barrel leads to rolling on surfaces
Limited colors
Best Professional Set: COPIC Marker Set
In contrast to the Ciao markers, these markers are not suitable for the newbie – the brush tips are long and the colors prolific, enabling more nuanced shading for the more experienced among us. Using these effectively takes practice. This 72 piece set of markers are a good shape and size for prolonged coloring sessions and long-term use. Because the barrels are larger, you will not have to replace the ink too often.
Replaceable tips and refillable barrels for longevity

The ethanol-based ink is non-toxic, permanent, and acid-free

Flexible brush tips and firm chisel tips give great versatility
View on Amazon
Colors in this particular set are vibrant and varied, but still great for blending. The shape of the barrel is oval which means it will not roll on the surfaces you put them down on. The fact that you can fit nine different nibs on these markers makes them especially versatile. Provided you use thick paper, a high-quality finish is almost guaranteed because although it is pricey, with this set, you get what you pay for.
PROS
Set of 72 markers
Colors can be blended easily
Dual-tipped
Ink can be refilled
Replaceable nibs
Flexible tips
CONS
Suitable for more experienced artists only
Bleeds through thin paper
Expensive
Another good option for professionals is the Premium 72 Piece Set. The main difference between this set and the first set we recommended in this category is the range of colors. If you want colors that are more pastel, with a larger number of flesh tones, this set may be the better bet. Otherwise, check out the set of 36 Classic markers.
Best Price for Performance: COPIC Alcohol Sketch Marker Set
Generally speaking, Ciao Copic markers are your gateway into coloring with this brand of markers, as they are ideal for beginners, for reasons mentioned earlier. On the other hand, Classic markers are the most expensive and more appropriate for professionals as they come with more versatility in terms of the number of available nibs. Sketch markers provide a happy medium between the two, being moderately priced and having loads of color options available. Although it might be argued that relative to the other types of markers the nib range is quite limited, the chisel, brush, and bullet nibs that you can fit into sketch markers are all you need.
The markers come in a clear plastic case for easy transport
The permanent ink is acid-free and non-toxic
Come with refillable barrels and replaceable nibs
View on Amazon
Changing nibs can work out expensive and be an unnecessary hassle when you are coloring. This particular Copic marker set comes with twelve of the most basic colors that can serve as a good foundational set onto which you can later add more colors. Being a set of twelve, the color range is limited, with one or two markers for each color. If these are the only markers you have for your Copic marker art, blending might be an issue. Another advantage of this set, and all Sketch sets, is that they can be used with the airbrush.
PROS
Suitable for beginners
Refillable ink
Large barrels
Functional tips
Can be used with the airbrush
CONS
Limited range of colors
Difficult to blend
Other Markers and Accessories
In addition to the above three markers, there are several other products you can buy that can make your work more interesting. These include the Wide Markers which come in a limited range of 36 but which are good for coloring large areas and Multiliner Copic pens which also have a limited color range but which are great for adding finer detail and lettering or calligraphy.
Copic Wide Markers are also an option – they are short single-tipped brushes with a wide nib that enables you to color large surface areas with ease. They are also firmer than other nibs in the range of markers, making them ideal for their purpose. These wide markers come in a total of 36 colors. Although these markers are short, they are wider than the other types so still hold a lot of ink. On the downside, the barrel of the wide markers is square so gripping it may be awkward at first until you become accustomed to it. The wide nib can be replaced so when it deteriorates there is no need to replace the entire nib.
In addition to these, the Airbrush System offered by Copic can be used in conjunction with certain types of markers. To use this, all you need to do is to fit your Classic or Sketch marker (with the medium-broad nib) into the air grip that you can buy separately and connect it to a compressed air system.
There is also a colorless marker that contains a solvent. This is an indispensable tool that is very handy for creating highlights on areas that you have already colored. If you presoak your paper with this ink, it allows you to create lighter areas as it dilutes the ink. It also helps you to fix your mistakes if you apply it on top of the patch of color you want to remove by fading the color. Although it is called the "Colorless Blender", it does not blend per se so the name is deceiving, but it can help lighten colors you wish to blend and can also help you to blend areas you are leaving white.
What to Consider When Choosing a Copic Marker
We have already covered the various types of Copic markers that you can buy. There are a few factors you need to take into account when selecting which markers are the right markers for you and the vision you have for your coloring.
Choosing Your Colors
There is some debate as to how many colors are best to start off with. Your budget will naturally determine the limit on how many you can afford, but either way, you have to be selective about which colors you choose. As a general rule, unless you have a very specific themed design with limited colors, it is a good idea to equip yourself with three shades of each of the color families for seamless blending and to ensure you will be prepared to color whatever design you want to.
So, the total number of colors you should have in your collection, to begin with, should be somewhere between 30 and 40 colors as a baseline number to which you can add along your coloring journey.
Remember that colors can be blended as well, so there are plenty of possibilities with a limited set of markers if you are just starting. Copic has an app that can be used on iOS and Androids that enables you to manage your colors. Alternatively, you could create your own physical color chart.
Types of Copic Nibs
Finding the right markers is about more than simply choosing colors and barrels. The choice of the tip you want to use can make a big difference in your coloring experience, and in defining what you can color. They range in size, shape, and flexibility, with some being more appropriate for smaller areas, others for fine detail and some being more versatile and apt for blending.
Some tips allow you to create different strokes if you change the angle of the pen. Ciao markers have the most number of nibs that you can use of all the Copic markers that are available to you, which are as follows:
Superfine
Standard fine
Brush
Calligraphy (3mm and 5mm)
Semi broad
Round
Soft Broad
Standard Broad
How to Use Copic Markers
Familiarizing yourself with your Copics before you start using them can go a long way in helping you adapt to using this unique brand and make the most of your markers. Although experience is the best teacher of all, below is some basic information relating to how to use Copic markers that can help get you started.
Replacing Your Tips
Replacing tips is easy. All you need is your marker, the new tip, and tweezers. Simply uncap your marker if you have not done so already, grip the nib with the tweezers and pull it downward gently, ensuring that the ink does not splash during the process.
Once the dry nib has been removed, insert the new one slowly with the tweezers. You can use your new nib once it has fully absorbed the ink. This may take a few minutes (at the most).
How to Refill Your Markers
Bottles of ink are available for each of the colors in the Copic range. The ink comes in 12ml bottles. Each bottle will refill Classic markers roughly five times, a Sketch pen a total of about seven times, or a Ciao marker approximately nine times. The process of refilling the markers is pretty straightforward:
Remove both caps
Using the tweezers, slowly remove the broad nib from the casing
Place the nozzle of the Copic Ink bottle inside the barrel and squeeze gently
Re-insert the nib when the barrel is full of ink
Using Copic Markers
Although Copic is one of the premium choices for markers, they have alcohol-based ink which means that once you apply the ink to paper, it tends to dry fast and it is permanent. To make the most of the possibilities that coloring with ink offers and achieves some of the masterful effects that you have seen in the work of others, you have to work fast.
Using ink instead of paint does not prevent you from being able to blend as effectively as if you were using paint or other mediums, and create effects that make your artwork appear realistic and eye-catching. You will have to learn the techniques that will enable you to get it right with marker ink, and practice using them regularly. Some of the techniques you can use to bring more depth to your work are as follows.
Gradients
Gradations can be performed to create a blended effect using two colors – this is where the wide range of colors offered by Copic is especially relevant and useful. Blending requires coloring two similar colors right next to each other, with a certain degree of overlap.
To do this, start by making vertical lines with one color. Using the other color, create vertical lines from the opposite side, making sure that the end of your strokes overlaps with the end of the other marker's strokes.
If you do not do this while the color is still wet, you will not be able to blend them – the colors will simply become darker, or the color will change depending on which colors you have used.
Creating Unique Colors
Your available color spectrum does not need to be limited to the number of pens or markers you have. If different colors are used on top of one another, you can create your own unique colors. Experiment with your own color creation by changing the order in which you layer your colors and by overlapping different colors.
Caring For Your Copics
Copic markers are fairly easy to maintain when compared to other tools used for art, such as paintbrushes. To keep the barrel of the marker clean, dip cotton wool or a soft cloth in an alcohol-based solvent and wipe it.
You can dry it with a paper towel or a dry, clean cloth.
Layering
You do not necessarily need markers that contain ink of a darker color – most markers are different colors. Ink can be made darker by painting the second and third layers of the same color onto your first layer of color. Doing this can help with shading, allowing lighter colors to fade into darker colors more easily.
What Paper to Use
Copics blend better on paper that is not very heavy and absorbent. However, like most markers, the ink tends to bleed through the thin paper because it has alcohol as its base. Most markers tend to bleed through thinner paper, including the paper that is in most coloring books.
If you are using thinner paper, ensure that there is no pattern on the back of the page you are coloring, and put a couple of sheets of paper behind the page you are using so that the ink does not bleed through onto the underlying pages.
You can buy paper that is made especially for marker use that is called "marker paper". Cardstock can also be used. The reason why these types of paper are better suited not only for Copics but also for other markers is that they are thicker. Copic sells paper and sketch pads that are the perfect paper for their ink.
Alternatives to Copic Markers
When you buy Copics, you know you are getting top-of-the-range merch with many attractive features that were discussed at the beginning of this article. If you are looking for top contenders for this exceptional brand, you will need to be vigilant about the following factors that can make the world of difference to your coloring experience, not to mention the final finish of your artwork.
When considering the alternatives to Copic markers, ask yourself the following questions to ensure you are buying high-quality pens:
What is the ink quality like?
Can the markers be refilled, or do I have to buy a new marker each time the ink runs dry?
How many colors are available and what are the colors like?
How flexible are the nibs? Are they durable?
Coloring for adults is a booming industry, and you will find no shortage of good-quality markers and pens in your local art store and online. Names that can be said to be equal to that of Copic, or fall ever so slightly short of Copics reputation but which we would still recommend for their exceptional quality are Prismacolor and Ohuhu, but other names you should look out for including Arteza, Shuttle Art and Bianyo.
Shuttle Art markers such as those in this 51-piece set are also a good choice. One of the main drawcards of this brand is the triangular barrel which allows a great and comfortable grip for long-term use.
There is a slight compromise on ink quality with these pens: while they share their watery quality with other Copic alternatives, they have also been known to be streaky. Bianyo and CaliArt also have a variety of quality markers and are worth investigating for reasonably priced markers that do not compromise on quality.
Premium Choice: PRISMACOLOR Premier Double-Ended Markers
Despite having several features that are pretty much the same as Copic markers, the Prismacolor dual-tipped art markers are much more affordable than the former brand. Although the price is lower, you will not have to compromise on quality with these markers. Equipped with a fine-point tip on one end and a chisel tip on the other, these pens are optimal for coloring larger areas as well as adding finer detail to your work. The nibs in this 72-piece set are flexible and user-friendly for blending purposes. Prismacolor provides sets of markers with brush tips as well.