"Blue Nudes" by Henri Matisse – A Look at the "Blue Nudes" Series
Born in 1869, French artist Henri Émile Benoît Matisse was more than just a painter and Fauvism fanatic – he is also considered one of the key founders of revolutionary Modern art. Blue Nudes by Henri Matisse is a series of lithographs that depict nude figures presented in different positions. This article will dive into the Blue Nudes series and its significance in the broader spectrum of the artist's life.
Henri Matisse: A Pioneer in Fauvism
Alongside the esteemed Pablo Picasso, Henri Matisse produced many works admired for his bold expression and use of color to portray a variety of subject matter with primary artwork centered on portraiture, still lifes, and nudes.
Matisse is regarded as the leader of Fauvism, an art movement that developed in the early 1900s and eventually declined in popularity after a few years.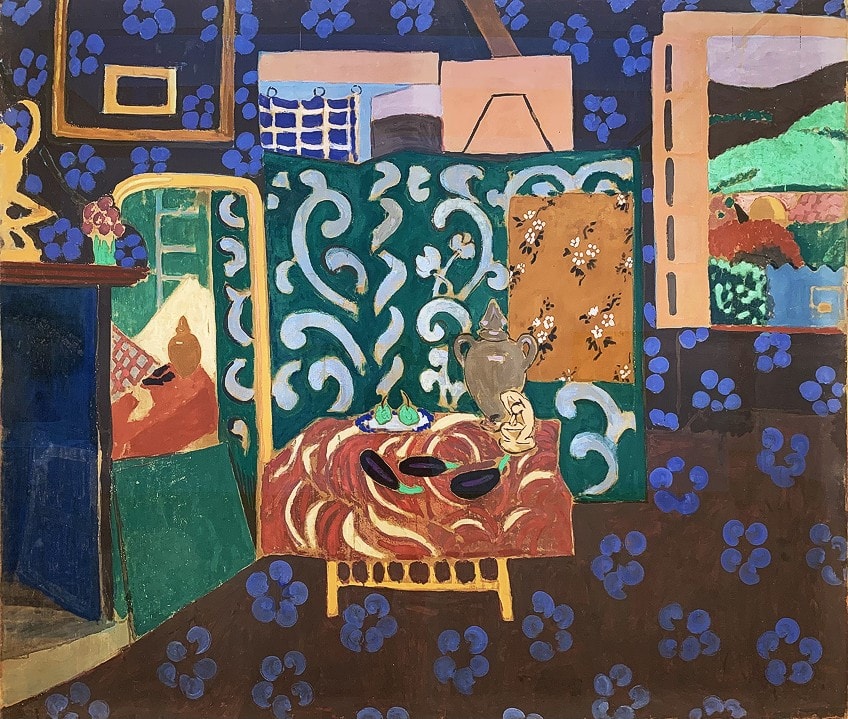 Interior with Aubergines (Intérieur aux aubergines) (1911) by Henri Matisse, located at the Grenoble Museum in Grenoble, France; Samari Prismade, CC BY-SA 4.0, via Wikimedia Commons
The style of Fauvism was defined by a group of artists who called themselves the "Fauves", a group that Matisse was involved in. Paintings that fell under the style of Fauvism were characterized by the prioritization of bold colors over natural colors, as withheld in Impressionist paintings.
His compatriot, André Derain, is recognized as the co-founder of Fauvism and as a fellow French art practitioner with his own significant "following".
Blue Nudes by Henri Matisse
Matisse described his passion for art as a "kind of paradise", which can be seen through his imaginative thinking in his Blue Nudes series. Often mistaken for blue Matisse "paintings", the Blue Nudes series is not a series of paintings at all, but rather a series of color lithographs made from painted cutouts collaged together.
It is interesting that this can be mistaken for painting and hints at the clever visual produced by the collage that imitates a blue painting.
Photograph of artist Henri Matisse taken on the 20th May 1933 by Carl Van Vechten; Carl Van Vechten, Public domain, via Wikimedia Commons
Some blue Matisse paintings that you might know of include other works such as The Conversation (1909), Dance I (1909), and the earlier work of 1907, Blue Nude. The artist faced health issues a few years before his death and had to receive abdominal surgery.
This left Matisse in a difficult position to create in the way he usually would, so he decided to embark on the "Blue Nudes" series in the early 1950s.
Nu Bleu (1907) by Henri Matisse
| | |
| --- | --- |
| Date | 1907 |
| Medium | Oil on canvas |
| Dimensions (cm) | 92.1 x 140.3 |
| Where It Is Housed | Baltimore Museum of Art, Baltimore |
One of the first references that Matisse makes to Blue Nudes was found in a painting in 1907, titled Nu Bleu. The painting was burned in an effigy in 1913 at the Armory Show and is currently housed in the Cone collection at the Baltimore Museum of Art.
The painting itself has caused quite the stir among critics and the global art community, sparking issues of representation of the "other" due to the lack of proper identification of the woman who modeled for Matisse.
Matisse later partnered with a close friend by the name of Tériade, who published his work in the Verve, with its initial release in 1958. Unfortunately, Matisse did not live long enough to see the final edition since he passed away in 1954.
The "Blue Nudes" series was featured in an exhibition at the Museum of Modern Art (MoMA) in 2014 and drew attention to the cut-out technique that Matisse used.
An observation by MoMA remarks that Matisse's cut-outs are a demonstration of the artist's dedication to color and form. Additionally, the cut-outs are an indication of the artist's innovativeness and a nod toward the hybrid methods that informed his creations.
Blue Nude I (1952) by Henri Matisse
| | |
| --- | --- |
| Date | 1952 |
| Medium | Paper cutouts painted in gouache glued on paper on canvas |
| Dimensions (cm) | 106 x 78 |
| Where It Is Housed | Fondation Beyeler, Riehen |
The Blue Nudes series consists of four lithographs, each inspired by various experiences and previous artworks made by Matisse. In Nu bleu I (Blue Nude I) (1952) for example, you can see a clear reference to an earlier bronze sculpture made by Matisse in 1909, La Serpentine. Matisse referred to the bronze female figure through the position of the elbow and the overall shape of the figure, which was then repositioned in the later Blue Nudes series.
It is evident that at this point, the artist was heavily engaged in reflection upon his earlier works.
Moving onto the color selection for the nudes, you might wonder "why blue? Why not any other color?". The color blue for Matisse was linked to volume and distance since the artist had experienced some difficulty in his primary practicing years with blending dominant colors. The flat blue shapes were also a characteristic element of Fauvism displayed through the gouache-covered cutouts and use of solid color. In 1930, Matisse journeyed to Tahiti, where he encountered African sculptures. It is said that this is where Matisse drew inspiration for the series.
The invention of this series can be thought of in a progression of time spanning over 20 years.
Blue Nude II (1952) by Henri Matisse
| | |
| --- | --- |
| Date | 1952 |
| Medium | Gouache-painted paper cut-outs |
| Dimensions (cm) | 115.5 x 76.3 |
| Where It Is Housed | Private collection |
The female figure was a major theme in Matisse's career. Matisse had been known to invest in his process of cutting and rearranging, described as an "arduous process". For Blue Nude II (1952), Matisse expressed great difficulty in visualizing the seated woman and eventually turned to drawing to help with the process.
"Blue Nude II" can now be seen in Paris, at the Pompidou Centre.
Blue Nude IV (1952) by Henri Matisse
| | |
| --- | --- |
| Date | 1952 |
| Medium | Gouache on paper, cut and pasted, charcoal on white paper |
| Dimensions (cm) | 102.9 x 76.8 |
| Where It Is Housed | Estate of H. Matisse |
Due to his newfound bedridden condition, Matisse employed his lithography and collage skills to produce the Blue Nudes series. The artist would first make cutouts of the nude figures and then paint them blue. He would then oversee the lithography process until he reached his desired result.
One of the first pieces in the "Blue Nudes" series, "Blue Nude IV", had reportedly taken weeks to assemble.
Although the collage of blue may appear to be a simple form, the process behind the assemblage and selection was lengthy. The Blue series can also be seen as Matisse's last resort in terms of artistic expression. It was one of the only few mediums available for his condition.
"Blue Nudes" by Henri Matisse can be considered one of the artist's best contributions to art history, aside from his earlier works driven by the emergence of Fauvism. Matisse's works can be found across the globe in collections at the Guggenheim Museum, Tate, and the Museum of Modern Art.
Frequently Asked Questions
What Is Fauvism?
Fauvism is an art movement that emerged in the early 1900s by a group of artists headed by Henri Matisse and André Derain. The group was called the Fauves and the characteristics of the art style included the use of bold colors in an expressionistic manner to depict subjects that would traditionally be represented with natural or traditional colors.
What Was the Relationship between Henri Matisse and Pablo Picasso?
Henri Matisse and Pablo Picasso were involved in a friendly art rivalry. Both the artists were inspired by Paul Cézanne and many works even shared similar titles and subjects. The two developed a competitive friendship that contributed to the other's success and artistic development.
What Type of Art Did Henri Matisse Make?
Matisse specialized in many art forms, including drawing, collage, sculpture, and printmaking. Matisse focused on subjects involving floral motifs and the simplification of the human figure. He also painted many still lifes, portraits, and domestic scenery. His art can be classified as Modern art.
Alicia du Plessis is a multidisciplinary writer. She completed her Bachelor of Arts degree, majoring in Art History and Classical Civilization, as well as two Honors, namely, in Art History and Education and Development, at the University of KwaZulu-Natal, South Africa. For her main Honors project in Art History, she explored perceptions of the San Bushmen's identity and the concept of the "Other". She has also looked at the use of photography in art and how it has been used to portray people's lives.
Alicia's other areas of interest in Art History include the process of writing about Art History and how to analyze paintings. Some of her favorite art movements include Impressionism and German Expressionism. She is yet to complete her Masters in Art History (she would like to do this abroad in Europe) having given it some time to first develop more professional experience with the interest to one day lecture it too.
Alicia has been working for artincontext.com since 2021 as an author and art history expert. She has specialized in painting analysis and is covering most of our painting analysis.
Learn more about Alicia du Plessis and the Art in Context Team.
Cite this Article