Art Deco Architecture – The History of 1920s Art Deco Architecture
The ambition to portray advancement and modernization while also adorning the banal and mass-produced was at the heart of 1920s Art Deco architecture. Because the Art Deco period spanned two world wars, it represents the time's historical highs and lows, from lavish speakeasies during the time of prohibition to industrial remnants of recycled metal that became required during the Great Depression. Some 1920s Art Deco architecture characteristics include high-impact beauty, ornate patterns, geometric forms, rich hues, and nostalgic emotion.
The History of Art Deco-Style Architecture
From 1903 to 1904, the architectural style of art deco had its premiere in Paris, with the erection of two apartment complexes by Auguste Perret and Henri Sauvage. For the first time in Parisian residences, the pair of young architects employed reinforced concrete; the new structures featured simple lines, rectangular shapes, and no adornment on the façade; they represented a clear departure from Art Nouveau.
Reinforced concrete and steel art deco buildings started to develop in capitals across the United States and Europe after World War I.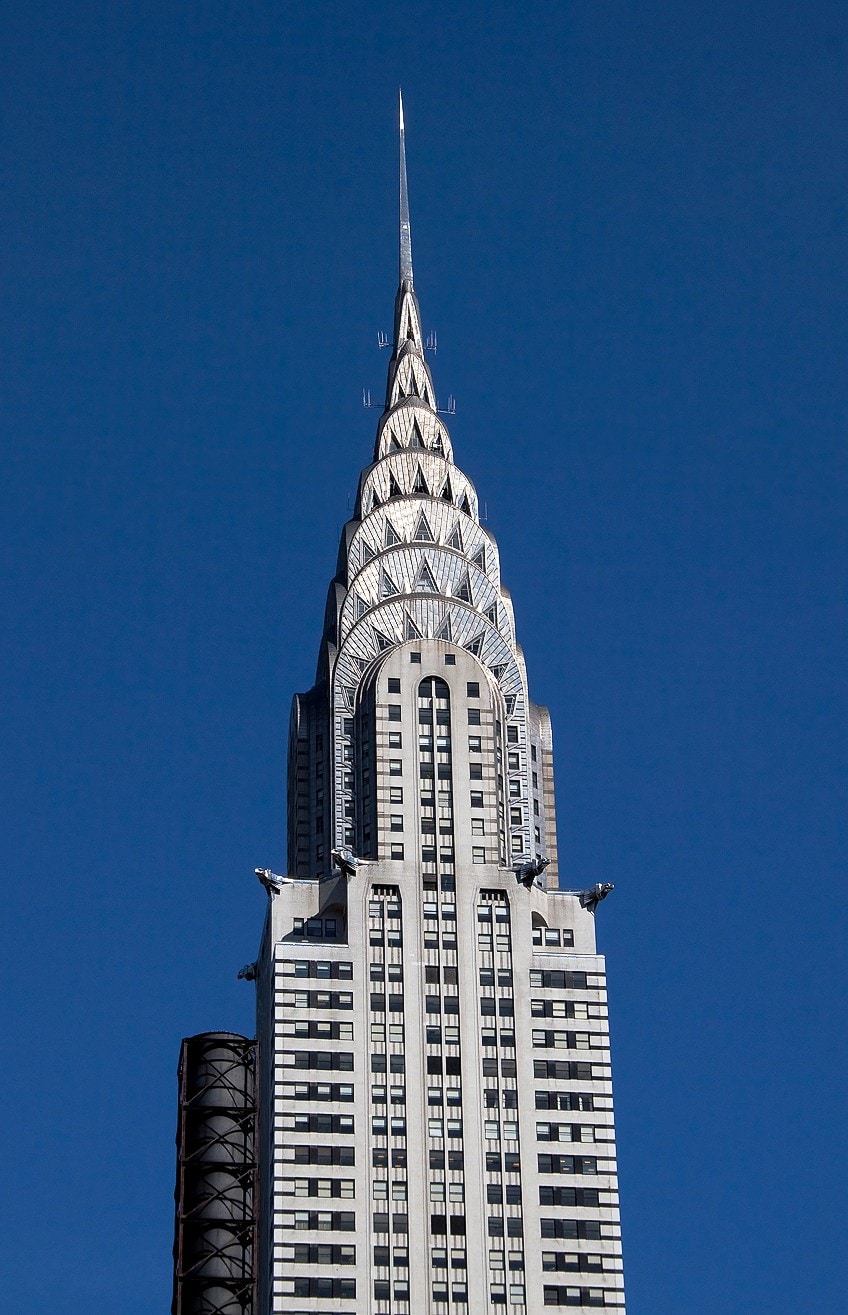 Close-up of the Chrysler Building in New York City, the quintessential Art Deco building; Tony Hisgett from Birmingham, UK, CC BY 2.0, via Wikimedia Commons
The design was most often utilized in the United States for office spaces, government facilities, theaters, and railway stations. Art Deco was occasionally blended with other forms; for example, Los Angeles City Hall has a ceiling inspired by the ancient Greek Mausoleum, and the Los Angeles railway terminus has a combination of Art Deco and Spanish mission architecture.
Art Deco components were frequently used in engineering projects, such as the Golden Gate Bridge towers and the towers of the Hoover Dam.
It became a genuinely cosmopolitan design in the 1920s and 1930s, with instances such as Mexico City's Palace of Fine Arts and Tokyo's National Diet Building. The Art Deco aesthetic was not restricted to land-based structures; the ocean liner SS Normandie, which made its first voyage in 1935, had Art Deco architecture, along with a dining room with a roof and décor made of Lalique glass.
Cathedrals of Commerce
The lobbies of government facilities, theaters, and especially office complexes were the grandiose displays of American Art deco interior style. The interior was vibrant and bright, with sculpture, murals, and intricate geometric designs made of glass, marble, ceramics, and stainless steel. Detroit's Fisher Building was an early form; the foyer was lavishly adorned with art and ceramics. The Guardian Building in Detroit is accentuated by perfectly polished steel lift doors and countertops and is embellished with black and red marble and brilliantly colored ceramics.
The sculptural artwork on the walls depicted the attributes of industry and conservation, prompting the structure to be dubbed the "Cathedral of Commerce."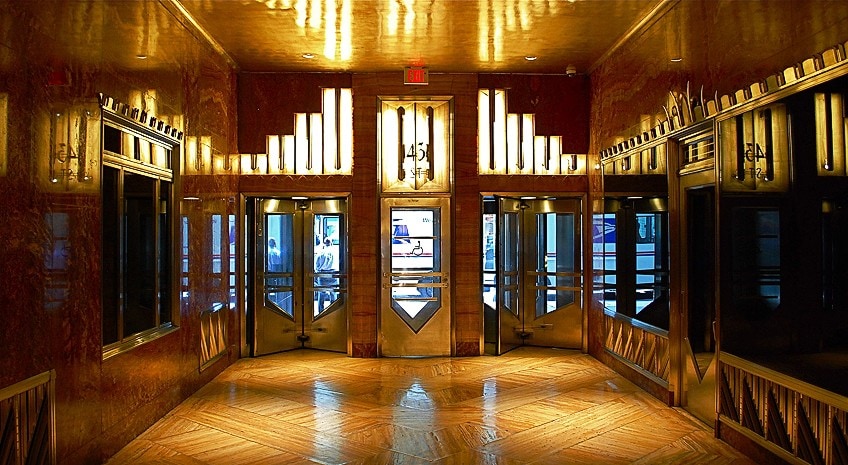 Interior of the lobby of the Chrysler building; Tony Hisgett from Birmingham, UK, CC BY 2.0, via Wikimedia Commons
San Francisco's Medical and Dental Building was influenced by Mayan architecture in a strongly idealized form, with pyramid formations and heavily stylized rows of hieroglyphs covering the inside walls. The Palais de la Porte Dorée in France was the greatest representation of an Art Deco interior at the time.
The structure was constructed for the 1931 Paris Colonial Exposition, which celebrated the people and goods of French colonies.The lobby featured a geometric wood parquet floor, a painting showing the inhabitants of French colonies, and a harmonic arrangement, all of which contributed to the building's Art Deco harmony.
Movie Palaces
Cinemas from the 1920s and 1930s are among the greatest surviving examples of Art Deco. The transfer of silent films to sound occurred during the Art Deco period, and movie studios erected big exhibition sites in major cities to accommodate the large audiences that flocked to view movies. Exotic themes and art deco architecture were frequently blended in movie palaces in the 1920s.
The Egyptian Theater, designed by Grauman, was influenced by Egyptian pyramids and tombs, whereas the Fox Theater in California added a tower to an Art Deco auditorium.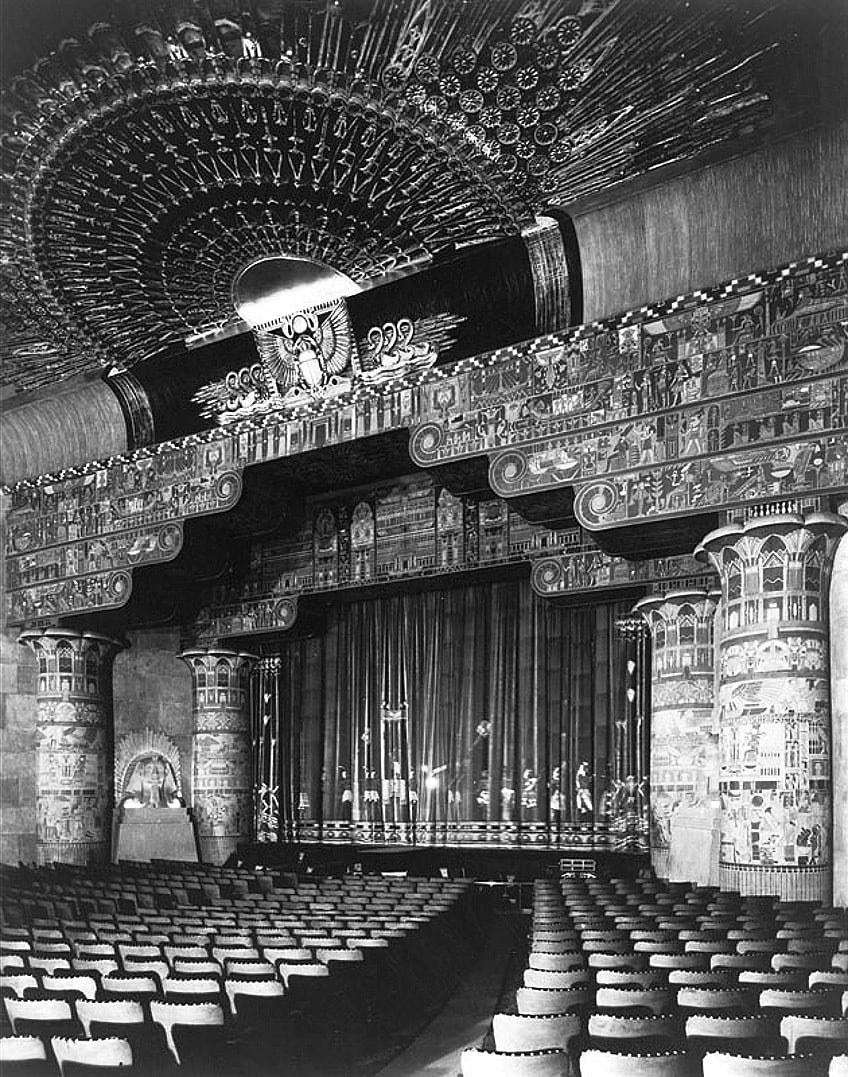 Grauman's Egyptian Theatre in Hollywood (Los Angeles), California (1922); Unknown authorUnknown author, Public domain, via Wikimedia Commons
Aluminum, glass, chrome, and leather were employed in the interior design to offer a visual getaway from reality. The California Paramount Theater had a colorful ceramic façade, a four-story lobby, and dedicated Art Deco smoking rooms for males and ladies. In Europe, similar great palaces developed.
After the 6,000 seats of the Gaumont-Palace, the Grand Rex in Paris, with its majestic tower, was Europe's biggest cinema.
London's Gaumont State Cinema had an Empire State Building-style tower coated in white ceramic tiles and an Art Deco-Italian Renaissance interior. The Shanghai Paramount Theater was established as a dance hall, but after the Communist Revolution in 1949, it was transformed into a cinema and is currently a ballroom and disco. Many movie theaters have been converted into multiplexes, while others have been rehabilitated and are now used as community cultural centers.
Streamline Moderne
In the late 1930s, a new type of Art Deco architecture dubbed Streamline Moderne became popular. Buildings of the design featured rounded edges and long flat lines; they were usually always white and reinforced concrete, and they occasionally included nautical characteristics like handrails and portholes that mimicked those on a ship.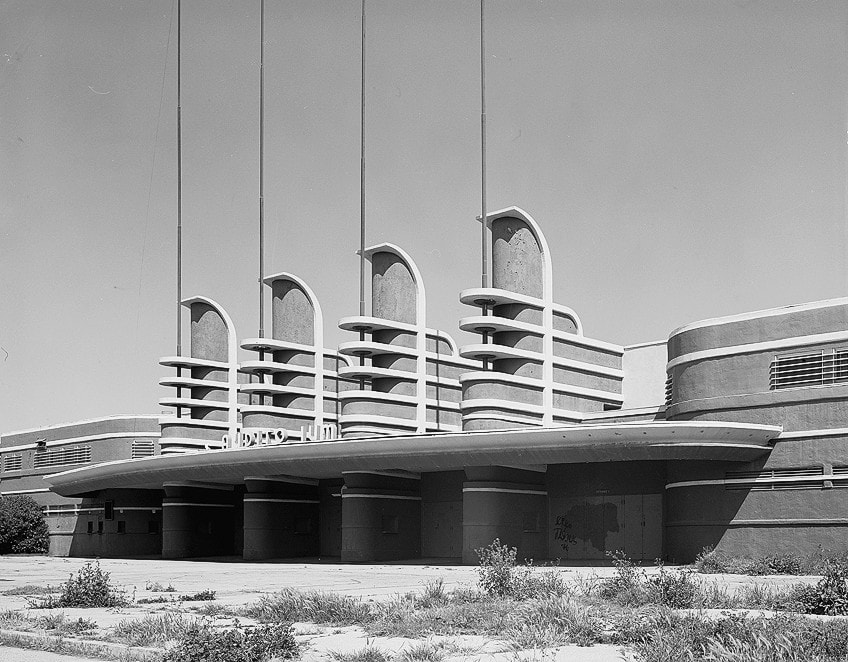 Pan-Pacific Auditorium in Los Angeles, California (1936); Marvin Rand, Historic American Buildings Survey, Public domain, via Wikimedia Commons
The rounded edge had first appeared in Berlin in 1923 in Mossehaus, and subsequently in the Hoover Building, a commercial structure in the London district of Perivale. Streamline moderne became most strongly affiliated with transportation in the United States.
This style was uncommon in office buildings but was frequently used for bus terminals and airports, and streetside architecture, such as filling stations and restaurants. A series of diners, modeled like streamlined train carriages, were built and erected in New England communities in the late 1930s; at least two specimens still exist and are now listed as historic sites.
Interior Decoration
During the Art Deco period, there were various unique periods of decoration. As Art Nouveau faded away between 1910 and 1920, design forms returned to tradition, notably in the works of Paul Iribe. In 1912, André Vera wrote an editorial advocating for a return to earlier ages' workmanship and materials, as well as a new repertory of natural shapes, such as baskets and fruit and flower garlands.
The vivid colors of the Fauves aesthetic movement, as well as the colorful costumes and sets of the Ballets Russes, inspired a second Art Deco trend, which lasted from 1910 until 1920.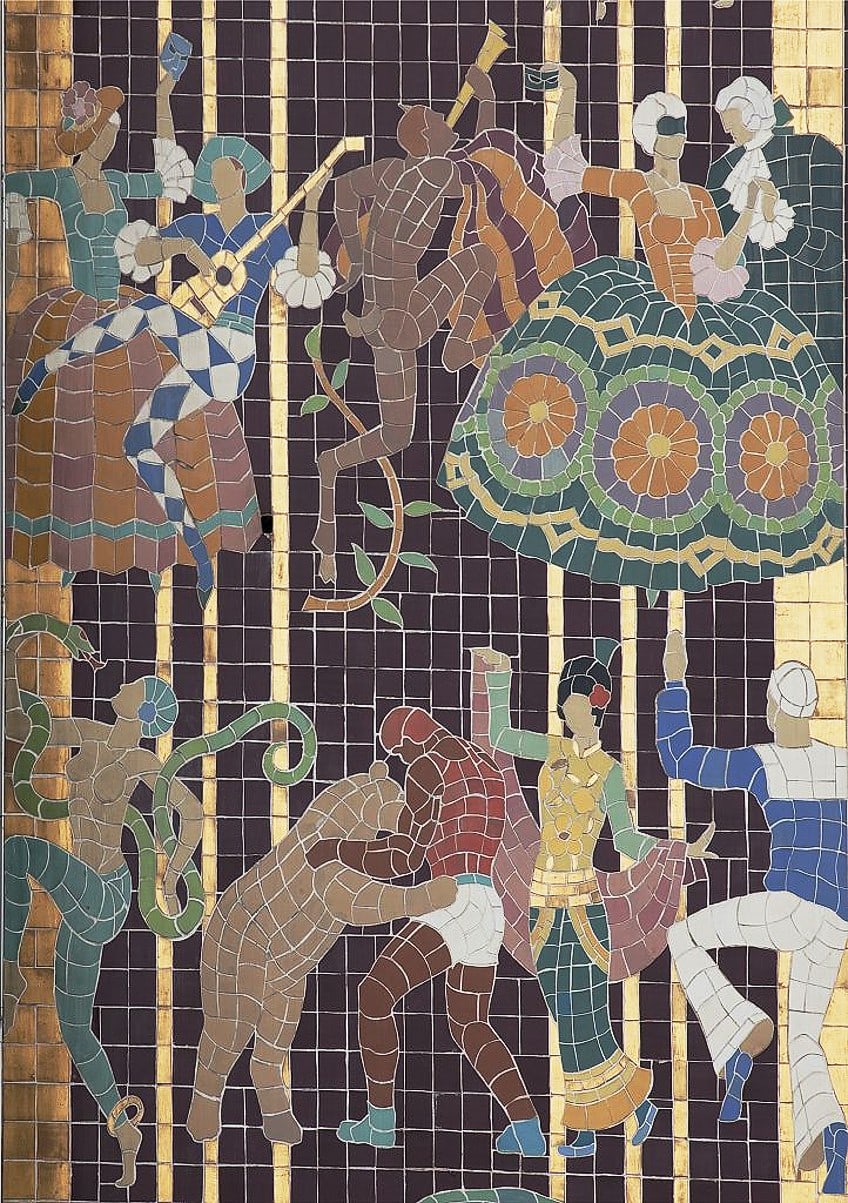 Detail of mosaic facade of Paramount Theatre (Oakland, California) (1931); Highsmith, Carol M., 1946-, photographer. Carol M. Highsmith's America, Library of Congress, Prints and Photographs Division., CC0, via Wikimedia Commons
The 1925 Paris Exposition of Decorative Arts was the pinnacle of the style's popularity. The ornamental style evolved in the late 1920s and early 1930s, influenced by new materials and technology. It became more streamlined and less ornate. Furniture, like architecture, started to have curved corners and a glossy, streamlined appearance, which was influenced by the streamlined modern aesthetic. In furniture and decorating, new materials such as chrome-plated steel, and aluminum, started appearing.
The themes of the décor represented the purpose of the building all through the Art Deco period, notably in the 1930s.
Sculptures depicted song, dancing, and excitement in theaters; power companies displayed sunrises, and the Chrysler Building displayed styled hood ornaments. The Streamline design gave the impression that the structure was moving. In place of classical heroes, the WPA murals of the 1930s depicted everyday people such as factory employees, postal workers, families, and farmers.
Famous Art Deco Buildings
Now that we have taken a look at the history of Art Deco Buildings, as well as Art Deco architecture characteristics, we can now look at some famous examples of Art Deco-style architecture. Scroll through the remarkable examples of Art Deco buildings below if you enjoy historical design and wish to take aesthetic cues from Art Deco-style architecture.
National Basilica of the Sacred Heart (Ganshoren, Belgium)
| | |
| --- | --- |
| Date Completed | 1847 |
| Architect | Albert Van Huffel (1877 – 1935) |
| Style | Art Deco |
| Location | Ganshoren, Belgium |
Even though construction was interrupted due to the two World Wars, this Art Deco-style church was built to honor the 75th anniversary of Belgian independence. The structure, which has a green copper dome, was completed in 1969. In a ceremony on the Koekelberg hill on June 29, 1919, King Albert I and a vast throng pledged their allegiance to this commitment.
Due to the status of the public finances, it was difficult to continue Langerock's proposal. As a result, a design by architect Albert Van Huffel was chosen. At the Paris Exposition Internationale, the architect Albert Van Huffel's final design earned the grand architectural award.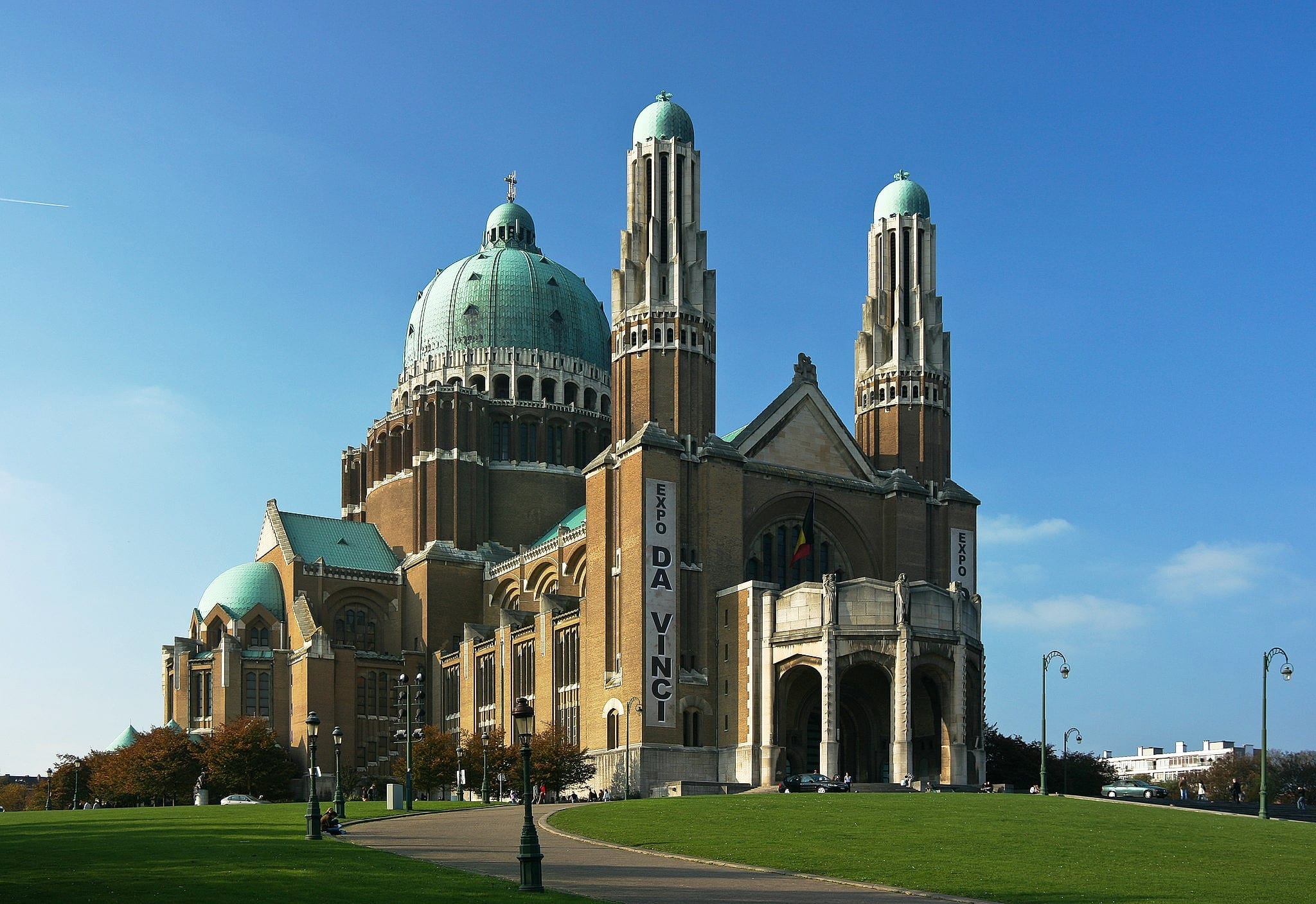 Basilica of the Sacred Heart in Brussels, Belgium; Markus Koljonen (Dilaudid), CC BY-SA 3.0, via Wikimedia Commons
Majorelle Garden (Marrakech, Morocco)
| | |
| --- | --- |
| Date Completed | 1923 |
| Architect | Paul Sinoir |
| Style | Art Deco |
| Location | Marrakech, Morocco |
Jacques Majorelle created the Majorelle Garden. Jacques Majorelle, a young ambitious painter, was sent to Morocco in 1917 to recover from a serious medical ailment. After a brief stay in Casablanca, he traveled to Marrakech, where he, like many of his contemporaries, fell in love with the brilliant colors and street life. He ultimately chose to reside permanently in Marrakech after traveling throughout North Africa and the Mediterranean.
Majorelle established himself as a prominent Orientalist painter throughout his career.
The Majorelle Garden in Marrakech, Morocco; Viault, CC BY-SA 3.0, via Wikimedia Commons
The distinctive hue of vivid cobalt blue, bleu Majorelle—Majorelle Blue, was inspired by the colored tiles he had encountered around Marrakech and was utilized widely in the garden and its structures. Majorelle acquired a four-acre parcel on the edge of a palm grove in Marrakech in 1923, barely four years after his wedding to Andrée Longueville, and erected a mansion in the Moroccan style. He hired architect Paul Sinoir to create a Cubist mansion for the land in 1931. He gradually acquired more property, increasing his stake by around 10 acres.
Majorelle began creating a lush garden on the grounds around the mansion, which became known as the Majorelle Garden. The landscape became his life's passion, and he worked on it for over 40 years.
Eastern Columbia Building (Los Angeles, USA)
| | |
| --- | --- |
| Date Completed | 1930 |
| Architect | Claud Beelman (1883 – 1963) |
| Style | Art Deco |
| Location | Los Angeles, USA |
The Eastern Columbia Building is constructed of steel-reinforced concrete and is coated in a lustrous turquoise terra cotta with rich gold and blue accents. The vertical focus of the structure is emphasized by dramatically sunken sections of twin windows and cantilevers with copper paneling divided by vertical pillars.
The façade has a plethora of themes, including sunburst designs, geometric patterns, chevrons, zigzags, and exaggerated plant and animal motifs.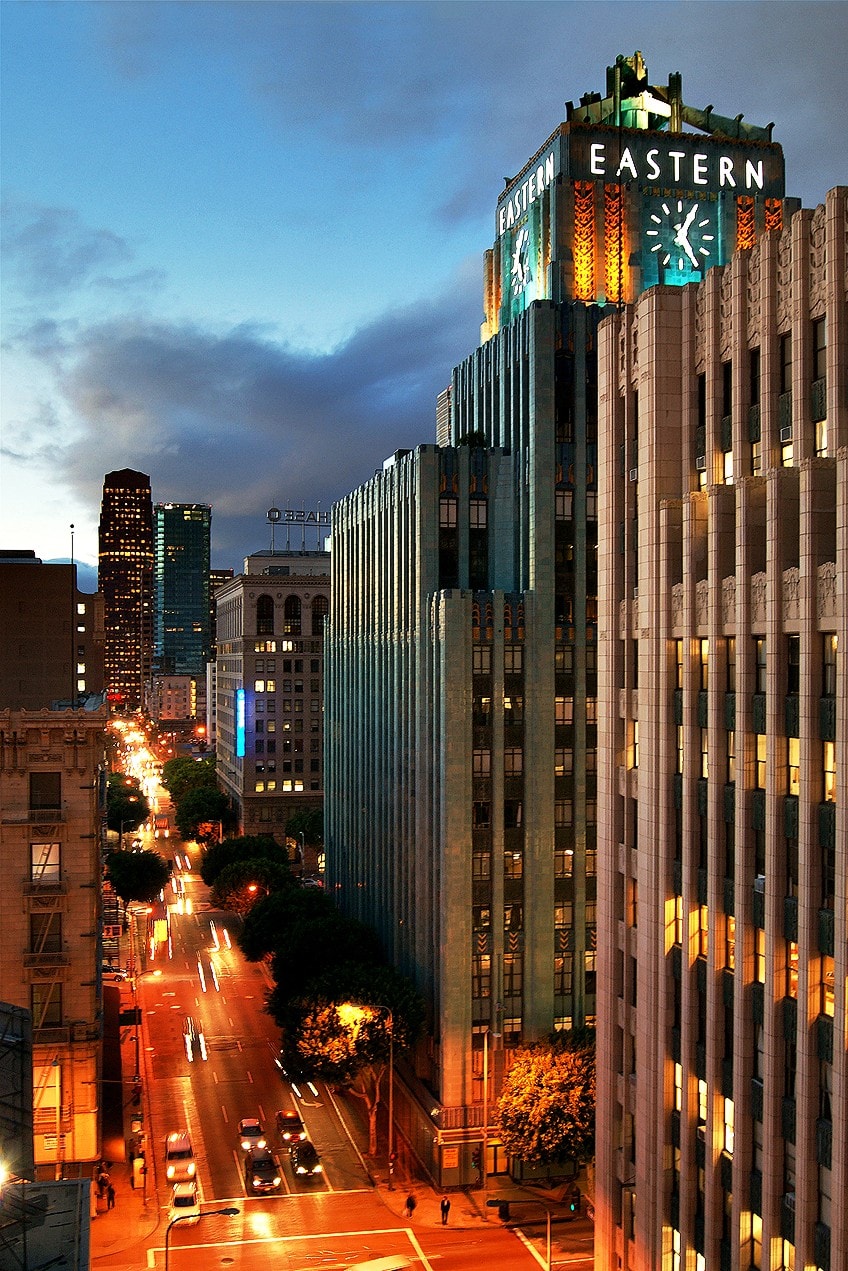 Eastern Columbia Building in Los Angeles, United States; Galkab, CC BY-SA 3.0, via Wikimedia Commons
The structure is topped with a four-sided clock tower inscribed in neon with the word "Eastern" and topped with a central chimney flanked by four stylized flying buttresses. The walkways on the building's sides are multi-colored terrazzo tiled in a vibrant design of diagonals and chevrons.
The center main entry has a stunning two-story sunken entryway with a gold and blue clay sunburst. Initially, the entryway opened to a pedestrian shopping arcade that ran through the middle of the building.
Paramount Theater (Oakland, USA)
| | |
| --- | --- |
| Date Completed | 1931 |
| Architect | Timothy L. Pflueger (1892 – 1946) |
| Style | Art Deco |
| Location | Oakland, USA |
The Paramount Theater was erected as a cinema palace during the late 1920s boom of the motion picture industry. Palace was a popular and appropriate word for cinema theaters in the 1920s and early 1930s. Adolph Zukor initiated a building campaign in 1925 that resulted in some of the best theaters ever built. The term "Art Deco" was first used in the late 1960s, when there was a renewed enthusiasm for early 20th-century fashion and art.
When it first debuted in 1931, it was the largest multi-purpose theater on the West Coast.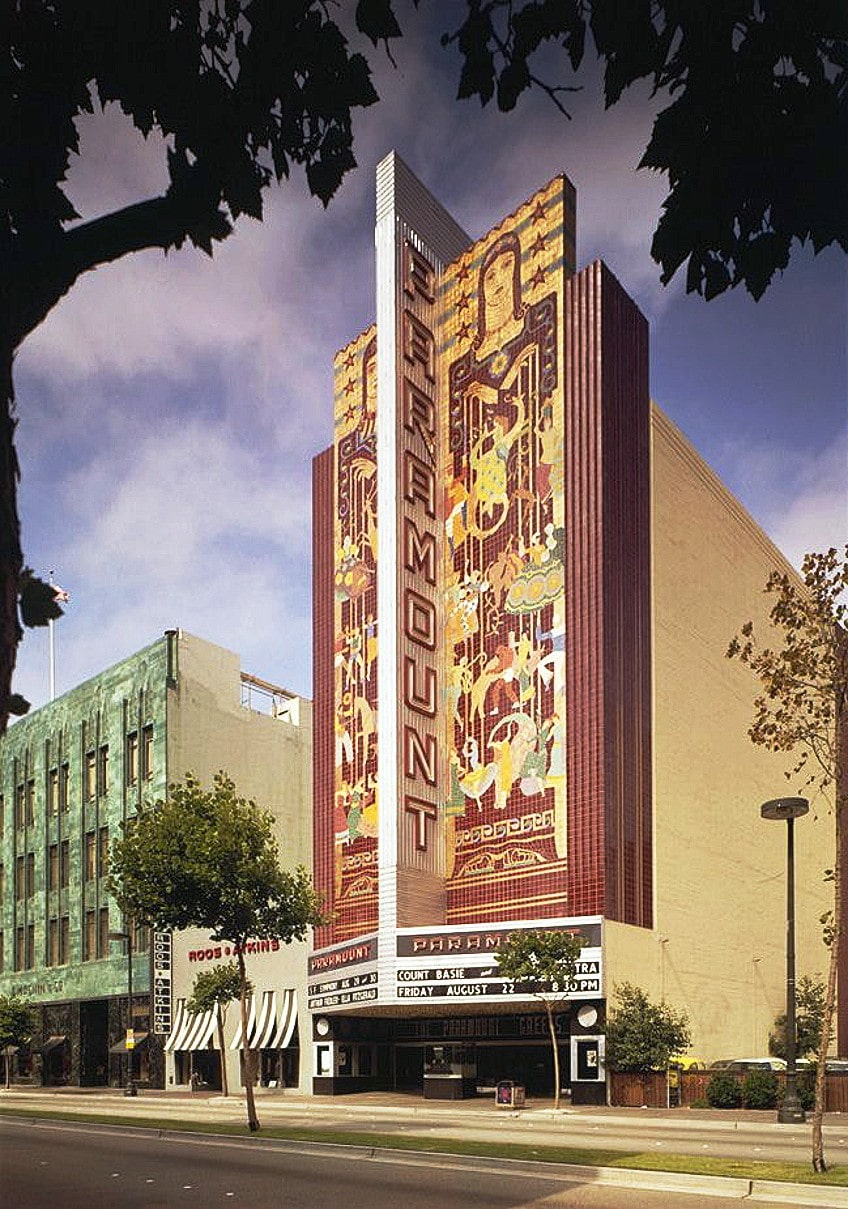 The Paramount Theatre in Oakland, United States; Jack Boucher, Public domain, via Wikimedia Commons
Fair Park (Dallas, USA)
| | |
| --- | --- |
| Date Completed | 1936 |
| Architect | George L. Dahl (1894 – 1987) |
| Style | Art Deco |
| Location | Dallas, USA |
George Kessler, a landscape architect, and city planner, was a key influence in the establishment of Fair Park. In 1906, he was in charge of the first official park plan, which was influenced by the City Beautiful Movement. The City Beautiful Movement called for well-planned public areas, tree-lined thoroughfares, landmarks, art installations, and ponds to 'beautify' cities.
The 1936 Texas Centennial Exposition was a watershed moment in Fair Park's history.
Fair Park in Texas, United States; Photo: Andreas Praefcke, CC BY 3.0, via Wikimedia Commons
Architect George Dahl substantially transformed the park's look in preparation for the six-month festival. The park was changed from a carnival in the early 20th century to an Art Deco showpiece. While many of the exposition's structures were intended to be temporary, others have survived and have been partially rebuilt. "I sensed enthusiasm by all the board and park committee members that they want the complex to be all it can be and they're enthusiastic in taking on this tremendous project," Mayor Mike Rawlings said.
Many remaining Art Deco structures have been aesthetically restored to their 1936 look and modified to current building regulations.
Rockefeller Center (New York City, USA)
| | |
| --- | --- |
| Date Completed | 1939 |
| Architect | Raymond Hood (1881 – 1934) |
| Style | Art Deco |
| Location | New York, USA |
In the winter, thousands of lights sparkle from the always-enormous Christmas tree, while in the summer, outdoor eating options abound at Rockefeller Plaza, where skaters glide over the rink and multitudes of lights flash from the enormous Christmas tree. The new Metropolitan Opera house was supposed to be housed at Rockefeller Center, but when they pulled out in 1931, John D. Rockefeller hurried to come up with a new plan.
As a consequence, both the architectural style and the art of the building exuded Art Deco. The designer for the new Rockefeller Center concept was Raymond Hood.
View from the northeast of 30 Rockefeller Plaza at the heart of the complex in New York City, United States; David Shankbone, Public domain, via Wikimedia Commons
The Atlas was created in partnership with Rene Paul Chambellan, a New Jersey resident and artist. Hood resigned as the publicity surrounding the partnership became too great, and Lee Lawrie was elevated to a decorator.
This tower emanates a relaxed, uncomplicated elegance. In a sequence of stepped verticals, the limestone façade rises over its neighbors. The vertical pattern of lines created by aluminum spandrels emphasizes the building's height.
Hood had employed a similar technique in his Daily News building, but the striped pattern was subtler here, and the general proportions were more subtle. The structure's profile changes depending on the viewer's viewpoint: the north and south facades are broad, while the east and west ends have thin street fronts.
It's hardly a surprise that the art deco movement arose towards the end of World War I. It was a symbol of optimism, a fresh beginning that rejected the extravagant and overly ornate aesthetics of the past in favor of a more basic, utilitarian, modern-day style. The trend developed during the 1925 World's Fair in Paris, when exhibitors from all over the world were encouraged to design their pavilions in a completely new style with no historical allusions to previous movements. The elaborate religious and floral elements of previous ages vanished.
Frequently Asked Questions
What Are the 1920s Art Deco Architecture Characteristics?
The elaborate religious and floral elements of previous ages vanished. They were replaced with stylized forms and geometrical features, as well as chevron, sunburst, and zigzag patterns, which have become synonymous with the art deco aesthetic. This new design aesthetic was largely popular on this side of the Atlantic.
Who Adopted Art Deco-Style Architecture?
This modern design approach was enthusiastically adopted by architects during our country's economic and real estate boom, inspired by its subtle feeling of grandeur. Art deco structures began to spring up all across the country — and the world — permanently altering metropolitan skylines in every corner of the planet. At the core of 1920s Art Deco architecture was the desire to depict progress and modernity while simultaneously embellishing the commonplace and mass-produced.
Justin van Huyssteen is a freelance writer, novelist, and academic originally from Cape Town, South Africa. At present, he has a bachelor's degree in English and literary theory and an honor's degree in literary theory. He is currently working towards his master's degree in literary theory with a focus on animal studies, critical theory, and semiotics within literature. As a novelist and freelancer, he often writes under the pen name L.C. Lupus.
Justin's preferred literary movements include modern and postmodern literature with literary fiction and genre fiction like sci-fi, post-apocalyptic, and horror being of particular interest. His academia extends to his interest in prose and narratology. He enjoys analyzing a variety of mediums through a literary lens, such as graphic novels, film, and video games.
Justin is working for artincontext.org as an author and content writer since 2022. He is responsible for all blog posts about architecture, literature and poetry.
Learn more about Justin van Huyssteen and the Art in Context Team.
Cite this Article