When one thinks of artists' paints, one tends to think of oils, acrylics, and watercolors. Tempera paint rarely gets a mention, and this is probably because people think that tempera paint is just another way of saying poster paint or paint for children. However, tempera paint is not poster paint, nor is it solely for children's use. In this article, we will discover the provenance and multiple uses of tempera paint, and compare its make-up and applications to modern acrylic paint.
What Is Tempera Paint?
The use of tempera paint dates back to the Byzantine era of the 13th and 14th centuries. It was first developed by Giotto and Duccio di Buoninsegna in Italy and later used by Botticelli and Da Vinci as well. Initially, it was called egg tempera because it was made up of egg yolk, distilled water, linseed oil, and powdered pigment. The pigment was gleaned from natural items such as dirt, sticks, stones, and bones. The egg acted as the binding agent and bound all the ingredients together. Some artists used only the yolk of the egg, while others used it all. The great thing about tempera paint is that it can very easily be washed off of most surfaces with water.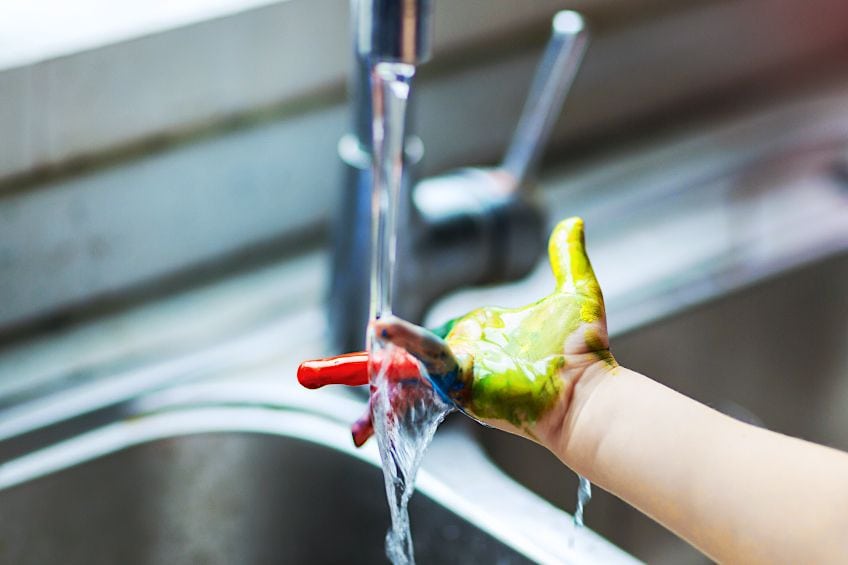 Egg tempera paint was first used to paint and decorate Christian catacombs in Italy, and shortly afterward the paint was adopted by the Egyptians to paint papyrus rolls and mummy cases. Throughout the Byzantine Empire, tempera paint was used on wooden panels to create beautiful Byzantine icons and altarpieces, as well as illuminated vellum manuscripts.
One of the most famous egg tempera paintings is Botticelli's Birth of Venus (c. 1484-1486), the iconic depiction of Venus rising from a seashell. The painting was done on canvas and now hangs in the Uffizi Gallery in Florence, Italy. Leonardo da Vinci also used tempera paint on his Madonna and Child (c. 1490-1491). In the early 20th century, Pablo Picasso painted Sleeping Peasants (1909) using a mix of tempera paint, watercolor paint, and pencils on a paper canvas.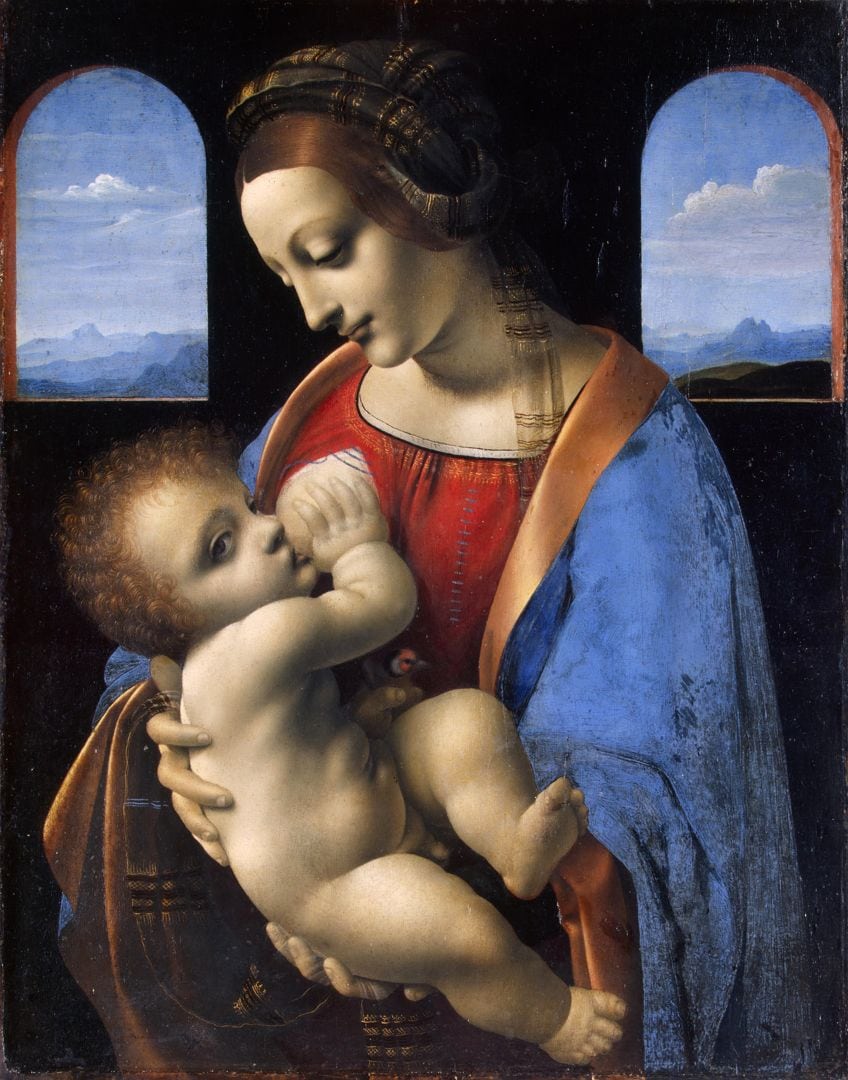 Madonna Litta (c. 1490) by Leonardo da Vinci; Leonardo da Vinci, Public domain, via Wikimedia Commons
You are no doubt asking yourself, how is tempera paint made these days? Surely it is not still made with eggs! No, most modern-day, commercially-produced tempera paint is a combination of non-toxic pigments, preservatives, calcium carbonate, cellulose, and water. The cellulose helps to bind the mix together and causes the pigment to adhere to the surface on which it is painted.
Calcium carbonate, another name for chalk, is what gives the paint its opacity and a matte finish. Thus, when it is dry, tempera paint resembles gouache in appearance.
The majority of tempera paints are also AP-certified, non-toxic, and permanent on certain surfaces. And to answer a common question, is tempera paint washable? Yes, it is. It can easily be washed off your hands and clothes with soap and water. Therefore, there is no need to worry if your kids get paint all over themselves while they are painting!
Best Tempera Paint for General Use: COLORATIONS Tempera Paints
Colorations Simply Washable Tempera Paints have been designed specifically for children, but since they are of the highest quality and comply with strict safety protocols, they also appeal to amateur and professional artists as well. Colorations have been in business for more than 30 years and are the market leader in the manufacturing and retailing of high-quality paints. Although the price of the paints is quite high, Colorations Simply Washable Tempera Paints comply with the highest standards of safety and do not contain common allergens such as peanuts, tree nuts or soy, or eggs, gluten, latex, dairy, and casein.
The vibrant, creamy, and opaque washable paints are non-greasy
Suitable for many surfaces, like paper, plaster, and fabric
The washable formula makes the paint easy to remove
View on Amazon
They come in a set of 11 vibrant colors, namely red, yellow, blue, green, purple, magenta, orange, turquoise, brown, black, and white. Colorations' tempera paints can be used on most absorbent, non-greasy surfaces such as paper, cardboard, construction paper, wood, plaster cloth, and papier-mache. They are safe to use as finger paints, as well as with brushes, rollers, stamps, and sponges. In addition, they dry to a vivid, matte finish, and have been made with an innovative washable formula so they can be easily washed off surfaces, clothes, and skin.
PROS
11 bright and vibrant colors to choose from
Can be used on a variety of surfaces
ASTM-D4236 standard and AP Seal for safety
Inexpensive and budget-friendly
CONS
Does not wash off completely
The actual color of the paint does not match the color depicted on the bottles
Tempera Paint vs. Acrylic Paint
Acrylic paint is a favorite with amateur and professional artists, but that is not to say that they use acrylics to the exclusion of every other type of paint. It depends entirely on their composition, the look and feel of it, the way it dries, and so on. Like tempera paint, acrylic is a simple paint, composed of only three ingredients, these being pigments, an acrylic binder, and water.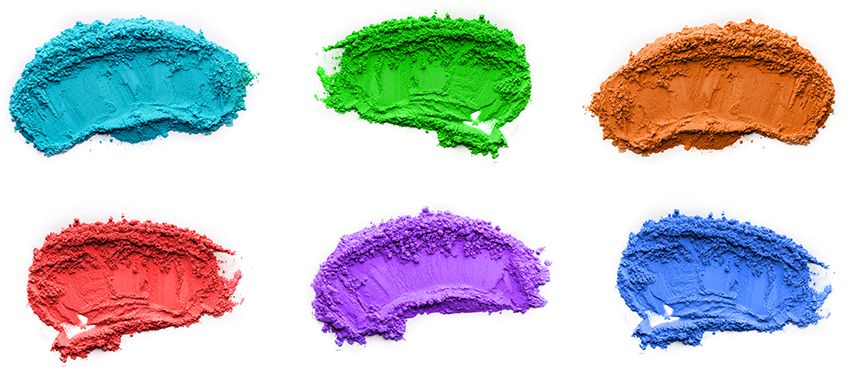 As you can see, when looking at tempera paint vs acrylic, the main difference between the two types of paint is lightfastness (in other words, whether or not it will discolor when it is exposed to light), and permanence. Permanence is important to professional artists who want their paintings to stand the test of time, and acrylic paints last a lot longer than tempera paints. The following table is a breakdown and comparison of both paints' properties.
| | | |
| --- | --- | --- |
| Properties | Tempura Paint | Acrylic Paint |
| Toxicity | ✘ | ✔ |
| Permanence | ✘ | ✔ |
| Water-soluble | ✔ | ✔ |
| Washable | ✔ | ✘ |
| Lightfast | ✘ | ✔ |
| Layering ability | ✘ | ✔ |
| Drying time | Thin layers of paint will dry within 10 minutes. | Thin layers of paint will dry within 10 minutes, but thicker layers take longer. |
| Drying format | Matte only. Colors will seem dull compared to acrylics. | Glossy to semi-glossy. Colors maintain brightness when dry. |
| Best used on | Paper, cardboard, poster board, paper-maché, glass, and wood. Not suitable for fabric or canvas due to inflexibility and cracking. Will not adhere to ceramic, or metal. | Paper, wood, fabric, canvas, ceramic, and metal. Will not adhere to glass unless it has been specially formulated for use on glass. |
| Child-friendly | ✔ | ✔ |
What Surfaces Can Tempera Paint Be Used On?
The table above mentions briefly the surfaces that tempera paint can be used on, but it is worth our while looking at this in more detail. Tempera paint is extremely versatile and, as we have seen, has a number of excellent qualities that appeal not only to small children but amateur and professional artists as well.
Paper, Cardboard, Poster Board, and Papier-Maché
These are ideal for tempera paints as the paints have been specifically formulated for children's use on these particular surfaces. The paint dries quickly which is an important fact in painting projects in the schoolroom and crafts room. But bear in mind that you cannot paint more than one layer of tempera paint, even on thick paper-maché, because the water contained in the second layer of paint will liquify the first layer of paint.
Furthermore, tempera paint cannot be mixed. For example, mixing red and blue paint does not create green; instead, it creates a brown, muddy color.
Although tempera paint is not designed to be permanent and lightfast like acrylic and oil paints have been, it can last for a year or so on paper and similar surfaces although the colors will probably have started fading by then. However, you can prevent this by applying a fixative to the painting. Fixatives are alcohol-based sprays that are sprayed onto a finished piece of art once the paint has dried. Fixatives can be applied to tempera paint artworks as well as to acrylics and oils.
The fixative preserves the artwork and prevents it from fading and yellowing with age and exposure to light. If the painting has been done on regular multipurpose printing paper, spraying fixative onto it may cause the paper to buckle slightly. The best way to preserve artworks done in tempera paint on paper (or cardboard and poster board) is to frame them using non-reflective glass.
The glass will protect the painting from the elements, and because it is non-reflective it will deflect any direct light on it and thus preserve the colors of the painting.
Window Glass
Tempera paint is the perfect paint for use on windows, not least because the paint is temporary, removable, and inexpensive. You can wipe away the paint with a soapy sponge and warm water. The only window glass that tempera paint might not suit is the type that has a tinted film over it, common in schools, office blocks, and small business enterprises. This is because you might scratch the film when painting on it, and it may be difficult to remove once the paint has dried.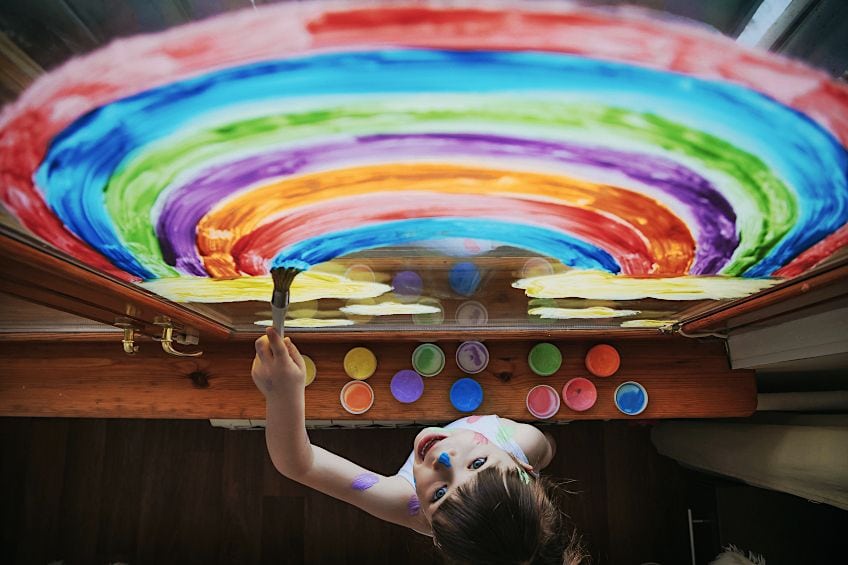 The most popular technique of painting with tempera paint on glass is to paint the outline of the drawing and then fill it in with color. You can paint directly onto the window, provided it is clean and free of dust and other small debris. However, you should bear in mind that because tempera paint is not permanent the painting will not last very long, particularly if it is on the outside of the window. The sun will dry out the painting and probably cause the paint to crack and flake, while rain and snow will water down the paint and cause it to run.
It is therefore advisable to paint windows on the inside where the painting will be protected from the elements, although direct sunlight may still have an adverse effect on it.
Wood
Tempera paint on wood is not an ideal combination because wood is not water-resistant and it absorbs the paint. We also do not recommend that you paint on any wooden structure that is outdoors. However, if you have a project that requires you to use tempera paint on wood, we suggest you treat the wood beforehand with either a clear wood varnish or sealant.
Alternatively, you could paint the wooden structure white or black, depending on the colors or your painting, and paint directly onto the painted surface once it has dried completely. If you are after a rustic look, you need not paint the entire structure, just a space in the middle so you get the effect of a painting "framed" in natural wood.
Fabric
Tempera paint can be applied to fabric, but because it is so pliable the paint will soon crack and start flaking. Furthermore, tempera paint is not waterproof so it will wash off the fabric as soon as it comes into contact with water. You would be better served using paints that have been specifically formulated for use on fabric.
Acrylic paints work well on fabric, although some require a particular medium to be added to it to render it suitable for painting on fabric.
Canvas
Tempera paint can be used on canvas, but because the paint is not permanent it will eventually fade. Also, because canvas is flexible, it will cause the paint to crack and flake off. Canvas is better suited to oil and acrylic paints which can be applied layer on layer and in very thick applications. Tempera paint cannot be applied in thick layers because the paint will mix together and become an unsightly mess.
There is, however, an alternative to canvas and that is canvas panels. Canvas panels are made from specially treated cotton and mounted onto hard boards. Unlike stretched canvas which is extremely flexible, the canvas on panels remains rigid and inflexible, but at the same time, it provides the same quality as stretched canvas. Canvas panels are also cheaper than stretched canvas and therefore better suited to art projects with small children, or artists who are just starting out and want a bit of practice before they move onto stretched canvas.
The only downside to canvas panels is that they do not age as well as stretched canvas does. However, framing a painting done on a canvas panel in the same way as you would frame an artwork done on paper will protect it and ensure its longevity.
How to Use Tempera Paint
Whether you are an amateur or professional artist, or a teacher or parent doing a painting project with children, the technique is the same. That said, professional artists are more likely to use proper egg tempera paint which has a similar constitution as the paint used in the Byzantine and Renaissance periods.
The Birth of Venus (c. 1485) by Sandro Botticelli; Sandro Botticelli, Public domain, via Wikimedia Commons
Items You Will Require
Aside from the paint and brushes which you will possibly have to purchase, all the other items should be readily found in your kitchen. If you are working with small children, we recommend that you cover the table with kraft paper to prevent paint and water spills onto the floor. Although tempera paint is easy to clean up, you should not make more work for yourself! Following is a list of the items you will need.
Tempera paint
Water
A pencil
A variety of paintbrushes
A plate on which to mix the paints
Your choice of surface
Step 1: Preparing Your Painting Tools
Now we will discuss how to use tempera paint. Arrange all your tools within easy reach. Remember, tempera paint is quick-drying so you will have to work quickly. Fill a few cups with water so you can clean your brushes. If you use one cup per color you will be unlikely to mix the colors which, as we have mentioned before, is not ideal.
Step 2: Planning Your Design
Lightly make a pencil sketch of the drawing or design on a piece of paper, or directly onto the surface you are going to be painting. If it is a wooden panel, you will have prepared the surface beforehand either with varnish or sealant or by painting the surface in a solid color. However, the ideal surface besides paper or poster board is a canvas panel.
They only cost a few dollars and give a professional look to your painting (yes, even children's paintings!).
Step 3: Mixing Your Tempera Paints
If you are using powdered paint, shake out a bit of the paint onto your plate and mix it with water. Remember to add a little bit of water at a time otherwise, the paint will be too watery. If you are using liquid paint, squeeze a little onto the plate. You cannot put any excess paint back into the bottle, so you should not mix or squeeze more paint than you are likely to use. Also, close the paint containers tightly to prevent the paint from drying out.
Step 4: Applying Your Paint
Now you are ready to start painting. Apply thin layers of paint and wait until each layer has dried completely before you paint the next layer. Bear in mind that you should not mix your colors, so for example, you should not paint a blue layer on top of a yellow layer. Keep the colors separate.
Clean your brushes with each layer so they do not pick up the colors of the previous layers.
Step 5: Drying Your Painting
When your painting is finished, leave it to dry. The paint should be dry to the touch within ten minutes, depending on the type of surface you have painted and how much paint you have applied. Needless to say, the paint is likely to dry a lot quicker in warm temperatures than cold, but even if the room you are painting in is very cold, your painting should not take longer than 15 minutes to dry. And if you want to speed up the drying process, you can use your hairdryer to dry off the paint. Stand about half a meter away from your painting as you dry it. As tempera paint is washable, you can use an acrylic glaze to seal the painting for longevity.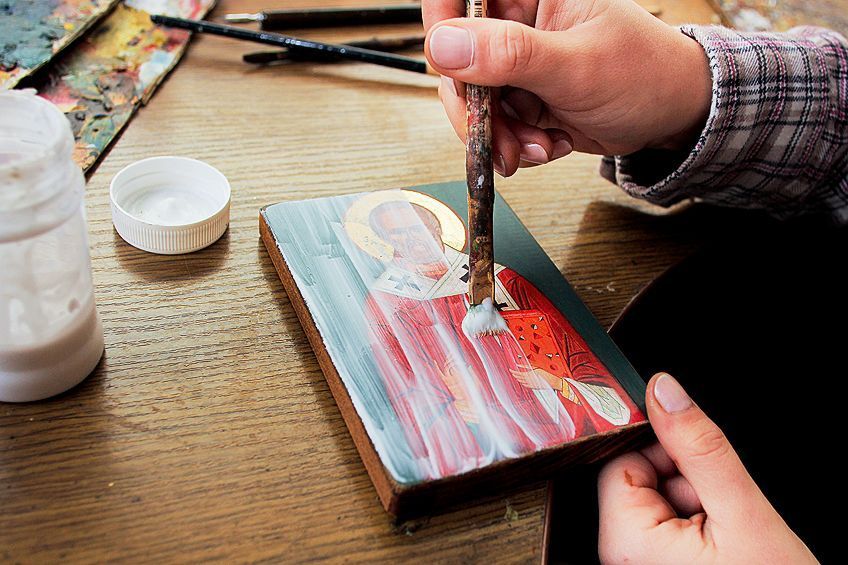 How to Make Your Own Egg Tempera Paint
Having said that tempera paints are no longer made with eggs these days, there are quite a few modern painters who have gone back to using the egg tempera paints of old. That is because it can be applied in thicker layers than modern tempera paint can. In addition, and unlike new tempera paint that dries to a matte finish, egg tempera paint dries to a bright shine, and it is this jewel-like quality that painters value. Also, paintings done in egg tempera paint – as opposed to new tempera paint – are permanent. The centuries-old paintings of Giotto and Da Vinci attest to that.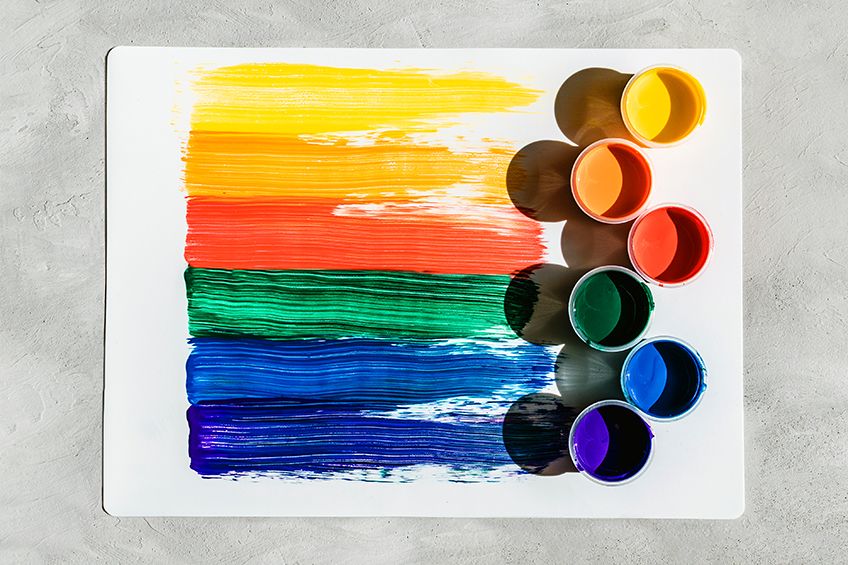 Making your own egg tempera paint is a quick and easy process. Just bear in mind that egg tempera cannot be stored and reused, therefore one batch is only suitable for one painting session. While the mixture is sitting, the egg yolks start to cure and become thicker, making it very difficult to paint with. Also, the water in the mix evaporates, and that changes the chemical composition of the paint and dries it out.
When you are making your own egg tempera paint, you should only use the egg yolk.
You cannot use any of the egg white or the egg sac itself. Egg white contains the protein albumin, which prevents the paint from adhering to the surface you are painting on. Let us have a look at how to make genuine egg tempera paint. You will need the items below.
Eggs (one egg for each color)
Distilled water
Denatured alcohol (optional)
Small bowls
A palette knife
Paper towels
A pin
Begin by separating the egg yolk from the egg white, then roll the yolk gently on a piece of paper towel to absorb any excess egg white. Pierce the egg yolk with a pin, then mix the yolk (minus the sac) with a teaspoon of distilled water and stir it well.
In a separate bowl, add water to the powdered tempera paint and mix it together until it forms a creamy paste. You can add a drop or two of denatured alcohol in order to disperse the mixture evenly. The pigment mixture and the egg yolk must be mixed together in equal parts. Water can be added to thin the mixture if required. The egg tempera paint is now ready for use.
By now you will have a better understanding of both types of tempera paint, how they are made and the types of artwork and surfaces they are best suited to. You will also have seen for yourself the main differences between tempera paint and acrylic paint, which means you can now make an informed decision about the most suitable paint for the type of artwork you are going to do. And now that you know how to make genuine tempera paint, why not make it yourself and create your own artworks that will stand the test of time?
Frequently Asked Questions
How Is Tempera Paint Made?
Tempera paint is a mix of non-toxic pigments, preservatives, calcium carbonate, cellulose, and water. It is the cellulose that binds the mix together and enables it to adhere to the surface on which it is painted. Calcium carbonate, another name for chalk, is what gives the paint its opacity and a matte finish.
Is Tempera Paint Toxic?
No, it is completely non-toxic which is why it is so suitable for children to use. Even if a child were to accidentally ingest tempera paint, they would not be affected. Almost all commercially-produced tempera paints, be it liquid or powdered tempera paint, are completely allergen-free.
Is Tempera Paint Washable?
Yes, it is. Modern tempera paints are water-soluble and can be cleaned off the skin, clothes, and household surfaces with soap and water. Similarly, true egg tempera is water-resistant, but not waterproof and can also be easily washed away using soap and water.
Is Tempera Paint Permanent?
Without the addition of a fixative, tempera paint can last for a year or so on paper and similar surfaces. By using a fixative, the artwork is preserved and unlikely to fade or yellow with age and exposure to light. The best way to preserve artworks done in tempera paint on paper (or cardboard and poster board) is to frame them using non-reflective glass.
Where Can I Buy Egg Tempera Paint?
Unfortunately, genuine egg tempera paint is not manufactured commercially so you will not find it in any art supply stores. However, it is very easy to make, and in this article, we have shown you how to do it in a few easy steps. The main thing to remember when you make egg tempera paint is that it cannot be stored and used a second time. Even so, the ingredients are inexpensive and budget-friendly, so you can easily make more than one batch if required.